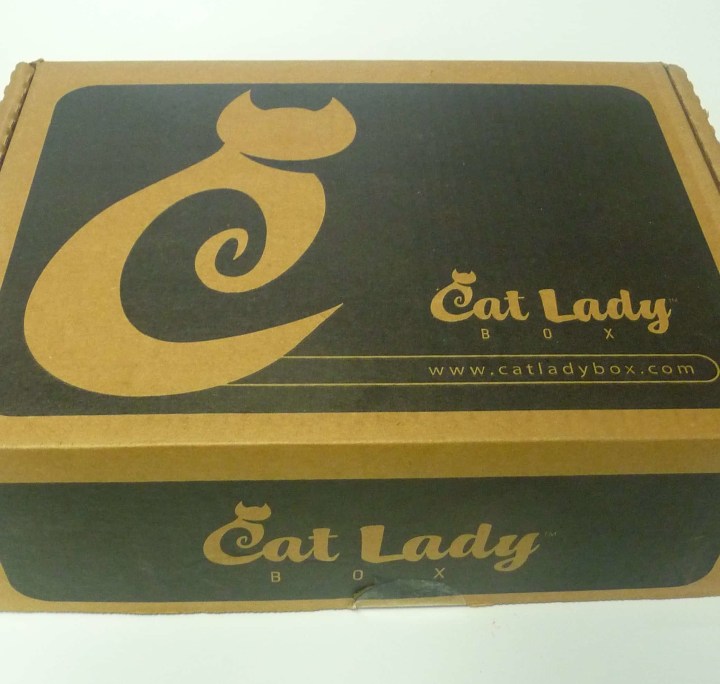 The Cat Lady Box is a monthly subscription box for those "crazy cat ladies." It is a box with cat-themed items for you and your cat or you can order a box just for you. Each box could contain cat-themed shirts, jewelry, home decor, accessories, art, and more – all delivered in a box your cat can keep.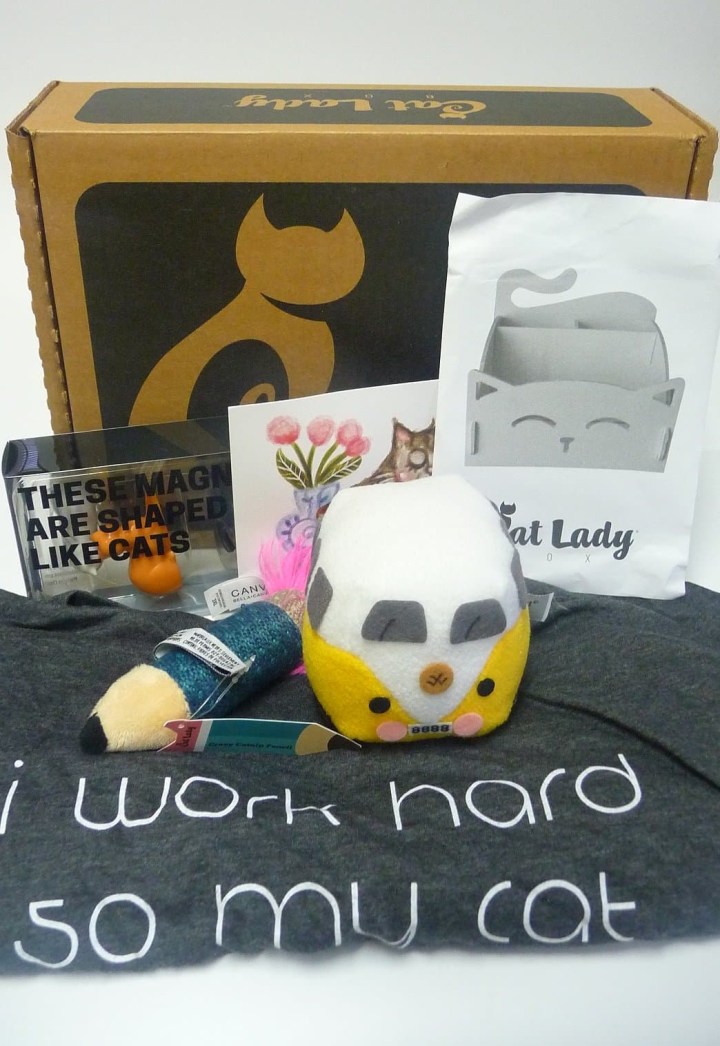 This month's box theme is "From the Desk of the Cat Lady."
Yes, I am a crazy cat lady!!! Are you? My Ginger is my third child and she is spoiled. My box came with items for me and my "baby."
DEAL:  Save 10% on any level, any length subscription through 6/22! Just use coupon code 10RIGHTMEOW  at checkout! 
TIP: Looking for a coupon code? Subscribe to notifications for CatLadyBox in the directory to get an email when the next one is released!
Each box comes with an insert to tell you what's in the box.
So since Ginger and I have had a vacation and a spa day, it is time to get back to work and school.
My first item is a Set Of Cat Shaped Magnets By Catlady Box ($14.99). There are 4 different colored cats. These magnets will help  keep your desk organized by keeping notes and important papers where you can find them. There is even an orange one to represent Ginger, Yeah!
 "Working 9 to 5"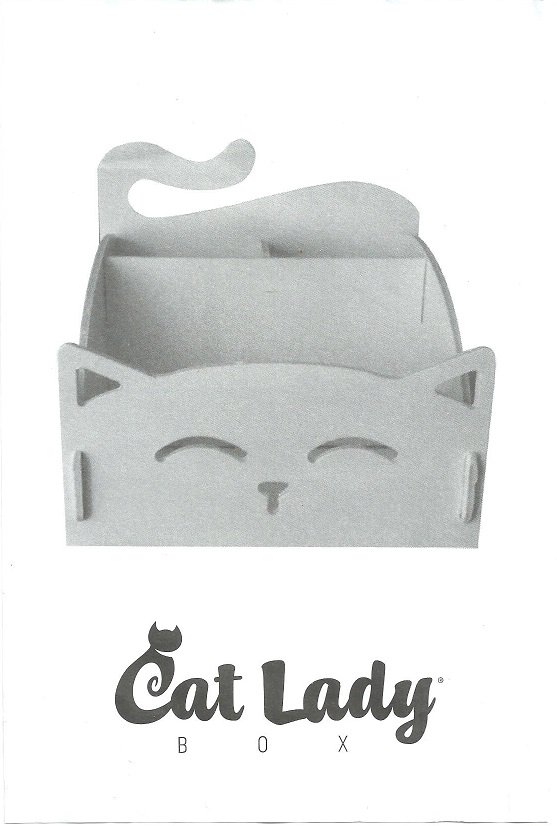 Also sent was a Cat Desktop Organizer by CatLady Box ($12.99). It is adorably shaped like a cat. It has 3 compartments to hold your desk supplies and is easy to assemble. The material is like a foam cardboard. Instructions are included.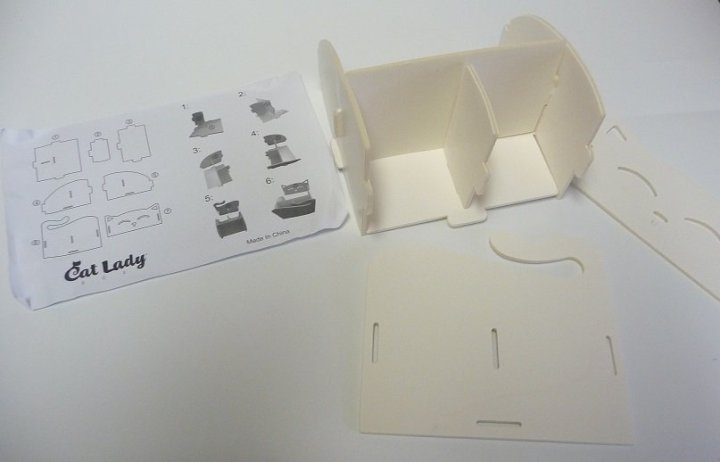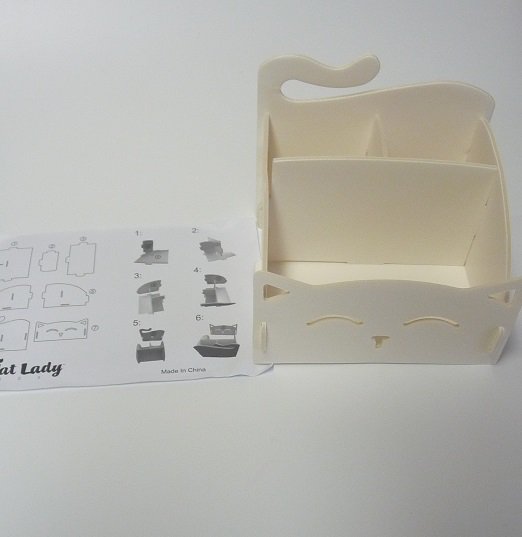 Next is a little something for me to show off how hard I work for Ginger.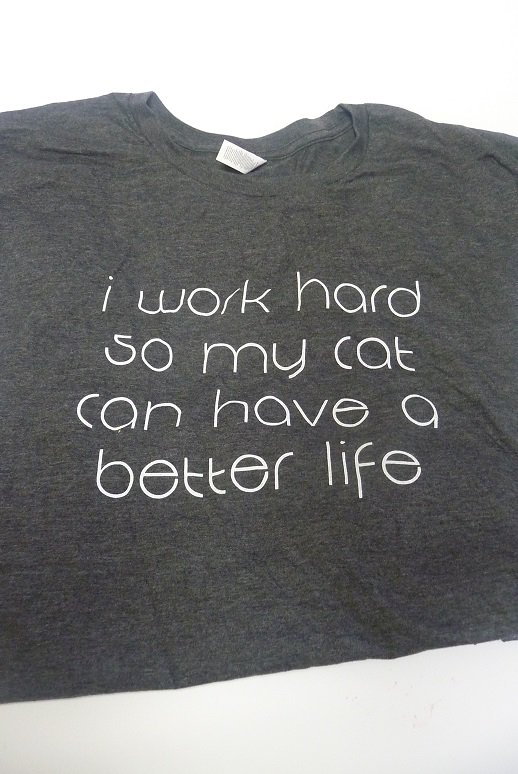 It is a t-shirt with the phrase "I work hard so my cat can have a better life." It is the truth. I work hard for my ginger and my boys. This shirt is a heather-soft shirt. It was designed and printed right in my state of Florida. Time to show it off!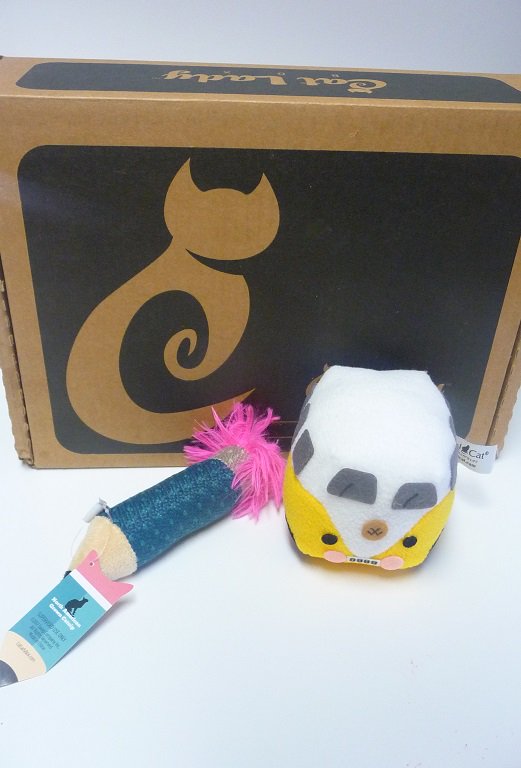 Ginger received new toys! Of course she was excited to sniff them out. She received a Crazy Catnip Pencil and a School Bus Catnip Toy (both $4.99). She's ready to go back to school I guess. LOL. She has played with these non-stop. Ginger waits every day for my boys and I to come. She knows exactly what time we are due in (and when it's time  to eat). She will sit on the couch nearest to the door and when she hears us, she will then wait at the door.  I love to see her when I come home.
On the back of the insert card is a Featured Cat Lady Artist. This month is Ellie Szymanska. Ellie Szymanska is a kindergarten teacher and an artist that specializes in digital art. Most of her subjects are cats. She is also a rescue cat mom. I like this artwork because you can always find ginger sitting at the desk if there is someone on the computer and that is what it reminds me of.
What do you think of this month's box? I hope you all have a great school year and work week.