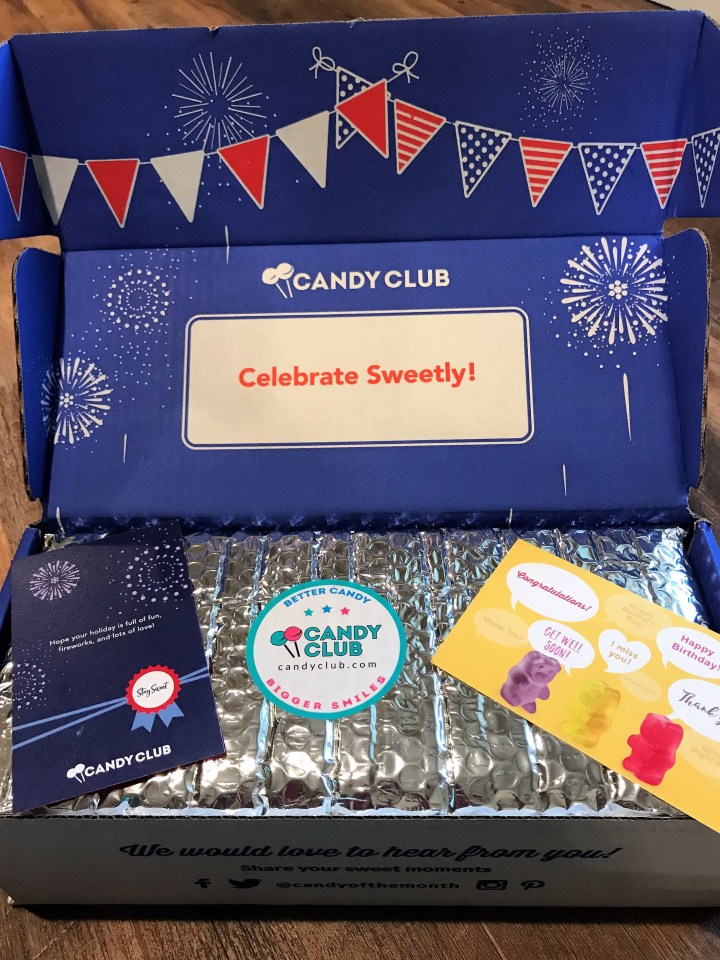 Candy Club is a premium candy subscription box. They bring the old fashioned candy store to your front door. They promise their candies to have an amazing variety of different candies for your enjoyment.
The candy came safely protected from temperature extremes in this insulated (and cute!) packaging.
DEAL: Save $20 on your first box! Just use this link to activate the offer.
OR You can instead use 50F-candydeal – 50% off and free shipping for a total of $14!
Inside the insulated packing, our yummies were even more securely packaged in round plastic containers that sat inside a cardboard stand with holes cut out to hold them in place. It really made for a nice display when you opened the box.
This month's box (and last month's) was a special Independence Day theme and was fully decked out in red, white and blue.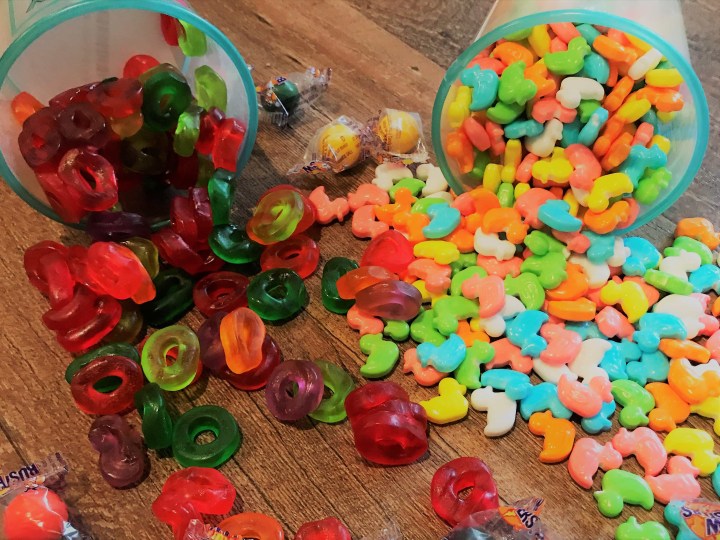 The Candy Club Subscription Box is $27.99 if you pay month to month. The price drops to $22.99 a month if you prepay for 6 months and to $19.99 a month if you prepay for a year. And, if you need more candy, you can choose to add up to three more candies to your monthly order. Shipping is $6.99 for all boxes. (You can get free shipping and 50% off of your first box when you use this link.)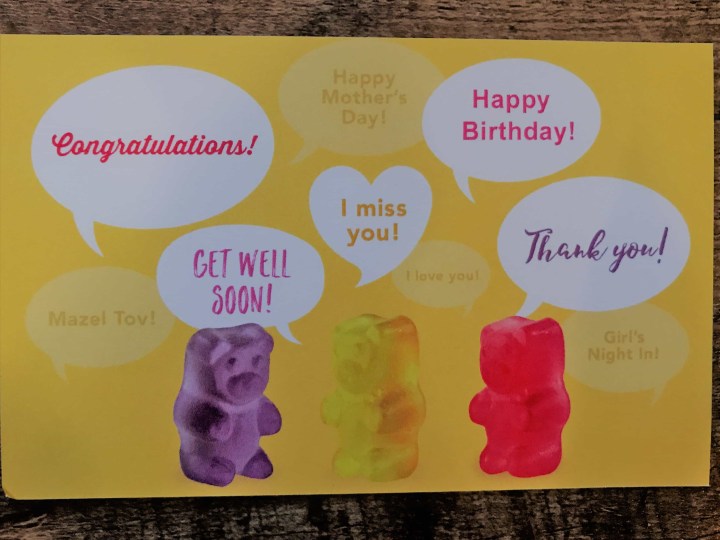 Each Candy Club Subscription Box contains up to 3 lbs of candy to include three signature containers and a splash of wrapped candies. If you are giving a gift, the candies are curated for you. If you are subscribing you have some choice in the candies that you get. You pick your own candies or you can choose a flavor profile for Candy Club to curate for you. The three flavor profiles are Club Sours, Club Sweets, and Club Mix. If you aren't sure what you like, no worries, they have a quiz that helps figure your candy profile out.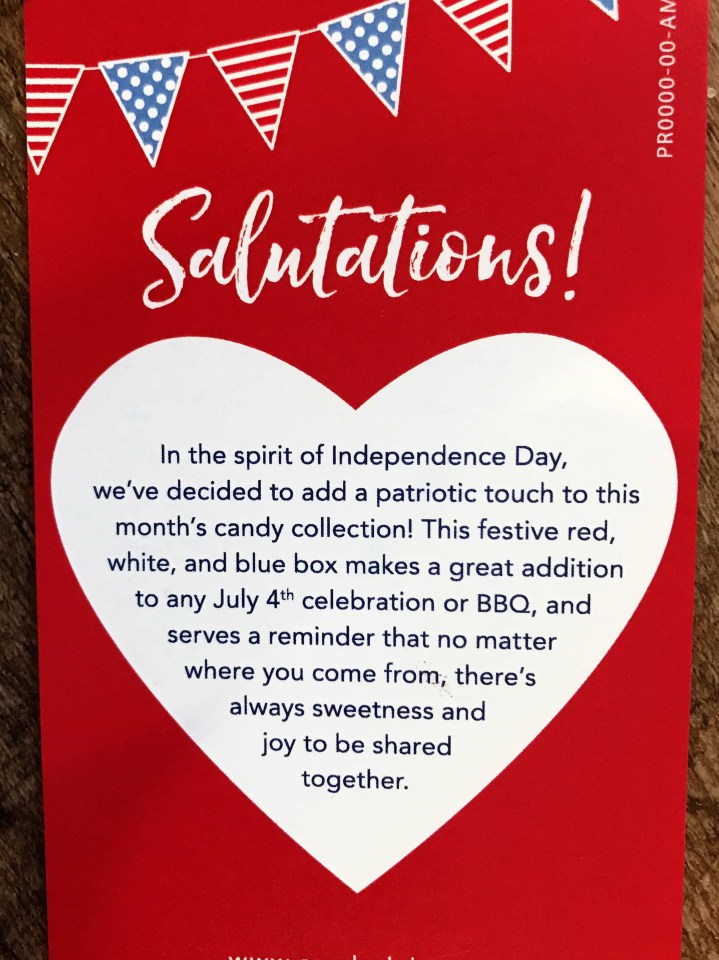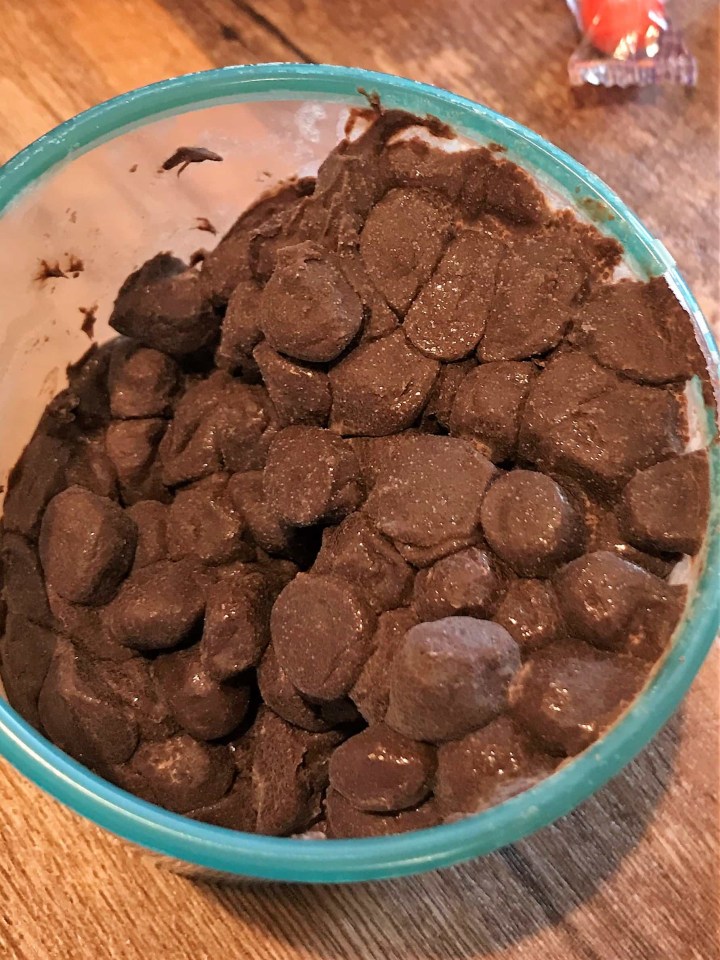 Arway Dark Chocolate Coffee Beans – So, this is my fault. I was pushing it. I know how hot my mailbox gets (it's a metal box with brick around it – basically an oven) and I wanted to see if chocolate would make it. It didn't. I chose the Amway Dark Chocolate covered coffee beans (I got them in last month's box) again because #1 – They were delicious and #2 – I wanted to see if they would make it through the heat again.
They were fine last month. I must have hit an overcast day, so check out my review of them from last month to see how pretty they really are.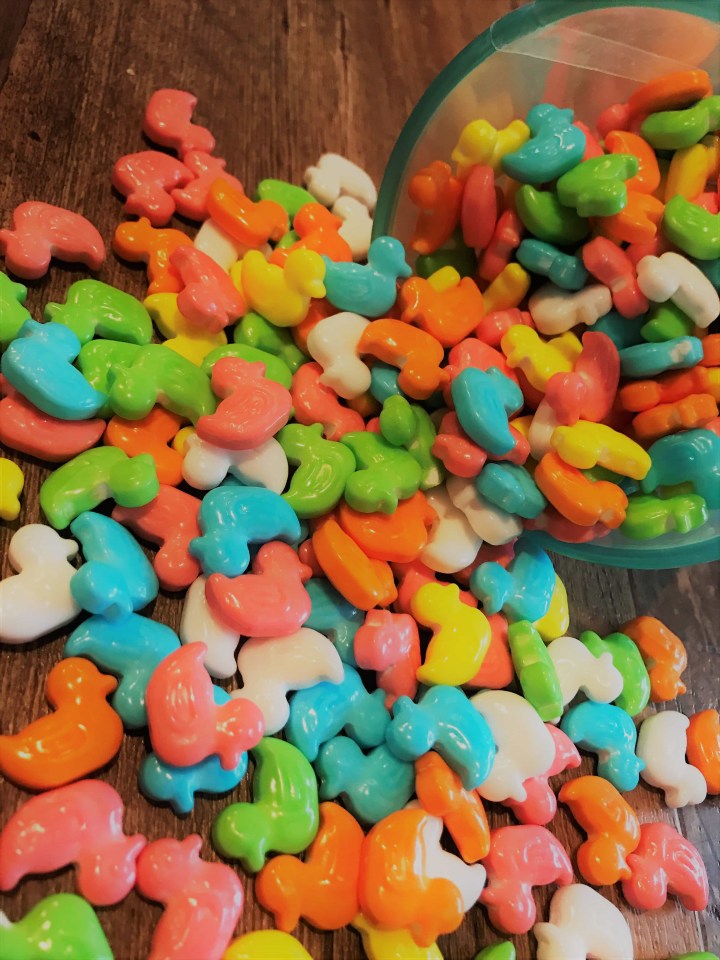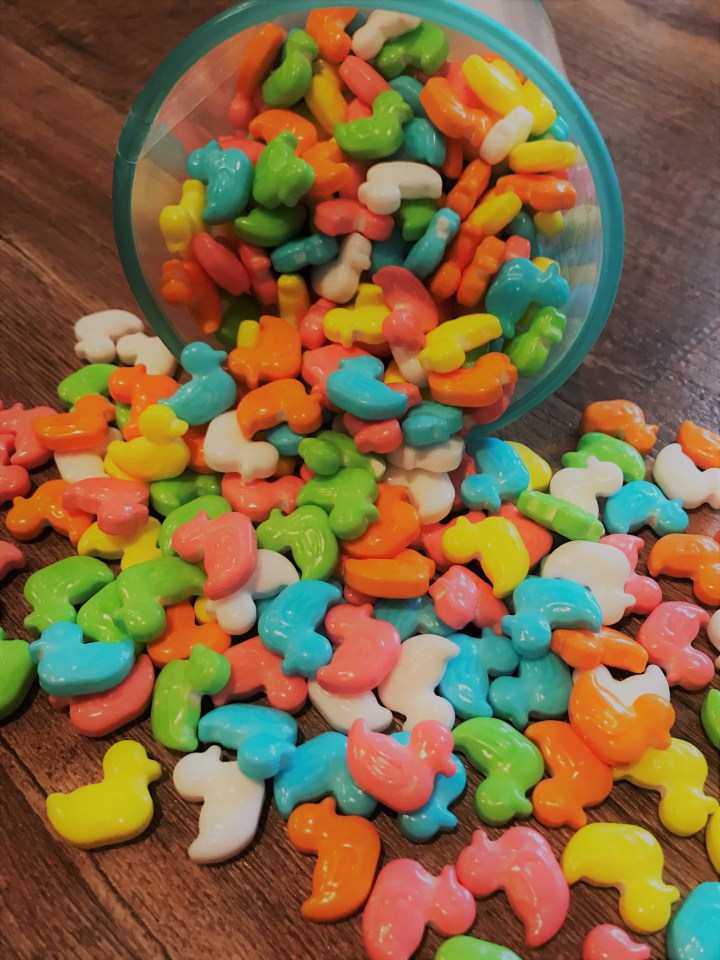 Sweet Maple Candy Ducks – "Get your ducks in a row with these deliciously adorable pressed candies! With their cute shape, sweet-tart flavor, and pretty colors, they make a spec-QUACK-ular addition to any candy box!"
Aren't these the cutest thing you have ever seen? They would be great for a baby shower or just to eat by the handful.  They are soft enough that you can crunch them up and make them go quick, but they are hard enough that you can suck on them and savor the slightly tart sweetness.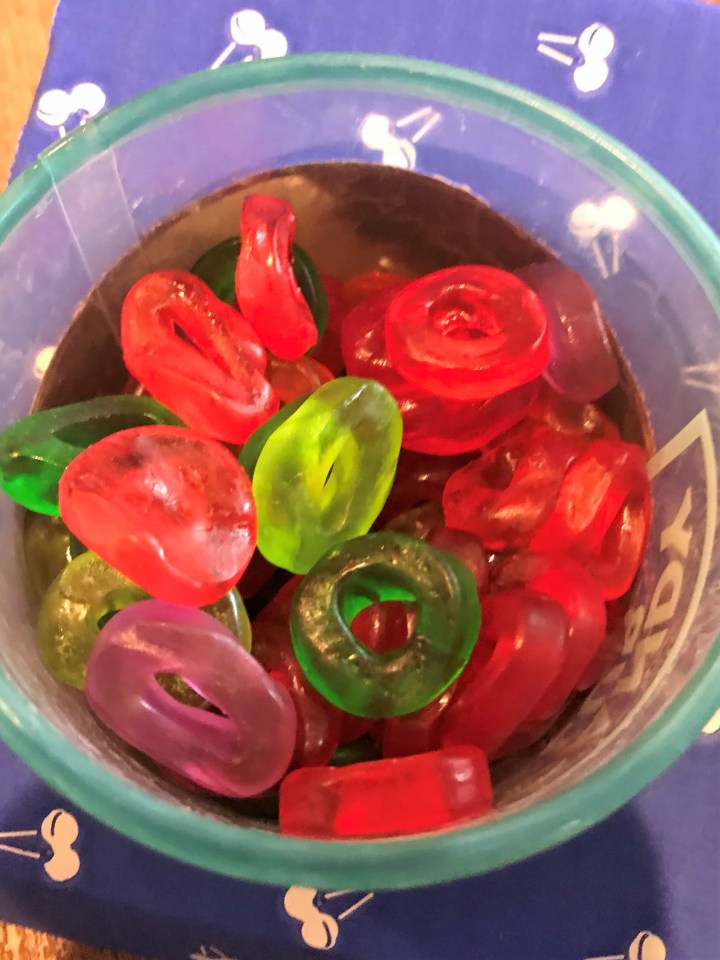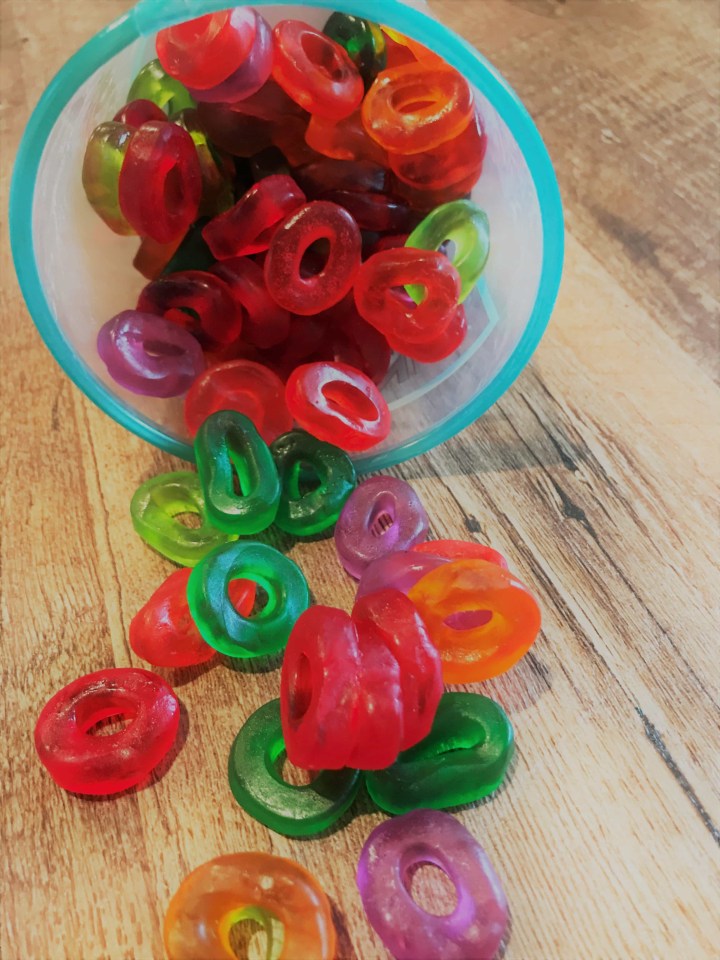 NASSAU® GUMMY MINI RAINBOW RINGS – So, the flavor of the green ones wasn't my favorite. You know when you're hoping for apple and then it's lime, but not perfect yummy lime, more like a little off lime that is slightly reminiscent of lemon pledge? But, the other flavors were awesome and you can wear them as rings! And then eat them off of your fingers. It's like delicious multi purpose candy!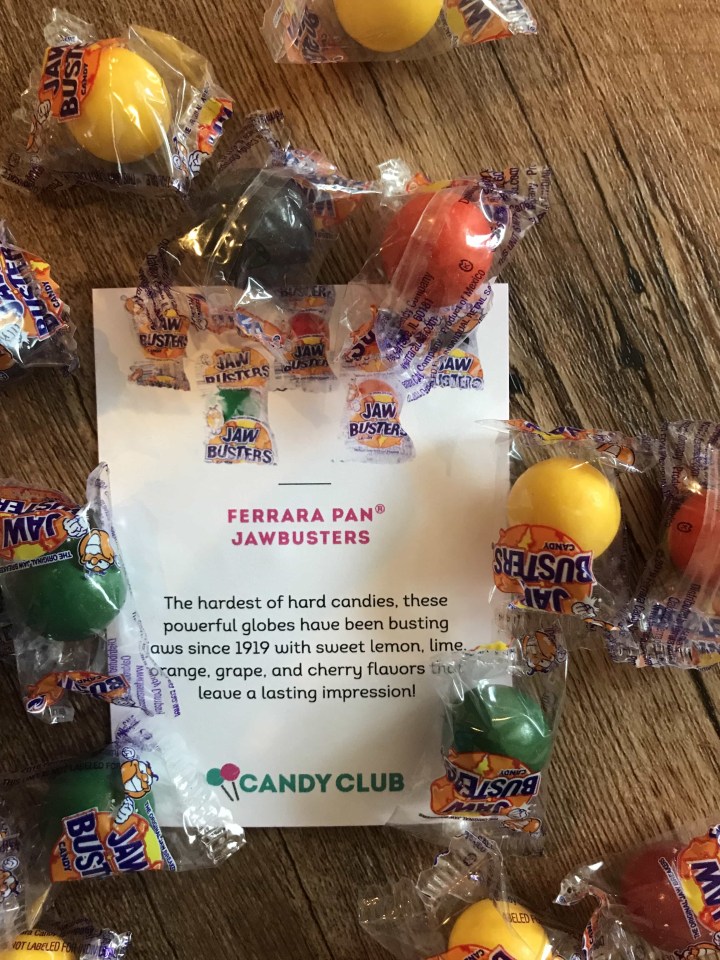 Ferrara Pan Jawbusters – "The hardest of hard candies, these powerful globes have been busting jaws since 1919 with sweet lemon, lime, orange, grape and cherry flavors that leave a lasting impression!"
1919! Wow! Nearly 100 years of slow melting, sweet deliciousness! I liked that these were the bonus wrapped candy in this box. These are great for keeping in your purse for church candy. Sometimes you gotta have a little pick-me-up to get you through the long winded guest preacher!
The Candy Club Subscription Box is a fun subscription. I enjoy being able to pick my candies from their selection of rotating candies every month. They usually have a few favorites that stick around and then add some new yummies to choose from each month. I have yet to be disappointed and have even found a few new favorites (like the Dark Chocolate Coffee Beans).
Have you tried Candy Club? What has been your favorite candy?