Candy Club is a premium candy subscription box. They bring the old fashioned candy store to your front door. They promise their boxes to have an amazing variety of different candies for your snacking enjoyment.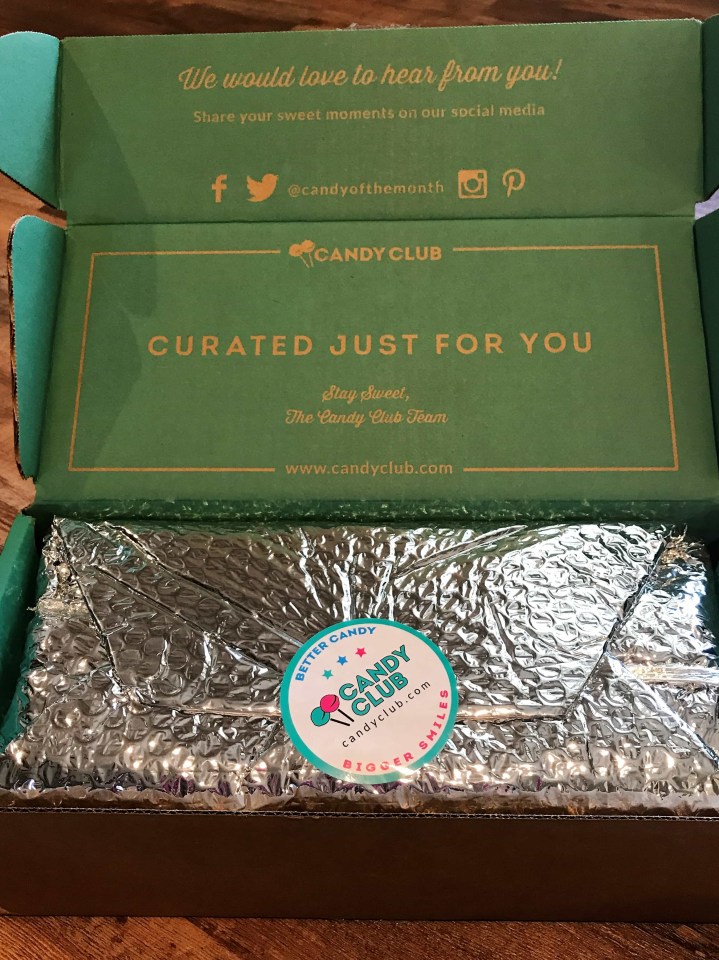 The candy came safely protected from temperature extremes in this insulated (and cute!) packaging.
DEAL: Save $20 on your first box! Just use this link to activate the offer.
OR You can instead use 50F-candydeal – 50% off and free shipping for a total of $14!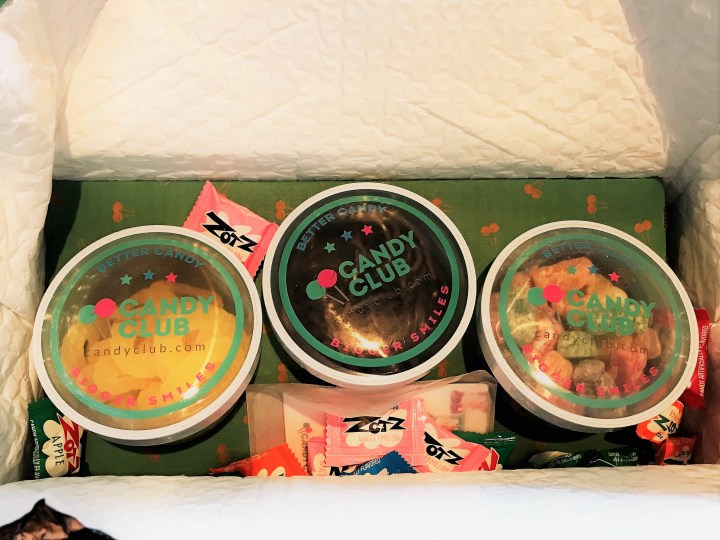 Inside the insulated packing, our yummies were even more securely packaged in round plastic containers that sat inside a cardboard stand with holes cut out to hold them in place. It really made for a nice display when you opened the box.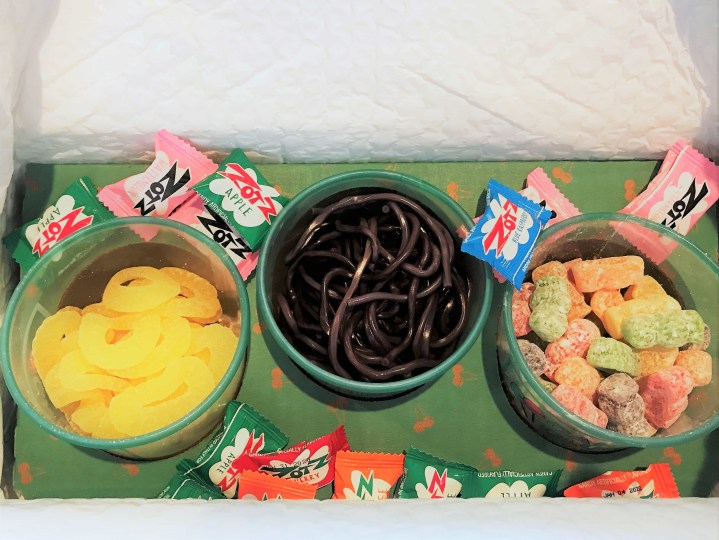 The Candy Club Subscription Box is $27.99 if you pay month to month. The price drops to $22.99 a month if you prepay for 6 months and to $19.99 a month if you prepay for a year. And, if you need more candy, you can choose to add up to three more candies to your monthly order. Shipping is $6.99 for all boxes. (You can get free shipping and 50% off of your first box when you use this link.)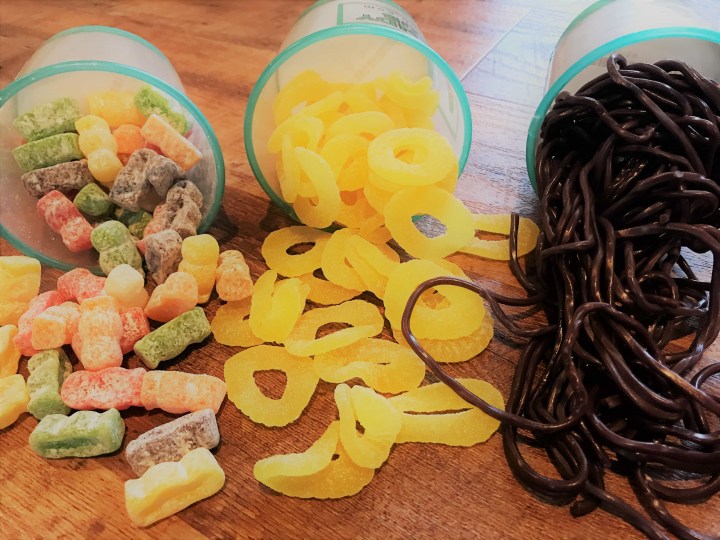 Each Candy Club Subscription Box contains up to 3 lbs of candy to include three signature containers and a splash of wrapped candies. If you are giving a gift, the candies are curated for you. If you are subscribing you have some choice in the candies that you get. You pick your own candies or you can choose a flavor profile for Candy Club to curate for you. The three flavor profiles are Club Sours, Club Sweets, and Club Mix. If you aren't sure what you like, no worries, they have a quiz that helps figure your candy profile out.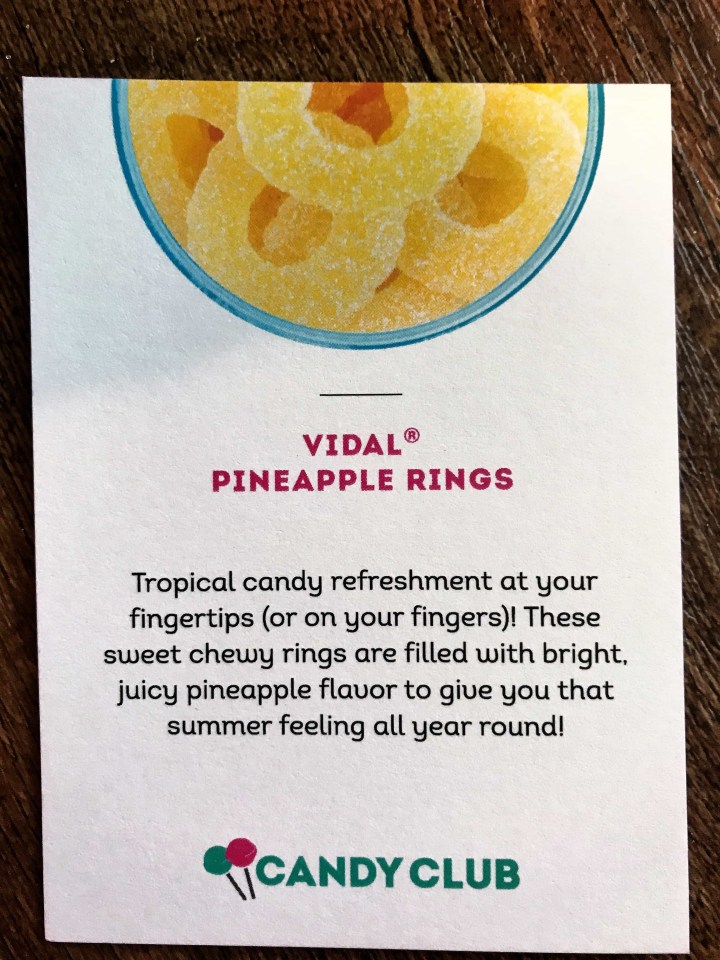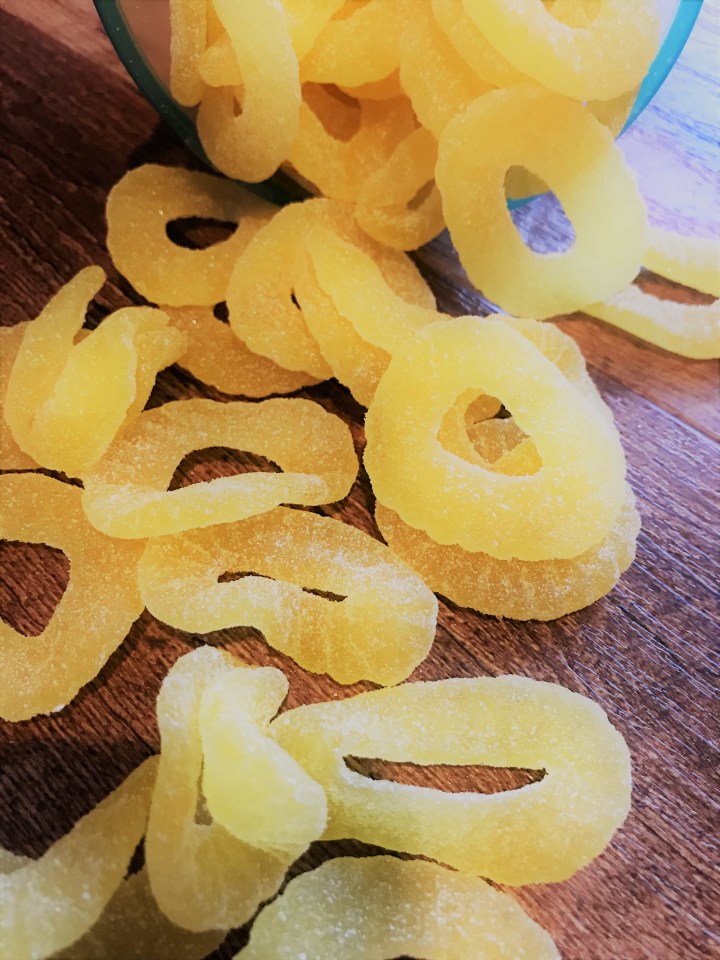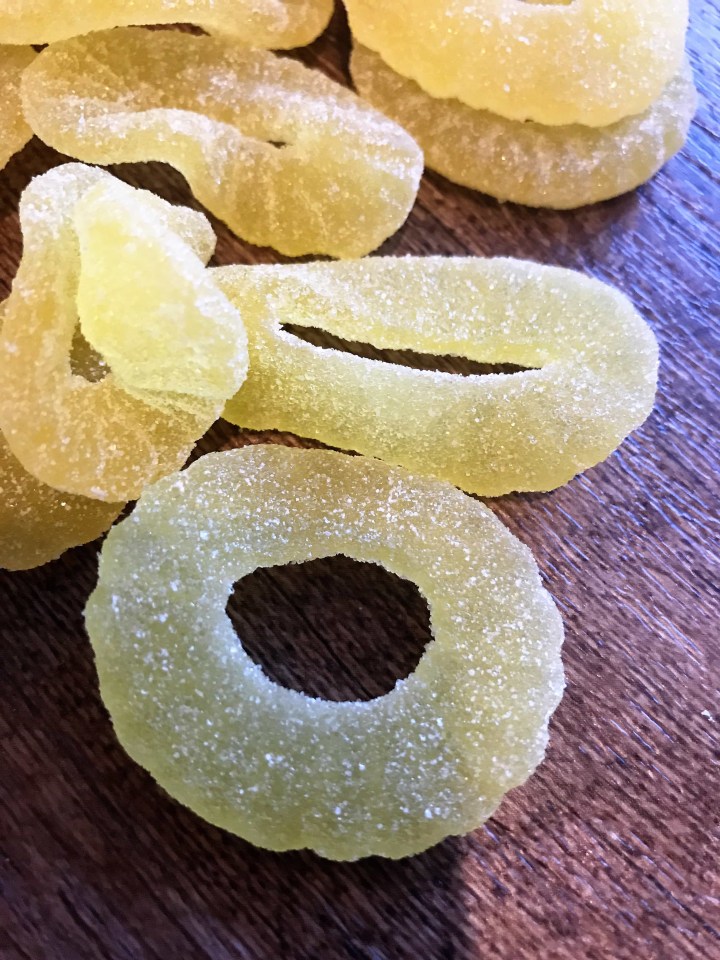 Vidal Pineapple Rings – "Tropical candy refreshment at your fingertips (or on your fingers)! These sweet chewy rings are filled with bright, juicy pineapple flavor to give you that summer feeling all year round!"
Raise your hand if you think pineapples are God's gift to mankind. (Raises hand.) I mean, they look cool and they taste like a slice of heaven in fruit form. And, these little diddies combine the heavenly goodness of pineapple flavor with the gloriousness that is a gummy. I recommend that you suck on them slowly and savor the slightly sour sweetness. If you go whole hog and chew them up, the sourness is greatly amplified and you will turn slightly inside out. You've been warned.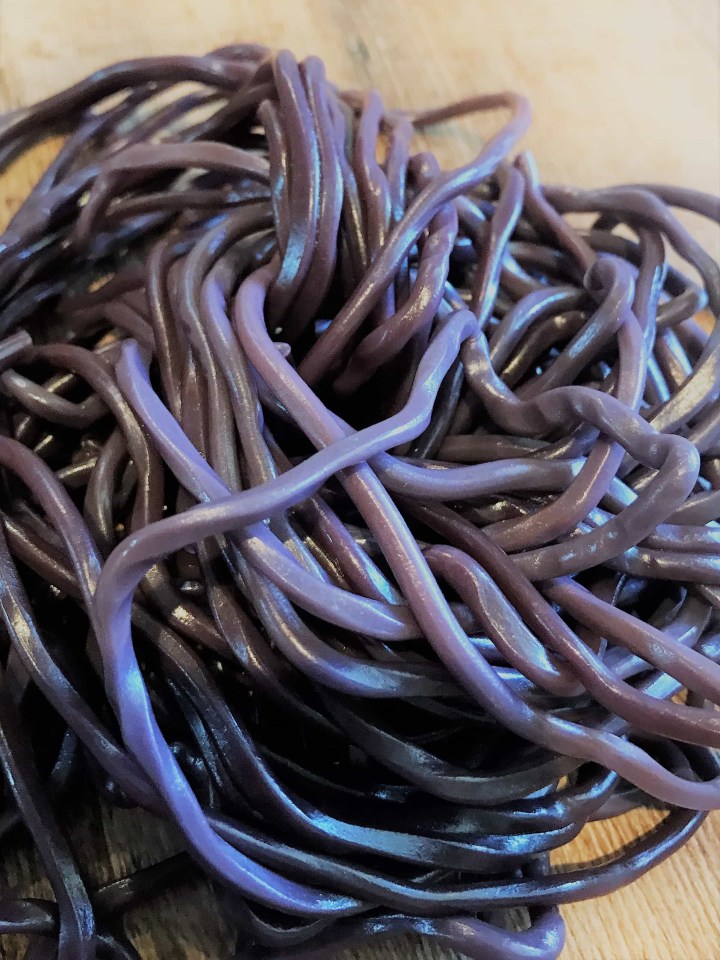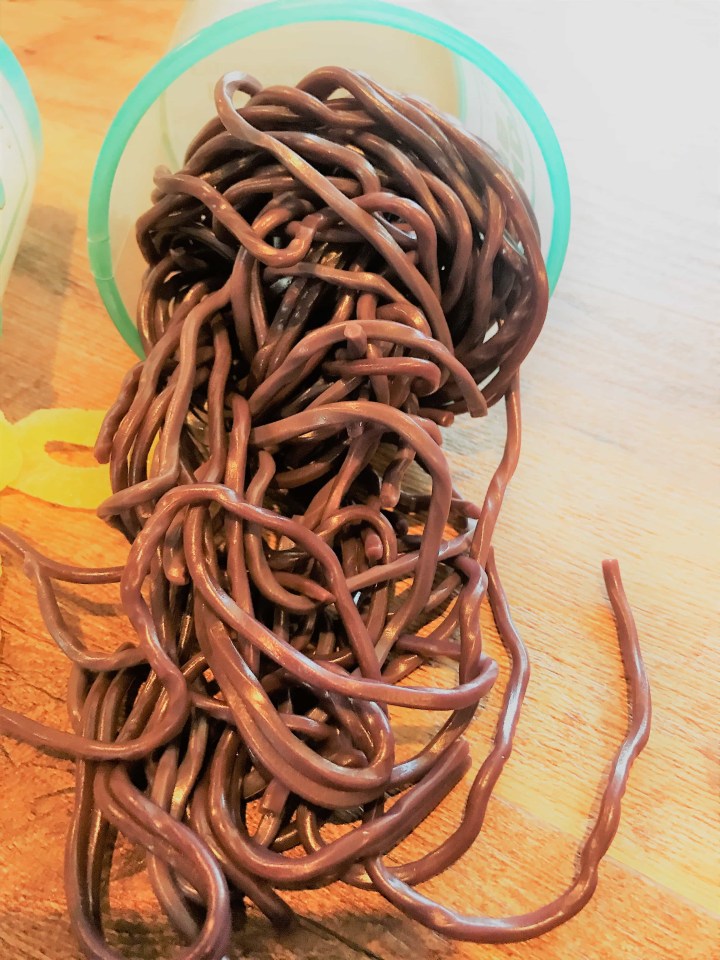 Gerrit's Grape Licorice Laces – "Gaga for grape? You'll love these long, skinny ropes of juicy grape flavor! Eat one by one or pop a pile in your mouth for a pleasantly purple taste experience."
These look really cool. The strings were all different sizes. My kids fought over the longer ones and oohed and ahhed over the two foot piece. I thought they were okay, but would have liked a more intense grape flavor. I guess I am looking for the perfection of the grape Skittle flavor. The kids know that I have dibs on all the purple Skittles, for ever and always.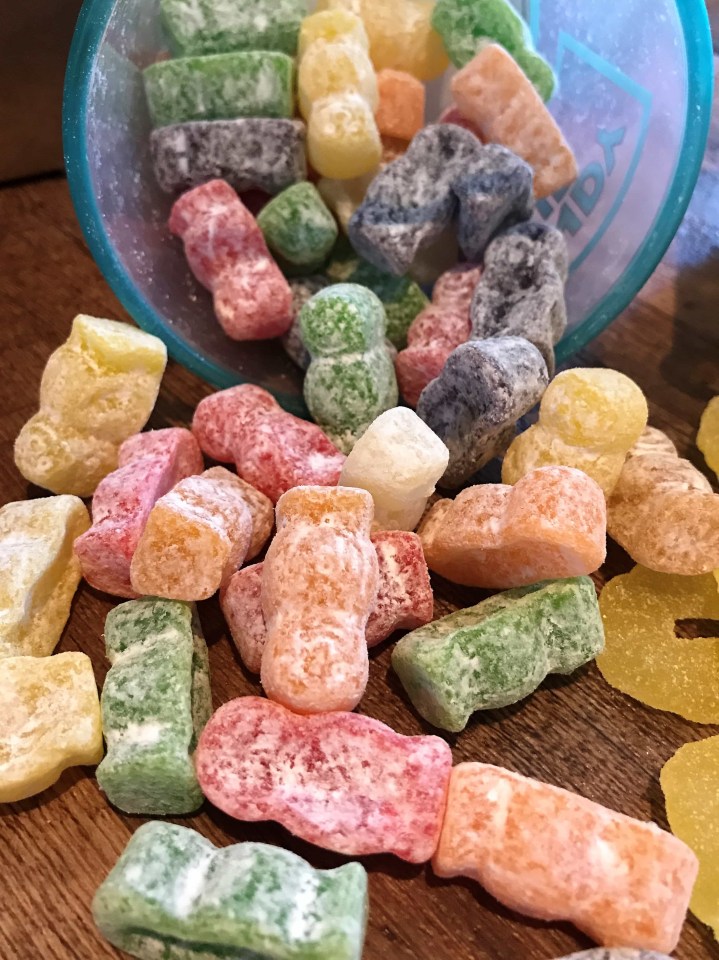 Gustaf's Jelly Babies – "These classic UK-produced candies were a favorite of Beatle George Harrison. "Come Together" with all your friends over their unique texture and tasty fruity flavors. Non-GMO."
These are my lovelies. My beautiful, mouth watering, delicious lovelies. With Candy Club you can choose to pick your own candies every month (or have them curate the box for you according to your tastes). I like to pick my own out of their monthly selections. So, when I saw these little babies come up as a selection again this month, I had to. (I was first introduced to their wonderfulness in the June box.) They are so stinking good! They are kind of like a gummy, but not quite the same. They have a firmness that is more reminiscent of a baked good. They are dusted with powdered sugar which seems to soak into the outside edges and firm them up, but doesn't quite reach the middle, which is still chewy and more gummy.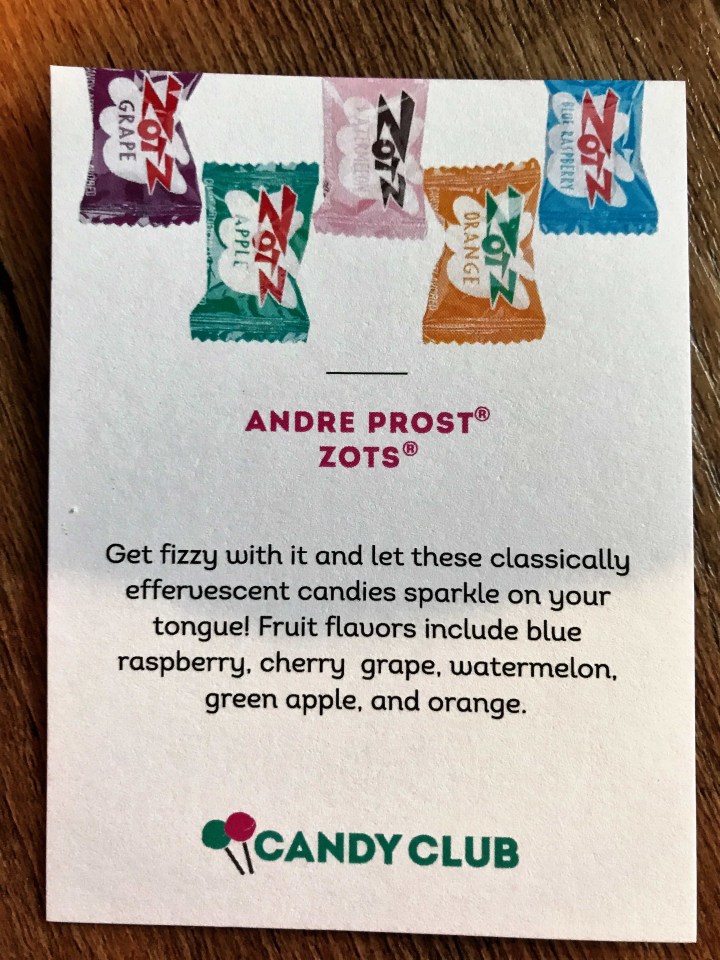 Andre Prost Zots – "Get fizzy with it and let these classically effervescent candies sparkle on your tongue! Fruit flavors include blue raspberry, cherry, grape, watermelon, green apple, and orange."
These are 3rd Grade. When I was in third grade my mom happened upon an after Halloween clearance sale with an awesome deal on bags of Zotz and Warheads. She bought a buggy (shopping cart if you aren't from the South) full and all my memories of 3rd Grade from there on out are permeated with these two varieties of candies. That was nearly 30 years ago. AAACCKK! My childhood candies are now nostalgia. The center of these little guys is filled with effervescent powder that fizzes when it hits your tongue. Kind of like sucking on a sweet fruit flavored bath bomb.
I enjoy the Candy Club Subscription Box. It is always a walk down memory lane with the nostalgic candies and I have found several new favorites. I like the fact that you can pick your own candies from there monthly selections. And, this is a great subscription to share with friends. I have taken several road trips with my friends (and family) and grabbed the Candy Club box on the way out the door, because what is a road trip without yummy munchies?
Have you tried Candy Club? What has been your favorite candy?