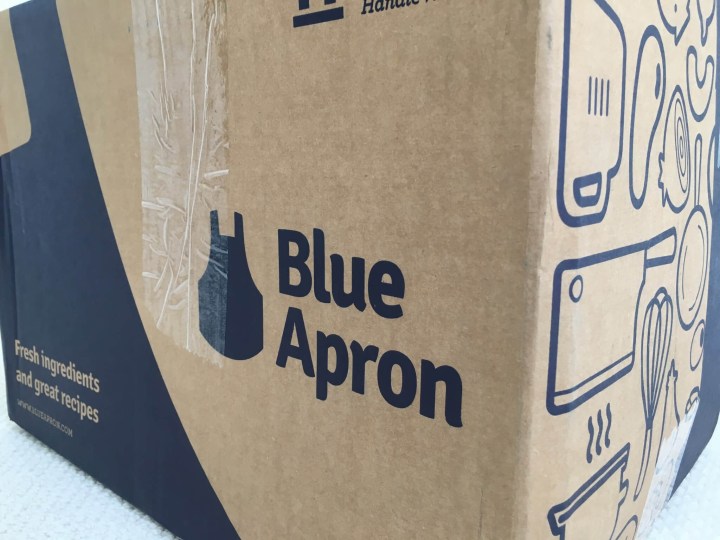 Blue Apron is a subscription box for making great meals at home. If you're like me, you periodically find yourself in a serious cooking rut. You make the same things every week, but the thought of researching a recipe and acquiring all of the ingredients is just too much work. Blue Apron is the solution! Each week, Blue Apron sends you a refrigerated box with all the fresh ingredients you need to make the included recipes. You can select the 2-person plan – 3 meals a week of 2 portions each – or the family plan – 2 to 4 meals a week of 4 portions each. The menus are set, but you can ask Blue Apron to avoid ingredients you don't eat – shellfish and lamb, in my case.
We got the Family Plan for 2 meals. I set the delivery date and it arrived right on time, securely packaged in a heavy-duty box. All of the ingredients are wrapped in an adorable insulated blanket and cooled with ice packs. Mine took a day to arrive and sat on my porch for 3 hours, and everything was perfectly cool inside.
Pricing: 2-Person Plan – $59.94 for 3 recipes. Family Plan (serves 4) – $69.92 for 2 recipes, $139.84 for 4 recipes. 
The box is now generally divided by meal, which reduces time needed to sort the ingredients.  Nice!
DEAL: Save $30 on your first order! Use this link – no coupon code required!
The meat is at the bottom, surrounded by still-frozen gel ice packs. The fish was vacuum-sealed, so no concerns about leakage. The produce was all in good shape this month, plus we got a little bonus info on fancy tomatoes.
Our first meal was the Barramundi and Ginger Rice; a bit out of my family's comfort zone, which I like.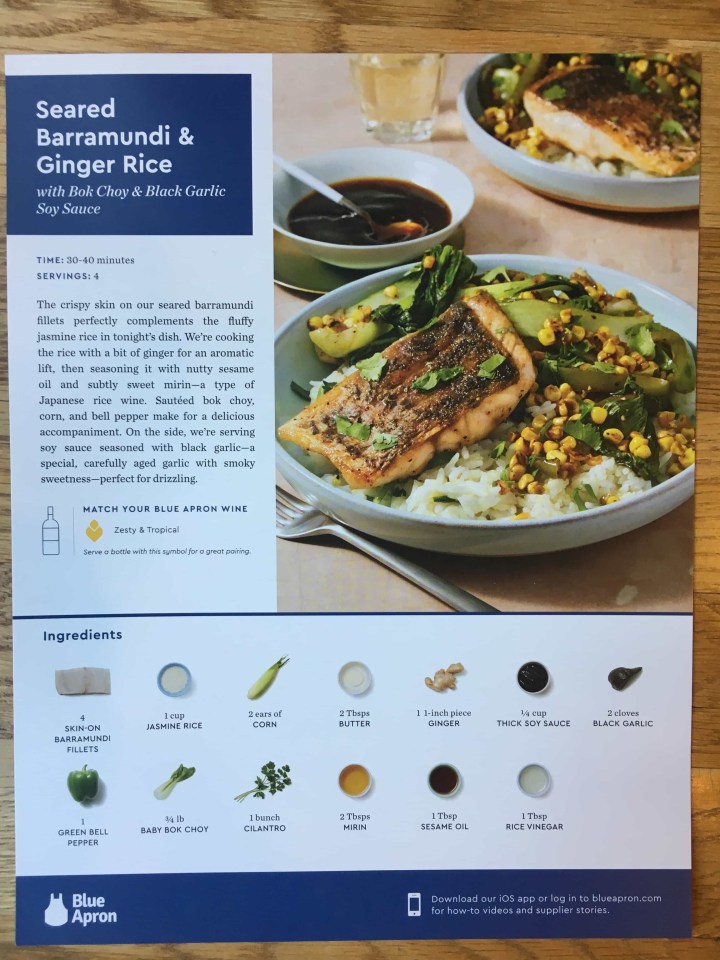 As usual, all of the produce was included, even wee bottles of mirin and "thick" soy sauce. The fish is sustainably harvested and smelled very clean with no "fishy" off-odors.
The meals come with nutrition info and ingredients. Know what you're eating!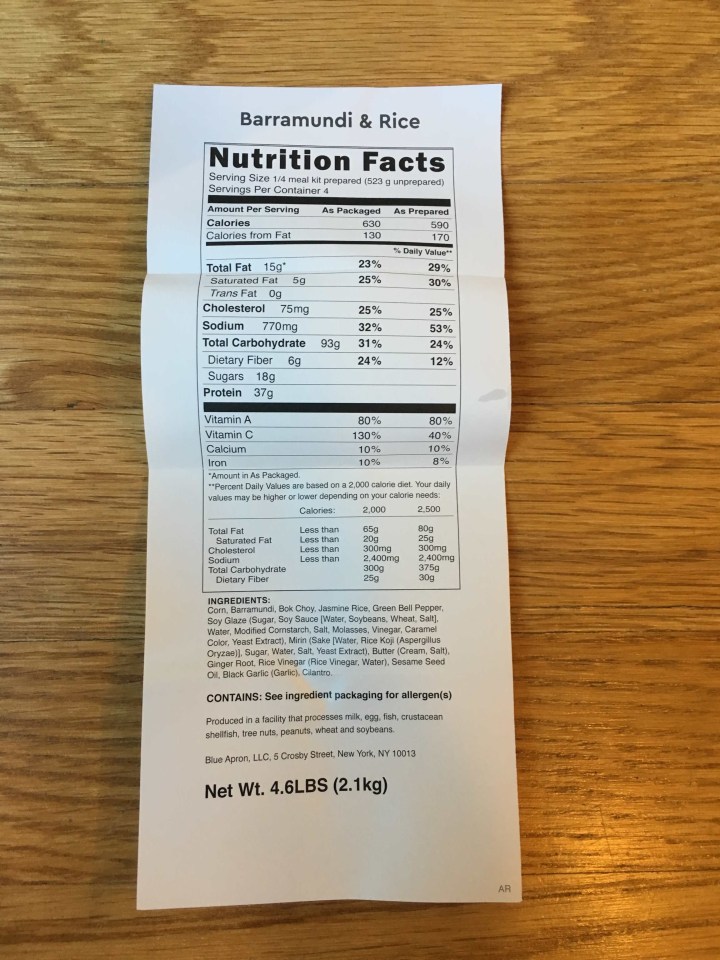 All of the directions are straightforward. Start that water boiling for the rice right away, though!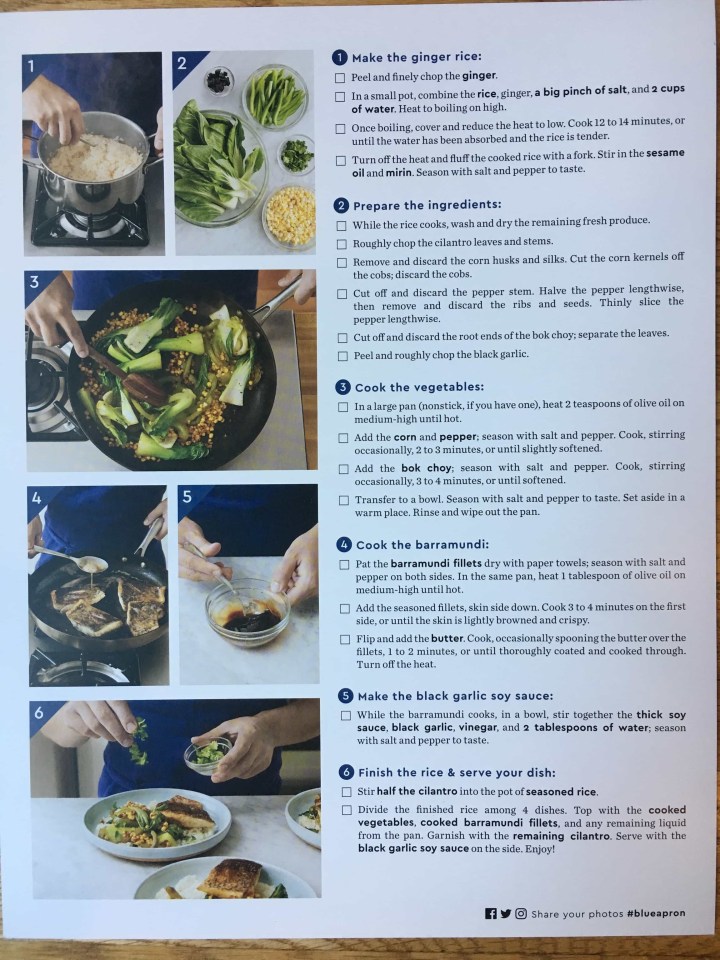 Our next meal was smack back into our family comfort zone — Bucatini Pasta and Tomato Sauce.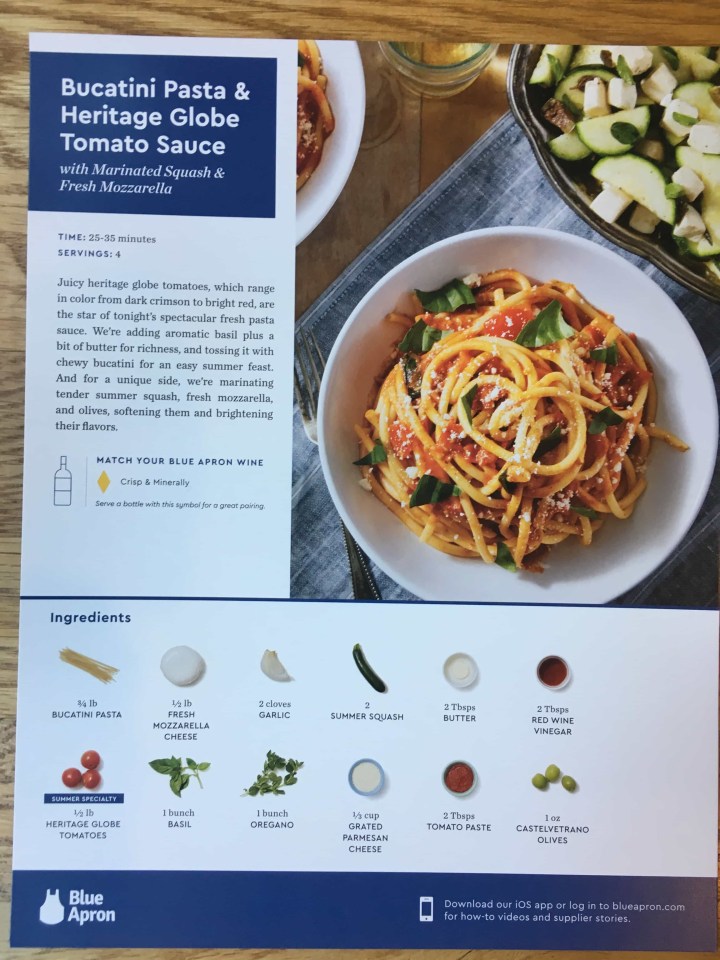 I don't know anything about the heritage of the tomatoes, but they were like giant grape tomatoes and highly amusing to the 8-year-old.
As usual, Blue Apron does a great job of sending you just the amount you need for the recipe, so you don't waste anything; nor do you have to think about how much to add to the recipe.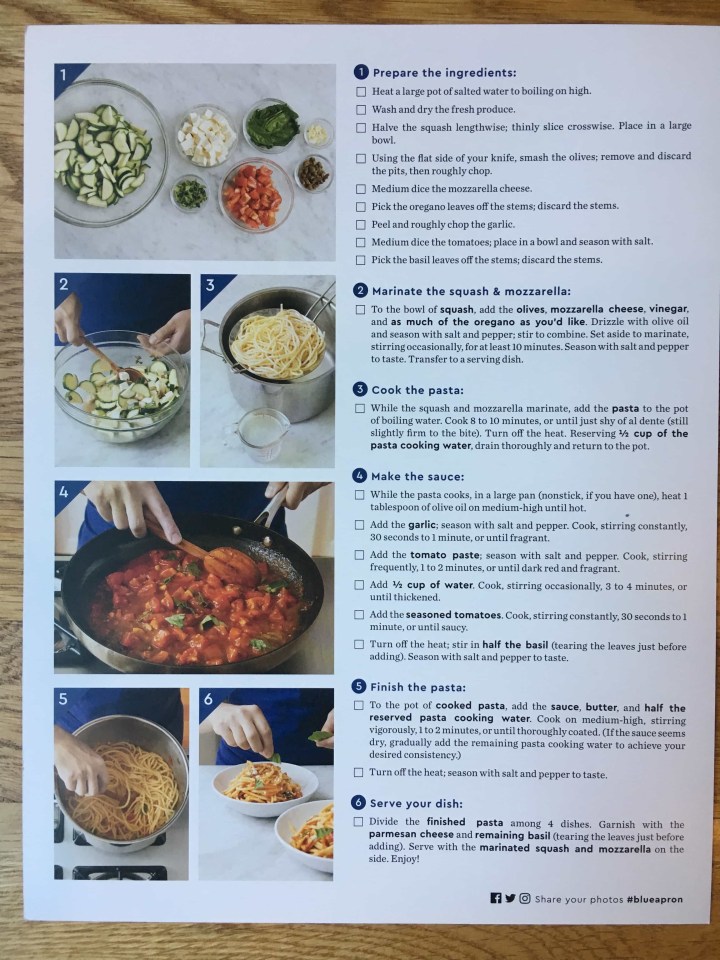 Each recipe comes with these easy-to-follow instructions. Even if you are new to knife skills, you will be able to do everything on this list. The prep time on this one was about right.
No eats a bowl of pasta because they thought about the nutrition facts.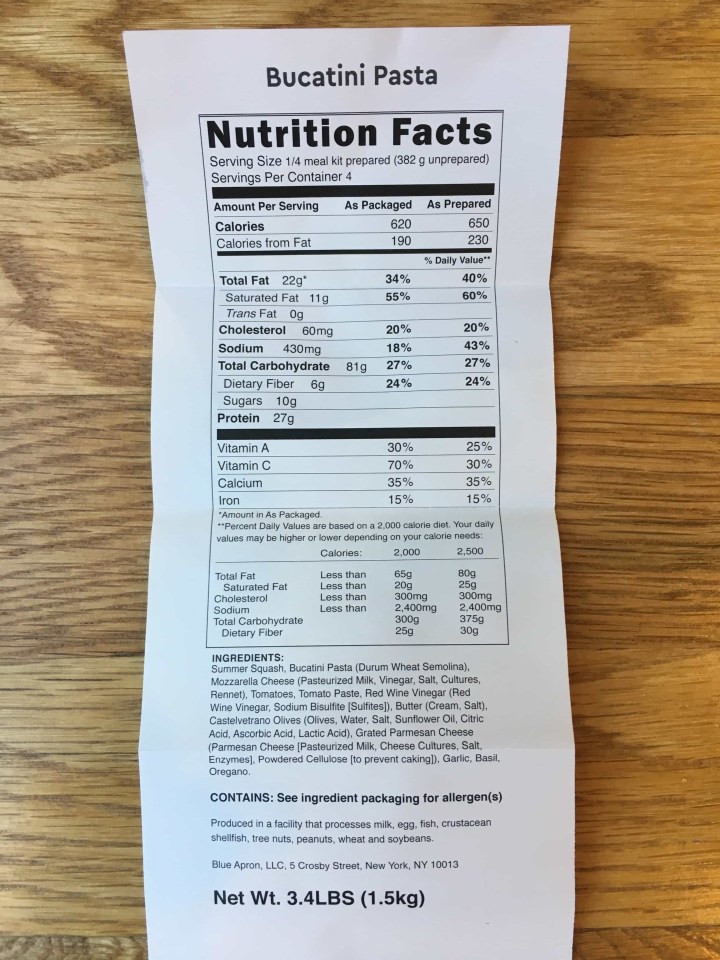 This meal was straightforward to make. I added a bit more vinegar to the squash salad, as it needed a bit more punch.  What it really needed was a night in the fridge to meld the flavors (leftovers were better than fresh), but that doesn't work with the meal-kit concept.
And, yes, that's a Blue Apron wine subscription glass of wine over there. My Sauvignon Blanc went great with this meal.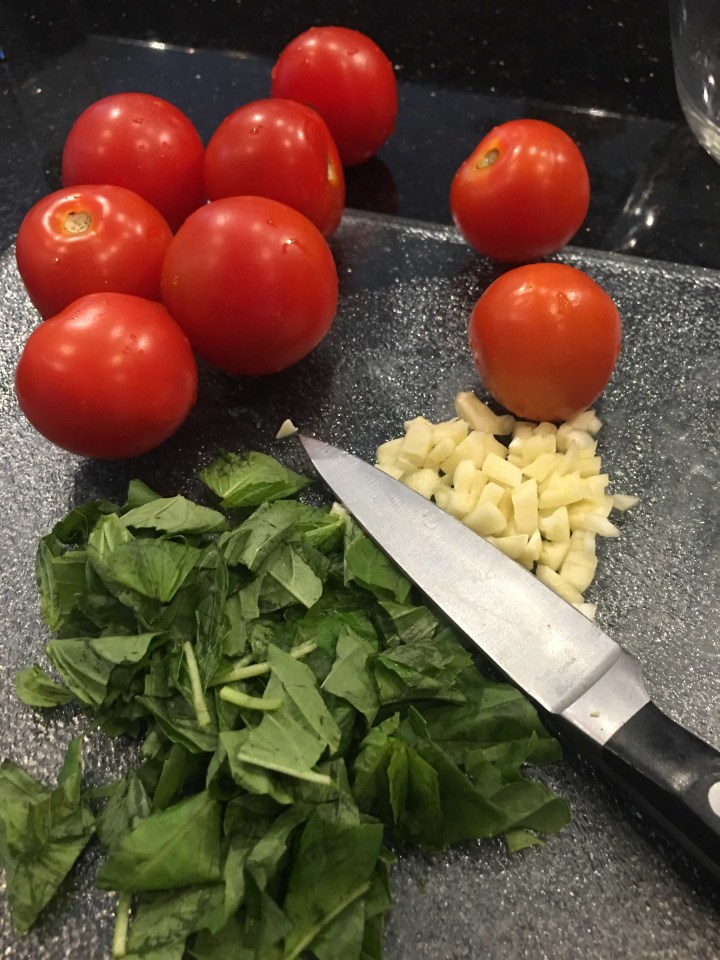 Easy prep for this meal. The sauce was tasty and really fresh.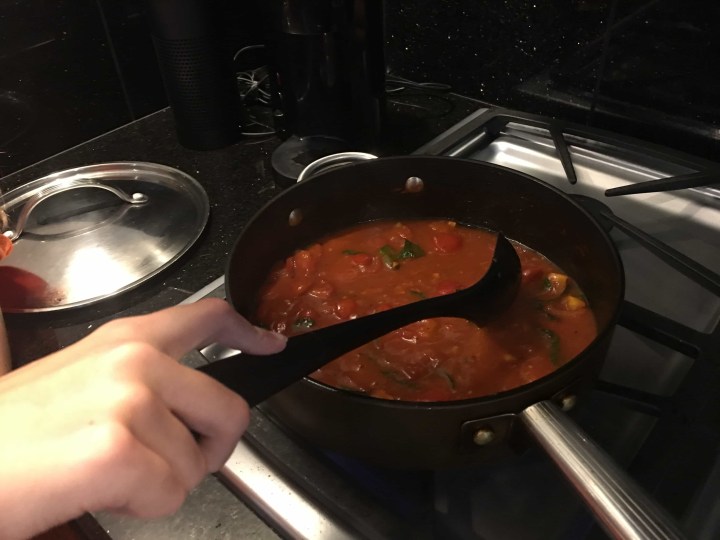 It's hard to go wrong with noodles and salad, and we didn't!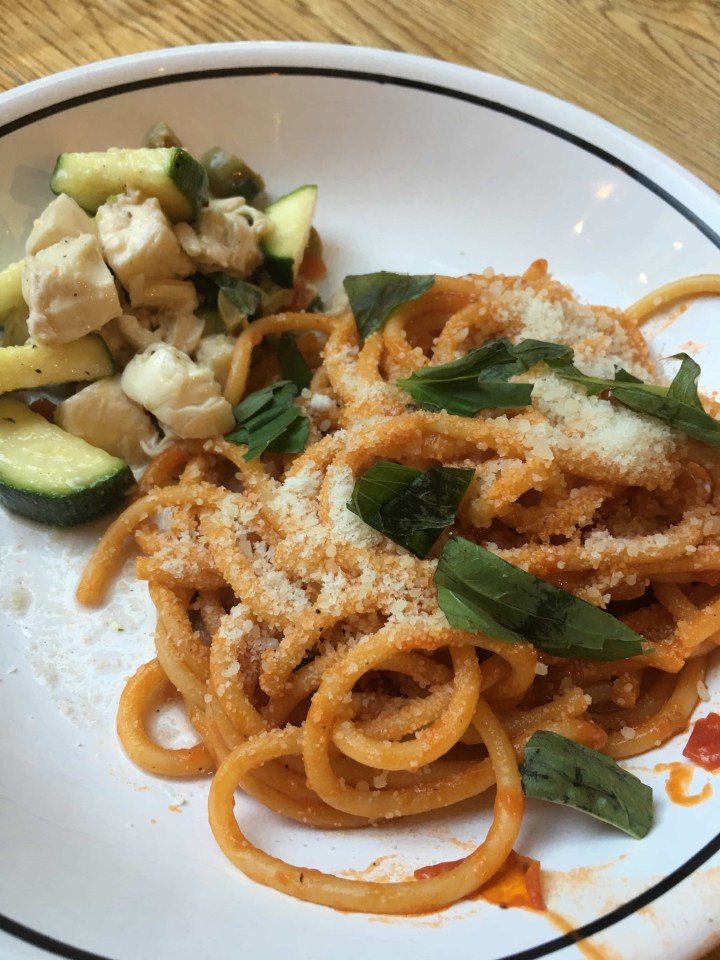 Thumbs up from everyone. That squash salad was a snap to make and something you could easily add to your recipe rotation.
Oh, and we got a present in our box this month, these fun purple cornflakes from Back to the Roots. The boy bogarted them immediately and reported that they were tasty on Saturday morning.
Hey, did you know that Blue Apron has a wine program now? It's super easy to match your wine to your meal, like that tasty Sauvignon Blanc I had with the pasta.
It's nice to not have to decide "what's for dinner" all the time. Overall, Blue Apron has been enjoyable and gets us out of our boring dinner routine. Honestly, you can forget how fun cooking can be. Interesting ingredients, easy recipes, and delicious food. We can't wait to see what we get next time!