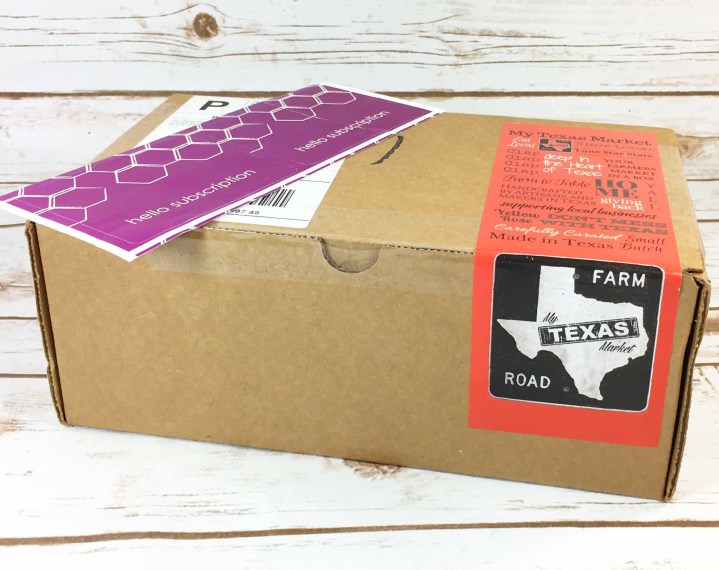 My Texas Market is a monthly subscription that sends a curated collection of small batch artisanal goods produced in Texas to your home. These are items you might find while browsing the local farmers market – and I occasionally DO spot some of these makers while on my rounds at the local FM near my home in Austin!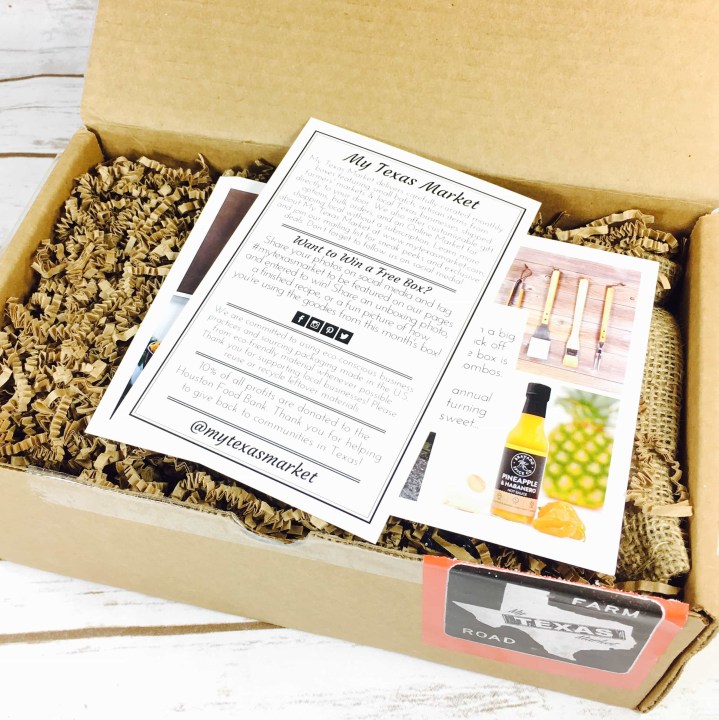 DEAL: Save 10% on your first box! Use coupon code 10FIRST.
My items were snuggled in shredded brown paper and the glass items were wrapped in bubble wrap for safety. Looks like this month's products are all edible!
June's theme was Bourbon and BBQ!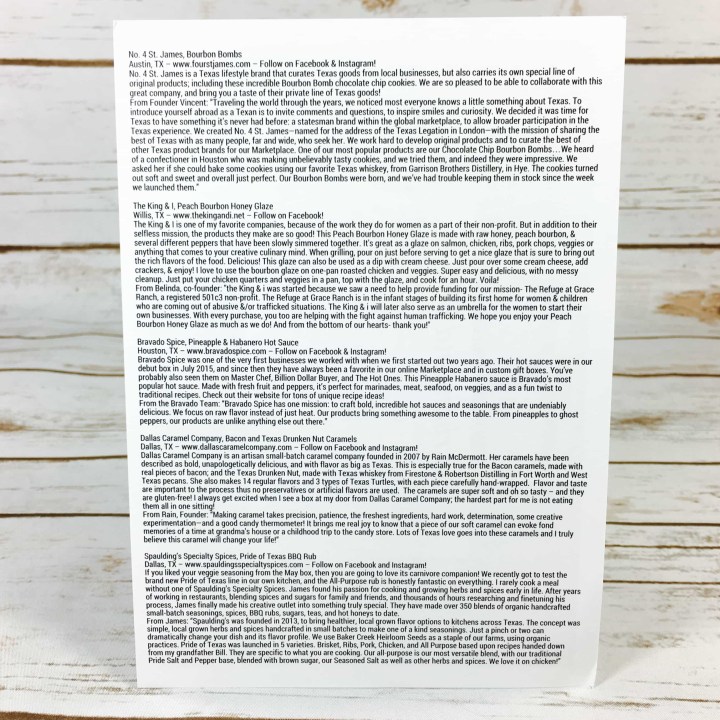 The back of the card gave some info on the suppliers and products.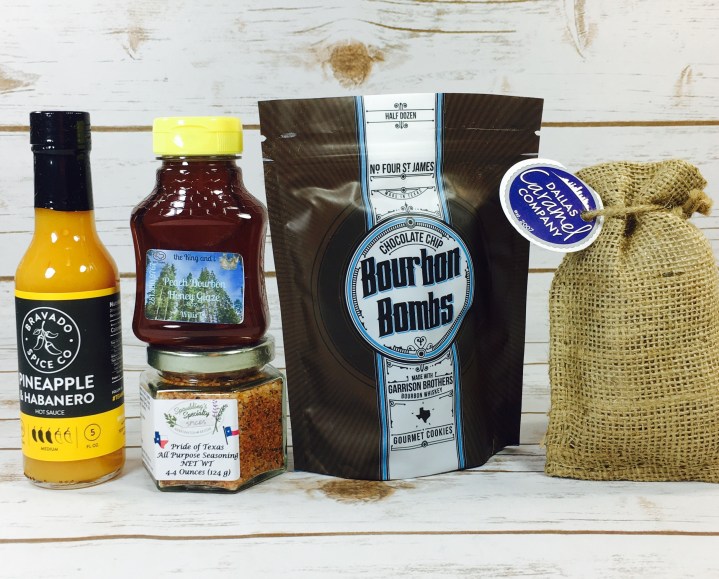 Everything in my box! I love how My Texas Market sources small batch, artisan goods from farmers' markets and local Texas businesses each month and gives 10% of their profits to the Houston Food Bank!
The King and I Peach Bourbon Honey Glaze is made with raw honey, peach bourbon, and peppers, but I couldn't find a full list of ingredients. It has a bit of bite thanks to the chilies and would be great on grilled chicken (for those last few minutes, don't let it burn!) or just pour on cornbread or biscuits to add a special touch.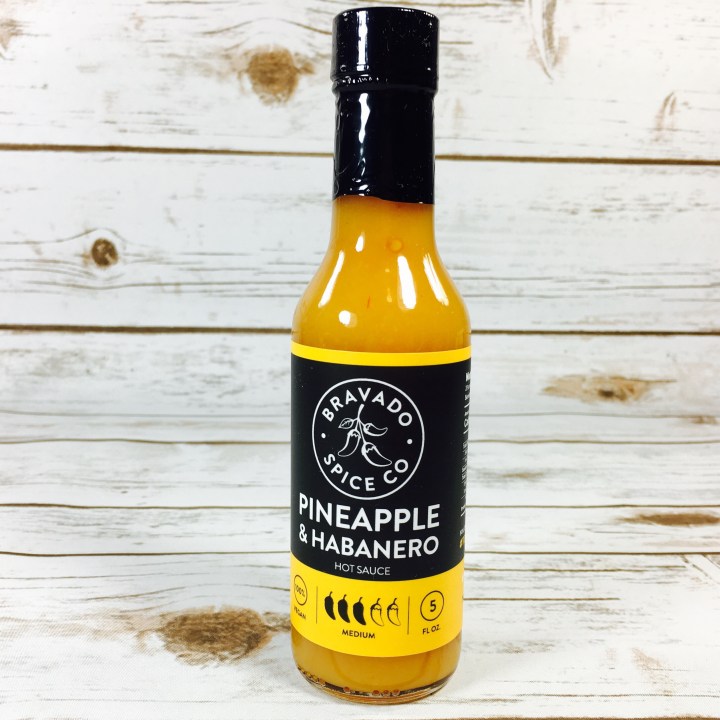 Bravado Spice Co Pineapple & Habanero Hot Sauce When I visited the bravado Spice Co.'s page I found a bevy of delicious looking recipes and bookmarked it for later. I haven't had a chance to cook with this yet but I tried it on a spoon and it was tangy, spicy, and sweet. I love products with real ingredients and the list is pretty short and sweet for this winner.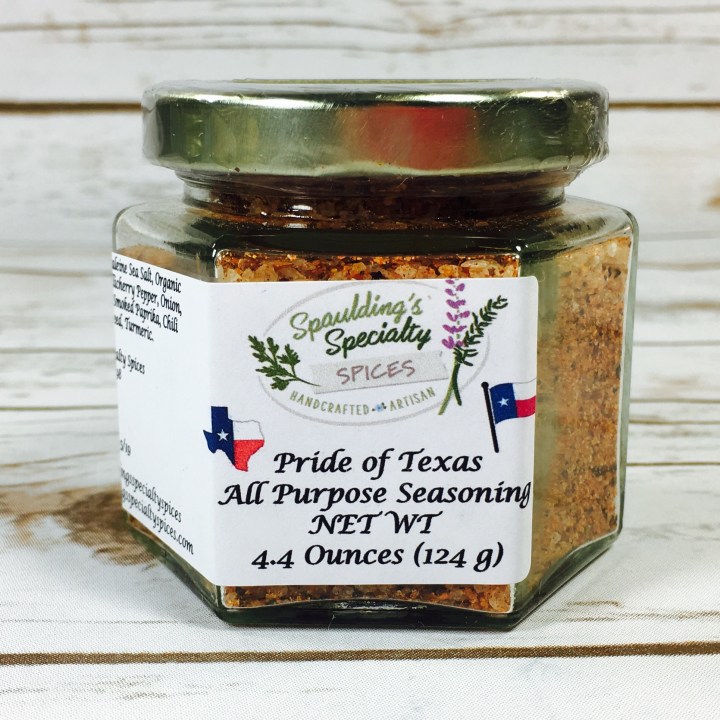 Spaulding's Specialty Spices Pride of Texas All Purpose Seasoning I have a pretty impressive spice rack and quite a few of my go-to's are from Spaulding's.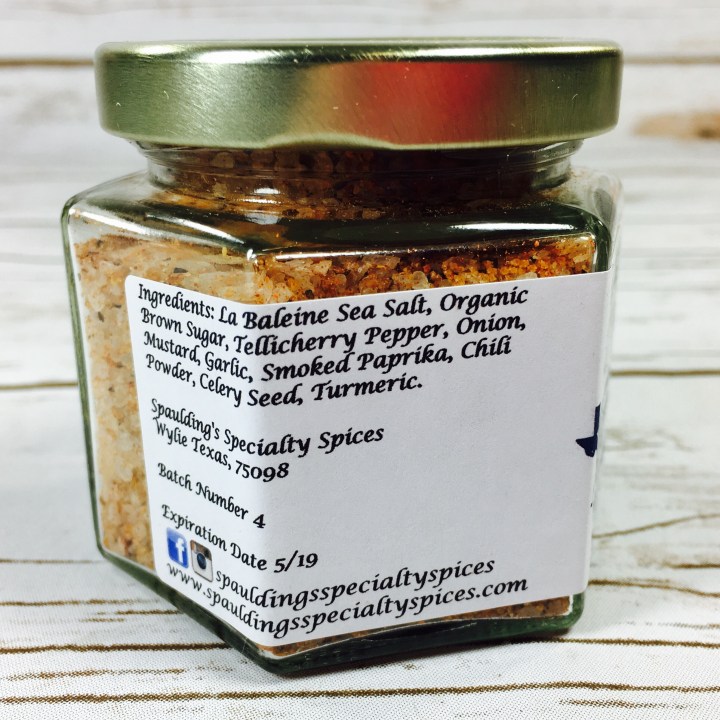 Pride of Texas has brown sugar in the mix so I would suggest using it on meat before grilling to get a nice crust.
Look at those salt crystals! This would go good around the rim of a Mexican Martini or sprinkled on watermelon with a bit of lime. Make sure to check out Spaulding's teas and special sugars, too!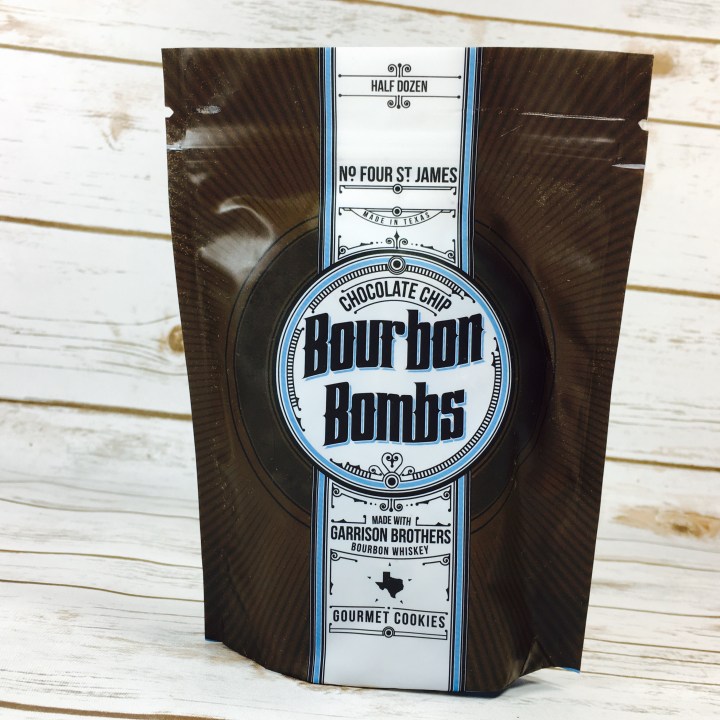 I kind of have a problem with these No. Four St. James Chocolate Bourbon Balls. The problem is that I have already eaten the whole bag. They are so delicious, kind of boozy but without the aftereffects. Pecans, oats, bourbon, and chocolate are some of the ingredients in these soft baked cookies.
They are so soft baked that it is almost like eating raw cookie dough. So good! I may need to make a trip to their Tiny Texas Embassy here in Austin to pick up more!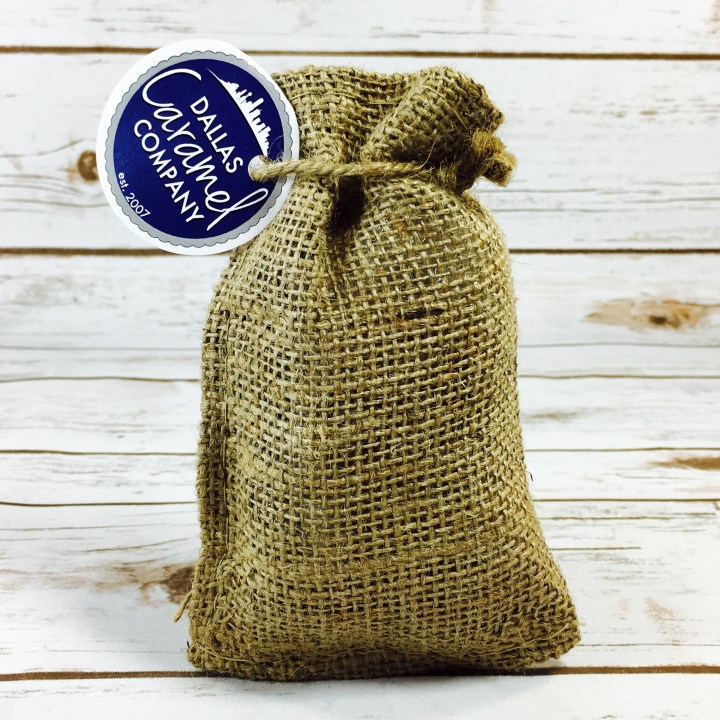 I love Dallas Caramel Company and they even have their own subscription box!
I received two flavors from My Texas Market this month: Bacon and Texas Drunken Nut. Bacon has pieces of bacon mixed into the buttery caramel, while Texas Drunken Nut has pecans and bourbon.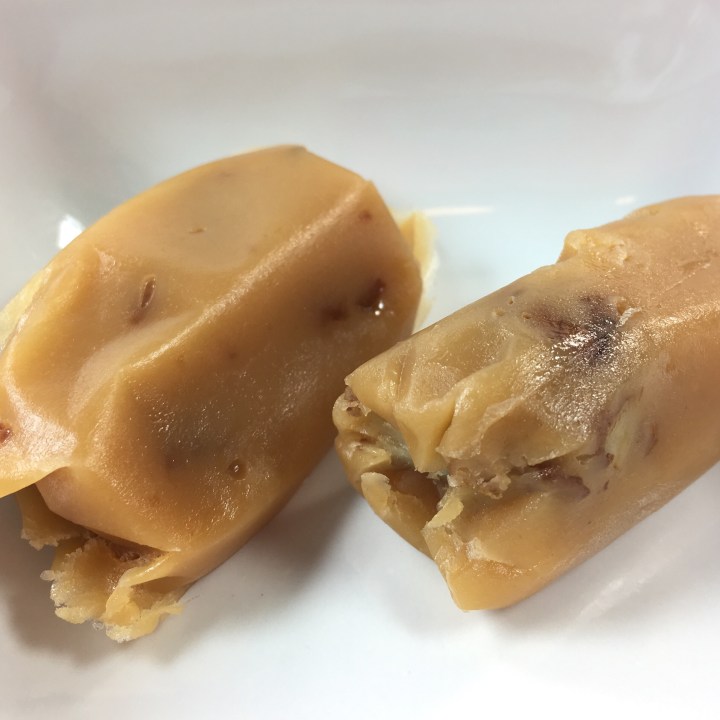 Bacon is on the left and Drunken Nut is on the right. I couldn't wrap my head around bacon and caramel but the Drunken Nut is just perfection. Both of the caramels are super soft yet have a bit of crystallized crunch on the outside and are so buttery good and yummy and nom nom nom.
I love to get my monthly box from My Texas Market! I have come across some of these vendors at the farmers market and love to tell them how I tried their product in my box. I devoured the bourbon balls, made the caramels disappear like magic, and can't wait to put the rest of these items to use next time I grill. If you like to get products from some amazing producers or just want a little taste of Texas then give My Texas Market a try!
Have you tried My Texas Market? What did you think of this month's selections?