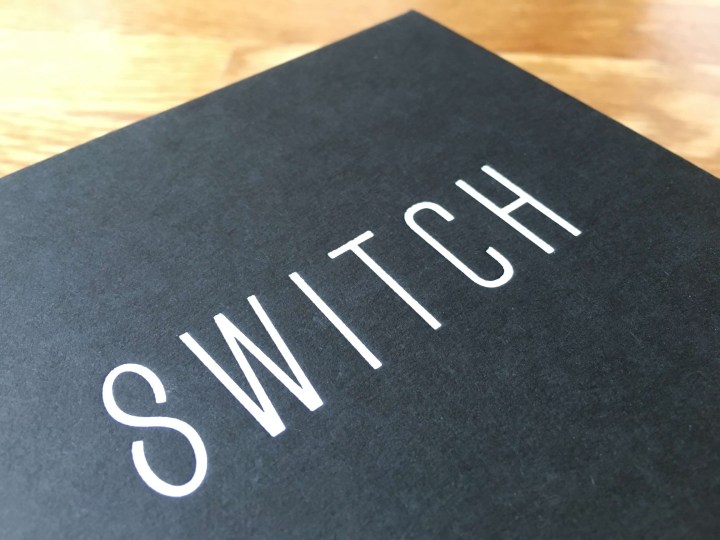 Switch is a jewelry subscription that lets you rent designer jewelry starting at $29 a month. You can wear the pieces for as long as you like, or switch them out for new piece(s) whenever you want. Shipping is always free. The jewelry, which includes pieces by Hermes, Alexander McQueen, and Celine, among others, averages $500 and includes necklaces, bracelets, and earrings. Jewelry is cleaned between wearers.
I have always admired fun statement jewelry on other women, but I can never bring myself to commit to a piece.  Who wants to spend $500 on a piece of jewelry that you may wear only a few times before it goes out of fashion? But who wouldn't like having an amazing new piece whenever you go out? Not being an heiress or a tech entrepreneur, and having a firm frugality-is-golden Midwestern upbringing, I figured this kind of jewelry was out of reach for me.  Enter Switch, which lets you have fun without the commitment. It's like internet dating for jewelry!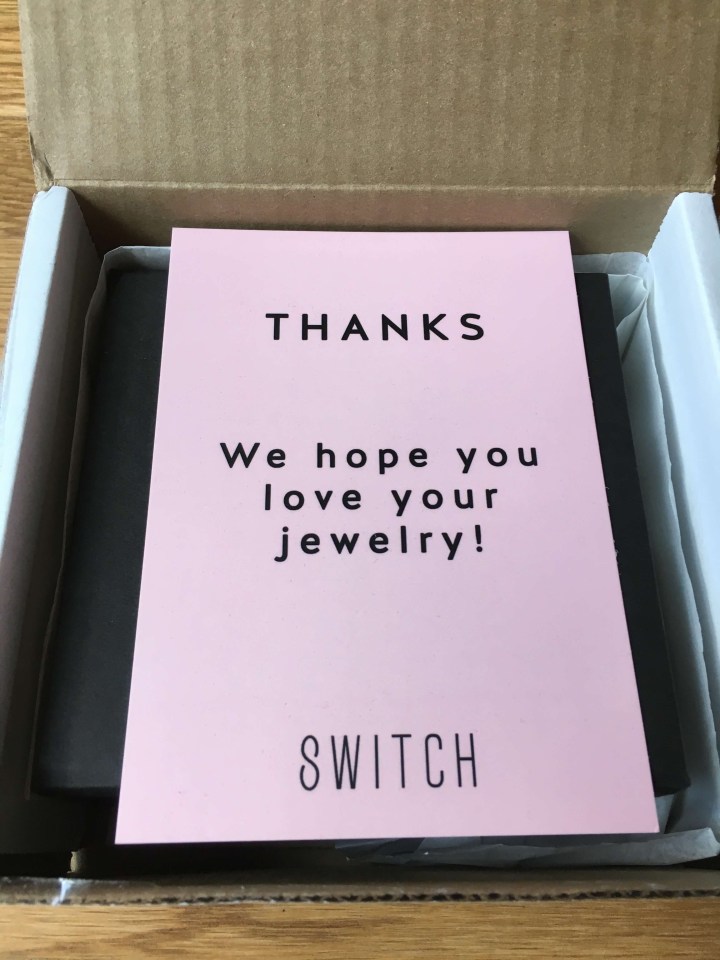 DEAL: Get half off your first month on any plan. Use coupon code HELLOHALF.
Sign-up is simple. You look through the collection and pick the pieces you like. A redesign of the website makes it easy to know which pieces are available. So, just like you're shopping, you pick what you want, put them in your bag, and check out. Shipping is free both ways. Wear it as long as you like, and send it back when you're ready for something new. I recently moved up to the Black plan, which allows me to have three (!!) pieces at any one time for $69 a month.
My jewelry came in the mail in just a couple of days. Everything is all snugged up in secure packaging. Can I just tell you how exciting it is to open tiny velvet pouches containing gorgeous jewelry that costs less than my monthly lunch budget?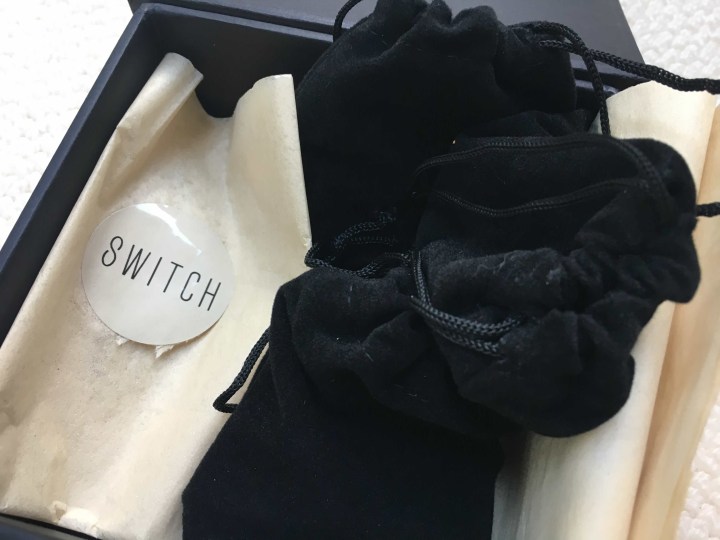 Switch is always changing up their inventory, so there's always something new and fun to select. This month, I got the Chloe Carly Hoop Lariat Necklace ($590 retail value), the Chanel Vintage Hoop Earrings  ($500 retail value), and the David Yurman Heart Cable Bracelet ($475 retail value).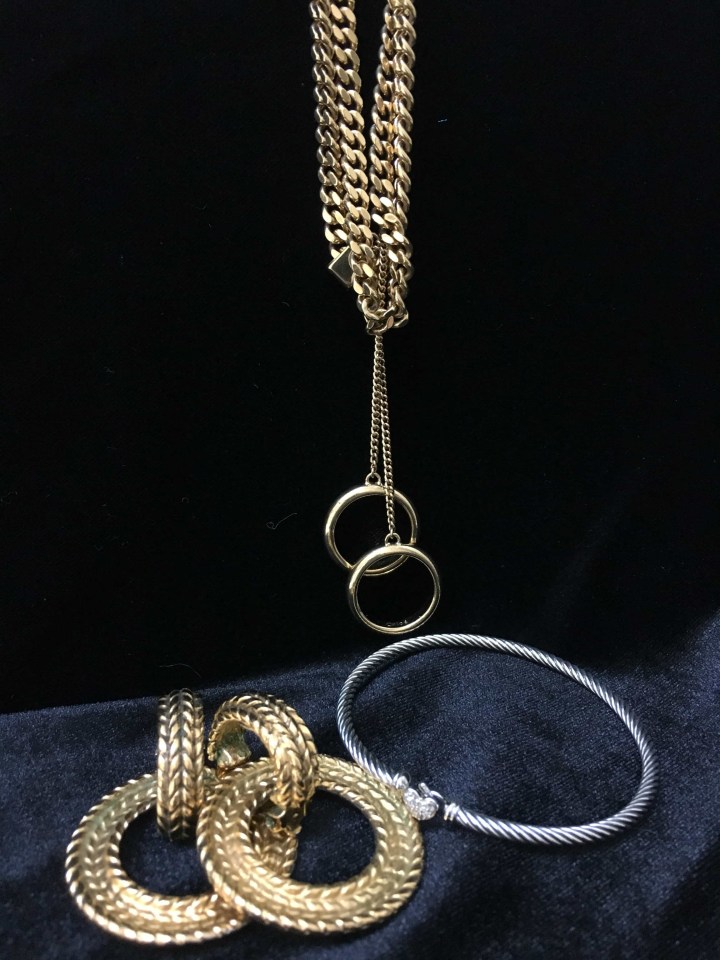 First up was the Chloe Carly Hoop Lariat Necklace. It's sold out online, which makes it extra fun to have this piece from Switch.
This necklace is fun and versatile. It's a 34″ gold-tone brass chain with the two rings dangling. You can wear it long and get your disco on or wrap it up and play off the huge choker trend with a layered look. The gold tone looks nice against just about any fabric or skin tone.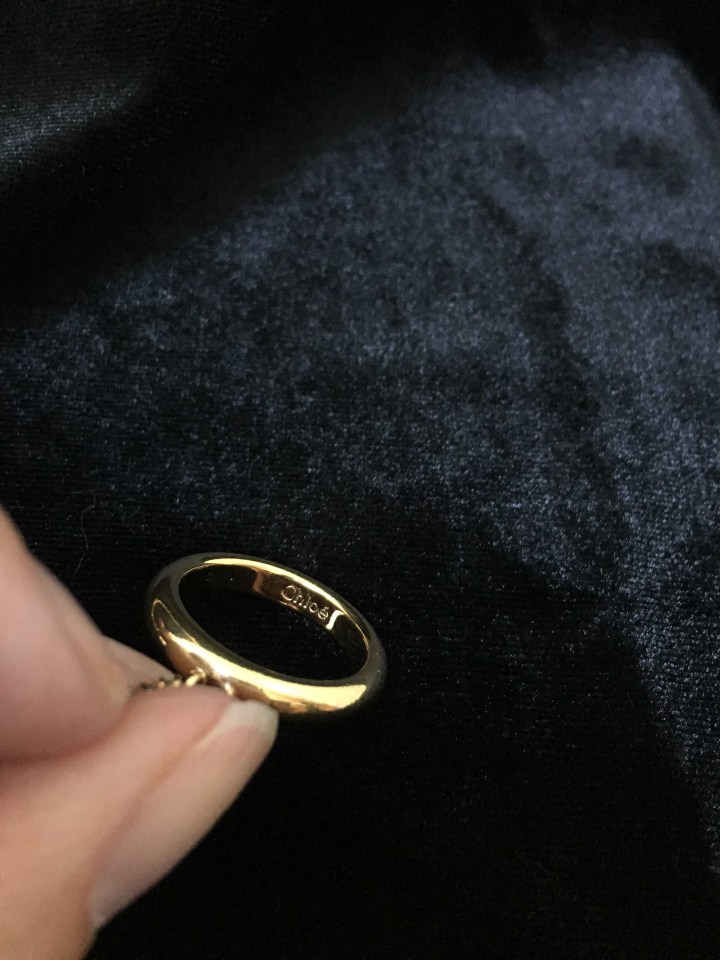 You can see the Chloe logo on the inside of one of the rings.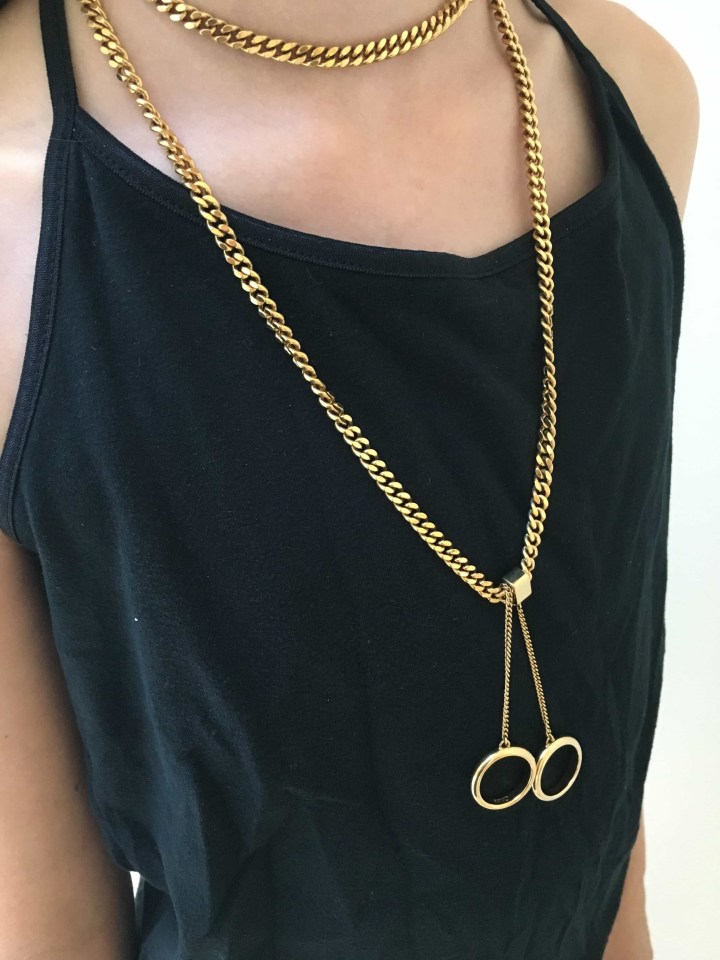 This is really such a great piece, almost (dare I say?) a staple for your wardrobe. You can wear this long or short, and the classic links make this great at the office or on a night out. I wore this one several times this month and always got compliments.
Next up are the Chanel Vintage Drop Hoop Earrings.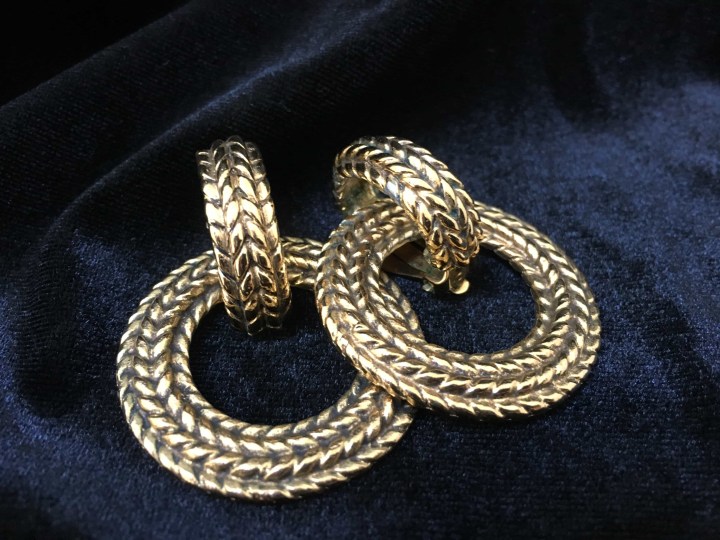 The earrings are gold-tone metal in a stamped herringbone style with a lobster clip catch. They are a 2″ drop, but they're one of the "convertible" Chanel pieces, so you can actually wear the small hoops separately from the dropped hoops! That Coco was always thinking.
There's no logo that I could find on these earrings, and I'm no vintage jewelry expert, but I have seen similar earrings on resale sites and I don't have any reason to think these aren't the real deal. They certainly have that Chanel look. But, hey, there's another good reason to wear these for a month and send them back to Switch –don't invest, just enjoy.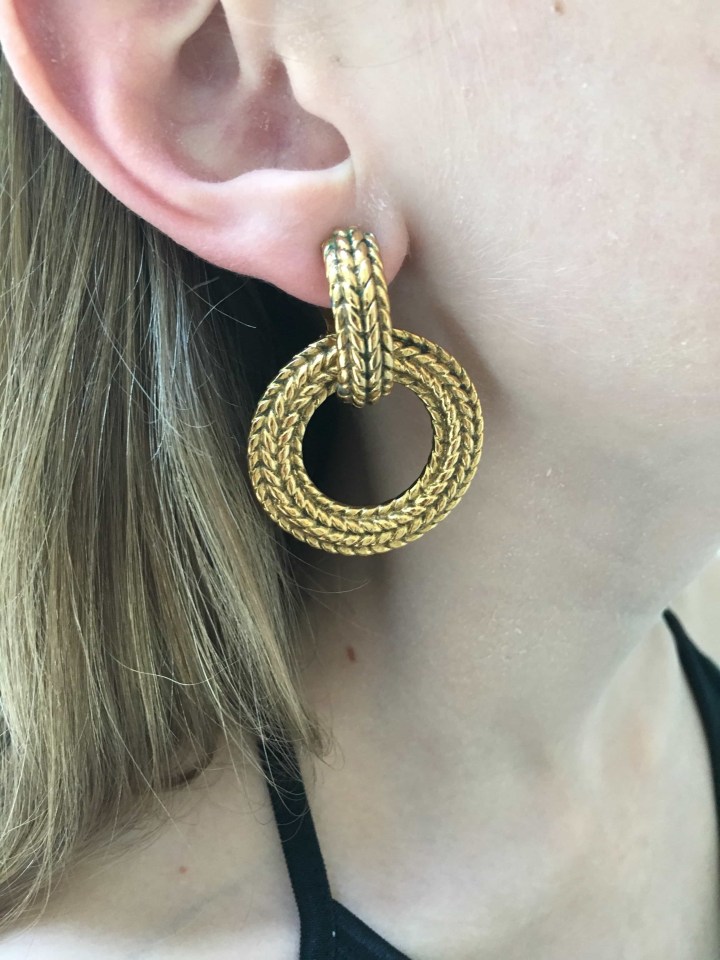 These earrings are elegant, with just enough flair to stand out. The really isn't a situation in which you couldn't wear these. The clip-on catch was secure but not uncomfortable.  Great piece!
Last up was the David Yurman Heart Cable Bracelet.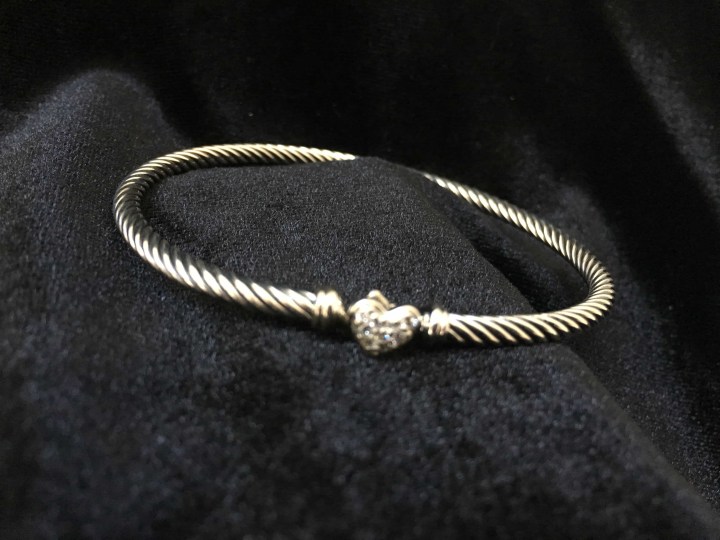 This sweet bracelet is really pretty in person. It's 3mm wide, with an easy-to-do hook catch around the heart.  The heart is encrusted with .09 carat weight of pave diamonds, which gives a great little sparkle to this classic bracelet.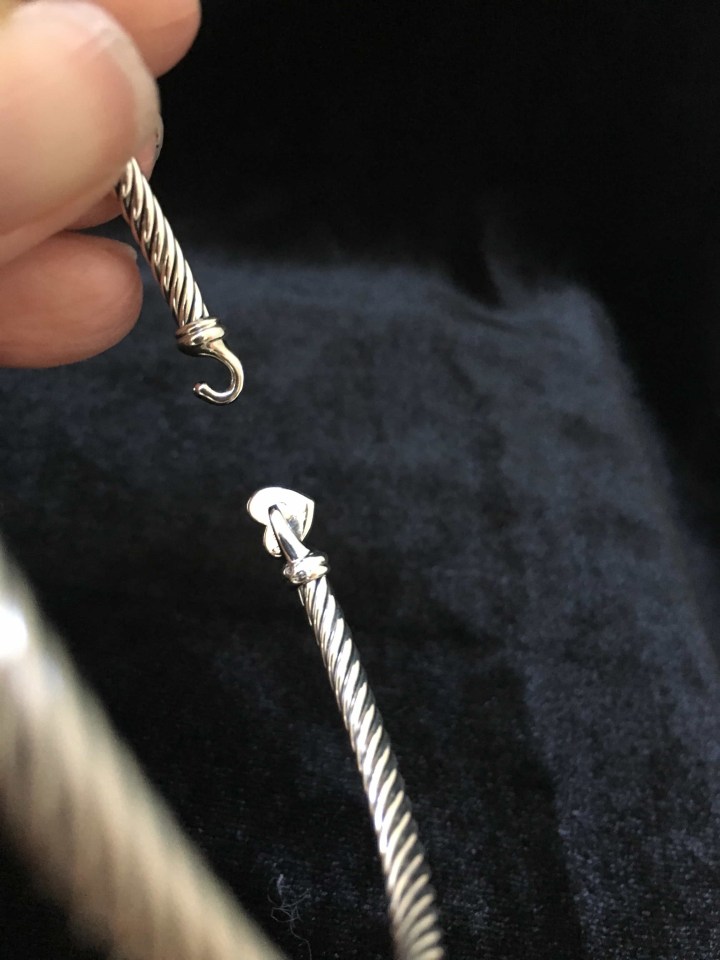 This catch is a clever hook, and if you had superhuman eyes, you could see the David Yurman logo on it. I actually got this for my 10-year-old to wear to a fancy office party this month (Don't worry, Switch Team, I was with her!), and it was so pretty and appropriate for her age. It also would be great to give as a Bat Mitzvah gift.  Adults can certainly wear this, too, on its own or stacked with other bracelets for a more bohemian look.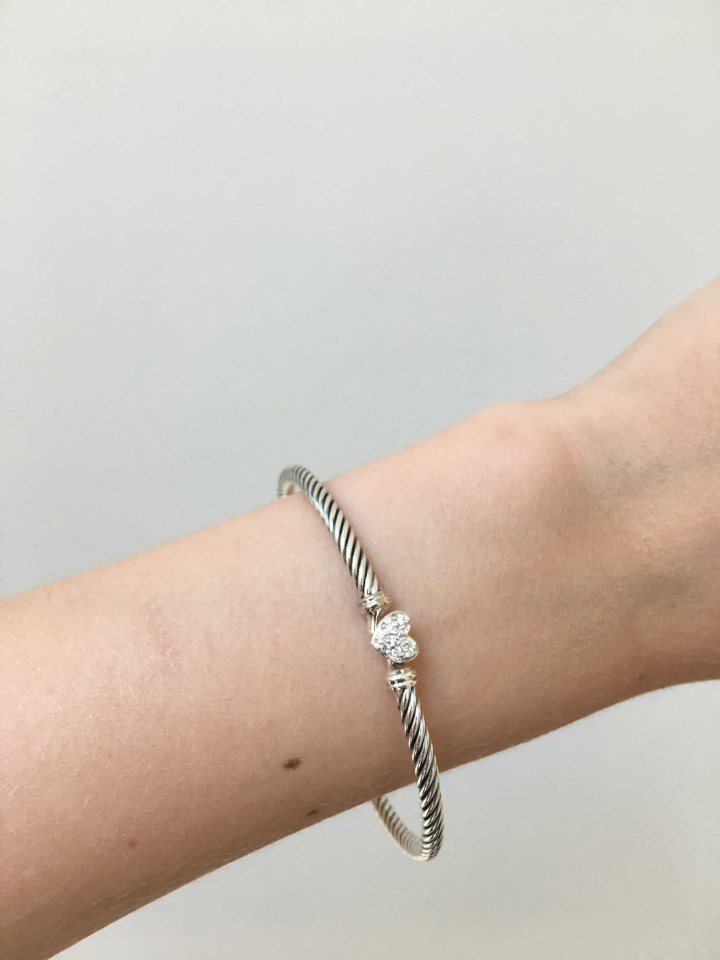 This was a great shipment! I really enjoyed wearing these pieces all month, and I was happy to send them back for a new batch. Overall, Switch is a really fun experience. I really like the variety of pieces available. I love the idea that I can go "shopping" for new jewelry anytime I want. Given the retail prices of the pieces (over $1500 total in this shipment), the $29-69/month is very reasonable value. With that money, I can either buy a new piece of jewelry every 1-2 years, or I can have a new piece whenever I want. For this kind of statement jewelry that may have a shelf life of your interest or that of the fashion world's, the economics really do weigh in favor of renting. I can't wait to get my next Switch!
Have you tried Switch? Which piece is next in your queue? Let us know in the comments below!