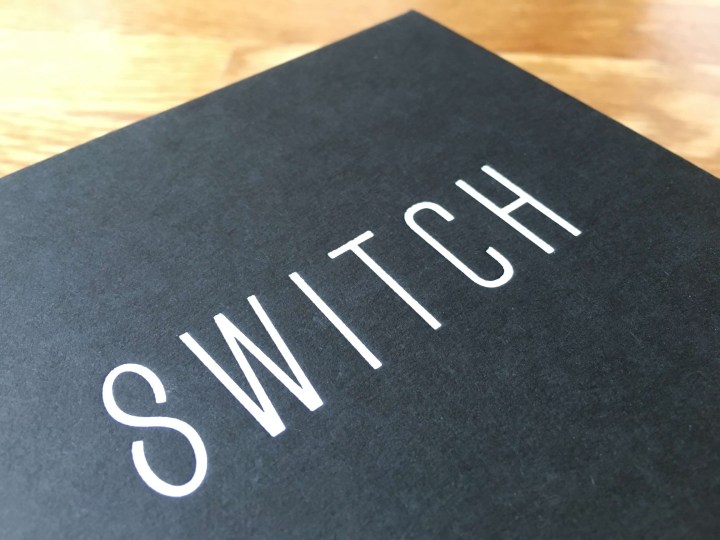 Switch is a jewelry subscription that lets you rent designer jewelry starting at $29 a month. You can wear the pieces for as long as you like, or switch them out for new piece(s) whenever you want. Shipping is always free. The jewelry, which includes pieces by Hermes, Alexander McQueen, and Celine, among others, averages $500 and includes necklaces, bracelets, and earrings. Jewelry is cleaned between wearers.
I have always admired fun statement jewelry on other women, but I can never bring myself to commit to a piece.  Who wants to spend $500 on a piece of jewelry that you may wear only a few times before it goes out of fashion? But who wouldn't like having an amazing new piece whenever you go out? Not being an heiress or a tech entrepreneur, and having a firm frugality-is-golden Midwestern upbringing, I figured this kind of jewelry was out of reach for me.  Enter Switch, which lets you have fun without the commitment. It's like internet dating for jewelry!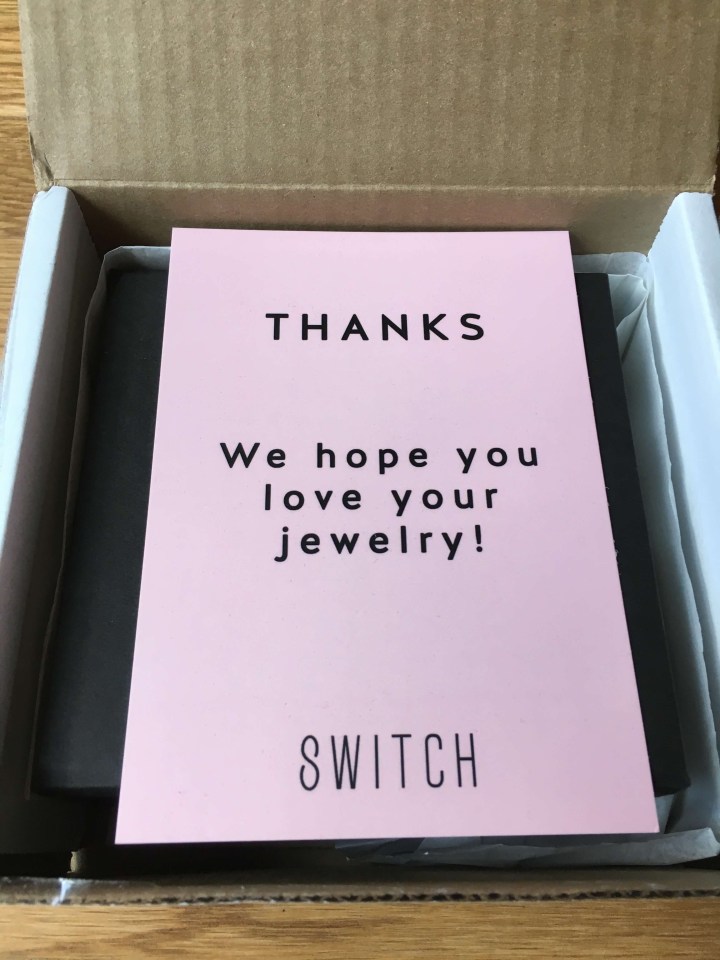 DEAL: Get half off your first month on any plan. Use coupon code HELLOHALF.
Sign-up is simple. You look through the collection and pick the pieces you like. A redesign of the website makes it easy to know which pieces are available. So, just like you're shopping, you pick what you want, put them in your bag, and check out. Shipping is free both ways. Wear it as long as you like, and send it back when you're ready for something new. I have the Black plan, which allows me to have three (!!) pieces at any one time for $69 a month.
My jewelry came in the mail in just a couple of days. Everything is all snugged up in secure packaging. Can I just tell you how exciting it is to open tiny velvet pouches containing gorgeous jewelry that costs less than my monthly lunch budget?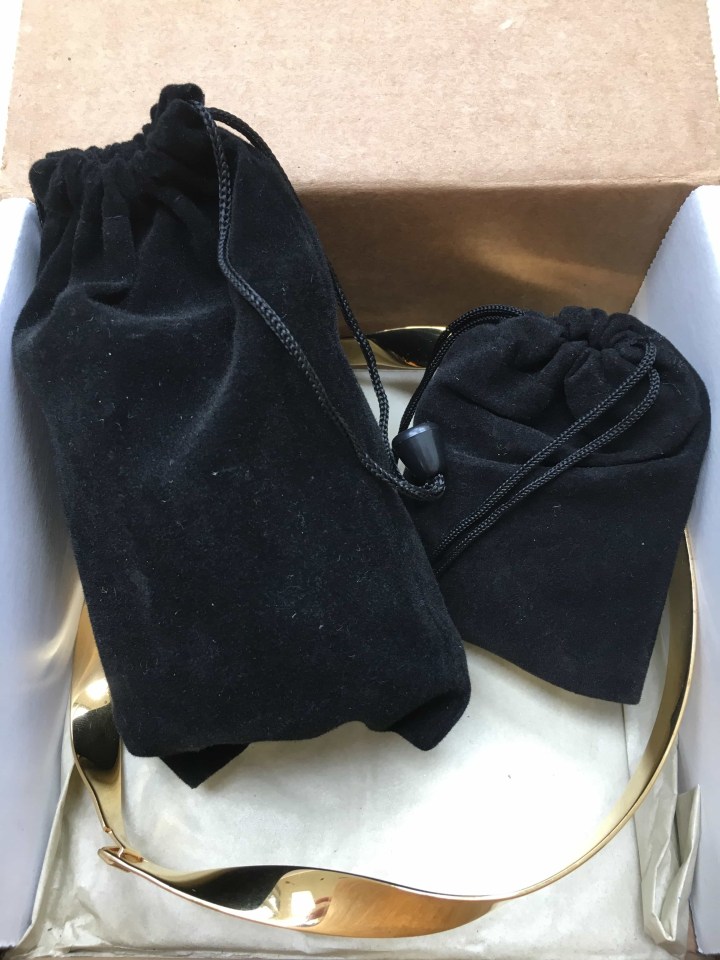 Switch is always changing up its inventory, so there's always something new and fun to select. This month, I got the Yves Saint Laurent Textured Bangle ($600 retail value), the Marni Twisted Choker  ($240 retail value), and the Christian Dior Tribale Earrings ($470 retail value).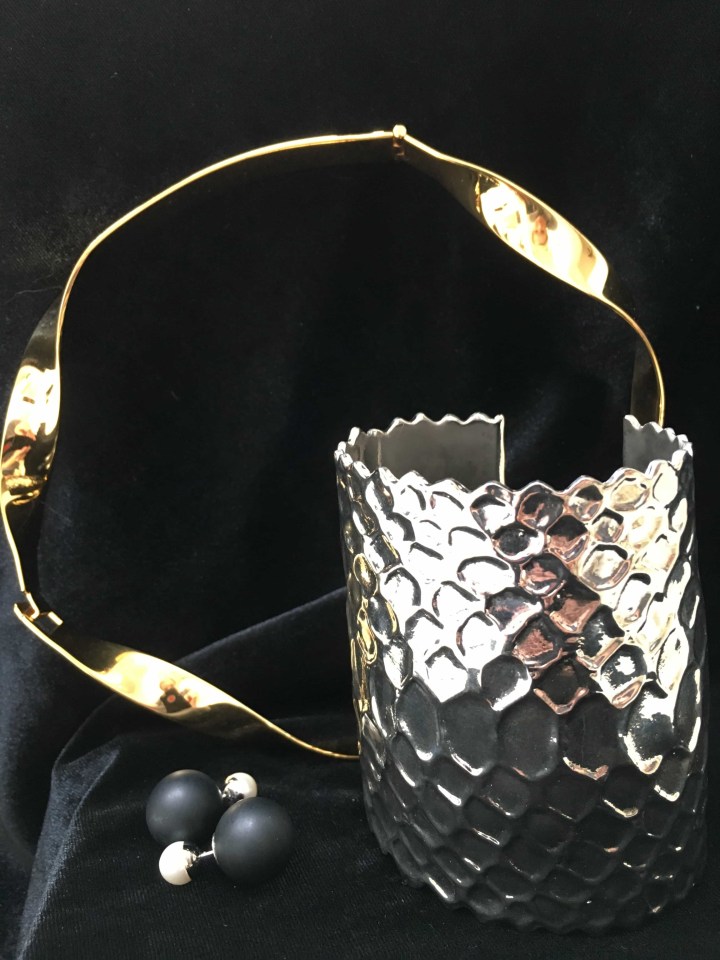 First up was the Yves Saint Laurent Textured Bangle. You won't easily find this fierce piece online, which is awesome.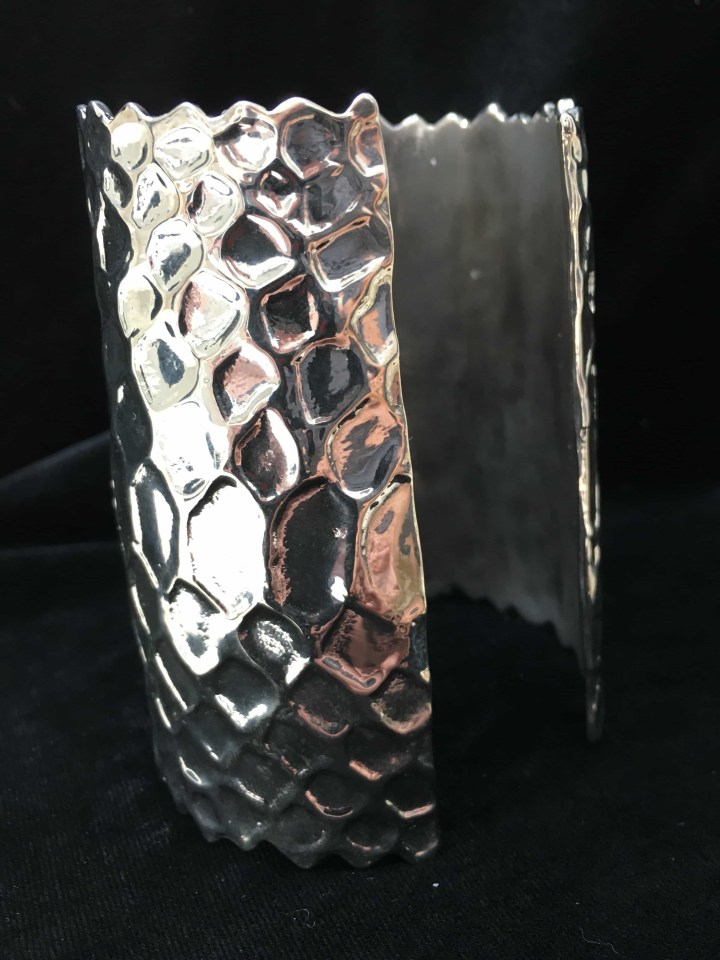 This bracelet is a true statement piece. It's 3.45″ wide with a 6.75″ inner circumference. The silver-tone metal is shiny and patterned like reptile leather. The color looks great against any skin tone.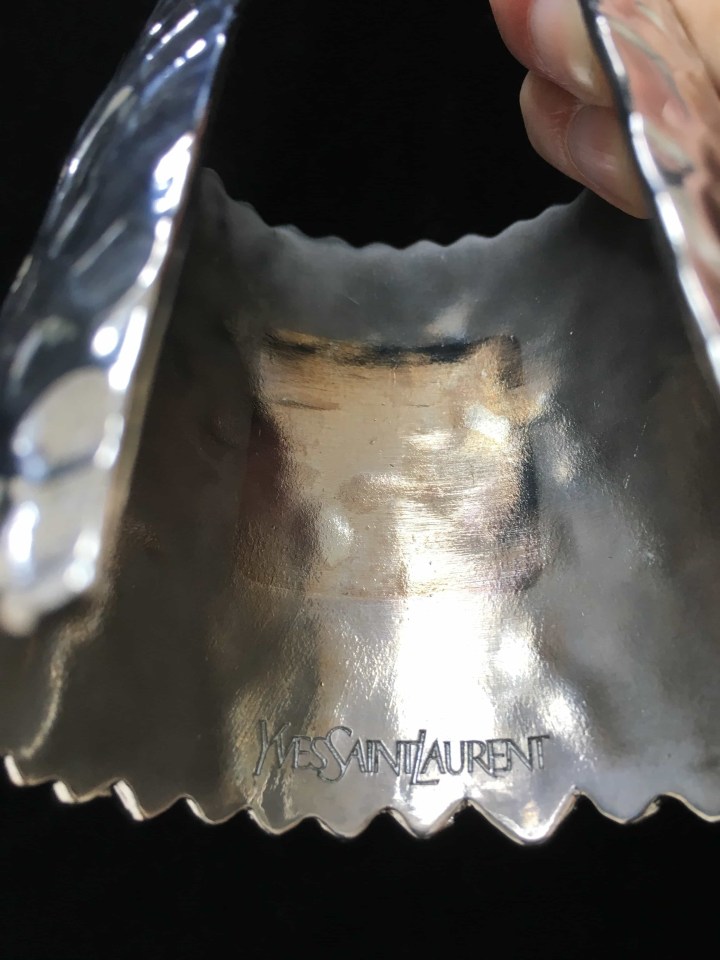 You can see the Yves Saint Laurent logo on the inside of the bracelet. This bracelet is on the narrow side, and Switch helpfully emailed to assure me that the metal could be bent outward a bit to aid in putting it on.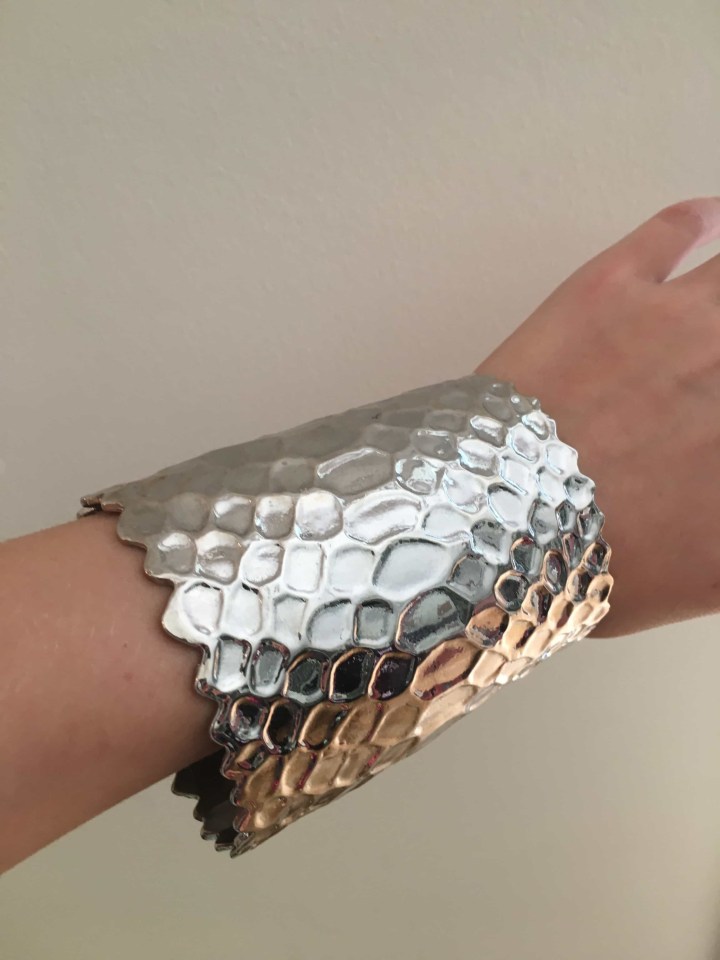 I think this bracelet is awesome. It's obviously a statement piece to wear alone, but it just screams power and authority. It would be amazing with a business suit, or you could have some contrast fun with this bracelet and a girly sundress. You can bring out your inner Wonder Woman with this one. I didn't want to send it back!
Next up is the Marni Twisted Choker.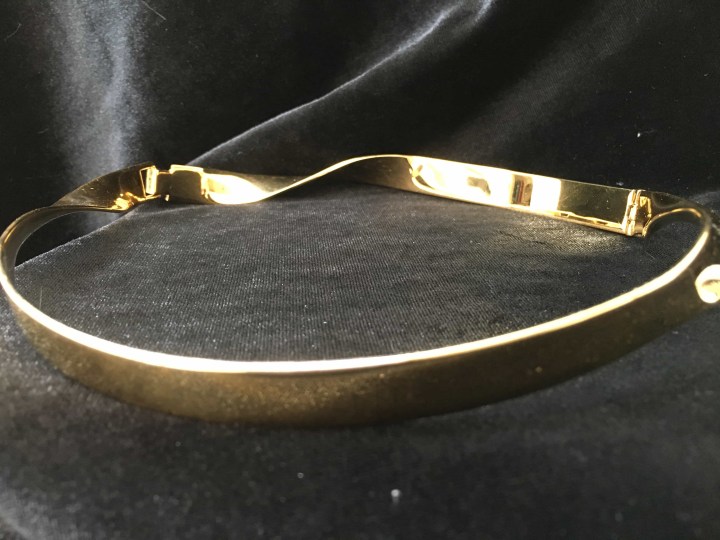 This necklace is gold-tone brass in a twisted-ribbon style with a hook-and-hinge catch. The necklace is about .5″ wide with a 7″ drop.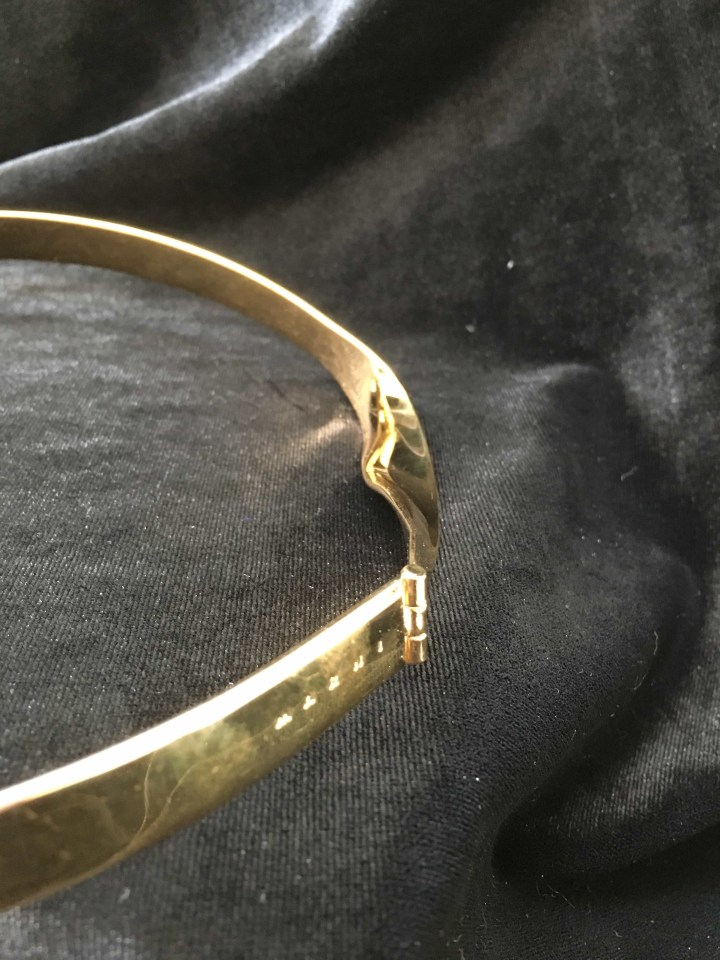 You can see the Marni logo on the hinge side. The catch, as Switch emailed me to say, is tricky to do by yourself. You can twist it around to do it, but it's easier if you have help.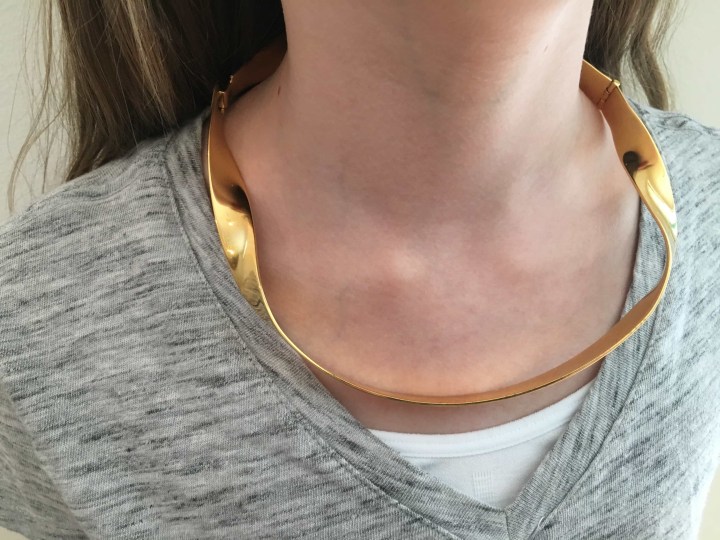 Honestly, I didn't love this. I think the gold tone looks brassy, and the necklace lays oddly, with the hinge and catch unevenly spaced. If you did like it, the longer-than-typical-choker drop would let you wear this at the top of a button-up blouse, where the asymmetry wouldn't be as noticeable. But this is exactly why I love Switch — I don't have to keep this necklace! Back it goes, and I can pick something else to try.
Last up was the Christian Dior Tribale Earrings in black.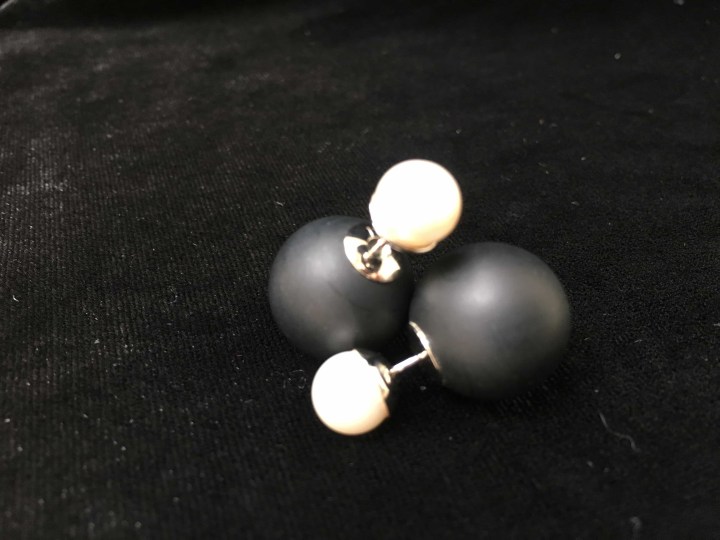 These super cool earrings are black and cream-colored resin. The front sphere is 8mm and the back one is 16mm.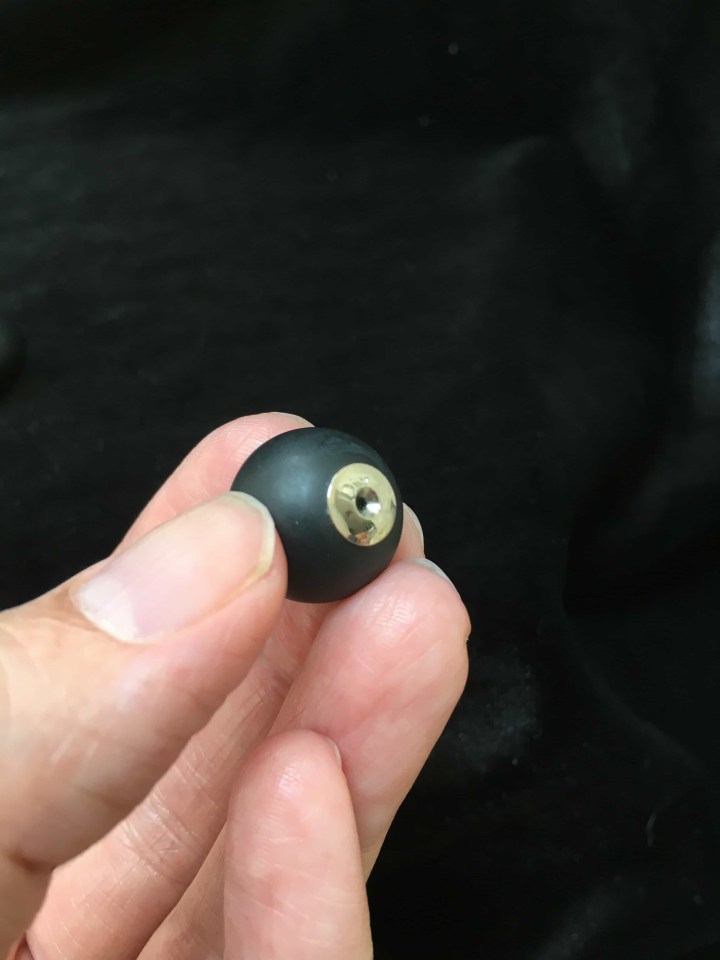 If you squint, you can see the Dior logo on the black ball. These slide on smoothly and, though you can feel the weight, they sit against the earlobe and are comfortable to wear. I LOVE these earrings. They are so fierce and slightly subversive looking, with the pearl-colored front and the black back. The contrast is amazing. You could wear them anywhere you want a bit of edge, from the boardroom to the bar.
Every month you are a member with Switch, you get $10 in credit toward a purchase, and I definitely have my eye on these beauties.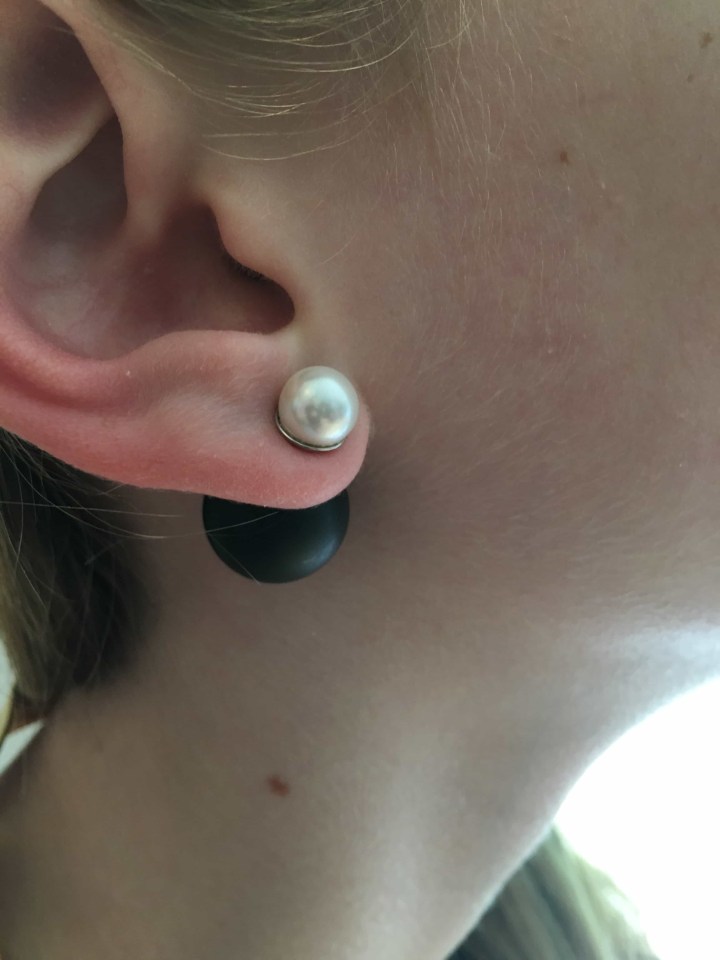 This was a great shipment! I really enjoyed wearing these pieces all month, and I was happy to send them back for a new batch. Overall, Switch is a really fun experience. I really like the variety of pieces available. I love the idea that I can go "shopping" for new jewelry anytime I want. Given the retail prices of the pieces (over $1200 total in this shipment), the $29-69/month is very reasonable value. With that money, I can either buy a new piece of jewelry every 1-2 years, or I can have a new piece whenever I want. For this kind of statement jewelry that may have a shelf life of your interest or that of the fashion world's, the economics really do weigh in favor of renting. I can't wait to get my next Switch!
Have you tried Switch? Which piece is next in your queue? Let us know in the comments below!