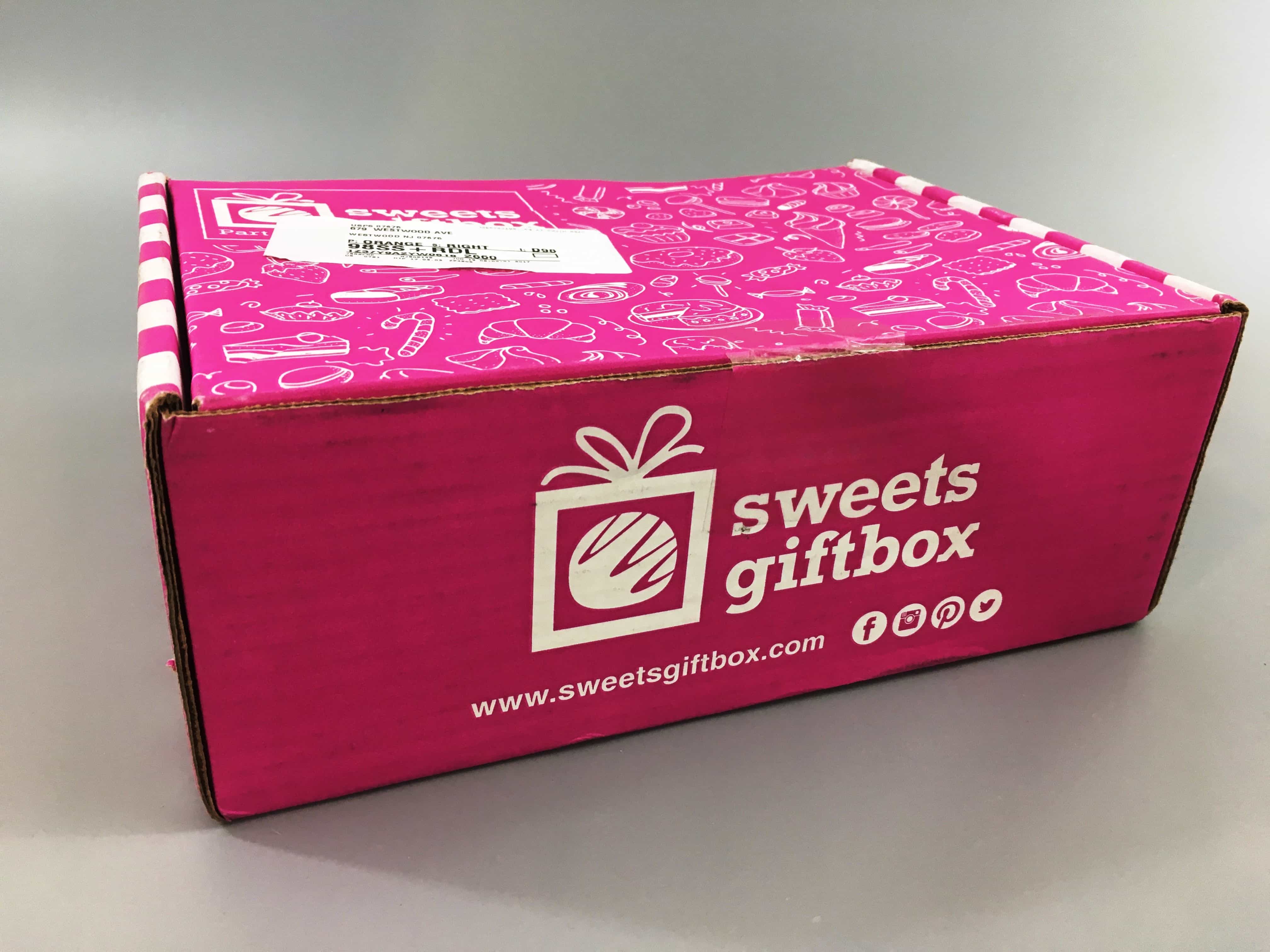 Sweets Giftbox delivers sweet treats right to your door each month for around $25 a month! You can also get a one time box for $30, or a yearly subscription of $19.99 each month. They describe themselves as "the ultimate sweet tooth experience to satisfy your every craving." It's also cool that you don't have to commit to a number of months up front. Buy this month, cancel the next, and then buy again — basically, you can stop and start your subscription whenever you want if you get the monthly subscription.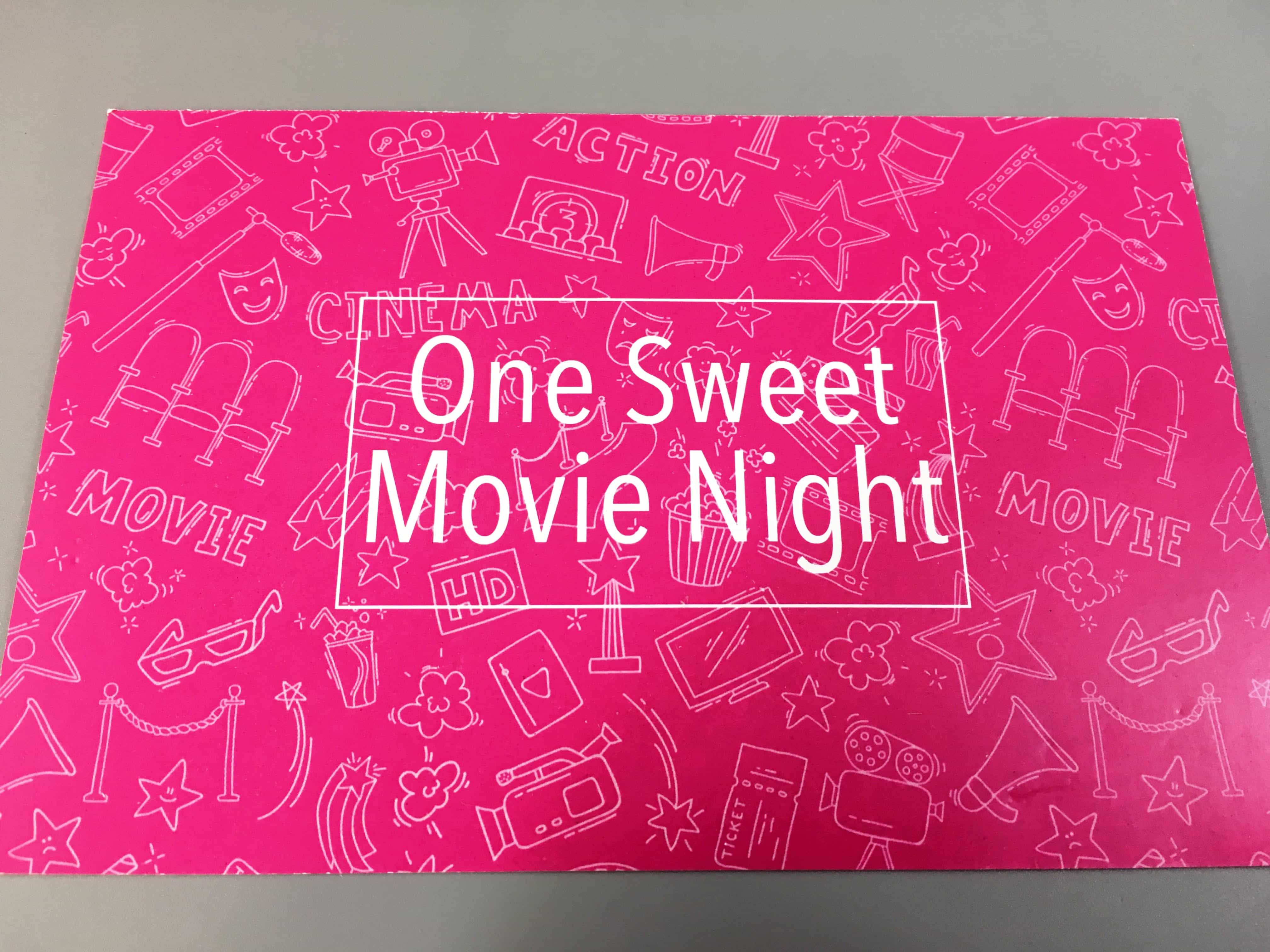 June's Sweets Gift Box was One Sweet Movie Night!
It's content card explained the five products and their individual shelf life.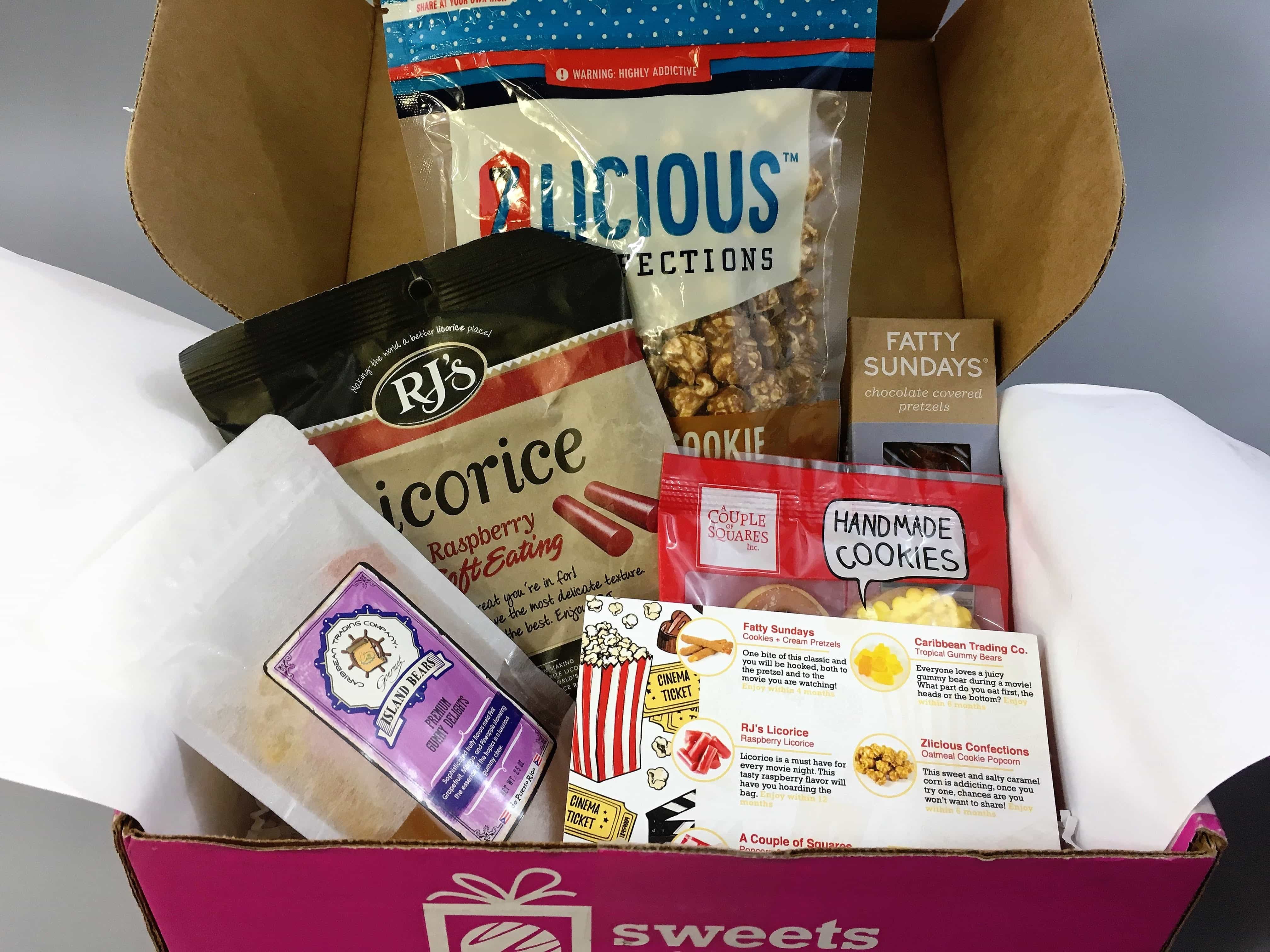 The full contents looked like this when the box arrived and I was excited to dig in and taste all the various treats.
The Fatty Sundays Cookies and Cream Pretzels ($3.49) provided a crispy chocolaty crunch. A look at their website shows you can also order your own custom flavors, which I thought might make for interesting party favors…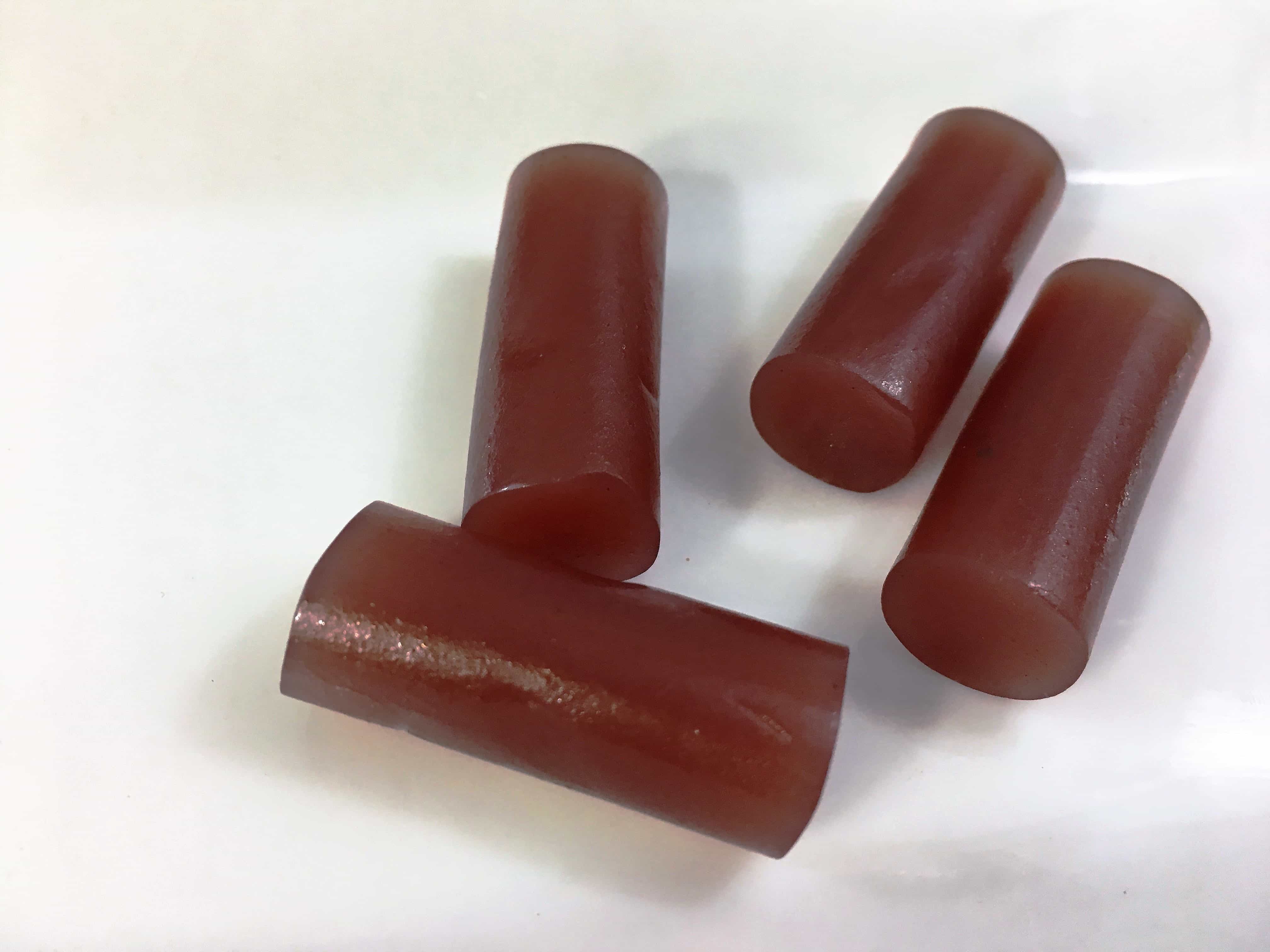 RJs Licorice was a raspberry flavored softer and tastier version of Twizzlers. The product is out of New Zealand and I found them on Jet.com for $4.91 today.
The bag says they are "Simply the Best" and I certainly would pick this over the other raspberry flavored licorice I've had before.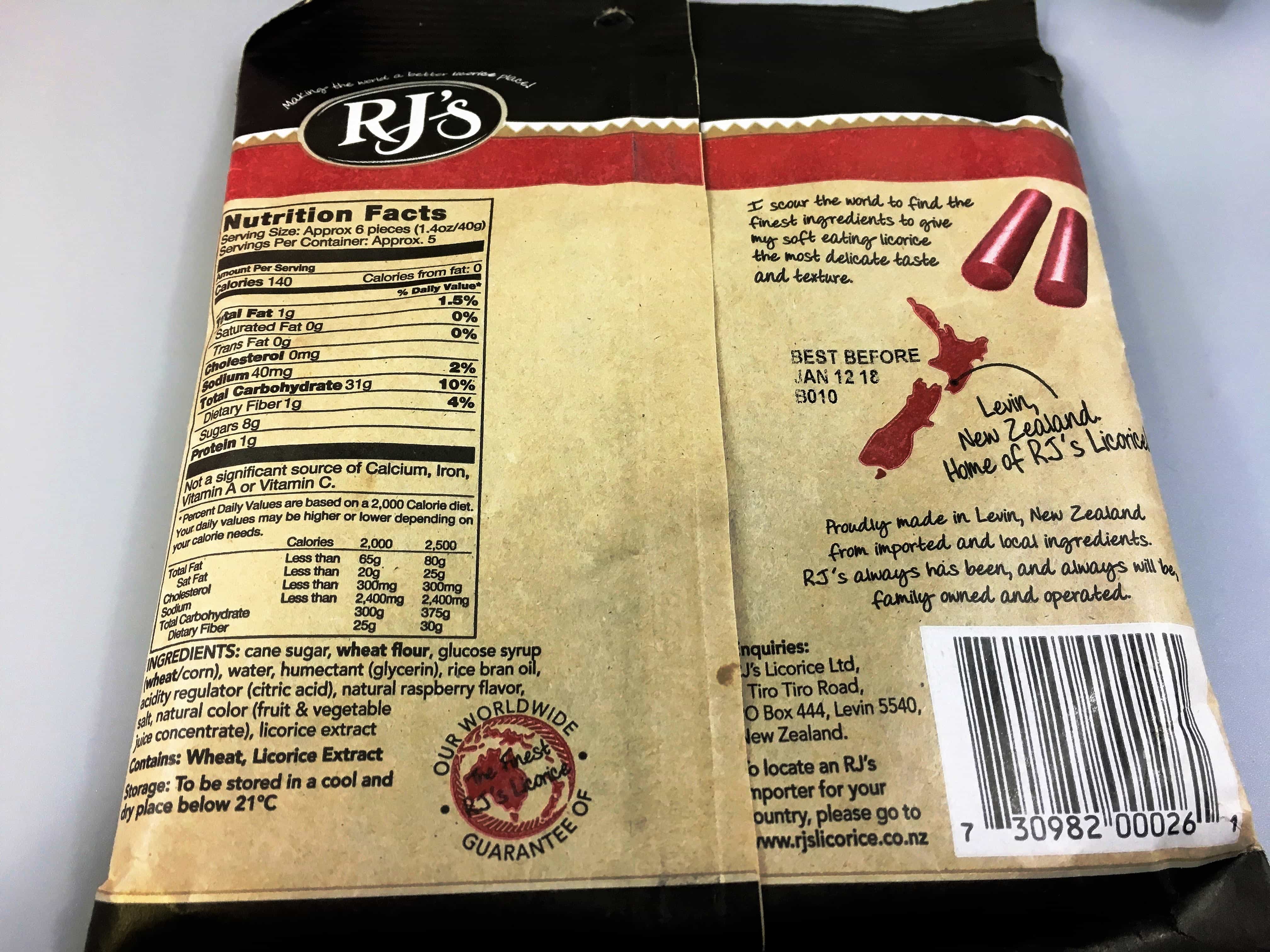 There was a very hearty serving in the 7.05 oz bag which I was able to enjoy the entire month.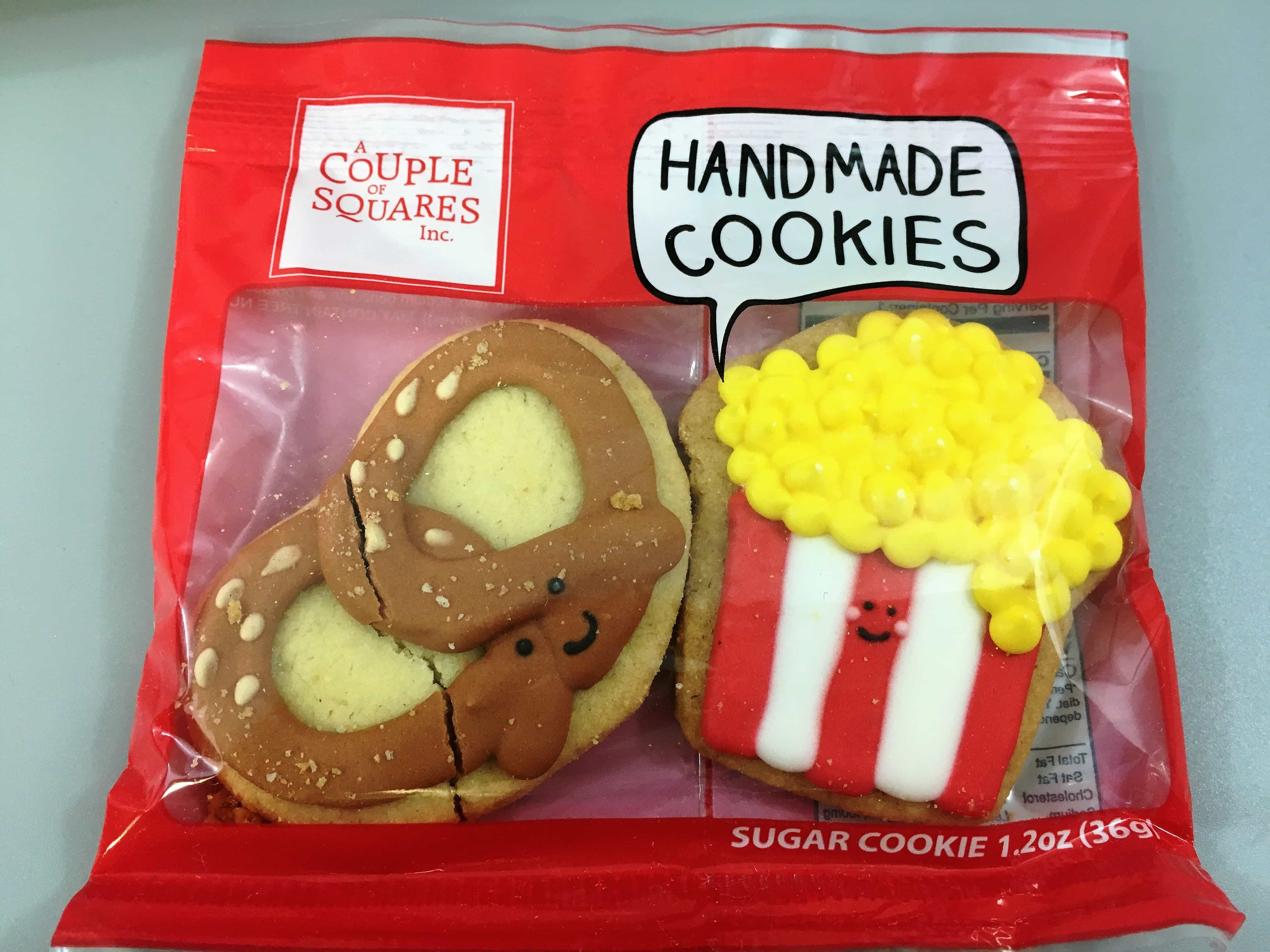 A Couple of Squares PopCorn and Pretzel Sugar Cookie were a very cute addition to this movie themed box! Didn't find much on the costs in the US. They appear to be out of Canada and sold in specialty shops.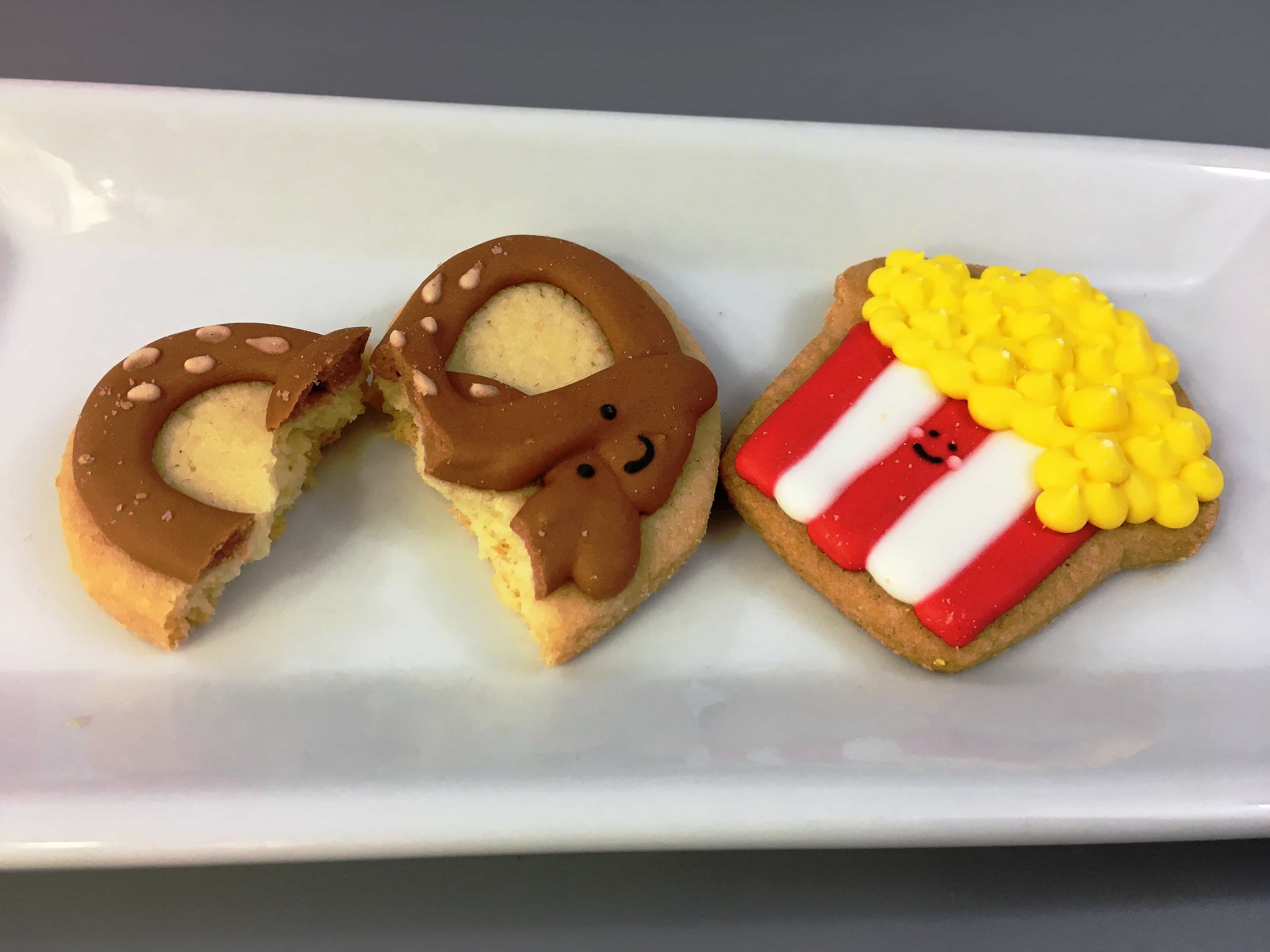 It is a little bit on the harder side of a sugar cookie, but the flavor is not overwhelmingly sugary, even with all that adorable looking frosting that dries solid. You can touch the frosting without it smudging, which would make these a cute choice for a children's party.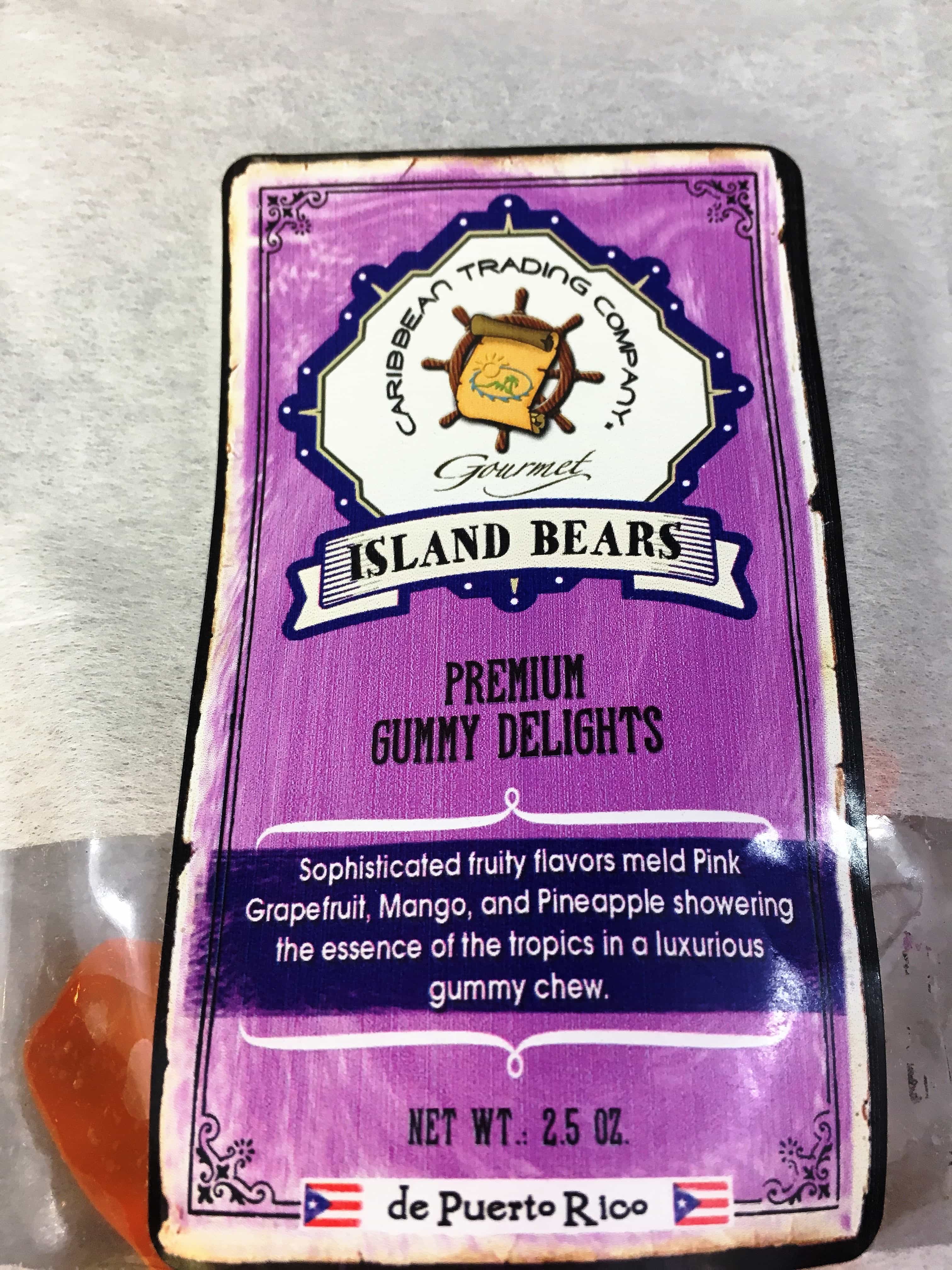 The Caribbean Trading Company Gourmet Island Bears Premium Gummy Delights ($4.99) were my absolute favorite item in this box, and easily the best tasting gummy bear I have ever had!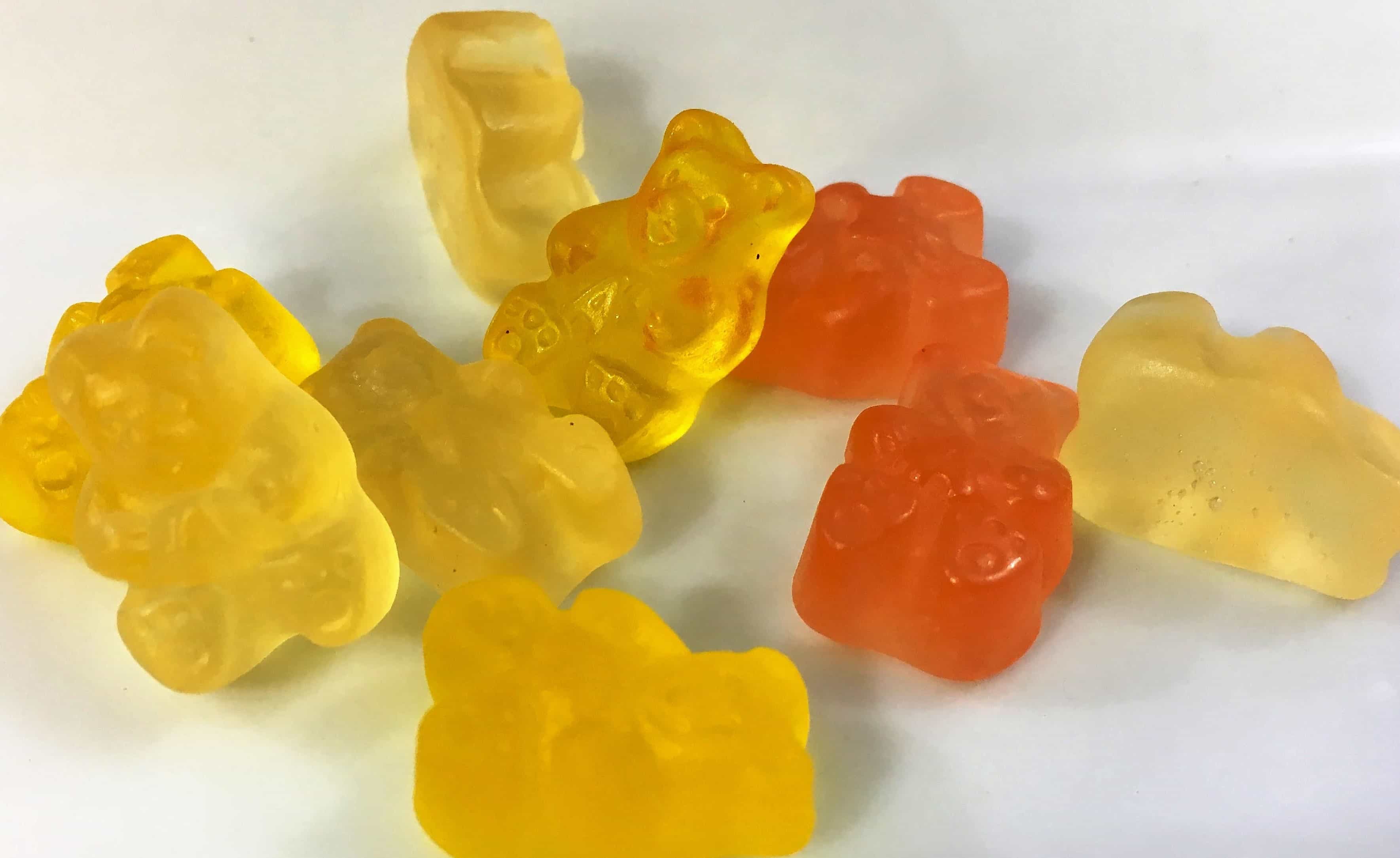 These bears seduced me with their smooth tasting Puerto Rican tropical flavor mix of Mango, Pineapple and Pink Grapefruit. This was some soft and  delicious "Azucar!" and left me wanting more. I was happy to find I could order them online, otherwise I might be buying a plane ticket ;-).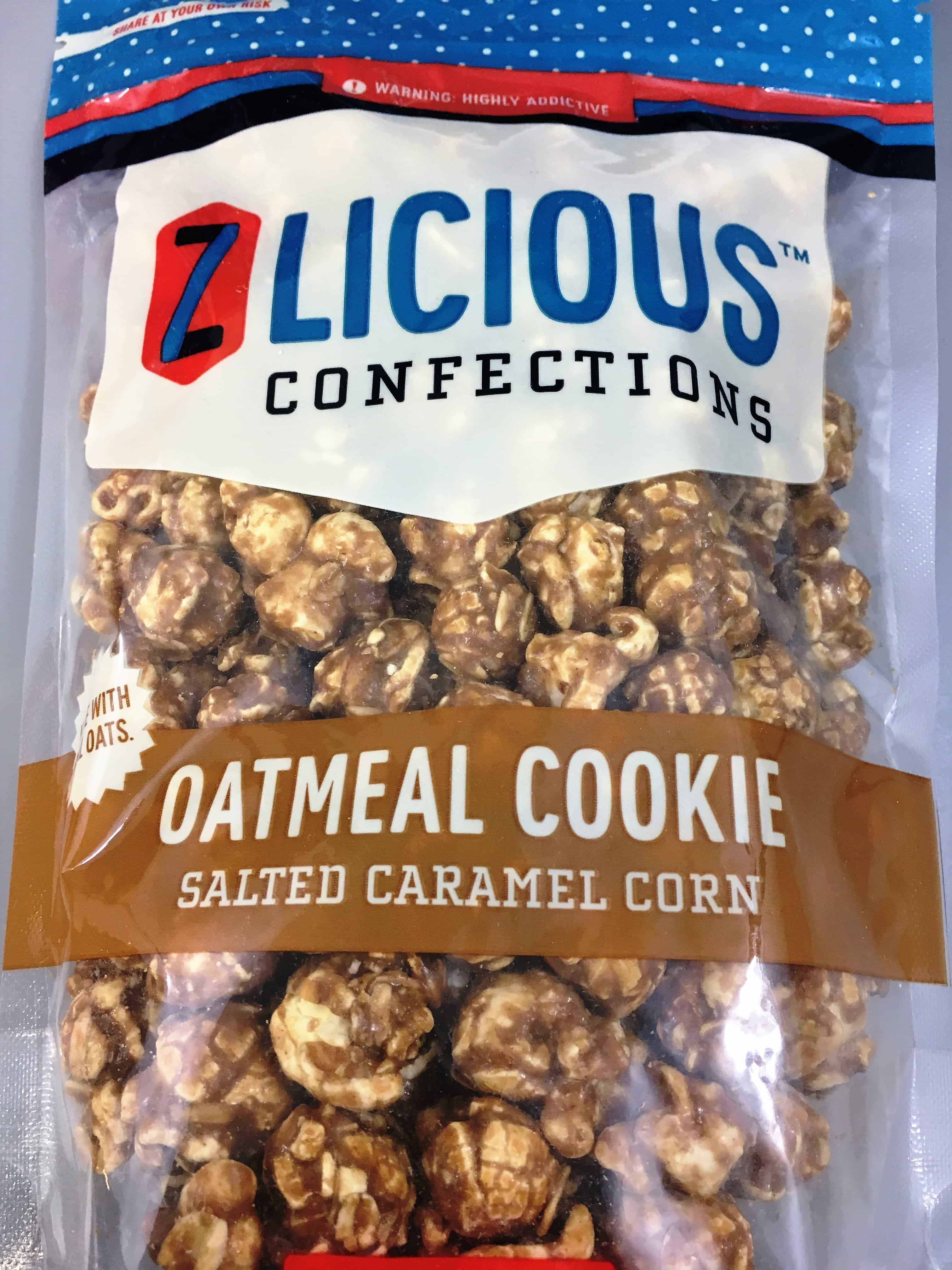 Finally, the last item in the box was the Zlicious Confections Oatmeal Cookie Salted Caramel Corn ($8). This was like biting into an oatmeal cookie while eating popcorn. It is on the sweeter side, so I'm taking my time to enjoy it mixed in with saltier popcorn mixes. It is holding up very well in its ziptop bag.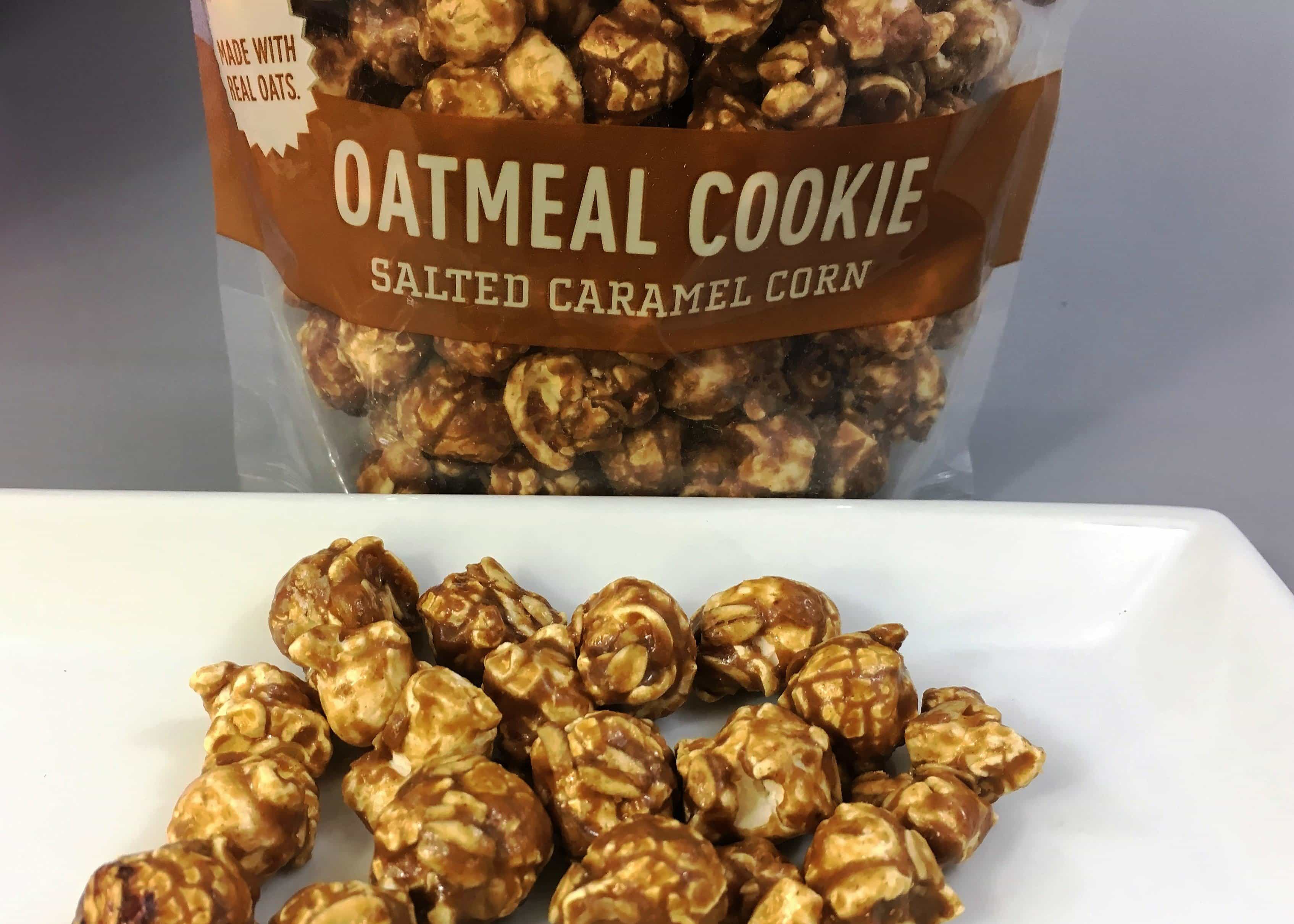 This is made with real oats and cinnamon all wrapped up in salted caramel corn.  Tasty!
Here is the back for those of you who are curious…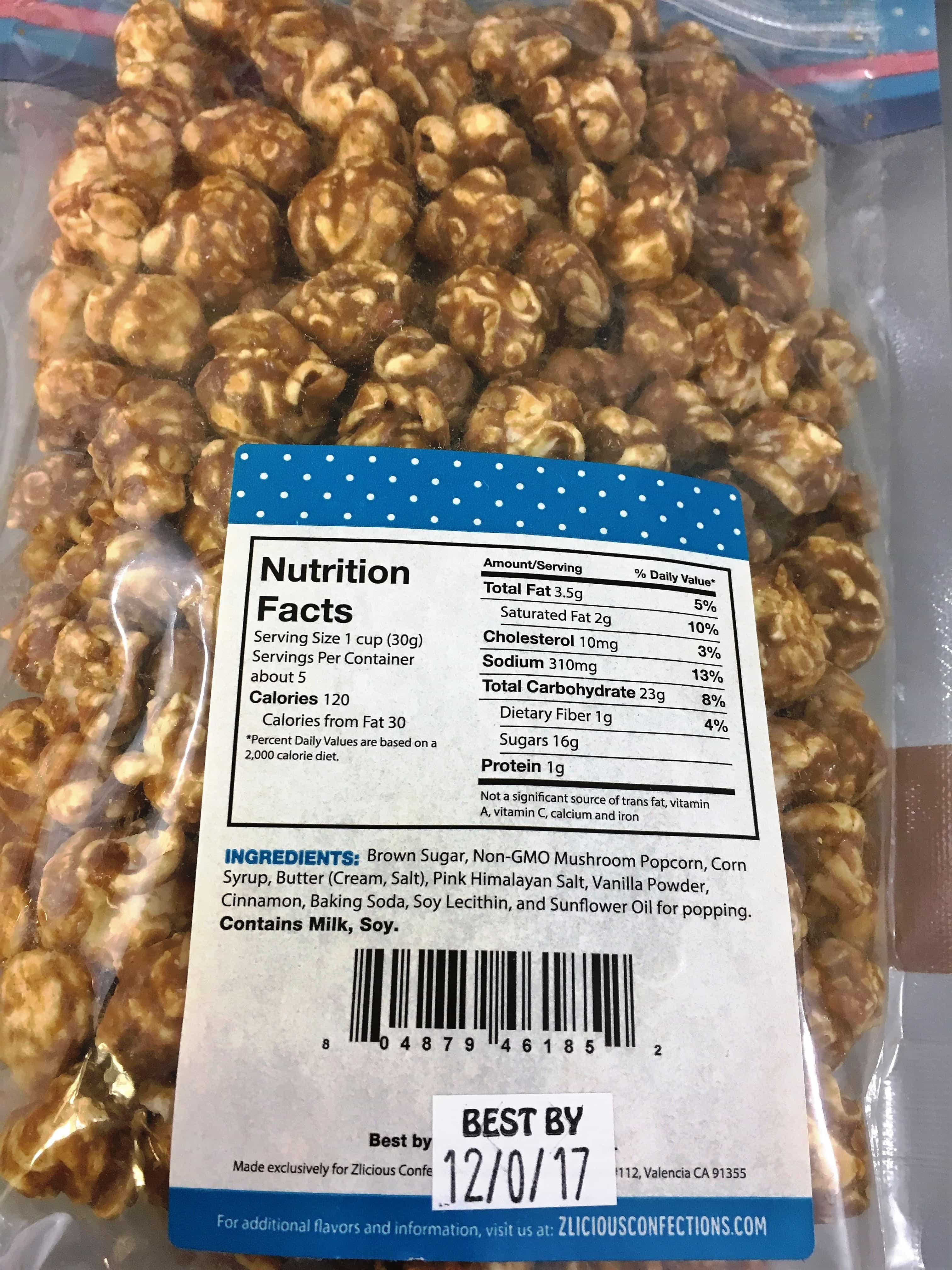 I wasn't able to find the value of all the items, but know those I did find were around $22 before taxes, plus the cookies value. This box also is amazing as it introduced me to delicious items I would likely have never come across otherwise. If there is a foodie in your life who is always looking for something new to try, this box would make a nice gift.