Sunday Mood is a monthly subscription box that brings you a variety of products that will help you keep that weekend vibe going on all month long. There are two sizes to choose from: The Beauty Sample Box is $25 a month for 2-3 sample sized and 1 full sized beauty product, while the original Sunday Mood Box is $44 a month and includes 4-6 full sized products. What type of products can you expect in your Sunday Mood box?
The Sunday Mood monthly subscription box will contain an eclectic mix of indie brands, vegan & cruelty free beauty lines, organic and eco-friendly bath & beauty products, handmade jewelry, cool niche household items, art prints, specialty teas, healthy treats, minimalist goodies and more.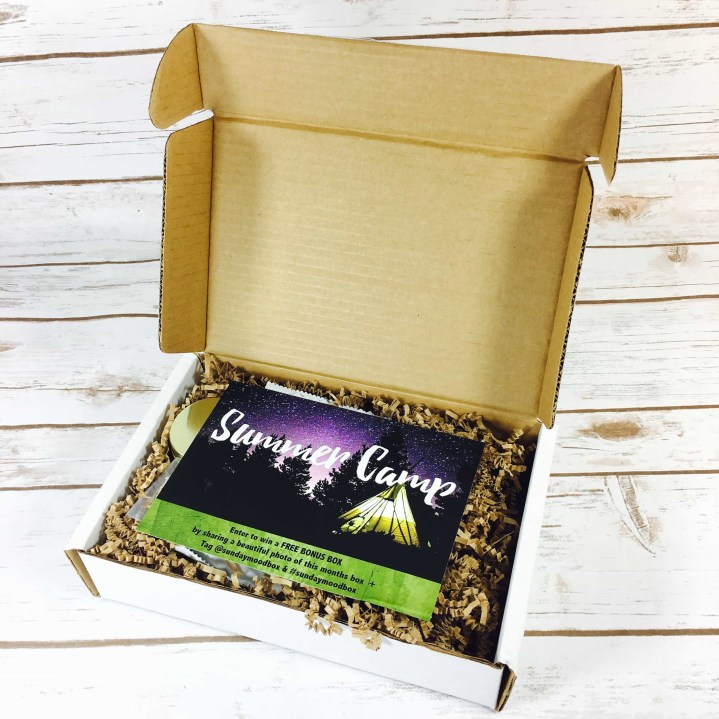 DEAL:  Get 10% off your first Sunday Mood Box! Use coupon code WEEKENDVIBES10.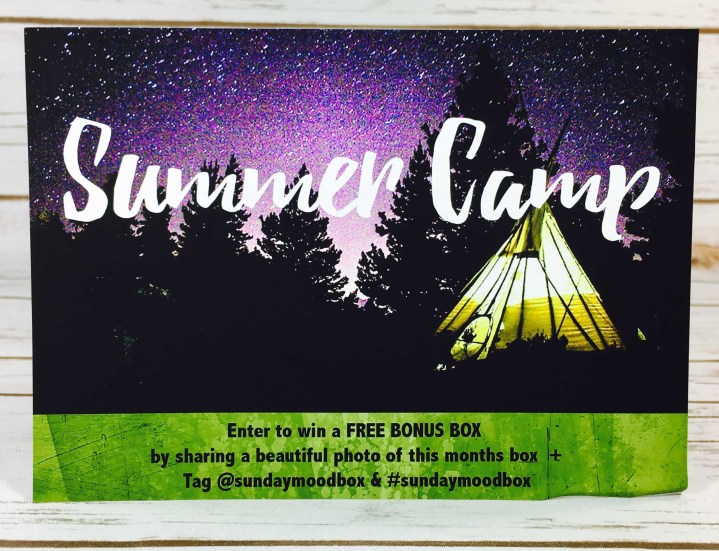 There was a postcard on top with this month's theme, Summer Camp.
The flip side of the card listed the items in the box as well as the value and where to find more.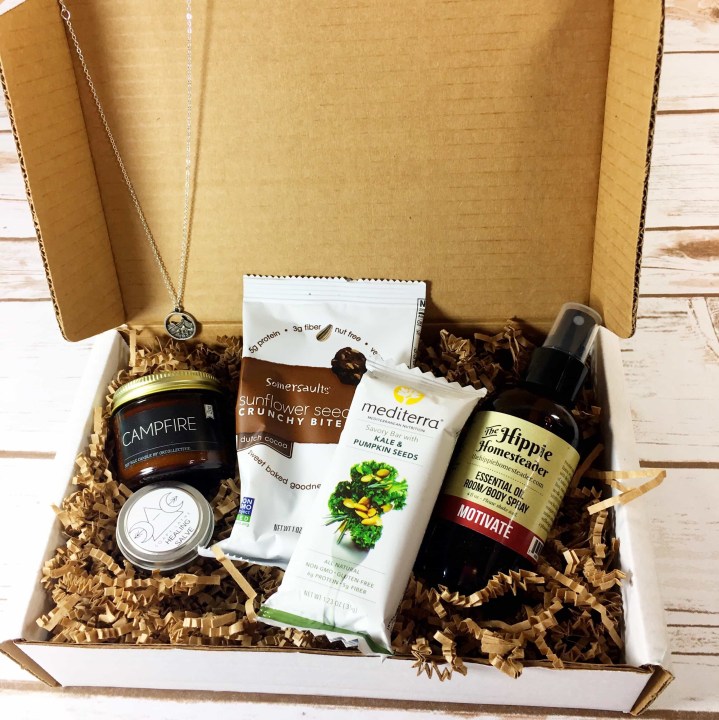 The products were packed in an eco-friendly recycled box with shredded recycled brown squiggles. Here's everything in the box!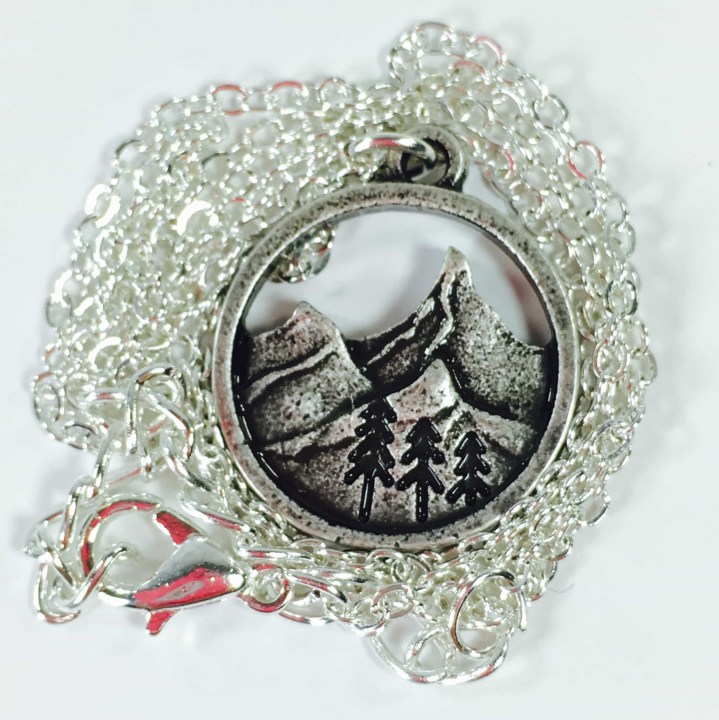 Piece of Wilderness Mountain Adventures Necklace ($15) I grew up in a place that was about one hour away from everywhere I wanted to be. Drive 1 hour, go to the beach. Drive 1 hour, go to the mountains. Desert. Los Angeles, wherever, it was one hour away. This necklace reminds me of one of my most favorite places to be. It's made of zinc alloy and has an 18″ chain.
Handcrafted and hand carved, it reminds me of simpler times. I may even share it with my younger daughter, who likes the mountains too.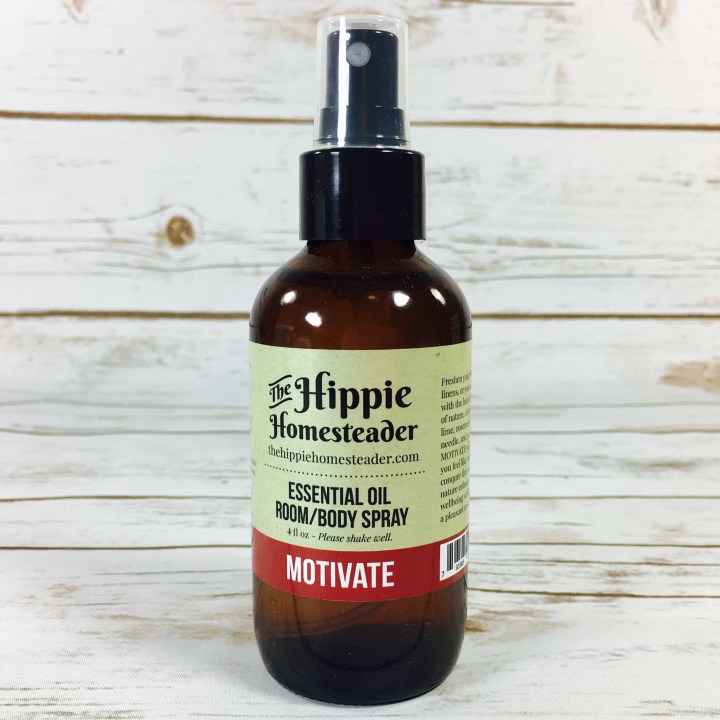 The Hippie Homesteader Motivate Room & Body Spray ($15) I like the name of this product line! The ingredients are pretty basic – distilled water, witch hazel, and the Motivate essential oil blend, which features lime, rosemary, pine needle, and peppermint.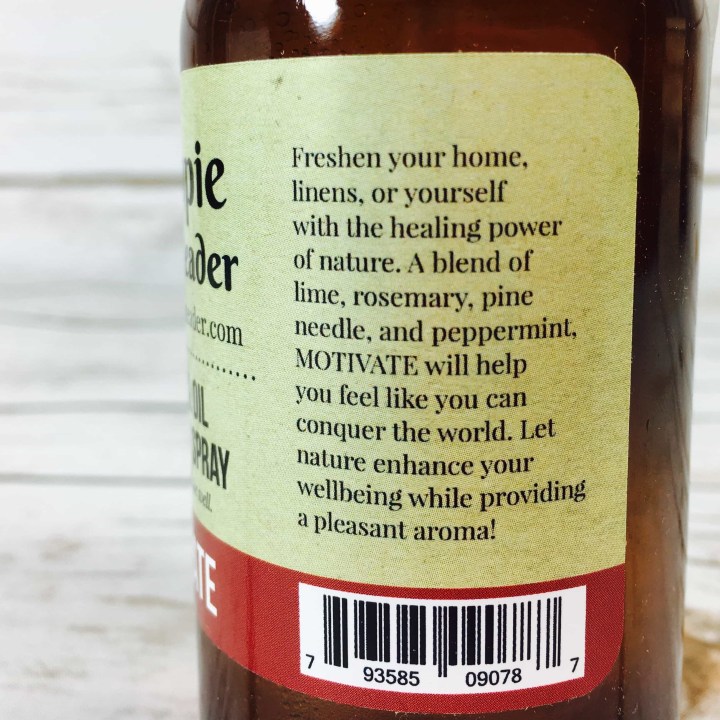 You can spray this natural product around your home, on your linens, or even on yourself! I sprayed it on a shirt I was wearing around the house (although I wouldn't suggest spraying on your best clothes, they might get stained.) Each time I sprayed it, I could pick out different notes – ooh, rosemary, wait, lime, um, pine trees, nope, lime again. It faded fast but I enjoyed the sensory experience each time!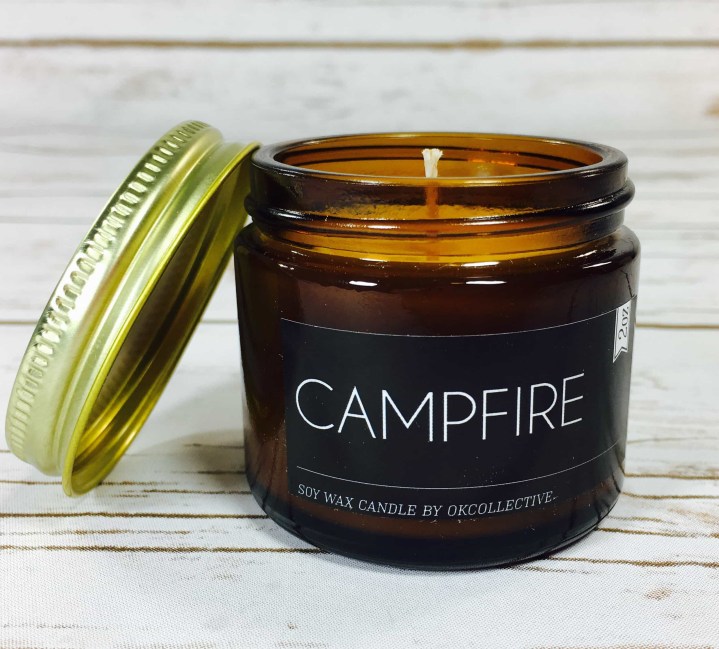 OK Collective Campfire Candle ($6) "The best part of camping in the comfort of your home. Notes of smoke, clove and warm amber with simple hints of jasmine and vanilla." OK Collective makes their candles with sustainable soy wax and phthalate free fragrance. The cotton wick is lead-free and the fragrance oils are high-grade. Small batch and hand poured.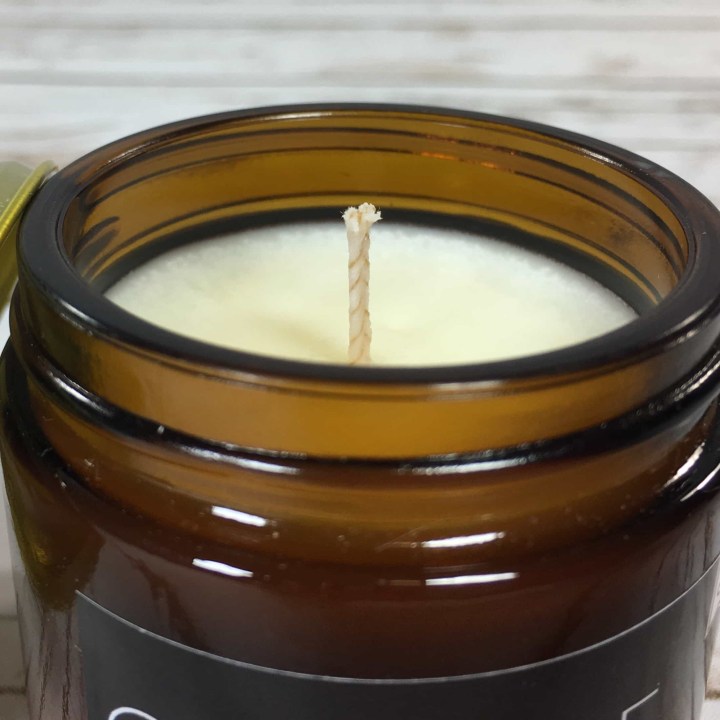 I need this in a larger size, like house size. I want my home to smell like this all the time. Woodsy, warm, comforting, sweet. The cold throw, like most soy candles, is great, and the hot throw, unlike most soy candles, is great too!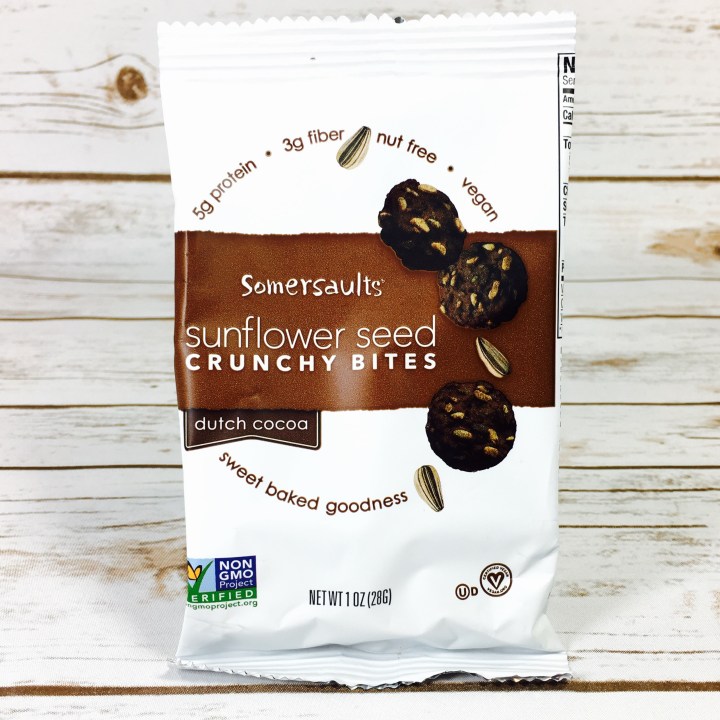 Somersaults Sunflower Seed Crunchy Bites in Dutch Cocoa ($13.36 for a 12 pack, $1.11 each) I love it when I get a new-to-me healthy snack product! Sunflower seeds, sesame seeds, and cocoa are a few of the ingredients here and it has 3 grams of fiber and 15% of the daily value for vitamin E.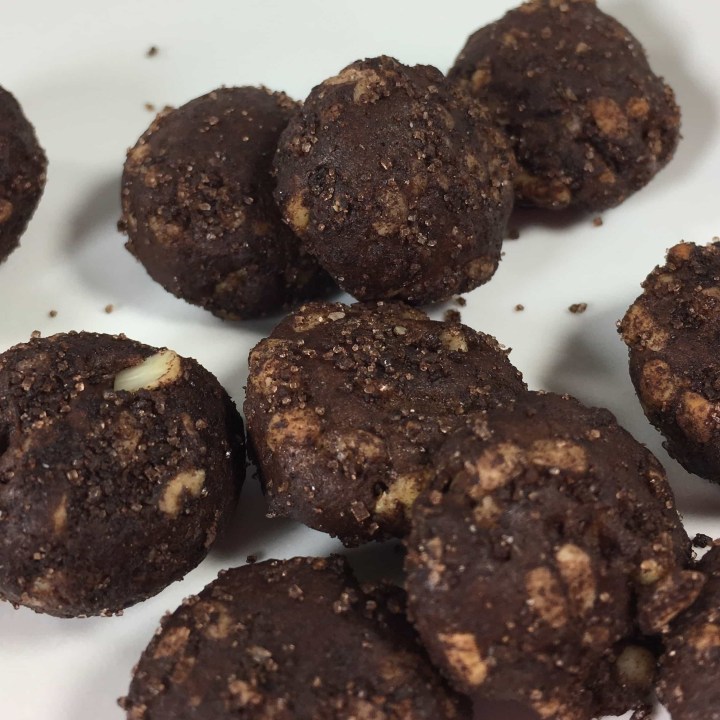 These were delicious! I enjoyed them with a glass of milk for an afternoon snack. The chocolate flavor was great, like an Oreo but without the cream filling. Then there were the pieces of sunflower seeds. Yum!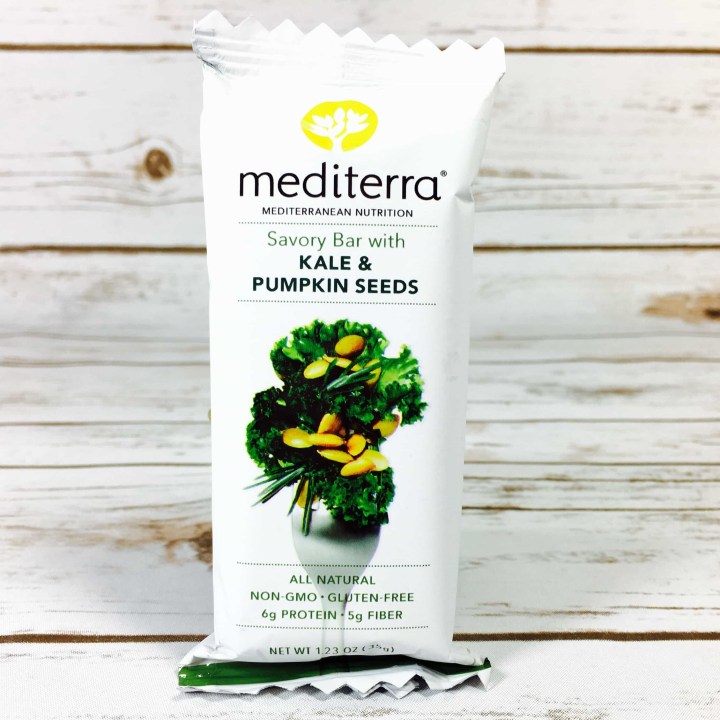 Mediterra Savory Bar with Kale & Pumpkin Seeds ($24.76 for a 12 pack, $2.06 each) Mediterra makes "granola bars" a little differently. The bars are sweet and savory, but not as sweet as a traditional bar. They feature pea crisps, amaranth, and brown rice syrup, plus ingredients that are suggested for the Mediterranean diet.
Apricots, kale, pumpkin seeds, and rosemary make this bar palatable and a different take on the usual s'mores or chocolate chip bars of my youth.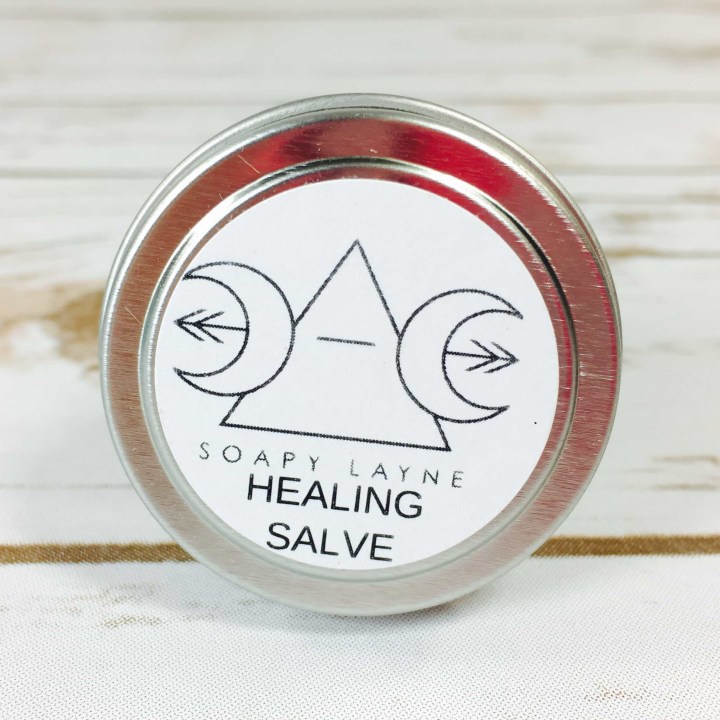 Soapy Layne Healing Salve ($20 as listed on the product info card) I wasn't able to get much info on this product because the Etsy seller has deactivated her site for a couple of weeks. All of Soapy Layne's product are vegan and cruelty-free and made in small batches.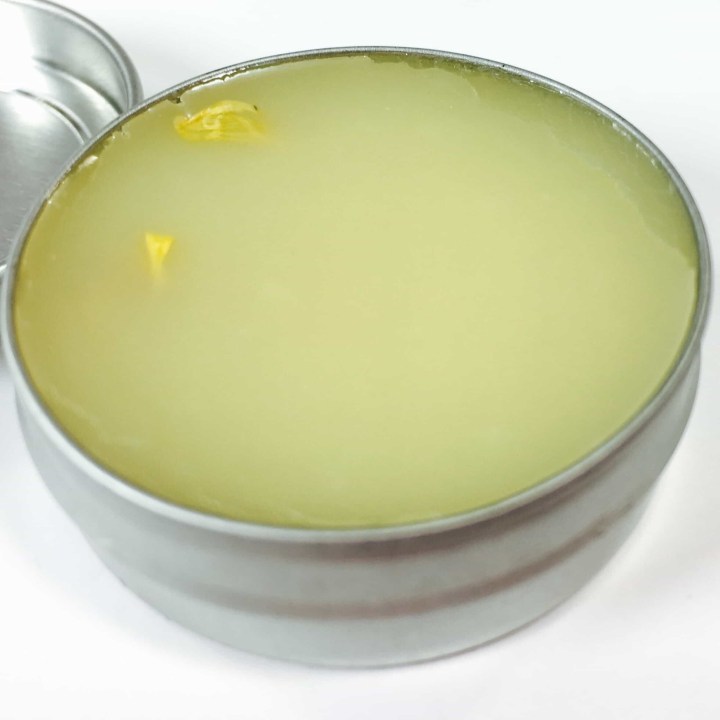 Look at the calendula petals in the salve! Since it's prime mosquito season you can apply this healing balm to bug bites, but also cuts, scrapes, dry skin, cuticles, wherever. Coconut, almond, avocado, and sunflower oils are in here along with plantain leaf, St. John's Wort, and comfrey. It is silky smooth and I didn't detect any scent.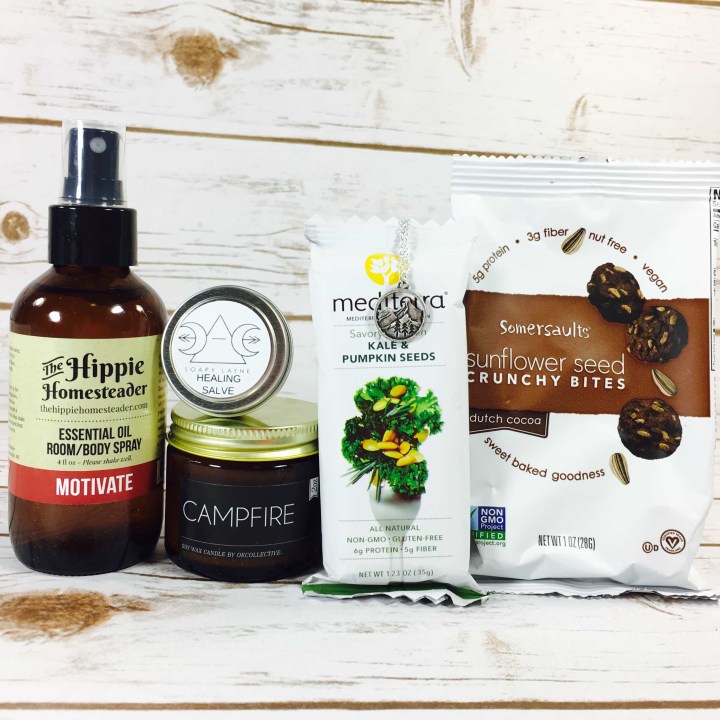 This is my second Sunday Mood box and to say that I was happy when I found it in my mailbox would be an understatement. I hugged it, I was so excited! I feel like this box would appeal to anyone who enjoys well-made, cruelty free products that are different from what you might find at your local stores. The value was around $60, which is more than the price paid for the box. I thought the items fit the theme perfectly plus they are wonderful for summer, and that candle is one of the best I have ever smelled!
Psst: According to Sunday Mood's Instagram account, next month's theme will be "Island Time"!
What do you think of Sunday Mood? Let me know in the comments!
Visit Sunday Mood to subscribe or find out more!