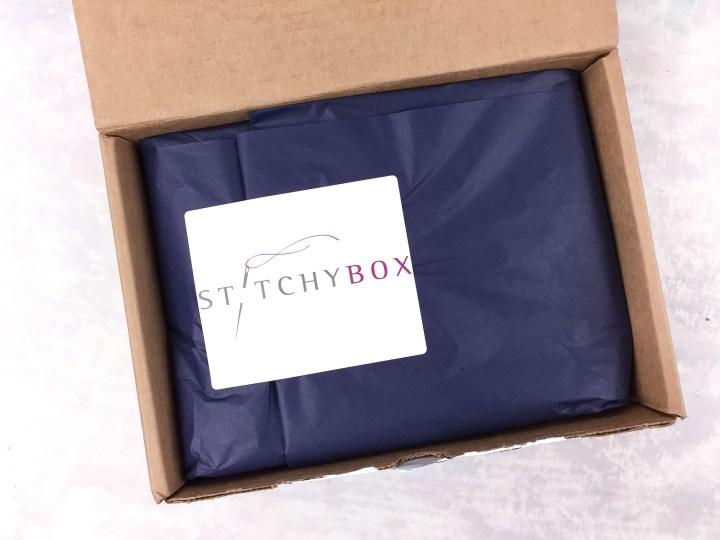 StitchyBox is a bi-monthly subscription box for counted thread embroiderers and cross-stitchers! I was surprised to see this subscription in a box – it's been shipping in an envelope for over a year, which I haven't minded at all.
There are two options – the Big Picture Box and the Detail-Oriented Box. With both styles you'll receive a variety of threads, from staples like DMC to specialty threads you may not have met yet, and embellishments, stitching accessories and other goodies! They also have a "Just the Threads" subscription. They recently changed their value estimate from $40 to $35.
With the Big Picture Box choose
2 Fat 16ths (one 14-16 count Aida, one 28-32 count linen OR evenweave – your choice) OR
1 Fat 8th (Aida, linen or evenweave).
With the Detail-Oriented Box pick
2 Fat 16ths (one 32-36 count linen, one 40 count linen) OR
Select 1 Fat 8th (either 32-36 count linen or 40 count linen)
Stitchy Box also now offers add-on subscriptions (also available stand-alone):  Stitch It Up (XS charts), Bling It Up (bead & crystal), Buttoned Up, and Thread It Up, as well as limited edition chart designs and series!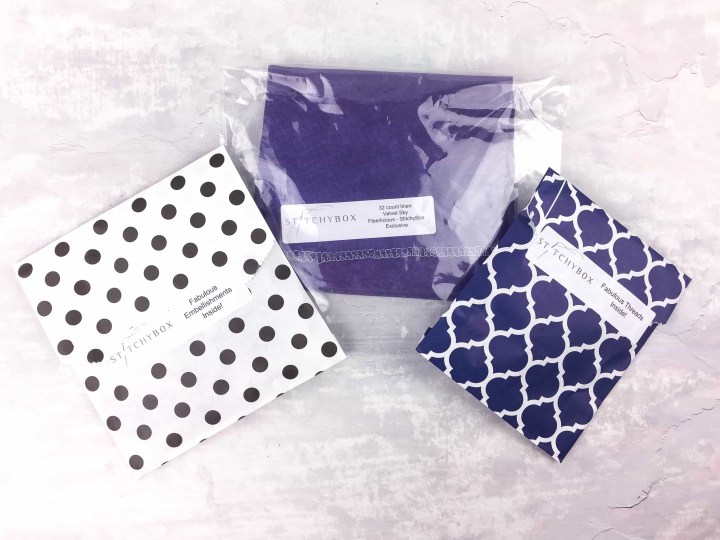 NOTE: When you visit this subscription all the options are sold out. You must get on the wait list, but there will generally be a spot for you in the next round of shipments!
This month the inspiration was Moab at Night. The palettes for 2017 are found in nature.
The information card gives a bit of details about each item, plus info about the supply shop (you can buy more of what you love, but usually only for a limited time – supplies are sometimes hand-dyed just for this box).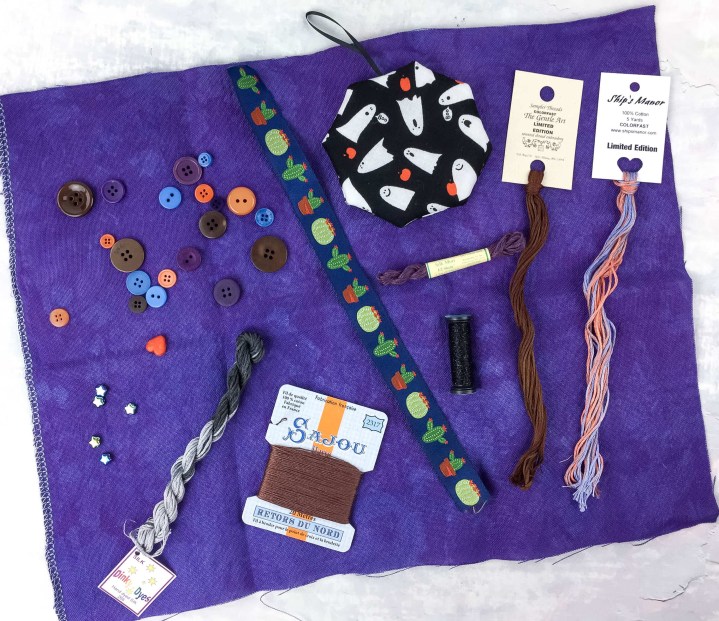 All the goodies this month! Don't forget that this time of year is usually Halloween stitching time!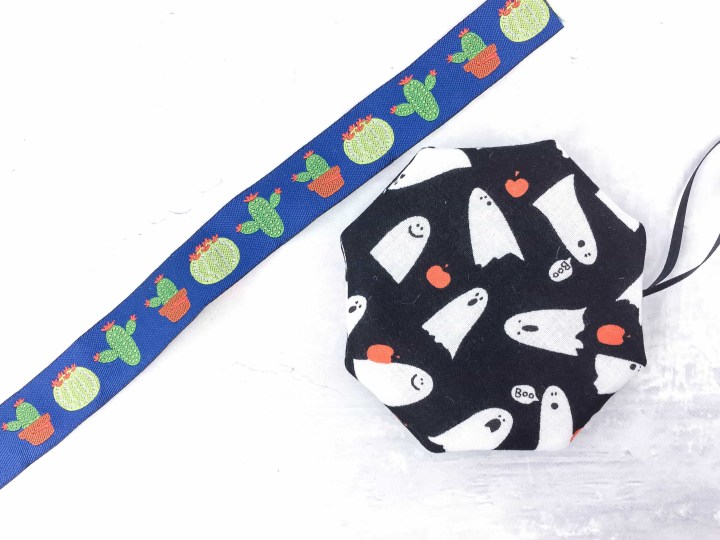 Cactus Woven Ribbon ($1.50) This is too cute, and I think it's a fabulous idea. I can't help but think it's perfect to finish off this chart.
2″ Halloween Tuck ($2.25) This little fabric tuck is meant for tucking your finished piece right in as an ornament!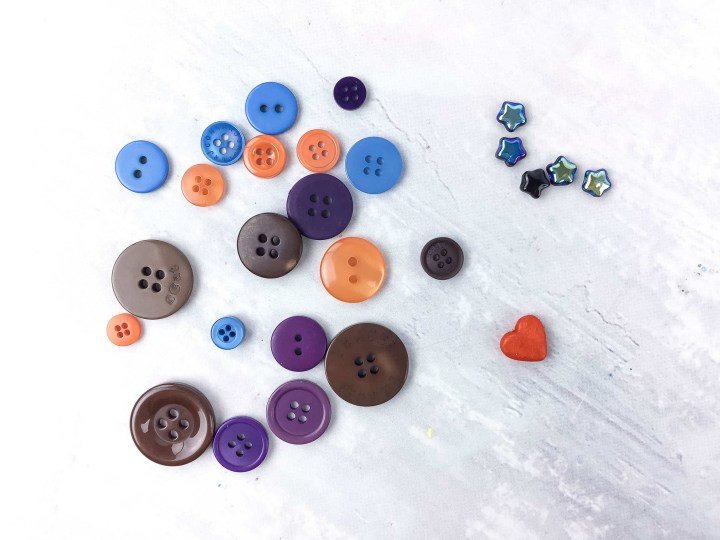 Silk Orange Heart – 12mm ($0.50) Super cute as a bold embellishment on a Halloween stitch – maybe a ghosty heart?
Moab at Night Button Set ($2.50) If you love the Lizzie Kate style and derivations of that, this button set is perfect for adding on. I love the colors and the variety in this one. This is a mini version of the Buttoned Up add-on subscription!
Jet AB Set of 5 Glass Star Beads ($0.75) I can't help it, these look almost exactly like a star detailor. Starry night for a spooky piece? I need to finish up some Hallow-stitches!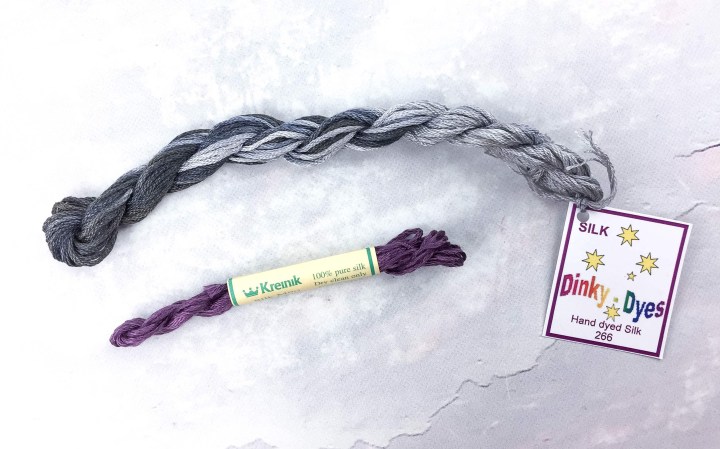 Dinky Dyes Haunted House Silk Floss ($4.50) This colorway went from black to gray to silver, but I only got a partial on the colorway with gray and silver. I love working with this silk floss though – one of my favorites.
Kreinik Dark Dusty Purple Silk Mori ($1.85) This dusty purple is pretty much everything to me.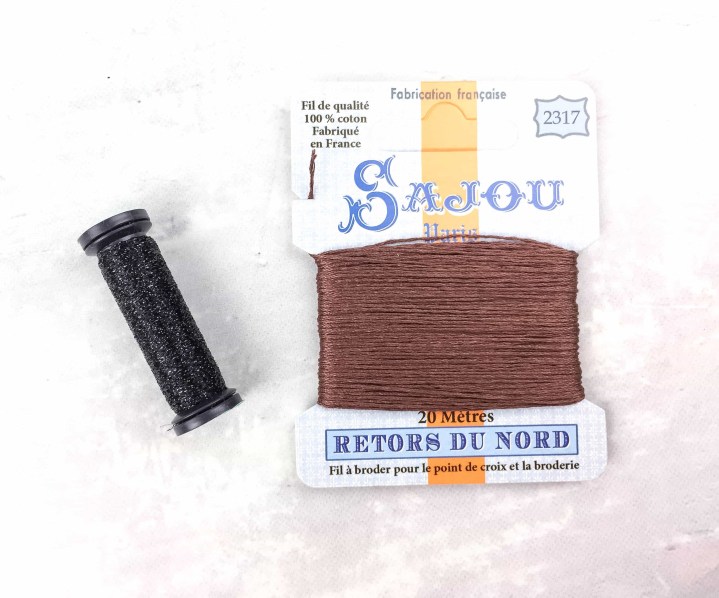 Kreinik #005 Black Metallic Blending Filament ($1.85) I have no complaints about blending filament – I find it relatively easy to work with and I love using it to add some sparkle!
Sajou Retours De Nord Pheasant Cotton Floss ($4) This old bordeaux colored floss is French, and different than DMC, although it's easily substitutable. I love playing with what other stitchers are using, so I thought this was a fun addition.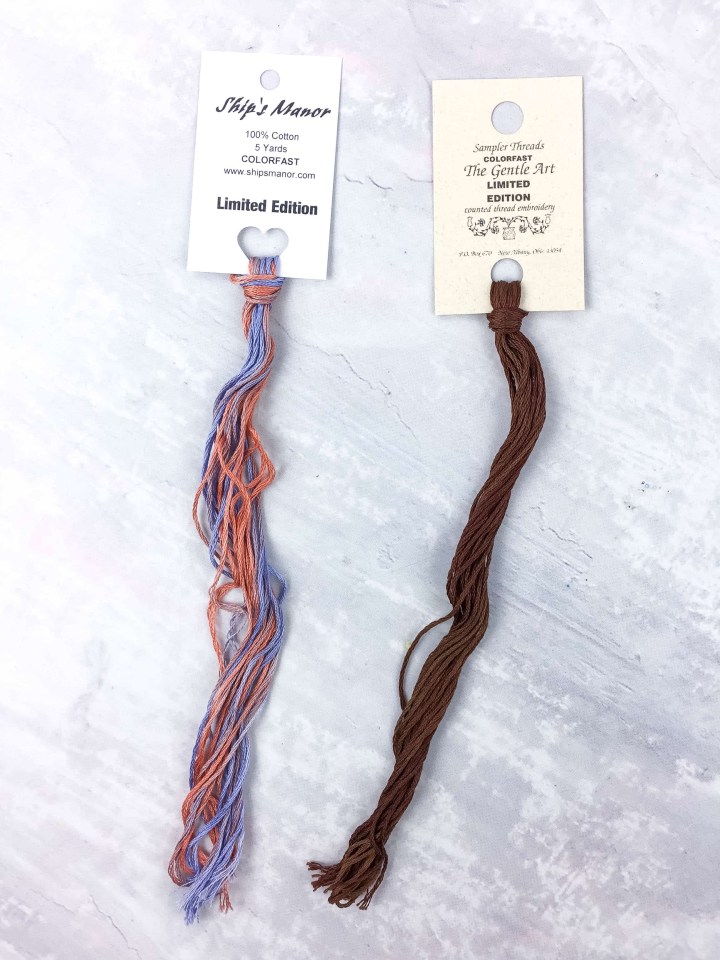 Exclusive Ship's Manor Moab Cotton Floss ($2) This colorway was exclusive to the box, and when you stitch it up it will go from those dusky peaches to purple and back again like a desert sunset. Ship's Manor is finally colorfast – yay!
Exclusive Gentle Arts Shaded Sands Sampler Threads ($2.40) Barely variegated, and that means that it's super useful for adding a touch of dimension without drastic color changes. Love it.
Exclusive Fiberlicious Velvet Sky Cross Stitch Fabric ($10.80)  This fabric is totally delicious. I love the dye work and the color. It just screams for oranges to go right on there.
Love the Halloween Stitchy Box! The total value was about $35, which is about the cost of the box on a bi-monthly subscription (less on an annual subscription). I think it's great for what you get – free shipping, exclusive colorways, and the ability to sample products you typically need to buy in bulk. There's nothing else like it around!