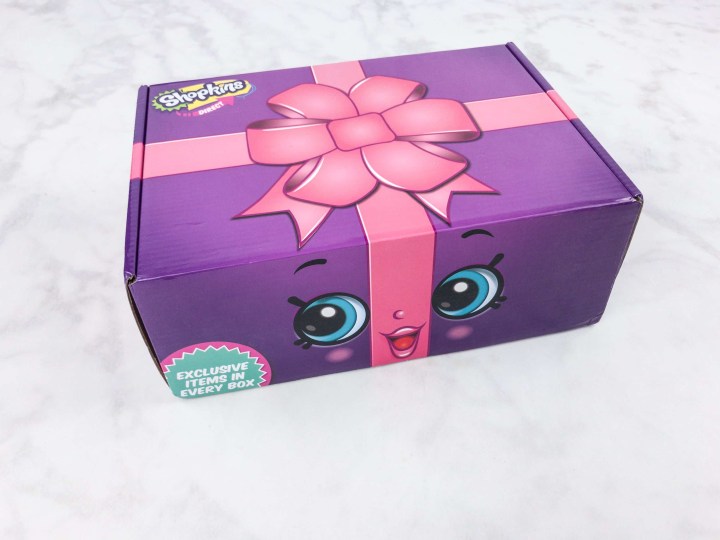 We've been waiting for it, and it has now finally arrived! Shopkins Direct is a new quarterly subscription box that delivers a box filled with Shopkins goodies! For only $30 per quarter, get 100% exclusive Shopkins toys, apparel, and more, in a special limited edition box.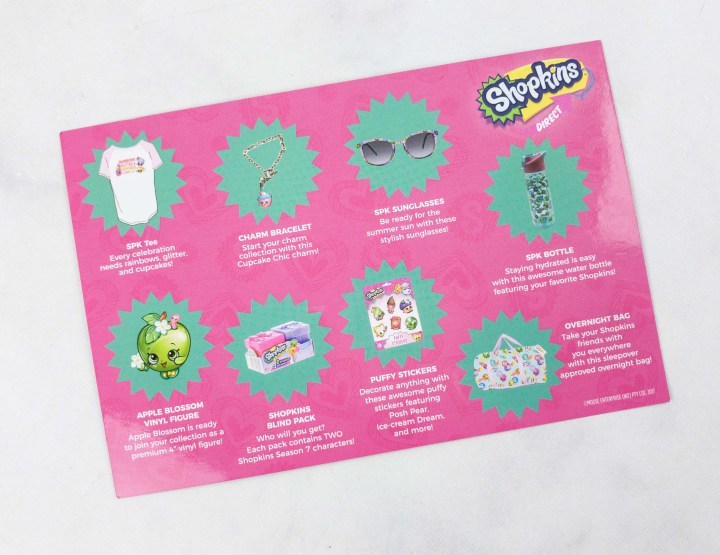 The information card gives you a list of all the items in the box, plus their description.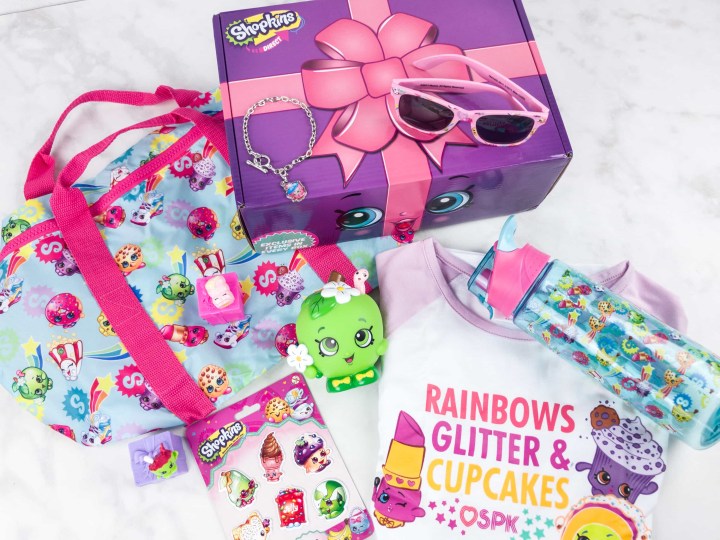 Everything in the Summer box!
Overnight Bag – Summer means more travels and sleepovers for the kids. This will be so useful! We love the all over print and the hot pink nylon handles are so cute.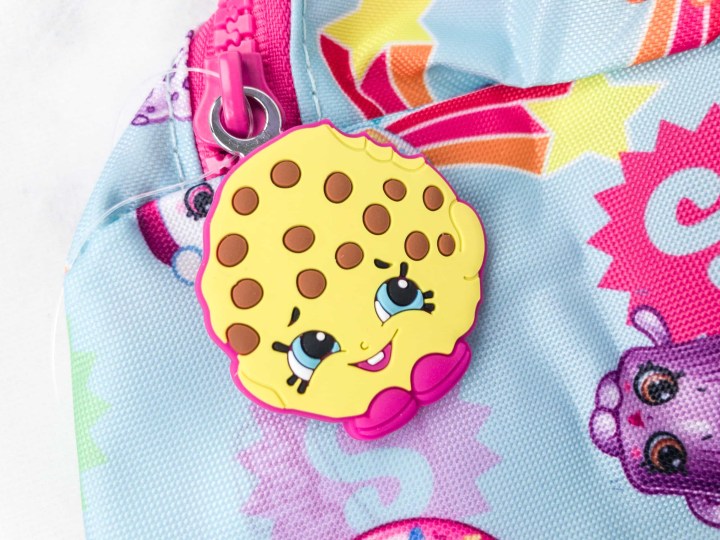 It even features Kooky Cookie as an adorable zipper pull.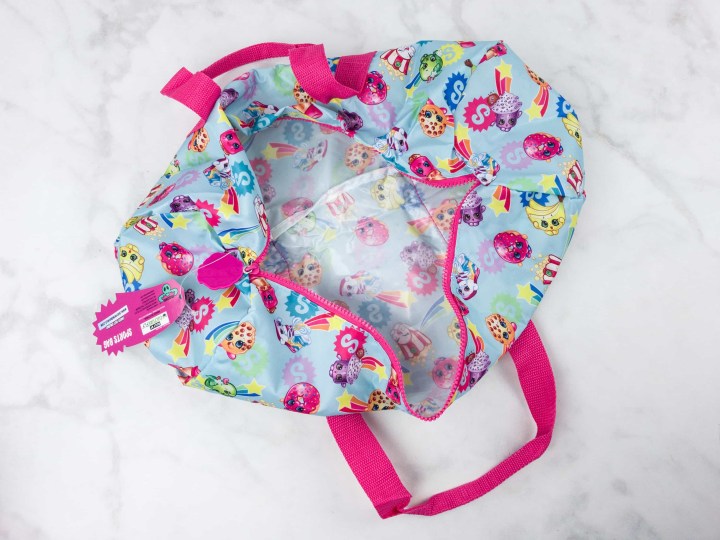 Big enough to carry clothes and a few essentials! The inside is coated so this is an easy clean!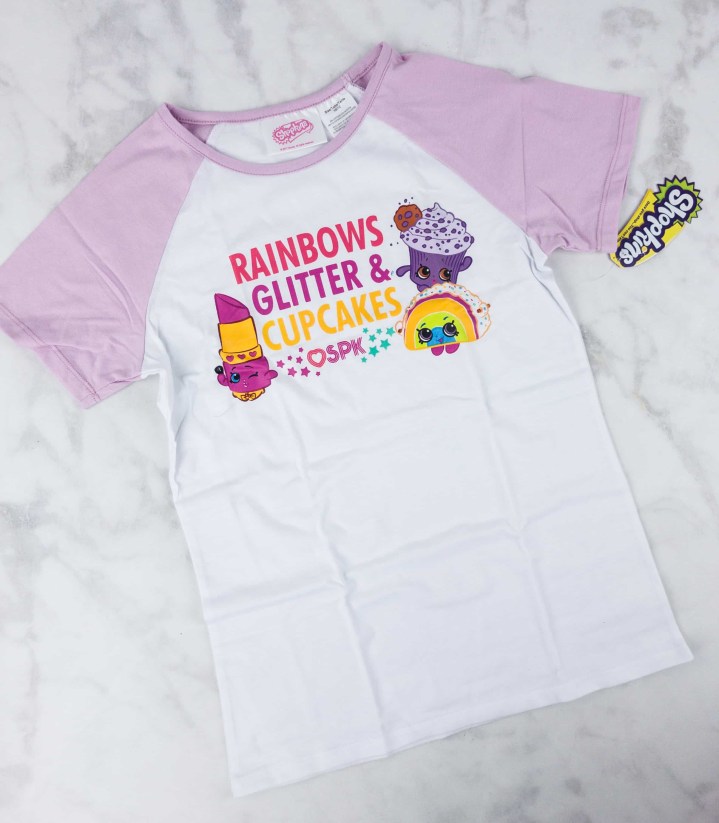 SPK Tee – This tee lists three things we love: rainbows, glitter and cupcakes!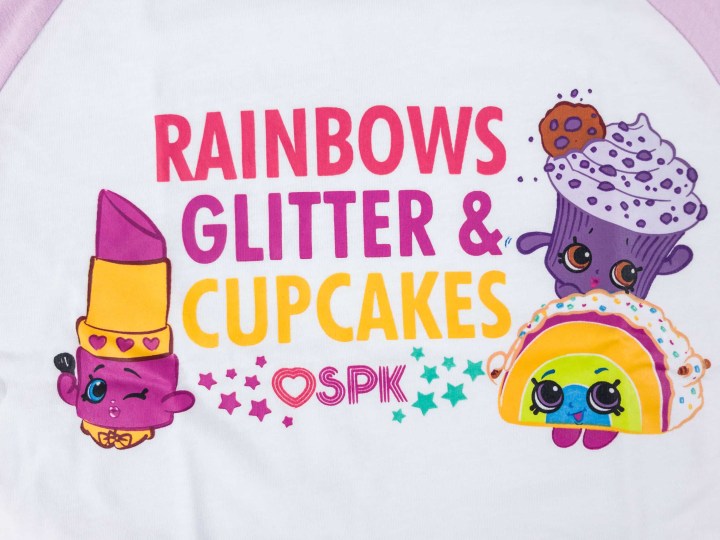 The print is so vivid and high-quality, while the material is comfy. This shirt is just too cute to not wear while on vacation! My daughter wore it as soon as possible. I think my personal fave is the rainbow ice cream taco.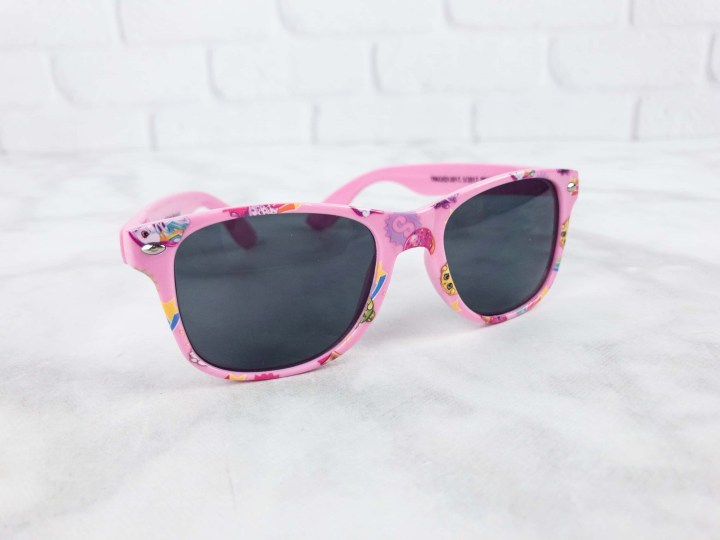 SPK Sunglasses – Another summer essential. It's so girly and we love it!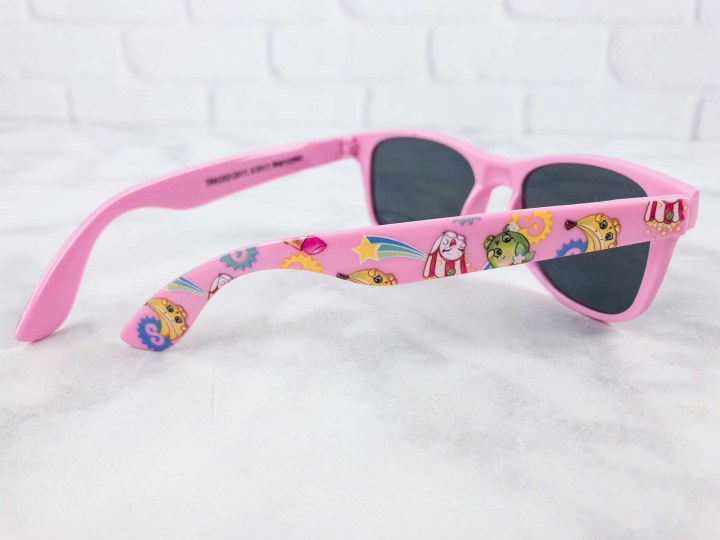 It features a Shopkins multi-character collage all the way to the handles. The only bummer is that my daughter wears glasses, so we decided to keep these for an awesome birthday gift!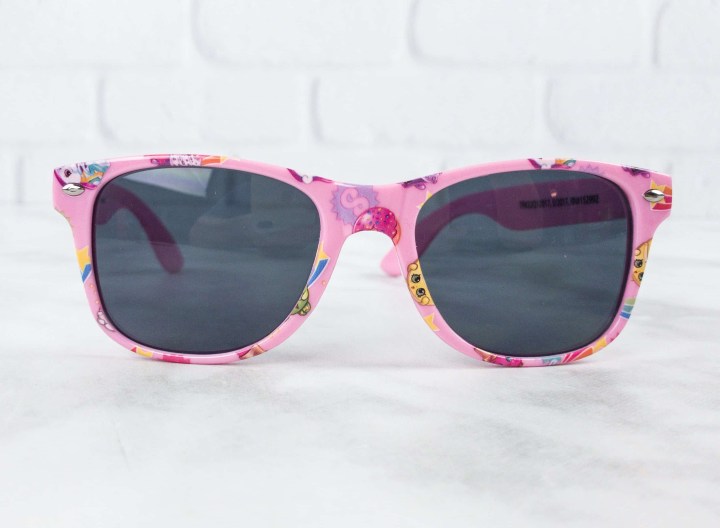 It's such a stylish way to keep the kids' eyes protected (we assume that they have UPF protection – there wasn't a sticker on these sunglasses).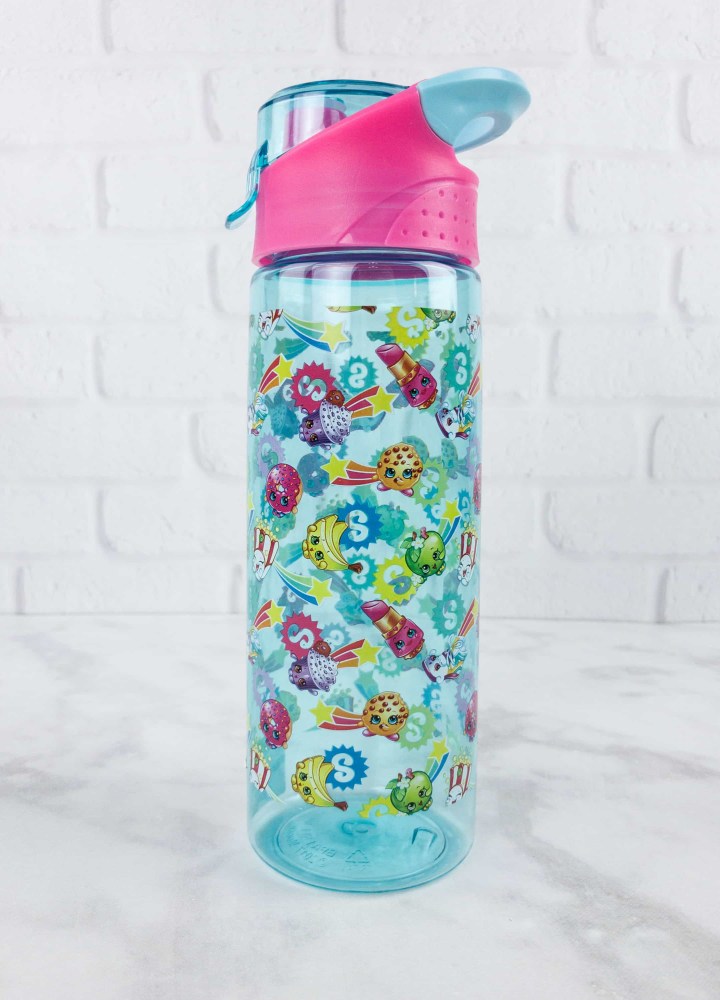 SPK Water Bottle – Packing a refillable water bottle during trips is a more eco-friendly way of staying hydrated in the summer. The bottle handle flips in and although a friend insists that this is useful for storage, I personally don't get it 🙂 But forget the handle – love the all over print – look at all the Shoppies!
The water bottle has nice and bright colors, plus its lid is leak-proof too!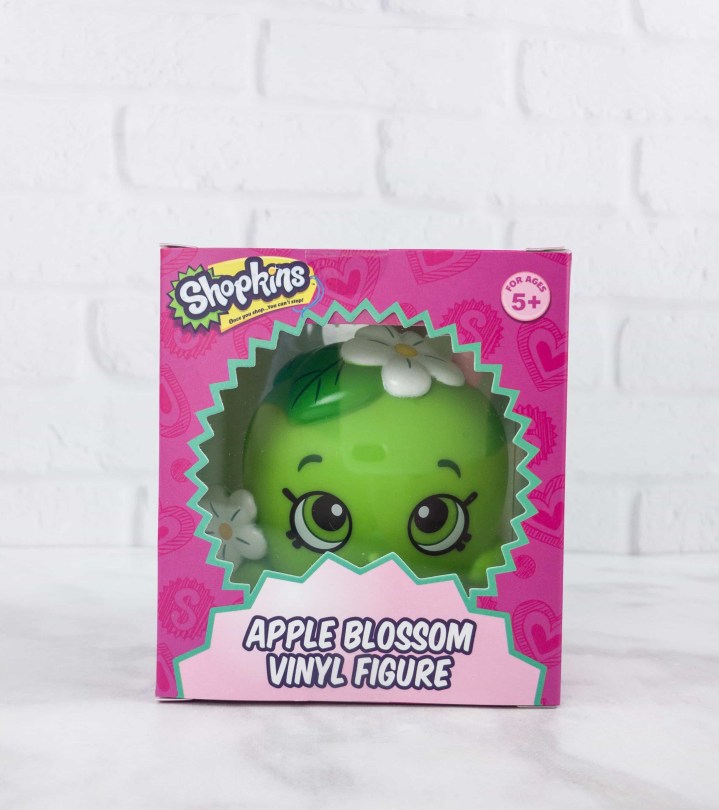 Apple Blossom Vinyl Figure – The cutest apple we've ever seen!
It came in a pretty double-sided window box which you can also use for display or safe-keeping.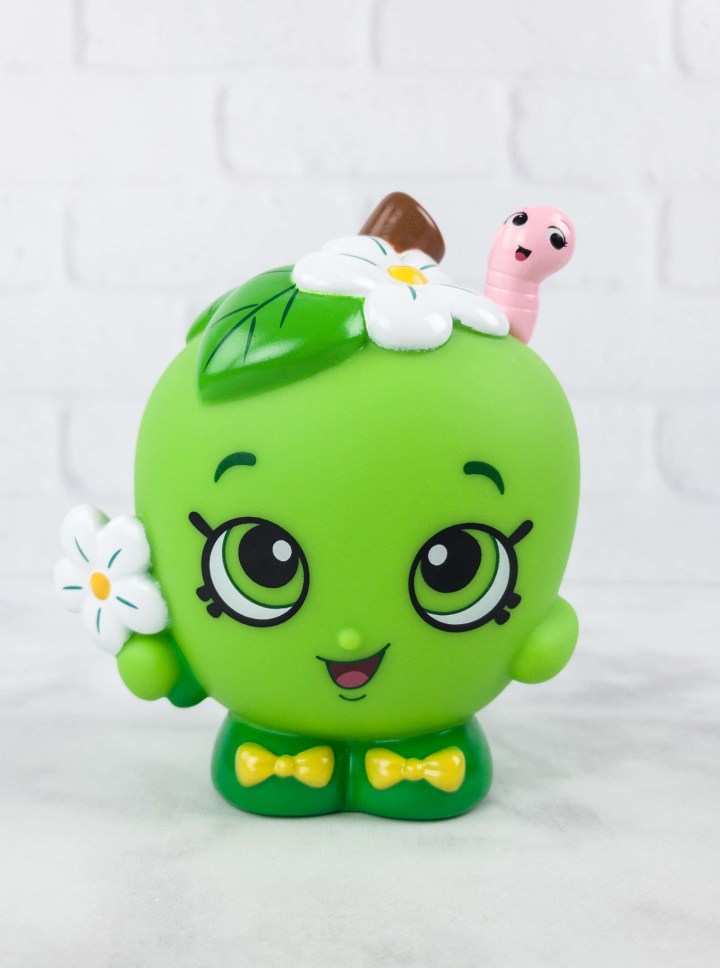 So adorable! The detailing is fantastic – it even has a small yellow bow on each foot.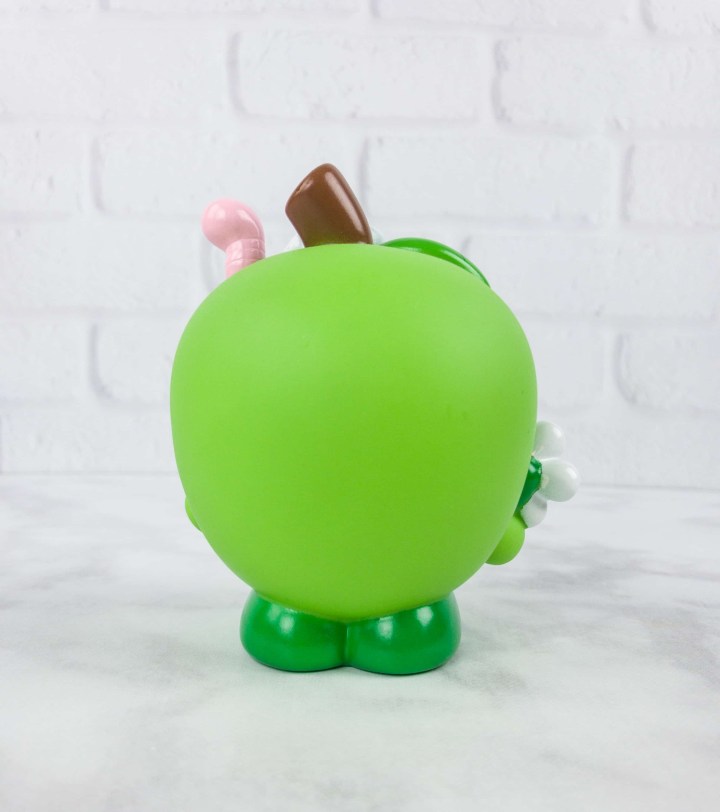 The vinyl figure stands about 4″ tall.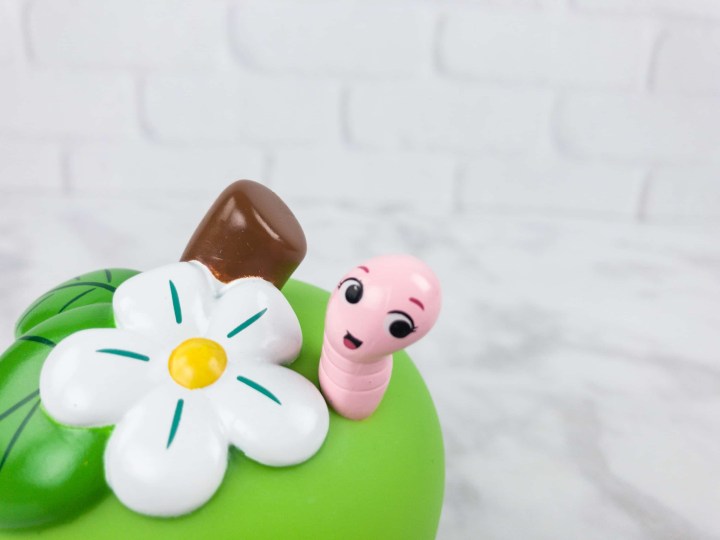 Oh, hello there, worm!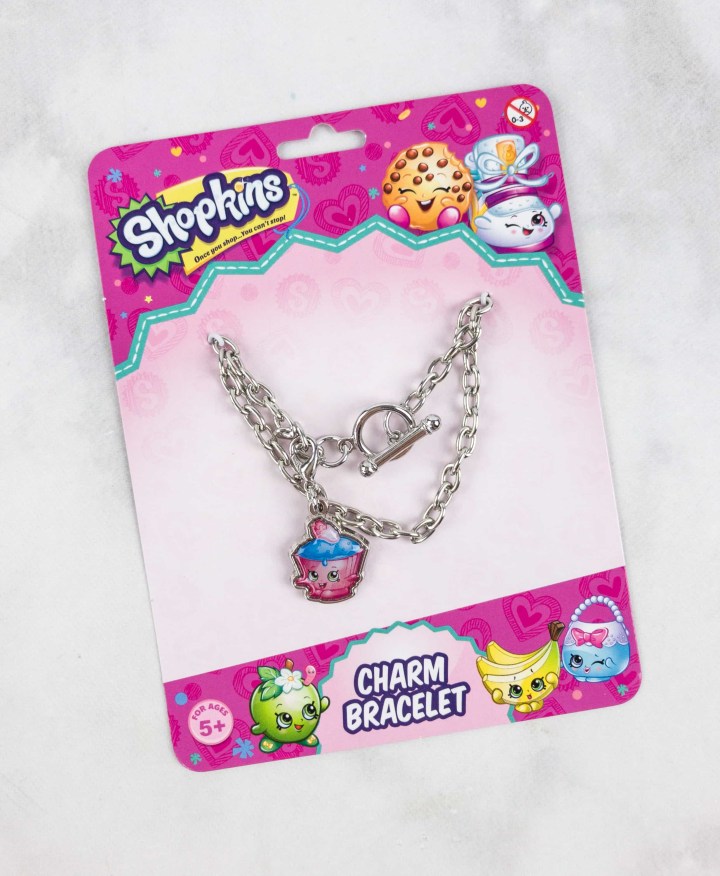 Charm Bracelet – We received Cupcake Chic!
The bracelet is made of alloy and is adjustable. There will be a new charm in each box to add to your bracelet.
If you have been collecting Shopkins charms, you can attach them here too. More charms, more fun!
Unfortunately, this bracelet is fairly large and isn't adjustable – just the loop and bar closure. My daughter lost hers within 2 hours of putting it on while we were out shopping. I think this is the first time she's ever lost anything, so I can't say it's her fault.  We strongly recommend purchasing a bracelet extender (sounds funny) because it has lobster clasps at both ends if you are getting this for a child.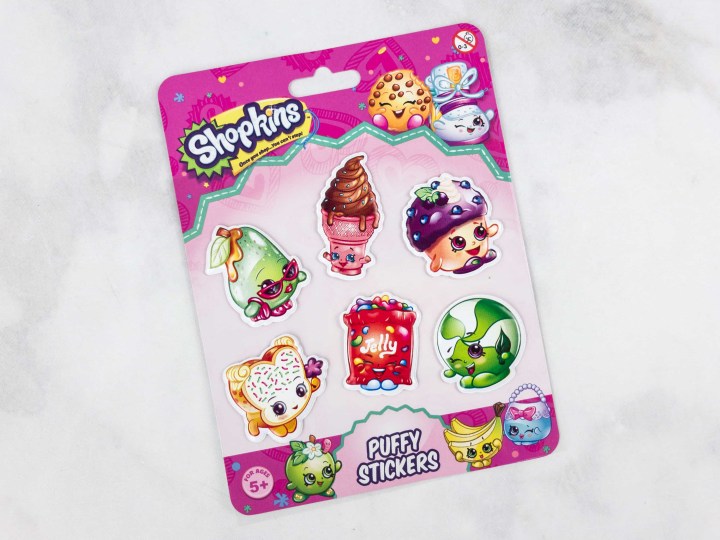 Puffy Stickers – Who doesn't love stickers? There were six pieces in this pack and they are probably going to be all used up long before summer ends! (Yes indeed, they decorated a box before I woke up the next day – this box was pilfered while I was asleep!).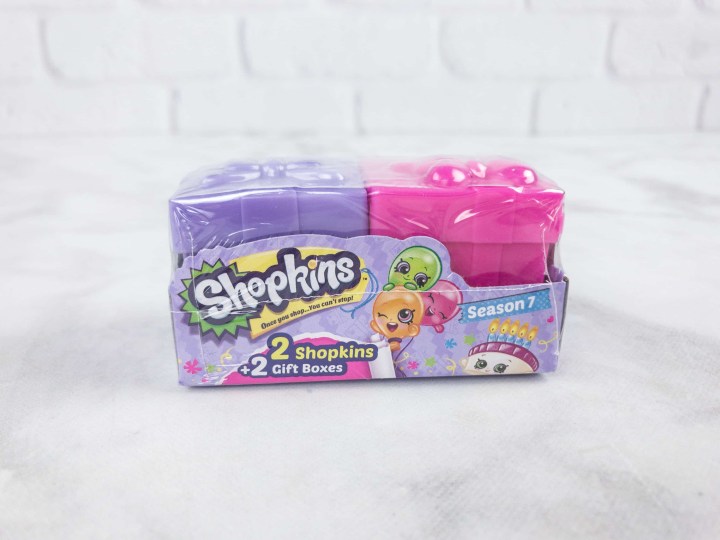 Shopkins Blind Pack  – We received two gift boxes!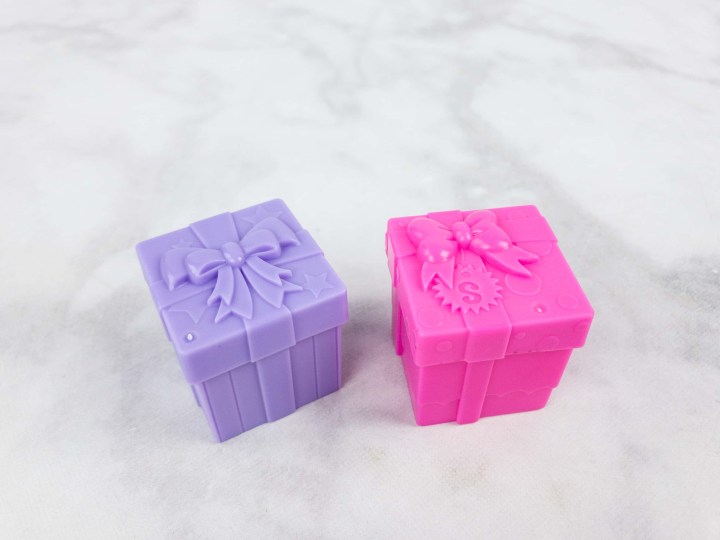 Purple and pink! Each box contains one Shopkins character from Season 7.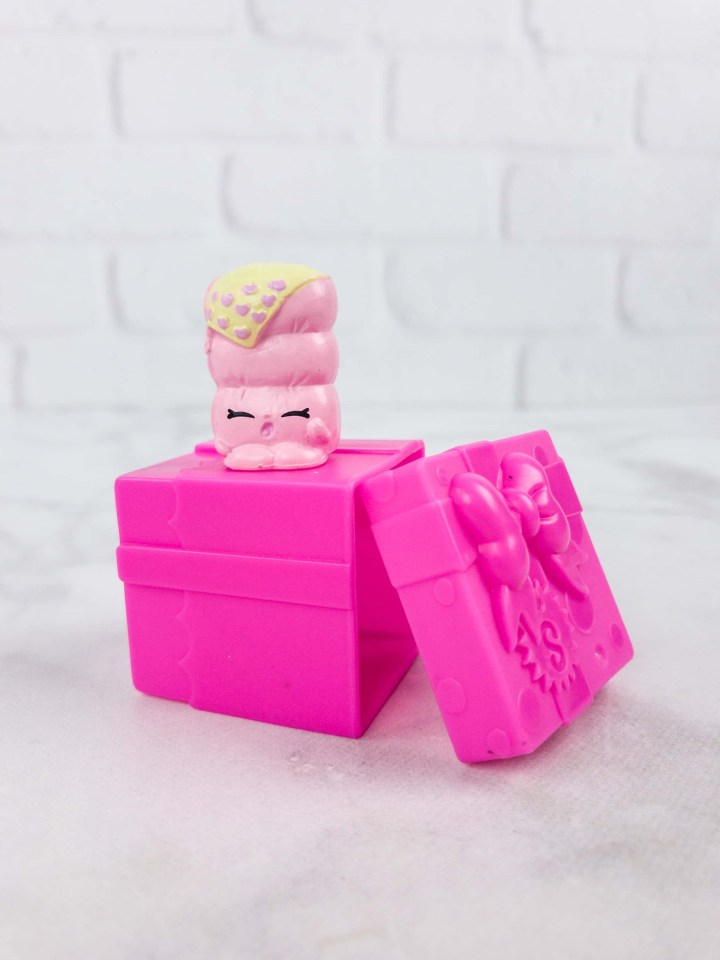 Inside the pink box is Snoozy Sleeping Bag!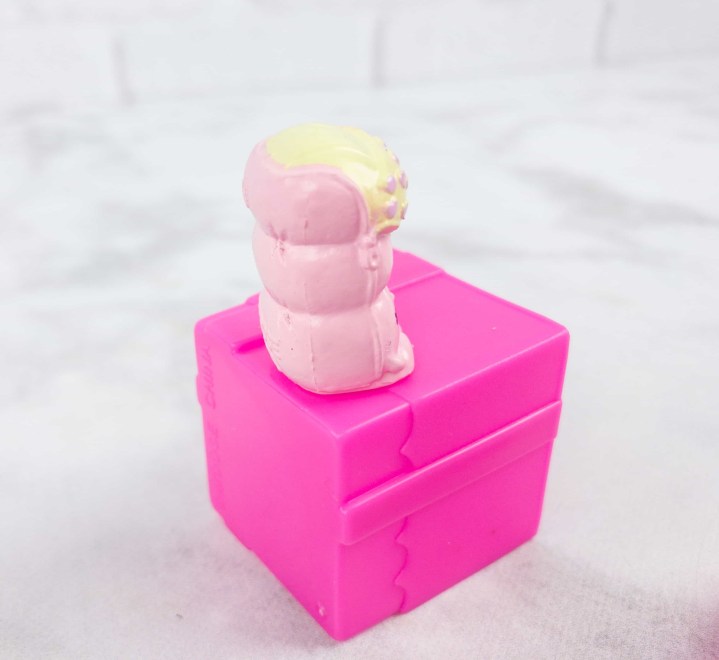 From this view, it actually looks like three layers of fluffy marshmallows. Love the cute zipper.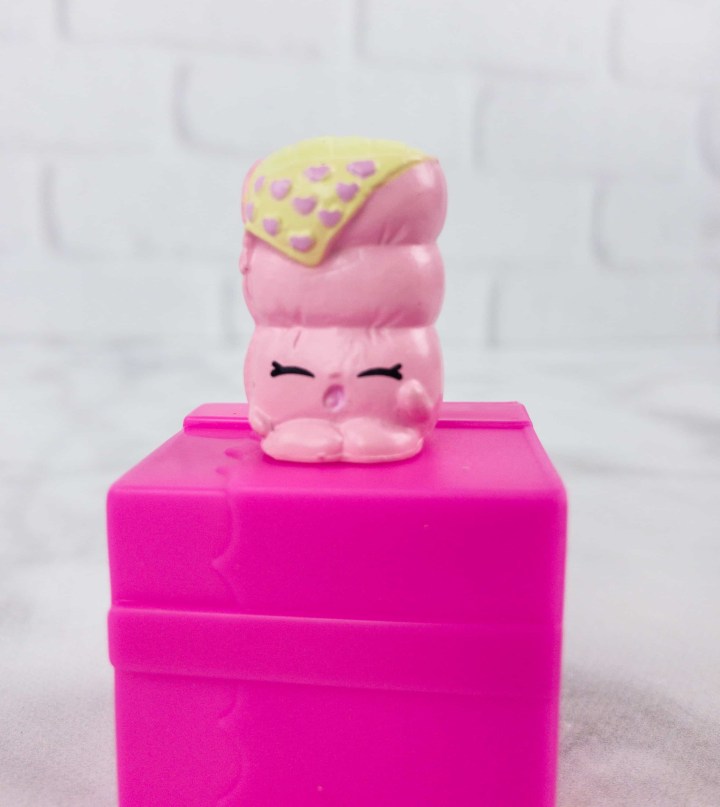 Such a sleepyhead! It belongs to the PJ Party team.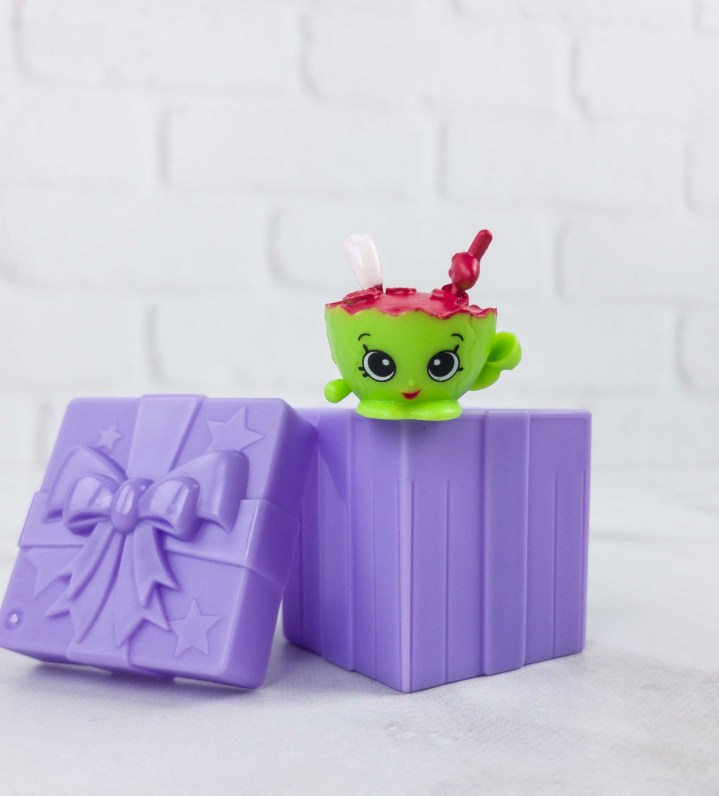 Inside the purple box is Mallory Watermelon Punch!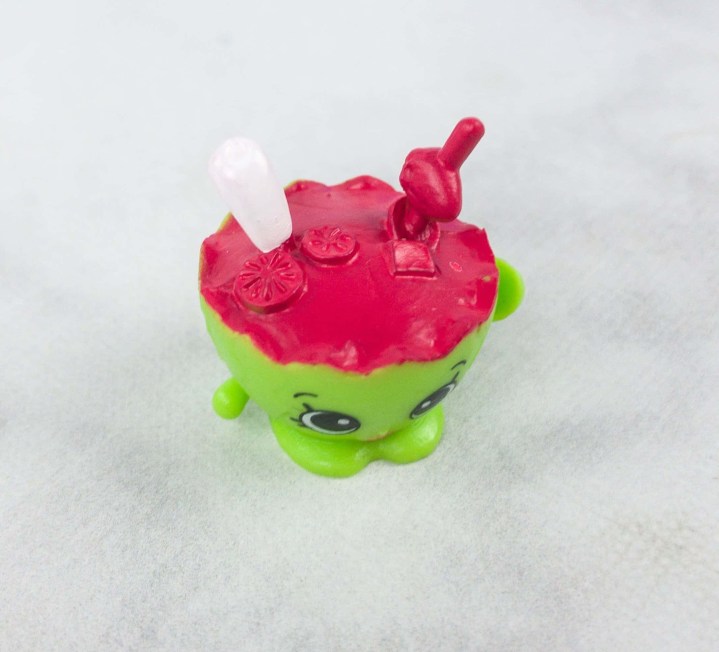 This one belongs to Picnic Party team.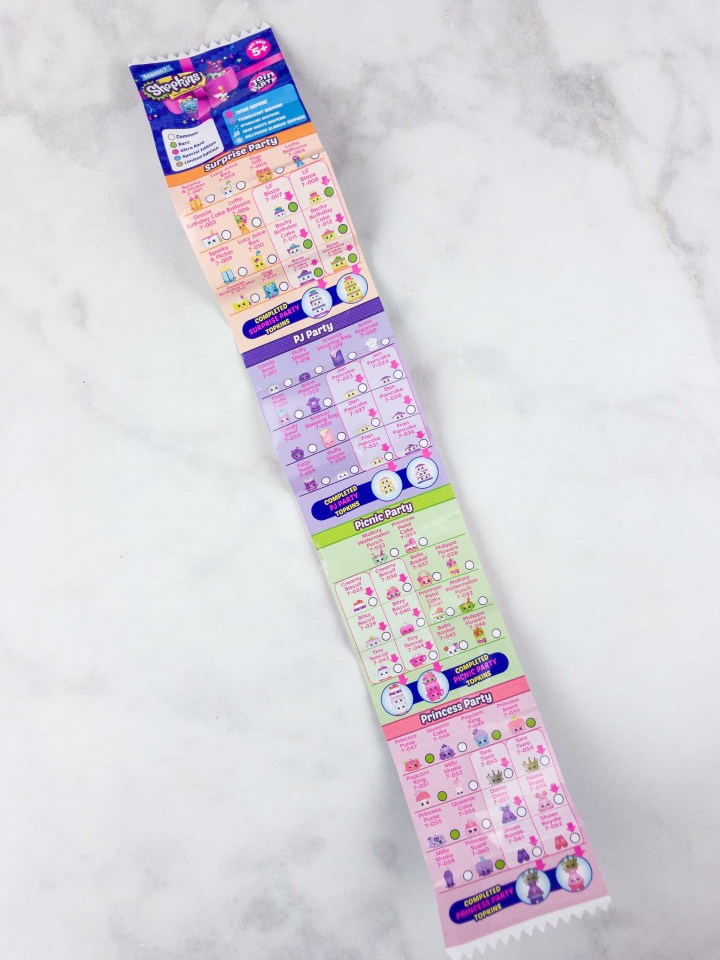 You can check everything off the list!
We love Shopkins Direct! This is our first box and it's pretty jampacked. Plus, the variety is nice too – we didn't just get toys but practical items such as the shirt, the water bottle, and the bag too. Everything is 100% authentic Shopkins and (we think) everything except the blind boxes and charm bracelet were exclusive. It's a nice subscription especially if you have a young girl who likes collecting anything cute!