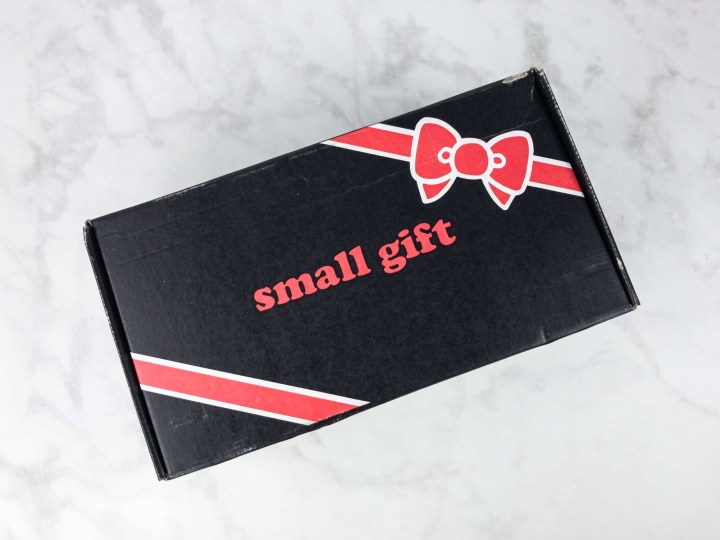 Sanrio Small Gift Crate is a new kawaii subscription box from Loot Crate featuring the cutest and the most likeable Sanrio characters. The subscription costs $34.95 per quarter, and you'll get a mystery box filled with supercute items. If you grew up collecting Hello Kitty, Bad Badtz Maru, My Melody, or have more recently fallen in love with newer characters like Gudetama, then you'll definitely love this subscription!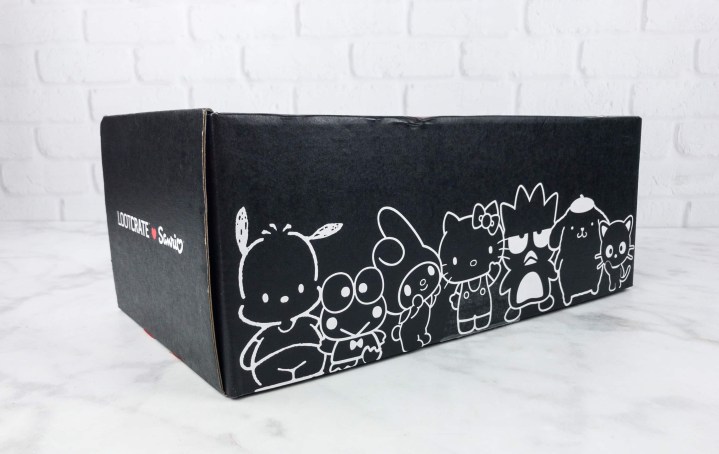 No deals yet for this box – be sure to subscribe for notifications for coupon codes!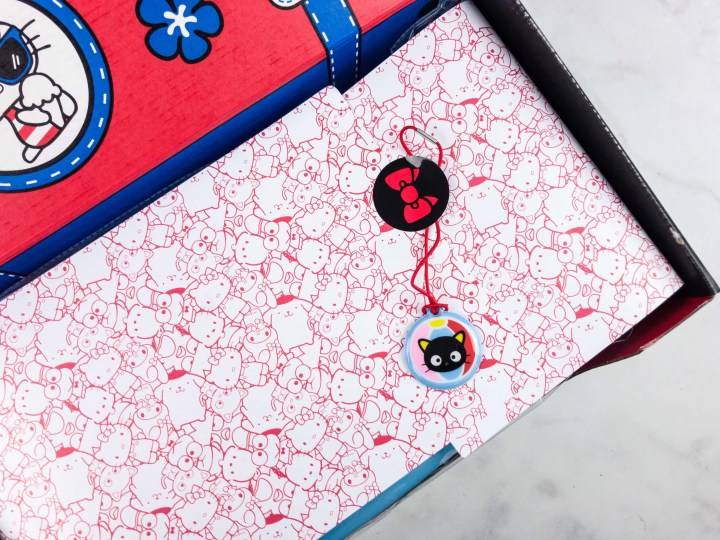 This box is so cute when you open it up I love the Sanrio characters just staring up at you. There was an extra goodie on top, too!
The information card this season was a set of 6 attached cards.
They're all so cute. I love Keroppi in his beach chair.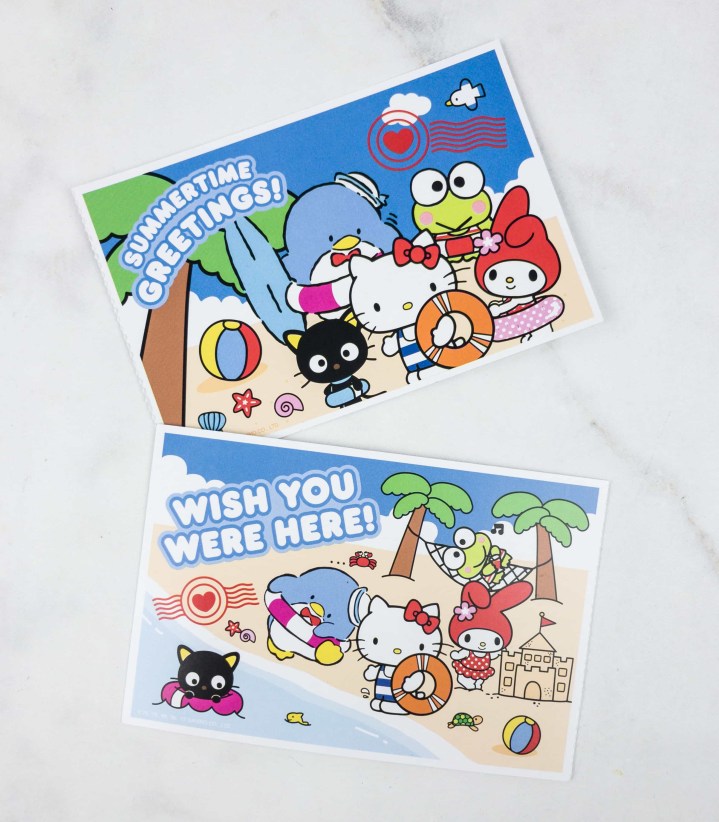 There were two cards that are actually postcards!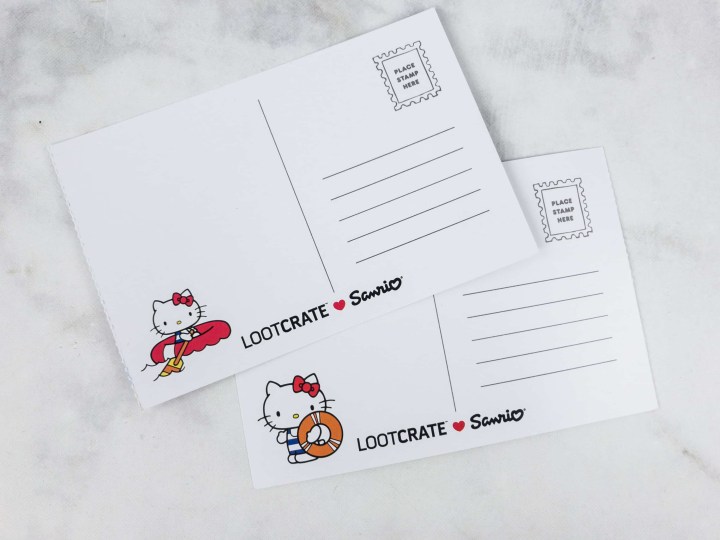 Definitely sending these to friends to spread some beach vibes.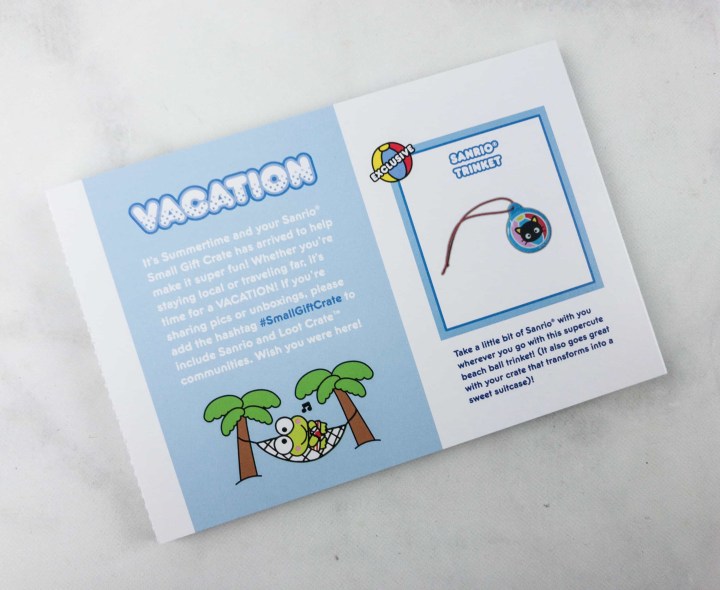 The theme for the Summer box is VACATION!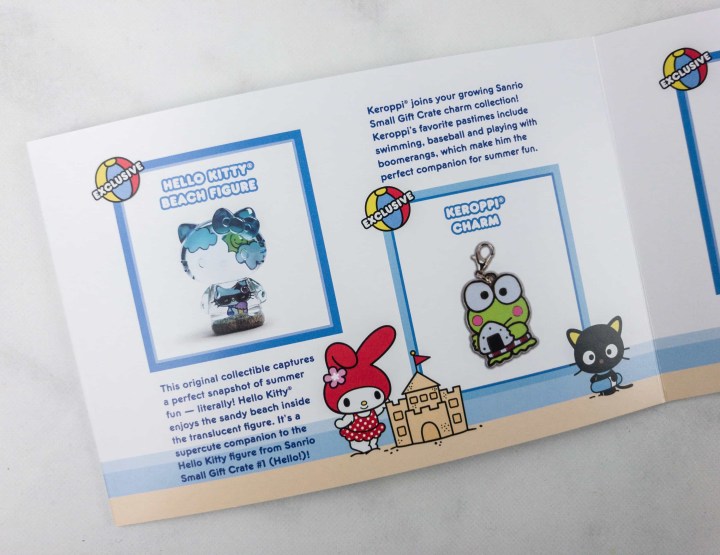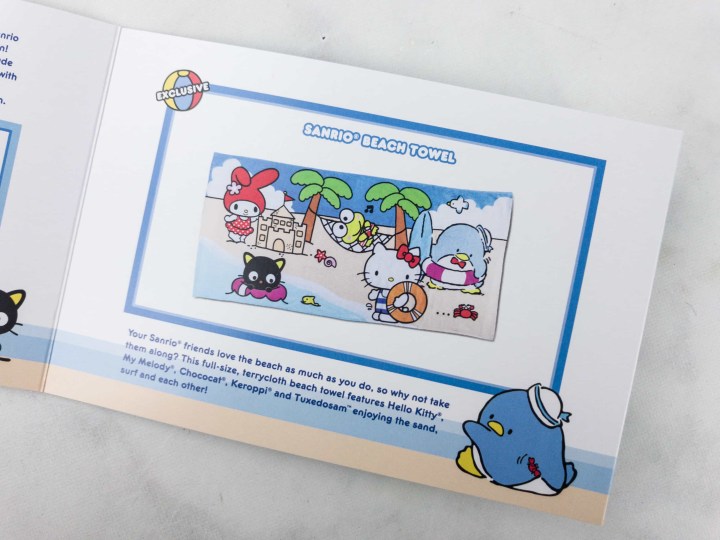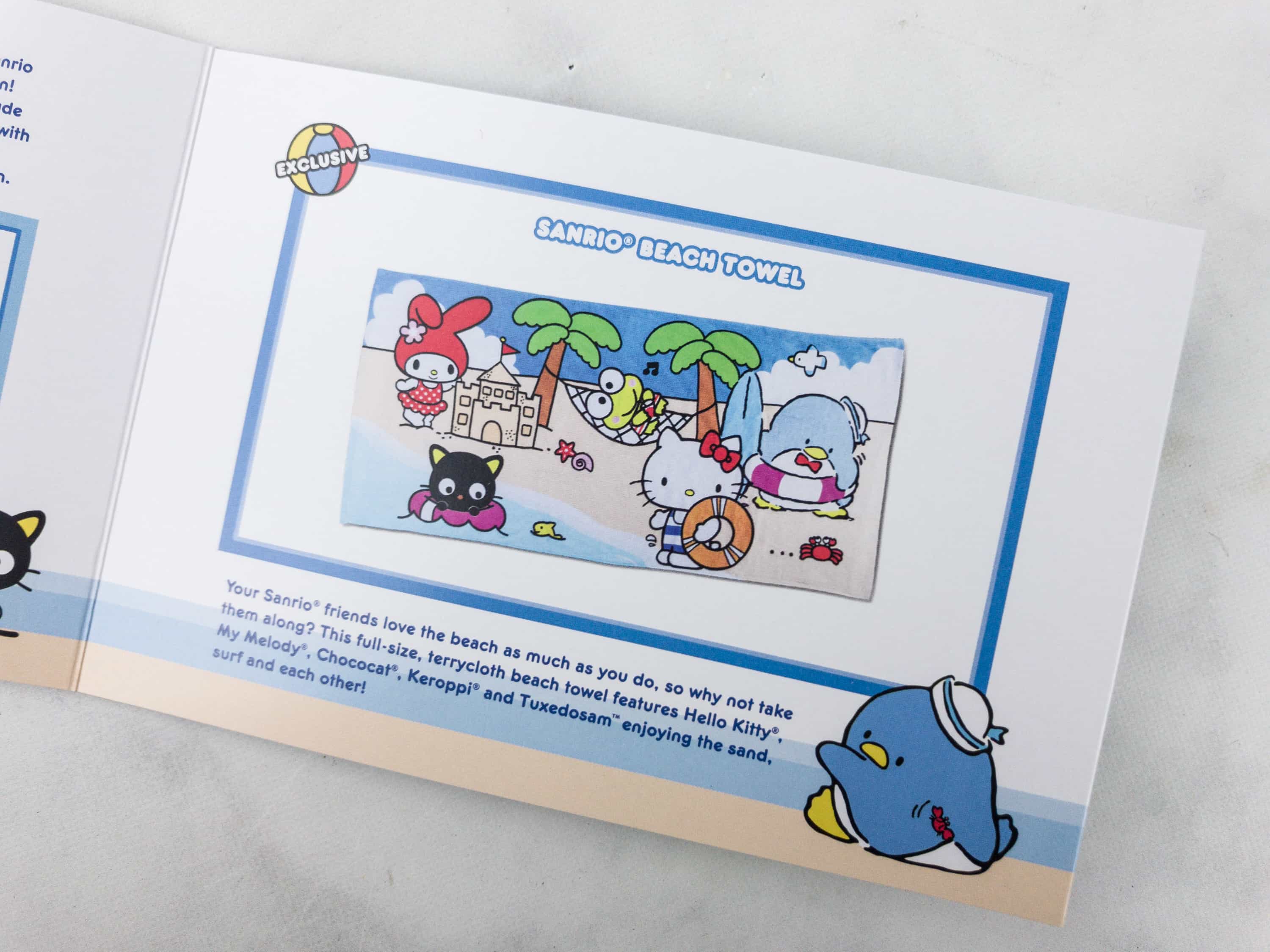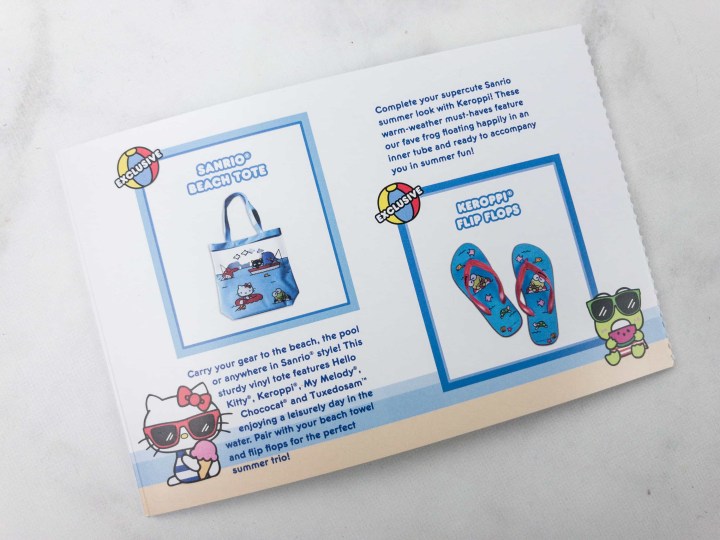 his cute information card provides item descriptions, as well as more information from Sanrio.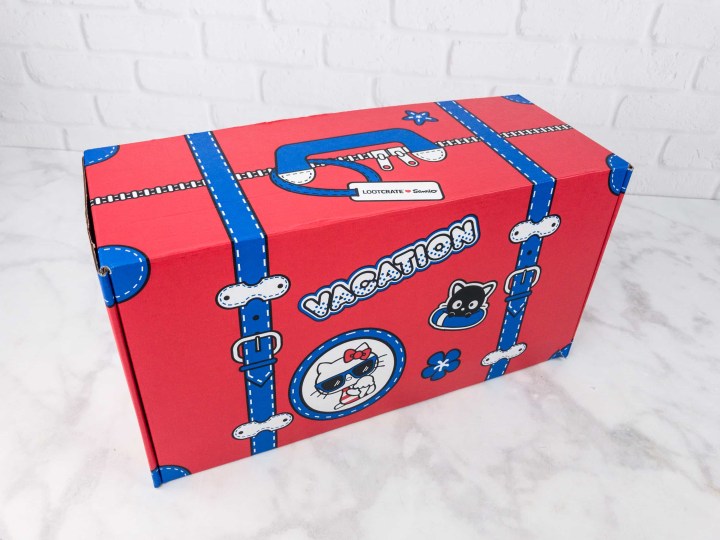 The box transforms into this cute travel luggage!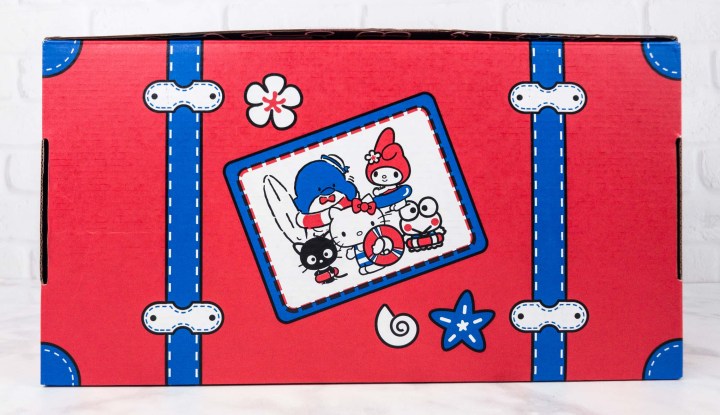 This is so kawaii!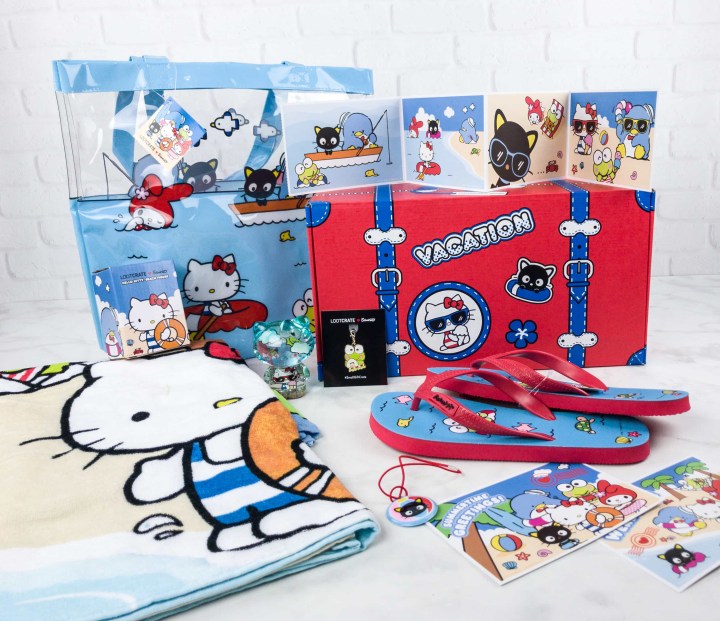 Everything in the Summer box!
Sanrio Trinket: Chococat is featured on this cute beach ball trinket, which is great to attach to a key for identification or even just to a gift for extra cute fun!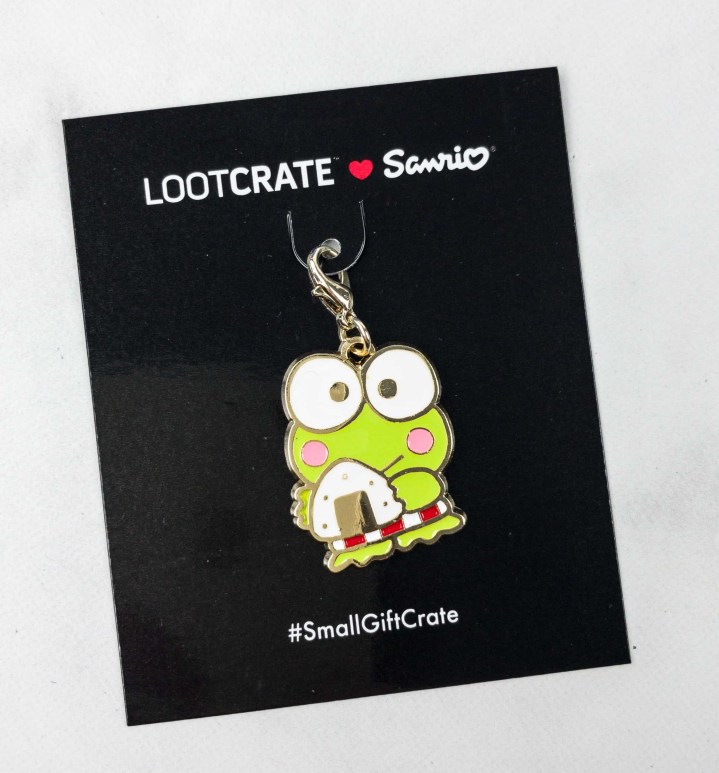 Keroppi Charm: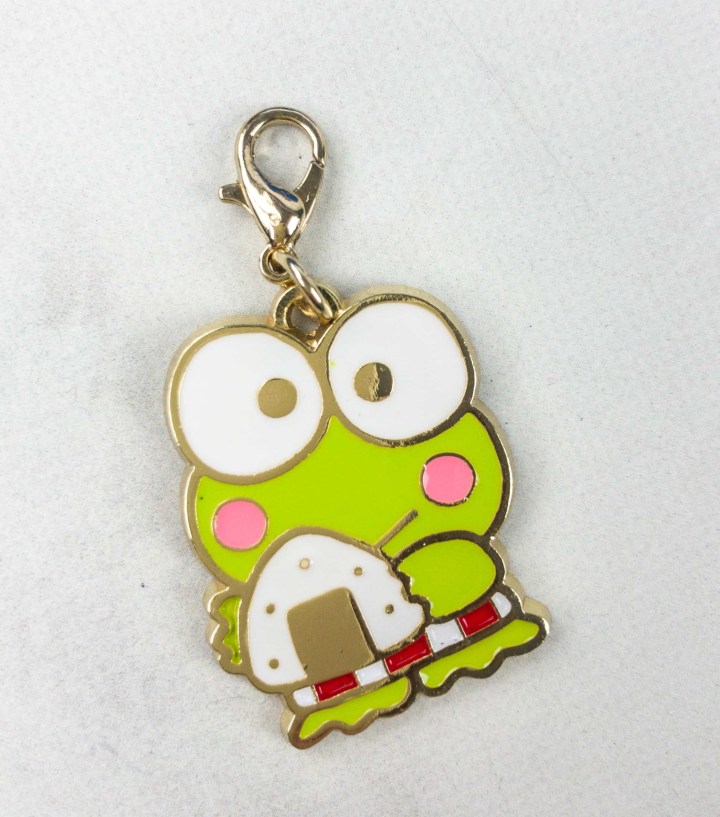 This little enamel pin is super cute and Keroppi is wearing fun swim trunks. As for his hands, he's holding onigiri, a Japanese rice ball ???. For some reason this is totally unexplained on the card. It's not particularly beach vacationy but they can form the basis of a Japanese picnic lunch –  they're easy to carry and quite often contain different things like fish.  But it's also a common trope to show a character holding one. (Thank you to Sara for her great explanation of this!).
Anyways, we added him to the Hello Kitty keychain from the first box, which also has My Melody from last season's crate (it's a charm keychain).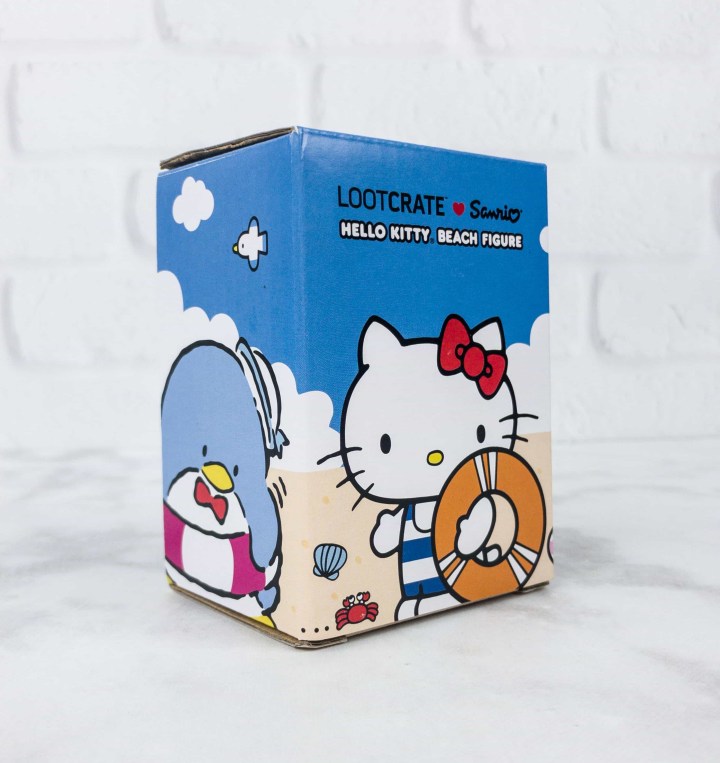 Hello Kitty Beach Figure
I love how even though this figure is made exclusively for the box it still comes in fun packaging – it makes the box even more fun to open!
This solid figure is so unusual – and super cute! Hello Kitty's head features the sun and clouds, and her whole body is inside the figure's body, and top of a sand-filled base.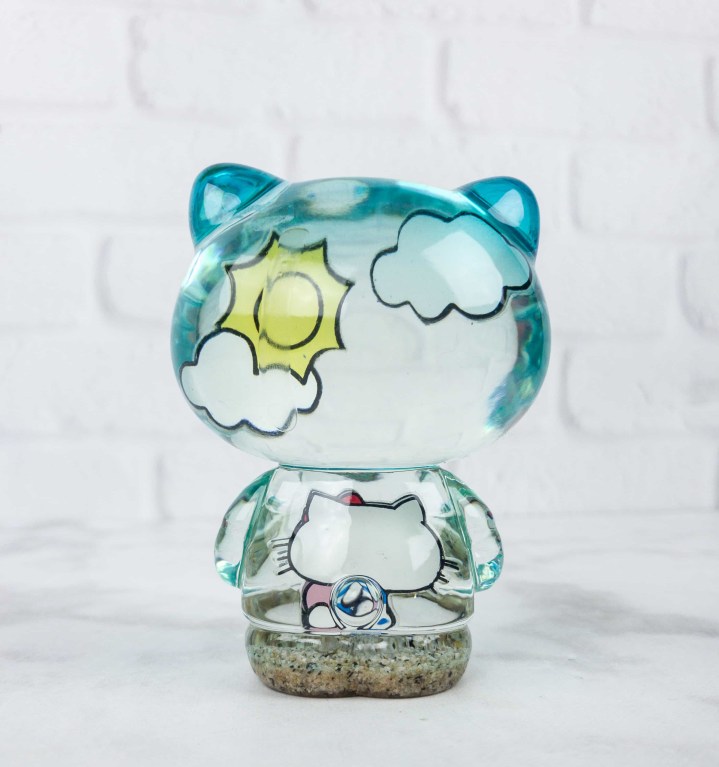 Love the little tail!
It looks great from all sides!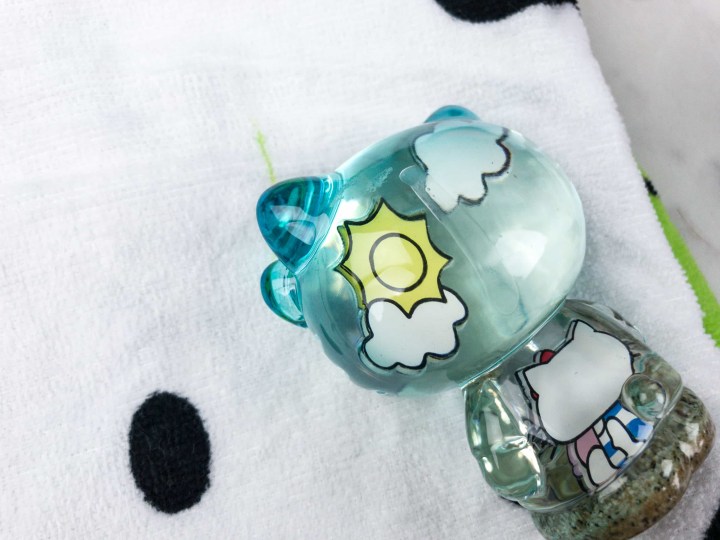 Unfortunately mine had a big drip – but Loot Crate is sending a replacement for us!
Keroppi Flip Flops: Keroppi is so happy in his inner-tube! He's floating around with a turtle and some fish and seashells and having a super swell vacation. The thong part is a really nice non-sharp rubber and the bottoms are regular flip flop material.
The bottoms are textured to reduce slippage. Subscribers received a size in accordance with their size preferences in their Loot Crate accounts. I picked small (US womens 5-7) and they were true to size – although I wished for sure that they had smaller sizes for my daughter.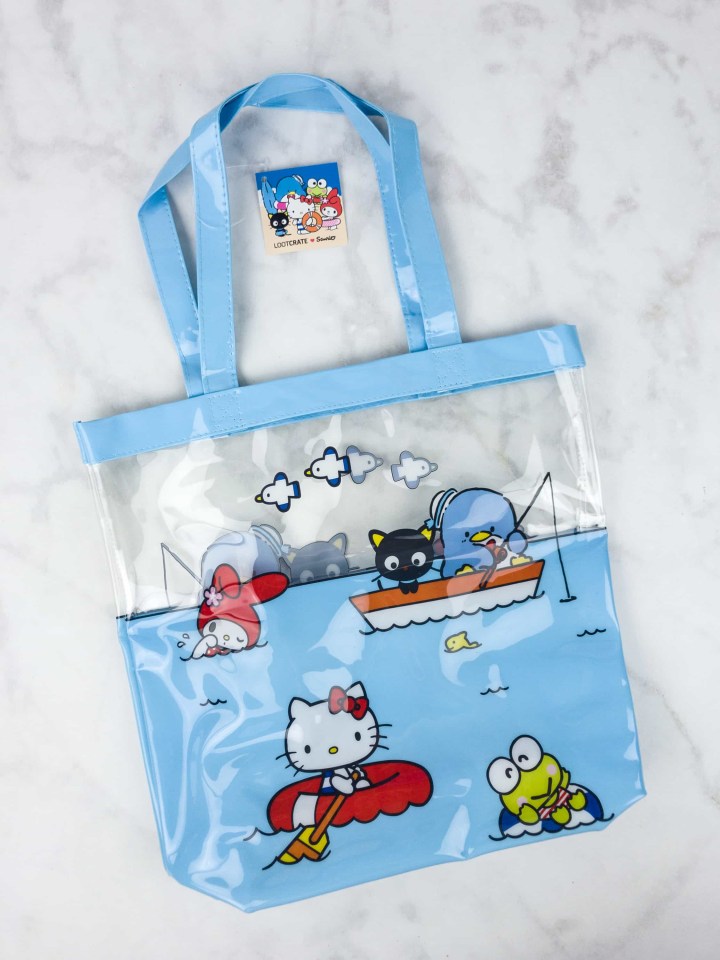 Sanrio Beach Tote: So cute we can hardly stand it! The sea scene is the same on both sides – 2 birds in the air, My Melody trucking along swimming, Chococat and Tuxedo Sam swimming, Hello Kitty paddling on a tube, and Keroppi floating along on his tube!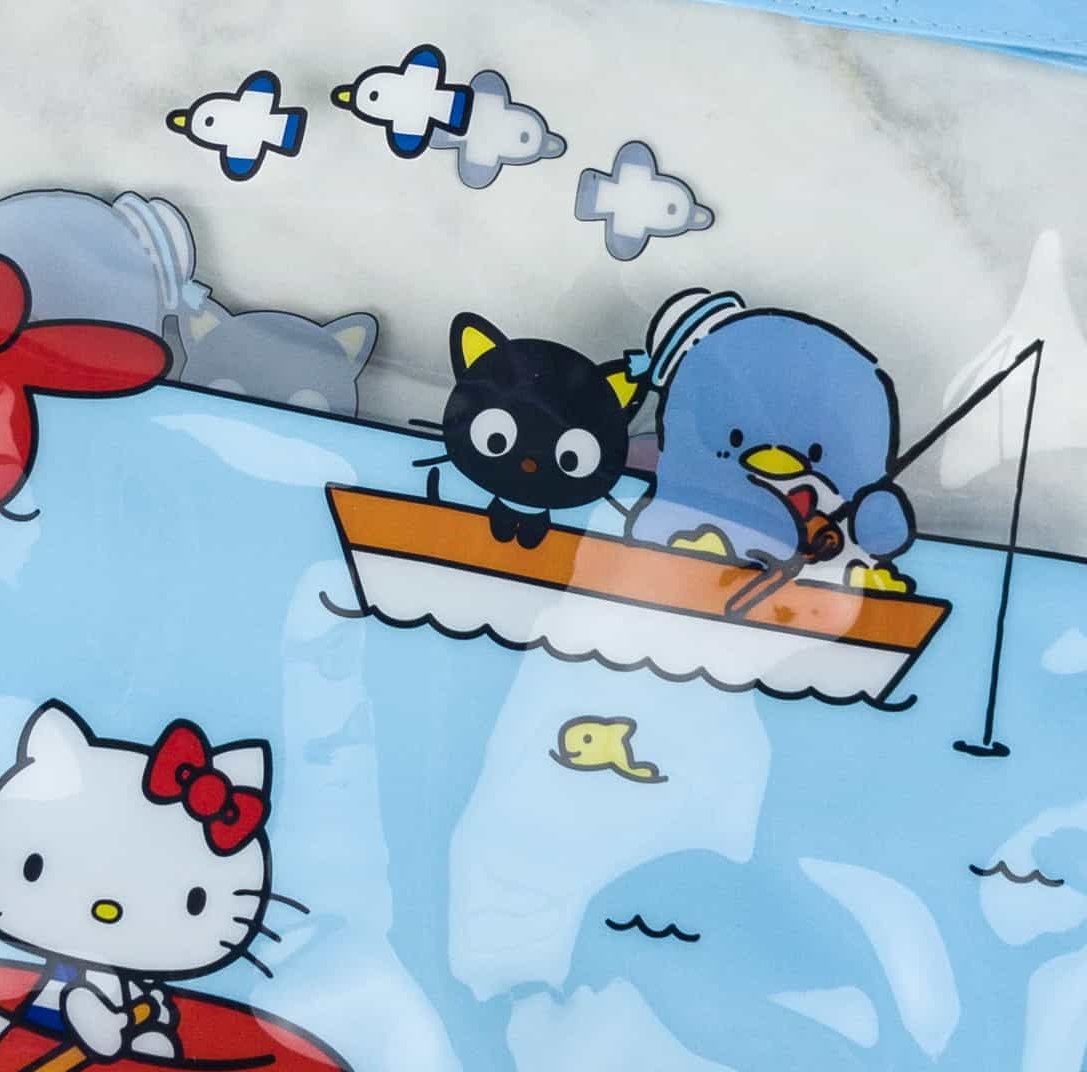 I know what Chococat is thinking! The tote is nice and roomy and holds everything from the box – including the towel below – and measures about At 14″ x 9.5″ x 3.5″ (one of the nicest things about this bag is the bottom gusset).
Sanrio Beach Towel: This towel is a summer must-have! It measures about 27″x 57″ and features some of our favorite Sanrio characters.
Same characters as the tote. Chococat is staring down that fish. Will he eat it? I think my favorite is Keroppi because he's just hanging out on the hammock. Tuxedo Sam is being taunted by a crab, but it's cut off in this pic.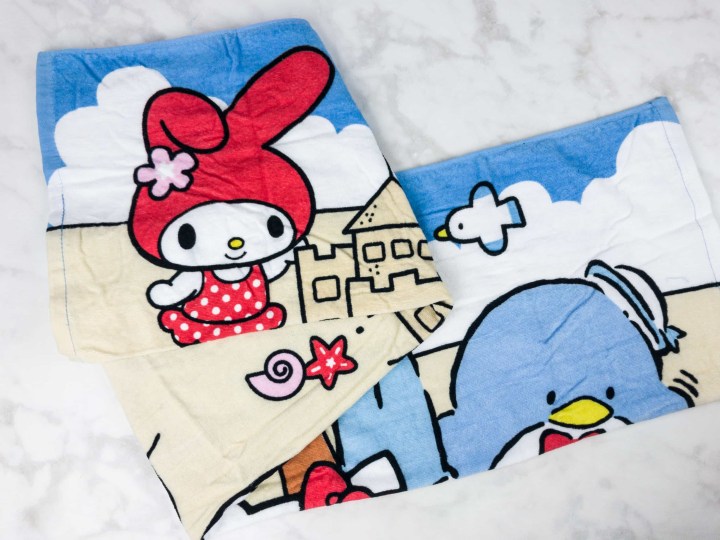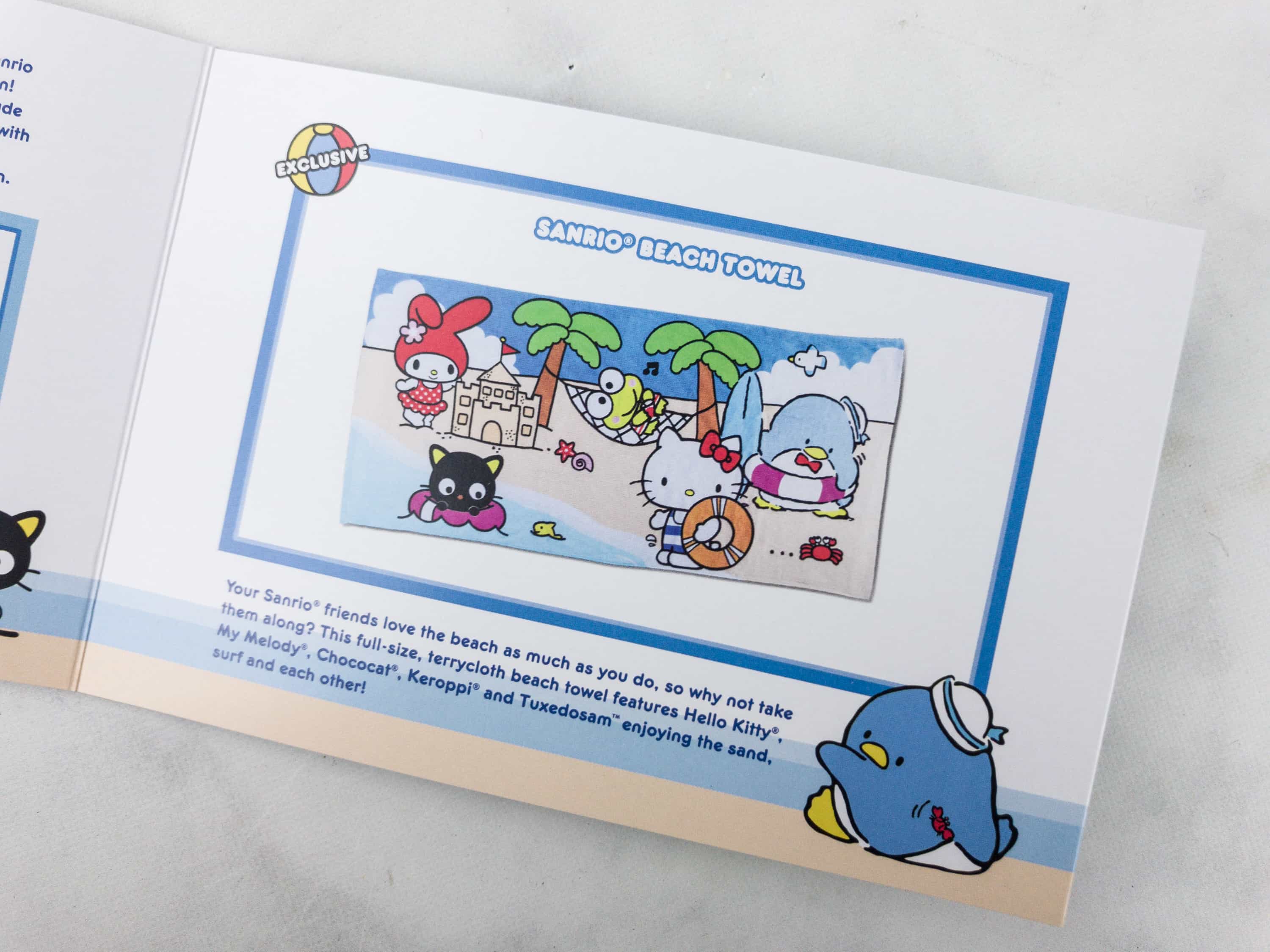 Here's a look again at the whole design. And on the card, that crab is yanking his tail!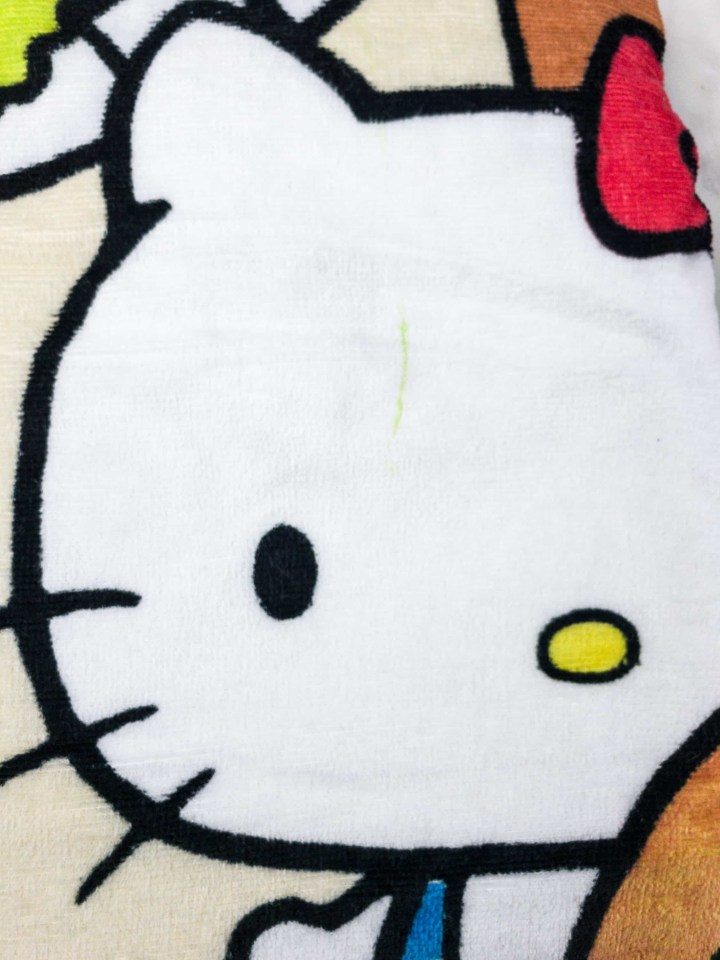 Alas, our towel came with a mysterious green mark. Like the figure, Loot Crate is replacing the towel.
Loved this box, but it's hard to value because everything is exclusive! The value breaks down to $8 excluding the doo-dad – $39.99 including US shipping for the entire box. I think that's totally worth it, and I love that this box is quarterly because I can't get overloaded on Sanrio.  I'm totally taking everything with me to the beach, because it's the cutest! Day to day I'm totally carrying the tote and we love using our beach towel as our every day towel – everything was a winner in this crate!
What did you think about this quarter's Sanrio Small Gift Crate?