Pupjoy is a subscription box for dogs that delivers the healthiest dog treats with all-natural ingredients and clear labeling, as well as well-crafted dog toys and artisan accessories. You can choose from monthly, bi-monthly or quarterly subscriptions, and then have it customized for your dog's specific needs. To date, PupJoy has a total of 28 options to customize your box.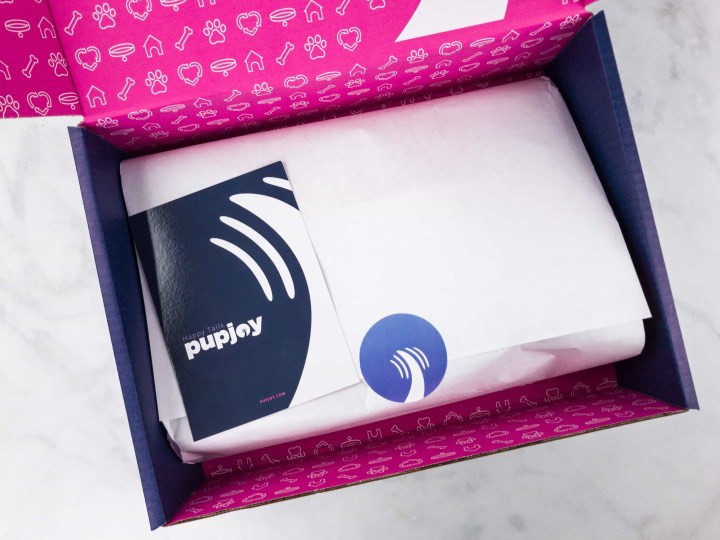 You can choose either an Uno Box, great for single dog households or a Grande Box, a plus-sized box for a multiple dog household. There is also an option to receive a combination of toys, treats & accessories, or you can limit the subscription to toys & accessories only. If you wish, you can even opt to receive treats only. You can skip renewals and edit or cancel a subscription – anytime, without penalty.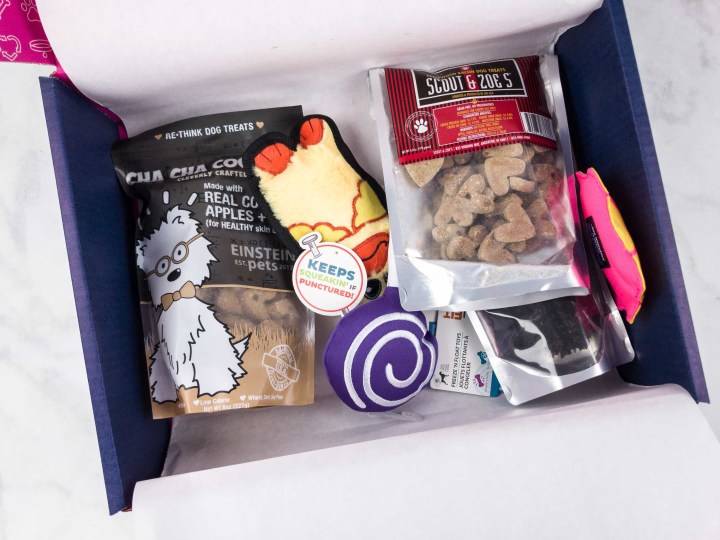 As always, our box is full of dog goodies! The first thing you will notice is a welcome card on top – it contains information about PupJoy and how to share pup photos to get featured on their social pages.
PupJoy works directly with small manufacturers. They support independent businesses and they give back through charitable programs too.
DEAL: Take $10 off any subscription plan! Use coupon code HELLOSUBSCRIPTION.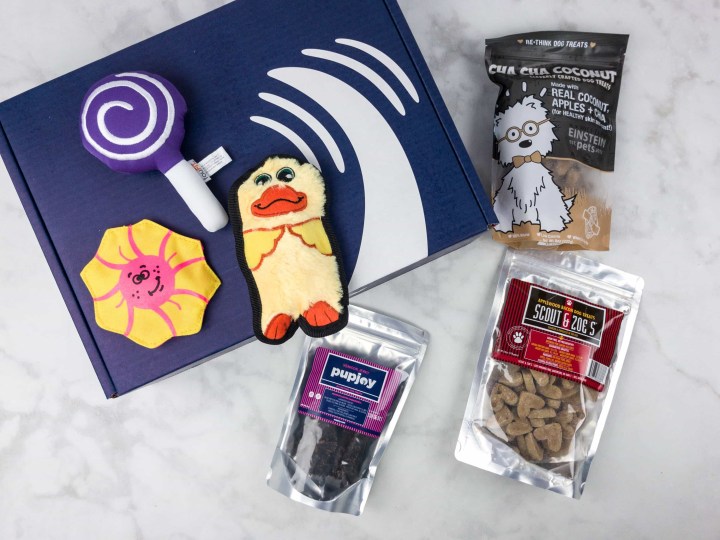 Everything in the box!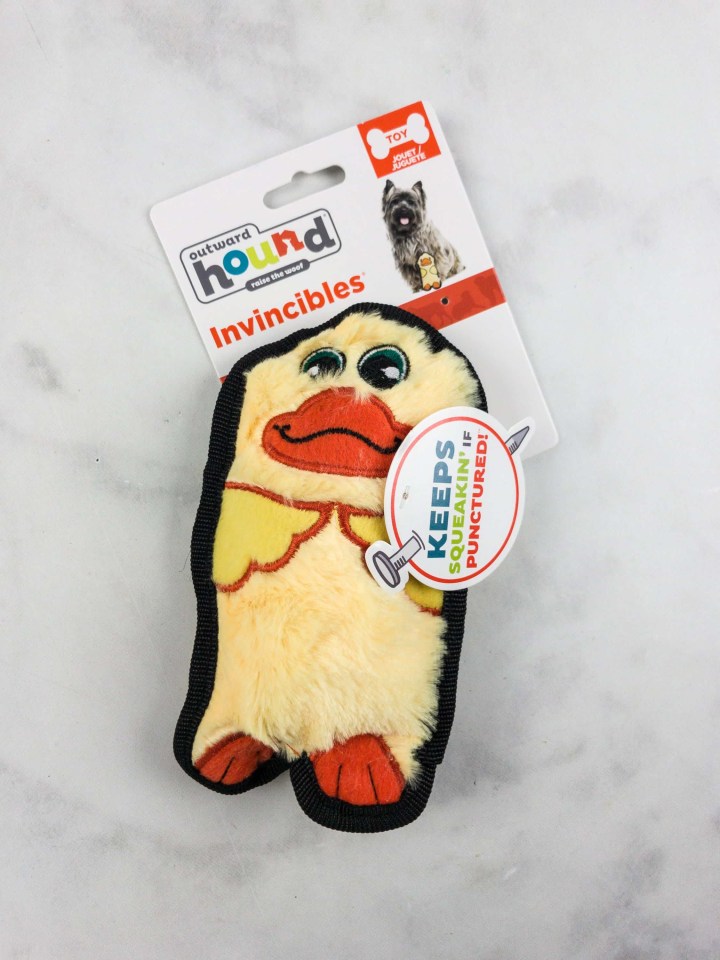 Outward Hounds Invincibles Stuffingless Dog Toy ($5.76) It has squeakers that keep squeaking when punctured!
It's pretty sturdy with its Dura-Tuff inner lining, plus it also has double layered seams.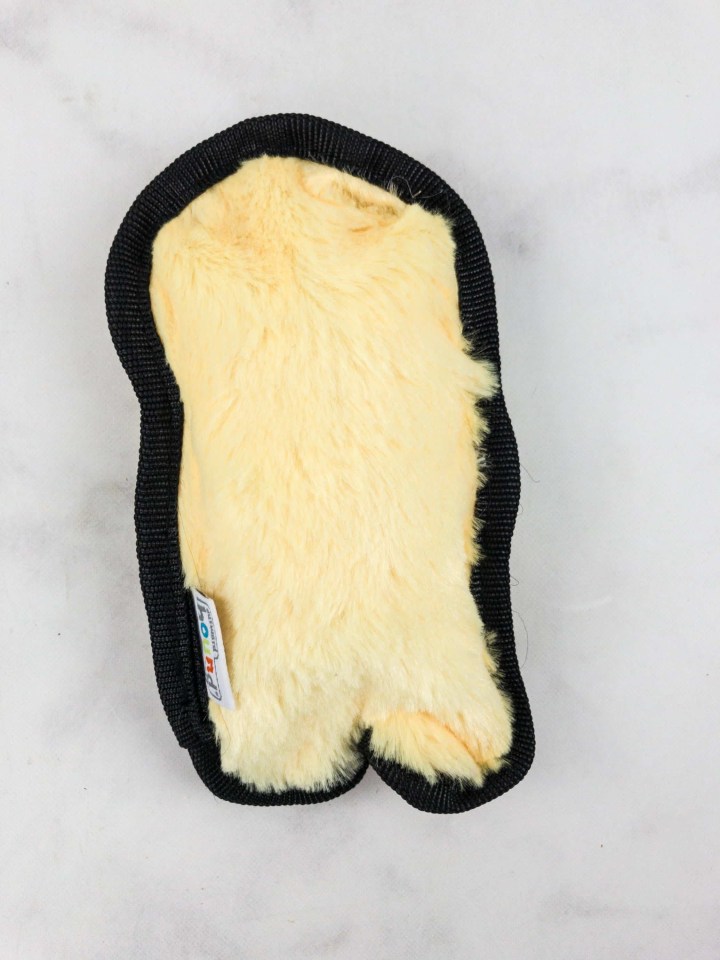 Also, it has no stuffing which means we don't have to deal with any mess. This toy is such a win-win for dogs and their humans, especially feisty ones!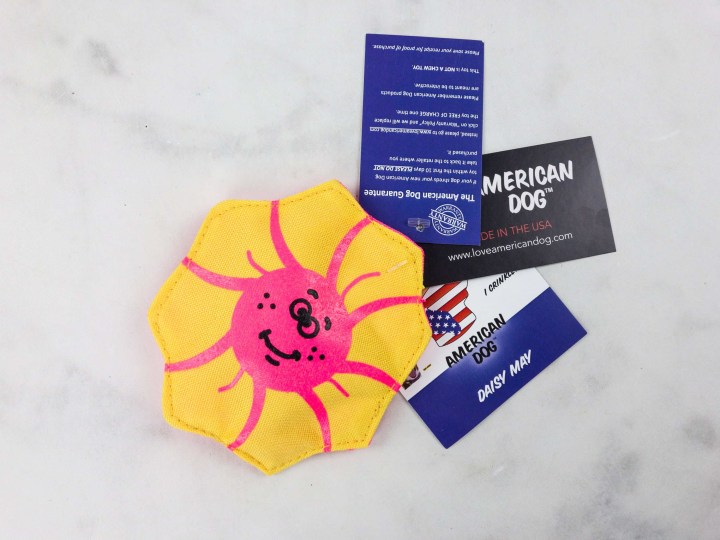 American Dog Daisy May Flower Dog Toy – Another fun and colorful toy which is a collab of PupJoy and American Dog.
This one isn't a chewer – it's all crinkly fun!
FouFIT Lollipup Freeze 'N Float Dog Toy ($7.99) The perfect toy to help dogs have fun as we go through the summer heat!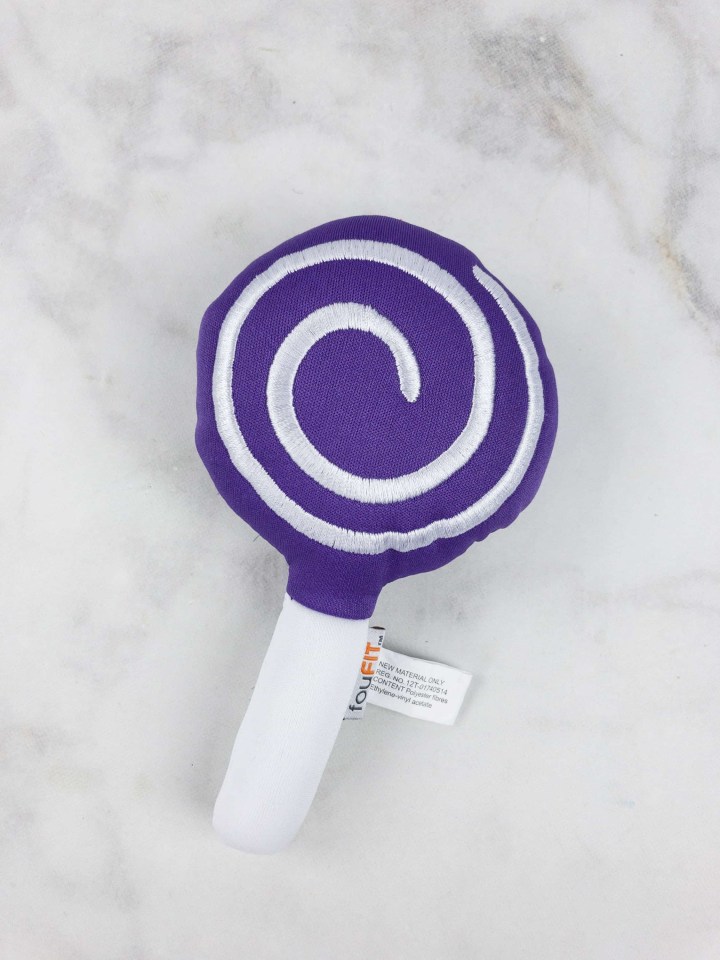 You can toss it on the pool for some water fun, or soak it in water and freeze for an icy treat. It also has a hidden squeaker inside.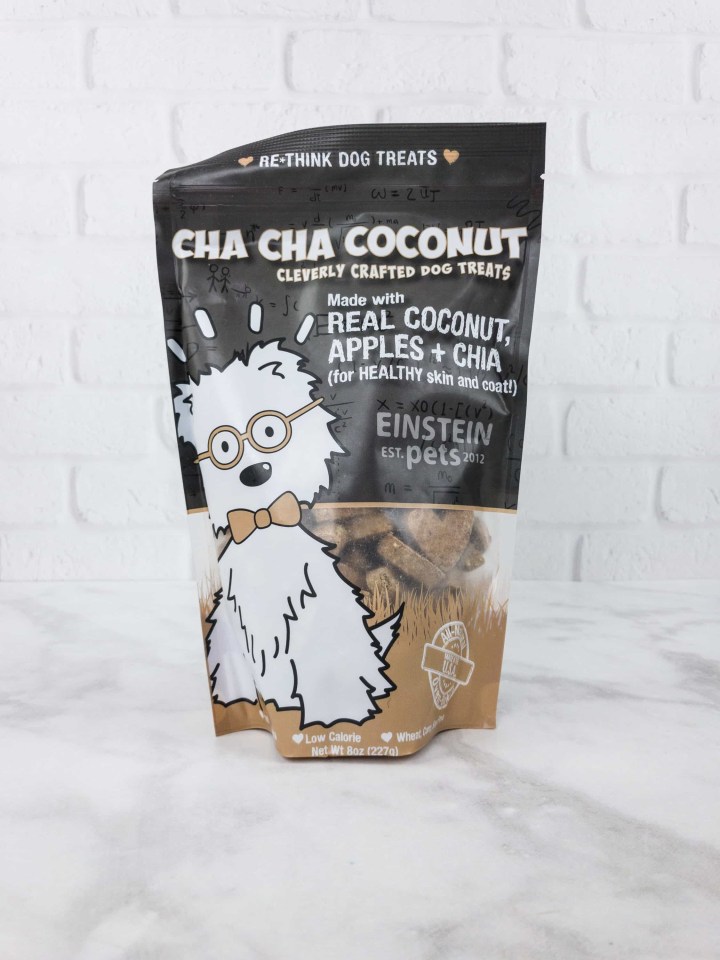 Einstein Pets Cha Cha Coconut Dog Treats ($11.99) Natural organic treats made with coconut, apples, and chia which promote healthy skin.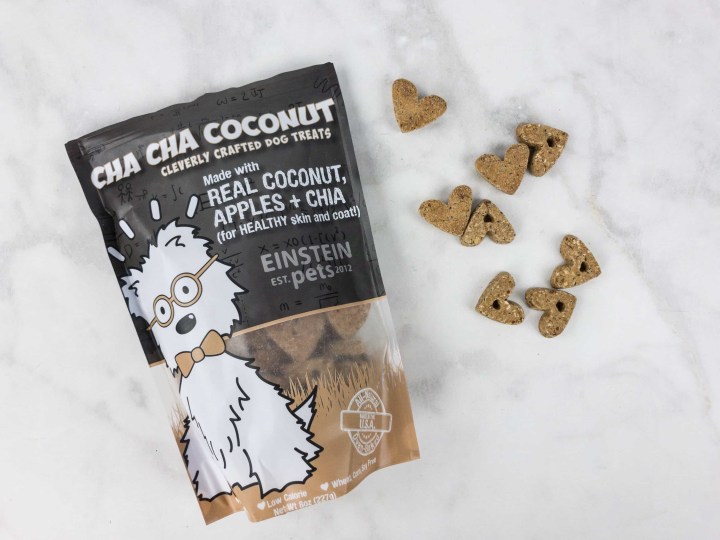 Each cute heart-shaped treat is only five calories! I wish my treats were so low cal!
Ideal for pets with sensitive stomach because it doesn't contain wheat, corn, soy, eggs, dairy, chemicals, sugar, salt, artificial flavors, colors, fillers, or preservatives.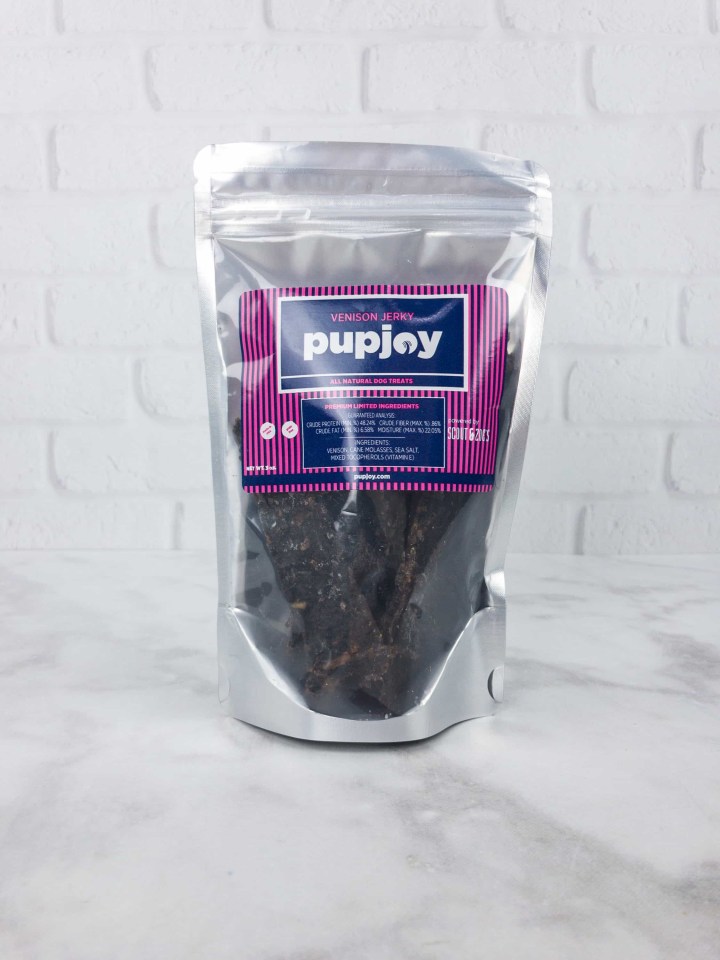 Scout & Zoe's Venison Jerky ($8.49) Chewy and tasty treats!
These treats are rich in protein, iron, gluten-free and low in fat.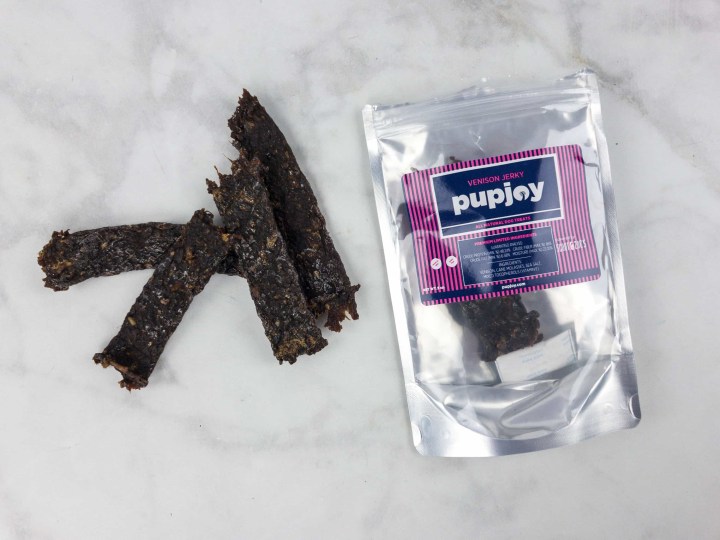 The dogs loved it and we're just happy that we are feeding them not just tasty but safe treats. They're pretty stinky so they're obviously delicious, plus they break apart easily for tiny bites.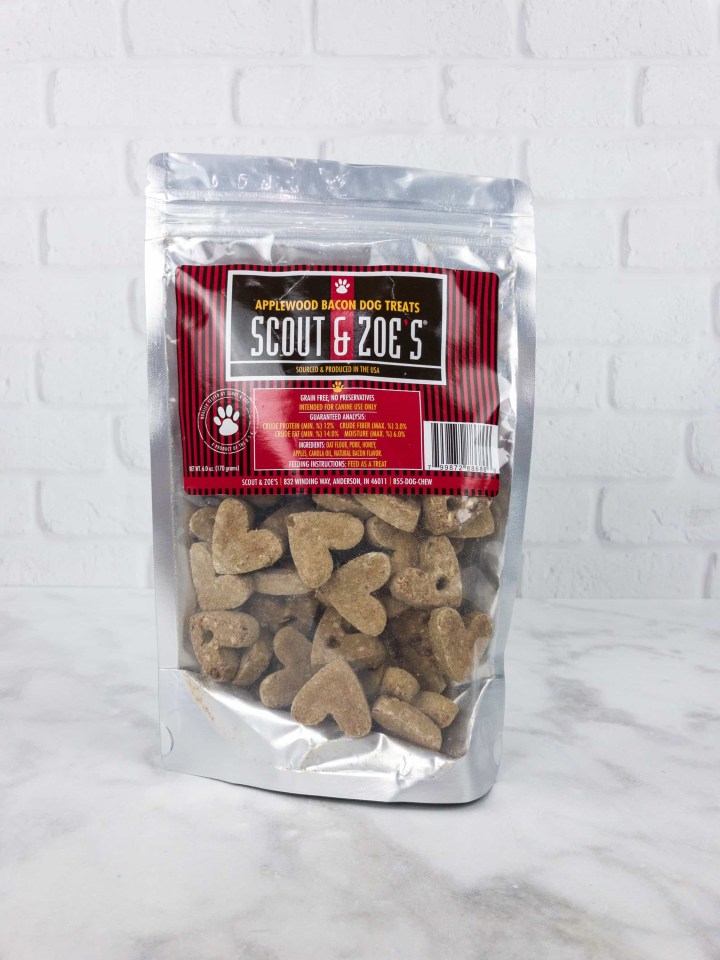 Scout & Zoe's Applewood Bacon Treats ($3.50) Applewood-smoked bacon dog treats that also come in cute heart shapes!
Ingredients include oat flour, pork, honey, apples, canola oil, and natural bacon flavor.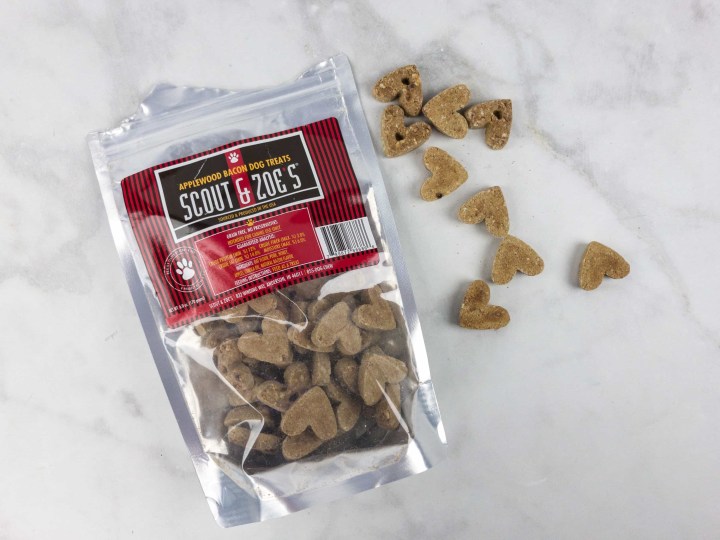 Grain-free and no preservatives too!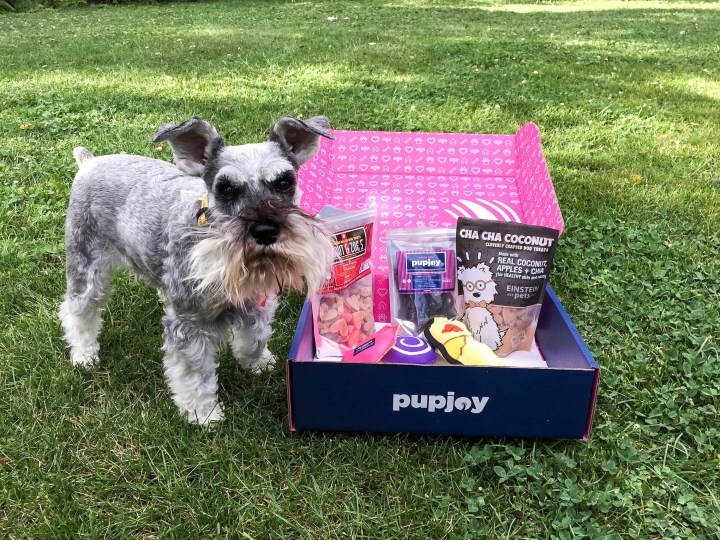 We appreciate that Pupjoy always sends treats in large and full-size packs, while the toys are always high quality. Another reason why we like this subscription is that it can be customized to our pup's specific needs. Lastly, they support small businesses that really care about pets. Every month, they have been careful with their selections and that makes them really standout!
One of the things we really notice about Pupjoy that for our small dogs (we received and did the pictures for this box right before our new puppy joined us, but he's been sampling the treats happily!) is that they're really good about selecting large packs of treats that are broken up really easily. I think that makes it a nice equal value between small and large dogs!