Plated is a weekly dinner kit subscription box with high-quality ingredients and chef-created recipes. Each week you'll choose from a variety of quick gourmet meals that range from meats, chicken, seafood, and purely vegetarian options. You can swap out your recipes and skip any week you don't want.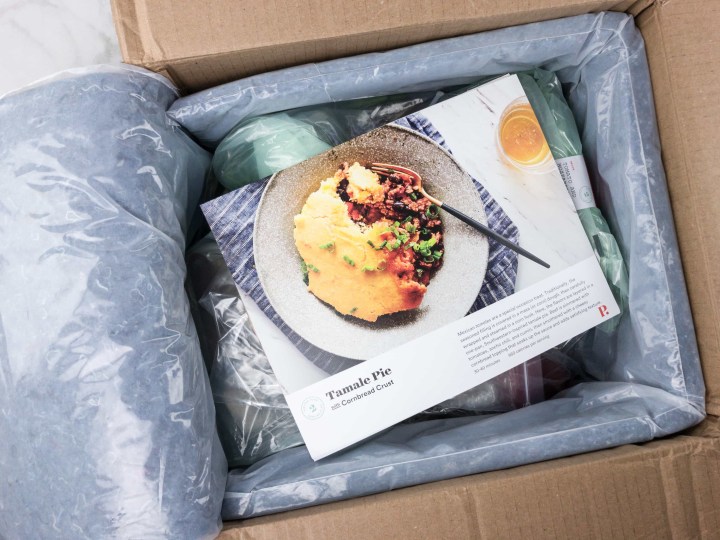 Plated ships fresh ingredients and complete instructions right to your door. The food arrives protected within insulating padding made of recycled thread material.
Boxes are always packed with the meat on the bottom with a several big ice packs – the rest of the food is set on top on a cardboard barrier. Putting all of the ice in the lower compartment prevents frost damage to the more delicate veggies.
Plated sends a weekly email – it doesn't tell you much about your meals, other than what you need from home. They now offer three-serving meals! This is a great option for guaranteeing leftovers for a tasty and easy lunch!
DEAL: Currently you can get 2 free plates when you buy 4 when you sign up with this link (no coupon code required).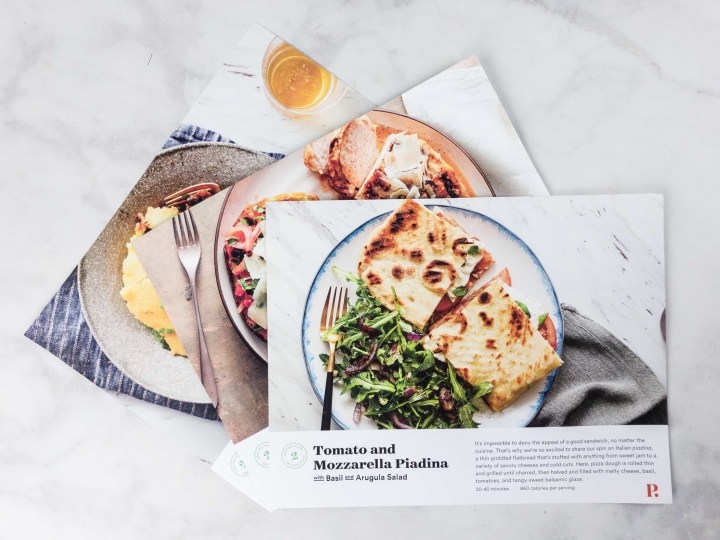 On-card information is streamlined and includes only prep-time, number of servings and calorie count. Most of Plated's meals serve two people. Unless stated otherwise, our pics of finished dishes show a single serving.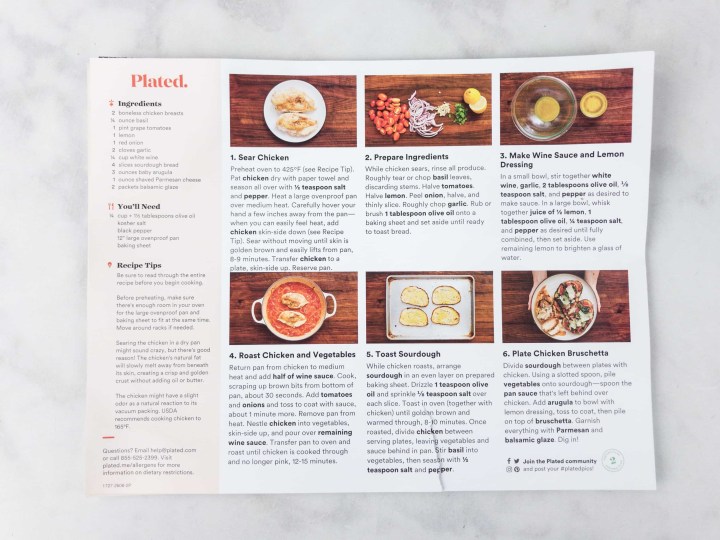 Plated's recipes rely on mise en place, prepping everything before cooking. This works well, but we always read ahead – you can save time and cutting board space by shifting some steps around, like prepping garnish later while something bakes, instead of at the beginning. The recipes are easy to follow, with ingredients printed in bold and tips to avoid common pitfalls.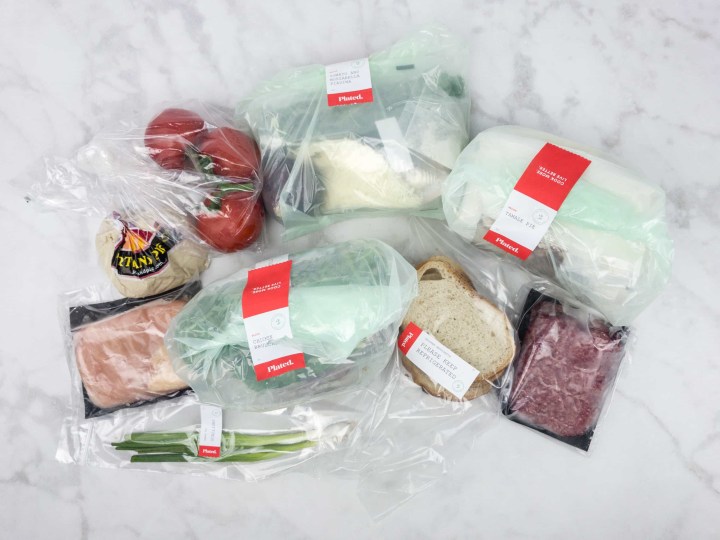 All the food comes bagged up and separated (mostly) into the recipes – meat and some large or delicate items are bagged separately. The recipe cards tell you anything you need from home – usually just cookware, salt and pepper, and some olive oil – occasionally you'll need an egg.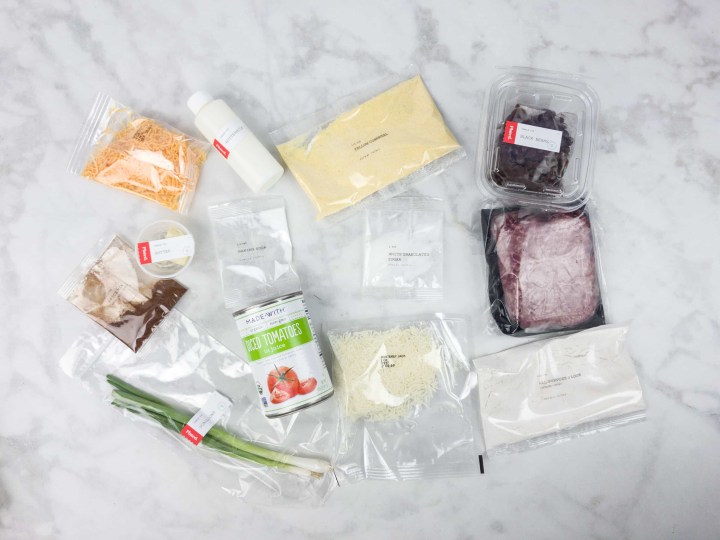 Tamale Pie With Cornbread Crust. 30-40 minutes, easy, 950 calories per serving.
This meal is essentially a simple, flavorful chili with cornbread cooked on top – the result is a Southwestern take on shepherd's pie. The big pot of food made what was closer to four servings for us than two.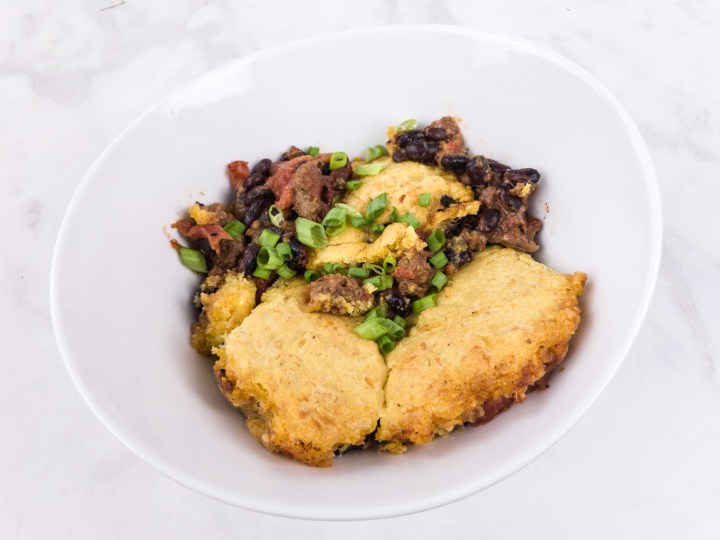 We loved the flavor of the chili mixture, and the cornbread was a flavorful, from scratch, recipe. The tamale filling thickened up quite a bit, and the cornbread was very dry (surprisingly so for having been cooked atop liquid), so it did end up having a much more tamale-like consistency. The recipe was easy to put together, and the few extra steps taken to make the cornbread were well worth it.
Tomato And Mozzarella Piadina With Basil And Arugula Salad. 30-40 minutes, medium, 860 calories per serving.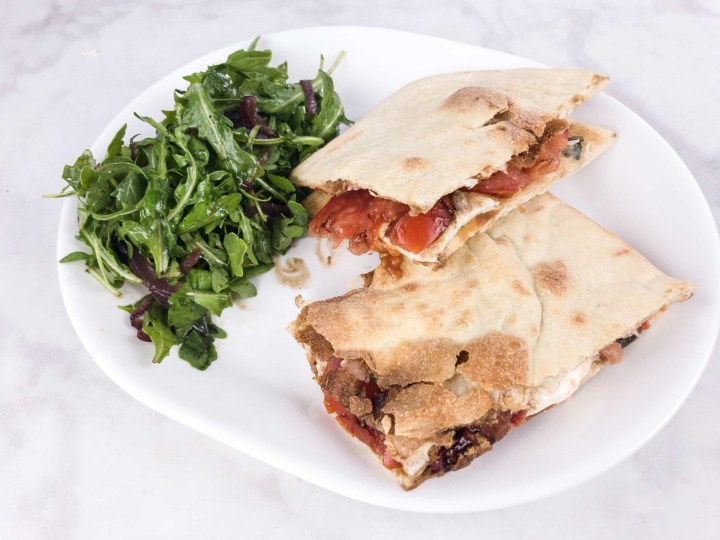 When we first saw this recipe, we remarked that it looked like a pizza sandwich. It's actually more like a Caprese salad sandwich. It wasn't much more labor-intensive than the salad would be, either, the only additional step being the cheesing and baking of the dough. The sandwich was delicious, though the delightfully chewy crust was more than a match for the soft tomatoes and cheese.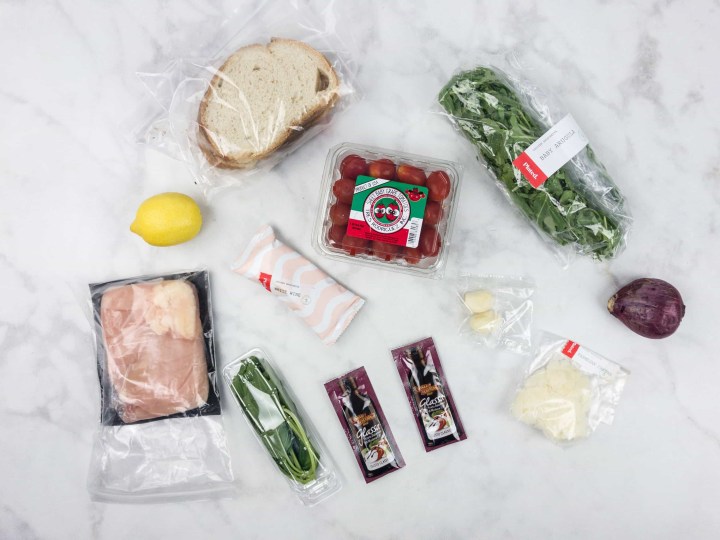 Chicken Bruschetta With Balsamic And Shaved Parmesan. 30-40 minutes, medium, 840 calories per serving.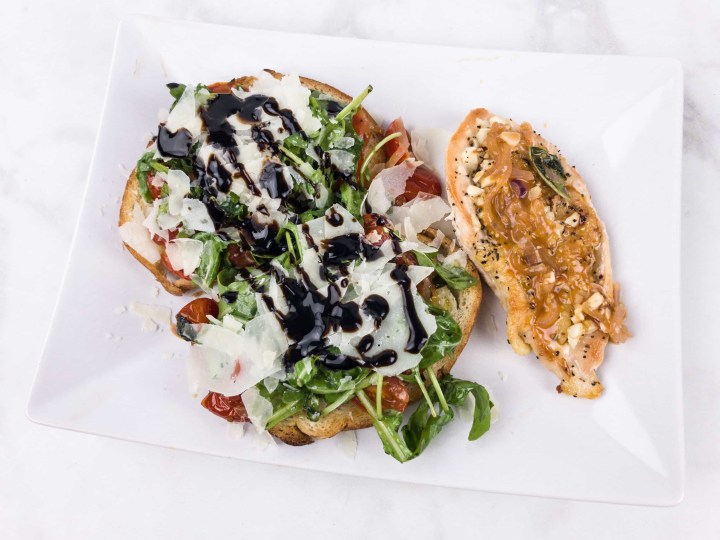 This dish was good overall, but the chicken didn't wow. We went through the process to brown and crisp the skin, but the skin and connected fat was very thick (almost duck-like), so it didn't fully render and crisp. The chicken preparation also added more to the cook time and prep effort than it added to the dish.  It was also a bit of an odd pairing – two giant, smothered mounds of bruschetta matched with smallish breast on the side. The bruschetta, complete with the stewed topping, was very tasty, and it probably couldn't have accommodated slices of chicken in addition to its ample toppings.
Plated offers some of our favorite meals, and we love to get dishes we know we love along with some new-to-us meals. This set of meals was a bit of a tomato showcase, incorporating different varieties in each dish. We've had sets of meals from Plated that we've enjoyed more, but this one was still pretty good.
What do you think of Plated?