Peachy Box is a monthly themed subscription box full of cute, trendy items that you might find at Forever 21, Sephora, Paper Source, or Urban Outfitters. They offer two sizes to choose from: Peach Tart is $19.99 and features 2-5 beauty and lifestyle items; Peach Bellini is $34.99 a month and features 5-9 beauty and lifestyle items. Shipping is free to the U.S.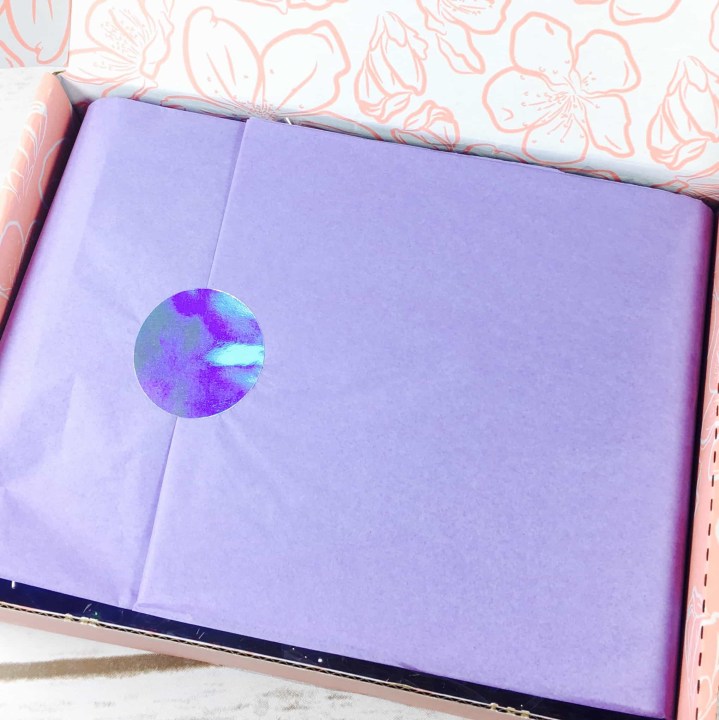 DEAL: Get 25% off your first box! Use coupon code HELLO. Cannot be combined with any other offers.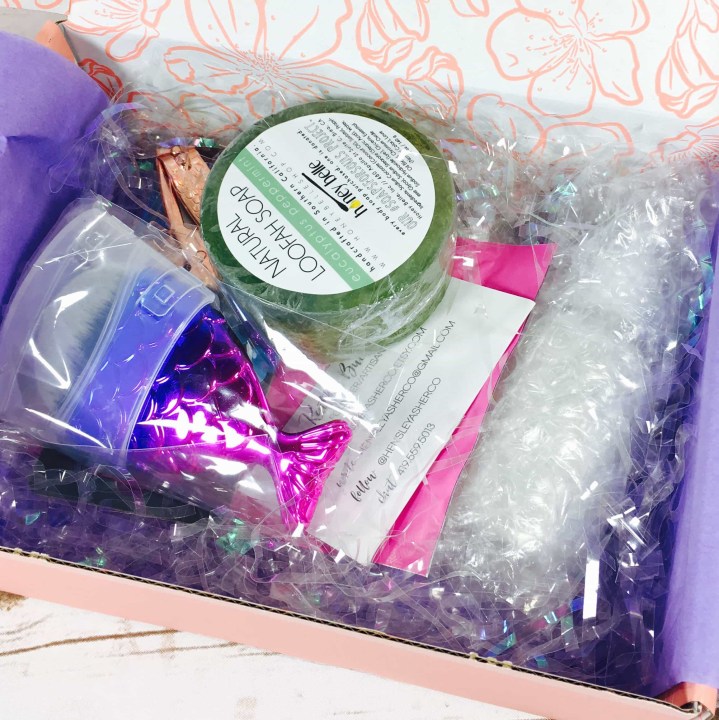 My items were nestled in iridescent opal plastic squiggles. Very girly!
July's Peachy Box theme is Mermazing! I love rainbows and unicorns and of course, mermaids!
The product information card listed each item along with a bit of info and suggested retail price. It looks like two of the items are exclusive to the Peach Bellini box, so I would assume that subscribers of the Peach Tart box would receive everything except those two items.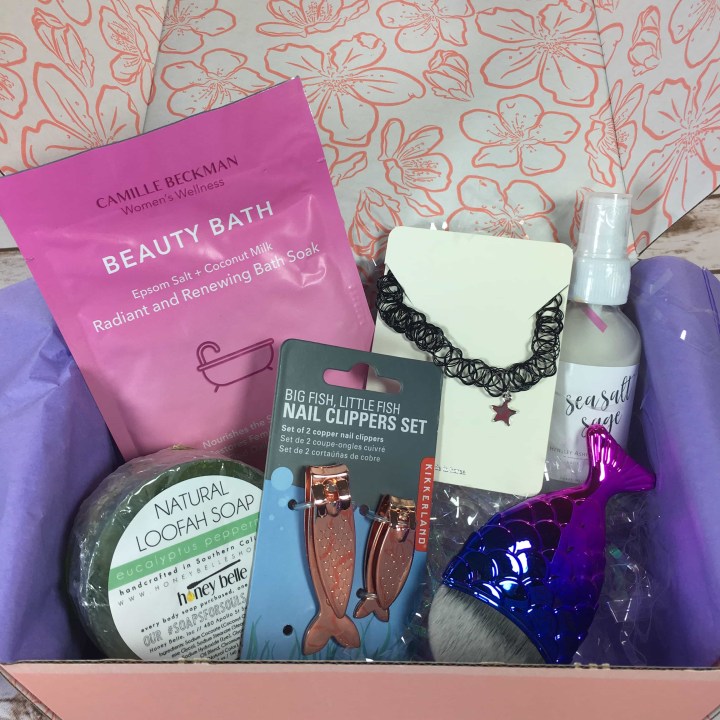 Everything in my box! I am reviewing the Peach Bellini box this month!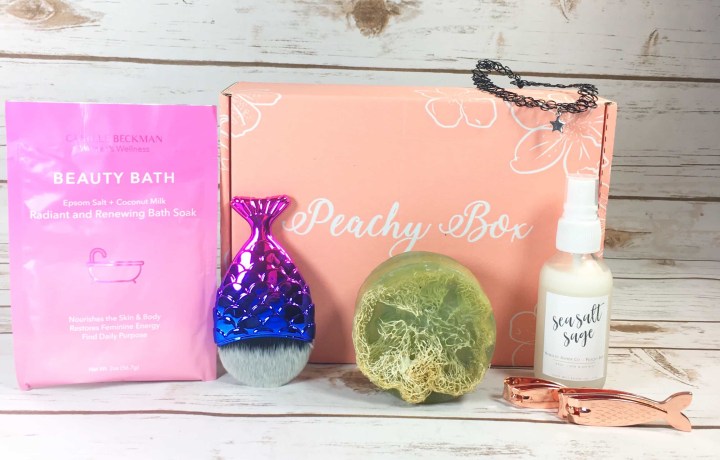 So cute!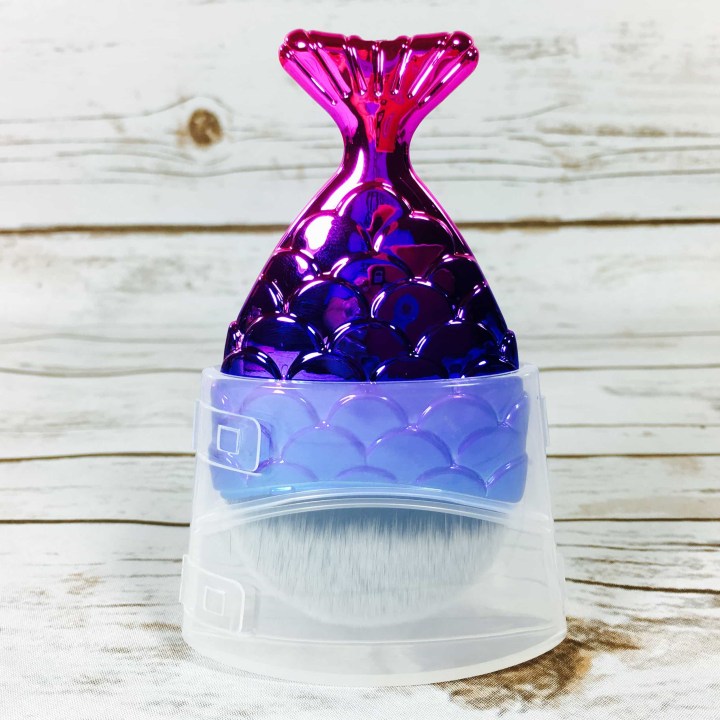 Let's get started with the cutest makeup brush I've ever seen! I couldn't find Ash Tail Make-Up Brush ($12) for sale anywhere but I found similar ones here and here for $4.99 and $16.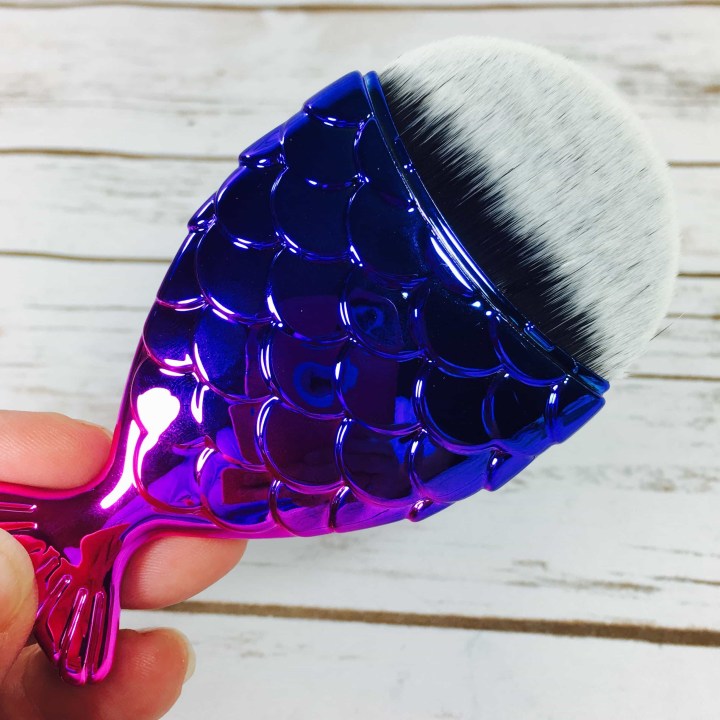 The card says that this brush is cruelty-free so that means synthetic bristles, plus it can be used with powder, foundation, blush, or highlighter but imagine the contouring possibilities! The bristles are very dense but soft.
Camille Beckman Beauty Bath Radiant and Renewing Bath Soak ($3.50) is the perfect way to feel like a mermaid in the privacy of your own bathtub! Mermaids spend most of their lives in the salty ocean but this mix includes not only pink Himalayan salt but also Epsom salt, cocoa seed butter, and coconut oil, along with natural essential oils to give it a zingy coconut orange scent. Subscribers will receive one of four different scents.
Honey Belle Natural Loofah Soap in Eucalyptus Peppermint ($8) is a cross section of the loofah gourd that has been embedded with soap! My daughter claimed this but I must say it smells very invigorating! I've owned one from this brand before and the loofah was too rough for my arms and legs but perfect for my feet, and I just use the soapy part as a regular body soap.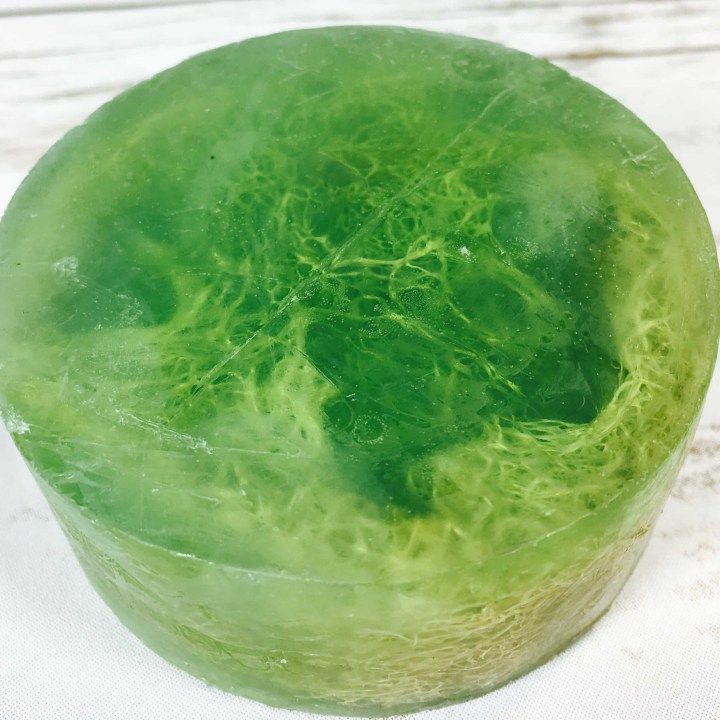 Here's the soapy side, which is made with coconut oil and glycerine.
Here's the scrubby side. It may soften up with use, or maybe I just have super sensitive skin, but I grew up using loofahs and always used the side of the loofah, and not the cross section. I also think this could benefit from a string to hang it up after use.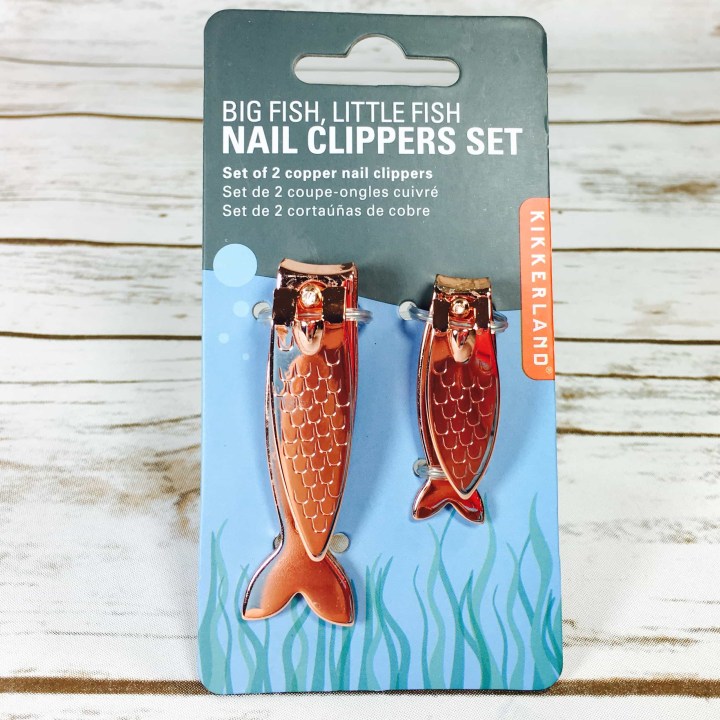 Kikkerland Copper Fish Nail Clipper Set ($6) Okay, how cute is this duo? They say copper but I prefer the term "rose gold".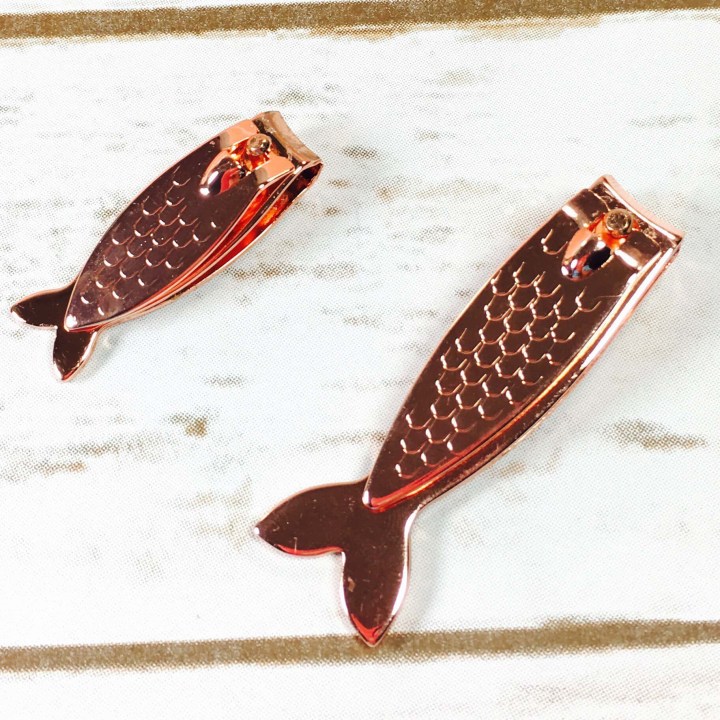 These worked very well and the smaller one is perfect for a purse or backpack, or for traveling. There is even a teeny emery board underneath the fin! Cute and practical!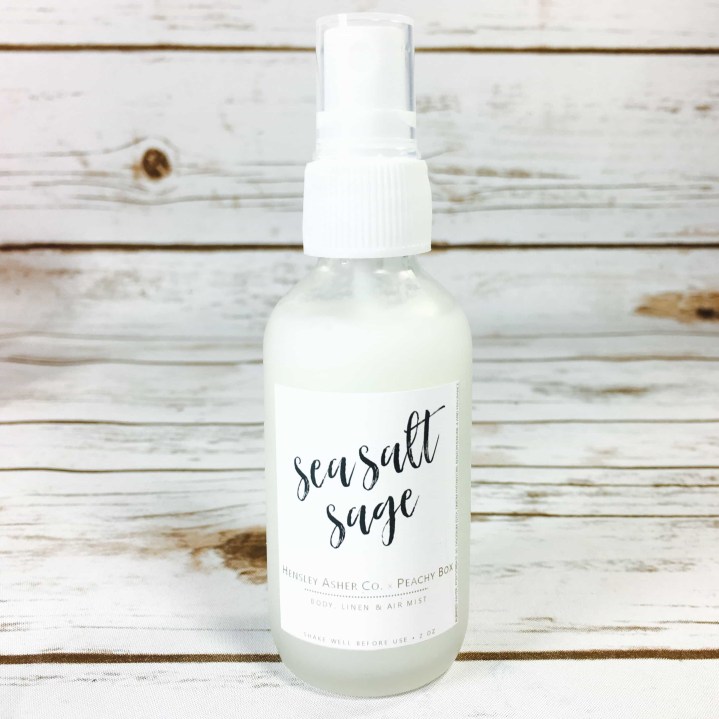 Hensley Asher Co. Body, Linen, & Air Mist in Sea Salt Sage ($5) is a milky liquid that comes in a pretty frosted glass bottle and is scented with a "lovely blend of sea salt, white sage, beach juniper, jasmine, gardenia, weathered driftwood, cedar and musk." Although it can be used on skin please be aware that it may cause sensitivities and although the brand says it is as natural as possible, two of the ingredients are banned for sell at Whole Foods. It does smell good and my office was softly scented for at least 15 minutes.
Black Plastic Tattoo Charm Necklace (I linked to a similar style, $4.99) I remember these necklaces from the 1990's!
The choker is made out of black plastic and it stretches to fit over your head.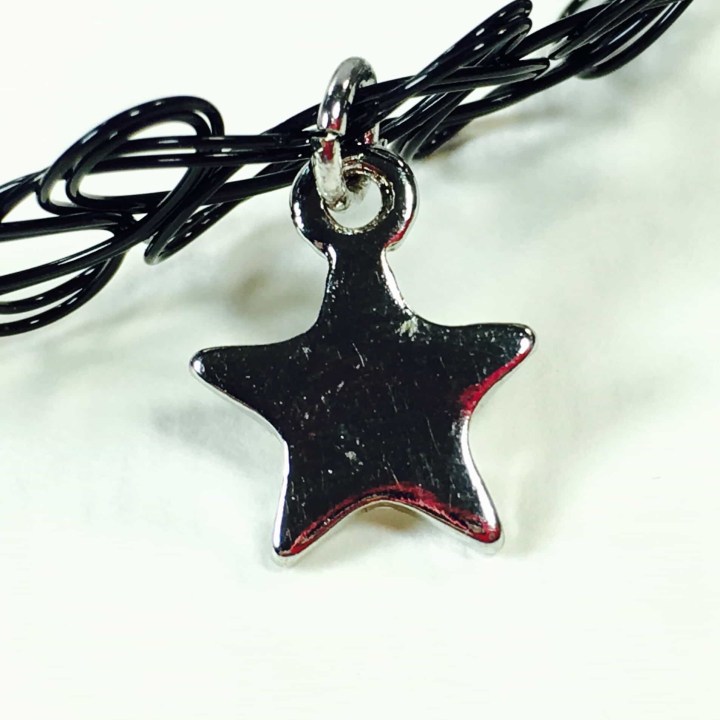 There was a silver toned star charm hanging in the middle. This isn't really my style but my 19-year-old asked if she could have it, she seemed really excited about it too! Styles may vary.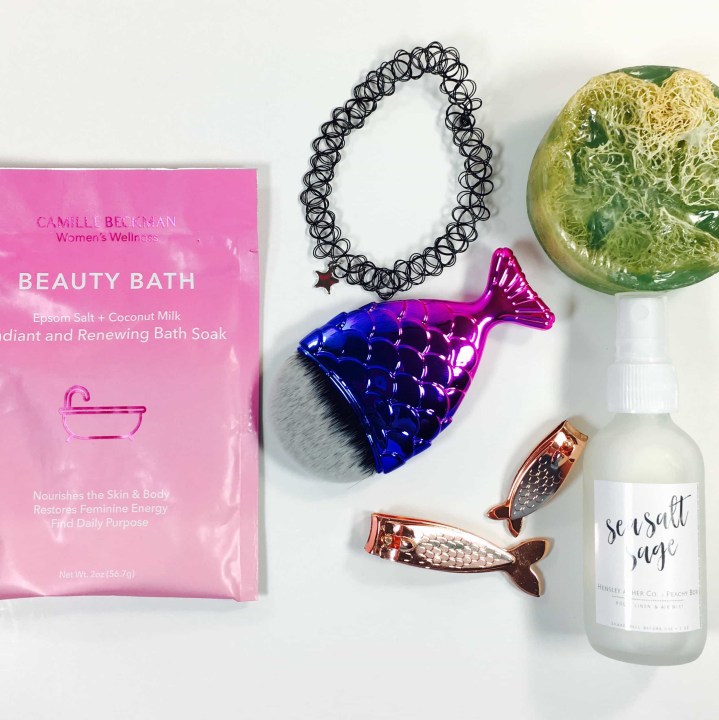 I thought my first Peachy Box was just adorable and loved the cute items that went along with the theme! I think this box is perfect for someone who is young and trendy and into cute inexpensive items. The beauty products were pretty nice too, and I especially liked the smell of the bath salts and how soft they left my skin. My July Mermazing box had a value of around $38, which is more than the cost of the box, although I think this box is more about curation rather than getting a super high value for the price paid.
What do you think of Peachy Box? Let me know in the comments along with a suggested future theme. I'll go first – rainbows, wait, unicorns!