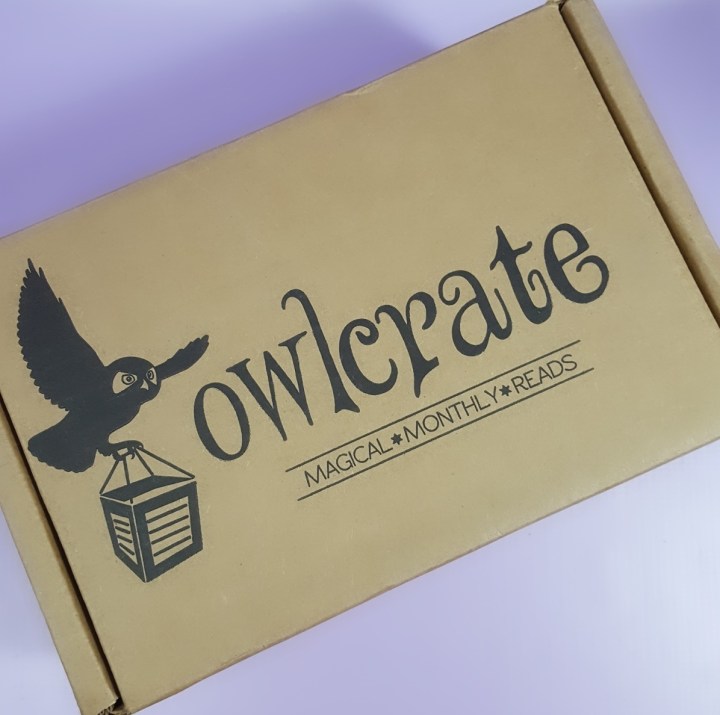 Owl Crate is a monthly subscription of books and bookish items box. Each OwlCrate contains one new Young Adult novel, as well as 3-5 other bookish items all matched to the monthly theme. I love reading and getting items that go with my books each month. I really get to look into some new authors and find others to read.
July's OwlCrate theme is Wanderlust. OwlCrate always has the best info card prints. One side is a print representing the theme and the other side is the information for the box contents.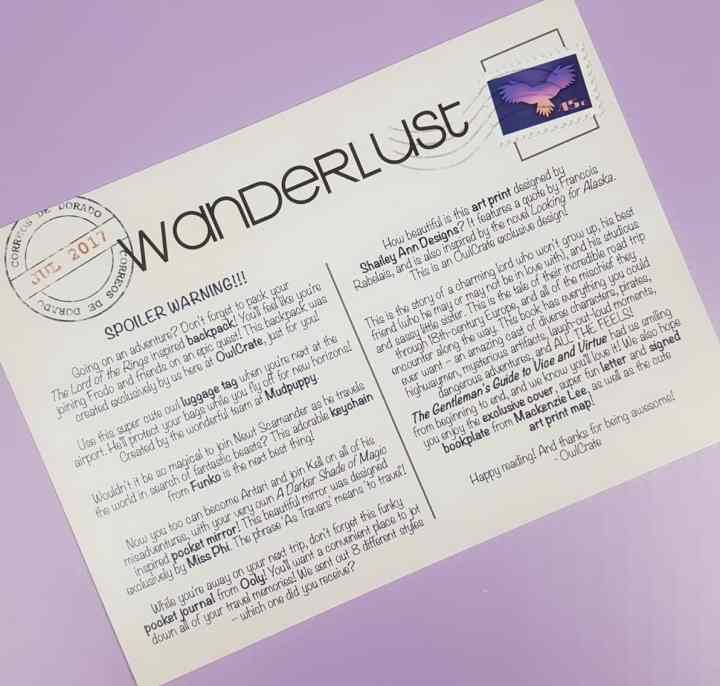 The information card tells a little bit about all the items in this month's box along with little comments on why they were selected or other fun tidbits. The theme follows through even with the info. It is always decorated to go along with that month. With this month being Wanderlust we have a postcard theme with the info.
DEAL: Use coupon code HELLO15 to save 15% on your first subscription!
Limited time: Use code ALIVE15  to save 15% off your first order!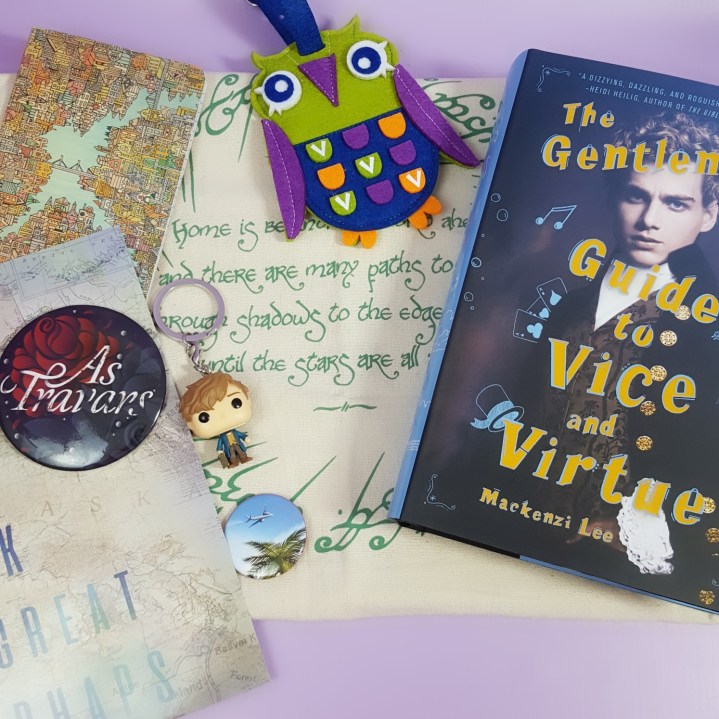 Everything in my July Wanderlust OwlCrate.
Gentleman's Guide to Vice and Virtue by Mackenzi Lee ($13.53) – This sounds like a great, light summer read. I love to read period dramas and this one sounds like Roadtrip in the 18th Century. How many escapades can Monty and his friends get into. I can't wait to find out.
A hilarious and swashbuckling teen historical fiction novel, named one of summer's 20 must-read books by Entertainment Weekly! A New York Times bestseller!

A young bisexual British lord embarks on an unforgettable Grand Tour of Europe with his best friend/secret crush. An 18th-century romantic adventure for the modern age written by This Monstrous Thing author Mackenzi Lee—Simon vs. the Homo Sapiens Agenda meets the 1700s.

Henry "Monty" Montague doesn't care that his roguish passions are far from suitable for the gentleman he was born to be. But as Monty embarks on his grand tour of Europe, his quests for pleasure and vice are in danger of coming to an end. Not only does his father expect him to take over the family's estate upon his return, but Monty is also nursing an impossible crush on his best friend and traveling companion, Percy.

So Monty vows to make this yearlong escapade one last hedonistic hurrah and flirt with Percy from Paris to Rome. But when one of Monty's reckless decisions turns their trip abroad into a harrowing manhunt, it calls into question everything he knows, including his relationship with the boy he adores.

Witty, dazzling, and intriguing at every turn, The Gentleman's Guide to Vice and Virtue is an irresistible romp that explores the undeniably fine lines between friendship and love.
The book also came with a signed bookplate, a note from the author, and and art print map. Don't forget that Owl Crate is now sending exclusive covers with their books (most months). There is a sticker that comes on the plastic bag that the book is shipped in but since I take the books out I decided that I would put the sticker on the inside sleeve.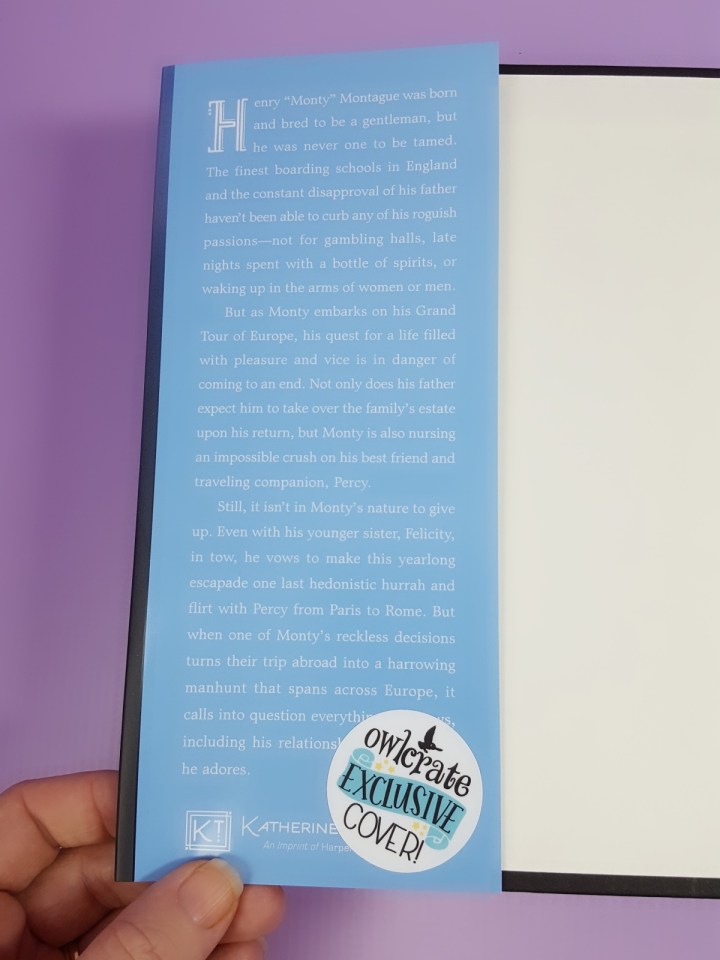 This way I will always remember where it came from and if I decide to look later why the cover is different then I see around.
Lord of the Rings backpack – Okay, I'll admit it I never read the Lord of the Rings books. I had plenty of friends that did but I just never got into them. As my boys get older, maybe I'll read along with them. I did, however, watch the movies and liked them so I LOVE this bag. It is fantastic and a nice heavy weight with thick cord straps.
Mudpuppy Bag Tag ($9.97) – I've been traveling a bunch this summer and have a couple more trips already planned so I'm stoked for this one. The owl is so bright and cute and will look great on my luggage.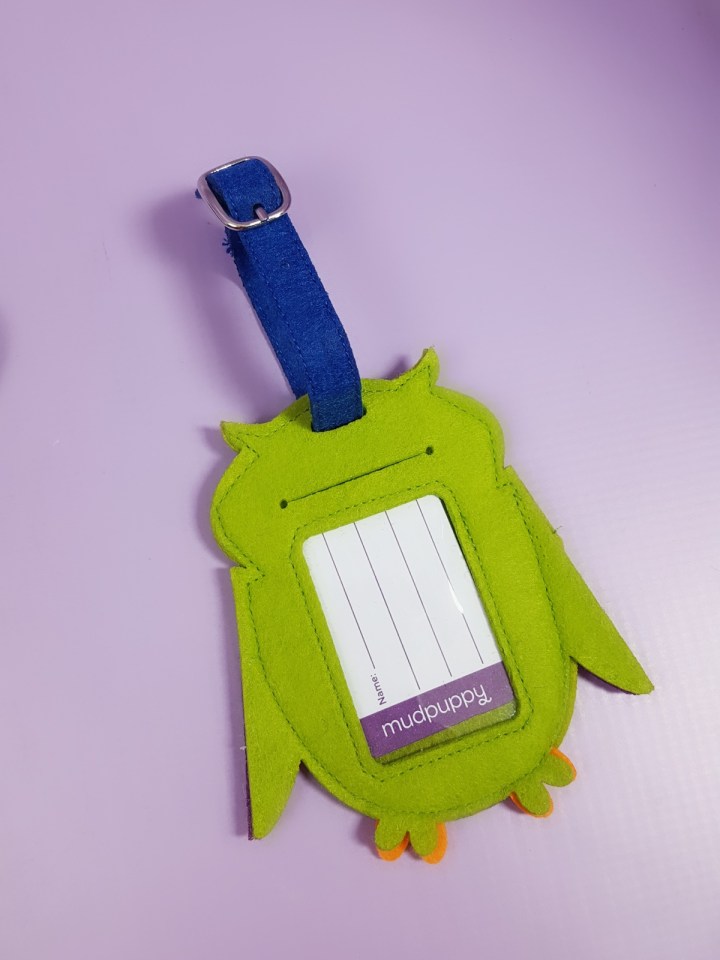 The information slot is nice and large so you can write on it or slide in a business card. I usually slide trim down a business card and slide it in the slot.
Funko Pop Newt Scamander Keychain ($6.44) – I'm always a fan of anything Funko in my boxes and I was not upset with getting Newt this month.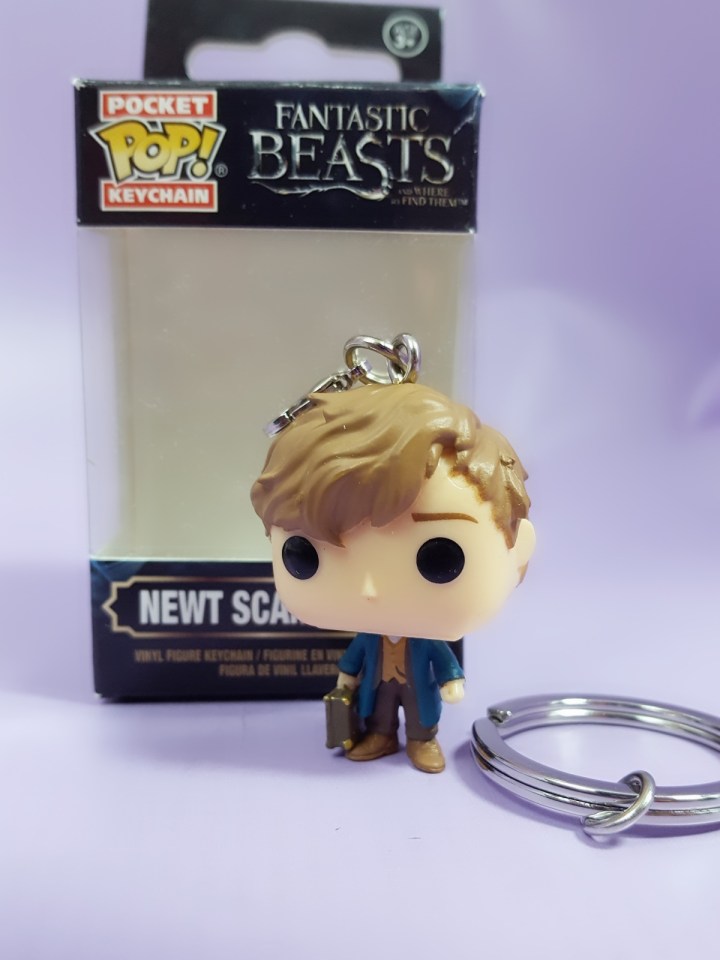 The Funko keychains are so cute and I love the little feel of them. I don't share these with my kids and keep them to go on my shelf so I always snap off the keyring but if you wanted to attach it to a bag you can keep the ring off. The clasp makes it easy to go between the two.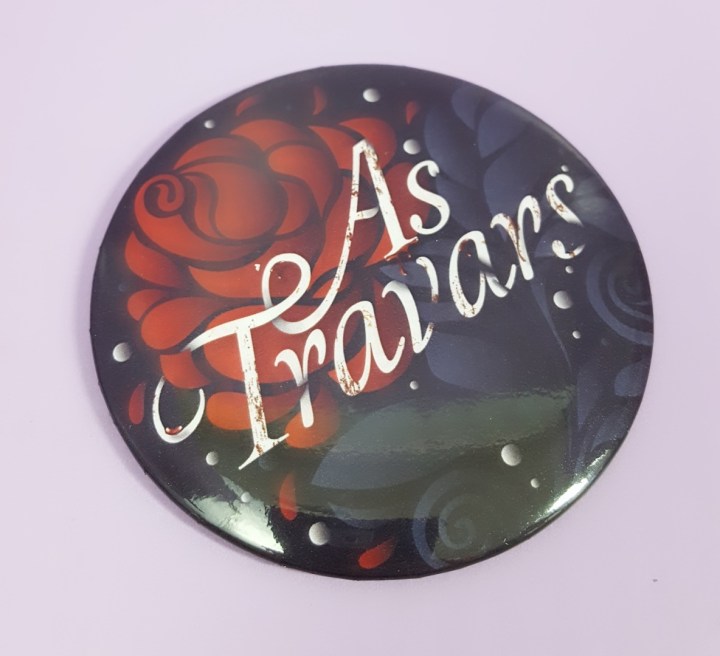 A Darker Shade of Magic inspired Mirror by Miss Phi (exclusive to OwlCrate) – Another book I don't know and will have to look up but this is a stunning, heavy weight mirror. I will admit when I first slipped it out I thought it was a magnet and then I flipped it over and was like "ohhhh!" I was excited with the magnet but the mirror is even better.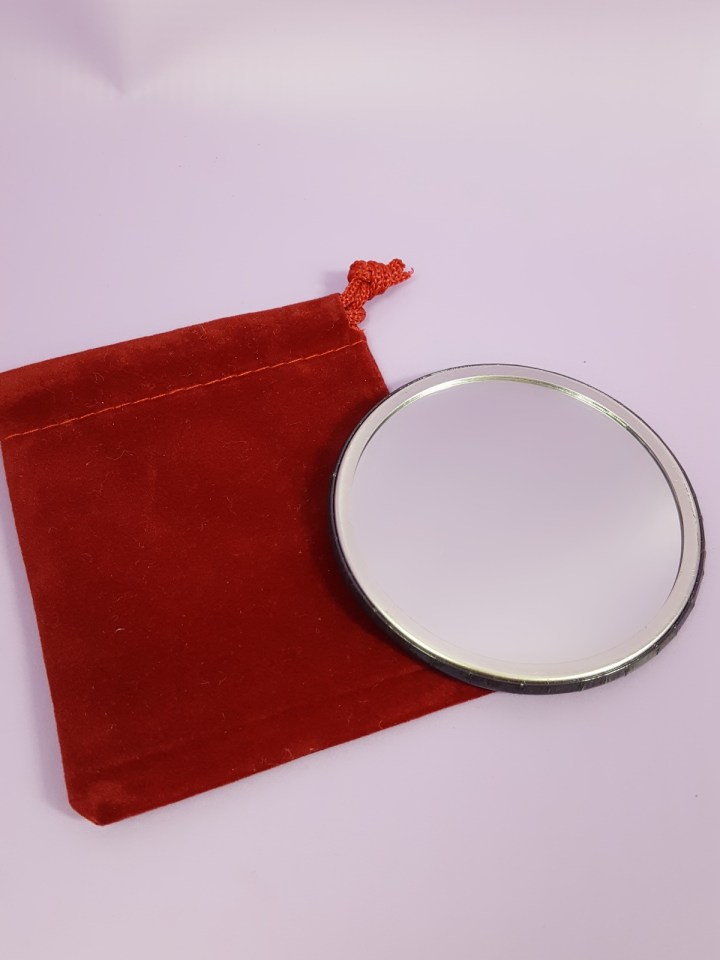 It's hard to take a picture of the mirror without you guys getting a picture of me taking a picture but this one is close. The mirror came in a velvet red bag that matches the writing on the front. This one is getting dropped right into my purse for on the go touch-ups.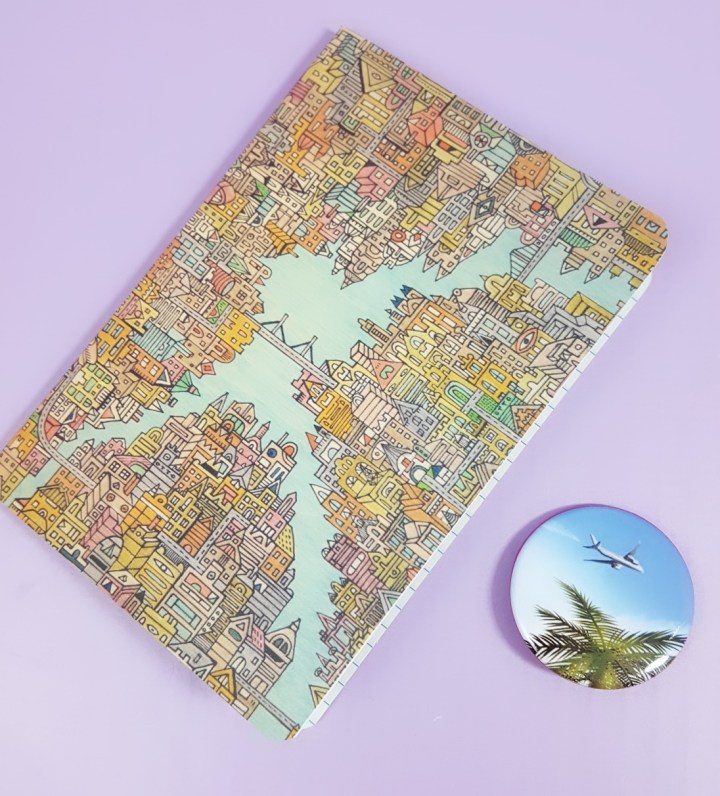 Pocket Journal from Ooly (one of 8 designs) – I'm sure I've said before but I love little notepads and this one is so cute. I could have really used it on my cruise last week so I could jot down thoughts and information as I was touring around Cuba.
Wanderlust Pin – Each Month OwlCrate sends a pin to go along with the theme of the month.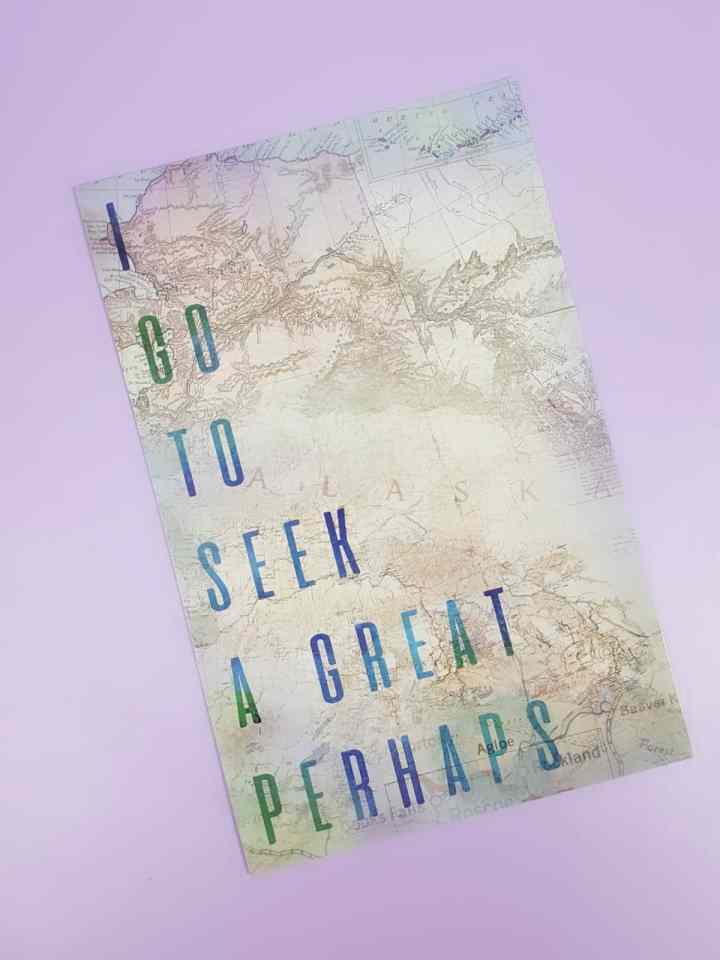 Art Print by Shailey Ann Designs (another OwlCrate Exclusive) – I love the map background of this print and the saying.
Owl Crate sent a fun summery box this month. I think most people think of travel in the summer and wanderlust fits into that theme. The book seems like a light, easy, breezy read which is just what I need hanging out by the pool. I've really been getting my wanderlust going this summer and I can't wait to finish out the rest of it doing the same thing.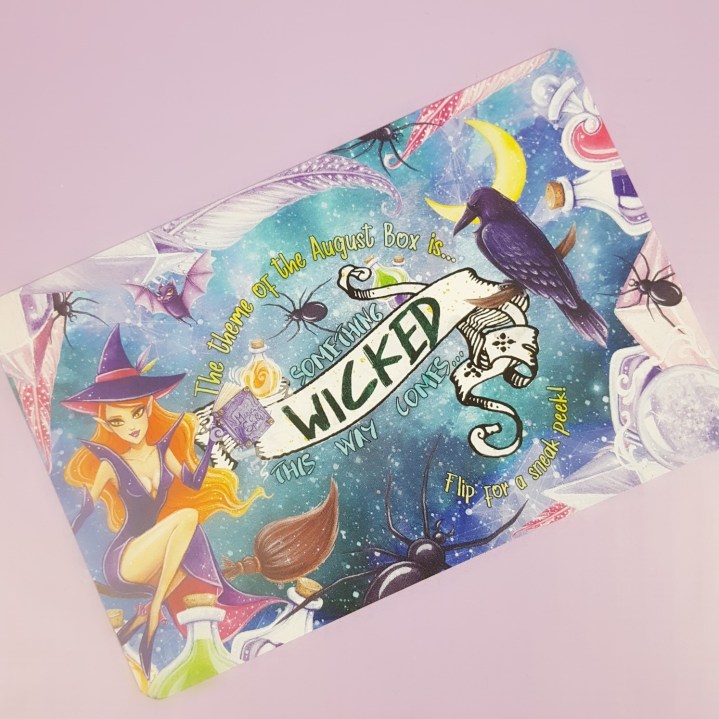 August 2017s theme is Something Wicked This Way Comes! Oh my goodness, this one has me so excited. Halloween is one of my favorite holidays and this will be as close to a Halloween box that OwlCrate does.
The August box is perfect for fans of atmospheric and slightly dark stories. Our book pick for this box is a truly hidden gem of a novel. It's all about dark deals and demons, but also about the pow

er of friendship and finding your inner strength. It's a book that flawlessly blends multiple genres; creating a story that is incredibly special. The book will also come with an OwlCrate exclusive cover!
The book is not a horror story, but it does have some spooky moments!
This box is packed with amazing goodies! There are items inspired by Edgar Allan Poe, This Savage Song, Harry Potter, Sleepy Hollow, Six of Crows and more!
We also want to announce that this will be our first box that contains coffee! We've received so many requests for coffee and we're thrilled to finally be including some. Not a fan of coffee? This is only one of many special items in this box, so hopefully you can gift this goody to a friend!
We hope you're as excited as we are! This will be the closest thing to a Halloween box that we do this year, so if you like spooky stuff make sure you grab one!
A few people have been asking, and although we don't know for sure, we don't think this book is the same as any other book boxes this month.
Graphic by @treehouseofbooks on IG.
What did you think of this month's amazing Owl Crate theme? Are you ready for next month's?