Olfactif is a monthly fragrance sampler subscription box that sends hard-to-find niche perfumes. Every month you'll receive 3 samples, each of which contains 15-20 applications of an independently designed perfume. Along with every $18 subscription box you receive, your account will be credited with an $18 voucher to use on fragrances from the store. If you purchase a full bottle of perfume each month, the subscription sampler is free.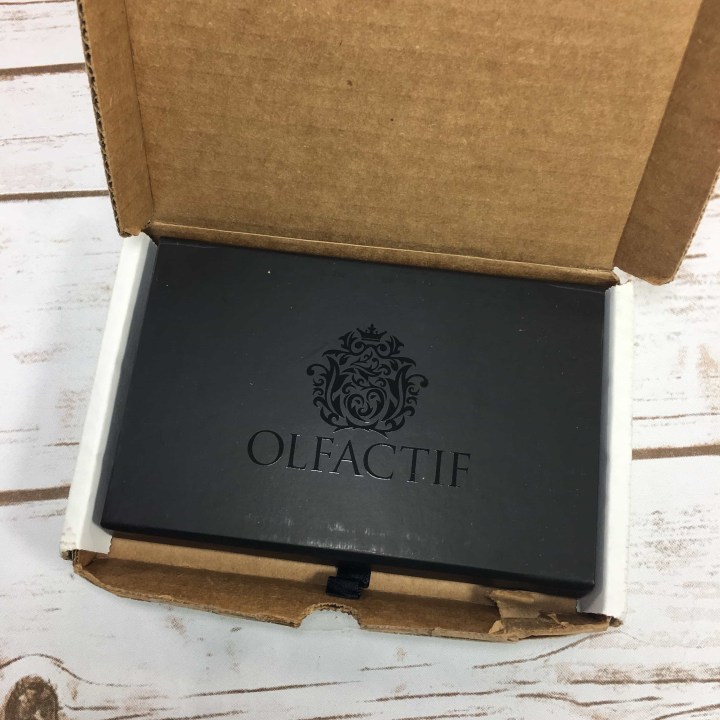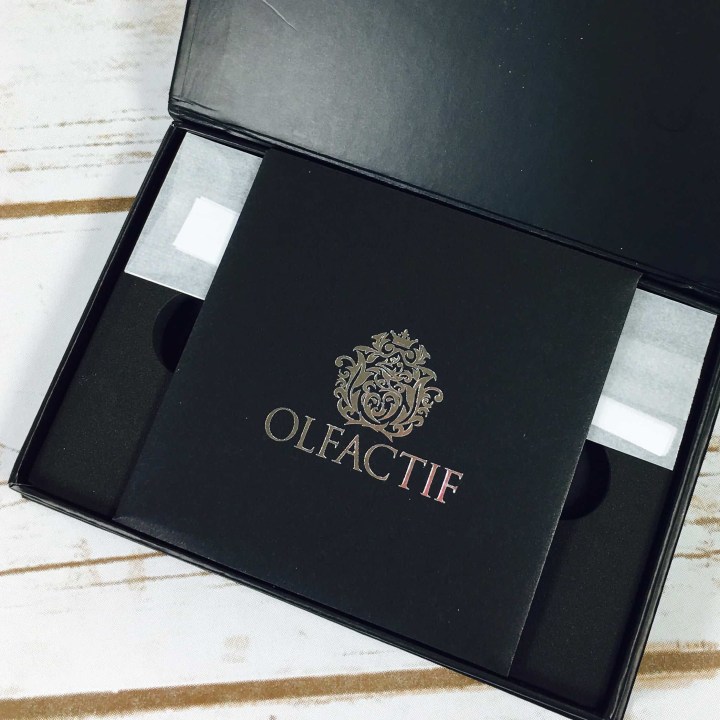 Olfactif focuses on niche fragrances – unique scents produced with higher quality and harder-to-find ingredients than you would encounter in a department store. They offer both a unisex scent sampler (for women and adventurous men) and a men's fragrance sampler with more masculine scents. You can check out our reviews of Olfactif Men here.
Opening my Olfactif box is like opening a special present: the presentation is simple and elegant.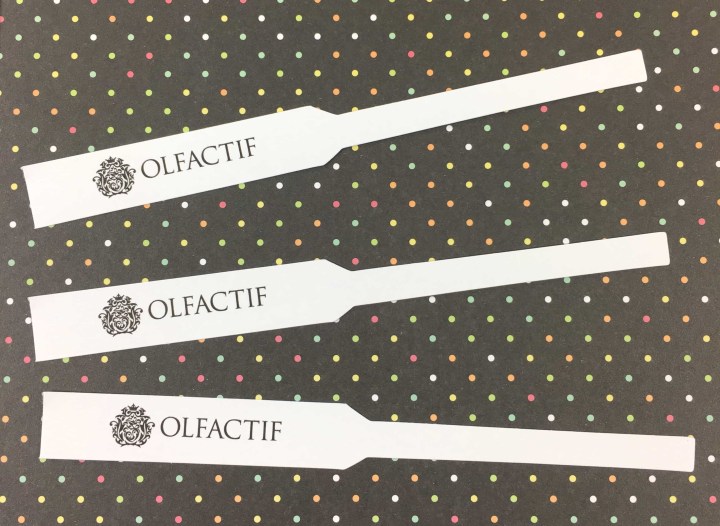 I also received three testers so I could spray the scent and get a feel for it, however, the scents sometimes smell radically different on my skin than they do on paper!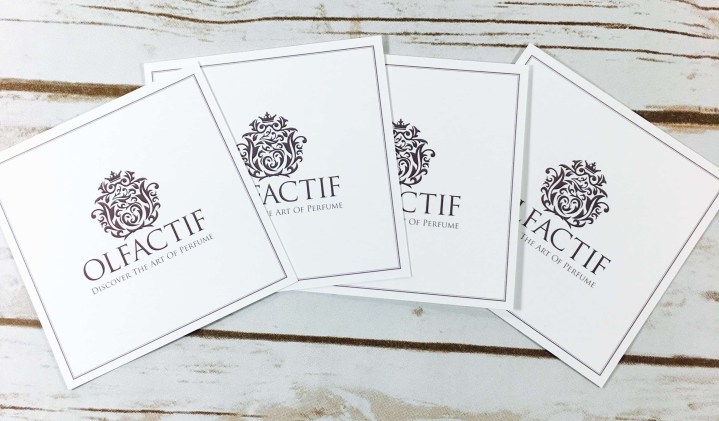 There was a beautiful embossed envelope that had 4 cards inside. Each scent has a card that offers suggestions on how best to appreciate the fragrances.
Since scents develop over time on the body, don't assume your first experience will be your last! Spritz the fragrance on and smell it at different times to fully appreciate all that the artist intended to express through the scent.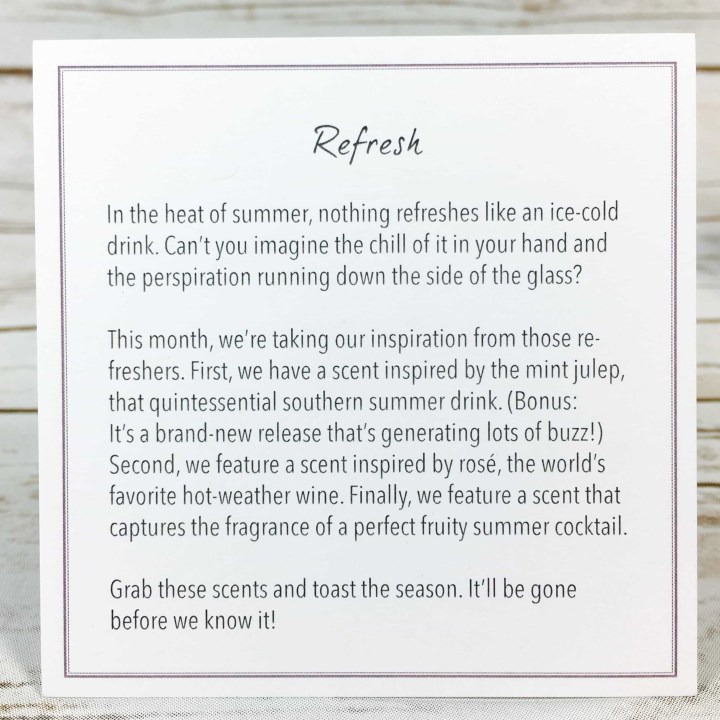 The unisex theme this month was Refresh. The scents sent were inspired by refreshing summer sippers!
The three scents chosen this month are very different from one another and from mall perfumes. The information card gives the scent notes of each perfume, but keep in mind that fragrances may smell completely different on everyone due to our unique chemistry.
Olfactif July 2017 Unisex Refesh Box (all prices listed are for full bottles, available for purchase from Olfactif):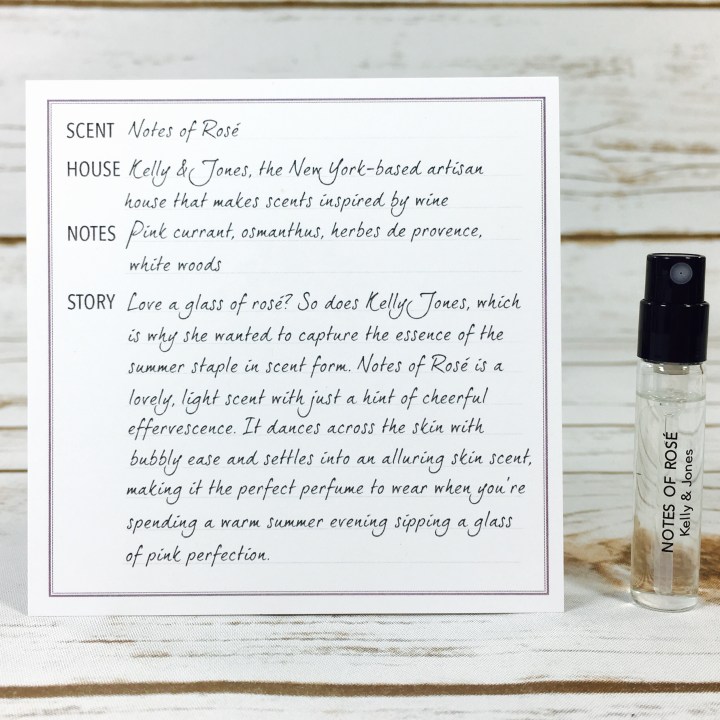 Kelly + Jones Notes of Rosé ($75 for 50ml) "It dances across the skin with bubbly ease and settles into an alluring skin scent, making it the perfect perfume to wear when you're spending a warm summer evening sipping a glass of pink perfection." This floral fruity scent is supposed to complement the notes in a glass of this summer sipper but isn't supposed to smell boozy. Instead, it smells sweet and a little rosy, with a touch of soapy cleanness. It is a little bit fresh, and a little bit potpourri, and lasted for a good couple of hours on my skin.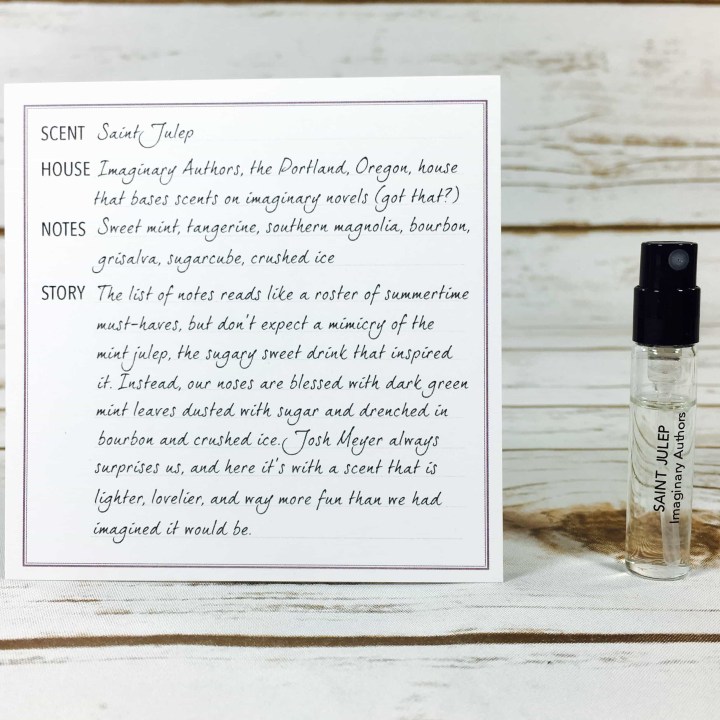 Saint Julep by Imaginary Authors ($95 for 50ml) "When the weight of the world seems too much to bear, a prayer to Saint Julep will not only soothe, it will give you the aplomb to keep marching forward." I want to start by saying that I have never had a mint julep nor do I know what bourbon smells like, so I can't say for sure if those notes are present. I am very familiar with mint, and spearmint even grows in my yard, but I cannot smell it in this perfume! It mostly smells like burnt sugar – maybe someone was roasting a marshmallow over a wood fire in the woods, or ate cotton candy after their turkey leg at the fair. I can pick up the barest hint of sweet orange at the very beginning, and the end is ambroxan, noted as "grisalva" in the scent notes. Although this is classified as an aromatic green scent, it is gourmand on my body and to my nose. It is also fleeting and definitely a skin scent.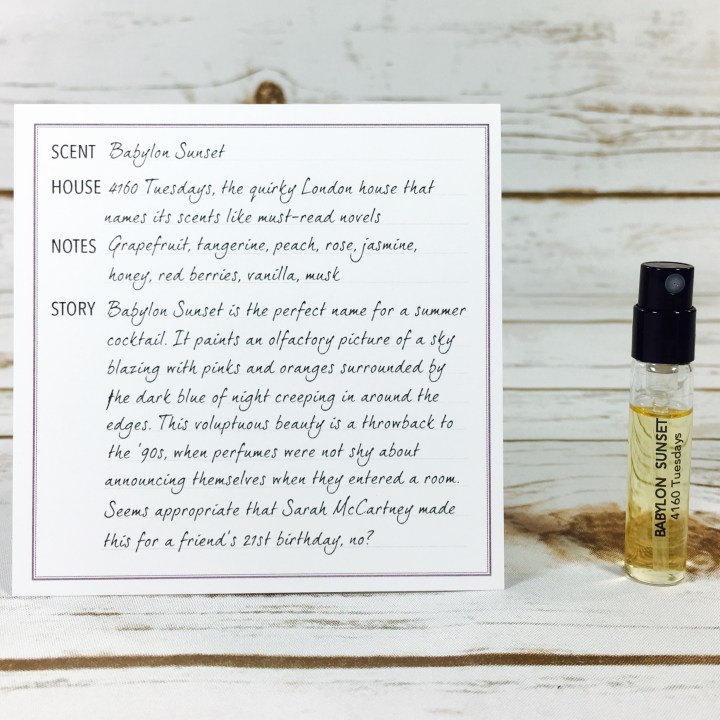 Babylon Sunset by 4160 Tuesdays ($90 for 50ml) "A rich, generous, voluptuous perfume, blending fruit and flowers." Hmm, I am having trouble picking out the notes in this floral fruity scent that is supposed to evoke a summer sunset. I'm reminded more of sweet pink bubblegum, I'm not sure why. I think I detect jasmine or some other white floral and this scent is sweet yet warm. It lasted for a long time on my arm but didn't seem obnoxiously loud.
The scents were definitely unique and I loved exploring perfumes that I otherwise would never have discovered. They definitely don't smell like the ones at Sephora and I adore their uniqueness. I change my fragrance daily and may match it to the weather, my outfit, or how I am feeling in the morning so this subscription is perfect for people who can't commit to one fragrance or who are looking for something spectacular and out of the ordinary. My favorite this month is Saint Julep, although I wish I had smelled some mint in this one!
Have you tried Olfactif yet? What are your favorite types of scents?