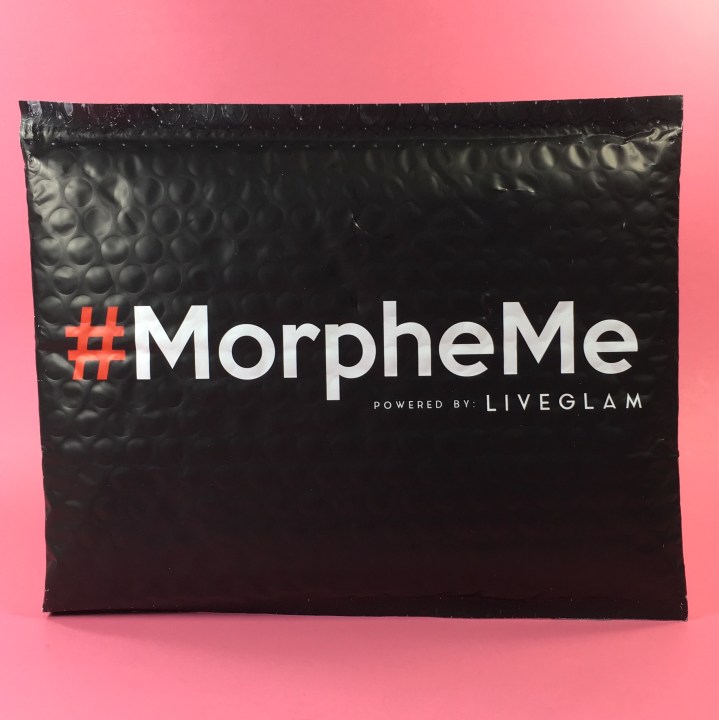 MorpheMe is a monthly makeup brush subscription that promises at least $30 worth of Morphe brushes each month for only $19.99. This is a great way to quickly build up your brush collection! You can sign up for a 1, 6, or 12-month subscription and all subscriptions automatically renew until you cancel.
My July brushes! My MorpheMe brushes arrived in a padded mailer and I received 8 brushes in the July bag. MorpheMe sends 3-7 brushes per month and they state that the total value will be at least $30. They also included a foldout brochure that had info on the brushes and a coupon code for a shop purchase. They offer a rewards program and you can exchange your points for extra brushes, makeup, etc.
DEAL: Get a free brush when you use this link, no coupon code required! Plus, save $5 on a 6-month subscription and $20 on an annual!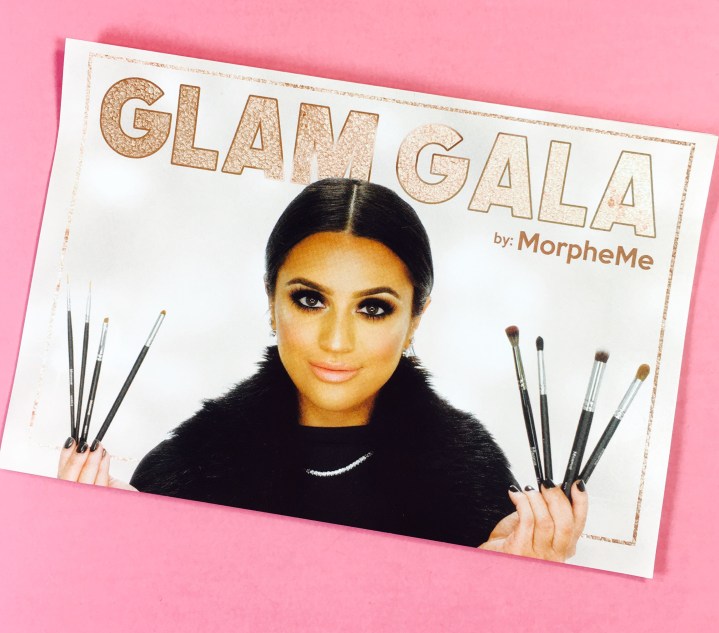 The product info card is a fold out brochure. This month's theme was Glam Gala.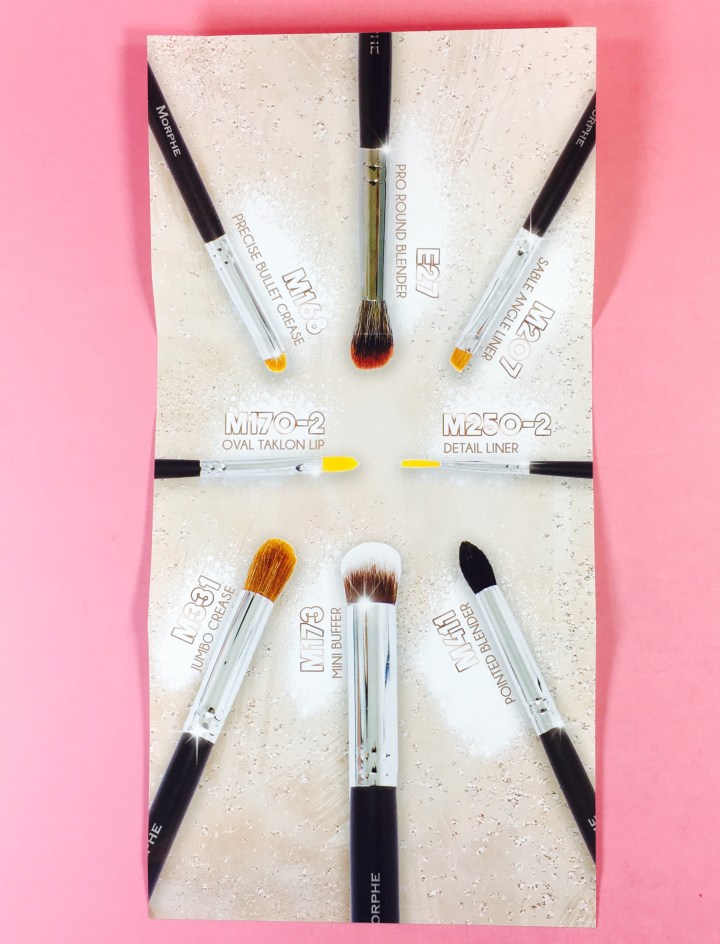 The flyer showed which brushes were in this shipment and featured a hint about using them but you have to go to their website for the full details. LIVEGLAM also puts out a monthly video that shows different ways you can use your monthly brushes. They are really good at demonstrating that each brush can have multiple uses, as seen here.
MorpheMe has recently made some changes. If you feel like your brushes are a bit repetitive, then you can change your shipment. Plus they now have two new subscriptions – KissMe sends three lipsticks while PolishMe sends three gel-like nail polishes. So you can swap a brush for a polish or lipstick, or add items from different brands!
I received a separate shipment one day that had a reward inside! Surprise!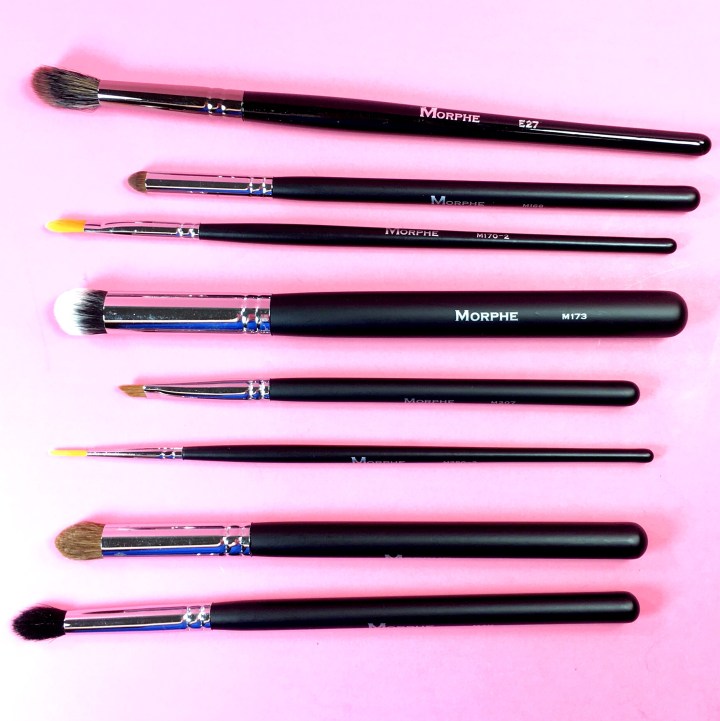 My July MorpheMe brushes! I placed them in alphanumeric order from the top down.
Here's a closer look at their heads. I'm about to get real close up now. Sorry if a few of them are blurry, I'm still waiting for my new eyeglasses to get here!
NOTE: I was overwhelmed with 8 brushes, and most of them were for my eyes, so I used a couple of brushes at a time over the course of several days.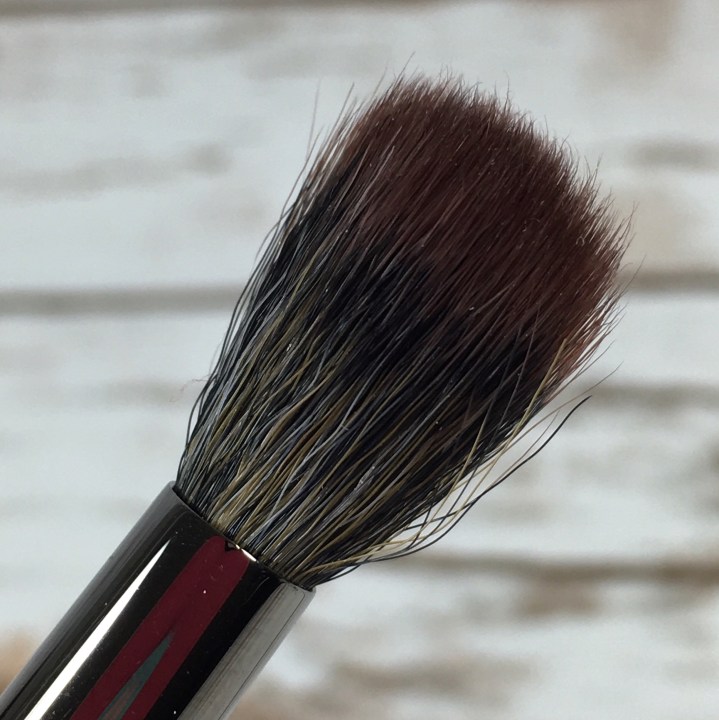 E27 Pro Round Blender ($6.99) I used this fluffy brush to apply my base color from lid to brow but I think it's better suited to blending away those harsh lines after I'm done applying the darker crease color. Synthetic bristles.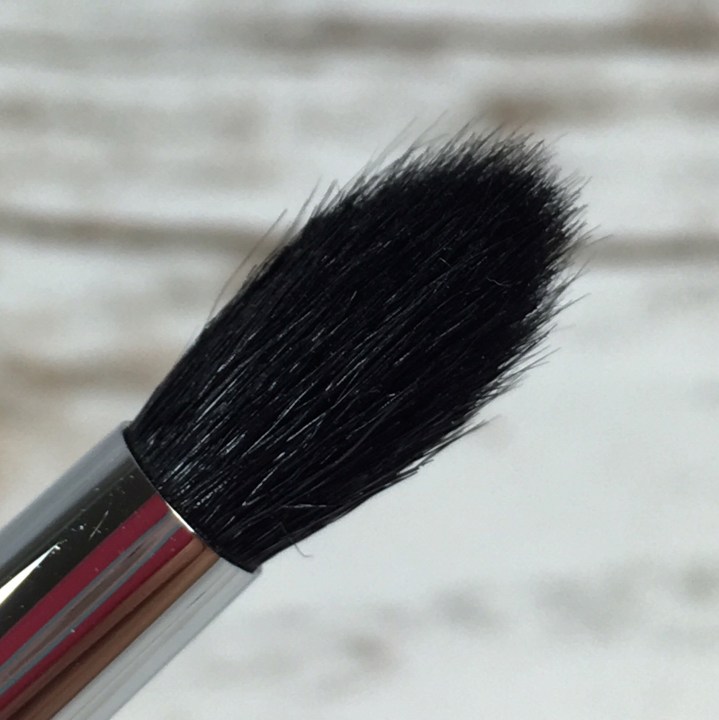 M411 Pointed Blender ($4.99) was used to apply my crease color. I kept switching back and forth between this and the M168 (shown later in this post) and the M411 was less precise, which is fine for most of my crease needs. Sable bristles.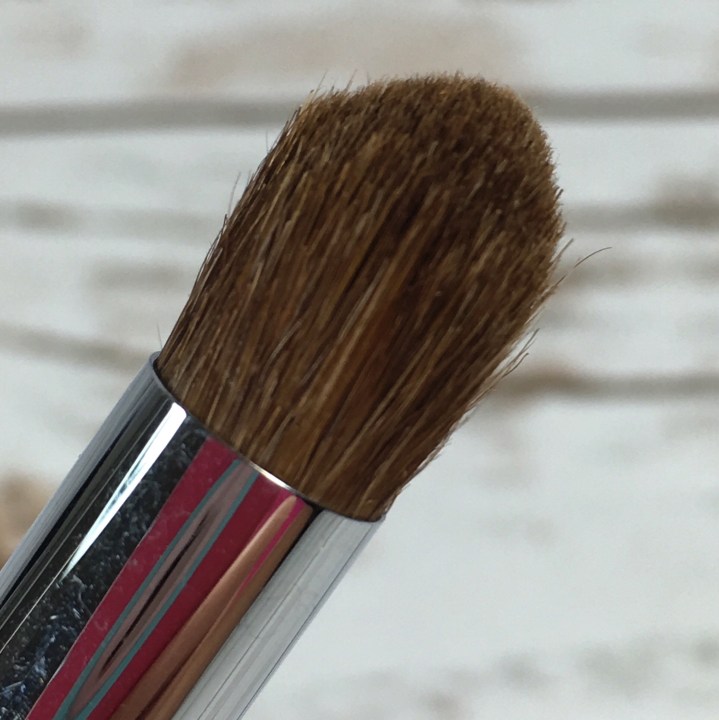 M331 Jumbo Crease ($3.99) Since I have my crease covered, I used this brush to apply color to my lids. It can also be used to apply highlighter near eyes or at the cupid's bow. Sable bristles.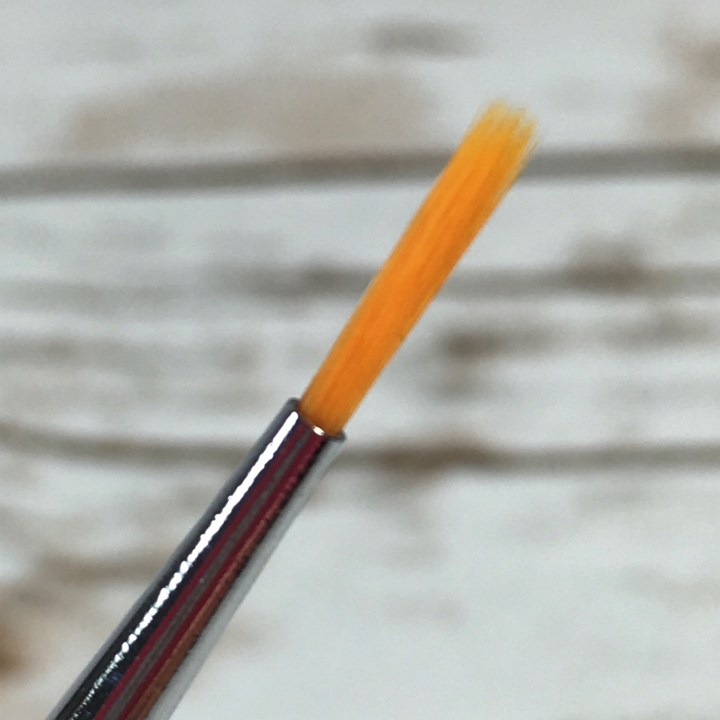 M250-2 Detail Liner ($2.49) reminds me of those little brushes that come in a paint palette from Crayola! It can be used to apply liquid or gel liner and create a winged or cat eye look. Synthetic bristles.
M207 Angle Liner ($2.99) I used this brush several ways. I got it wet and then dipped it in eye shadow to apply as eyeliner. I ran it through a highlighter and applied just below my eye brow arch. It can also be used to apply lipstick or gloss or as a brow brush. Sable bristles.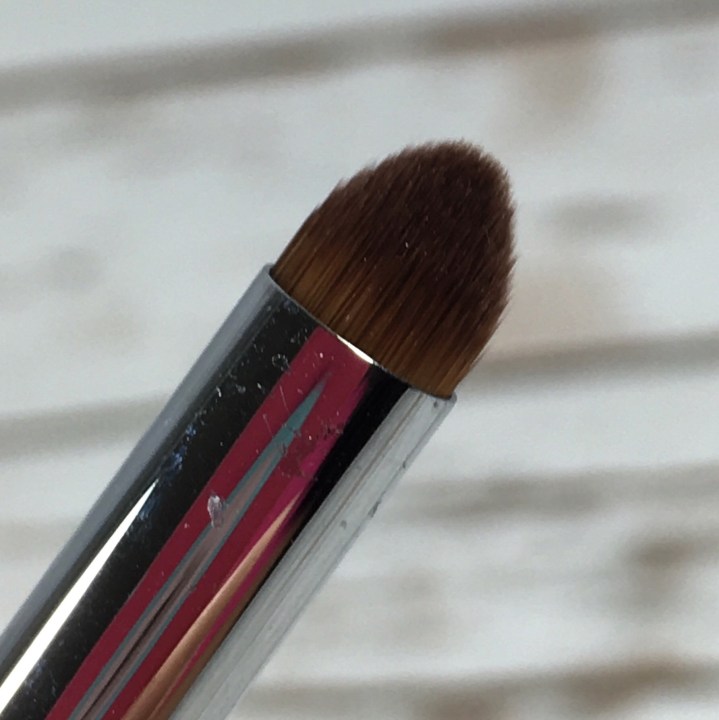 M168 Precise Bullet Crease ($2.99) I got this one wet and then used it to apply eye shadow as liner. I used it to apply highlighter to the inner corners of my eyes and above the cupid's bow. I used it to apply shadow in the crease and it applied it exactly in the crease and left a denser line than the M441. Natural bristles.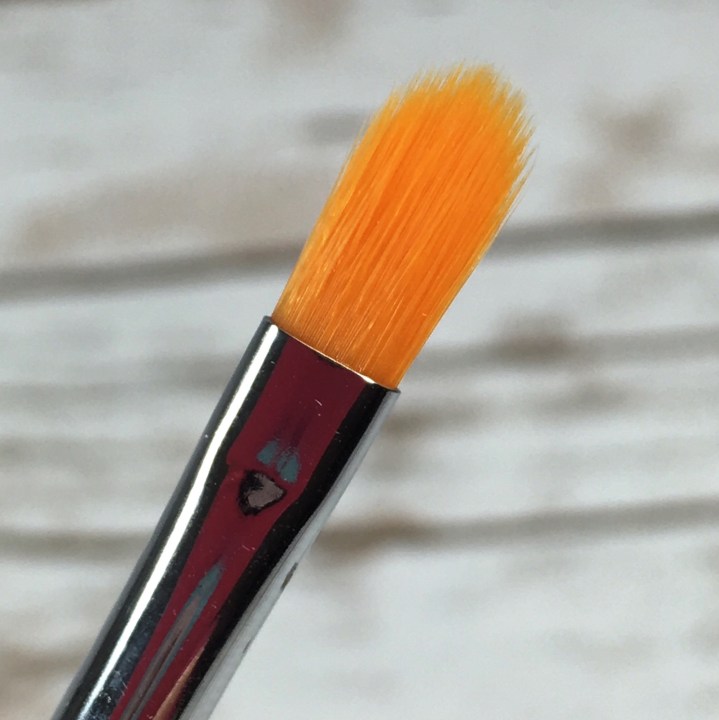 M170-2 Oval Taklon Lip ($1.99) I tried using this to create a gradient lip look like the one so popular in Korea but unfortunately I have very small lips so it didn't work. The brush did work well to spread out my lip liner and to apply product. Synthetic bristles.
M173 Mini Buffer ($4.99) I applied eye primer and concealer, both under my eyes and on red spots, with this dense brush. I also used it to buff highlighter around my face and it can be used to apply cream contour. Synthetic bristles.
My July MorpheMe shipment had a large assortment of brushes for eyes, some of them kind of similar. I was a little overwhelmed at first so I used a couple each day rather than trying to use them all at once. Morphe brushes are pretty awesome and I haven't had any problems with them at all. July's shipment had a value of $31.42, which surpasses their $30 value goal. I have been getting this shipment for a year and I now have a wonderful variety of brushes and am always surprised when I find something that I didn't have before and can't imagine living without. I love the video and watch it every month and it shows me all the different ways these brushes can be used, which inspires me to find my own unique uses. Plus, the ability to trade brushes or add lipstick or nail polish means that this subscription can be personalized to your liking!
What do you think of MorpheMe brushes? Let me know in the comments, along with your favorite type of brush!