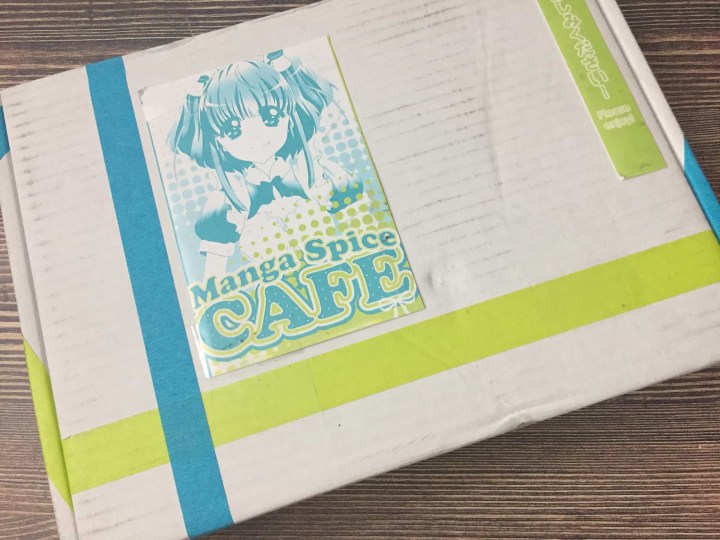 In Japan, Maid Cafes are popular establishments where people go to be served by women and girls in cute maid outfits, who give you close and personal attention during your visit. Manga Spice Cafe wants to bring you that same care and attention, from food and drink to some awesome comics to read and enjoy! The manga they send is current and first issue, so if you get hooked you can easily pick up the next volume. I'm really excited to review another box, as I had so much fun with the April box!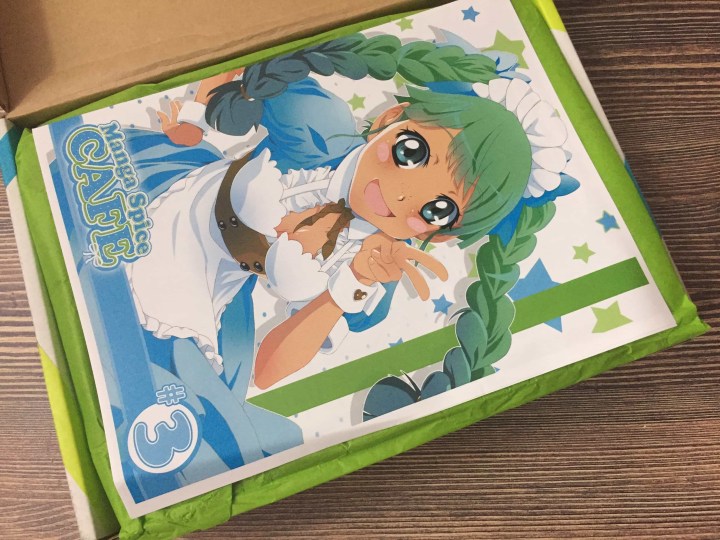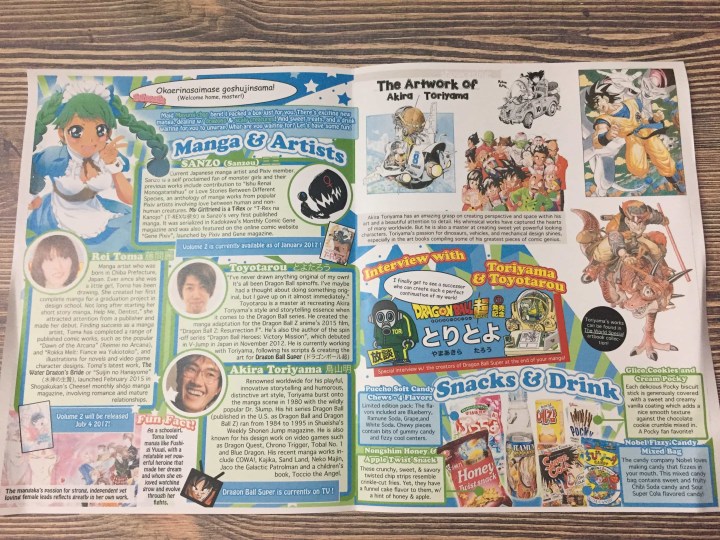 The magazine is great — it's a big two-page spread with information on the artists featured, trivia, and of course the snacks!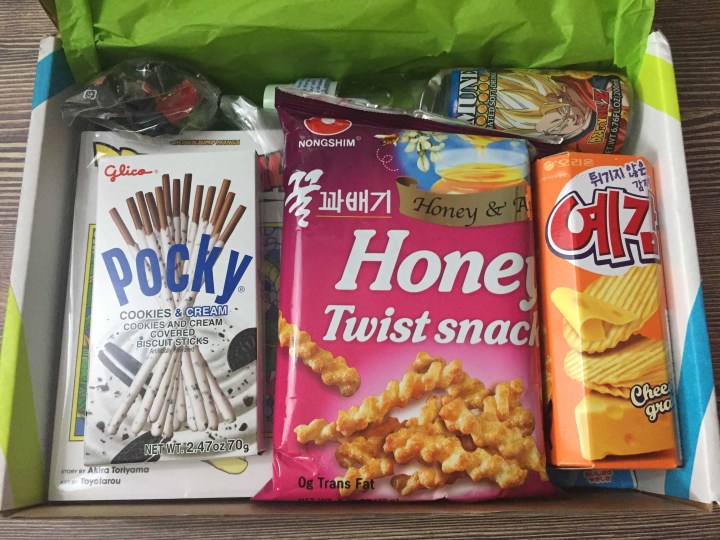 This month's box features snacks from both Japan and Korea.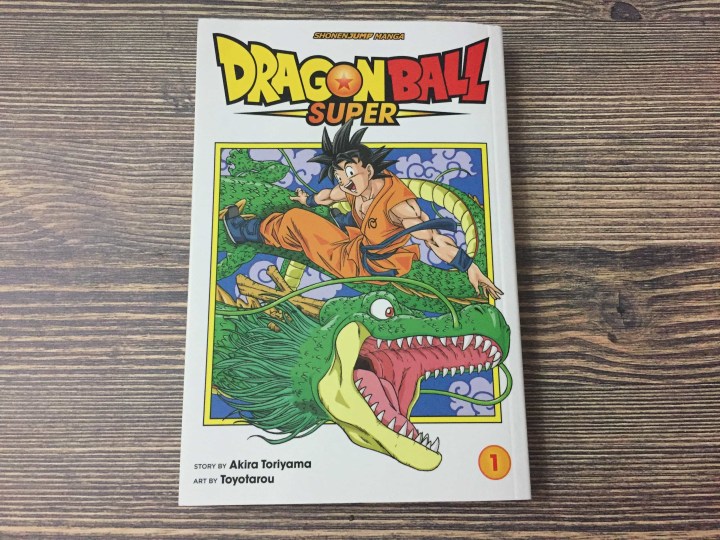 Dragon Ball Super Volume #1 ($8.99) I was never into Dragon Ball when I was younger but I like the art style a lot.
Ever since Goku became Earth's greatest hero and gathered the seven Dragon Balls to defeat the evil Boo, his life on Earth has grown a little dull. But new threats loom overhead, and Goku and his friends will have to defend the planet once again in this continuation of Akira Toriyama's best-selling series, Dragon Ball!

Having defeated Boo, Goku is starting to get bored with his life on Earth. His wife, Chi-chi, wants him to get a job, but all he wants to do is train and fight stronger enemies. Elsewhere in the universe, the God of Destruction, Beerus, and his attendant Whis are traveling from planet to planet in search of food and entertainment. After blowing up some hapless victims, Beerus is reminded of a man from his dreams with the moniker "Super Saiyan God," or something like that… The God of Destruction sets his sights on Earth to track down this mysterious man! Maybe this will give Goku something to do?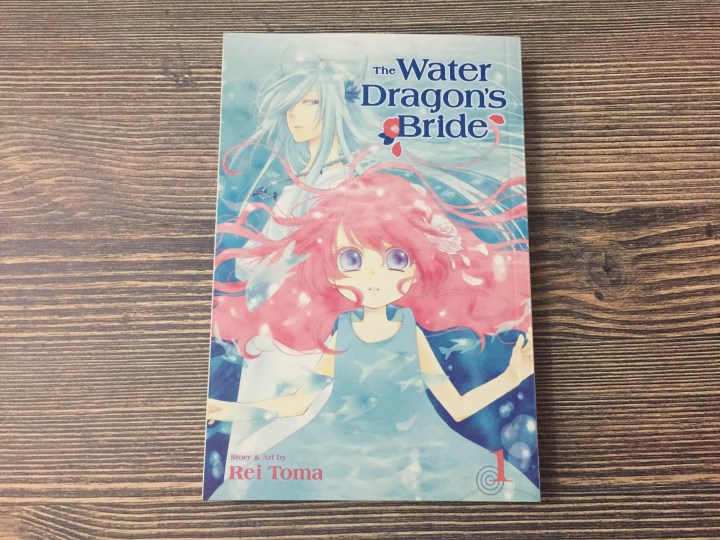 The Water Dragon's Bride Volume #1 ($7.40) This is more my style!
A modern-day girl gets whisked away to a strange land where she is sacrificed to a water dragon god!

In the blink of an eye, a modern-day girl named Asahi is whisked away from her warm and happy home and stranded in a strange and mysterious world where she is sacrificed to a water dragon god! What plans are in store for her, and what will happen when she comes face to face with this god?

A young boy named Subaru comes to Asahi's aid, but despite his help, Asahi must endure a test of survival! Will she be able to make it out alive, or will she end up being sacrificed?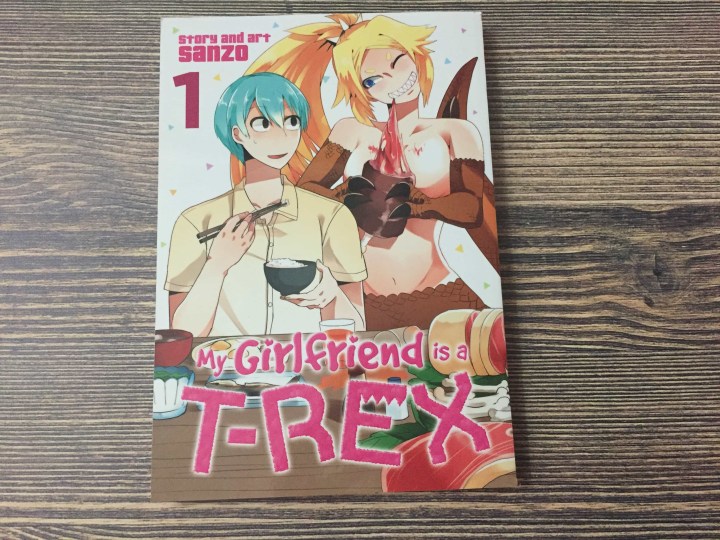 My Girlfriend is a T-Rex Volume #1 ($9.47) This is the one that I immediately started reading just because it sounded so bizarre. And it's definitely, totally weird… but so funny! I was actually laughing out loud reading it. You definitely can't take this one too seriously.
In a world where humans live side-by-side with anthropomorphic dinosaurs, Yuuma Asahikawa is a young man looking for a fresh start in life. It's a classic case of "be careful what you wish for" when Yuuma begins dating Churio–a gorgeous Tyrannosaurus Rex with a ferocious appetite.

Follow the ups and downs of Yuuma and Churio's bizarre romance as they spend their daily lives together. As Churio's vicious claws, reptilian tail, and razor sharp teeth hinder even the simplest of activities together, will Yuuma, let alone their relationship, survive?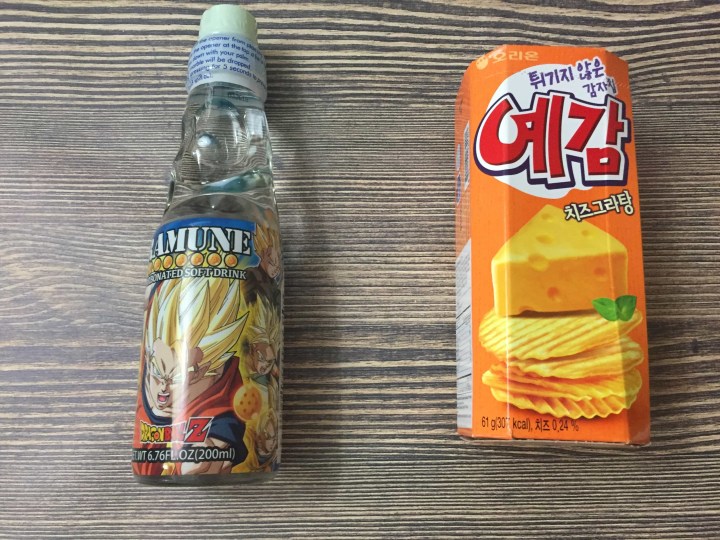 DragonBall Ramune — Ramune is Japanese lemon soda (sort of like Sprite). I recently found out that it got the name "ramune" because it sounds a bit like the Japanese pronounciation of "lemonade." (There's no L sound in Japanese, so it's usually pronounced with an R sound instead.)
Cheese Chips — Stacked ripple chips with a cheese flavouring. I thought these were actually kind of sweet in a weird, tasty way. The savoury saltiness of the cheese was overtop of a sweeter chip.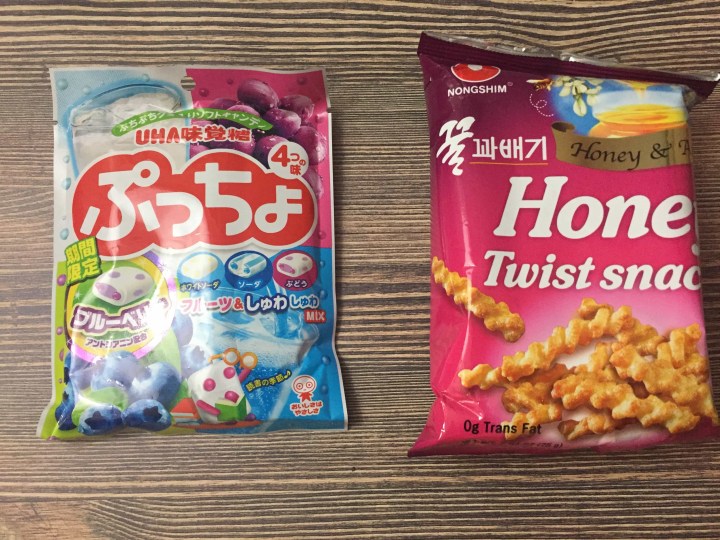 Puccho Soft Candy Soda Mix — A mixture of soda flavoured candies that have fizzy centers. I liked the white soda ones the best.
Honey and Apple Twist Snacks — Funnel cake flavour with honey and apple. These are amazing!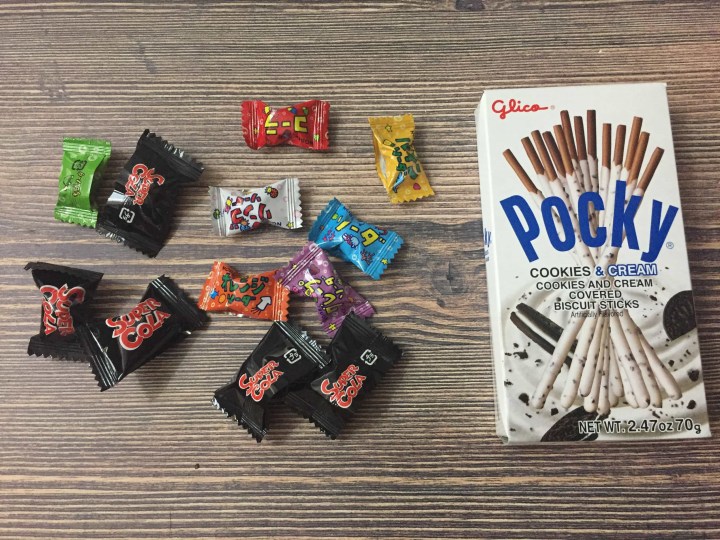 Nobel Fizzy Candies — A mixture of fizzing hard candy. The black wrapper ones are a sour cola and the colourful ones are fruit soda!
Cookies and Cream Pocky — I'll never get tired of this flavour of Pocky, I have a weakness for anything cookies and cream! The biscuits are chocolate and the frosting is vanilla with crumbled cookie in it.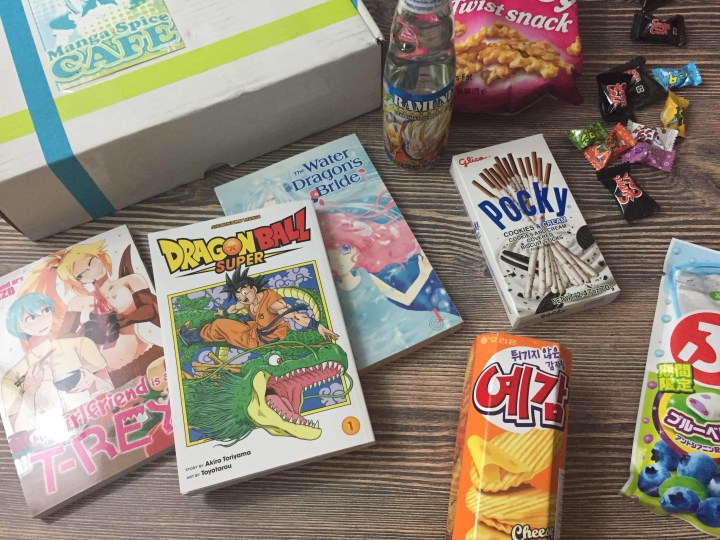 Manga Spice Cafe is the manga-lover's dream box! Something to read, to eat, and to drink — it's such a great idea for a box! I love that the manga included are all the first in the series — no jumping in halfway through a storyline!
What did you think of this month's box?