Love with Food is a popular snack subscription that also carries a gluten-free option! It is a fun snack discovery subscription available in three versions: classic tasting box, deluxe/family size, and gluten-free. This version is the gluten-free box, but you can see our reviews of the other versions too.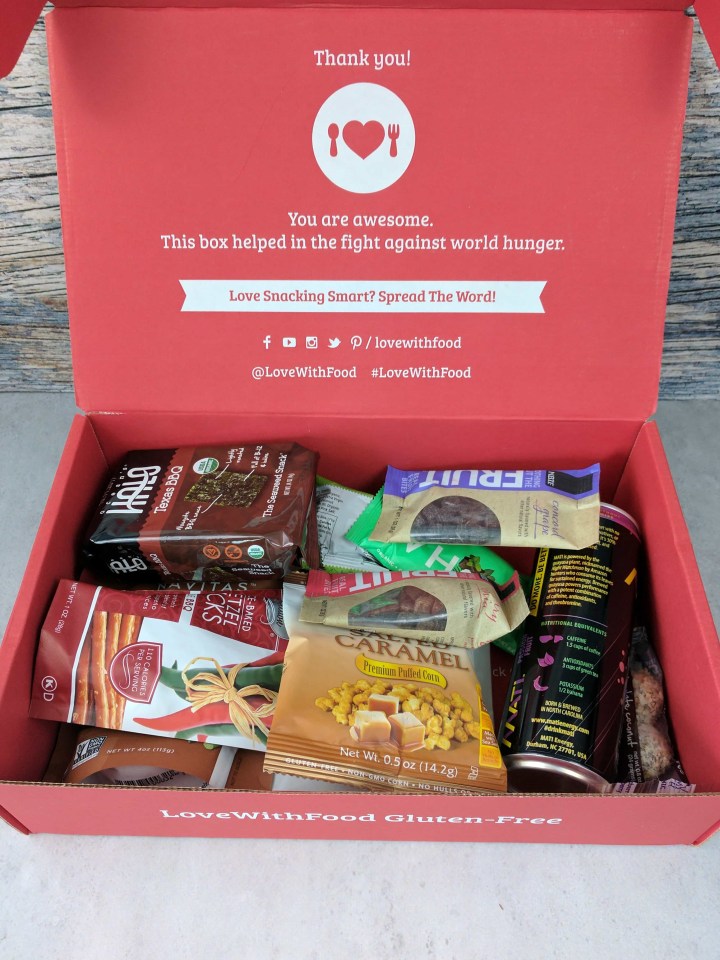 DEAL: You can save 25% on your first Gluten-Free box by using this link, no coupon code required!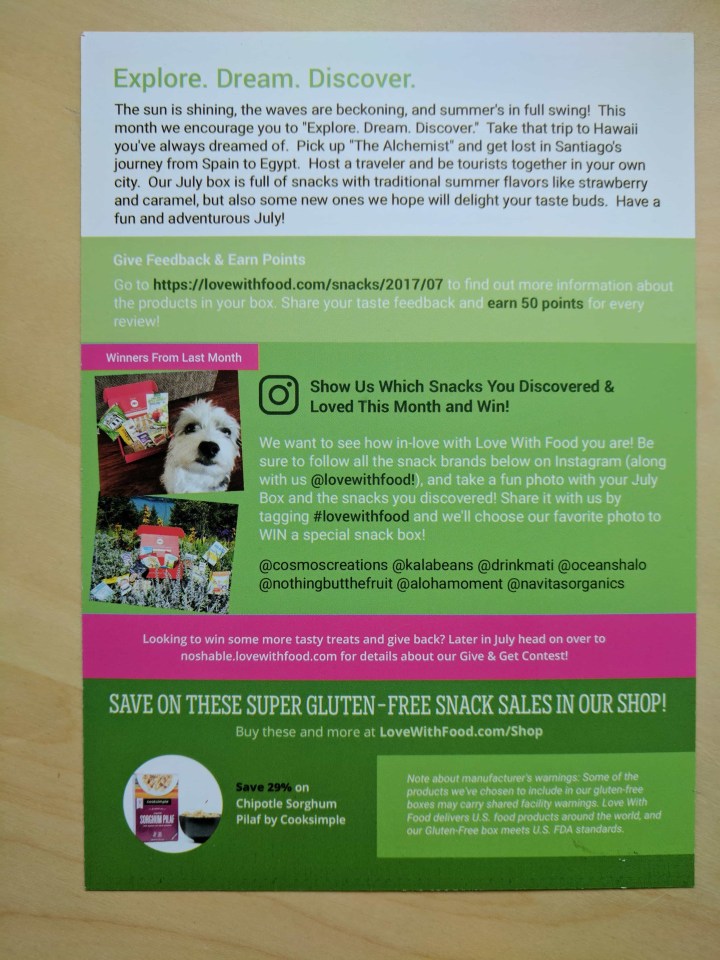 They don't include details on the product card, but the info is available on their website.
Simply Peppered Roasted Fava Beans. So good and crunchy! Since living with my peanut allergic husband, I've been on the look-out for a snack that would get my peanut craving under control, and this one is a great contender! It has that nutty flavor, so close to peanut, it's crunchy but not too much, and the flavor is great! It's also high in protein, but also high in sodium. One of my favorite in this box (there's a lot of favorites)
Pretzel Perfection Twice Baked Pretzel Sticks – Chipotle BBQ. My husband didn't let me taste them. He loooooves pretzels, and spicy treats. He really liked them.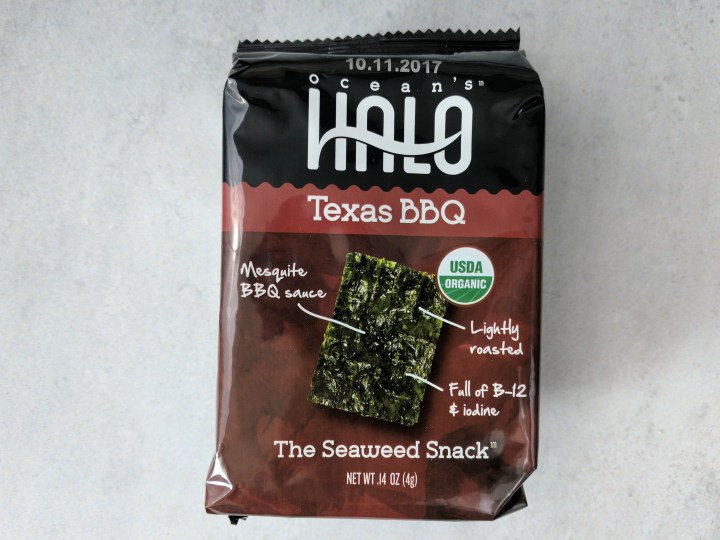 Ocean's Halo Texas BBQ Seaweed Snacks. I loooooove seaweed snacks. I was just disappointed by the flavor. It was good, but nothing close to what I was expecting for Texas BBQ flavor.
Navitas Organics – Organic Cacao Sweet Nibs. I don't like chocolate. I like chocolate when it's a flavor, but not chocolate (I hope I make sense). But a bit of cacao nibs in my morning oatmeal sounds lovely!
Cosmos Creations – Salted Caramel Puffed Corn. I really like salted caramel, and I love puffed corn. How about the mix of the two? Awesome! (Send more please.)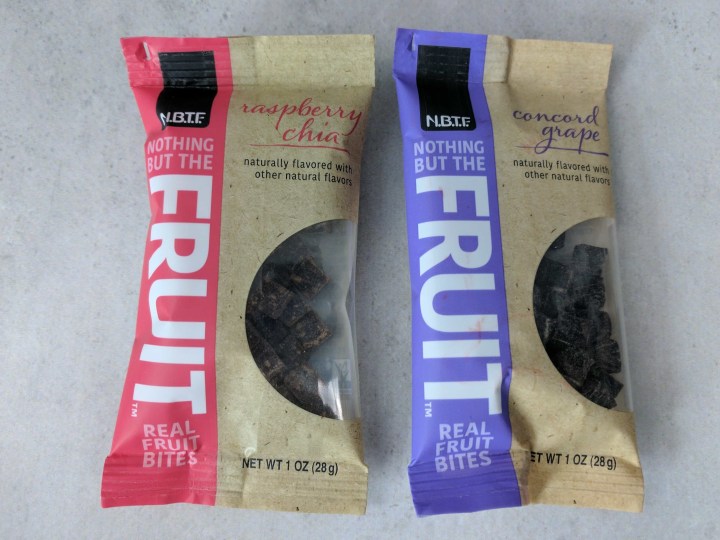 Nothing but the Fruit – Raspberry Chia/Concord Grape fruit bites. Perfect to keep in my purse, I love fruit bites because it's a natural sweet treat, but good for you.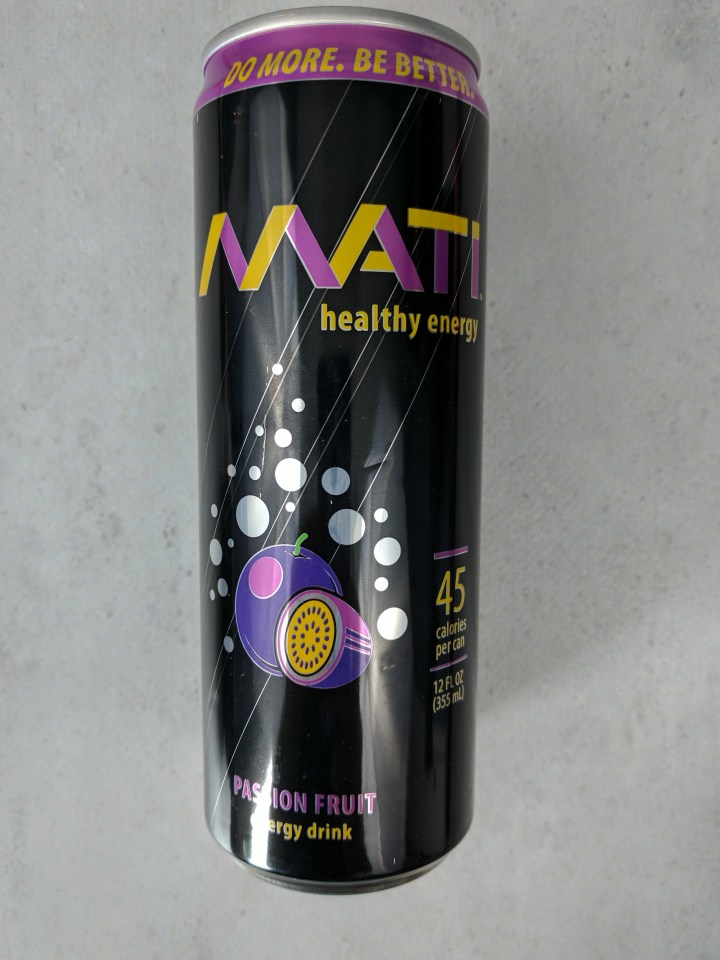 Mati Fruit Energy Drink – Passion Fruit. The energy comes from a plant called Guayusa, not coffee. No artificial flavor or added sugar, it's suppose to be better tasting and healthier than Red Bull! I'm not into energy drink, but I'll give it a try soon.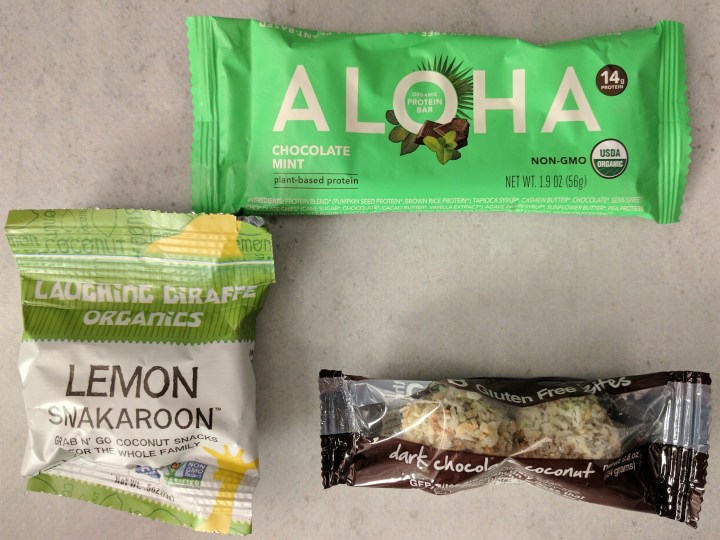 Aloja Protein Bar – Chocolate Mint. I've tried Aloha protein bar before and they do the job, I just don't enjoy them that much.
Laughing Giraffe Organics – Lemon Snakaroon. I don't like coconut, but I love lemon. I don't know what to think about this one. I like the idea though!
Gluten Free Bites – Dark Chocolate Coconut. I don't like chocolate or coconut. That one is a big no.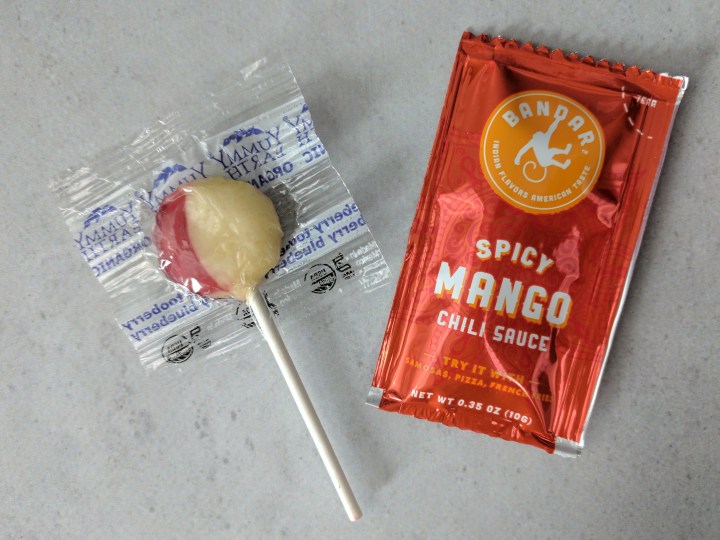 Spicy Mango Chili Sauce. They say to try it out with mimosa, on pizza, or with french fries. It's made with fun ingredients, except for the cilantro leaves. Cilantro leaves taste like soap to me, so I hope the flavor is not too overwhelming!
Lollipop. Fun lollipop!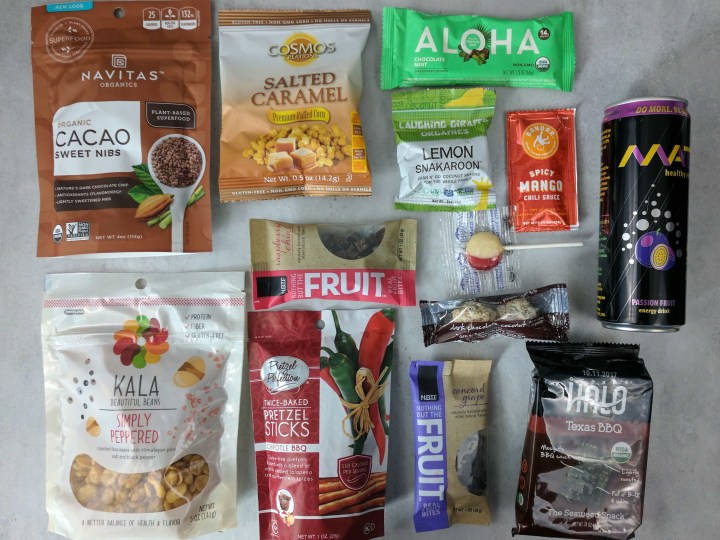 This was my first Love with Food – Gluten Free box, and I loved it! Everything was tasty and fun, and I've discovered a snack that almost tastes like peanut, without being peanut.
What is your favorite Love with Food item from this month's box? Share below and let us know!