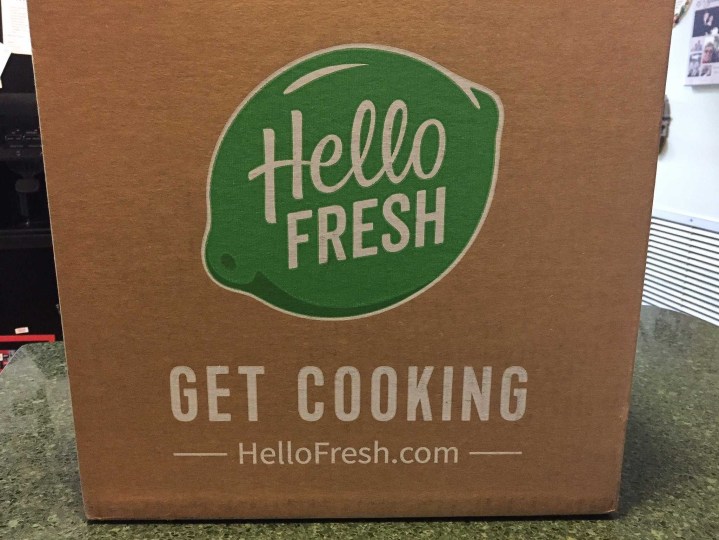 Hello Fresh is a weekly meal kit subscription box with complete recipes and high-quality ingredients to make your own fresh, healthy, gourmet meals at home.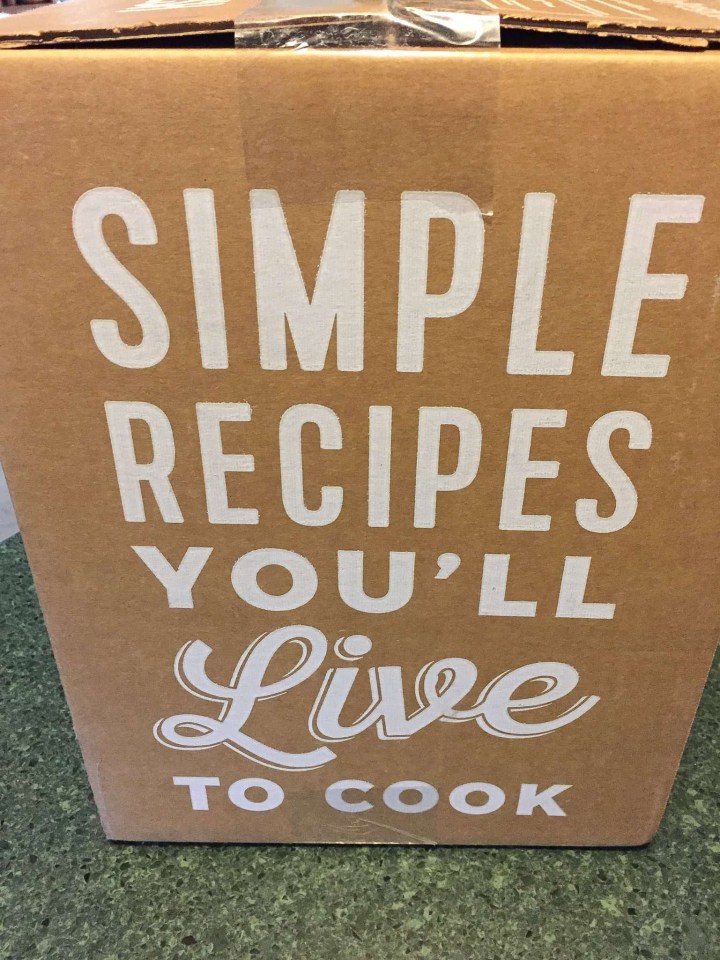 They offer three different subscription options — Classic (choose 3, 4, or 5 meals for 2 people or 3 meals for 4 people from 6 weekly options), Vegetarian (receive 3 HF-selected meals for 2 or 4 people), and Family (receive 3 HF-selected meals for 2 kids and 2 adults). You can always pause the subscription to skip a week if you need to – this is super handy for vacations!
This review covers the Vegetarian subscription!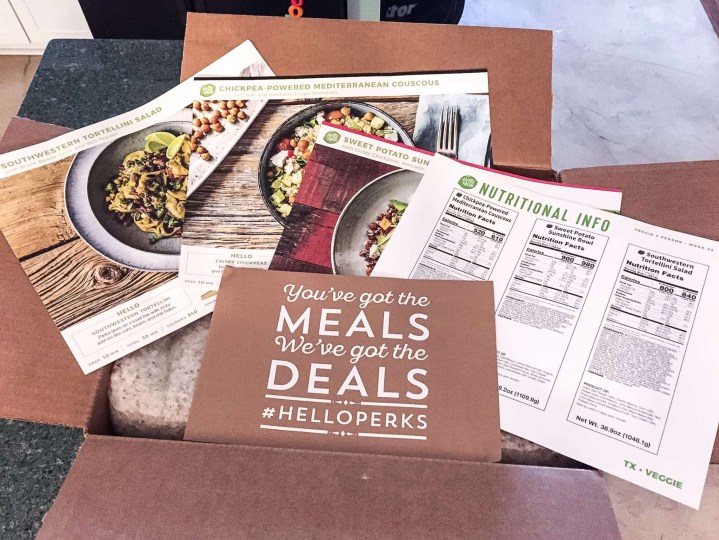 DEAL: Currently, you can save $40 off your first box with coupon code 7UT7K8.
The nutrition information for each recipe is now a separate sheet (before it was a big sticker on the outside of the shipping box). The sheet contains a list of all ingredients and their country of origin.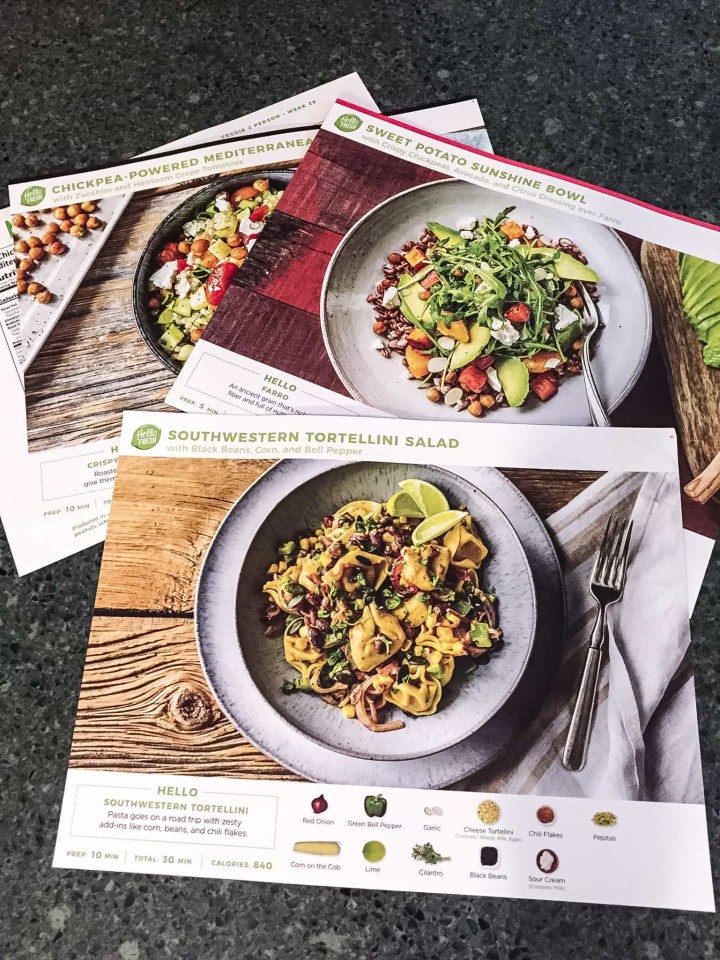 Each Hello Fresh recipe has its own lovely card with a picture of the plated dish, prep time and total time to table, calorie count, and a visual inventory of the included ingredients.
The instructions are easy to follow, regardless of your skill level. Usually you start by washing and prepping all the ingredients before cooking. Within the detailed, step-by-step instructions, ingredients are set in bold type for ease of recognition. Info panes in the sidebar list anything you'll need from home (pans, cooking oil, etc), as well as the quantity of each provided ingredient needed for 2 and 4 person versions of the recipe.
The ingredients for each meal are packed in separate bags within a padded, insulated cooler bag. Several ice packs keep everything cold, with the individual paper bags protecting the ingredients from touching the ice directly.
The brown bags used by Hello Fresh keep all the ingredients for the recipes in order. Everything but the largest vegetables is separately packaged within the bags. Condiments and canned goods are provided in high-end, commercial packaging. Hello Fresh usually provides pre-measured spices in their own branded packaging. Big props to Hello Fresh for cutting down the box size and using green bags. Thanks for being environmentally conscious. Don't forget to recycle the big boxes along with the freezer bag inside. I've found a place in my town that will use both to deliver meals to others. Recycling is the way to go!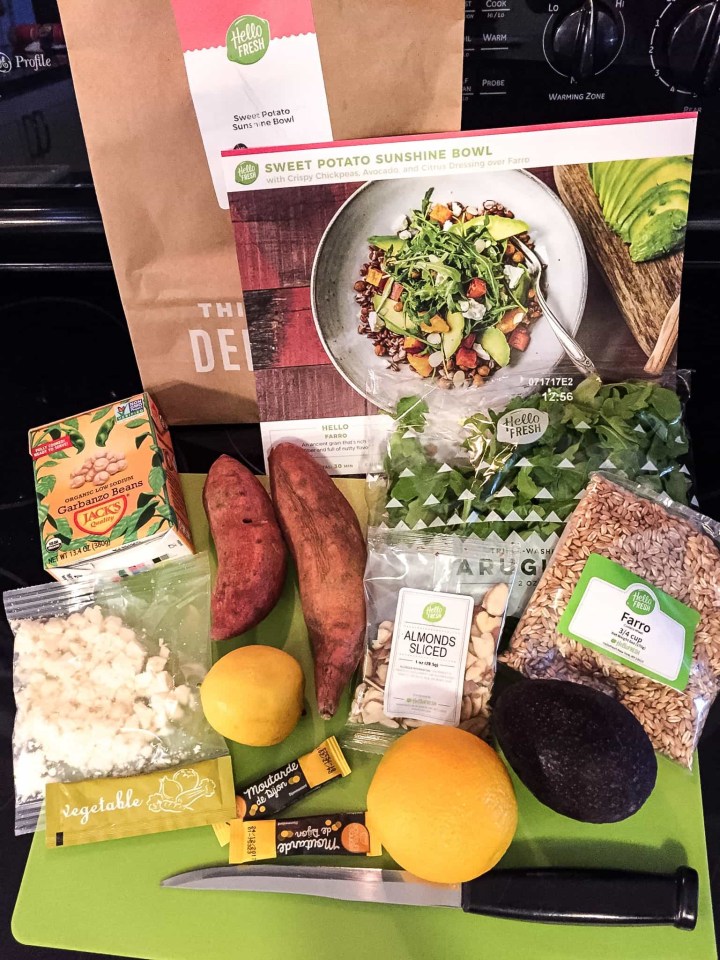 Sweet Potato Sunshine Salad With Crispy Chickpea, Avocado, And Citrus Dressing Over Farro. 30 minutes, level 1, 980 calories per serving.
If you're trying to impress someone with your cooking, this is a recipe I'd recommend. It's loaded with taste, texture and boy oh boy is it a pretty dish.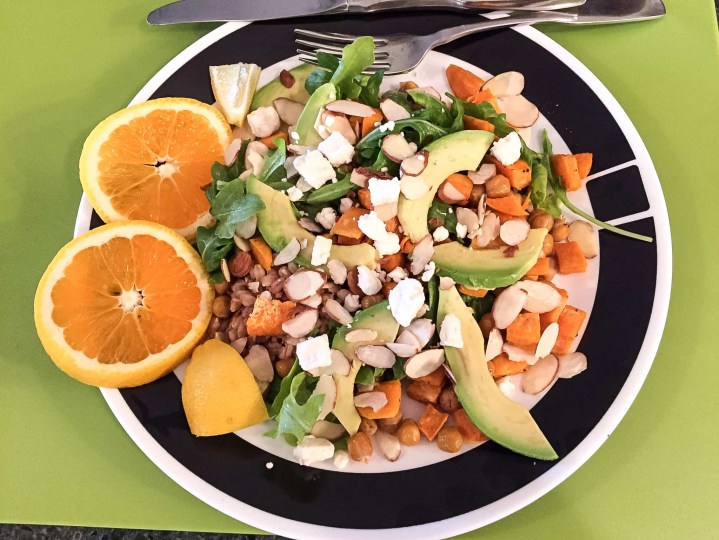 There's a lot going on with taste in here, you've got citrus, orange and lemon, mustard; well darn it, all the ingredients are flavorful! My husband was crazy about the avocado and I love the Feta. Put these tastes together and you've got a powerhouse of ingredients for your taste buds.
The farro is chewy (I love it cooked in Hello Fresh's stock concentrate), then there's the creaminess of avocado and the crunch of the chickpeas, those stand out as textures for me.
I served this on my everyday dinnerware, white with black trim. So the colors of orange, green, yellow-green, tans and stark white of the cheese are very pretty. I sliced my leftover orange into wheels and wedges for the lemon. A true masterpiece!
I should have served this with an orange sangria, perfect pairing as far as I'm concerned. I'll have to make a note on my recipe card to do that the next time I make this, which will be soon. So delicious and filling.
Chickpea-Powered Mediterranean Couscous With Zucchini And Heirloom Grape Tomatoes. 30 minutes, level 1, 610 calories per serving.
On Thursday nights, I invite my folks over to share our Hello Fresh dinners. They are older (80+years) and my husband and I aren't spring chickens either so dividing a dinner into 4 works out perfectly for us, we just don't need too much food as we've slowed down. It doesn't hurt that my mom always makes pudding for the 4 of us for dessert! The thing is my dad has always been a meat and potatoes guy and you'd think the saying, "you can't teach an old dog new tricks" would apply but not in this case. When I get the Hello Fresh box, I show my dad the recipes and he gets to pick which one he wants because he's been the finicky one. I couldn't believe it when he picked this dish over a tortellini one.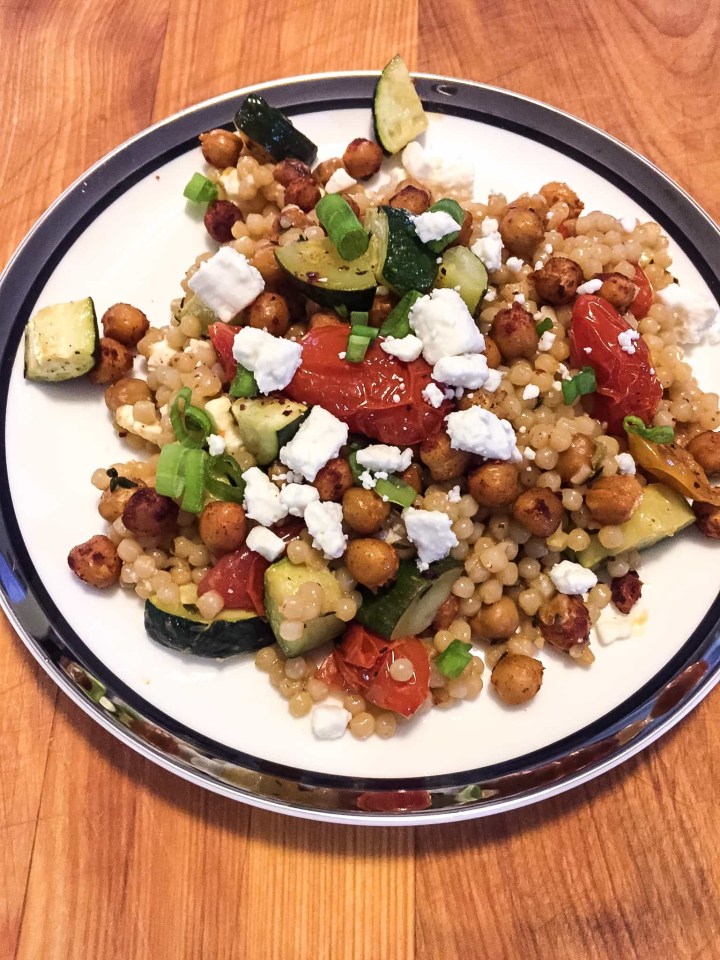 And imagine our surprise when he kept saying how good this was. He especially liked the Israeli Couscous.  I've said it before and I'll say it again, I like anything cooked with the Hello Fresh Veggie Stock Concentrate.  Sure wish they'd sell that separately!!! (Hint, hint, Hello Fresh!)

My mom and I discussed using fresh thyme as opposed to the dried (mostly tasteless) thyme. It adds so much flavor. After receiving Hello Fresh for over a year and learning how wonderful food can taste with all the fresh ingredients, I just can't imagine going back to using the dried herbs again.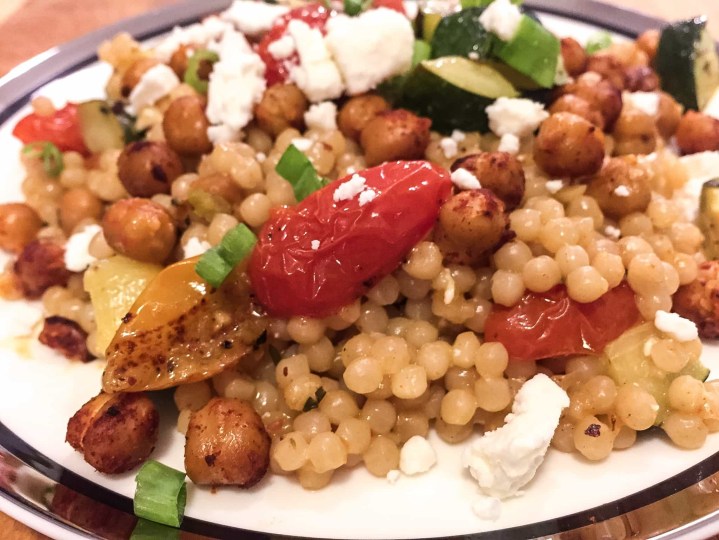 Thank you Hello Fresh for a wonderful meal and good conversations.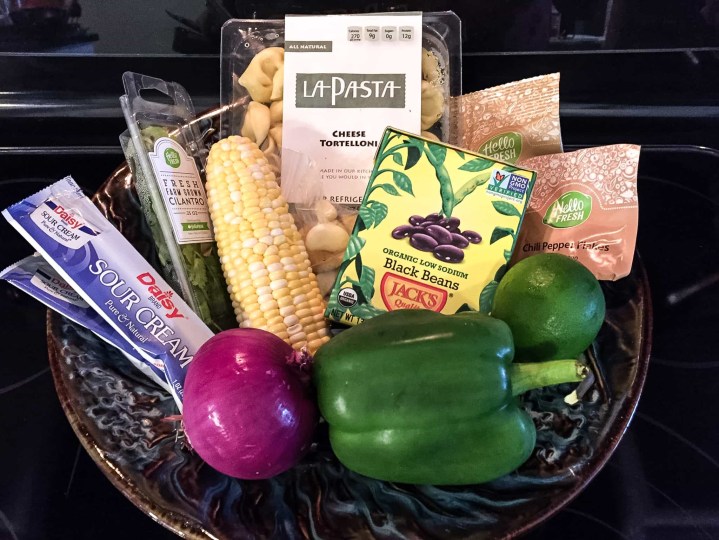 Southwestern Tortellini Salad With Black Beans, Corn, And Bell Pepper. 30 minutes, level 1, 840 calories per serving.
Tex-Mex meets Italian! Who would have thought about putting these 2 together? Not me, ever, but some one at Hello Fresh came up with this and we all liked it. We, my folks, 2 other friends and my husband and I have a Saturday night buffet of hors d'oeuvres and a glass or 2 of wine.

This was mostly southwestern in flavor with the lime, cilantro and chili flakes. Seeing the black beans, corn, and red onion is again a southwestern look so it throws you off when you see tortellini. It's almost like someone spilled them in the dish on accident but because they are filled with cheese and who doesn't like cheese on their Tex-Mex, it blends very well with the rest of the ingredients.
A few capers in this dish kept coming to mind. I think it would just add a little something extra. I kept sampling just to be sure! And after about 3-4 samples, I'm pretty sure when I make this again I'll add some capers but that's just me. My mom liked it just the way it was.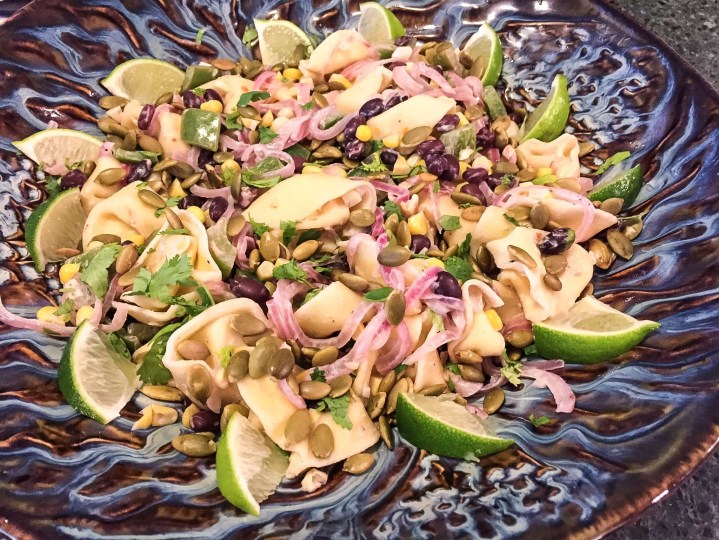 This was another easy to cook recipe. I prepped and conned (oops, I mean asked) my husband to help cook. I pretty much left him on his own and it turned out well.