Herb Stop is a locally owned small business out of Pine, Arizona that offers the Aroma Box, a monthly essential oils subscription box. Master Herbalists Leilah Breitler and Natalie Hajdu strive to ensure that all their ingredients come from reliable and ethical sources. Love that! And, all their essential oils are 100% pure.
For the phenomenal price of $19.99 (including shipping!!!), you get 4 bottles of essential oils (1/3 oz or 1/6 oz each), essential oil blends or roll-on essential oil  blends. Along with your aromas, you will receive a description of each oil, 3 tips on using each oil, as well as any safety information. Seriously, it's just $19.99 for all of this!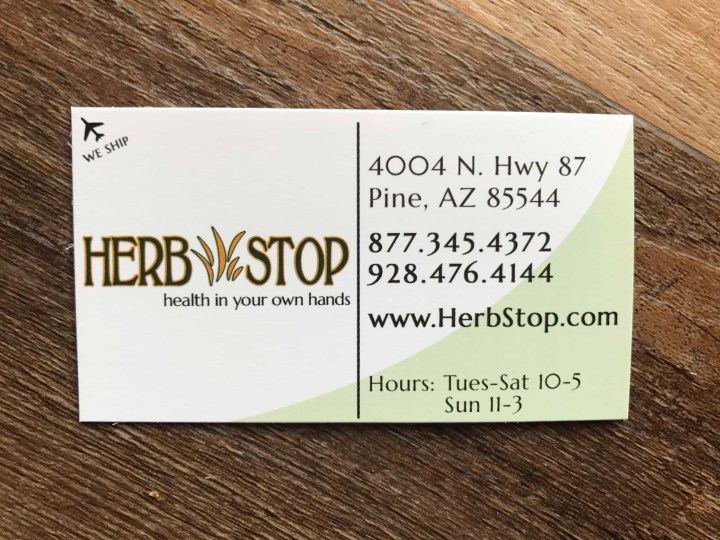 FYI – The Aroma Box is always available through the end of the month!
DEAL: Save 15% on your first box with coupon code HELLO15.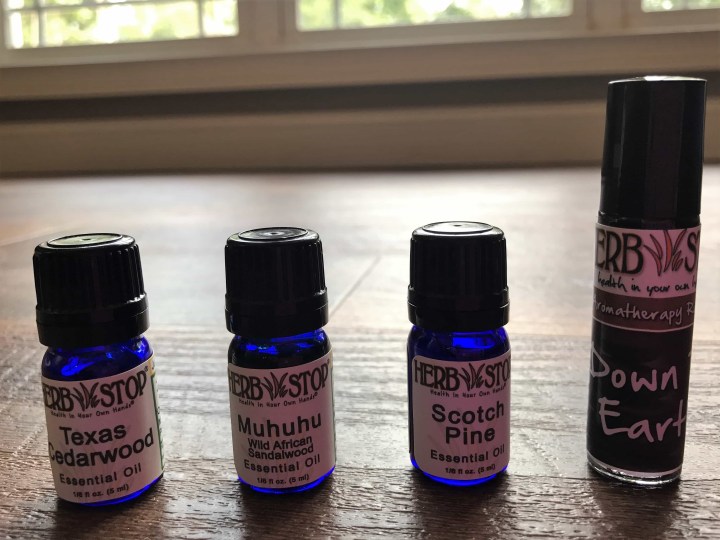 Herb Stop has recently updated their labels and they are now smudge proof!!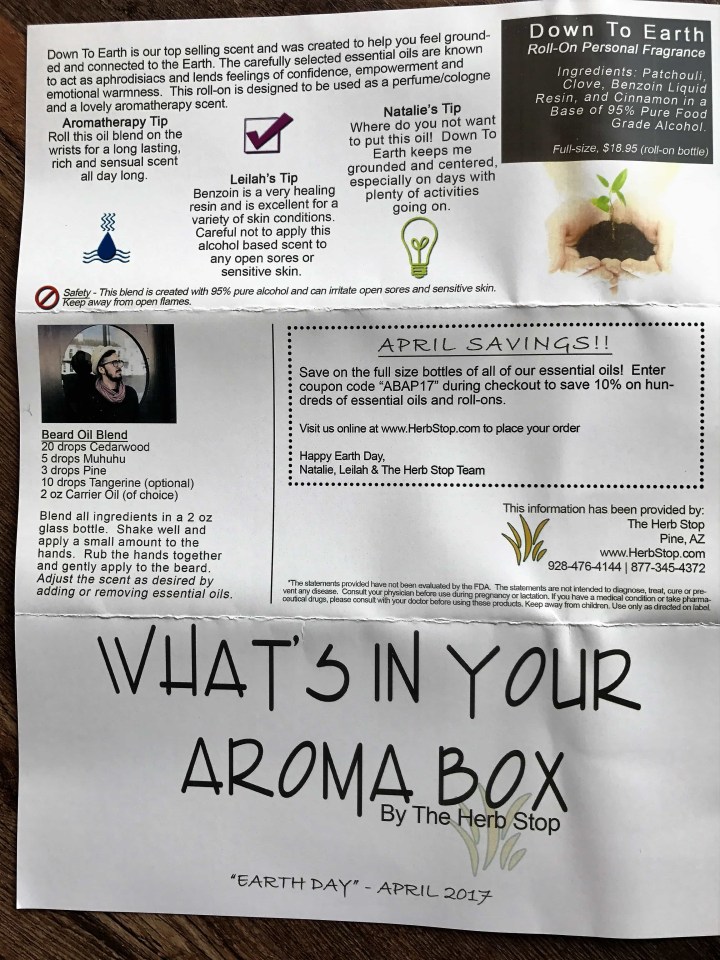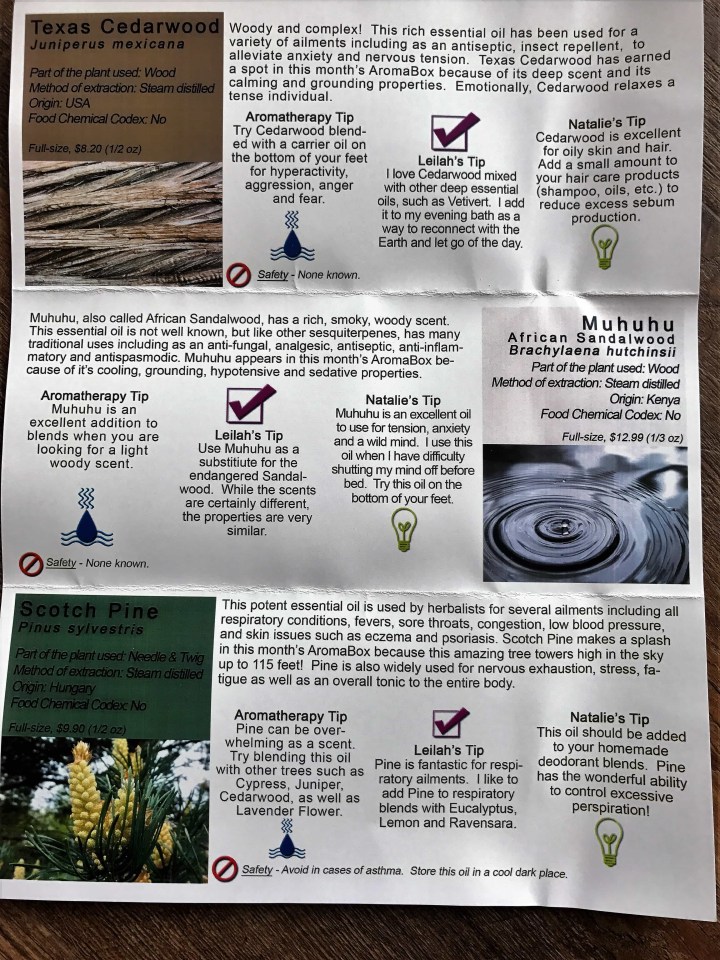 This card stock sheet gives you a detailed description of each of the oils.
Each oil is described and then it gives you an aromatherapy tip, a tip from Leilah (the Master Herbalist), a tip from Natalie (the other Master Herbalist), and any safety precautions. There is a nice color picture of each herb and the details are easy enough for the newest essential oil enthusiast to understand. I am keeping all of these in a file for reference. They have some great information!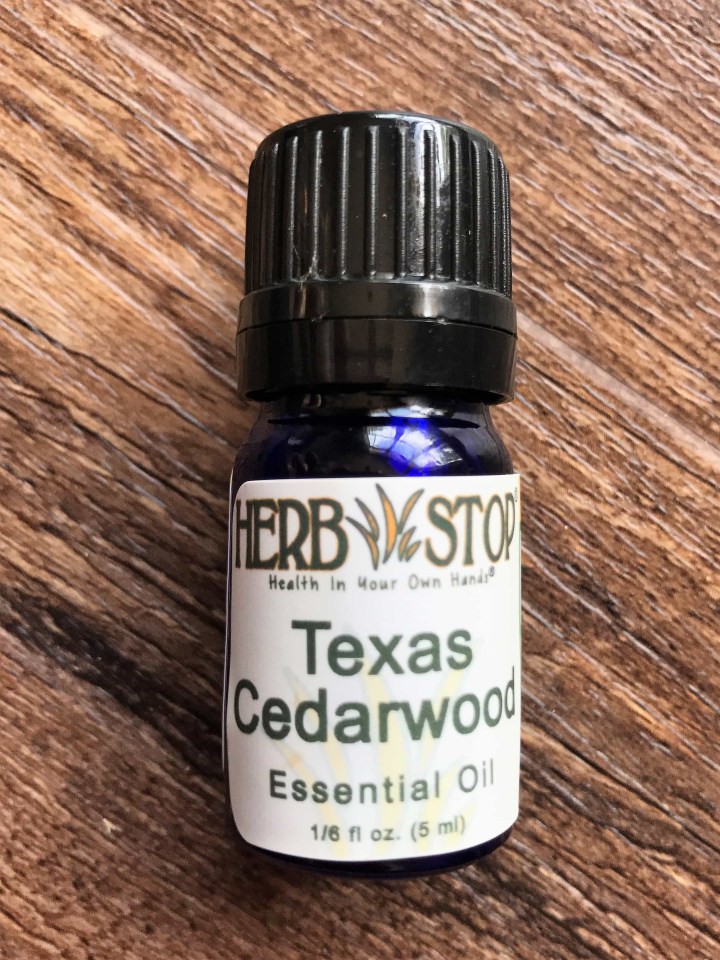 Texas Cedarwood (1/6oz) – (Full size 1/2 oz bottle is $8.20) "Woody and Complex! This rich essential oil has been used for a variety of ailments including as an antiseptic, insect repellent, to alleviate anxiety and nervous tension. Texas Cedarwood has earned a spot in this month's Aroma Box because of its deep scent and its calming and grounding properties. Emotionally, Cedarwood relaxes a tense individual."
Natalie's Tip for this oil is my favorite. "Cedarwood is excellent for oily skin and hair. Add a small amount to your hair care products (shampoo, oils, etc.) to reduce excess sebum production."
Yes. I love minty, woody scents in my hair products, plus I bet it would repel lice from the kiddo's hair! Giving this tip a try!
Muhuhu African Sandalwood 1/6 oz – (Full size 1/3 oz is $12.99) "Muhuhu, also called African Sandalwood, has a rich, smoky, woody scent. This essential oil is not well known, but like other sesquiterpenes, has many traditional uses including as an anti-fungal, analgesic, antiseptic, anti-inflammatory, and antispasmodic. Muhuhu appears in this month's Aroma Box because of it's cooling, grounding, hypotensive, and sedative properties."
The Aromatherapy Tip for this oil recommends, "Muhuhu is an excellent addition to blends when you are looking for a light woody scent."
This oil smells like a summer barbecue to me! It's rich and smoky, a bit of a meaty smell… One whiff and you can feel the hot breeze, smell the steaks cooking and feel the splash of the pool!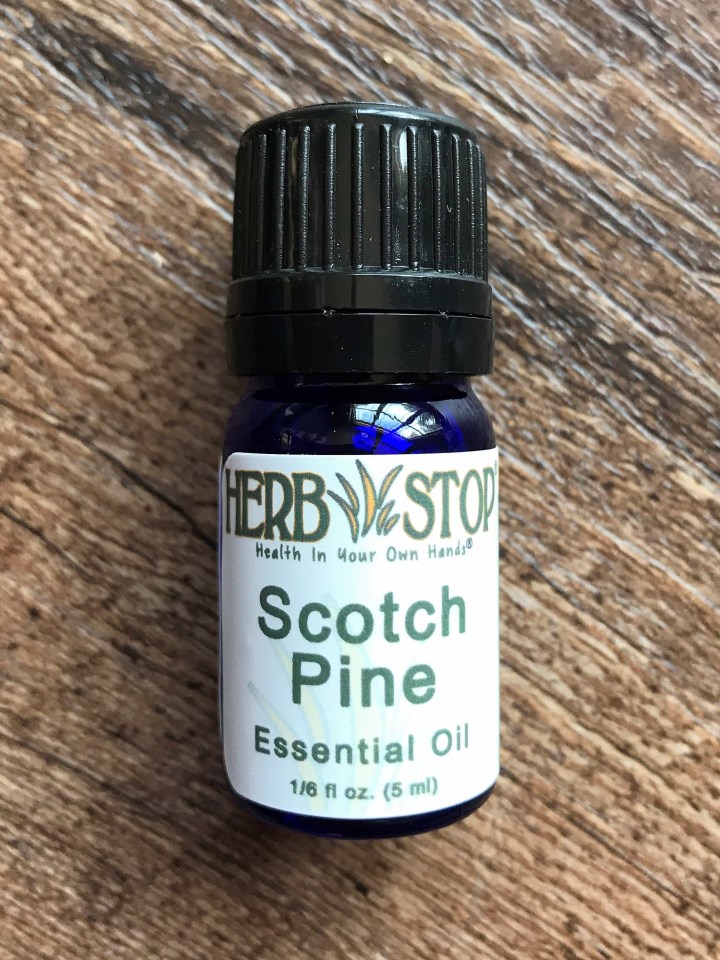 Scotch Pine 1/6 oz – (Full size 1/2 oz is $9.99) – "This potent essential oil is used by herbalists for several ailments including all respiratory conditions, fevers, sore throats, congestion, low blood pressure, and skin issues such as eczema and psoriasis. Scotch Pine makes a splash in this month's Aroma Box because this amazing tree towers high in the sky, up to 115 ft.! Pine is also widely used for nervous exhaustion, stress, fatigue as well as an overall tonic to the entire body."
The Aromatherapy Tip for this oil advises that it can be a little strong, so you can blend it with other tree oils such as Cypress, Juniper, Cedarwood or Lavender. (All of these oils have been in past boxes by the way!!! I love that this subscription builds up your oil kit and then tells you how to use it!)
And lastly, the lovely roll-on! There is one of these in every box, premixed into a useful oil blend with a carrier oil or base in a handy roll-on bottle. Down to Earth ($18.95) with Patchoili, Clove, Benzoin Liquid Resin, and Cinnamon in a base of 95% Pure Food Grad Alcohol. "Down to Earth is our top selling scent and was created to help you feel grounded and connected to the Earth. The carefully selected essential oils are known to act as aphrodisiacs and lends feelings of confidence, empowerment and emotional warmness. This roll-on is designed to be used as a perfume/cologne and a lovely aromatherapy scent."
So, I didn't know what Benzoin Liquid Resin was  Had to look that one up! It is derived from the bark of trees and used in perfumes an incense. I'm not sure about the overall scent of this roll-on, it's really strong. Maybe it's the clove. It's not bad, I'm just not sure about wearing it as perfume for myself. I do think I would like the scent in a soap. (Coincidentally, they do offer the scent in a soap.)
Herb Stop Aroma Box is a great way to explore the world of essential oils and discover what works best for you while building up a great stockpile! Each month's flyer tells you how to use that month's oils, but also adds tips for including past month's oils. And it's only $19.99! That price even includes shipping!
What did you think of the Aroma Box?
Visit Aroma Box by The Herb Stop to subscribe or find out more!