Gobble is a weekly dinner kit subscription box. Each prepped and portioned meal is $11.95 per person at regular price. Gobble currently ships to California, Nevada, Washington, Oregon, Arizona, Idaho, and Utah.
What's cool about Gobble is that they do the prep work for you! Each recipe comes with a high-quality recipe card, side one includes the household items that you'll need to prepare your meal, the contents of each dinner kit and a little bit of trivia. Side two has simple to follow directions that are as easy as one, two three. Gobble promises that dinner prep is only 10 minutes with their kits. That's a really small amount of time to prepare dinner in. All the ingredients neatly packaged with labels and individualized so there is no cross-contamination.
Italian Braised Beef with Gemelli Pasta. I don't remember getting any cherry tomatoes with this meal and I was super sad that I was too sick to try this, but my family raved about it. My husband said it was the most tender meat he'd ever tasted, while my daughter raved about the brocollini.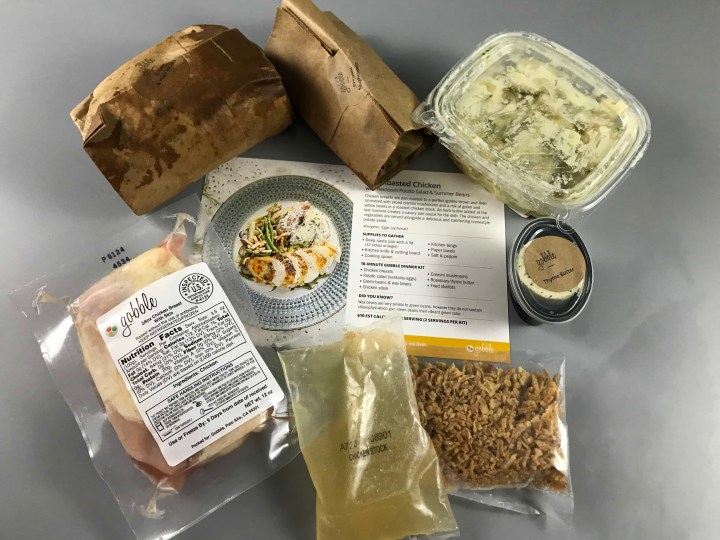 Pan-Roasted Chicken with Heirloom Potato Salad & Summer Beans. Another meal I wish I wasn't too sick to try (and take pictures of), green beans are my favorite. My daughter cooked this for my spouse and bragged about what an amazing cook she is becoming. Gobbles 3 step cooking is enough to make anyone feel like a top chef. She liked the fried shallots on the beans for a super crunchy surprise.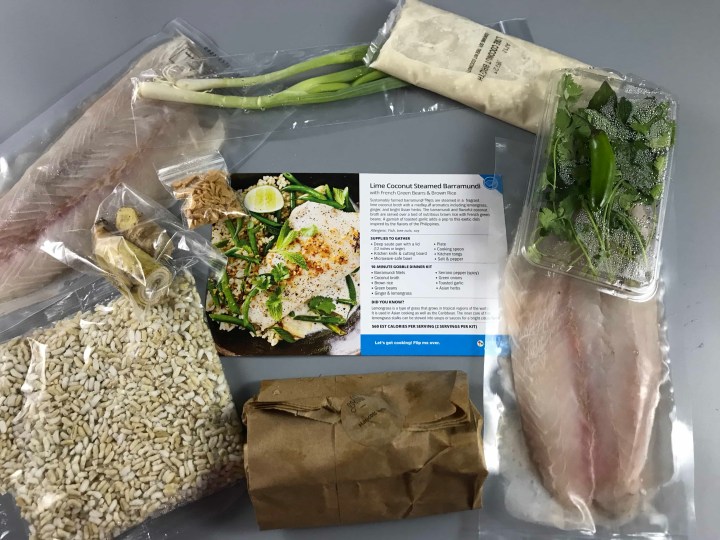 Lime Coconut Steamed Barramundi with French Green Beans & Brown Rice. This is the only meal I actually got to eat and it was amazing!
It may not be plated as well as the Gobble photo but it tasted divine. The cilantro complimented the mild fish and the coconut milk, however, I had to produce my own lime. The number one ingredient in the meal was the one I was missing, but I happen to be a gin and tonic kind of gal with a lime twist so lime is always on hand in my house. This fish was completely new to me and now I can't get enough of it!
Gobble makes dinner time a stress-free and hassle free time in my home. It became even more amazing when my family was able to put together healthy, delicious meals while I was sick in bed. Gobble gave me the satisfaction of home cooked meal, prepped with love and only 10 minutes from pan to plate. The easy to follow directions made both my daughter and husband feel like the next Gordon Ramsey.  I do wish that the measurements were written on the cards so I could recreate my favorite meals, especially the ones I didn't get to taste. I can't wait for my next box!