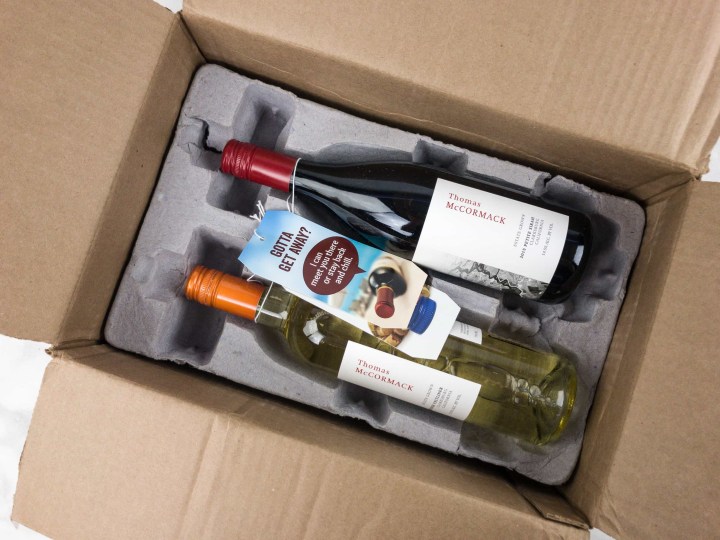 California Wine Club is a monthly subscription that sends two (or more) bottles of wine from California to your house every month. They specialize in wines made from small producers (those who release less than 10,000 cases each year). Although they have five official wine clubs, they are happy to provide their customers with a club that is specially curated to their customers' needs. In fact, club members receive their own Personal Wine Consultants who can help tailor the club to meet their needs.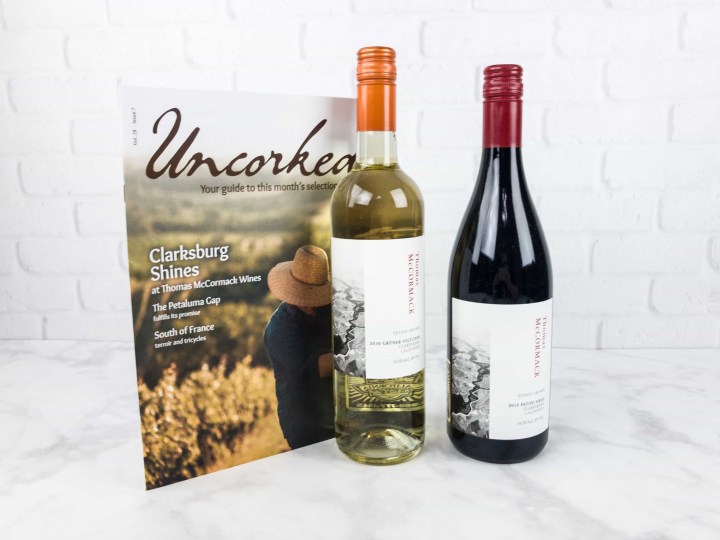 The Premier Series is $39.95/month plus $14 shipping for the two bottle a month subscription, but if you love the bottles that you receive, you can order more from the club at a significant savings.
DEALS:
Join the Premier Series Club + get 2 bonus wines + $25 wine credit! Use coupon code  2EXTRA and Use this link to subscribe. Expires 12-31-2017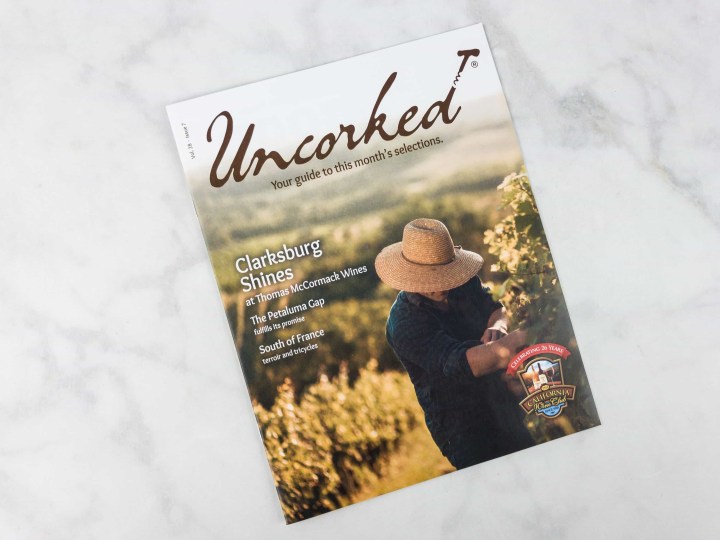 The box comes with Uncorked magazine, featuring the selected winery of the month – Thomas McCormack Wines.
Most of the magazine is dedicated to discussing the selections, wineries, and winemakers featured in California Wine Club's various wine series, but there is also some other fun info, too. This month's mag discussed some of the wildlife that call vineyards home, how they help or hurt the crop, and how to encourage or get rid of them.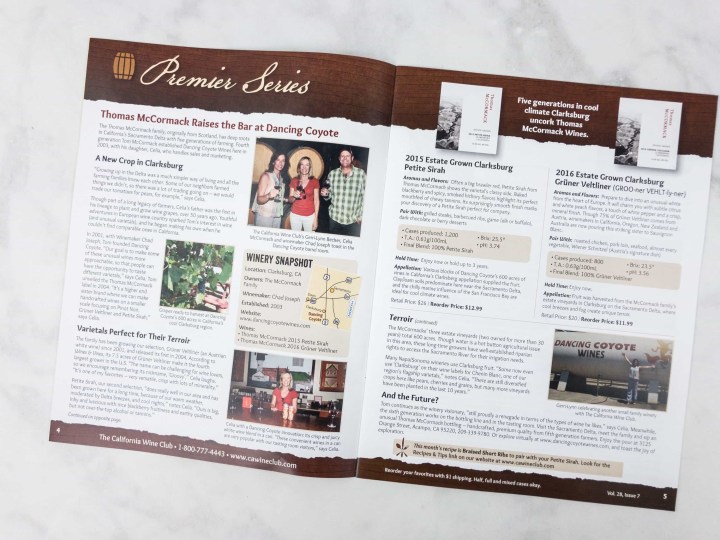 Our selections are from the Premier Series. The McCormack's winery, Dancing Coyote Wines, launched the Thomas McCormack label in 2004 as a way to focus on high-end, small batch production. In addition to info on the winery and winemakers, the mag provides details on each wine selection, complete with technical stats, flavor notes, pairing suggestions, cellaring time, appellation (where the grapes were grown and a bit about the terroir), plus the discounted reorder pricing.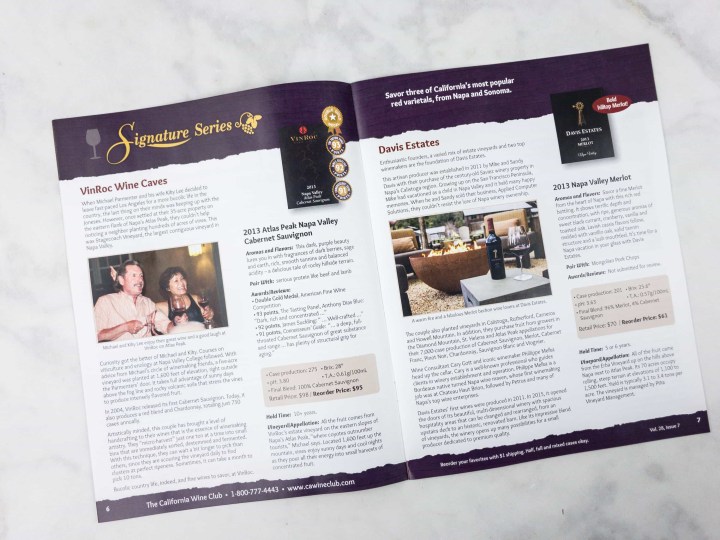 Uncorked has a two-page spread for each of the series CWC offers.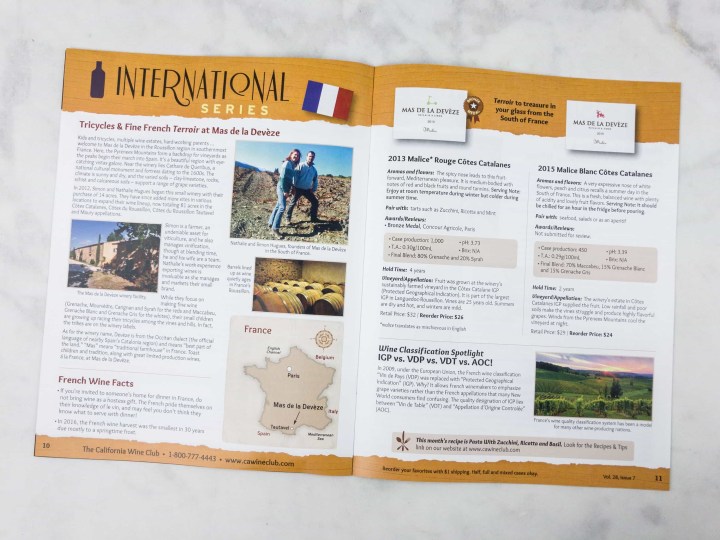 California Wine Club also offers an International Series, so don't let the name fool you.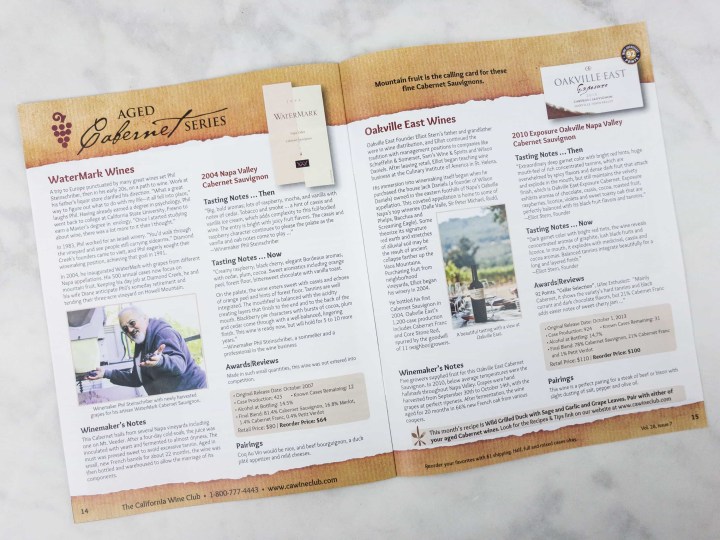 Other series include Signature, International, Aged Cabernet, and Pacific Northwest.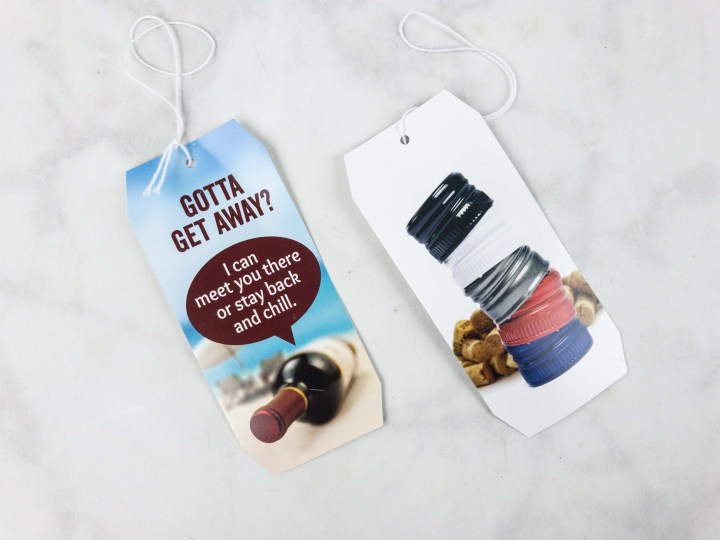 Our bottles arrived with tags attached.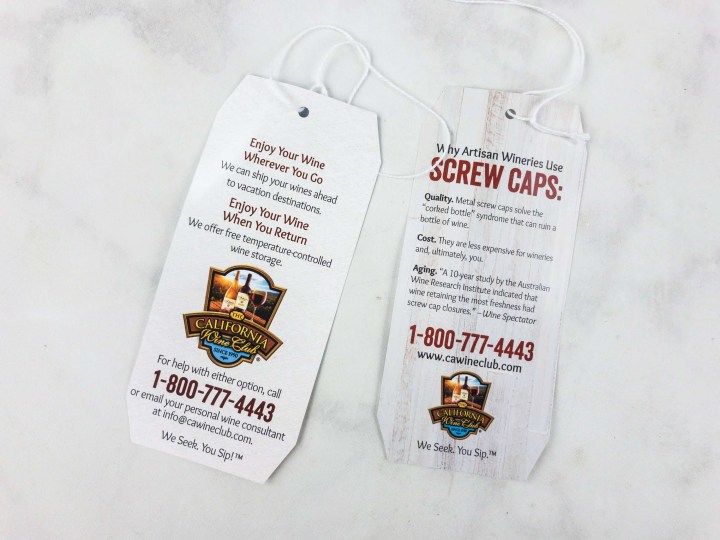 California Wine Club wanted to make sure that members didn't react negatively upon seeing the bottles sealed with screw caps instead of corks. The caps are much better for resealing and storing in the fridge, and they also claim to better preserve the quality of the wine during cellaring. I also like not having to break out the corkscrew!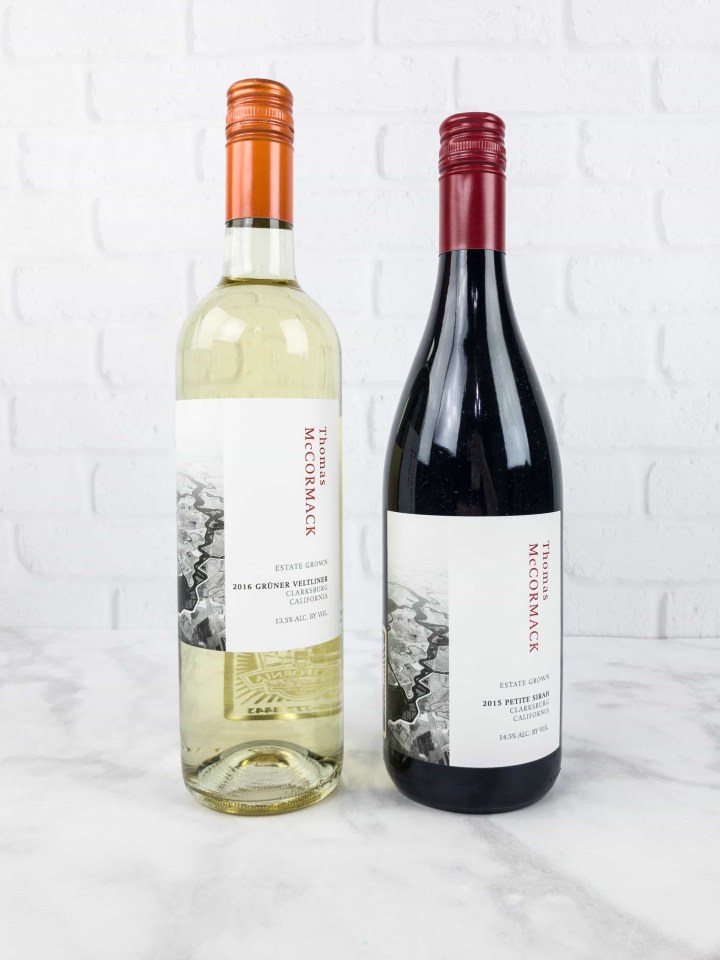 The July 2017 Premier Series selections!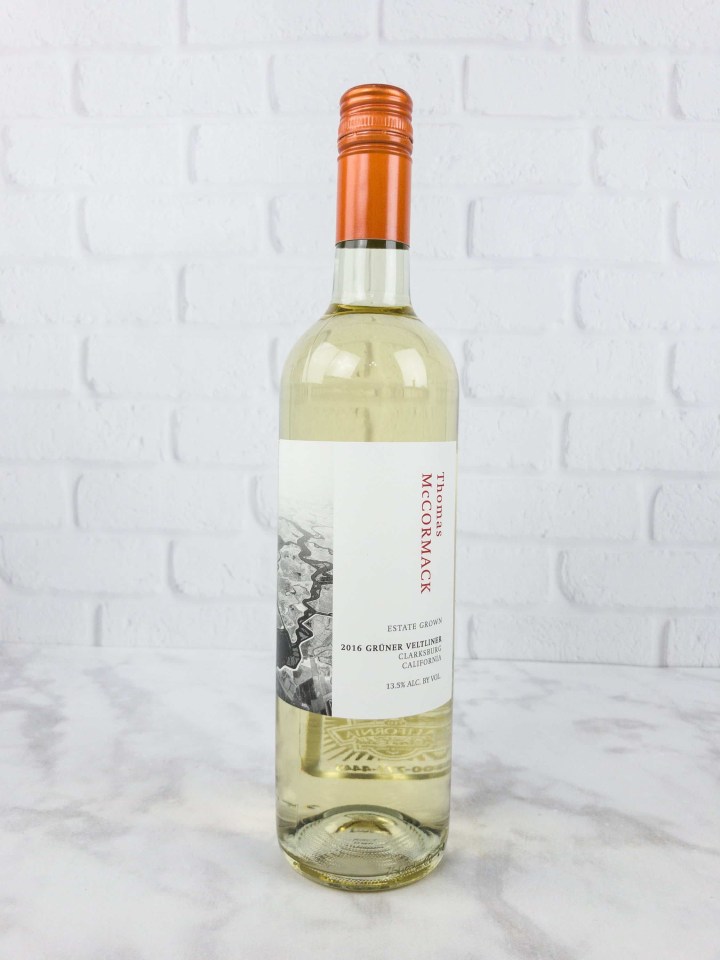 Thomas McCormack 2016 Estate Grown Clarksbrug Gruner Veltliner ($11.99): Related to Sauvignon Blanc, this grape produces a very crisp and minerally wine. The fruit flavors are a subtle peach and citrus.
This traditionally European varietal is grown chiefly in Austria, but the Sacramento area's Clarksburg Appellation has a great climate for it as well.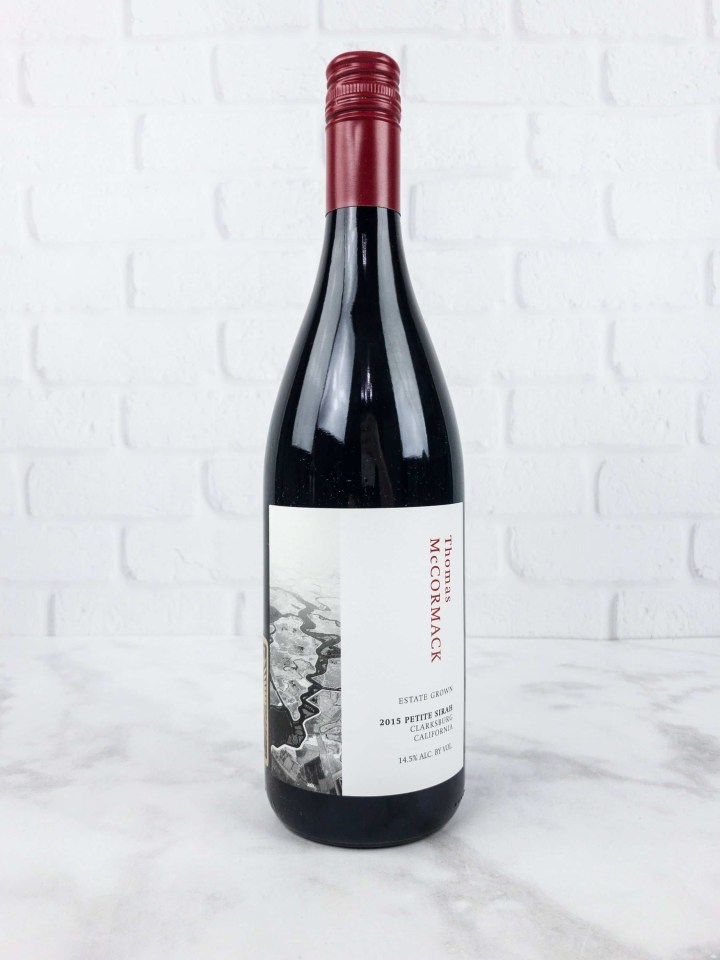 Thomas McCormack 2015 Estate Grown Clarksburg Petite Sirah ($12.99): More soft than your typical Petite Sirah, this wine offers big blackberry flavors with some smokiness.
This petit Sirah skips the heat and sharp tannins, making it a much more approachable bottle.
California Wine Club's Premier Series found a pair of nice wines for us. I love that they focus on smaller, high quality producers. The magazine is great to read, too – the info on the selections is what you would expect to find, though it offers a few technical stats that are likely only appreciated by sommeliers. I like the consolidated format, because you get to see what wines are shipping in the other series from CWC. Maybe my favorite piece of info is the reorder price – some wines are offered to club members at half of retail price!