Every month, Belgibeer features a different craft brewery, sending freshly brewed beers together with glassware, beers mats, stickers, posters and anything available on site.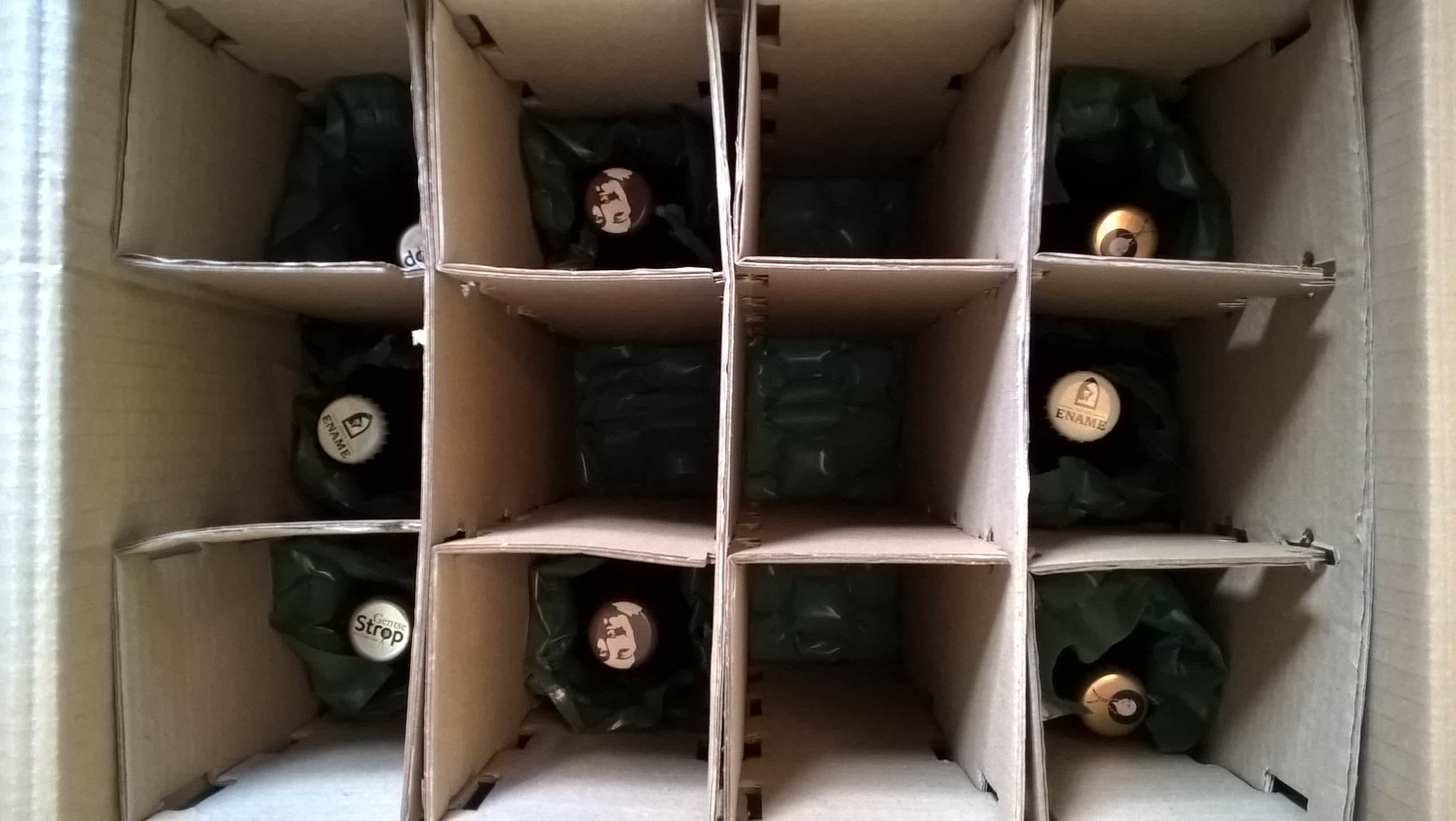 The box arrived very well packed, with each individual bottle bubble-wrapped and in cardboard sleeves to avoid breakage.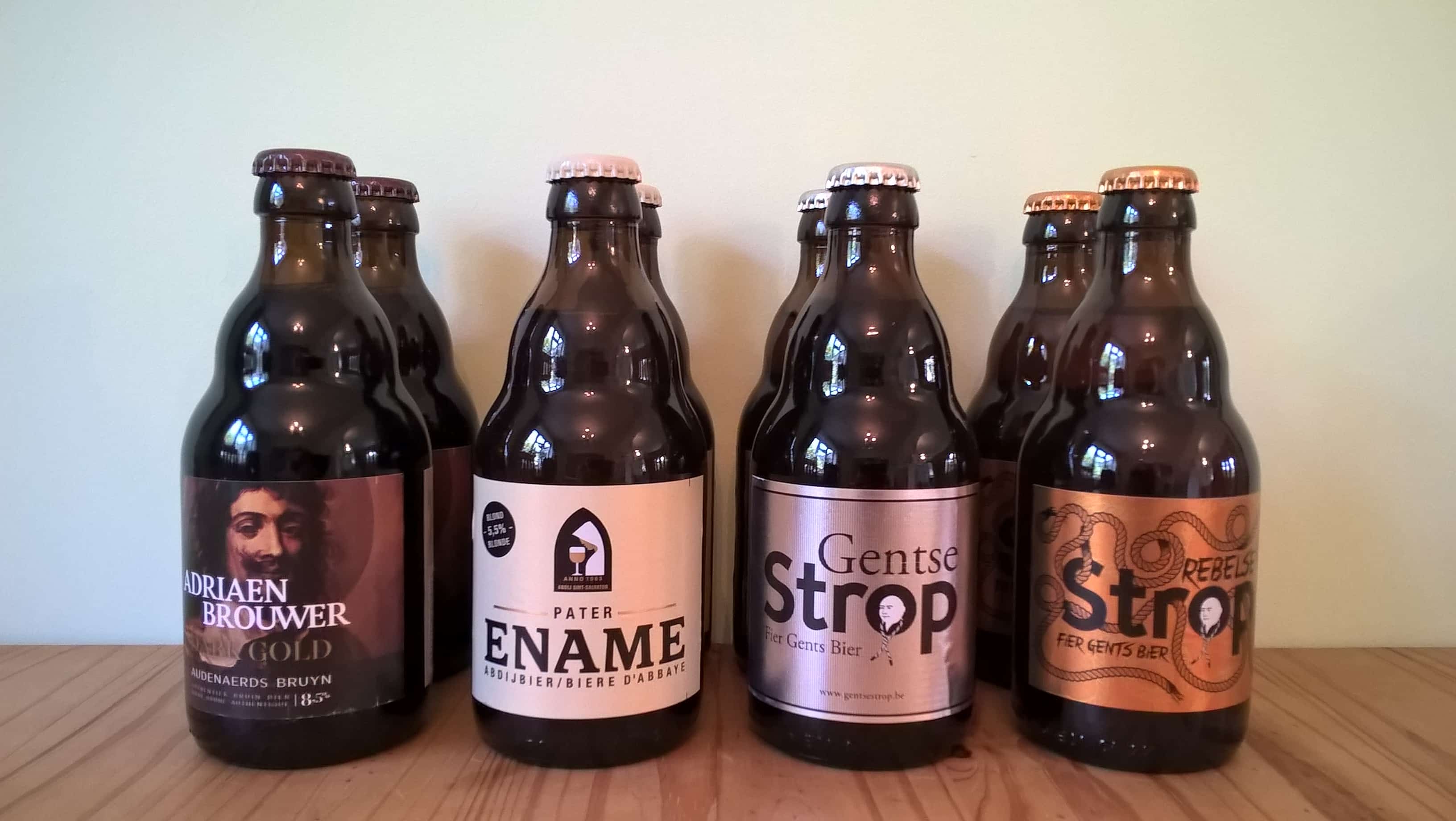 This month's box features the beers of Roman Brewery located near the town of Oudenaarde in East Flanders. It is the oldest family Brewery in Belgium, founded in 1545 by Joos Roman and run by fourteen successive generations of brewers (currently managed by the brothers Carlo and Lode Roman).  That is one impressive pedigree!  For 400 years the brewery produced only brown beers, but in the 1980s they branched out into Pils and specialty beers.  Today the brewery produces an assortment of artisanal beers including brown beers and new specialty brews, blending tradition and modernity.
TIP: This box ships to Europe. If you're looking for a US beer club, try checking out all the beer subscriptions!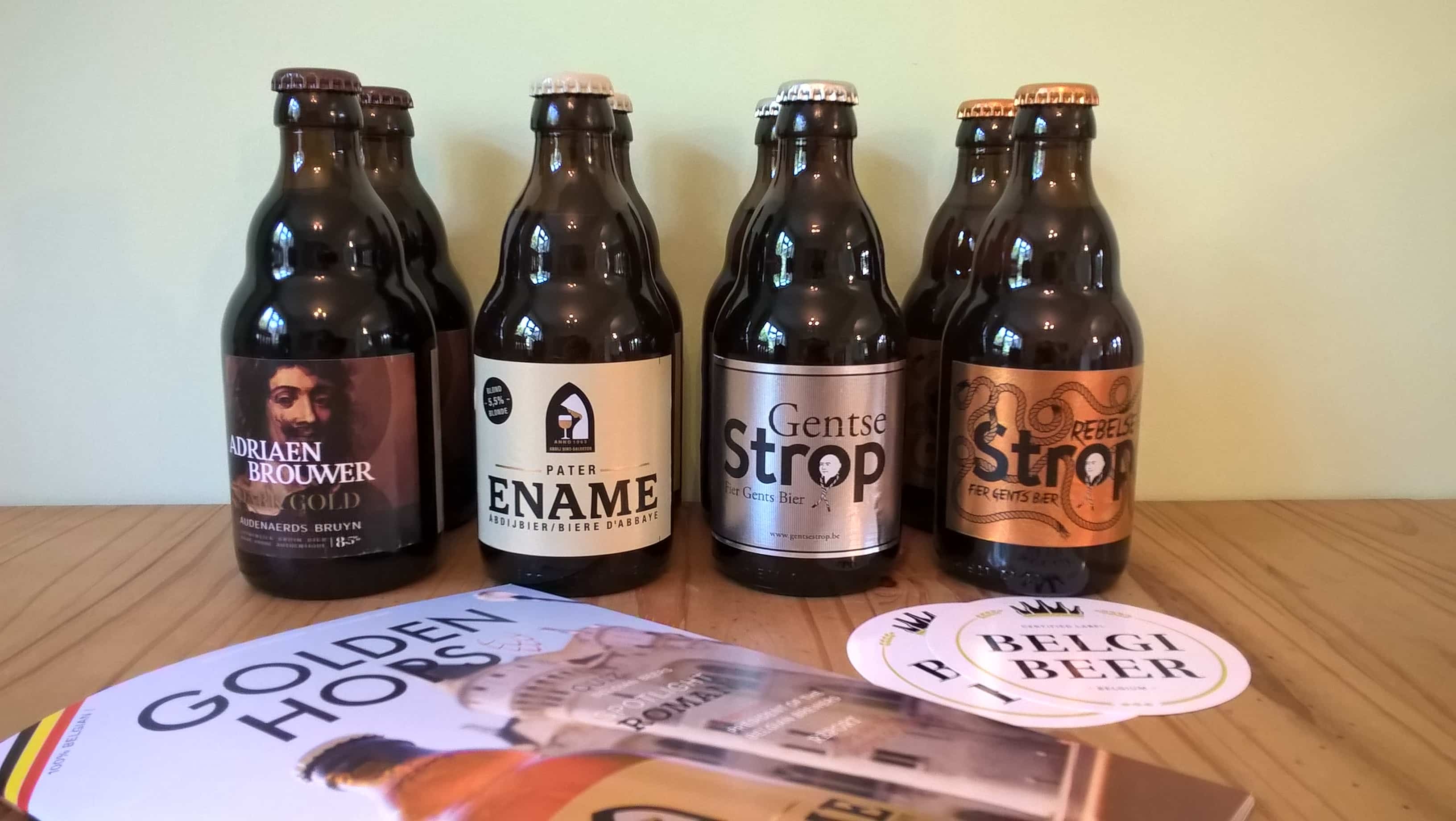 Here is everything in this month's box: 2 bottles each of Adriaen Brouwer Dark Gold, Ename Pater, Gentse Strop and Rebelse Strop, as well as 2 Belgibeer stickers and a copy of the Beligibeer magazine Golden Hops.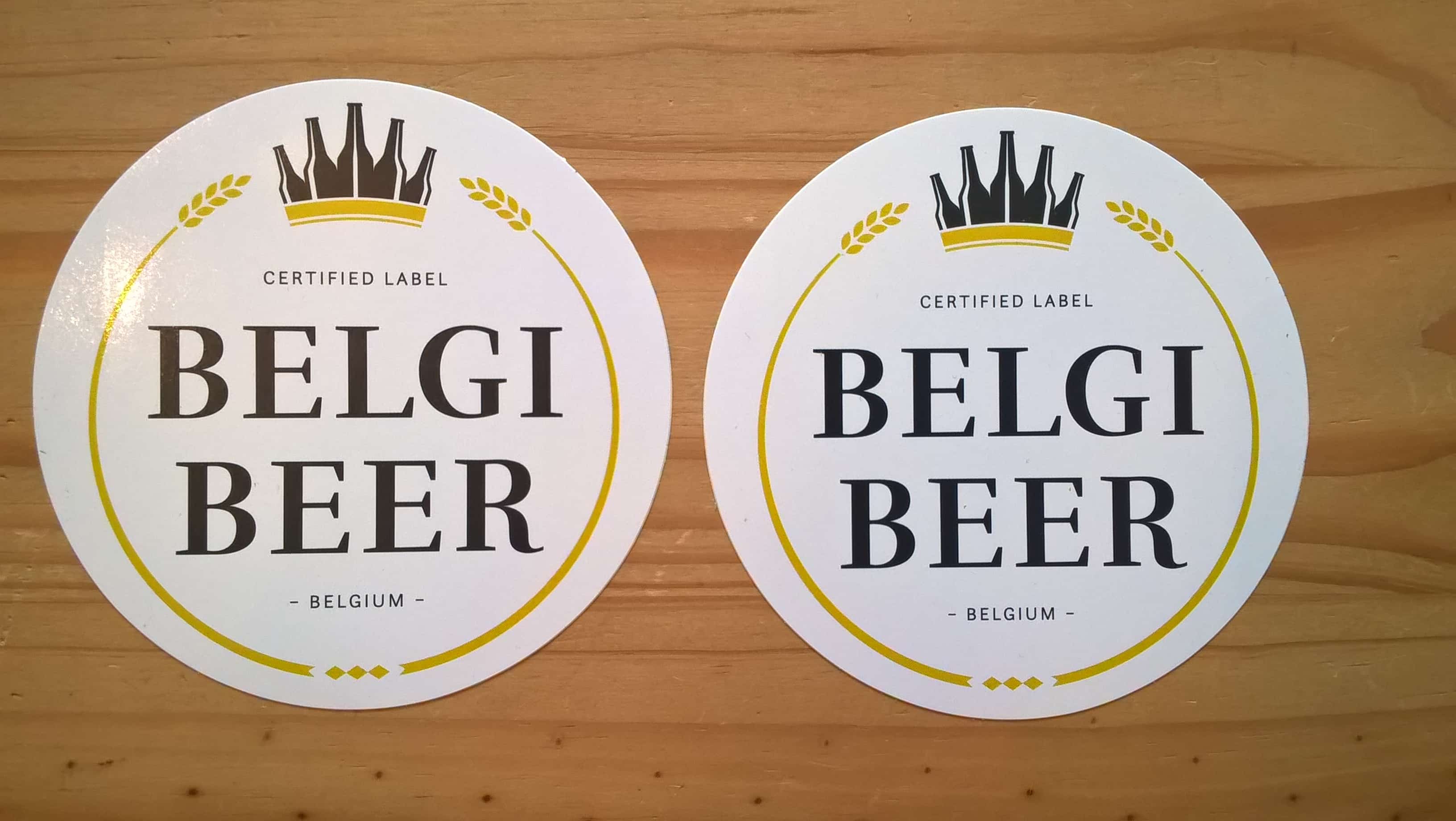 A close-up of the stickers.
This month's edition of Golden Hops, a magazine produced by the Belgibeer team, contains information on Roman Brewery with tasting notes for the four beers, as well as an article on hops growing in France, an interview with Jean-Louis Van de Perre, President of the Belgian Brewers, and a quiz to test your Belgian beer knowledge.
Each month, Golden Hops also includes a featured food pairing with accompanying beautiful photo.  The full recipe can be found on the Belgibeer blog.
Onto the beer!

Adriaen Brouwer Dark Gold (8.5% abv) is the oldest beer from the brewery, named in honour of the painter born in Oudenaarde in the 17th century. This brown beer has a creamy head with aromas of malt, caramel and fruit. The mouthfeel is incredibly smooth and the taste is surprisingly gentle: hints of fruit, caramel and coffee all balanced with a slight, satisfying bitter finish. No wonder this beer has stuck around – it is dark yet refreshing with subtle layers of flavour.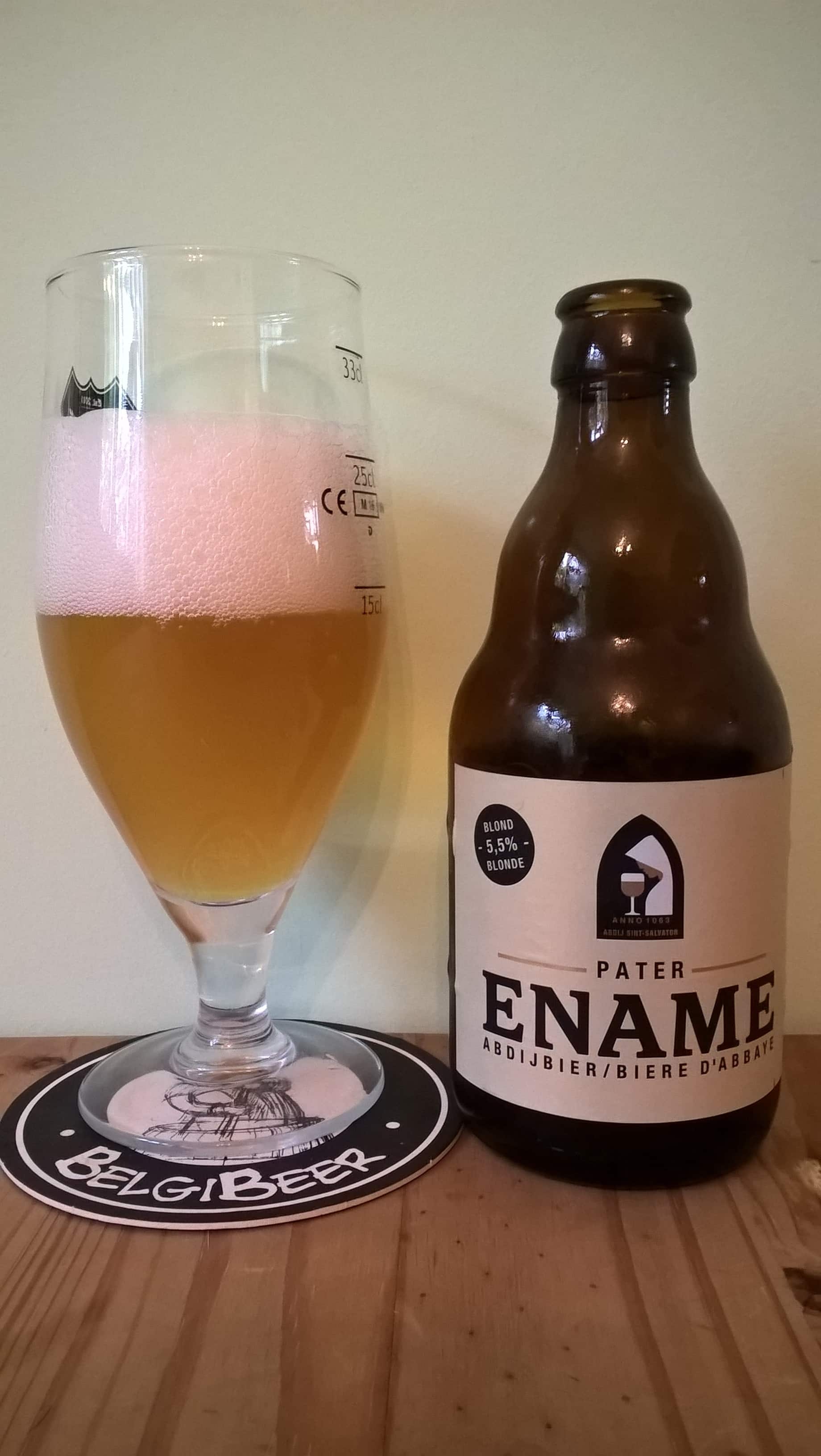 Ename Pater (5.5% abv) is an unfiltered, bottle-fermented Abbey beer. It follows in the tradition of beers brewed by monks for their own consumption, with a low alcohol content and powerful taste. This beer is a cloudy golden blond colour with a thick foam. The aroma is hoppy, citrusy and herbaceous. Although this is a light bodied and refreshing beer, it really packs an unexpectedly pungent hit of flavourful herbs with slight spiciness and a pronounced bitterness. I liked this beer, and I was surprised by how flavourful it is.
Gentse Strop (6.9% abv) is a blonde ale refermented in the bottle. The name and logo are a reference to the 'Stroppendragers', the inhabitants of Ghent who, in 1540, refused to pay the surplus of taxes imposed by Charles Quint to finance wars and were consequently forced to walk with a rope around their necks to symbolise their probable hanging if unwilling to comply with the tax. Today in Ghent, the rope is a symbol of proud resistance against any form of abusive authority.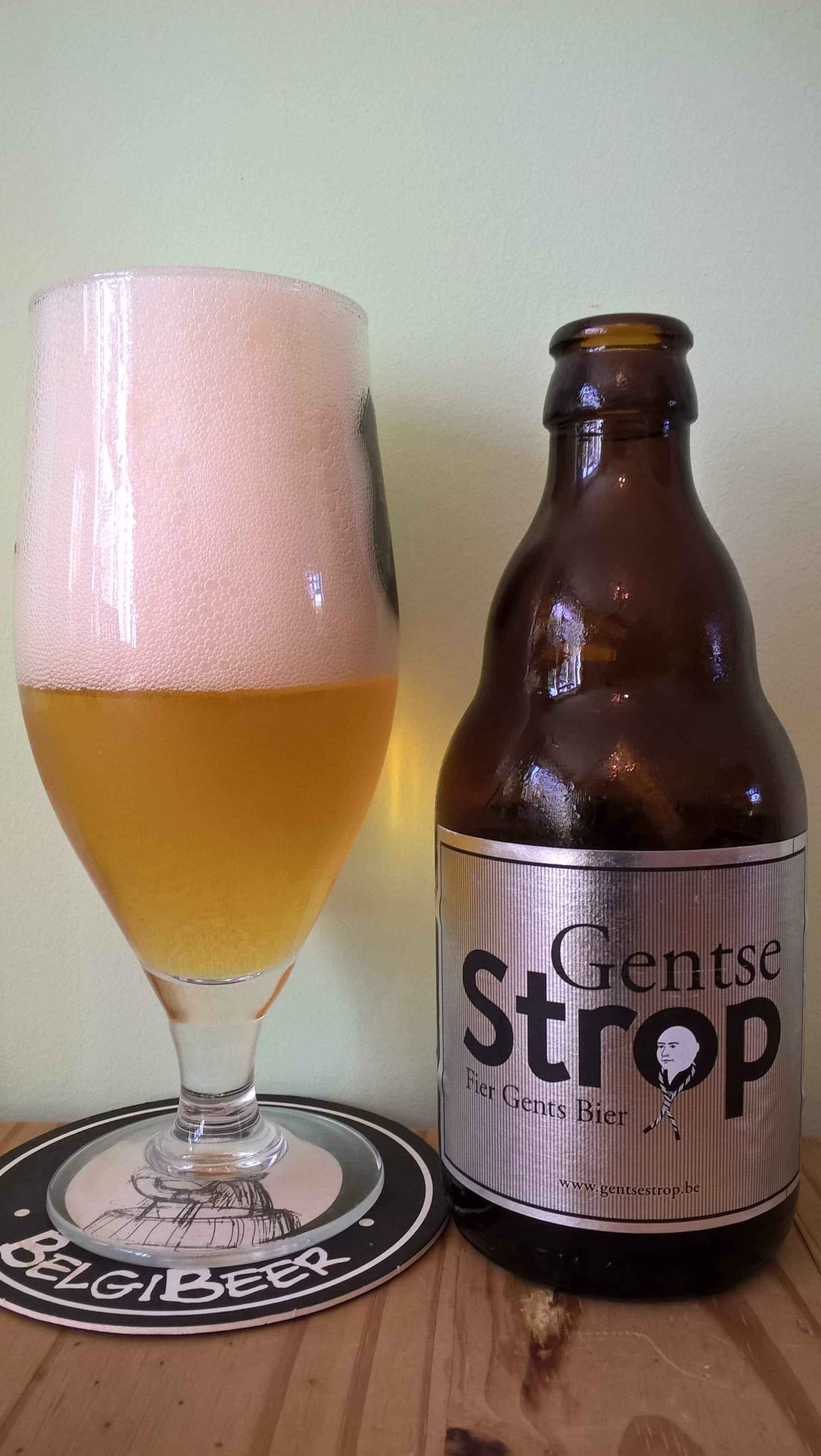 Gents Strop is a clear golden colour with a foamy white head. The aroma is bright and sweet, of yeast, fruits and honey. This refreshing blond tastes a bit hoppy, with sweet malts and a slight bitter finish.
Rebelse Strop (6.9% abv) is the little sister to the Gentse Strop. It uses raw hopping, in which hops are added only during fermentation, and is fermented by a particular wild yeast called Brettanomyces which allows the beer to continue its development in the bottle. This means that the young beer has a light bitterness and acidity which mellows to a rounder and softer taste when matured for several months.
The beer is a light copper colour with a foamy white head and a wonderfully inviting aroma of malted fruits. The taste of the young beer is a bit fruity and lightly acidic, with a bitter finish. This is a very drinkable beer. I've stored my second bottle away and look forward to seeing what it tastes like next year!
I was psyched to learn that July's Belgibeer box features beers from the oldest family brewery in Belgium.  Each of the four beers from Roman Brewery are top quality. I enjoyed each of them but I have to say that the traditional brown beer, with its smooth and subtle flavours, was my favourite.
Visit BelgiBeer to subscribe or find out more!