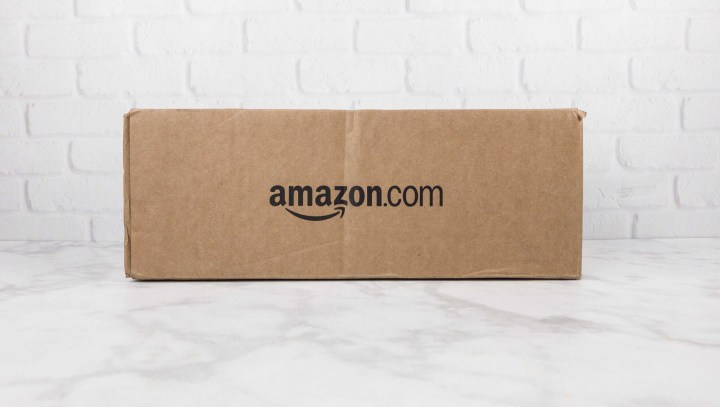 Amazon Household Essentials Sample Box is  is one of the sample boxes periodically available for Amazon Prime Members and is packed with household essentials. Simply purchase the box for $14.99 and one week after shipping you will receive a $14.99 credit on your account that can be used towards the purchase of select essentials.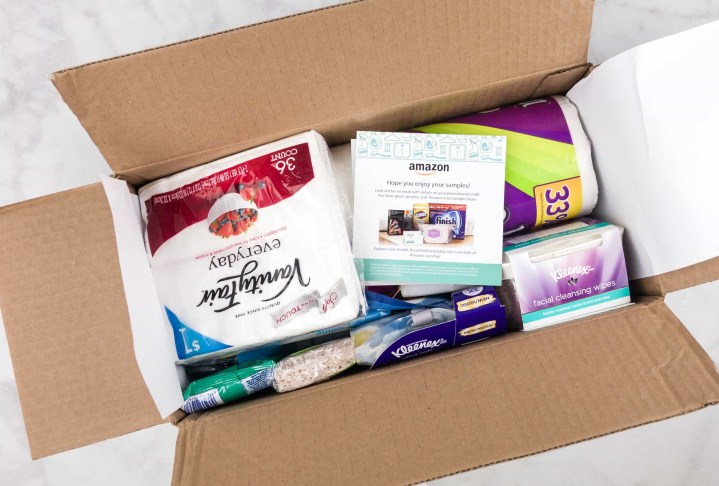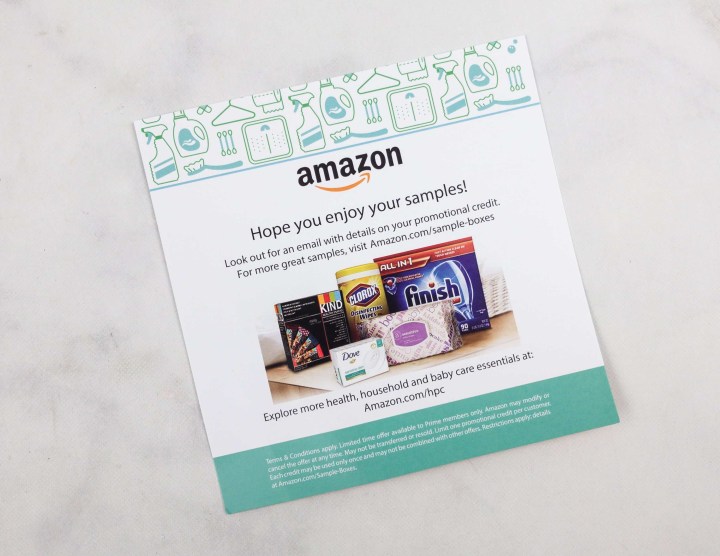 Unfortunately this box is now sold out, but you can check out all the available sample boxes here.
And if you don't already, you can try Amazon's Subscribe & Save – which I love! Easiest way in my book to get my household essentials delivered.
All the home goodies in this box!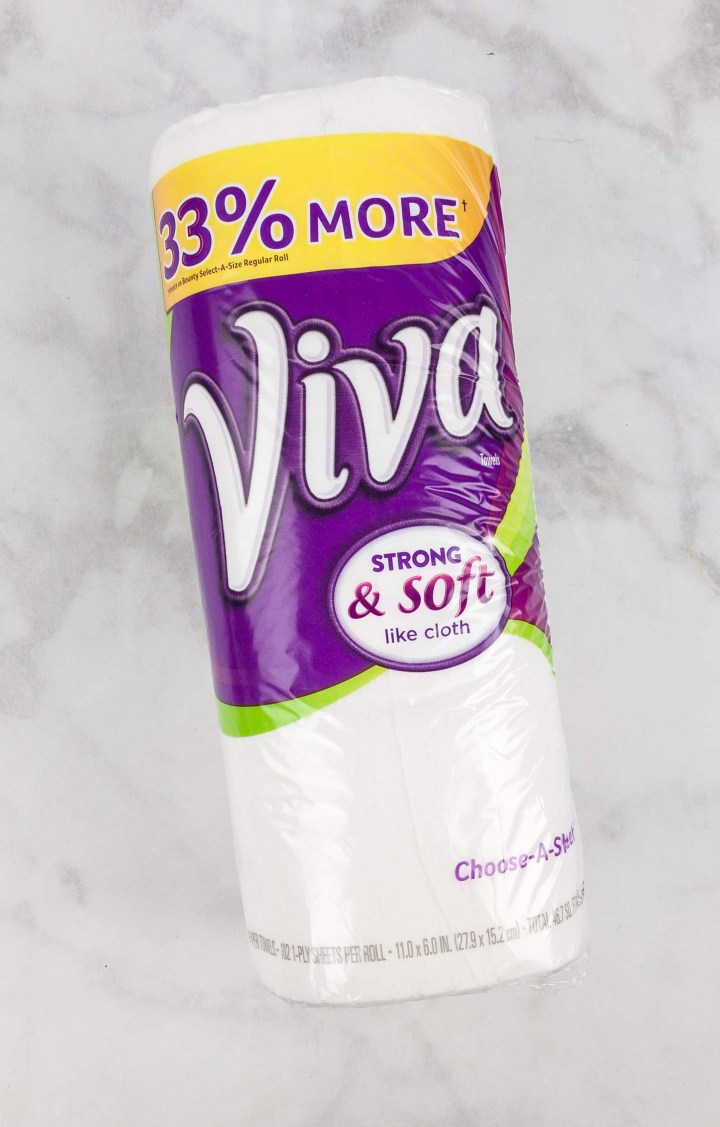 Viva Strong & Soft Paper Towels ($1.08) Viva is my go-to and you'll often find me waxing about their soft cloth-like goodness.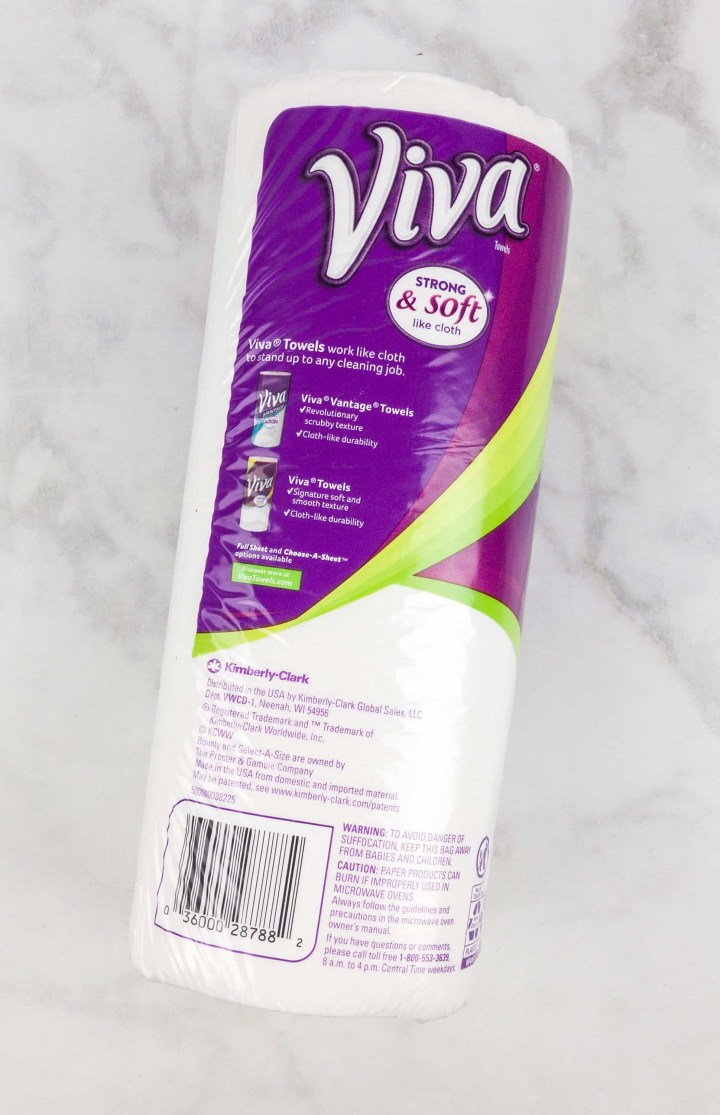 I don't buy napkins because Viva takes care of all of those needs (plus the select a size means I can use a small rectangle instead of a large square). I'm already sold – also I'm hoping my credit gets deducted from my next Subscribe & Save purchase of Viva!
And OMG, I didn't say it, but it's an entire roll!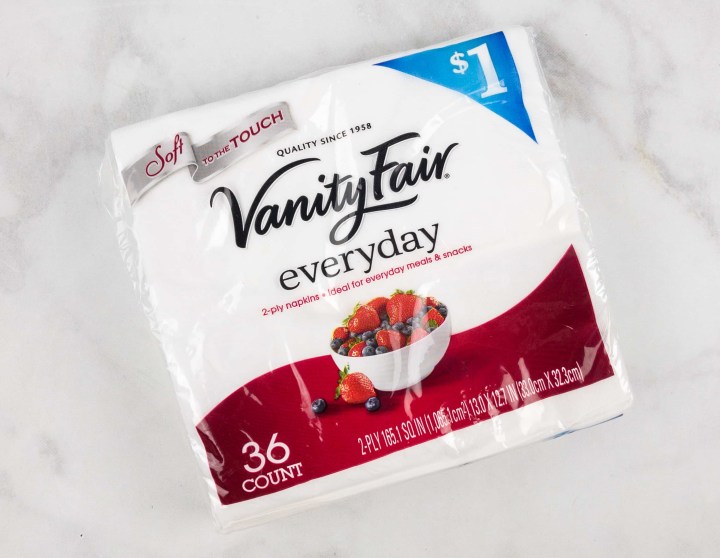 Vanity Fair Everyday Napkins ($1) Ok, so I don't buy napkins, but I do actually buy this brand when I need something fancy.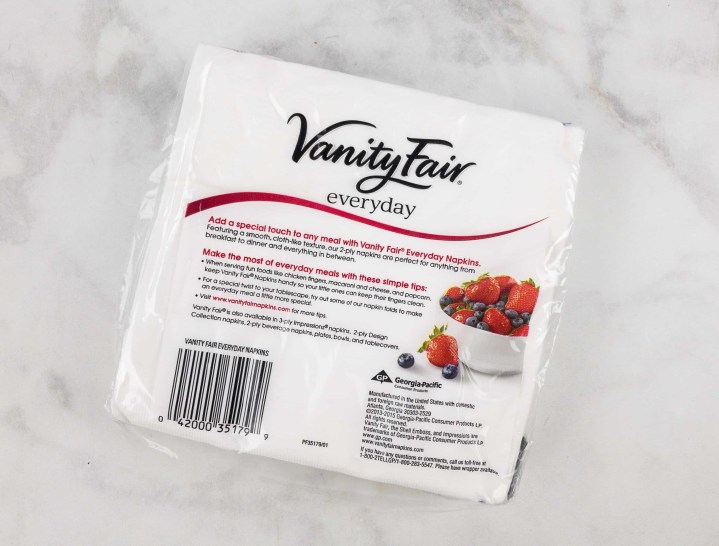 They really are the nicest napkins – my grandmother always bought them and they are just nice and crisp.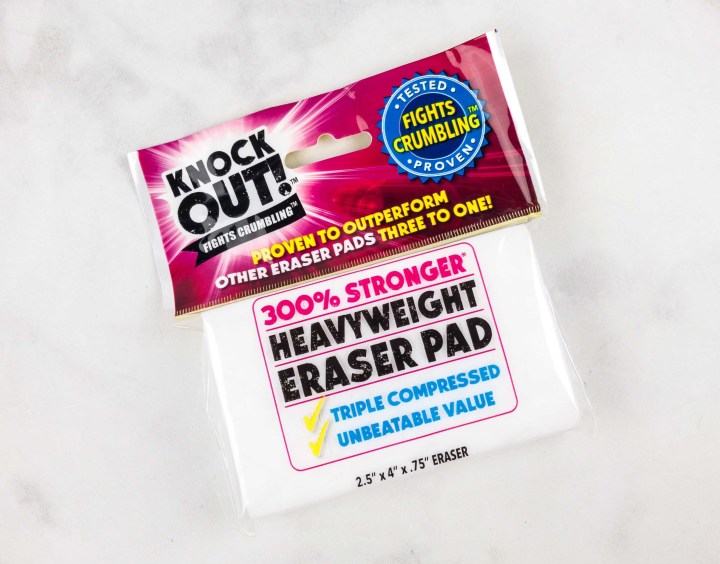 Knock Out! Heavy Weight Eraser Pad ($1) This is like a Magic Eraser, just a different brand.
I definitely need to try using it for more than just scuffs and marks (although it works wonders on removing grubby stains from light switches). My bathrooms need the most help, and that's where I'm trying this next.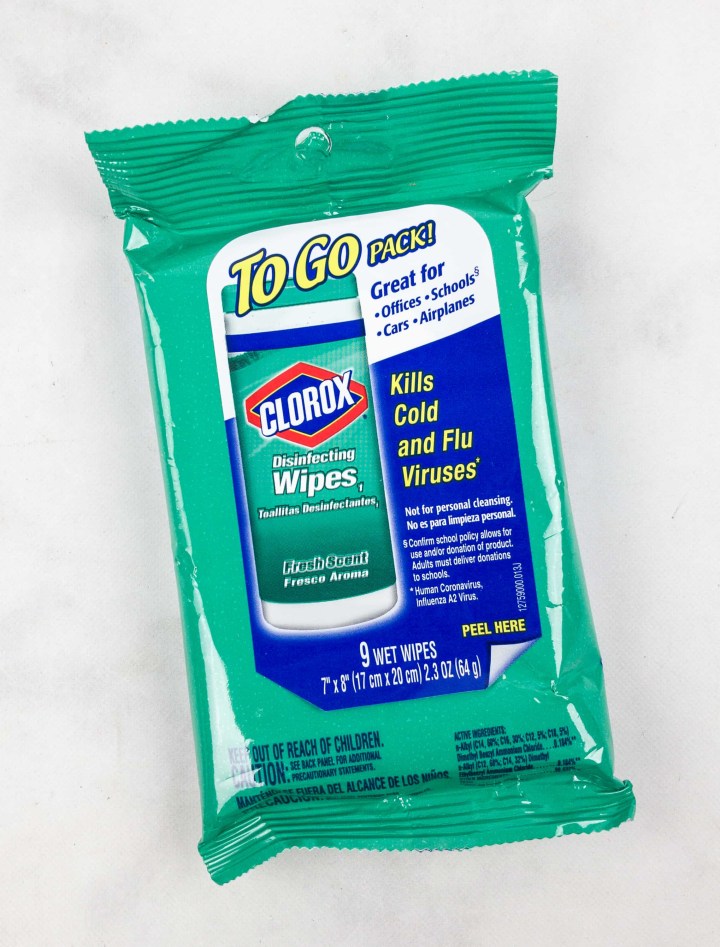 Clorox To-Go Disinfecting Wipes ($0.87) I'm big on sanitizing and this travel size is perfect for vacation or road travel when you just need to kill some germs beforehand – like restaurants, bathrooms, and public transit! I don't use these to clean up an actual mess – I use a regular wipe for messes and then a disinfecting wipe (which are more expensive) to get the final invisible work done.
Germ-X Moisturizing Hand Sanitizer ($0.75) Can't beat this classic!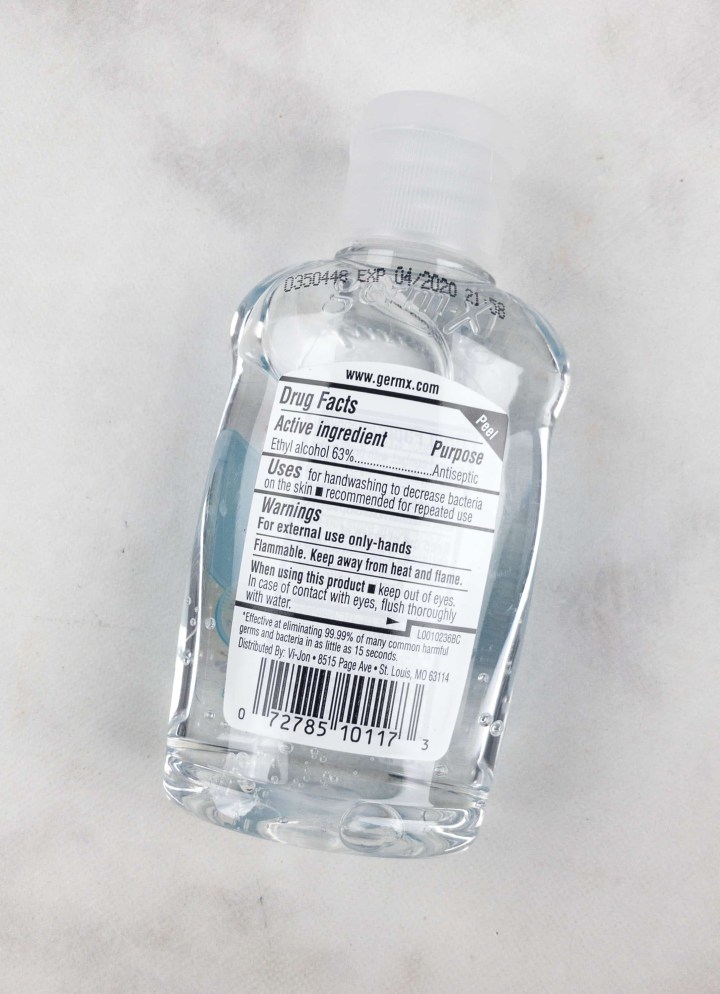 Even if you normally buy one of these items full size, all the sample sizes you get in the Prime Sample Boxes are perfect to try out or have on hand, and you'll get the credit towards buying something you probably already use.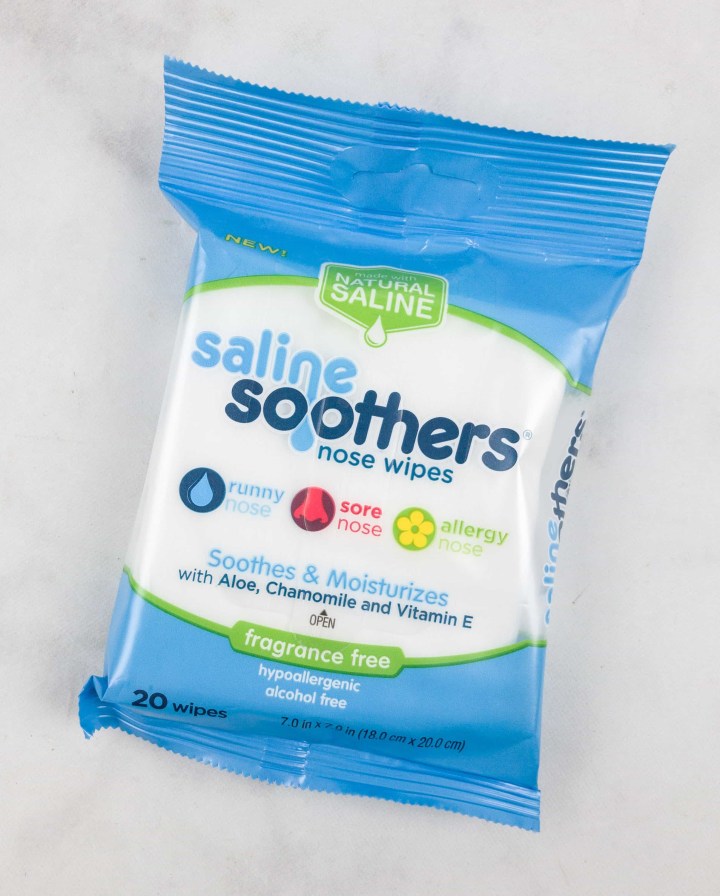 Saline Soothers Nose Wipes ($2.99) So maybe this isn't your everyday go-to item but it's great for cleaning up when even lotion-infused tissues are too much for a sensitive nose!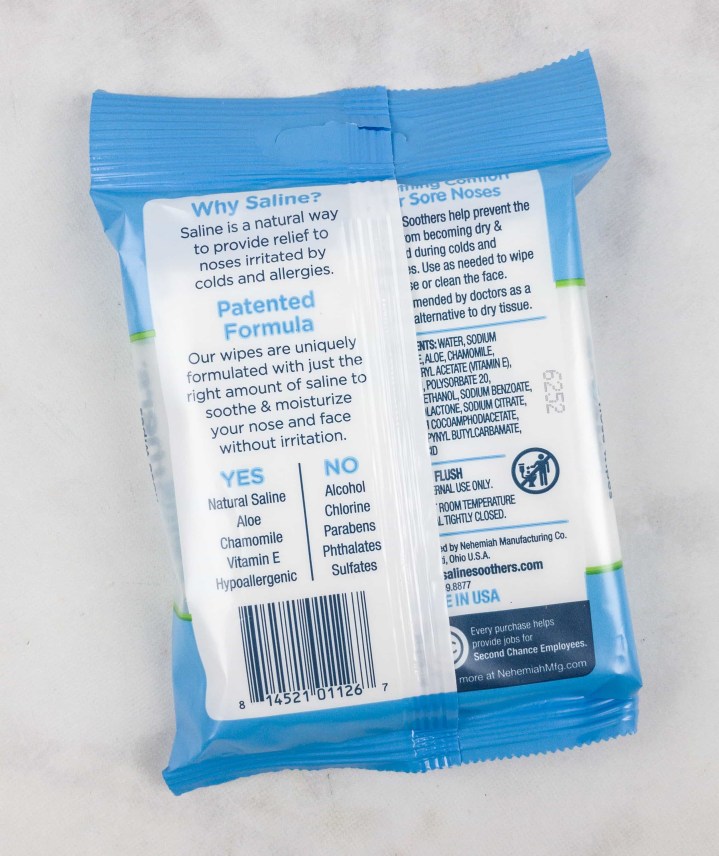 These use natural saline, aloe, chamomile, and vitamin E.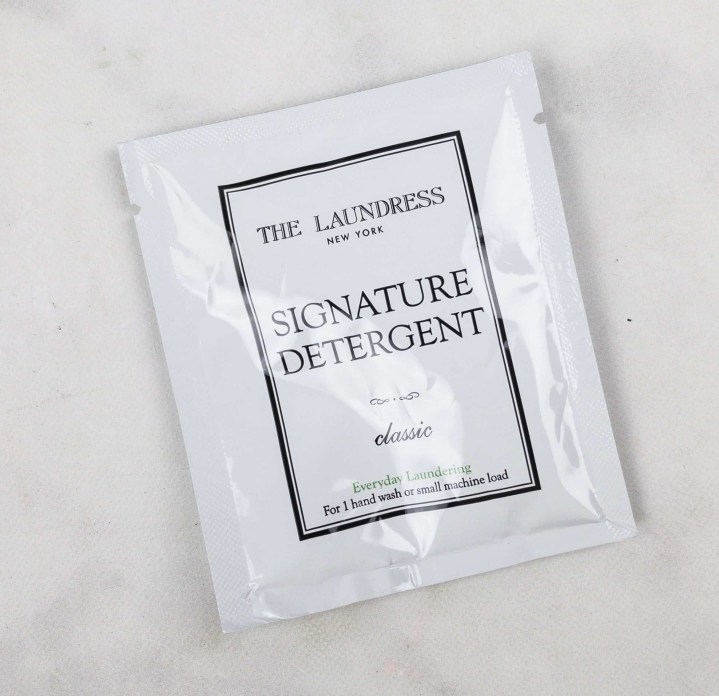 The Laundress New York Signature Detergent in Classic ($0.30)
This is made with nontoxic, biodegradeable, and allergen-free materials. I love The Laundress and I will definitely use this packette on my next vacation!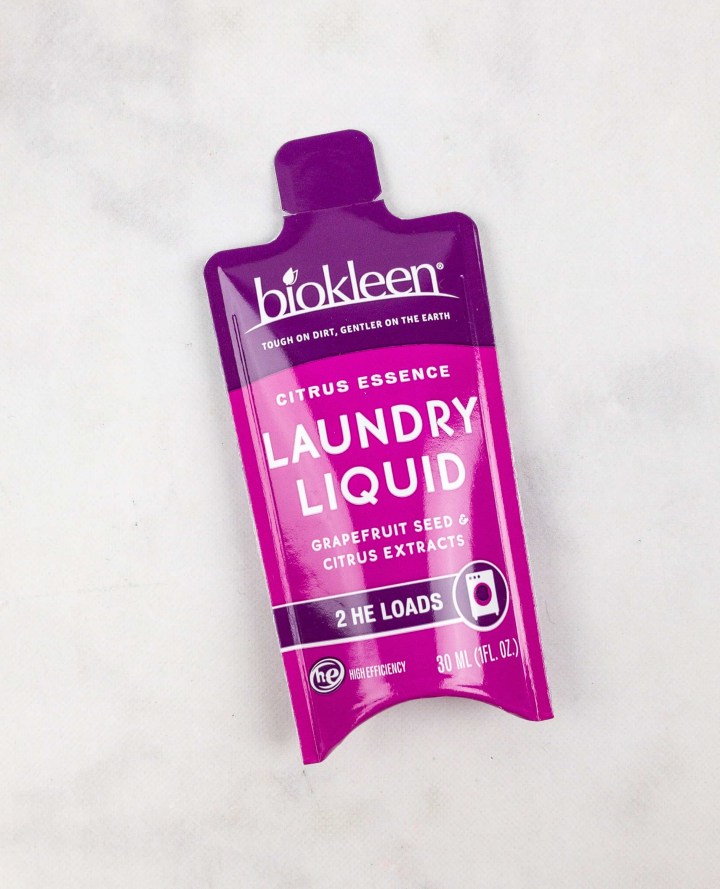 Biokleen Citrus Essence Laundry Liquid ($0.18) This on the other hand is 2 HE loads, or 1 full pack for standard washers! Super thoughtful for standard load users, a little unwieldy if you have an HE.
A light citrusy fragrance, this super concentrated wash gets the job done! This detergent works amazing on stains – a keeper!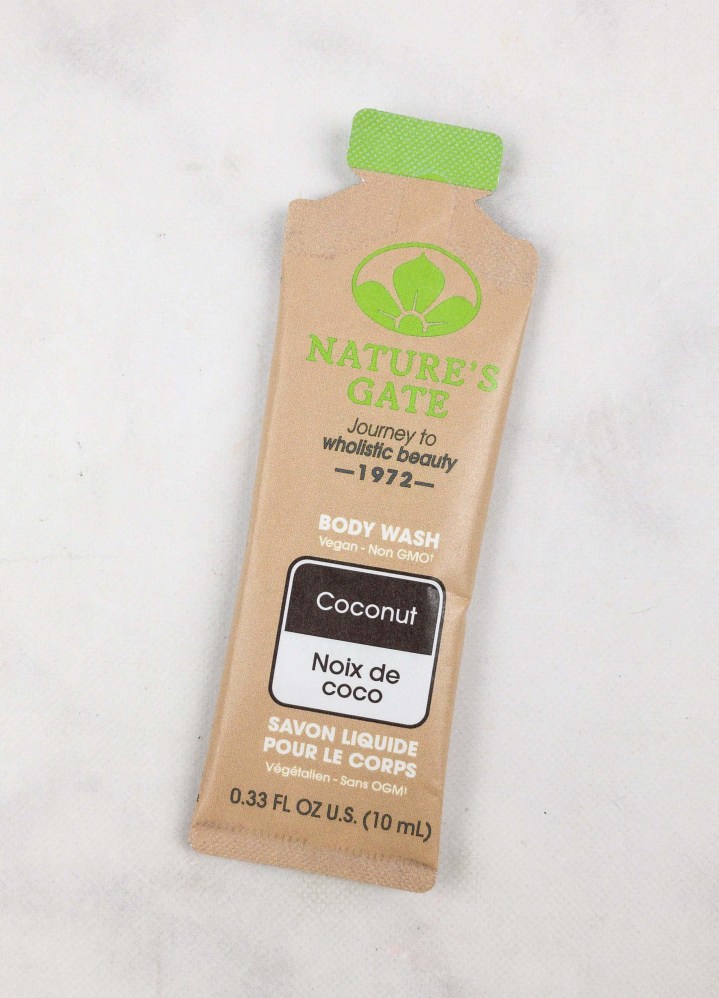 Nature's Gate Coconut Body Wash ($0.33) Vegan, paraben-free, gluten-free, non-GMO, with no sulfates or phthalates! It's made with coconut water and pretty delicious with fig and lychee too.
Unfortunately right now it's only available on Amazon in a pack of 12 – way too much body wash, even for the whole family. Reviews say to beware of the pomegranate scent (and I would concur – I usually find that it smells like an old bar!).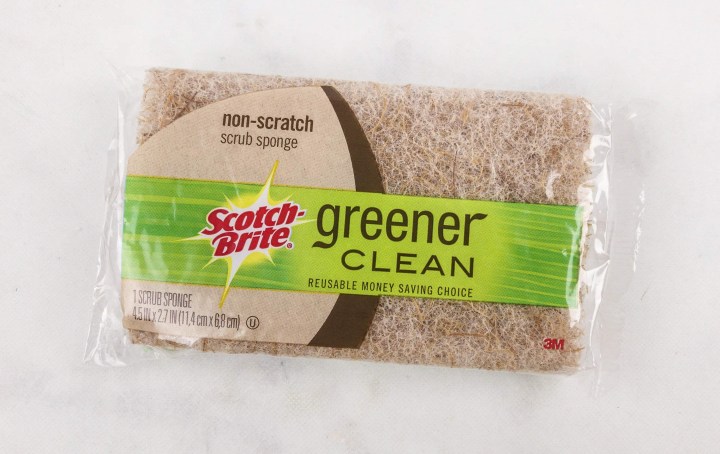 Scotch Brite Greener Clean Non-Scratch Scrub Sponge ($0.96) I'm liking the natural vibe I'm seeing in this string of items!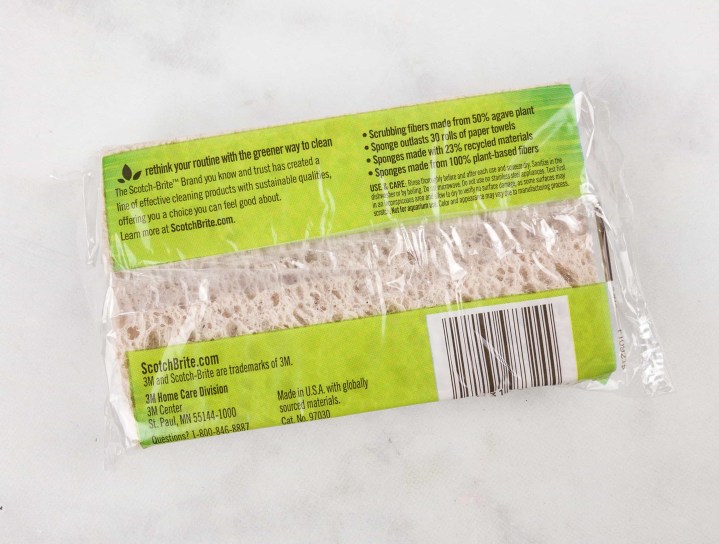 This greener clean Scotch Brite sponge has scrubbing fibers made from 50% agave!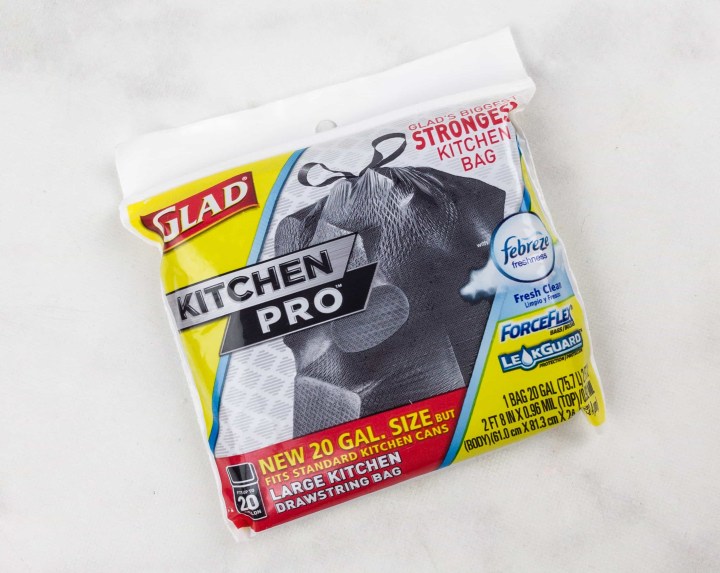 Glad Kitchen Pro Large Kitchen Drawstring Bag ($0.45) Hm, new 20 gal size but fits standard kitchen cans! Scented with Febreze and with Forceflex technology!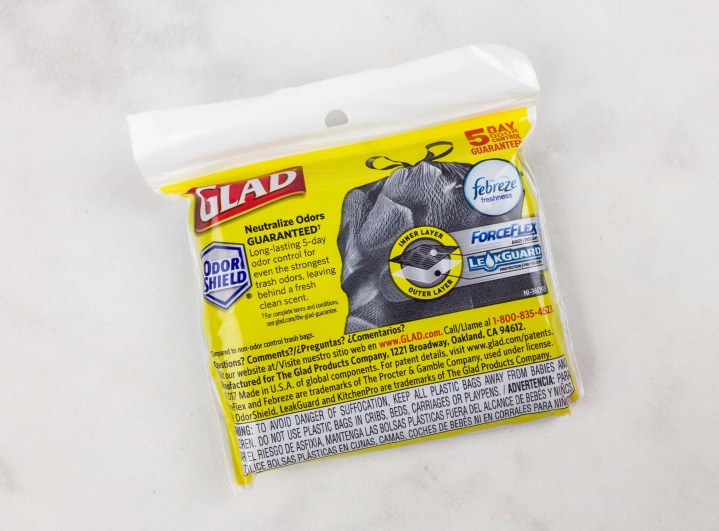 Works for me – we're always overfilling the can (and I love the odor shield).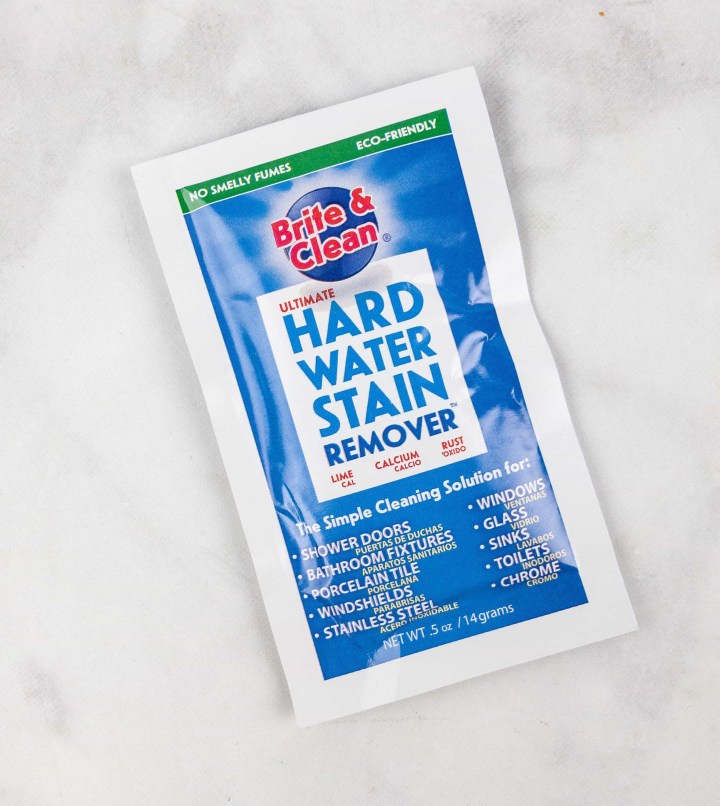 Brite & Clean Ultimate Hard Water Stain Remover ($1.49) This is basically like CLR – it removes hard water stains!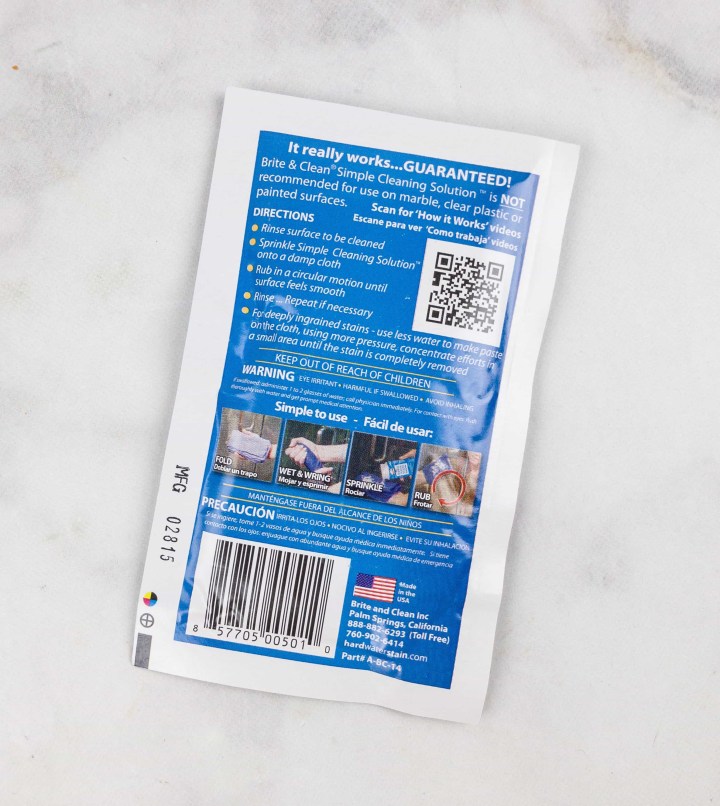 You sprinkle this on a cloth and rub it on. I think this works best for a bowl – and I'm going to use it in my toilets, which have some stains no matter how much I clean them (we have hard water)!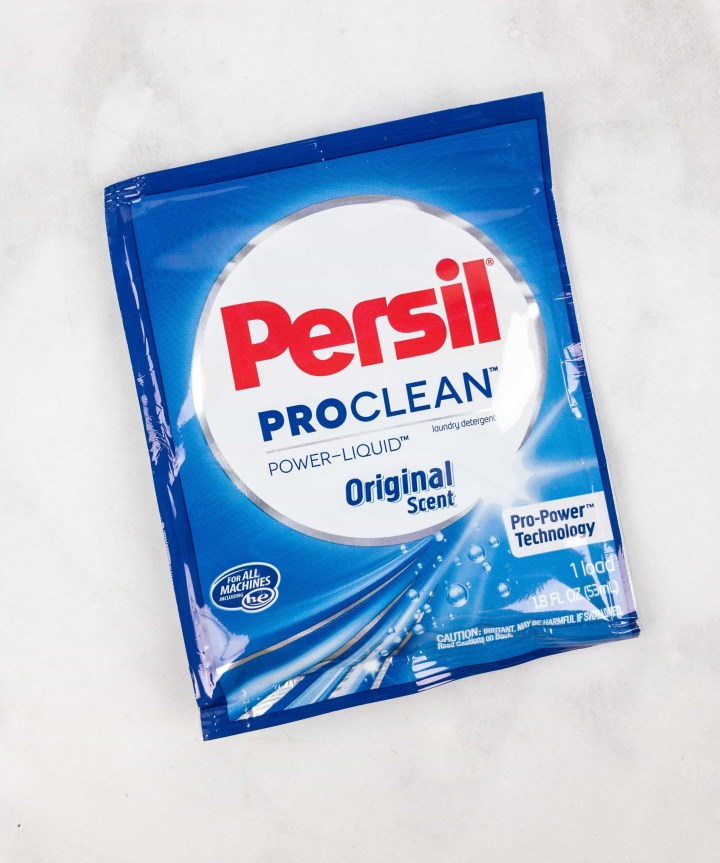 Persil ProClean Laundry Detergent ($0.65) I am still having trouble with this imported-from-Britain brand of laundry detergent – it's not so often that there's an entirely new major brand of cleaning products.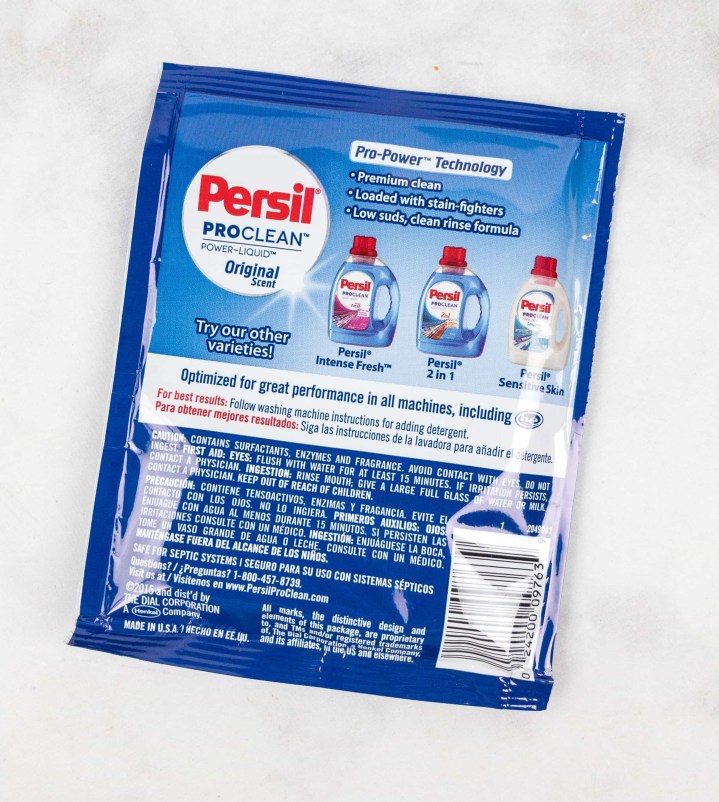 Low-suds clean rinse formula and available basically everywhere, including Walmart. I typically use more natural products but I'm going to be honest – I have a pair of hiking pants that might be destroyed from being too wet for too long, and I'm using this packet on those bad boys in hopes that the the enzymes and fragrance might save them – even if only for a few more wears.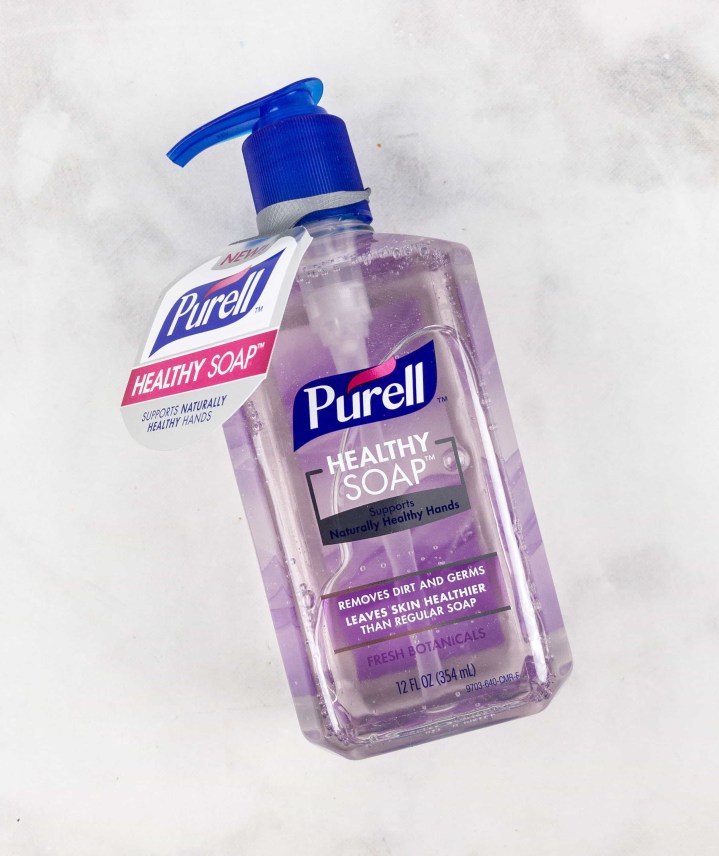 Purell Healthy Soap Hand Soap ($3) Yes this is a full size bottle of hand soap!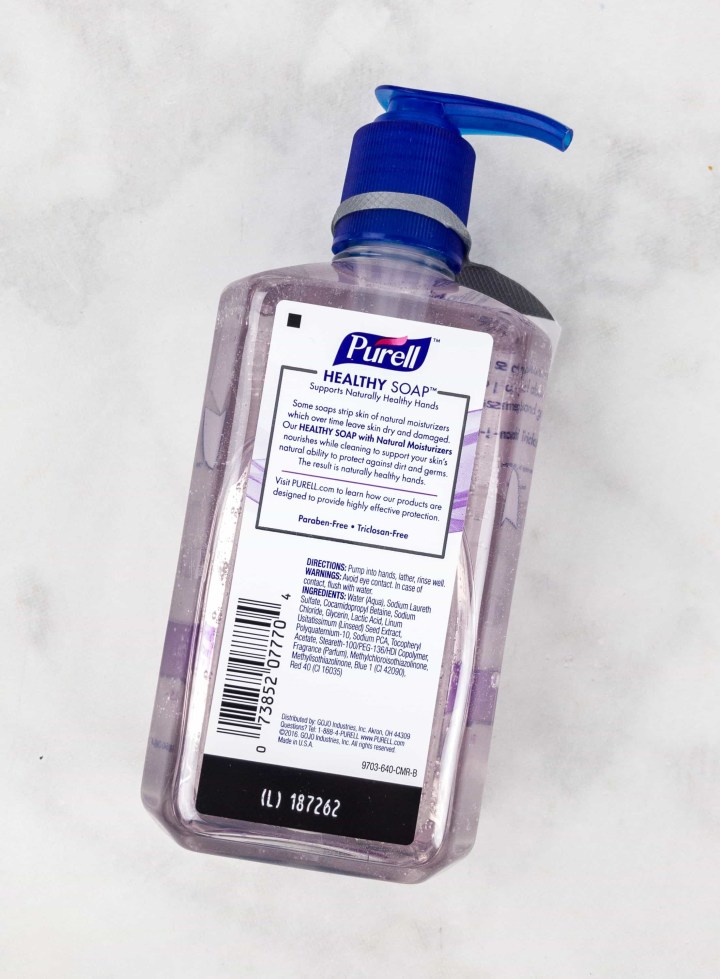 It's paraben-free and triclosan-free! If you have any soap with triclosan left in it, I suggest getting rid of it – it can aid in the creation of superbugs and it's super irritating for sensitive skin. I thought it was really thoughtful to include this triclosan-free product. Time to make the switch!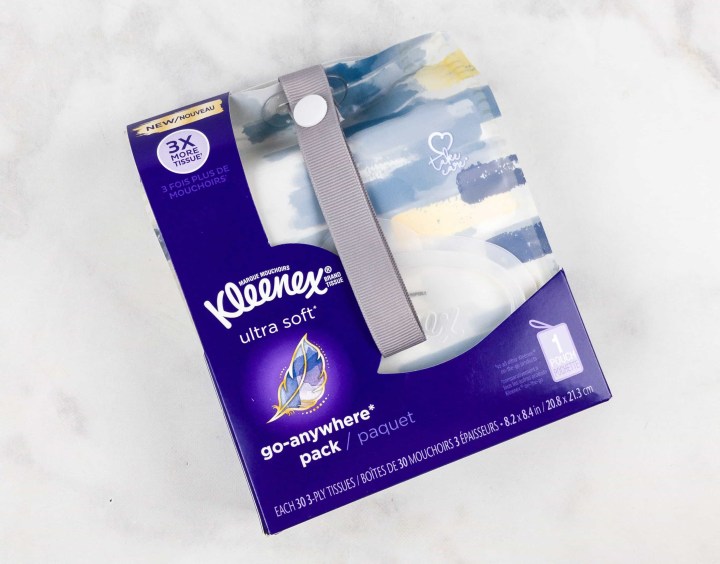 Kleenex Ultra Soft Go-Anywhere Pack Facial Tissues ($1.50)
Resealable Go Anywhere Packs have 30 disposable tissues per package.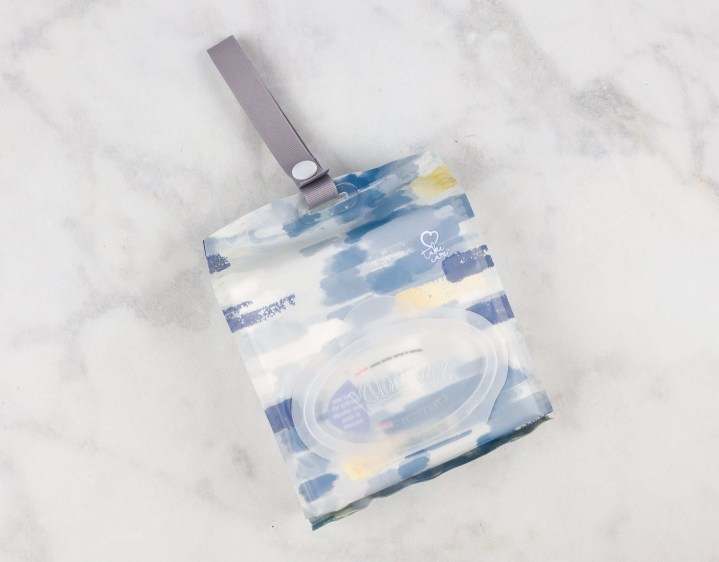 This has a little container too! It's super cute and perfect for a sniffly kid.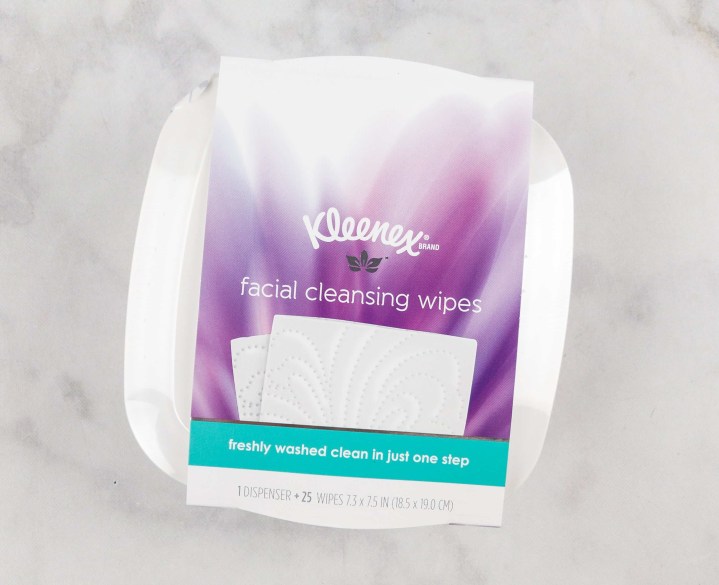 Kleenex Facial Cleansing Wipes ($7.29) We saw these in the Target Clean Care Box!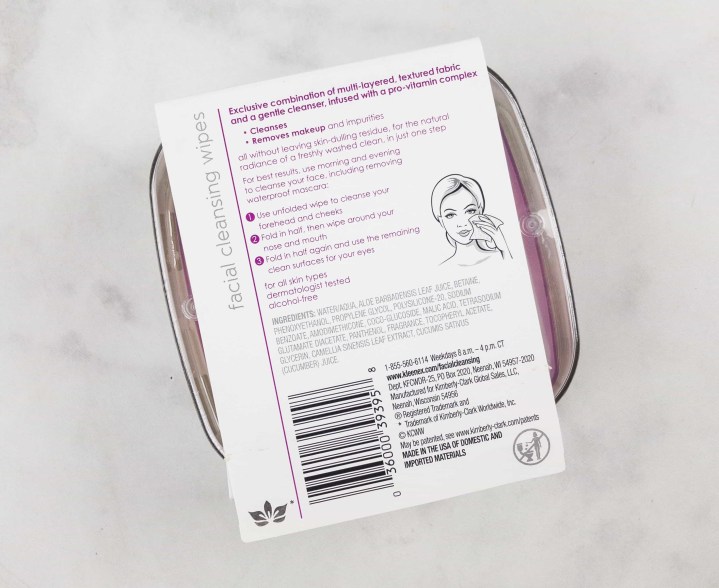 They work great (and even have tips on folding/unfolding to maximize their use so you only have to use one wipe per cleansing!).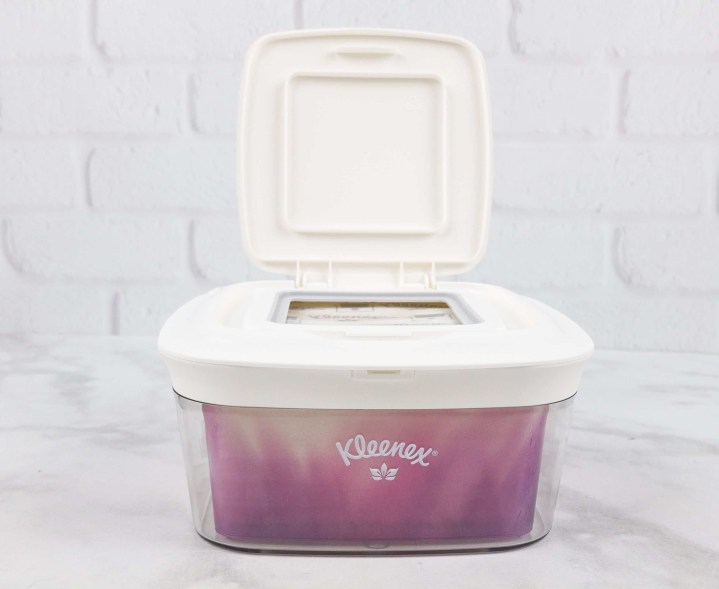 And this time we got an entire refillable box!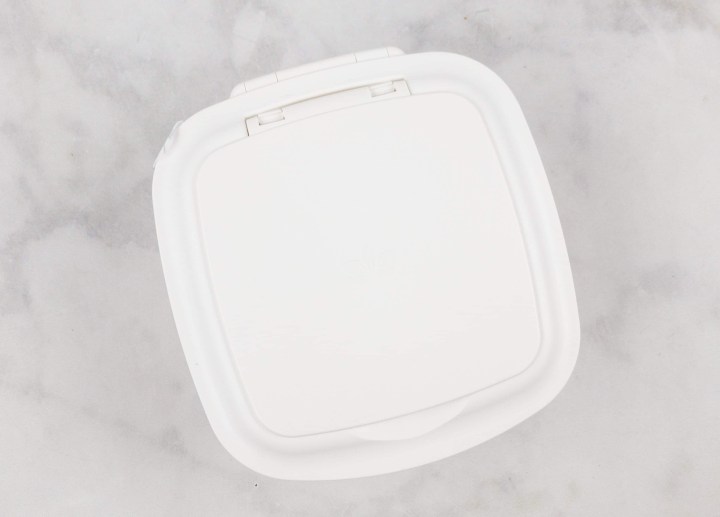 You can get refills on Amazon or at Kleenex!
I thought this was a great box and I was really happy with multiple full-size products! If you shop on Amazon for your essentials or found one thing that you'd get back your $14.99 on, everything in this box is totally free, which is fantastic. And since that describes me to a tee, I totally scored with this box, especially with back to school season bearing down on us!