Wine Awesomeness is a wine club subscription box – great wines thoughtfully curated around a fun theme. You can choose reds, whites, or mixed. You can adjust your preferences to style, frequency, and even skip a month right in your account. The 3-bottle box costs $45, and the 6 bottle box is $75.
DEAL: Get $10 off your first club 6-pack box! Use this link and coupon code YAY10to get the deal.
I go through one bottle of red and one bottle of white wine a month so the Variety Box is the best choice for me!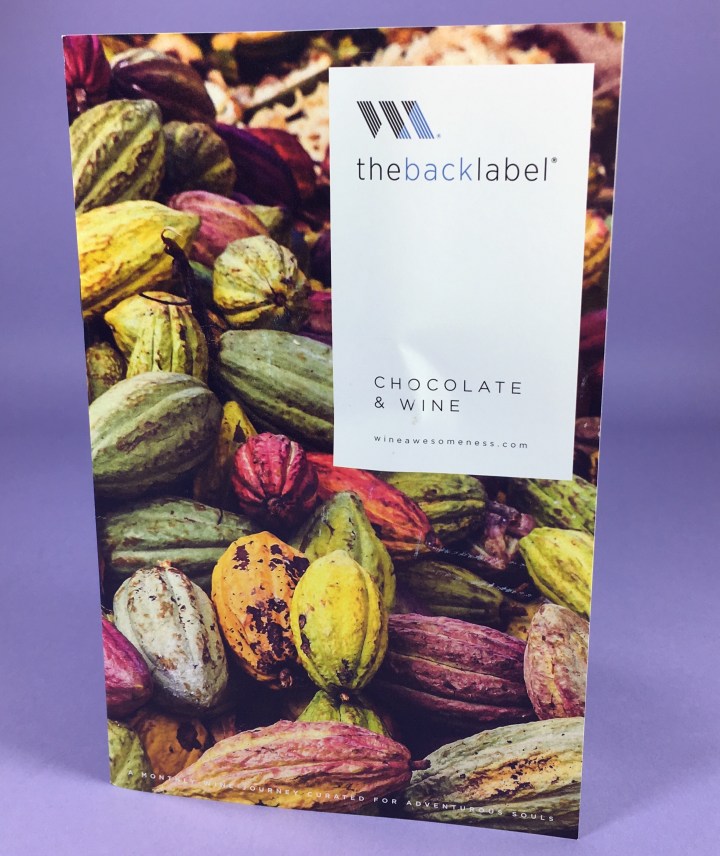 May's theme is "Chocolate & Wine" –  did they read my mind? These two items go great together!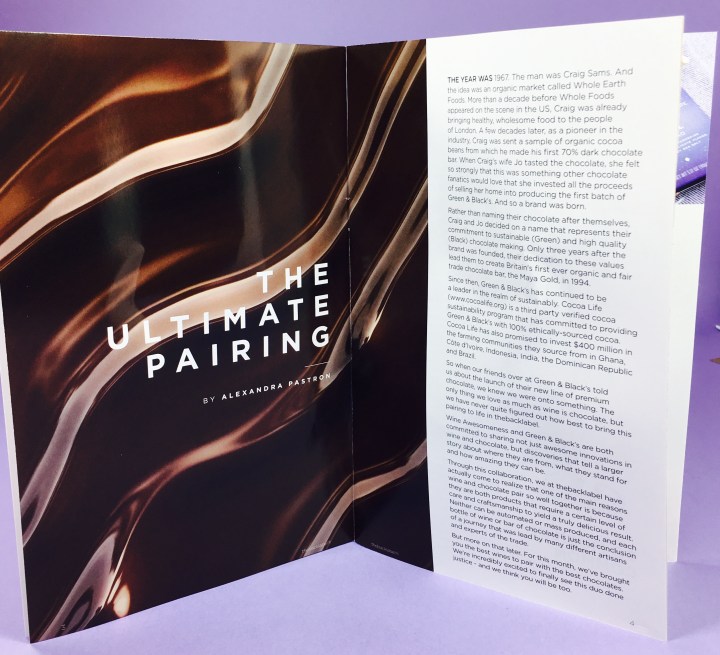 The Back Label is a mini-mag full of cool stuff – full-page intros with details on the wines, paired recipes for each, and even several articles on the theme and its relation to wine culture. I'm a newbie when it comes to wine appreciation and enjoy the insight this helpful magazine provides.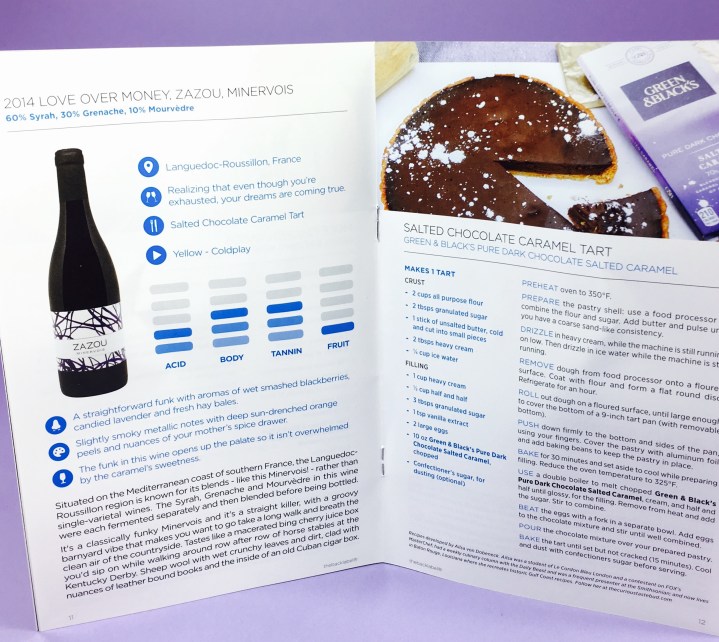 I love that there is a menu pairing and recipe included for each wine! All of the recipes this month feature Green & Black's chocolates, and a few sample sized bars were included in the box!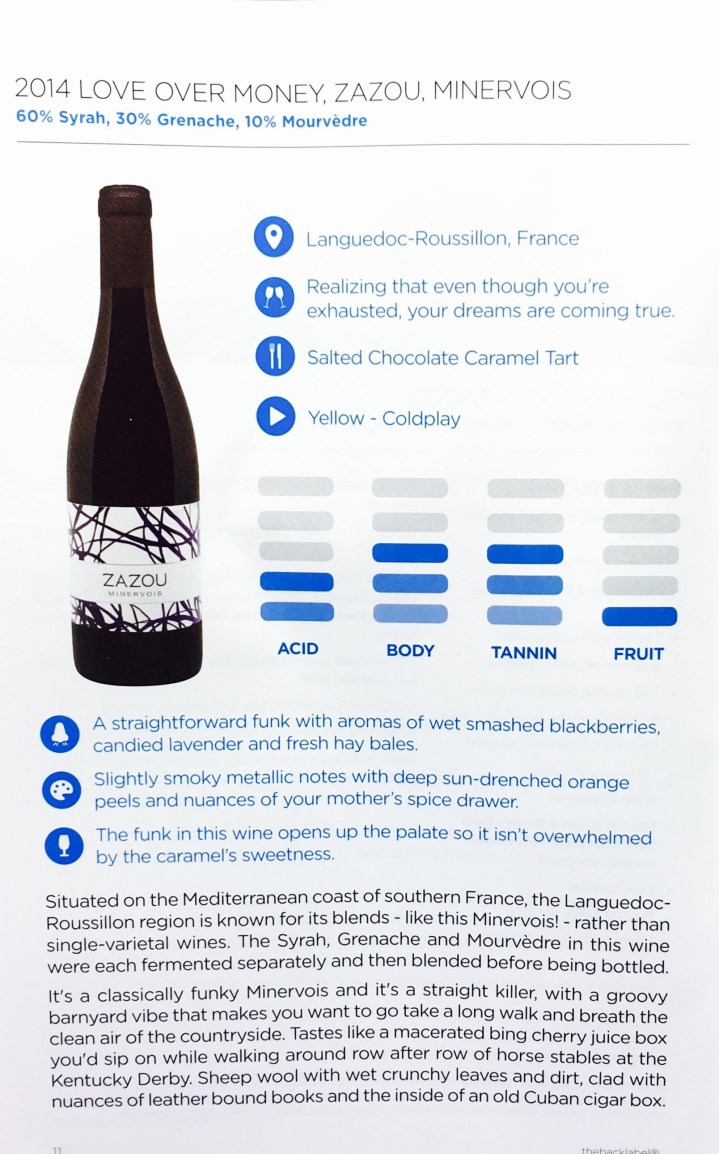 Each wine has its own information page including the following:
Wine Name
Grape
Location
What you should do while drinking this wine (many tongue-in-cheek)
What to eat with the wine
What to listen to while you drink the wine
A cool chart showing a visual on the Acid, Body, Tannin, and Fruit of the wine
Wine Bouquet
Tasting Notes
Description
Recipe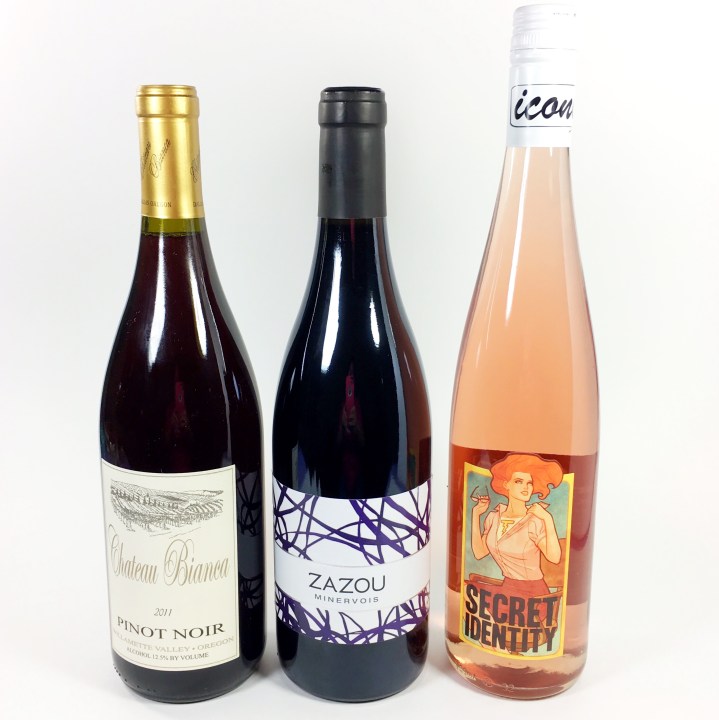 I received the following wines in my May box:
2011 Chateau Bianca, Willamette Valley, Pinot Noir ($18 plus shipping) This dry wine has notes of summer berries and would go great with chicken and pizza, or try it with burgers or the suggested recipe for Mole Chicken Tacos. The nose as described by Wine Awesomeness is something else: "Crushed sun dried tomatoes in the fresh farm air on a cool morning by the pigpen." 
2014 Love Over Money, Zazou, Minervois Syrah, Grenache, and Mourvèdre from France are the grapes featured in this red wine blend that was jammy. The tasting notes mentioned spices but I thought it had a touch of saltiness to it, which could come from the minerality of the soil in which the grapes are grown. I could also kind of feel the alcohol in my lungs, and it seemed to emanate in waves from the bottle!
2016 Iconic Secret Identity, Rosé ($17.99) A secret blend of several grapes from California goes into this easy sipper. It had a perfumey, sweet nose and smelled similar to a white wine. If they sold this as a perfume, I would buy it! It was all too drinkable and light, perfect for summer!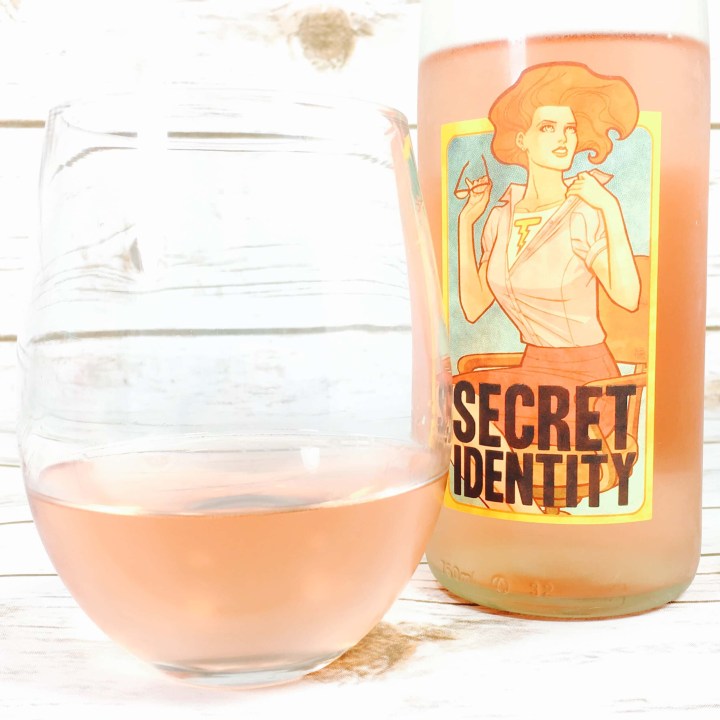 The rosé was so pretty in pink, plus it went down smoothly and had the best nose ever!
I also received an assortment of mini chocolates from Green & Black's to enjoy with my wines. It is amazing how I can drink a wine, feel like it's not my type, and then try it with some chocolate and BAM!, I love it!
I feel like I've learned a lot about wines in the past few months and a lot of that is due to this subscription! While I prefer sweet, fruity wines such as moscato, I am broadening my palate bit by bit and find that if a wine is too tart, I can always mix it with pomegranate sparkling soda! The convenience of having wine delivered to my home is a big bonus but keep an eye on tracking because an adult 21 or over must be there to sign for the box.
What did you think of this month's Wine Awesomeness? Do you pair chocolate with wine? Let me know in the comments!