WhiskerBox is a themed monthly cat subscription box that features artisanal luxury items for your kitty. Four to six premium items are included which can be "stylish apparel, stimulating toys, scrumptious treats, and one-of-a-kind treasures from around the world." Discerning felines with dietary needs can opt for non-edible items. A short profile is filled out at checkout including cat's name, gender, weight, and if treats are to be included. WhiskerBox supports shelters, rescues, and sanctuaries with each box purchased.  The luxury kitty box ships free to the United States and Canada.
WhiskerBox items are tested by feline lifestyle experts. Smokey, the head feline lifestyle expert, was a stray rescued by his humans at eight weeks old. My kitties think that is a cool job.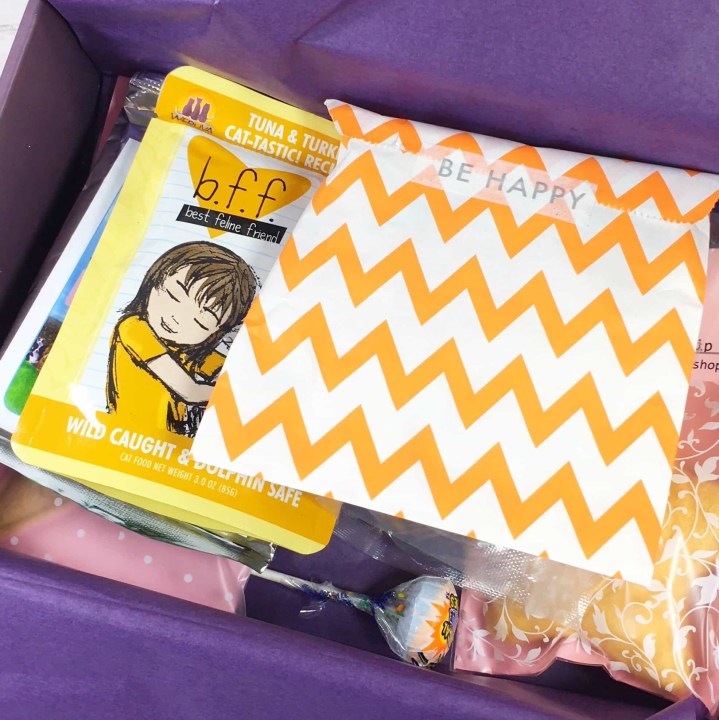 DEAL: Get 10% off for life – just use coupon code HELLO10!
WhiskerBox sends toys, cat couture, treats, and specialty products each month.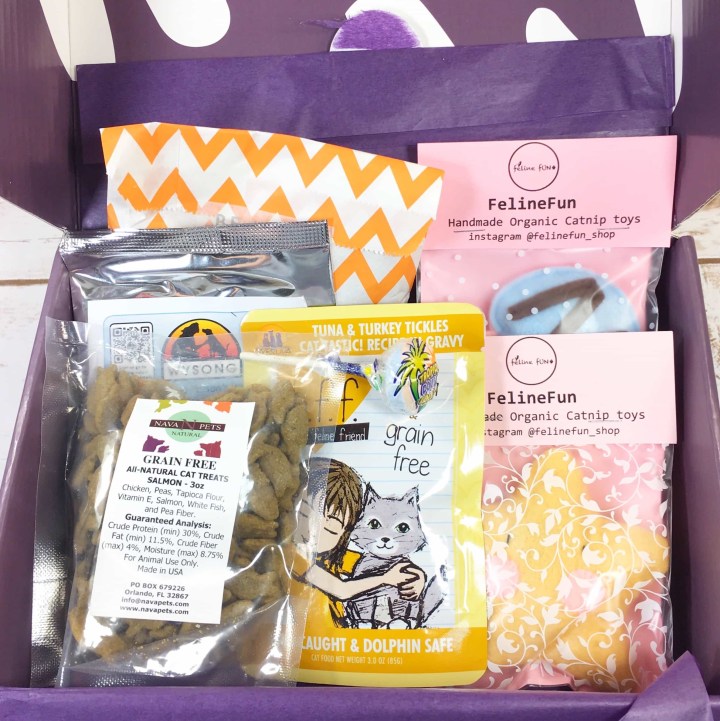 This box ships from Canada and everything arrived in perfect condition.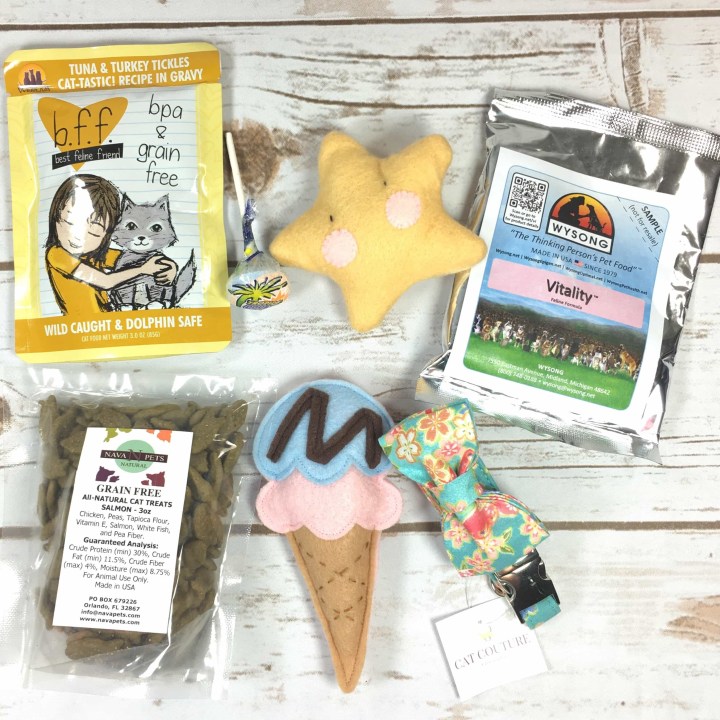 Everything in the box! I even received a lollipop just for me!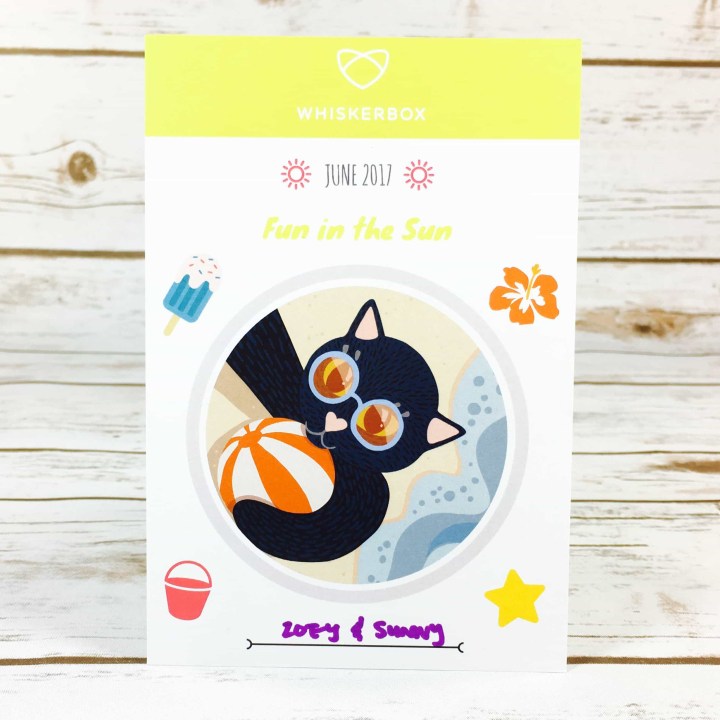 The June theme was Fun in the Sun. My cats names were listed on the card – Zoey is a 6-year-old tabby and Sunny is an 10-month-old orange tabby and they are both female cats that we adopted from our local animal shelter.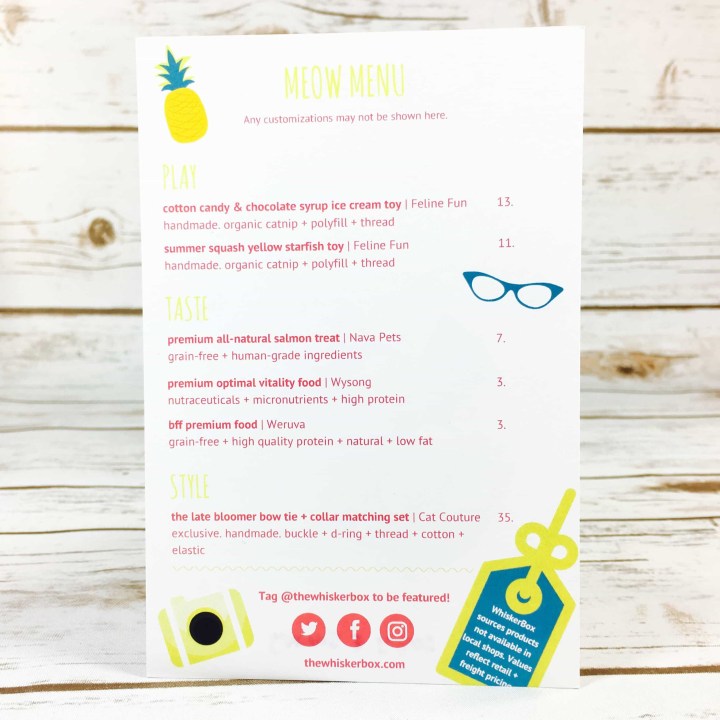 The Meow Menu is a cute information card set up as a menu. The prices reflect retail plus shipping because WhiskerBox includes products not available in local shops.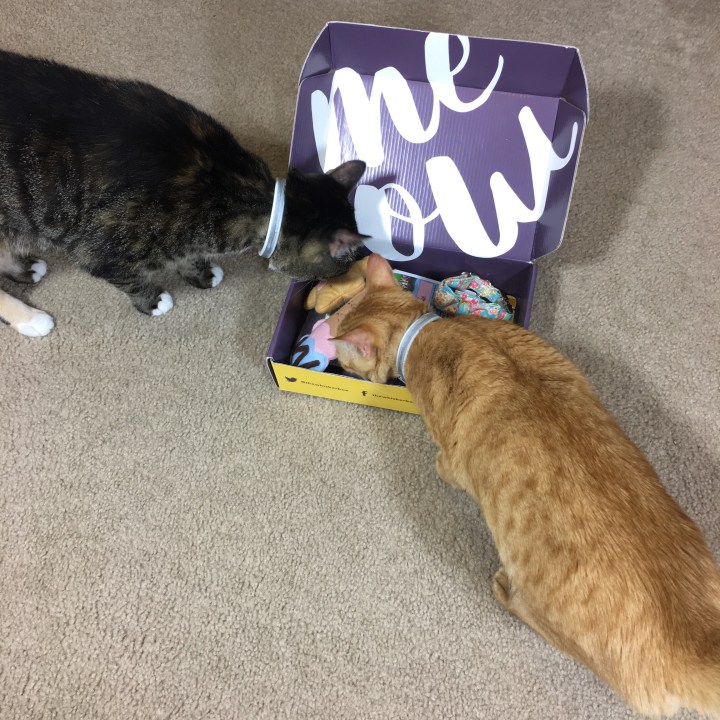 Zoey and Sunny are taking a closer look.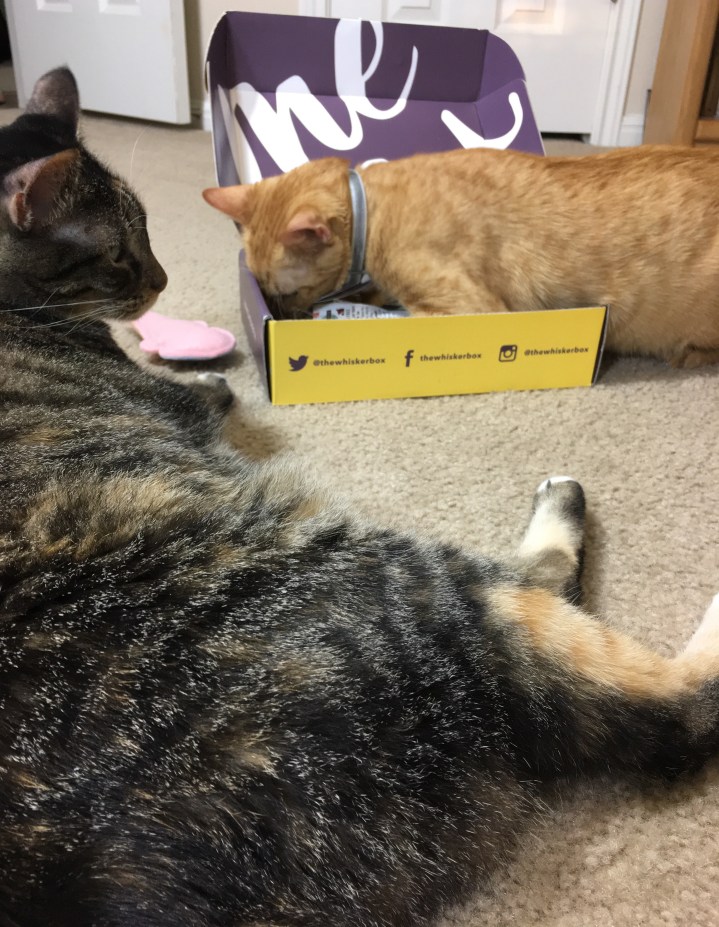 Sunny is very curious.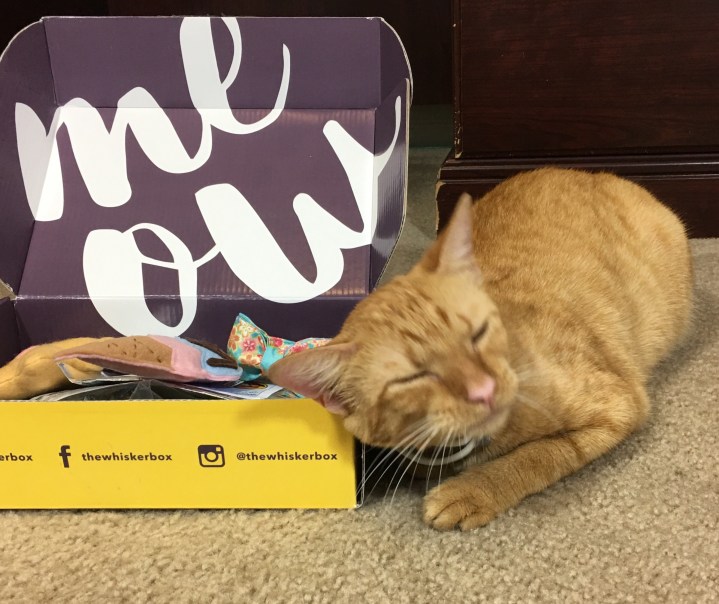 She seems pretty happy with the box!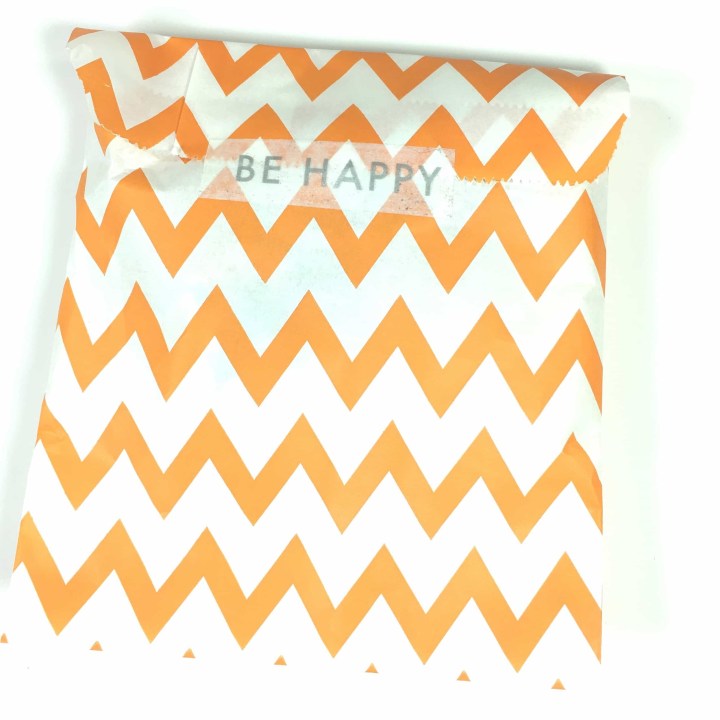 I love it when a doodad comes wrapped up like a little present!
The Late Bloomer Bow Tie & Cat Collar by Cat Couture has a beautiful floral print and I love the feminine colors for my little ladies.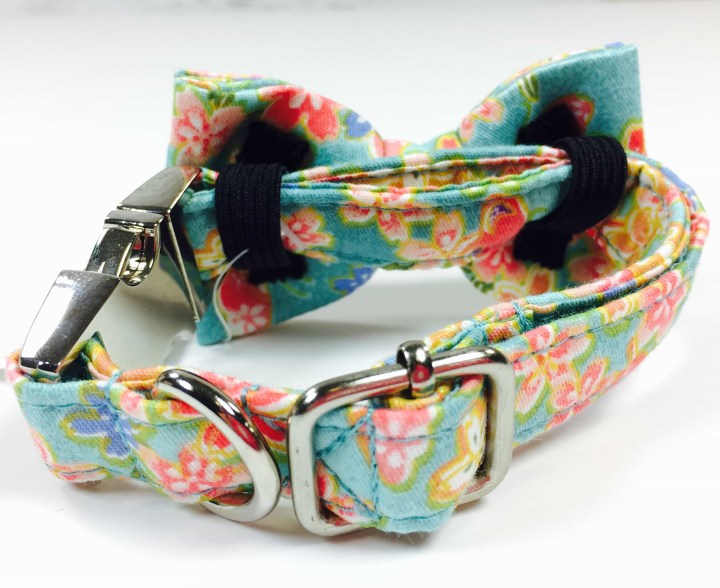 The collar and matching bow (which can be removed) appear to be made with cotton fabric and I love the print. Unfortunately the metal closure is more suitable for a dog – most cat collars are made with an easy release plastic closure. If you were to walk a dog (or cat, it could happen) on a leash then you need to make sure the collar won't come off or they might get scared and run away with devastating consequences. However, if you have a cat who might have freedom to go outside then you need their collar to come off easily if they were to get stuck on a fence. Plus, it's just too heavy for their necks. Now, a chihuahua would rock this collar no problemo.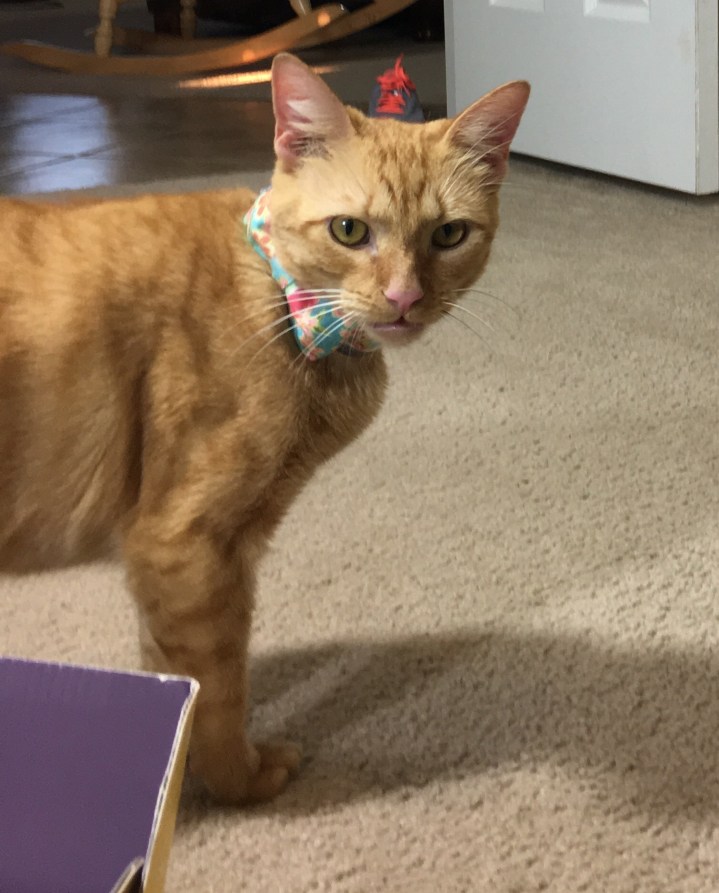 Sunny looks, um, well, not really pretty but certainly more feminine in the collar.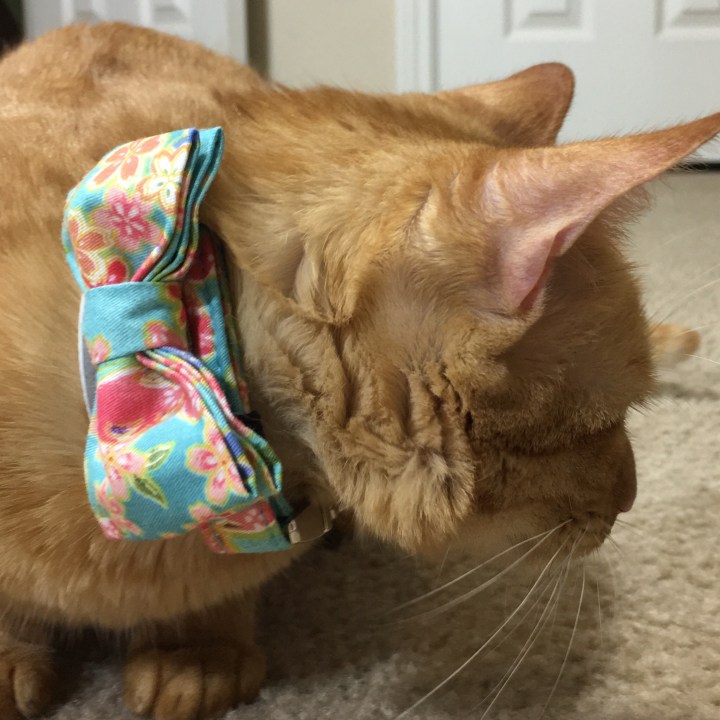 Look at my bow!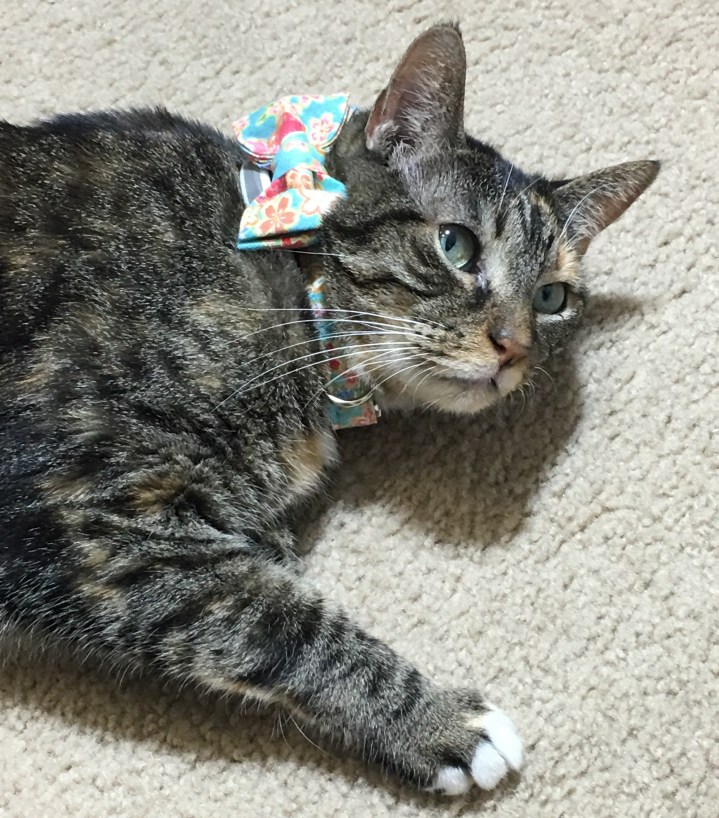 Zoey just gives up and lays down anytime I put a costume of some sort on her body.
I think I'll just take a cat nap.
Weruva BFF Tuna & Turkey Tickles is made with turkey and dolphin safe tuna plus it's grain free and very moist. I like that it doesn't have dye in it – why do cats need dye in their food, it makes no sense! Sunny really liked it but beware that it smells pretty fishy!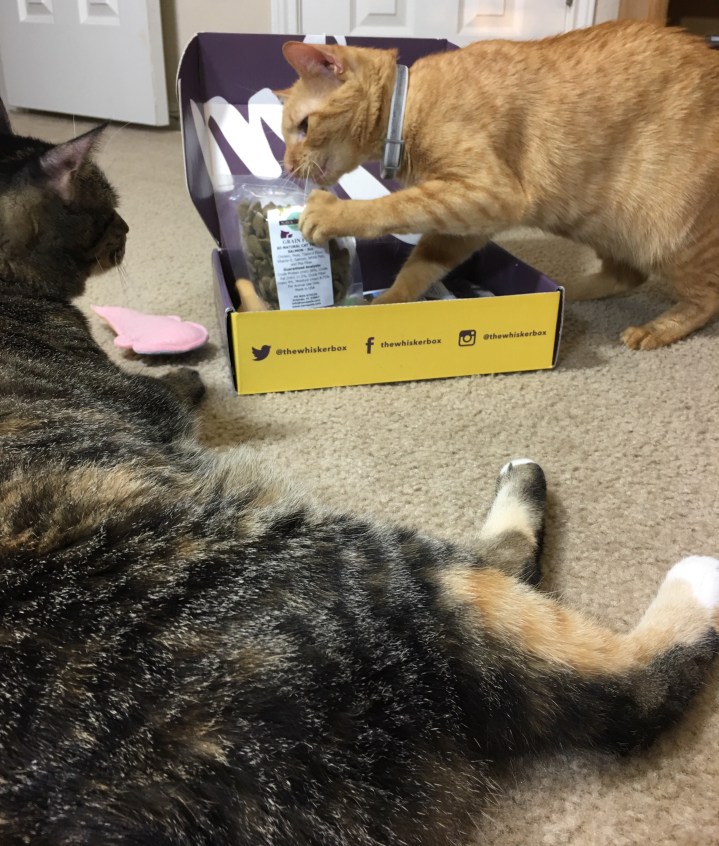 Hey mom, let's try this one next!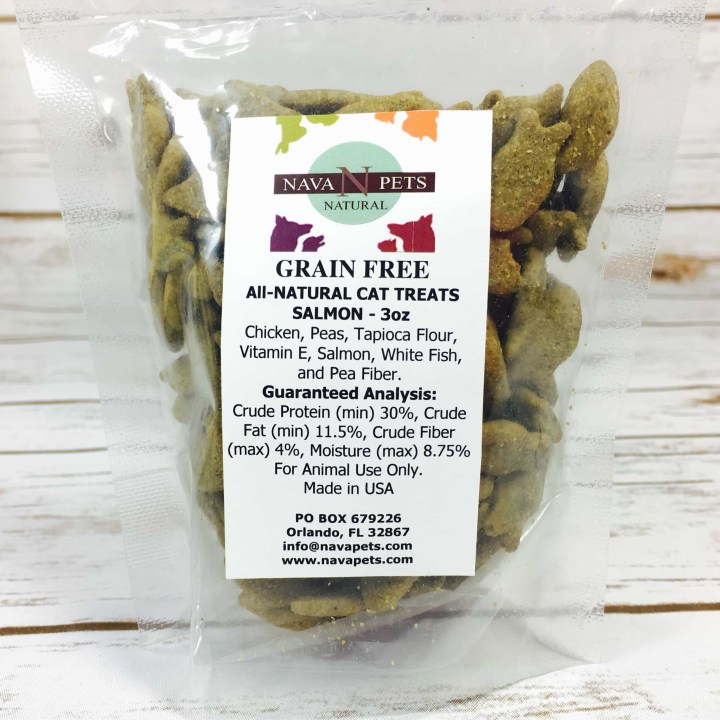 NAVA Pets All Natural Salmon Cat Treats is grain free and features chicken, peas, and salmon, but here's the best part – Zoey, my picky eater, ate them! Zoey never eats canned food and rarely eats treats but she loved these!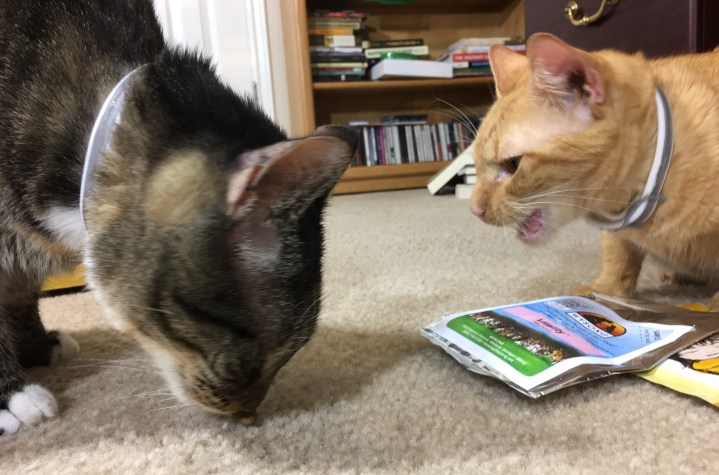 Yum!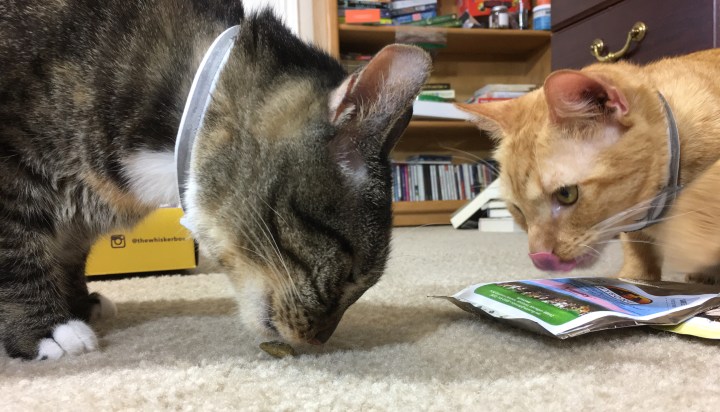 Lip smacking good!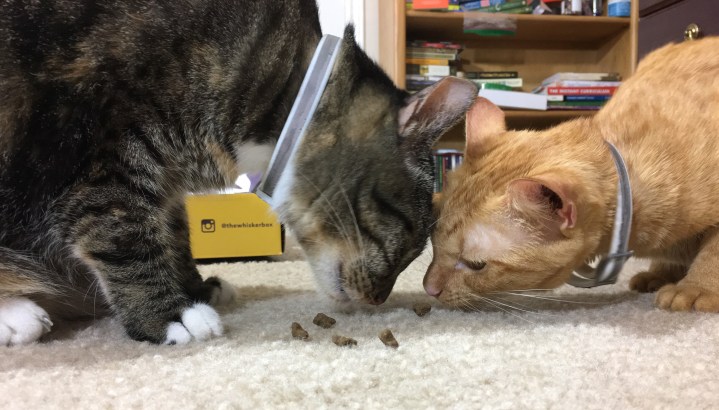 Sweet girls!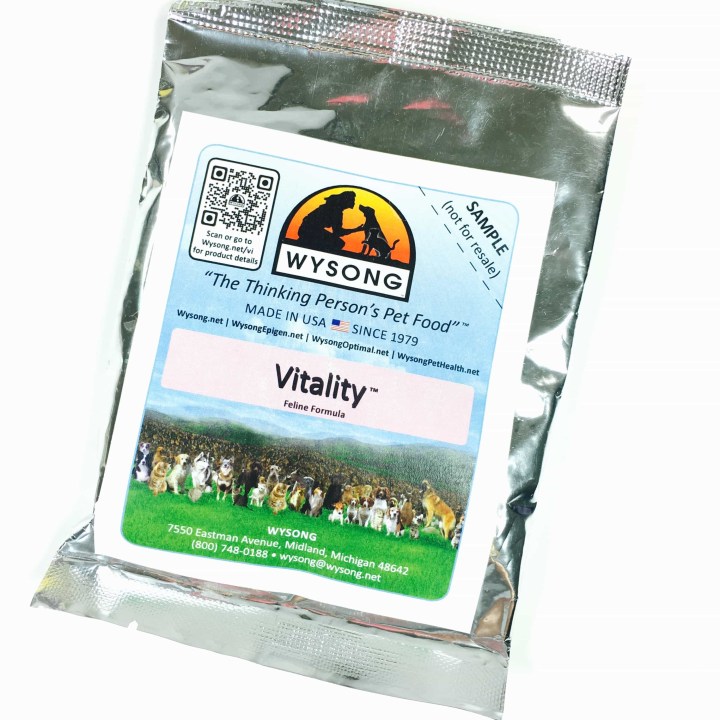 Both of my cats LOVED Wysong Vitality Cat Food! I think it contains ALL of the meats, including crab, turkey, chicken, and fish, along with a variety of vegetables and even a fruit! Omega-3's, probiotics, prebiotics, and a whole lot more are in here. Amazing!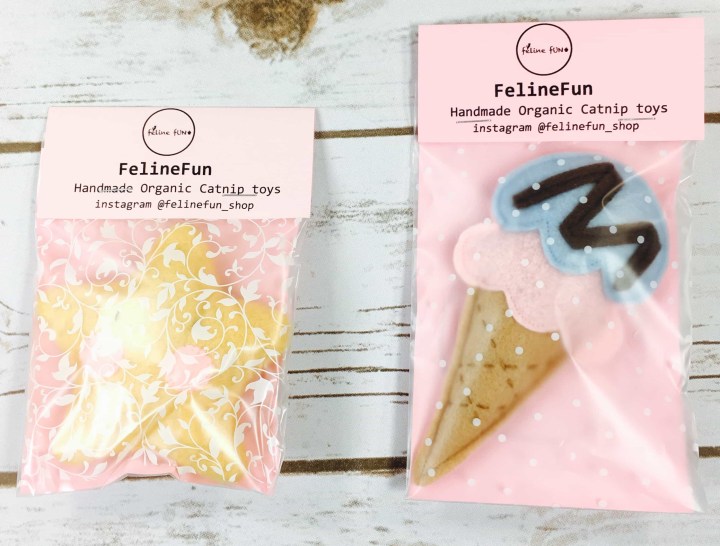 There were two toys from Etsy Boutique Feline Fun. Look at the packaging, isn't it cute?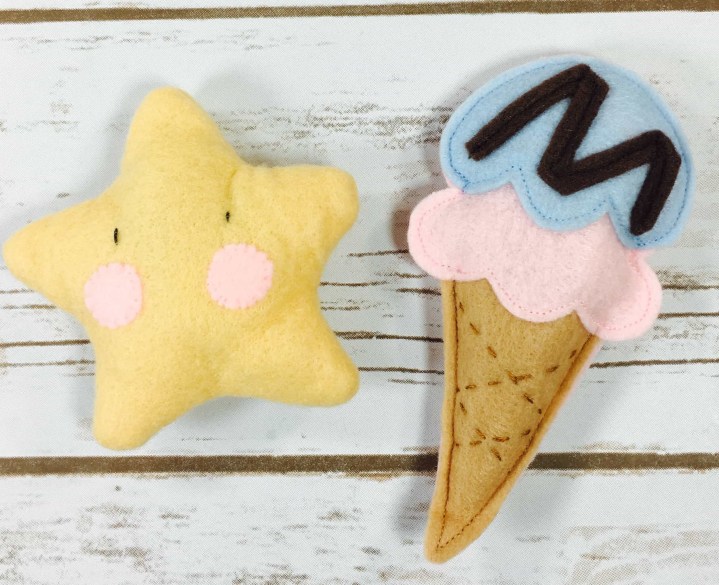 Starfish and Cotton Candy Ice Cream Cone are both made of felt and stuffed with polyester fiberfill and filled with organic catnip. They are machine stitched and Sunny preferred pulling at the felt with her teeth, but then she's crazy.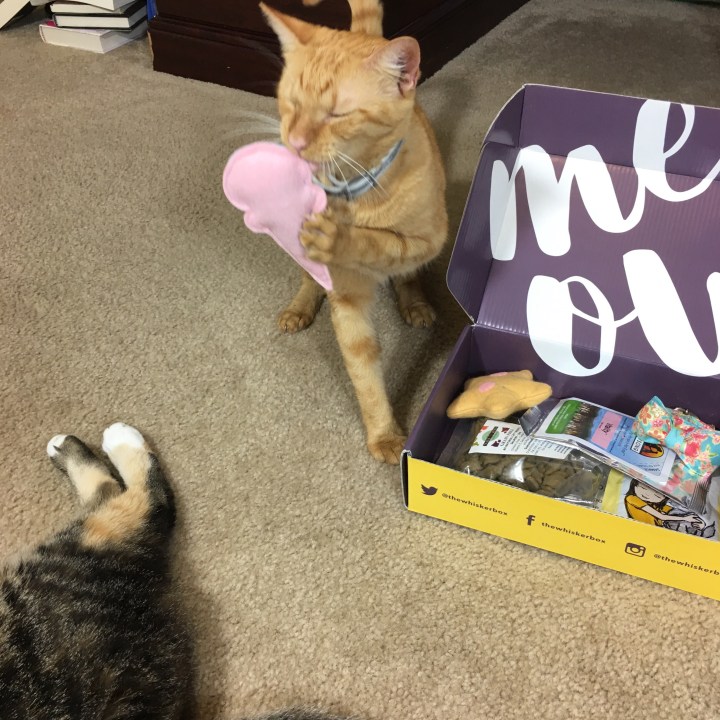 Sweet treat!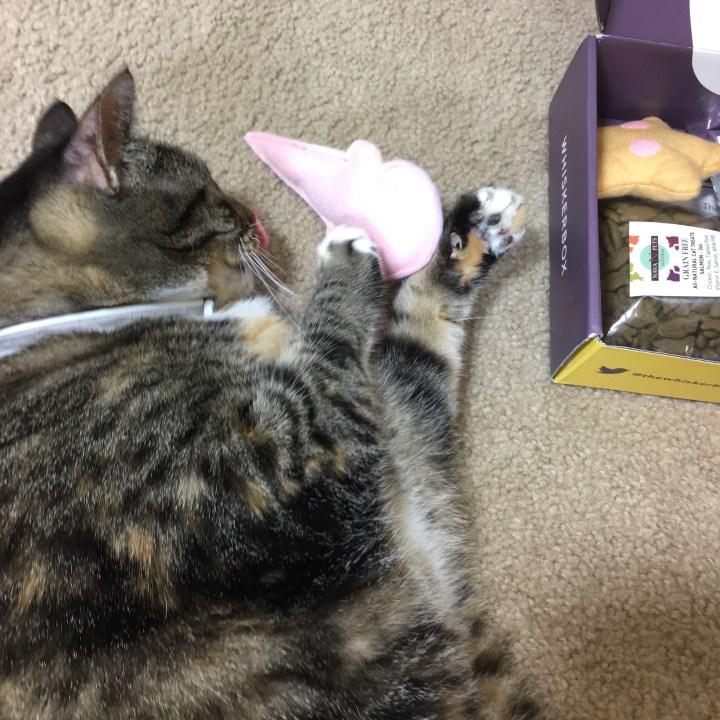 Tastes like catnip!
Now, a few more pictures of the cats playing with toys.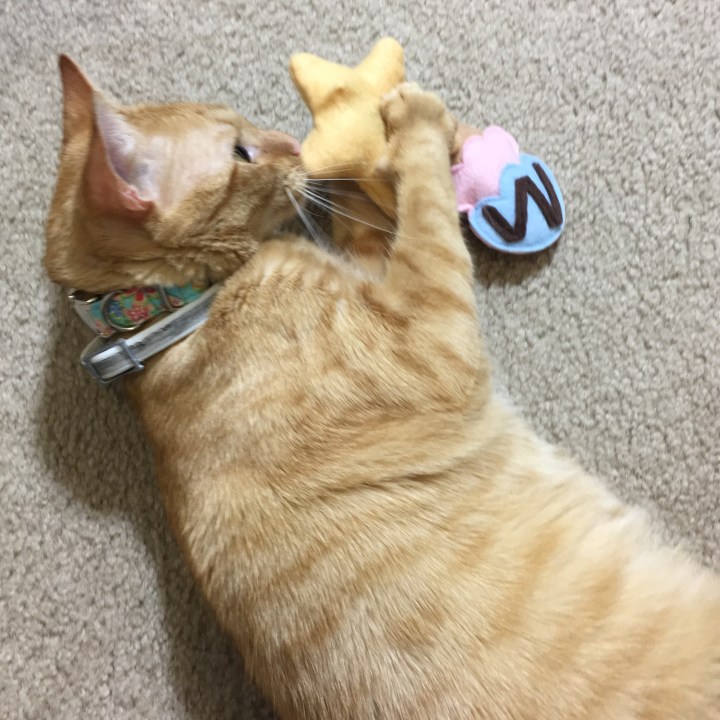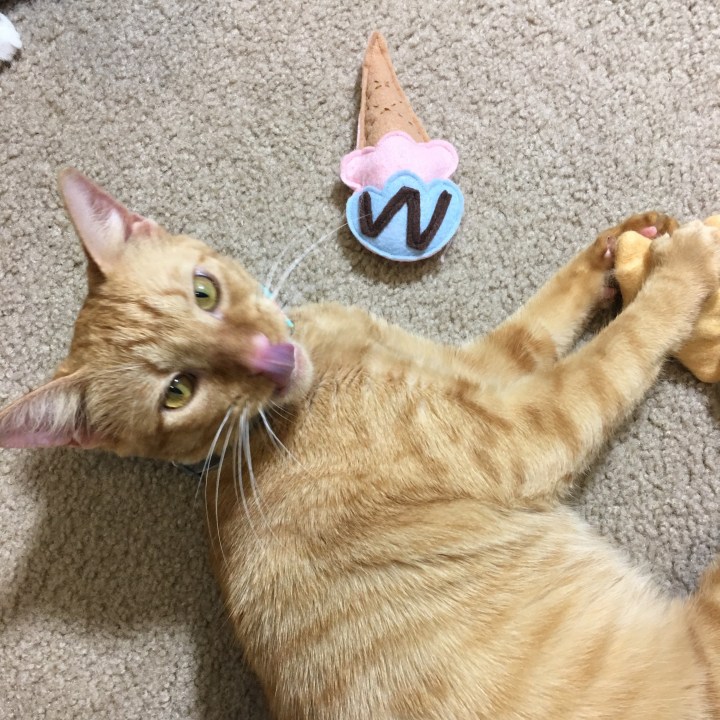 My cats really liked the toys in this box and they absolutely love the food and treats. The collar certainly looked pretty, maybe I can wear it as a bracelet? Just kidding! I do like that I can try a new food treat or toy without having to buy in bulk, in case my cats dislike the proffered product. I think WhiskerBox is a great choice for people who like to dress up their cats (and whose cats like being dressed up), provide them with unique toys, and treat them to delectable foods that you might not find in stores.
What do you think of the June WhiskerBox? Let me know in the comments!