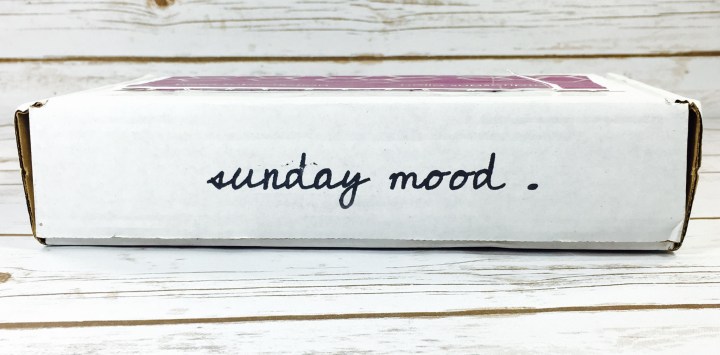 Sunday Mood is a monthly subscription box that brings you a variety of products that will help you keep that weekend vibe going on all month long. There are two sizes to choose from: The Beauty Sample Box is $25 a month for 2-3 sample sized and 1 full sized beauty product, while the original Sunday Mood Box is $44 a month and includes 4-6 full sized products. What type of products can you expect in your Sunday Mood box?
The Sunday Mood monthly subscription box will contain an eclectic mix of indie brands, vegan & cruelty free beauty lines, organic and eco-friendly bath & beauty products, handmade jewelry, cool niche household items, art prints, specialty teas, healthy treats, minimalist goodies and more.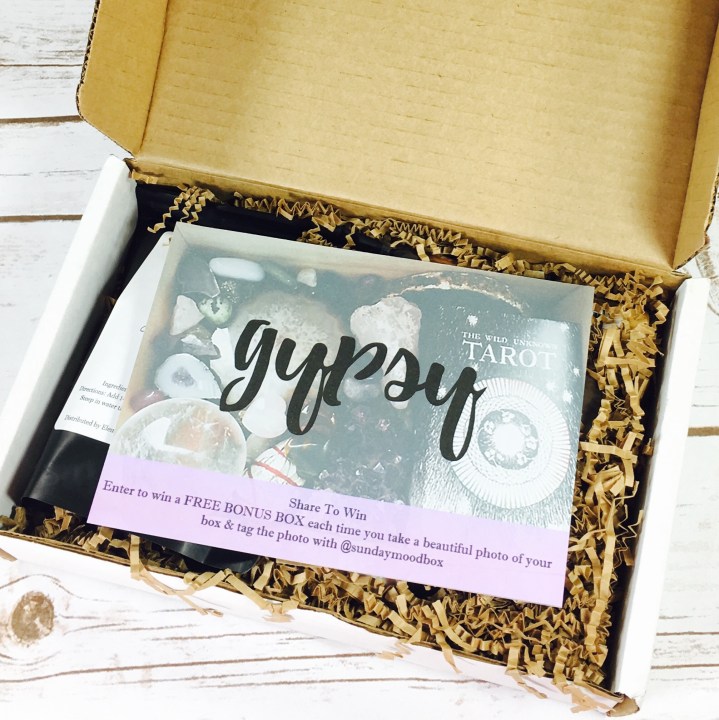 DEAL:  Get 10% off your first Sunday Mood Box! Use coupon code WEEKENDVIBES10.
There was a postcard on top with this month's theme, Gypsy.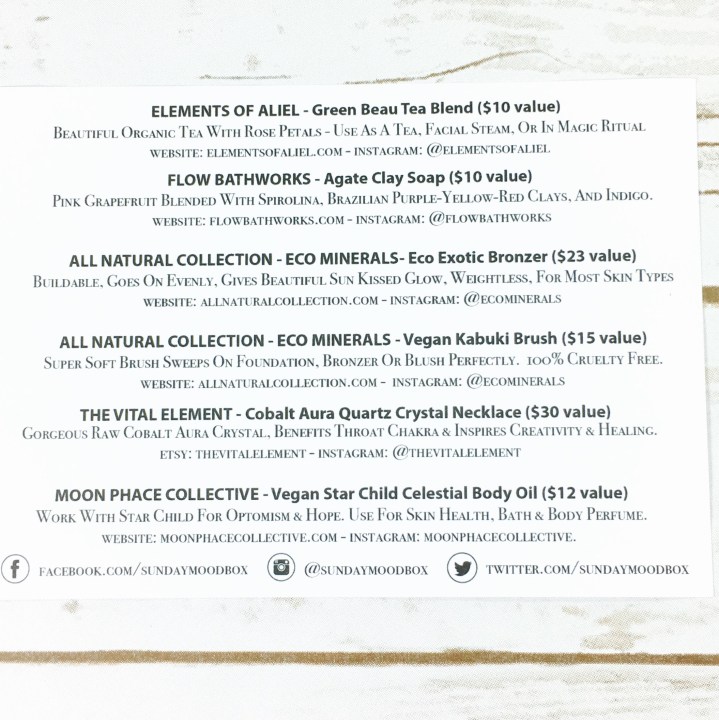 The flip side of the card listed the items in the box as well as the value and where to find more.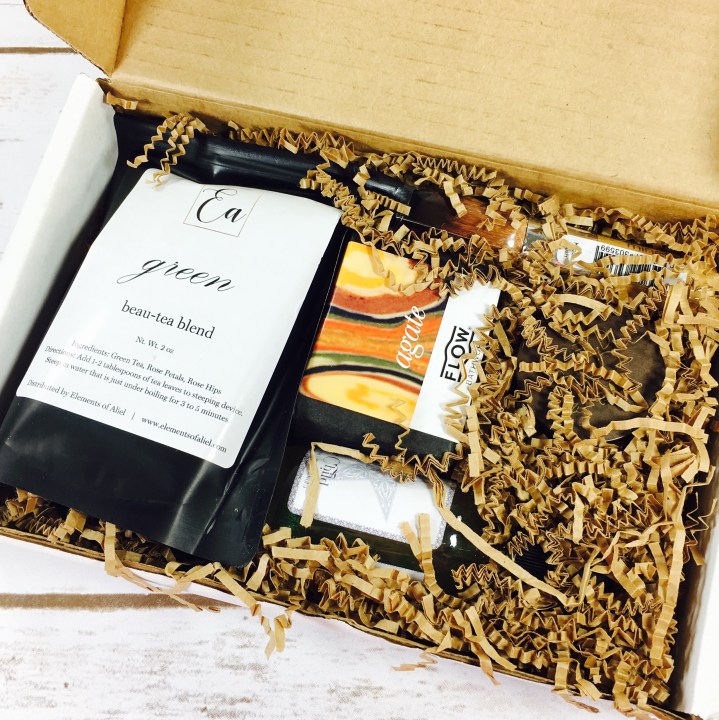 The products were packed in an eco-friendly recycled box with shredded recycled brown squiggles.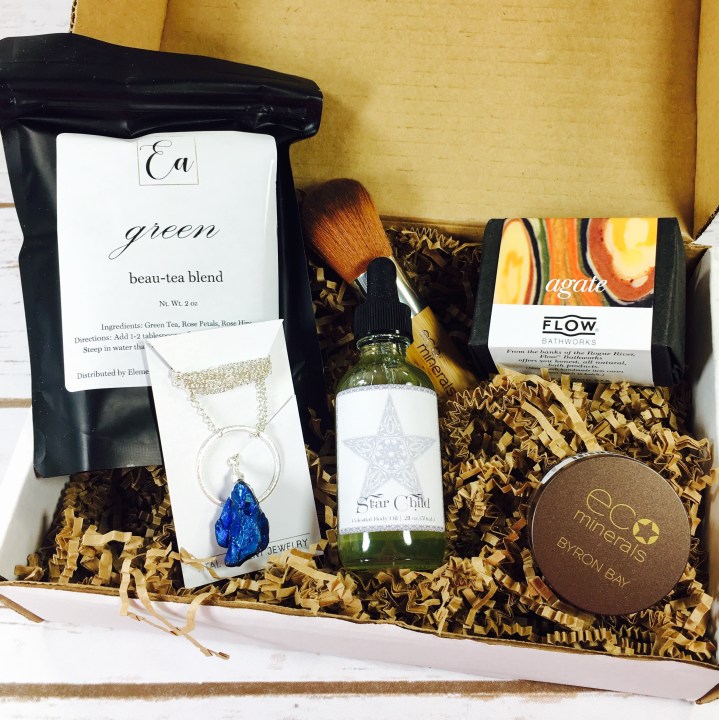 Everything in the box! I was greeted with a lovely smell when I opened my box – like I had walked into a natural beauty and bath store. I think it was that soap!
The Vital Element Cobalt Aura Quartz Necklace ($30) I couldn't find this necklace in the Etsy shop so I listed the value from the product info card.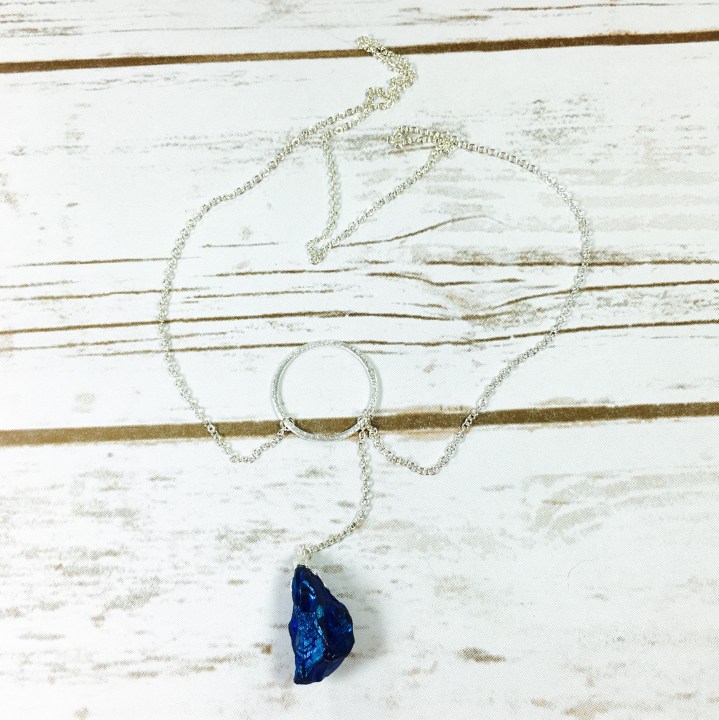 The beautiful blue stone hangs from a silver necklace which has a silver hoop and the necklace itself doesn't have a clasp, you just slip it over your head.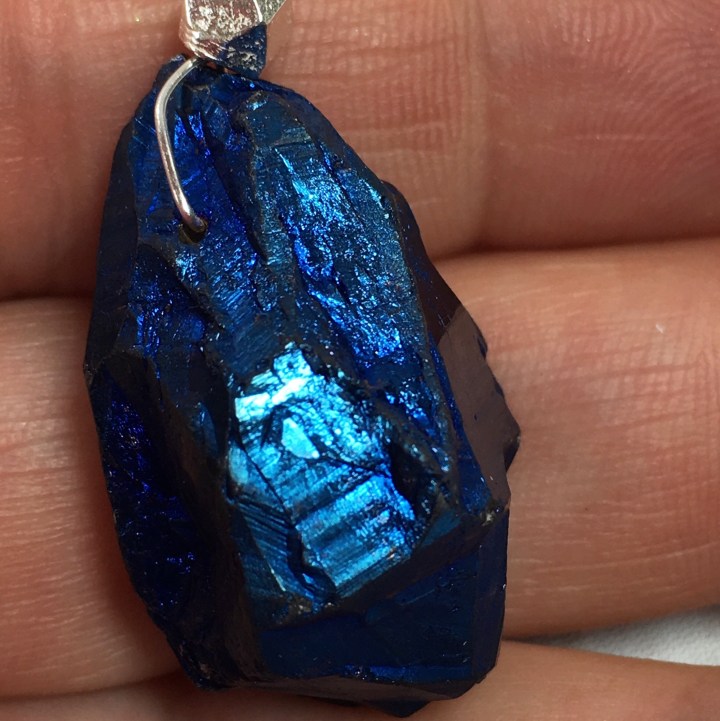 Look at this beautiful stone! This necklace is exactly my type and is perfect for the gypsy theme. I tend to wear flowy shirts when I'm not working and this shade goes perfectly with the two new ones I bought last week. I absolutely love it! Cobalt aura quartz can help remove constraints and aid creativity.
Eco Minerals Vegan Kabuki Brush ($15) Eco Minerals is a vegan and cruelty free makeup line from Australia and two of their products were included in this month's box!
The Kabuki Brush is made of synthetic fibers and can be used to apply mineral foundation, blush, or bronzer. It's a very nice, fluffy brush!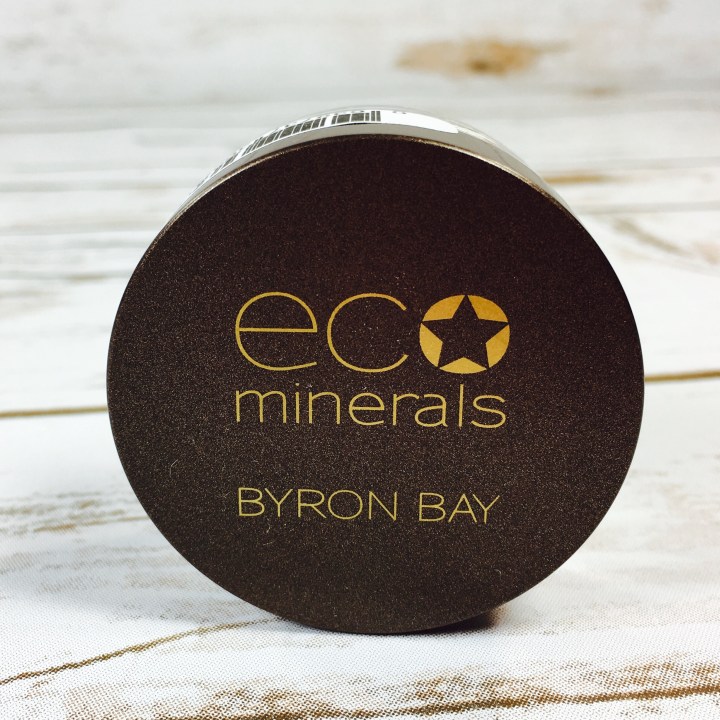 I also received Eco Minerals Bronzer in Eco Exotic ($23). This shade is described as a semi-matte bronzer suitable for all skin tones and perfect for contouring. This is Eco Minerals best selling shade.
You can purchase refills to help reduce waste.
There is a sifter in the cap and you just tap a bit into the lid. According to Eco Minerals, it should be about the size of a grain of rice. Dip the kabuki in the lid, tap off excess, then apply under the cheeks, to the temples, and along the jawline. You can make a "3" motion: start just above the temple, drag the brush along the temple, cheek, and then jaw, then do the opposite side. You can also apply along the side of the nose or forehead. I'm pretty pale but I didn't look weird. Just use a light hand and you can always go back and add more.
Here is the color on my inner arm. This is probably more than I would use on my whole face though, but you can see it's concentrated. No sparkly bits in this bronzer.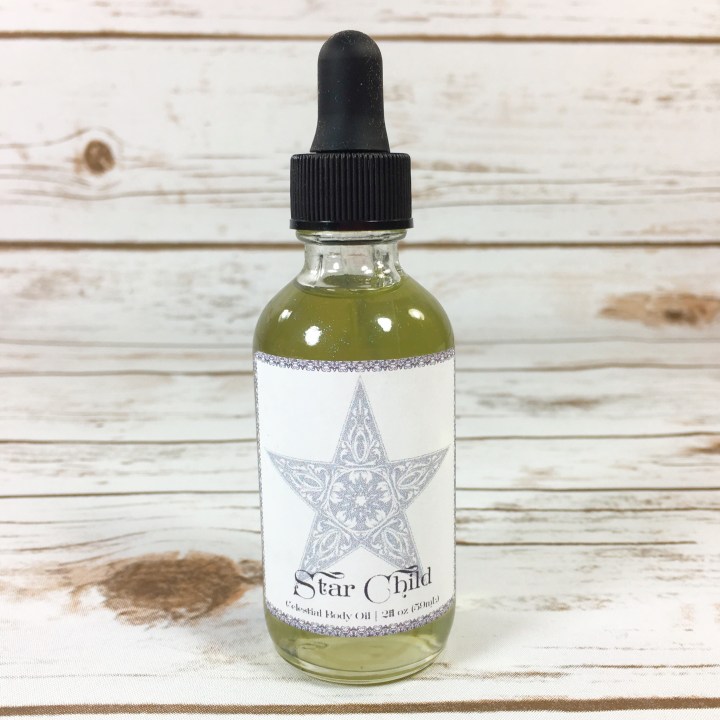 There were sparkly bits in Moon Phace Collective Star Child Celestial Body Oil ($6.67 value – sold in a set that includes two other oils for $20). Here is what it looked like right out of the box…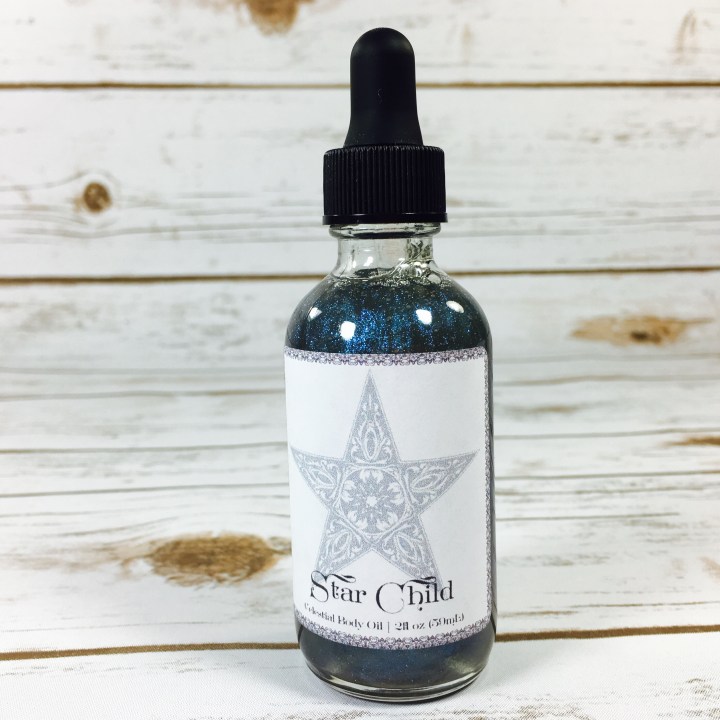 …and here is what it looked like after I shook it up! So pretty, right?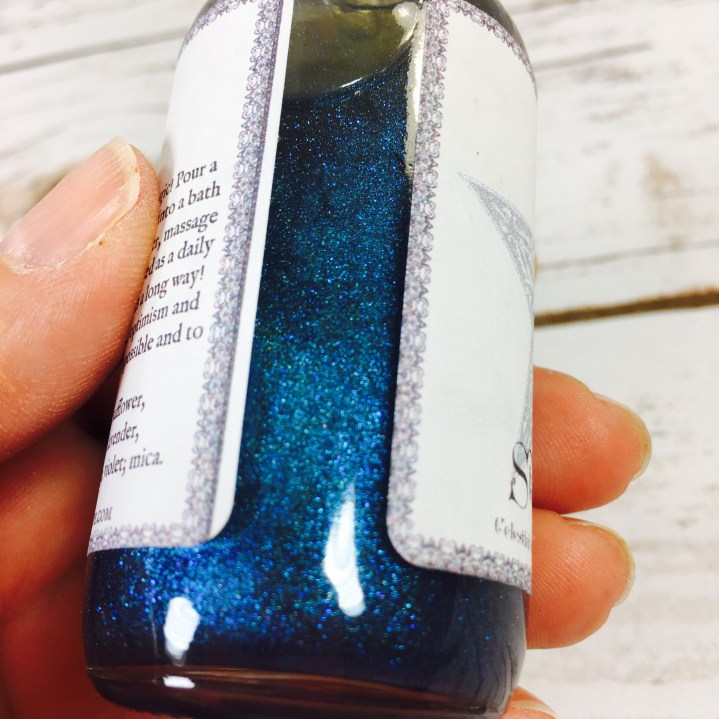 This makes me happy because I love sparkles! The all-natural vegan ingredients are olive, safflower, and grapeseed oils; lavender, sandalwood, bois de rose, lemon, and violet essential oils; and mica for shimmer.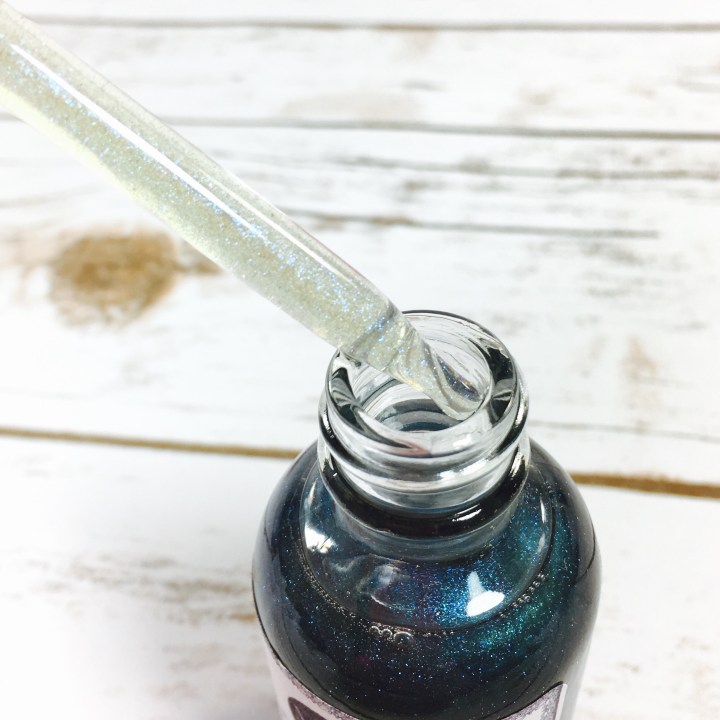 I love the scent, which I think smells a little like vanilla and lemon, it's hard to describe. I squeezed a dropper full of oil into my hands and applied it right after a shower to my arms and upper body. It left me soft but not shiny and I could sense the scent for a few hours afterwards. This oil is designed to give optimism and hope and help you accomplish your dreams.
Flow Bathworks Agate Soap ($10) I'm not much into bar soaps but this is one is exceptional!
The label had some info inside on this company and how they give back.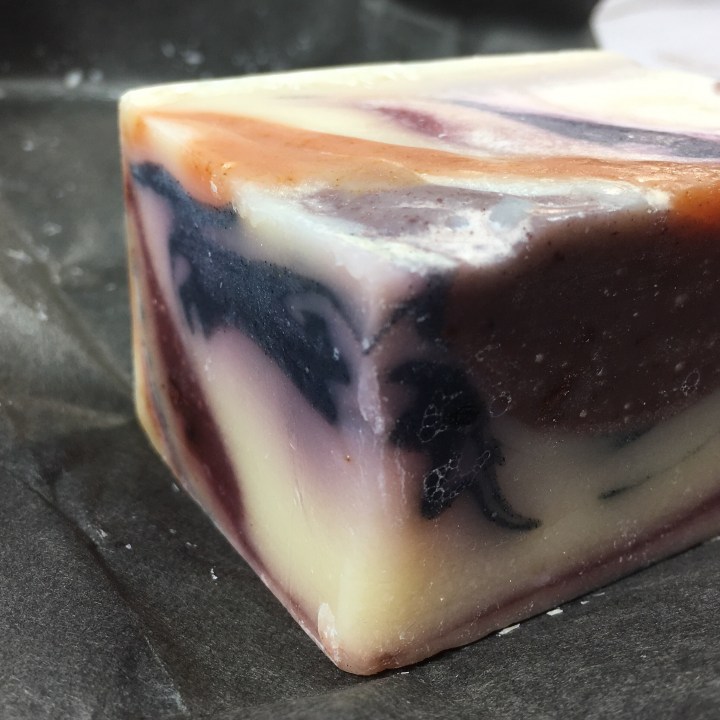 Look at how beautiful this soap is! The soap is described as "pink grapefruit blended with spirolina, Brazilian purple-yellow-red clays, and indigo" and smells amazing. It lathered really well and while it didn't leave a scent behind on my skin, it did make my bathroom smell good. Every time I walk in there, I smell it and smile.
Elements of Aliel Green Beau-tea Blend ($10) Although this tea is labeled as a drink, Sunday Mood suggests using it as a facial steam or "in magic rituals."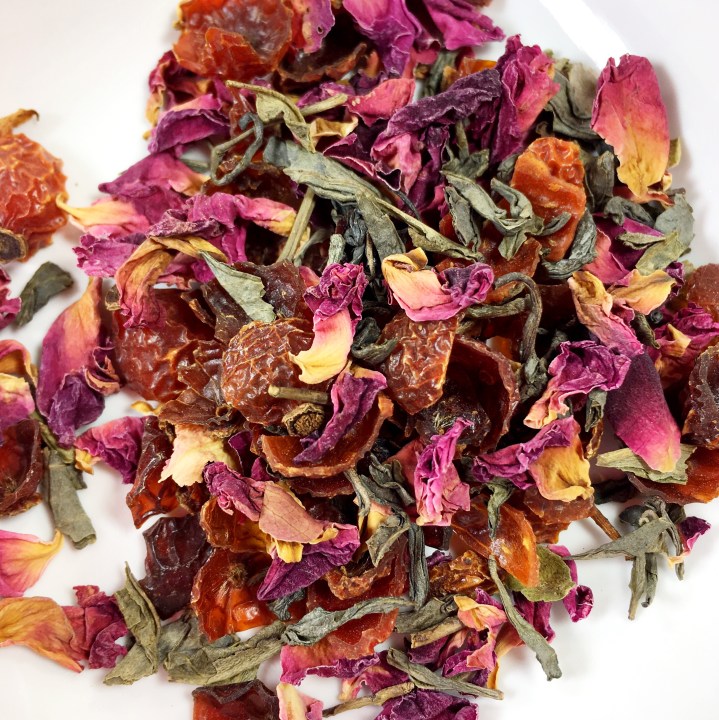 This is a beautiful blend of green tea, rose petals, and rose hips and smells of potpourri. I steeped one tablespoon of tea in 8 ounces of not quite boiling water (so the green tea wouldn't turn bitter) for 3 minutes. I think 1 1/2 teaspoons should be sufficient without being overpowering and will try it that way next time. I have never heard of using green tea as a facial steam but it turns out it has wonderful properties for the skin so I plan on steaming my skin, but I would also like to make this into a toner as well. As for magic rituals, you're on your own there but I love that this product has many purposes. Try it as a bath soak, eye compress, skin soother, the sky's the limit!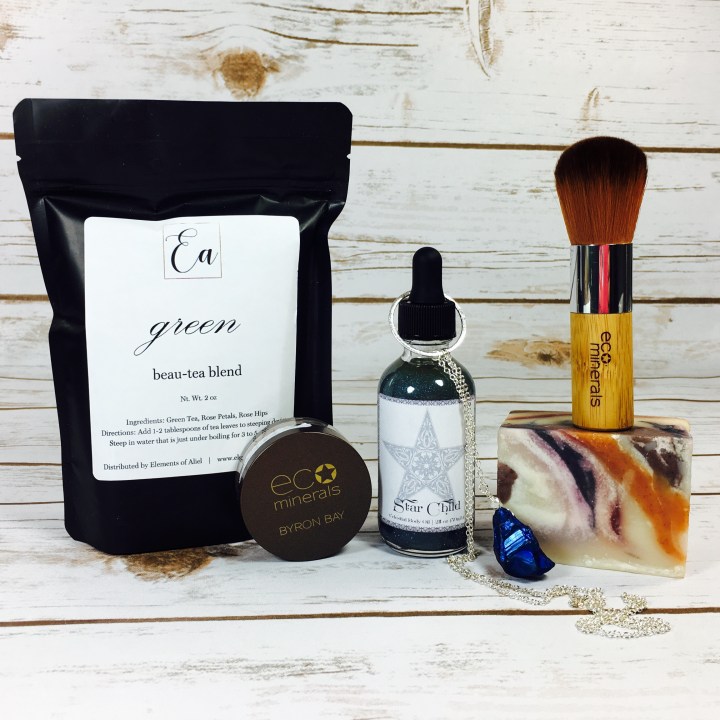 To say I was impressed with my first Sunday Mood box would be an understatement. This one goes down as one of my most favorite boxes EVER! I loved each product, and I am having a hard time picking a favorite because they all worked together so well. I have always felt a little bit hippy-ish, with a touch of the gypsy vibe. I grew up in Southern California, have lived in New Mexico, and now live in Austin, and all of those locales have a relaxed, laid-back feeling that encourages a bit of the alternative lifestyle. What was once considered "weird" when I was a child (avocados, sprouts, meditation, veganism) are now mainstream so I feel like this box would appeal to anyone who enjoys well-made, cruelty free products that are different from what you might find at your local mega store. The value was around $94.67, which is phenomenal, more than twice the price paid for the box, plus, this box had the perfect curation for me!
Psst: According to their Instagram account, next month's theme will be "Summer Camp"!
What do you think of Sunday Mood? Let me know in the comments!
Visit Sunday Mood to subscribe or find out more!