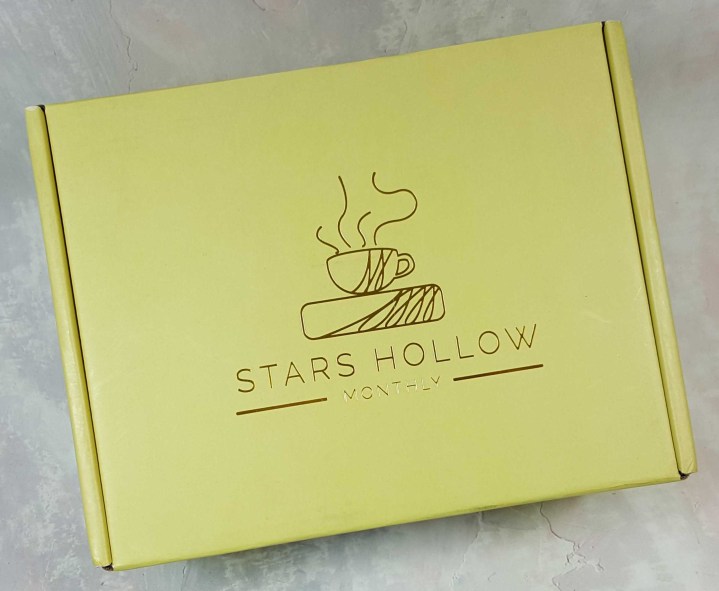 Stars Hollow Monthly will feature 3-5 products which are inspired by the Gilmore Girls and the fictional town of Stars Hollow. (Inspired by, meaning items that relate to, are inspired by, or are artistic renderings of the show and its inhabitants/characters.)  For $34.90, you can expect anything from tee shirts (on occasion), home decor, fashion accessories, bath & body items, and much much more.
The goal for the Stars Hollow Monthly Box is to send subscribers items they will adore as fellow Gilmore enthusiasts, but also items anyone would enjoy – high-quality items that won't gather dust in a drawer somewhere.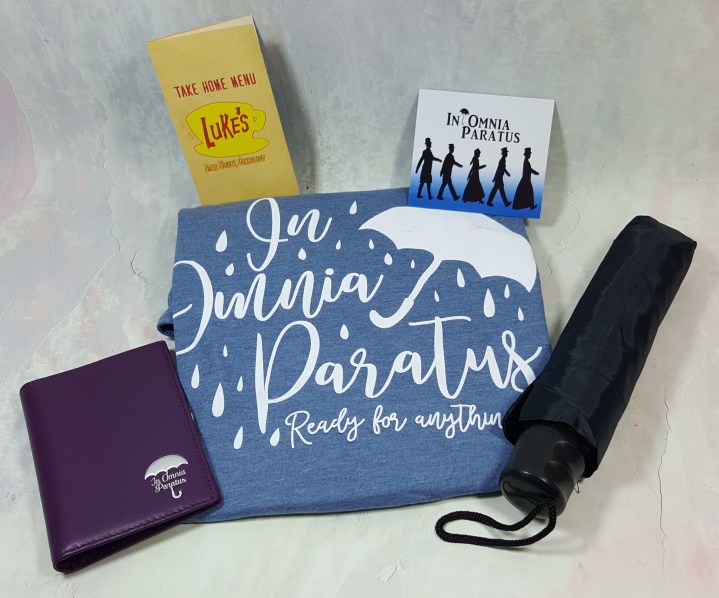 YAASSSS!!! April's Stars Hollow Monthly Box is themed around the Life & Death Brigade. Are you ready?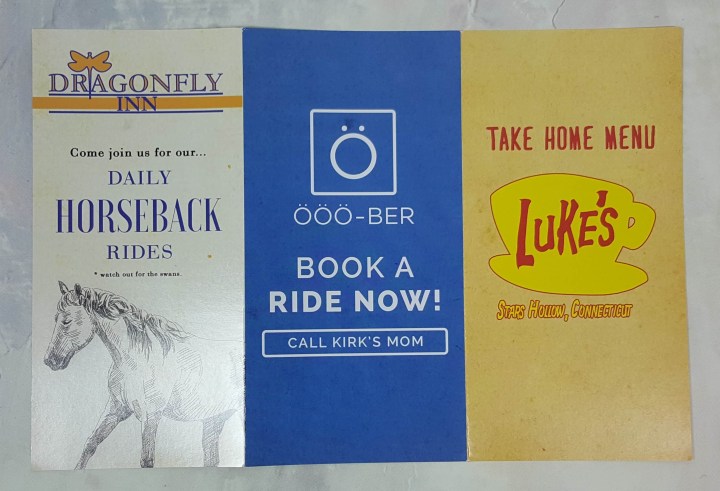 The outside of Luke's menu features ads from around Stars Hollow. This month we get to see ads for the Dragonfly Inn and (now defunct) ÖÖÖ-BER.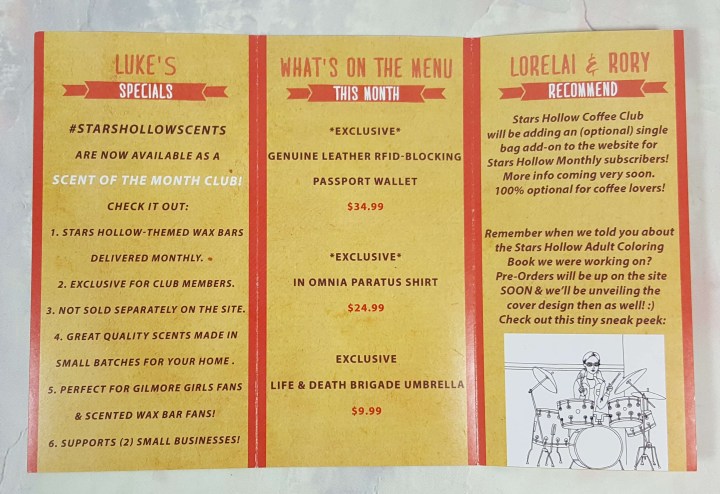 The inside of the menu contains a list of the box contents with pricing, as well as discount codes and offers for other Gilmore Girls related products. Check out the coloring page with Lane at the drums!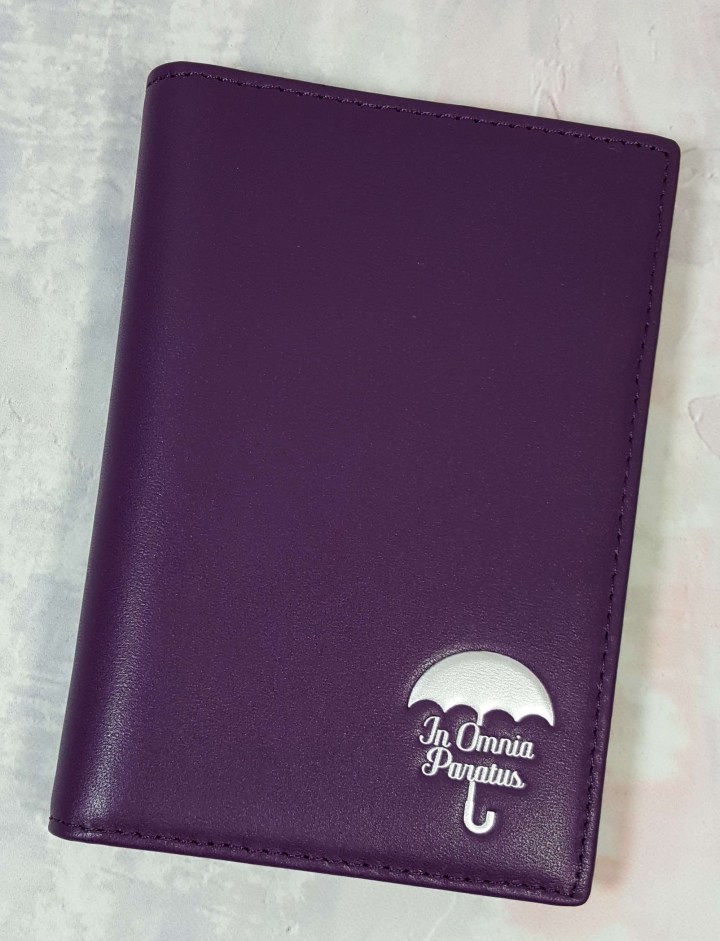 *EXCLUSIVE* Genuine Leather RFID-Blocking Passport Wallet ($34.99):  I'm not a major purple fan, but I love the look of this passport holder because it stands out. It is imprinted with the motto of the Life & Death Brigade, In Omnia Paratus (ready for anything), and an umbrella because "you jump…I jump, Jack." Perfect for your next adventure. Bonus, it has RFID blocking technology to prevent skimming. A similar non-Gilmore version can be found here.
This wallet contains 1 slot for passport, 4 slots for cards, and 2 currency pockets.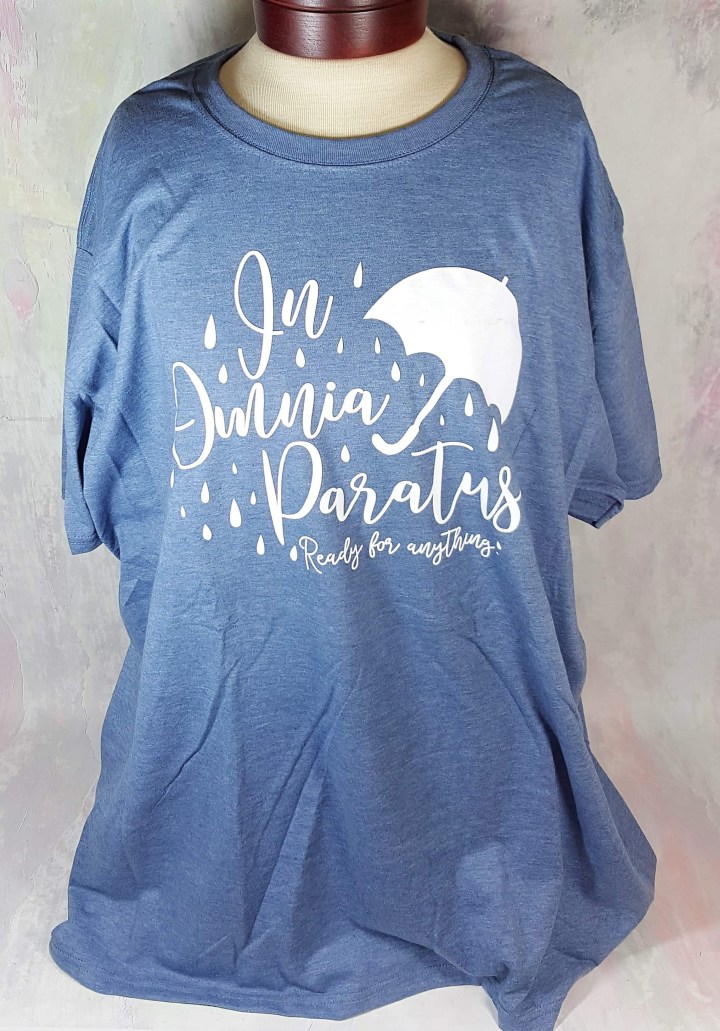 *EXCLUSIVE* In Omnia Paratus Shirt ($24.99): This soft heathered blue tee continues the box theme with In Omnia Paratus and an umbrella on the front. I've gotten so many compliments on my other tees from Stars Hollow Monthly that I'm sure this will get noticed too. Gilmore fans unite! LOL!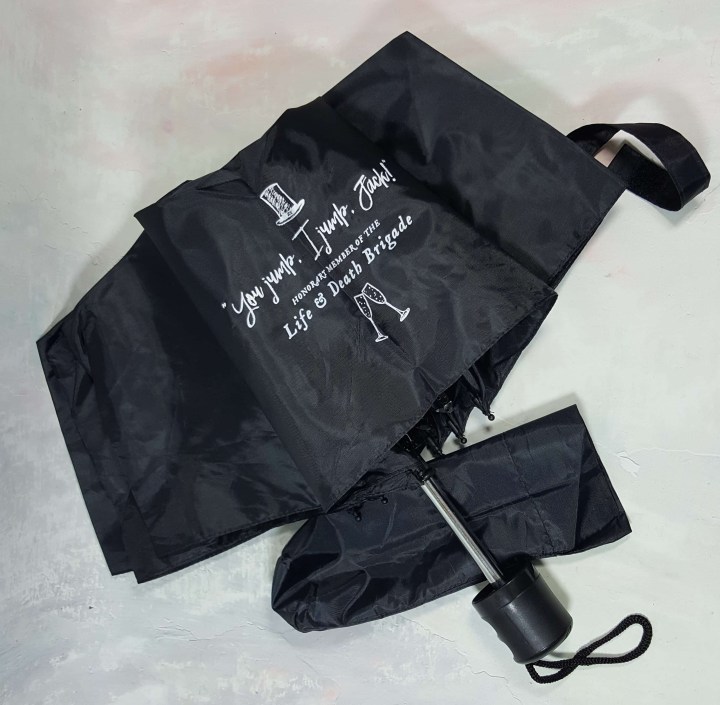 *EXCLUSIVE* Life & Death Brigade Umbrella ($9.99): And this umbrella gives me honorary member status in the Life & Death Brigade. With my fear of heights (and falling), I'm so glad that I didn't have to jump off a wall for membership. This is a small, personal-sized umbrella. It will be good for light rains, but I don't think it will stand up to the rainfall we see during hurricane season in Florida.
BONUS GIFT – Life & Death Brigade Magnet: I was so happy to see the gang get back together on Gilmore Girls: A Year in the Life. Just like the title for the new episodes, this silhouette reminds me of the Beatles. I'm adding this to my work fridge to sit with the Luke's Diner magnet from last month's box. (I know the Beatles' song is A Day in the Life, but it's close enough. Just like the image is similar to the Abbey Road cover.)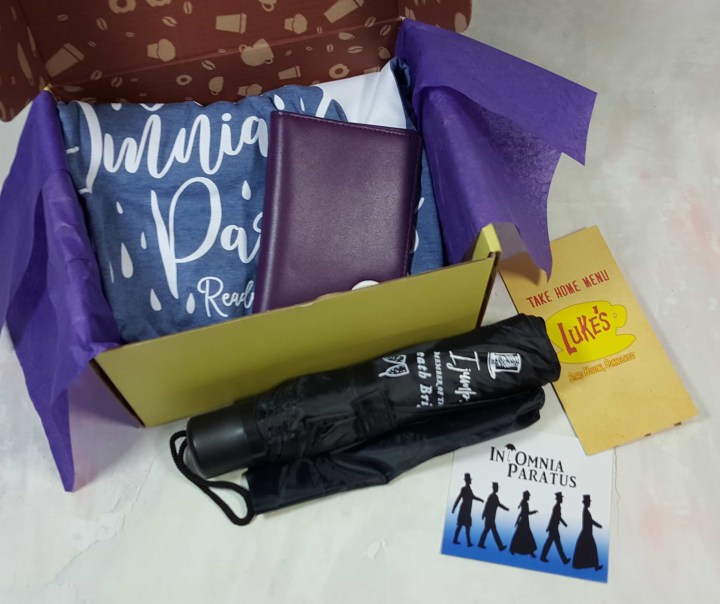 April's Stars Hollow Monthly Box had a listed value of $70 (not including the magnet). I really liked that everything was centered around a solid theme from Gilmore Girls. This month's items all made me happy, but I can't wait until my trip abroad this fall to try out my new passport wallet. For a sneak peek into next month's box, click here.
What was your favorite item this month? Leave a comment below and share your thoughts.