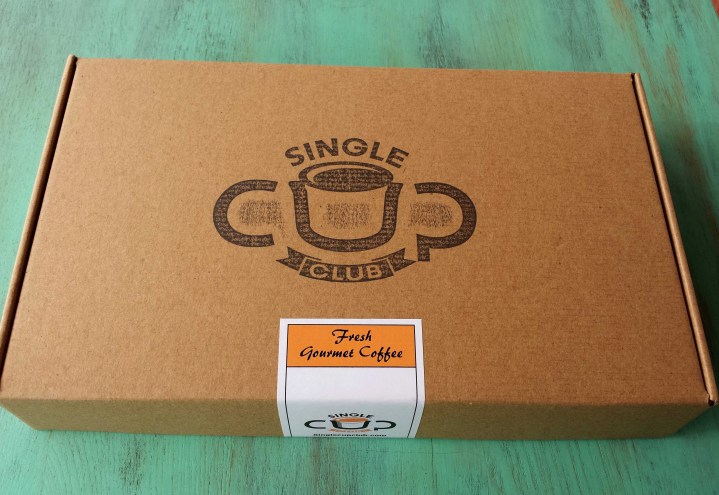 Single Cup Club is a subscription coffee service that allows you to experience the world of small batch roast coffees with the convenience of K-Cups.
DEAL: Get free shipping with coupon code FREESHIPPING!
Every month you receive 15 K-cups in three unique blends. Each shipment introduces you to three new varieties of coffee to experience. If you subscribe month to month, the cost is $12.99 a month, but if you pay for one year at a time the price drops significantly to $8.99 per month. Shipping is a flat rate of $3.95 in the US.
The underside of the box lid gives a detailed description of each coffee variety. Also, all of their K-cups work with all Keurigs on the market.
The K-cups came nicely packaged in this cardboard box with holes cut out for the cups.
Chocolate Caramel Truffle from Door Country Coffee & Tea Co. – "Enjoy the aromas and flavors of our Chocolate Caramel Truffle coffee as you sip on the tastes of dark chocolate and sweet caramel. Truly a dessert in a cup!"
If you are going to flavor a coffee, this is the way to do it! Just hand me a warm cinnamon roll and a cup of this coffee and back away slowly.
Jaguar Espresso from Espresza Organics – "Always Organic – When we designed the Jaguar Espresso, we used only Fair Trade Organic Certified ingredients. In the roasting process, we roast those ingredients to craft a coffee that is delicious as espresso for a late night shot or a cappuccino."
This is a full bodied coffee that will get you going any time of the day.
Organic Colombian from Coffee Icon – "A classic cup! Complex and bright with refined citrus notes, dried fig, sweet chocolate, and spice. This medium roast from Coffee Icon stands out from the rest!"
When I think of the perfect cup of coffee, Colombian coffee is what comes to mind.  And, this is a beautiful cup.  Sweet and fruity with just the right amount of fruitiness.
The Single Cup Club Coffee Subscription is a great way to enjoy gourmet coffees with the convenience of K-cups.  The coffees are always a nice variety and great quality.