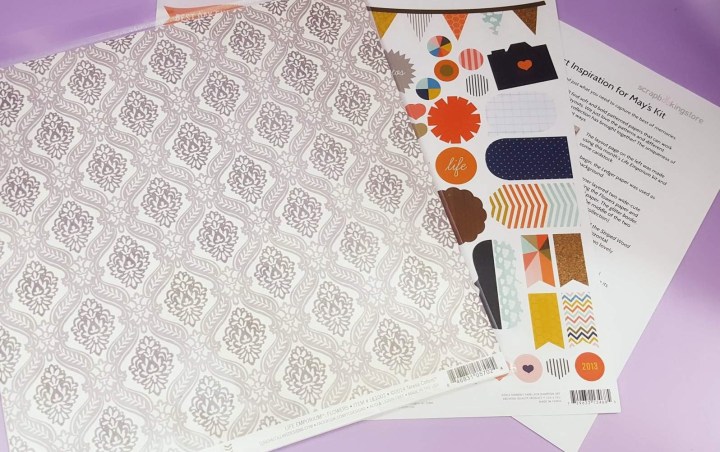 Scrapbooking Store is fun monthly scrapbooking subscription uniquely designed & selected just for scrapbookers! Each month we receive a beautiful, themed scrapbook kit complete with 12×12 pages, stickers, cutouts, or other embellishments. Members can upgrade their subscription to receive 2-3 extra embellishments such as buttons, stickers, jewels, brads and more. This is my first month with Scrapbooking Store and I couldn't wait to see what all I would be getting.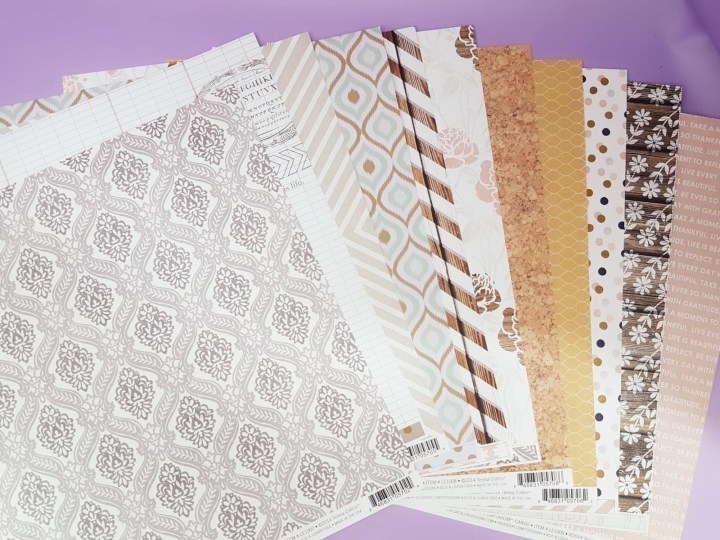 There is not much width to these boxes with the papers in a large cardboard envelope. The above pictures show the two sides of the papers. This month we got 11 12×12 sheets and a sheet of cardstock stickers.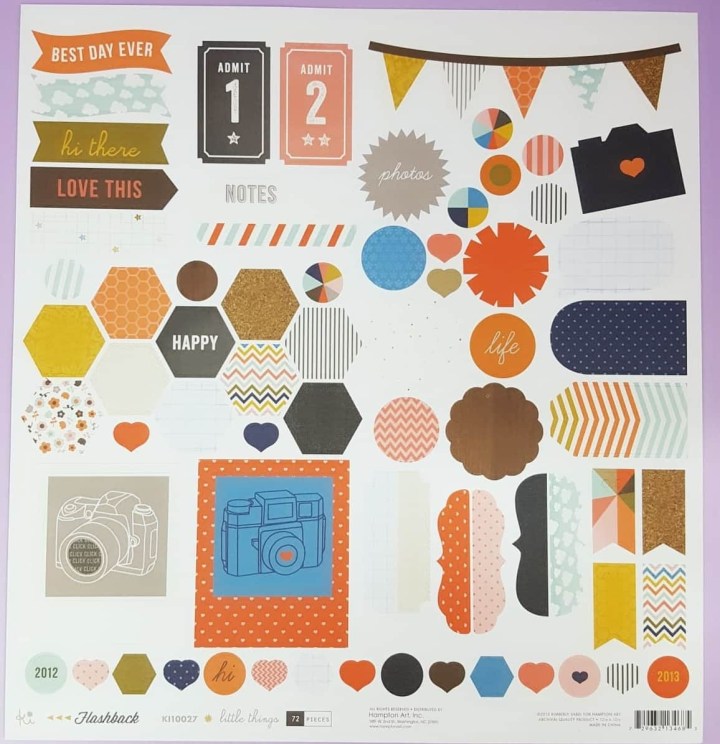 This month, the papers and stickers are from Teresa Collins.
On one side of the information sheet is an inspiration page and information about the layout.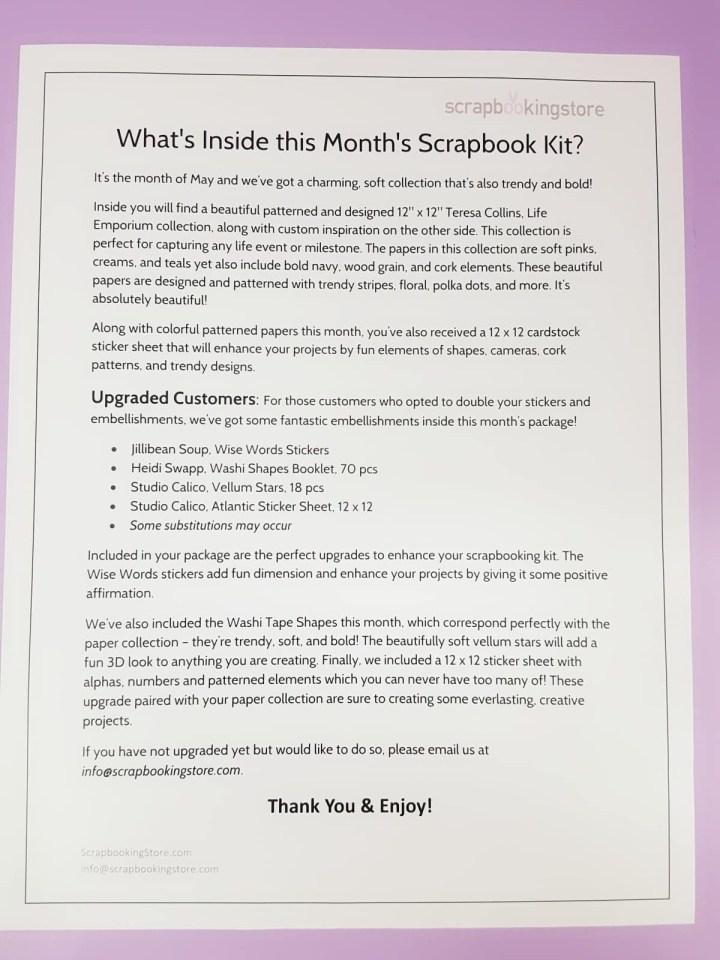 The back of the inspiration card shared the contents of the kit and what you would get if you got the upgraded package. I did not get the upgraded package this month but that is not a problem since I am an avid scrapbooker I always have lots of extra embellishments to play around with.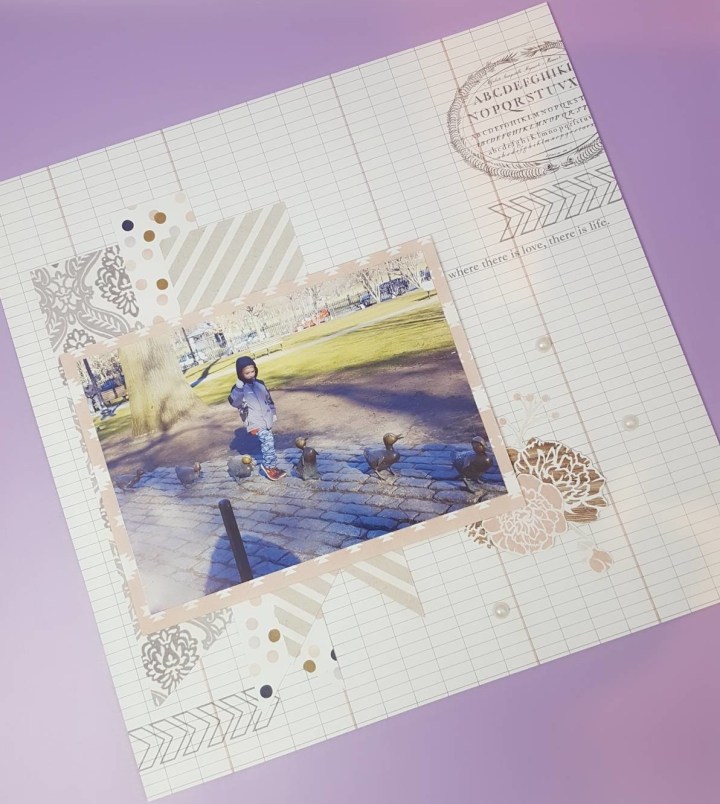 I was at a crop this weekend with friends and thought it was a great time to pull out these papers. The cardstock was nice and thick and easy to use as a background page. I do not like flimsy backgrounds so I was glad this was on the thicker side. I made this page starting with the inspiration idea they included with the kit. I had printed a couple of pictures from our trip up to Boston last March and I loved how the colors are fed off of each other. In their inspiration, they cut out a flower using their Cricut but since I was at a crop I improvised by taking another sheet they included and fussy cut out some of the flowers. It was a nice balance for the strips on the other side of the picture.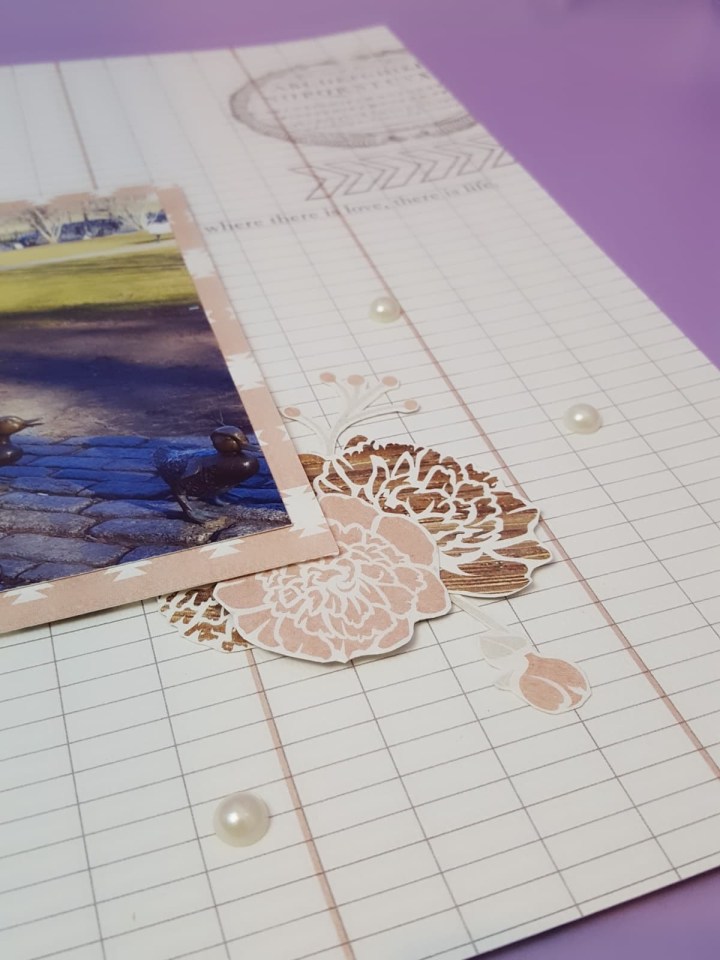 Here you can see where I cut them out and then adhered them down. When I sat back and looked at the page I decided it needed just a but of something so I grabbed some pearls and added them and it really finished the page for me.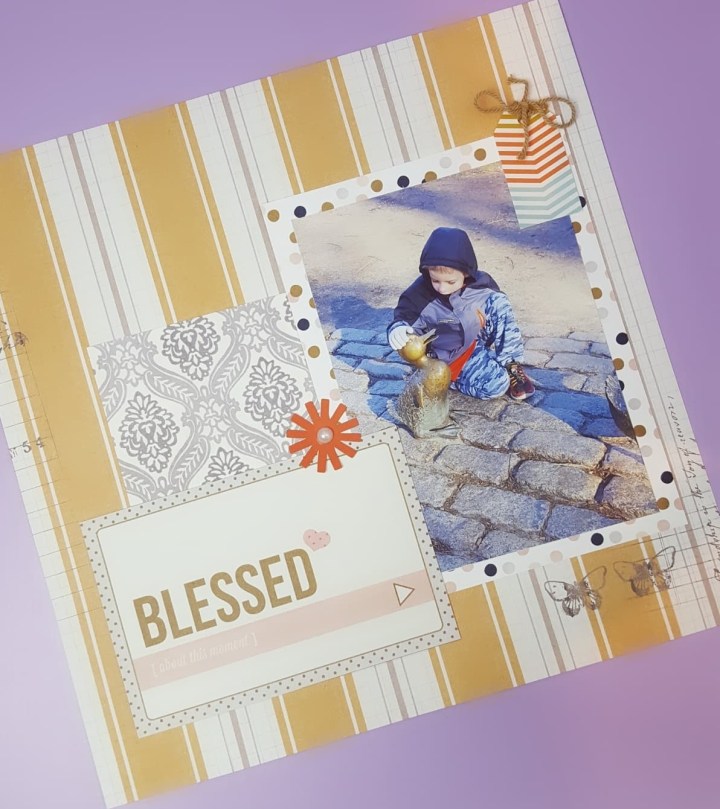 For my next page I was inspired by they Blessed card in the pocket card page. Don't be afraid to cut these apart and use them on full size layouts. Since I do both pocket and full I use them in both ways when I'm crafting. This was a nice and simple layout but I loved how the gold in the stripes goes with the gold on the ducks. The colors really just flowed together.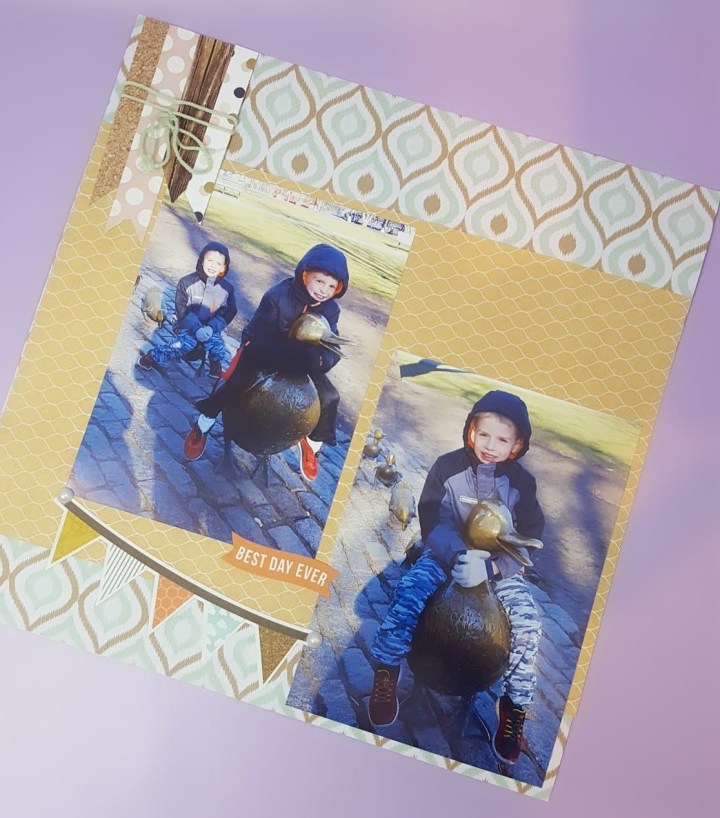 The final page I created so far was with the fun chain pattern paper. This was a different texture and was thick but you could feel the ribs in it. Almost like a textured wallpaper feel. I was drawn right to it. My son keeps telling me this was the best day of the trip even through the high was about 10°F and very windy. We had a blast walking around the city and seeing the sites. I used some of the stickers off the sticker page and then anchored the banner with some more pearls to tie it in with the other pages I created.
With the pages I made I still have lots of supplies left. I'm going to print some more pictures from my trip and keep them all in the same look for a great spread of trip pictures.
I fully enjoyed my first Scrapbooking Store box. The collection really went together and I loved the quality of the papers. They were nice and thick and while the colors blended their was a lot of variety so everyone could find some papers they enjoyed. I can't wait to finish up this trip and then see what they include in the next box.
Do you like to scrapbook? Do you have a favorite paper?