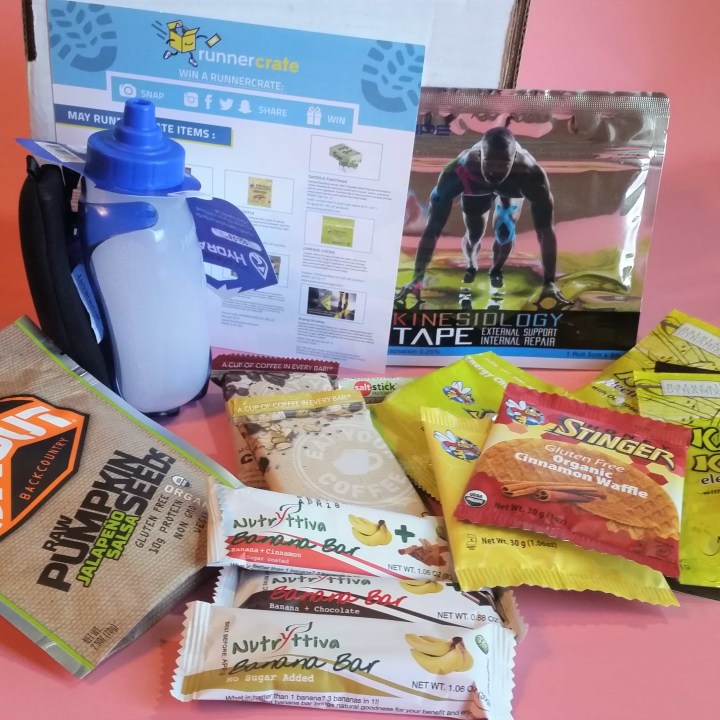 Runner Crate is a monthly subscription box for runners – no surprise, huh? Each month, Runner Crate will send "brand name fitness supplement samples, apparel, workout plans, meal recipes, other gym related gear AND bling!" Each box will include 6-8 items, depending on what is included. Subscriptions start at $35/month, with discounts for pre-purchasing multiple months.
Here's a look at everything in this month's box. It has been a while since I had the chance to review a Runner Crate box. Last time, the shipping box was decorated like a running shoe, which was totally adorable. However, now the box includes an information card, which I love even more than a super cute box.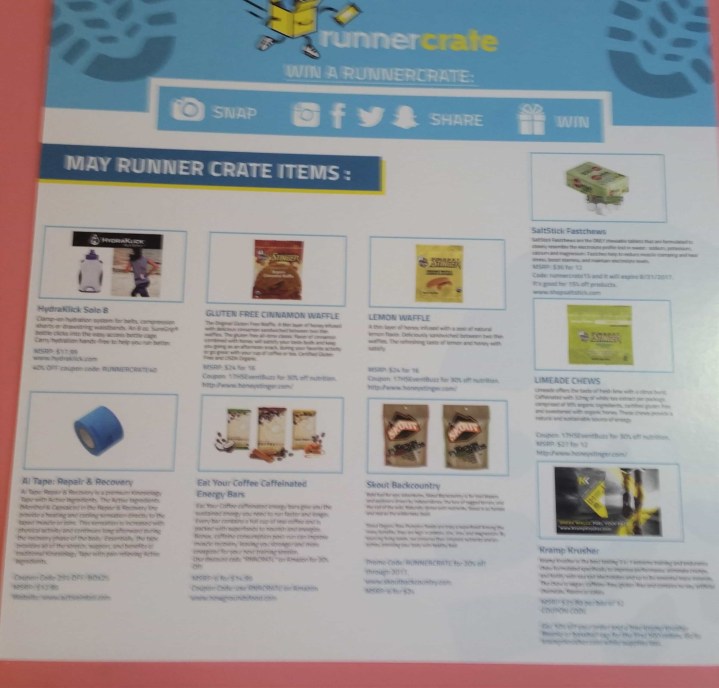 Here's a look at the information card – there's a ton of information on it about each of the products, including suggested retail prices and ideas for using the items.
DEAL: Save 10% with coupon code HELLO.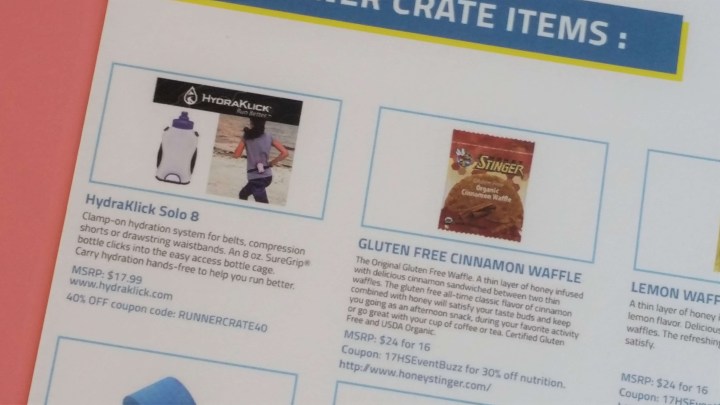 Because there's so much information, it was hard to get a good picture of the whole card – so here's a close up of a couple of the items so you can see how great the information is.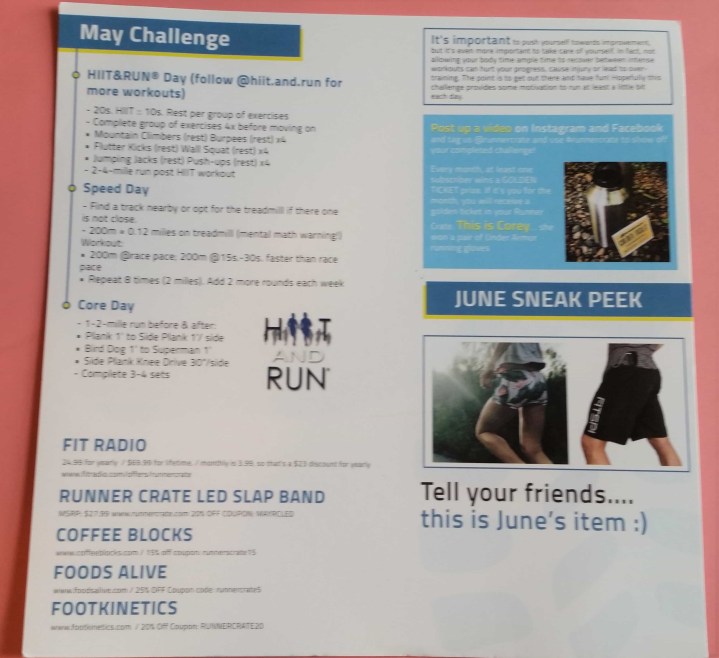 The back of the information card has a fun workout challenge, as well as links to some other great running products (not included in the box).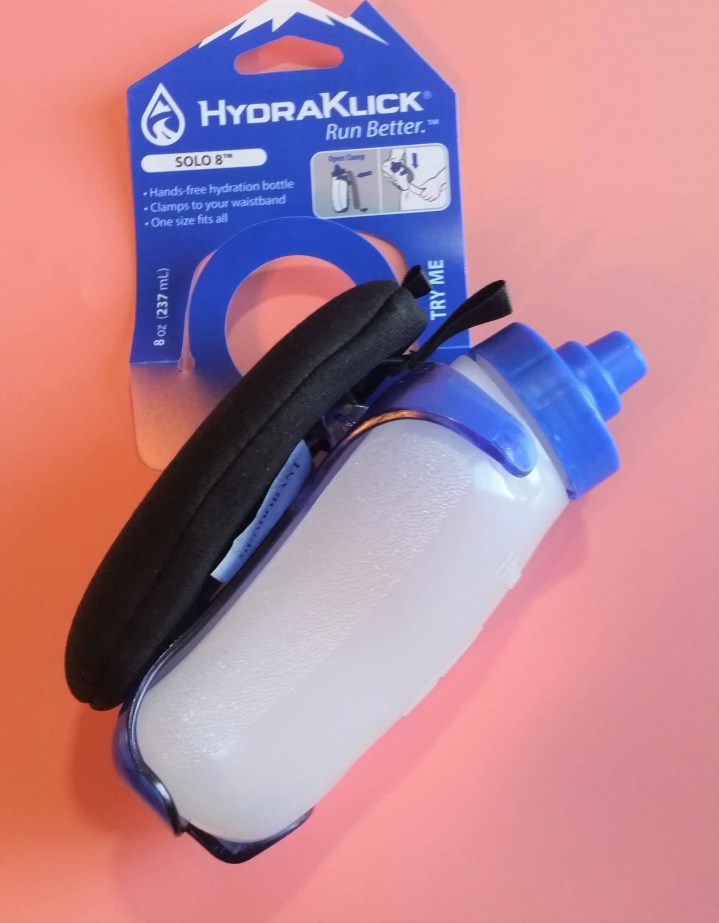 HydraKlick Solo 8 ($17.99): This product is so cool. It is a small hydration bottle that comes on a clip that you can attach to your waistband or a belt. Hands free and super easy! I have a hand-held carrier that I use (as well as a backpack hydration system), but this bottle is awesome for shorter runs. I clipped the bottle right to the waistband of my compression-type running shorts – it stayed on perfectly and didn't drag my shorts down.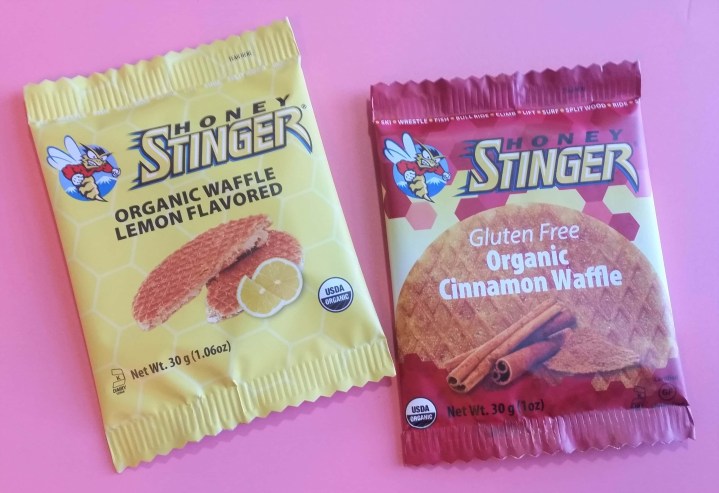 Honey Stinger Organic Waffles ($24 for 16 waffles): I'm already a big fan of Honey Stinger products, including the waffles. I was glad to see both the gluten-free and the gluten-full types of waffle included. I liked both of them, although I'm a bigger fan of the lemon flavor than the cinnamon.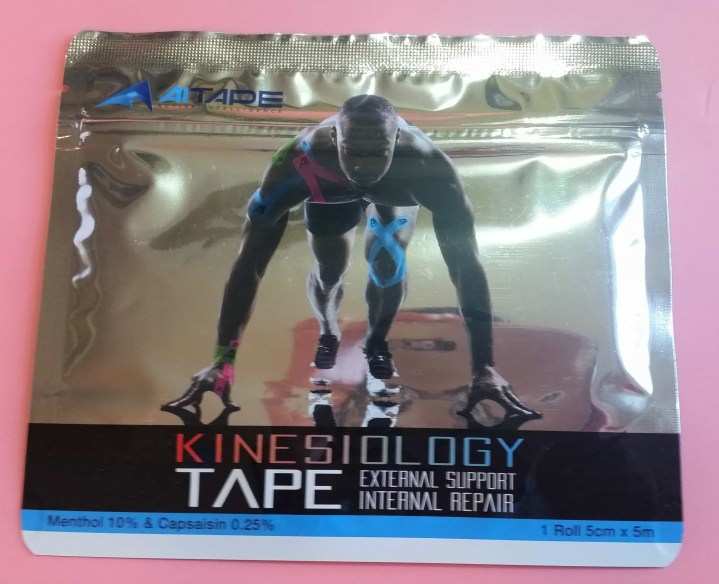 AI Tape: Repair & Recovery ($12.99): Thankfully I'm not currently injured, but I have used different brands of kinesiology tape before and found it helpful. This particular brand also includes menthol and capsaisin to further the process by providing a heating and cooling sensation directly to the muscle or joint. So cool. I'm not in a big hurry to need this, but I'm excited to try it out!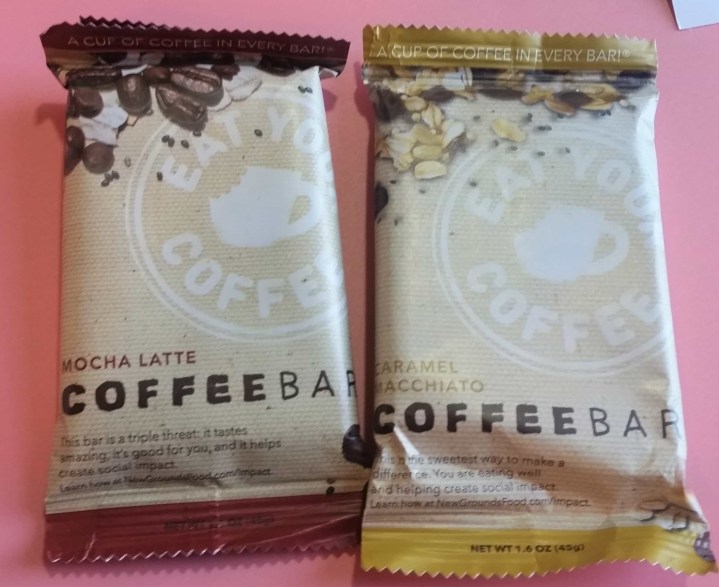 Eat Your Coffee Caffeinated Energy Bars ($14.99 for 6): Wow! These energy bars have as much caffeine as a cup of coffee, plus other yummy ingredients. I really loved the caramel macchiato flavor! I ate mine post-run, when caffeine is supposed to improve muscle recovery. I'm wondering if they would work before a race to give a nice little boost without coffee stomach.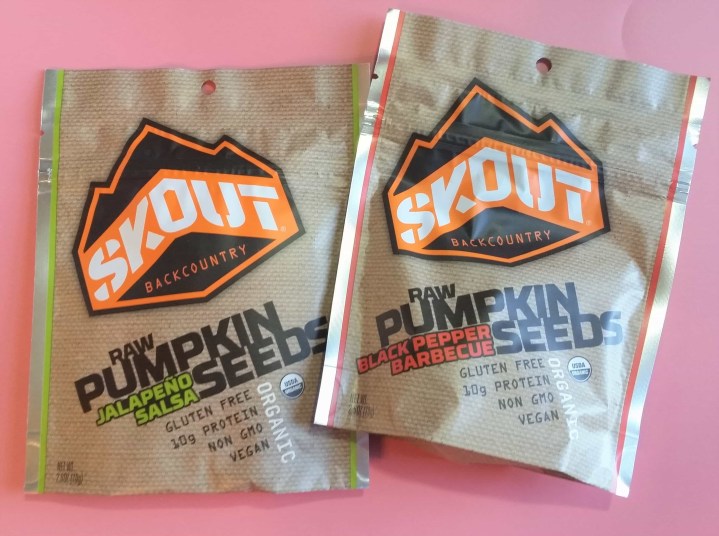 Skout Backcountry Pumpkin Seeds ($24 for 6): Yum, yum, yum. My whole family loves pumpkin seeds, so we ate these right up. We preferred the black pepper barbecue – my daughter said the jalapeno salsa was too spicy for her, but she's weird. They were both delicious. Pumpkin seeds are one of our favorite snacks.

SaltStick Fast Chews ($36 for 12): It's getting to be that time of year – sweat season. I have used salts and salt caps before, but these little salt chews are new to me. These chewable tablets are formulated to replenish the electrolytes we lose in sweat. They taste pretty good and are easy to carry.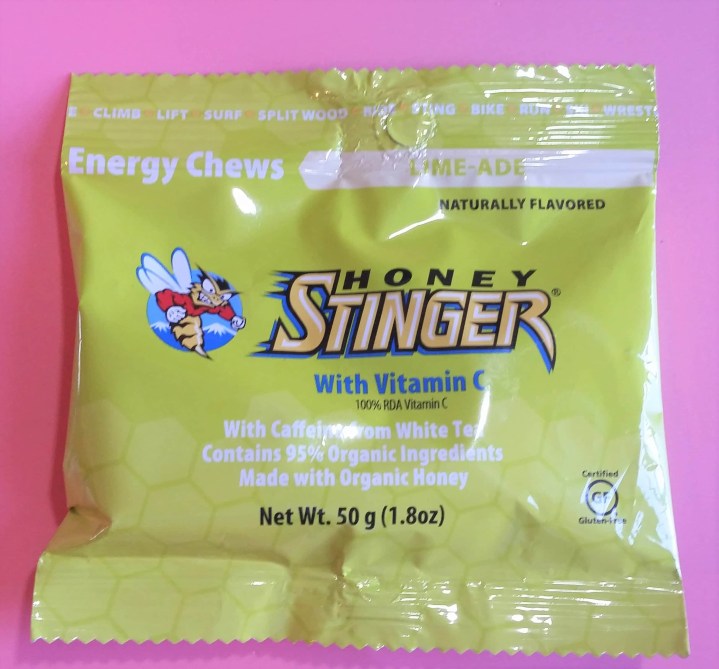 Honey Stinger Limeade Chews ($27 for 12): I love Honey Stinger chews almost as much as I love Honey Stinger waffles. These limeade chews are delicious and caffeinated. Perfect training fuel.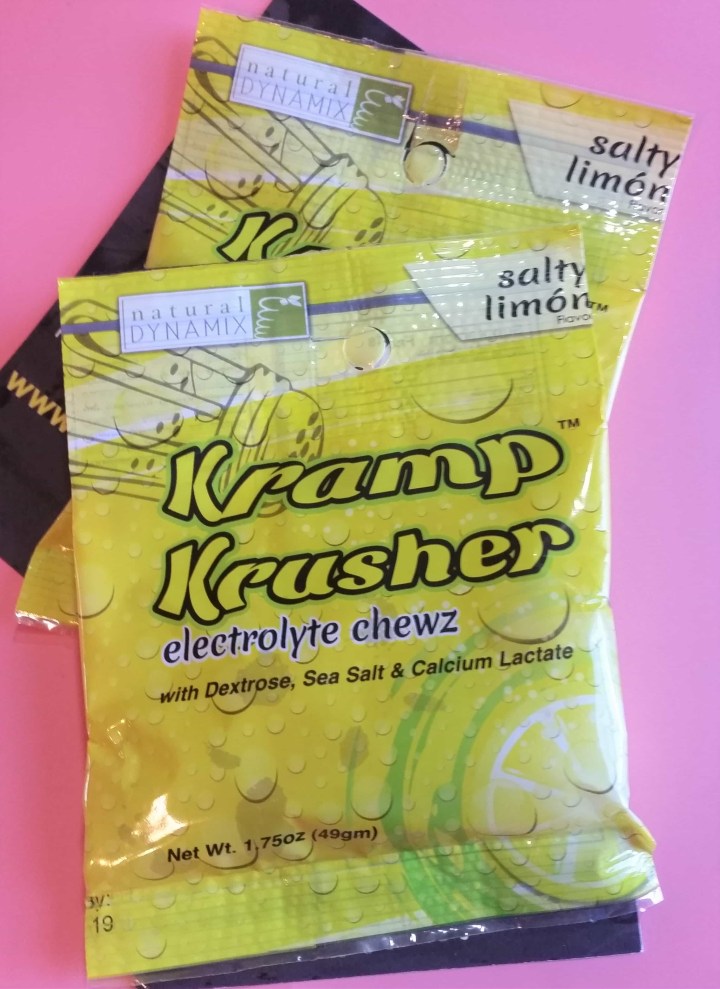 Kramp Krusher ($35.88 for 12): Another type of energy chew, perfect for summer. These also have electrolytes to eliminate cramps – plus they taste good. Mmmm. Salty limon.
I love Runner Crate! I love all the items in the box. Many of them are products I already know and love, but others are new products that I'm thrilled to be introduced to. Plus the whole box is just perfect for summer – hydration and electrolytes! This is one of the best boxes for runners I've seen.