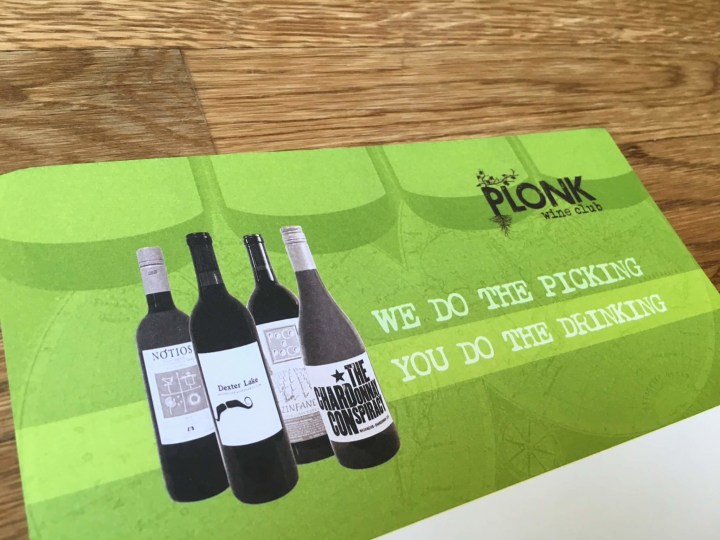 Plonk Wine Club is a wine subscription box offering 2, 4, or 12 bottles per month in either a red, white, or mixed shipment. Plonk specializes in curated artisanal, small batch, rare, and sustainably grown boutique wines.
It's Juuuuuuuuune, ya'll!  I'm so unbelievably excited about summer this year. Even the corporate office types get to take longer Friday lunches in summer, or (my favorite) sneak out a hair early for happy hour. Post-dinner walks with a red plastic opaque cup full of wine are what summer is all about. That, and drinking the rose in that walkie cup. Let's do that!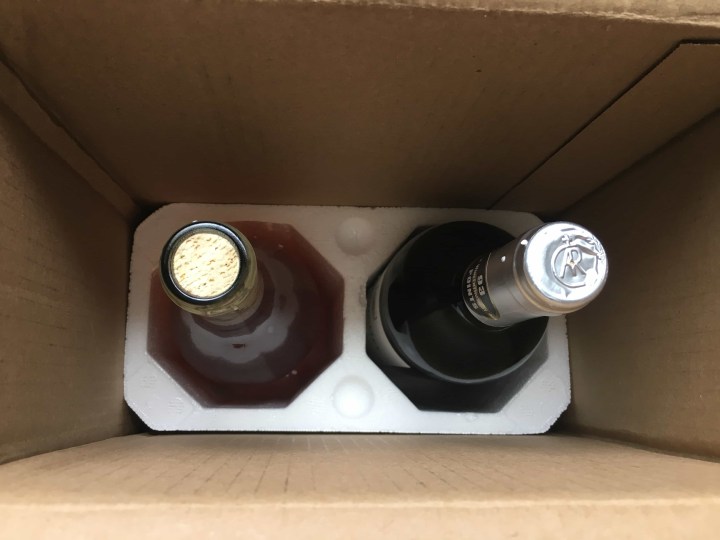 This month, I received the 2-bottle mix. Plonk prides itself on finding small batch, organic, and other interesting wines that you might not discover on your own. Each wine comes with informative tasting notes and recipe ideas, and you can get full recipes at the Plonk website.
DEAL: Save $10 on your first box! Use coupon code NEWMEMBER.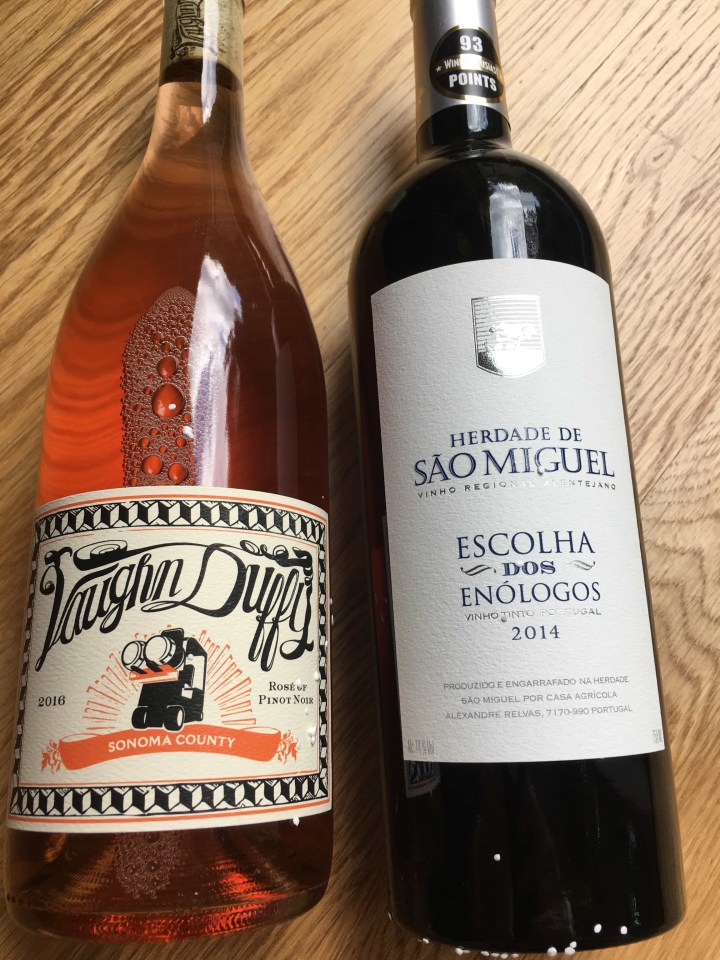 We got a rose this month! Hooray for rose, right? First up is the Vaughn Duffy 2016 Rose of Pinot Noir.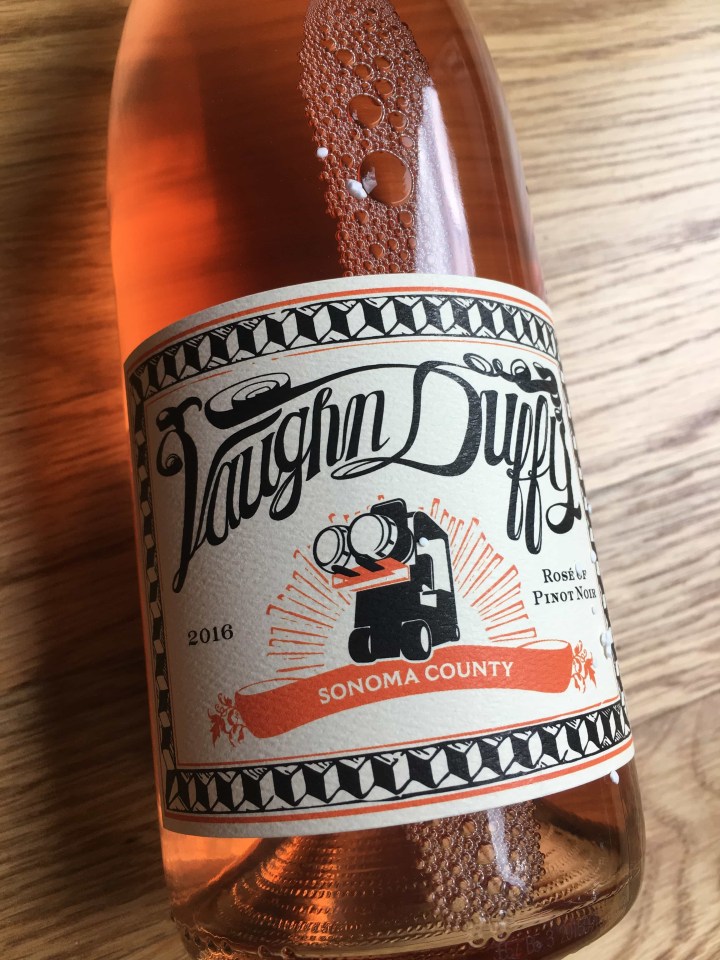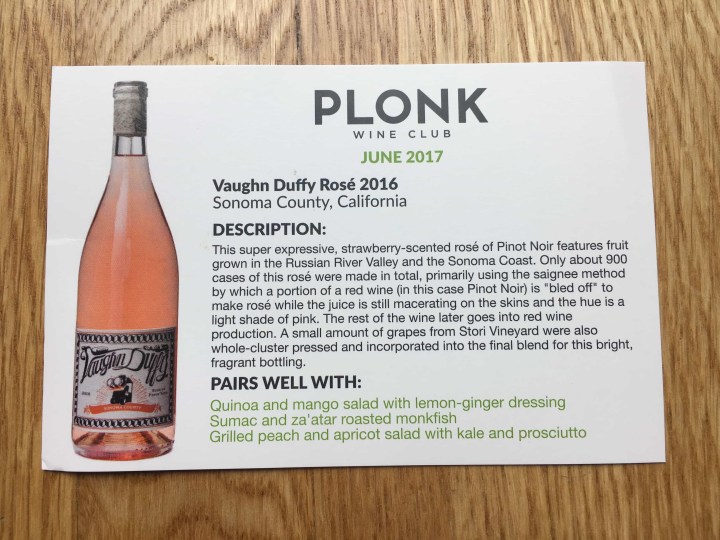 This is probably the third year of true rose-insanity, and I think the market is starting to get a bit overloaded.  There is a LOT of junk rose on the shelves, with that gross sweet-into-alcohol burn that is only good after you should have already stopped drinking for the night. This rose, I'm pleased to report, is a grown-up, yet still fun, summer wine. Grown-up and fun, perhaps because the winemakers are my age?! I'd like to think I'm grown-up and fun. As you can see, this rose is a lovely peachy-pink color with a nice berry nose. Some of those austere Provence roses (which I like; don't get me wrong) don't have any nose at all, so this is a nice change of pace. The berry flavor hits first and then widens out to be more watermelon-like, but with a nice blood-orange citrusy undertone to cut the sweetness, and even a bit of mineral/stone on the finish. This is a beautifully balanced, gorgeous, easy-drinking-but-not-stupid wine. I would buy another bottle in a hot second. We had this with grilled cheese and salad (because, summer) on the back porch, and it was awesome. So happy with this wine. Drink it chilly but not icy.
Our next wine was the 2014 Herdade Sao Miguel Escolha Dos Enologos from Portugal.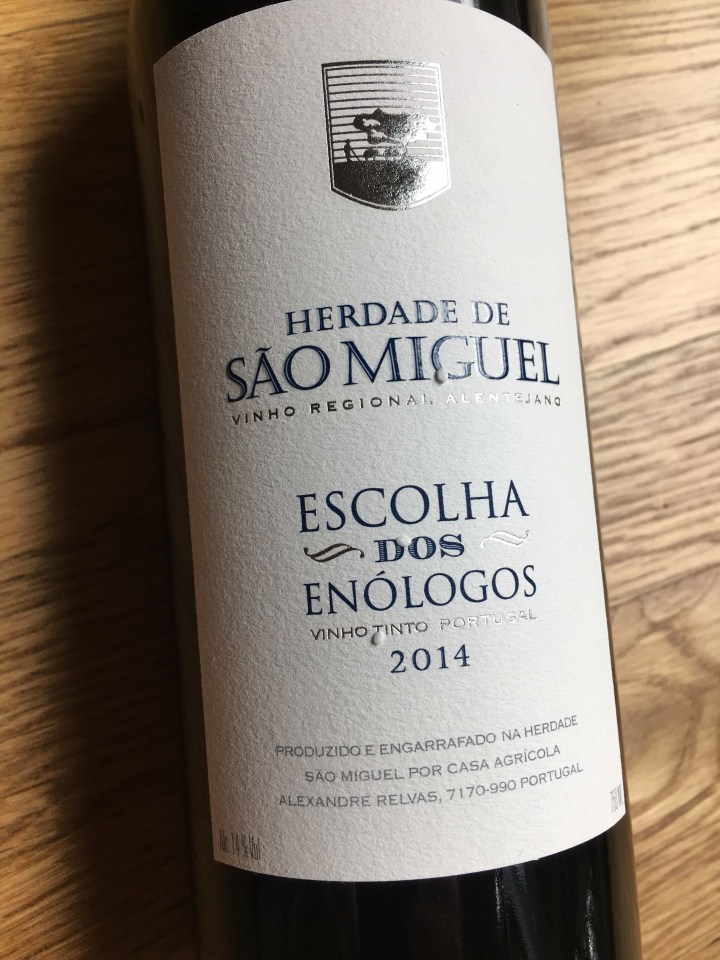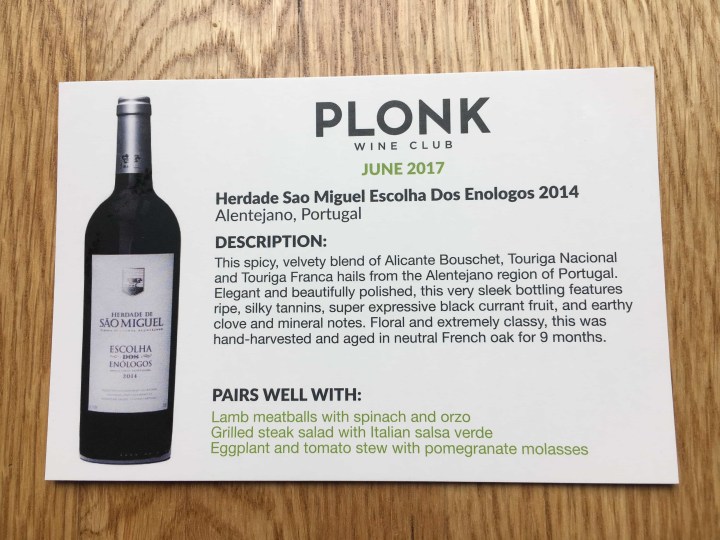 Portugal, you probably know, is making terrific wines that are often very good value. This wine retails a bit higher than usual for Plonk, around $30 a bottle. This is a blend of Touriga Nacional and Touriga Franca, as well as Alicante Bouschet. The two Tourigas are traditional Portuguese grapes, often used to make port. In this case, the blend makes for a much more streamlined wine, with less heft and more fruit than a port. This wine is a lovely bright purple in the glass, with a restrained nose of dark fruit and spice. The flavor leads with dark, dark berry and then mellows into a bit of spicy vanilla from the oak, before finishing very cleanly with moderate tannins. This is a smooth, beautifully balanced wine. You could serve this proudly at even the fanciest dinner party, where it would complement strong meat flavors, like beef or dark tomato sauces. It was fine to drink now, but I think it would probably age well, too — those vanilla notes would likely come to the front. This was such a neat contrast to the well-made but easy-going Vaughn Duffy rose. This wine bears contemplating over a post-dinner card game, another good summer activity. We drank this at cool room temperature.
And that does it for June! I was really pleased with our wines this month. I'm looking forward to high summer next month and can't wait to see what we get from Plonk.
What do you think about Plonk? What's your favorite "walkie" drink? Tell us in the comments below!