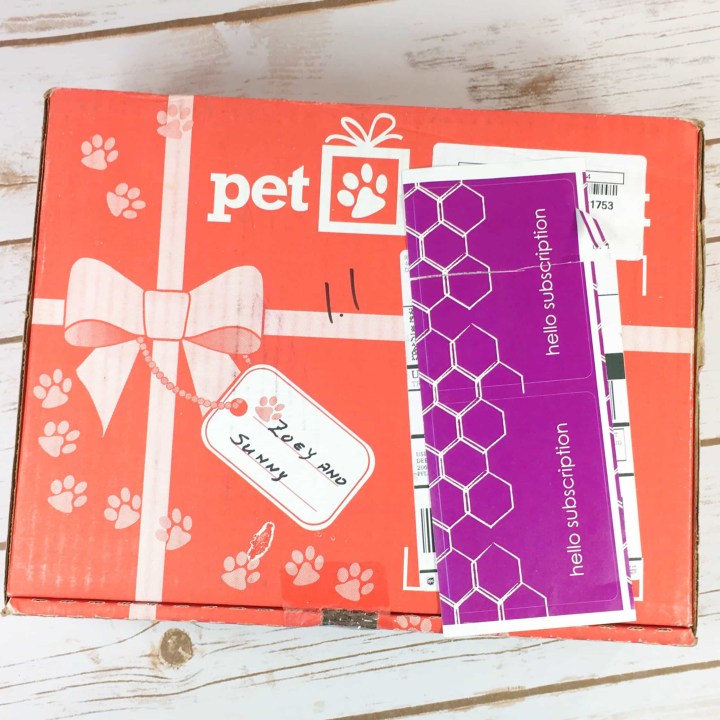 PetGiftBox is a monthly subscription box for dogs or cats. A selection of toys, treats, chews and accessories are included based on your pet's size. With each purchase you can earn points to redeem for free boxes and other great goodies. Plus, each purchase helps feed 10 rescue pets! PetGiftBox costs $25 for a monthly subscription, and you can also sign up for a full year or just purchase a one-time box.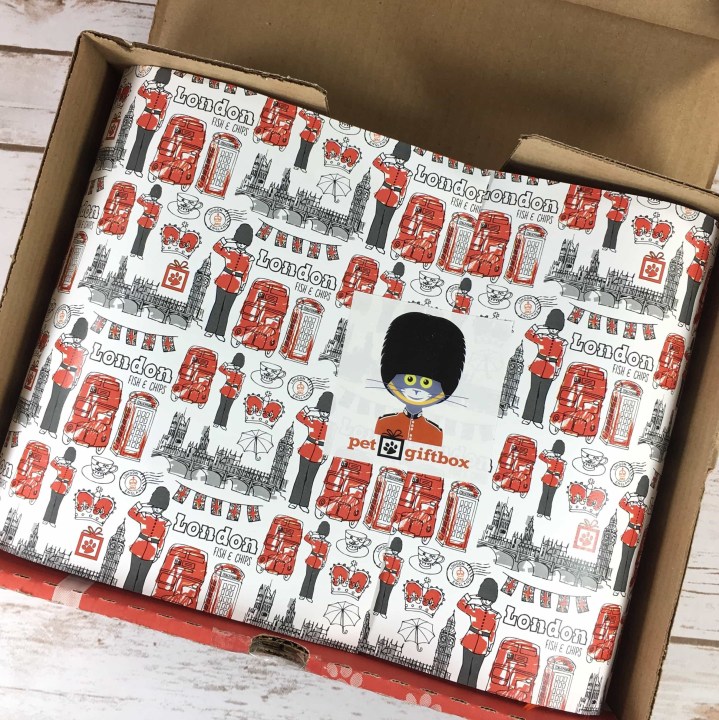 DEAL:  Save 50% on your first box! Use coupon code HELLOSUB50.
This is my very first PetGiftBox and I'm sensing a theme! I used to live in England so this theme is purrfect for me, I mean, my 2 cats! Fun fact: in England some people call cats "moggy". I had an awesome cat and I remember my coworker asked me how my moggy was doing and I had no idea what she was talking about.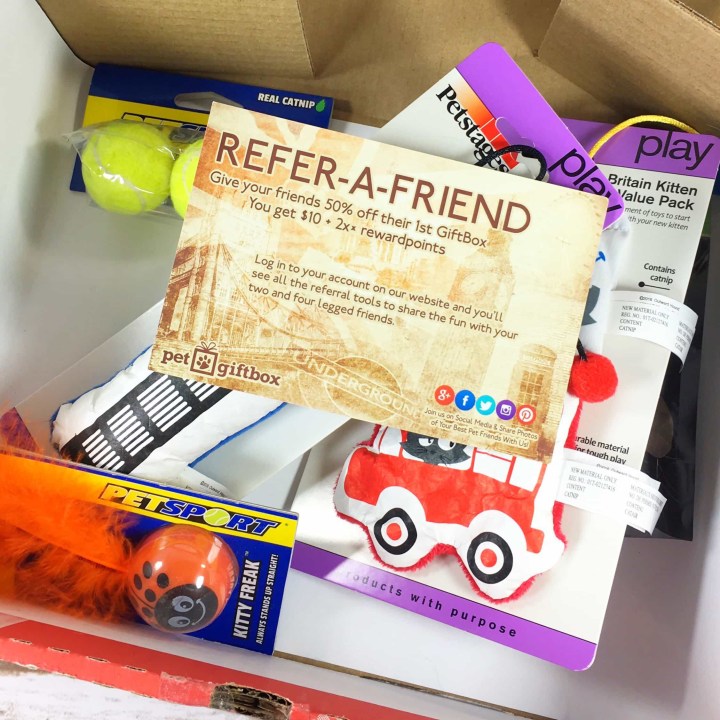 Underneath that lovely paper and sticker I found a card with info on how you can earn rewards.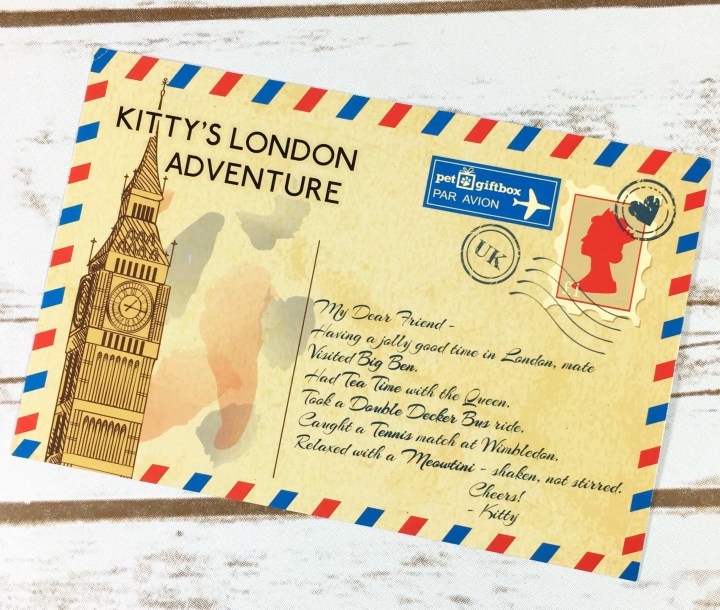 June's PetGiftBox theme was "Kitty's London Adventure." The information card read like a postcard and mentioned the products.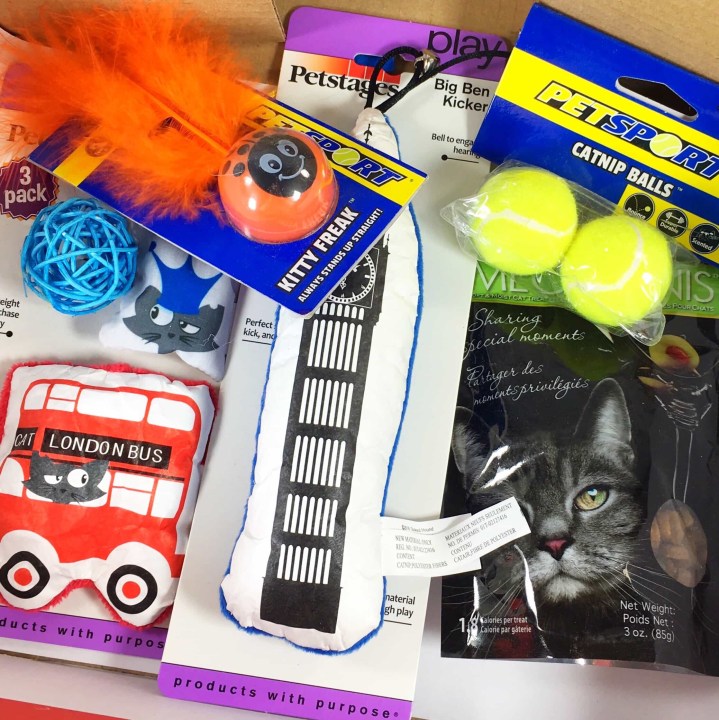 Looking good!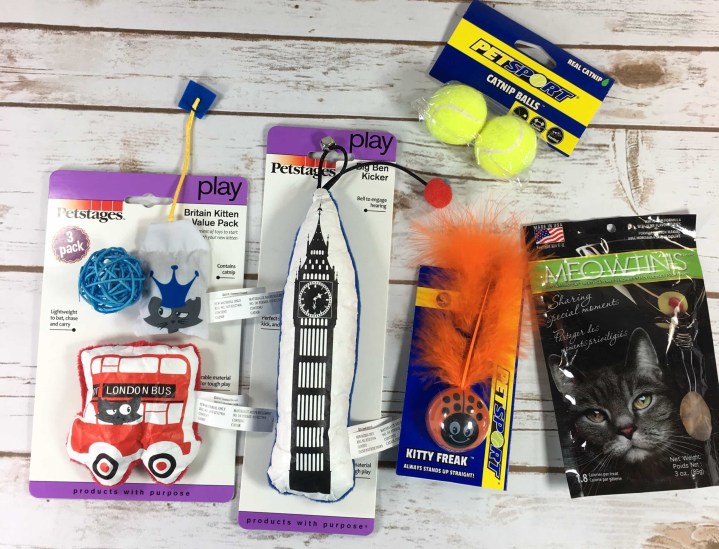 All of the items in my June PetGiftBox.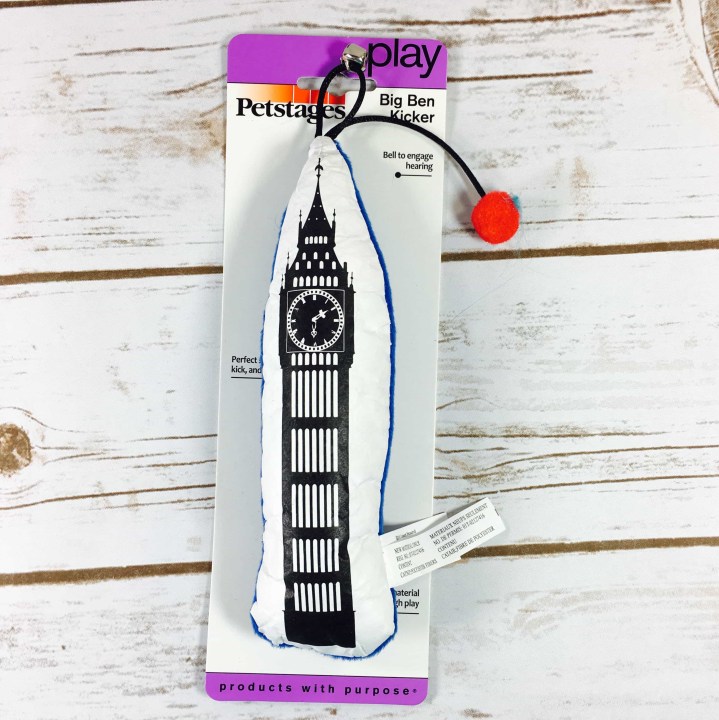 Petstages Big Ben Kicker ($6.99) I've always been enthralled when my cats have kicked at toys like they have little bunny feet and it turns out that this is called the bunny kick! This toy is filled with catnip and one side is plush and the other is kind of crinkly. It has a tiny tinkling bell and a red ball (which fell off already).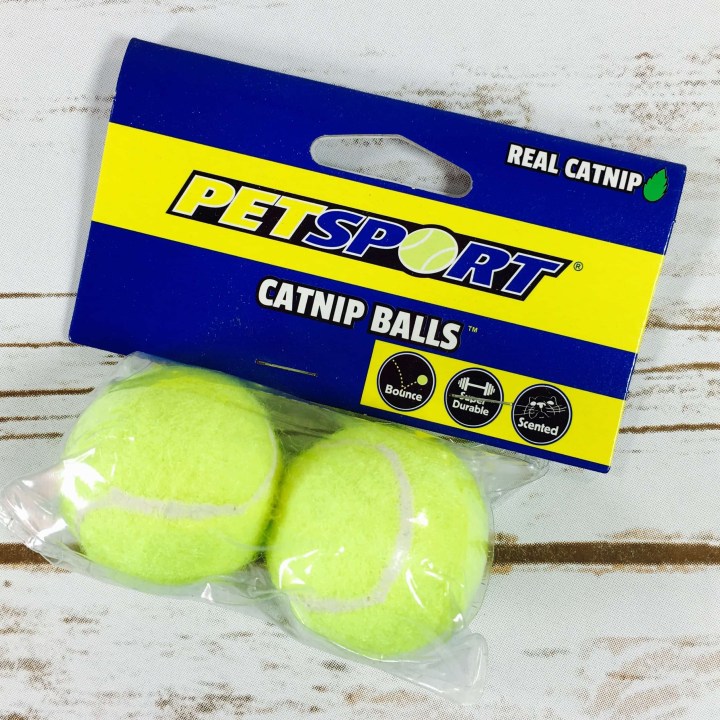 Petsport Catnip Balls 2-pack ($4.80) When I lived in England I paid a tax to get 4 channels on the TV. I learned to like football (aka soccer), Neighbors, and Wimbledon, which is every June in London. These balls play homage to that great tournament. I kept looking for the catnip in these balls but it turns out they are soaked or sprayed with catnip OIL. I thought they smelled like regular tennis balls and my cat who loves catnip turned her nose up at them. They bounce and I had fun dropping them on the tile floor and watching my younger cat try to catch them!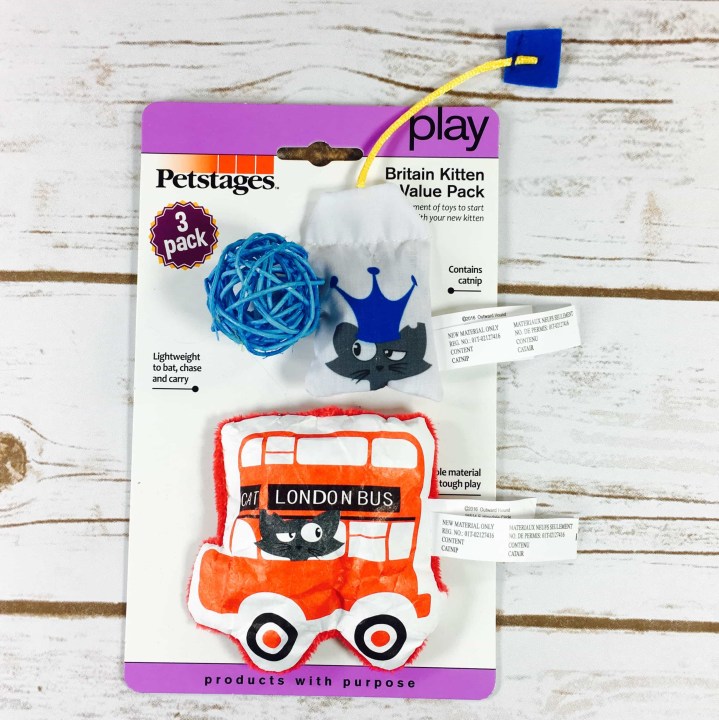 Petstages Britain Kitten Value Pack ($6.99) is three toys in one! There's a lightweight ball that can be batted or carried, a catnip filled tea bag, and a catnip filled double decker bus. The bus is plush on one side and kind of crinkly on the other.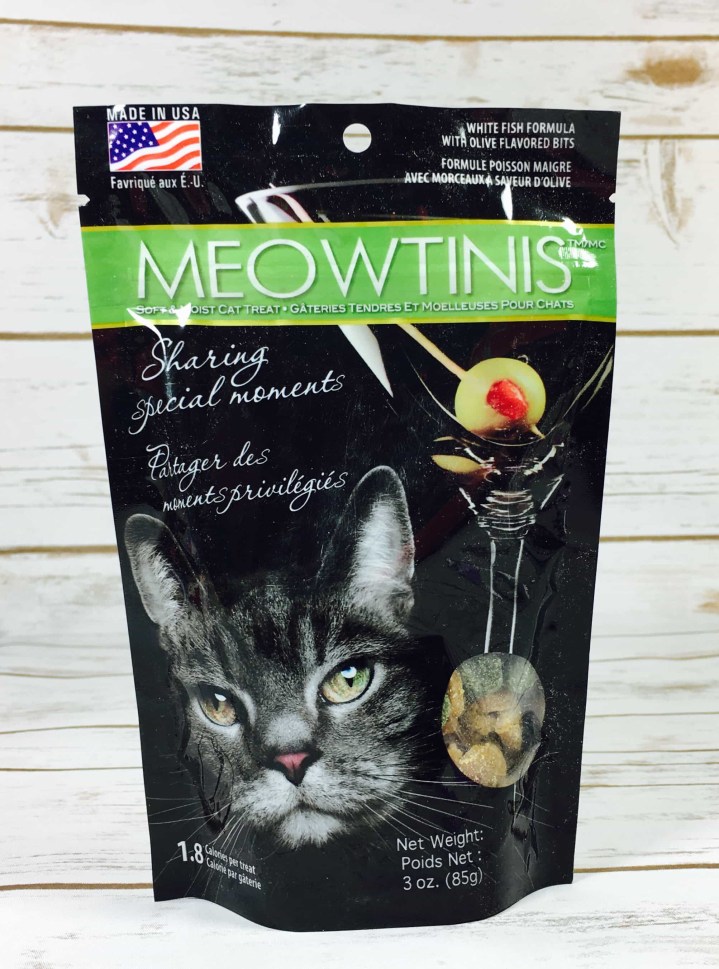 Omega Paw Meowtinis ($5.15) are soft cat treats that are made of whitefish and olives and my cat really enjoyed this treat. This goes perfectly with the theme because that famous Brit, James Bond, loves his martini shaken, not stirred. My cat loves these treats on the floor, not in the bowl.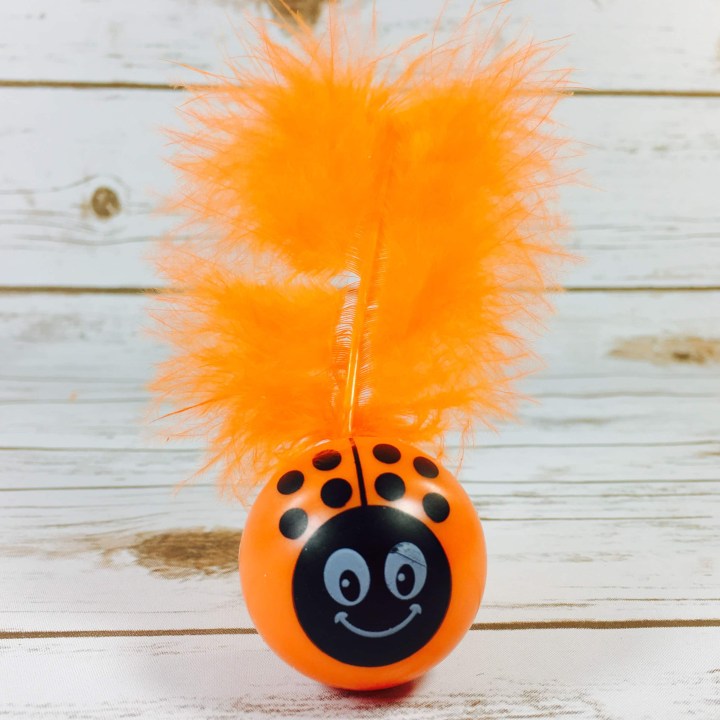 Petsport Kitty Freak Ladybug Cat Toy ($5.88) This is the Weeble Wobble of the cat toy world – it wobbles but it won't fall down! My cat tried eating the feather but it was fun to watch her bat it around. Pop, it comes right back at ya!
Now, for your viewing pleasure: pictures of cats doing things. It's really hard to get a good picture of my orange cat, Sunny, because she is in perpetual motion. Zoey is more laid back, but sometimes she won't move at all!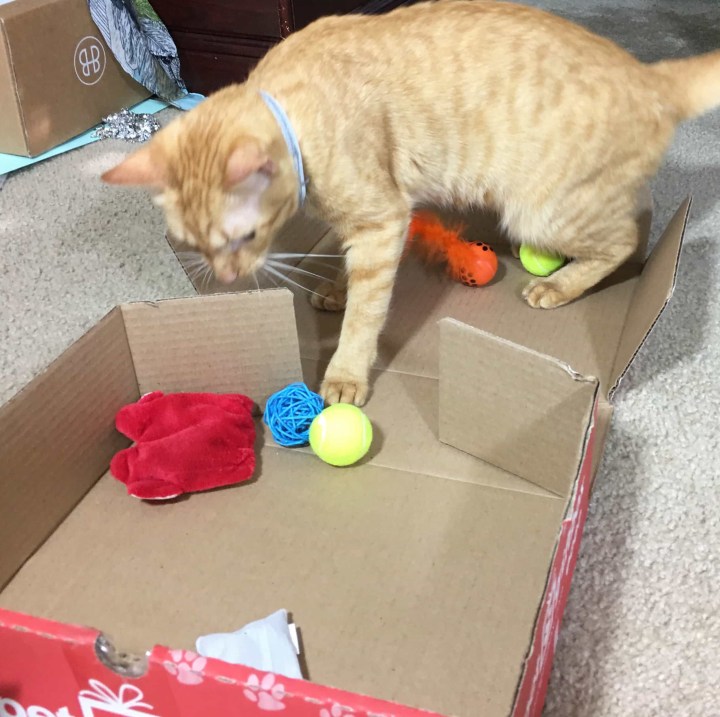 Sunny explores her new kitty toys.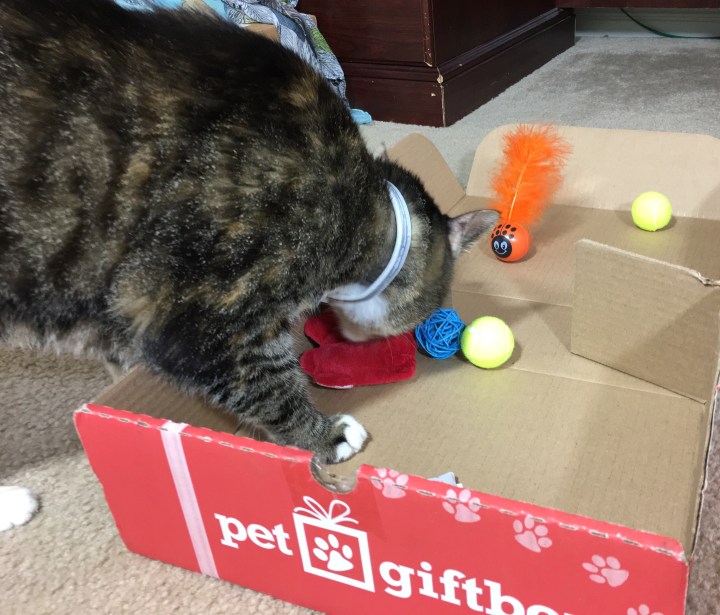 Zoey comes in for a closer look.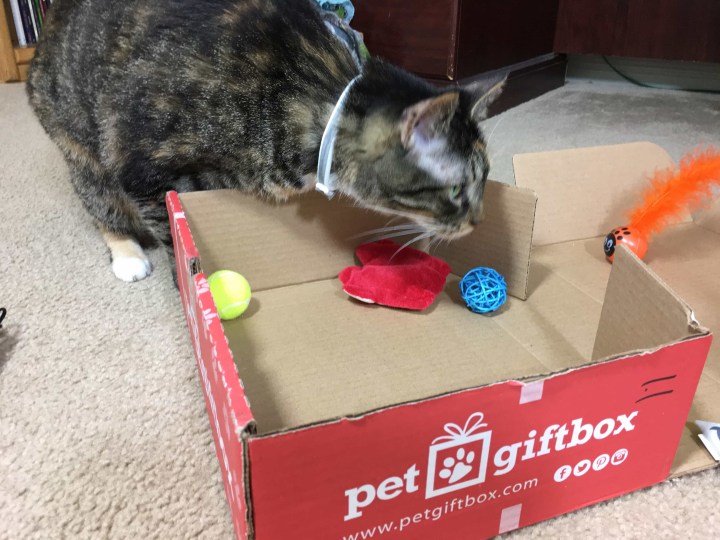 What are YOU looking at?
Oohh, what's this?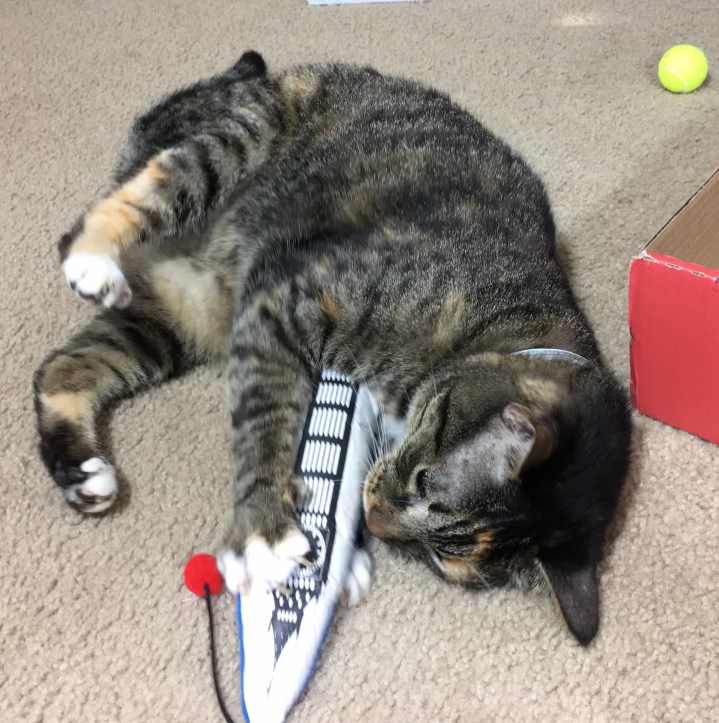 The Clock Tower goes down! Getting into position for the bunny kick!
Sunny preferred to drag this one around the living room.
Yes, I caught a BIRD!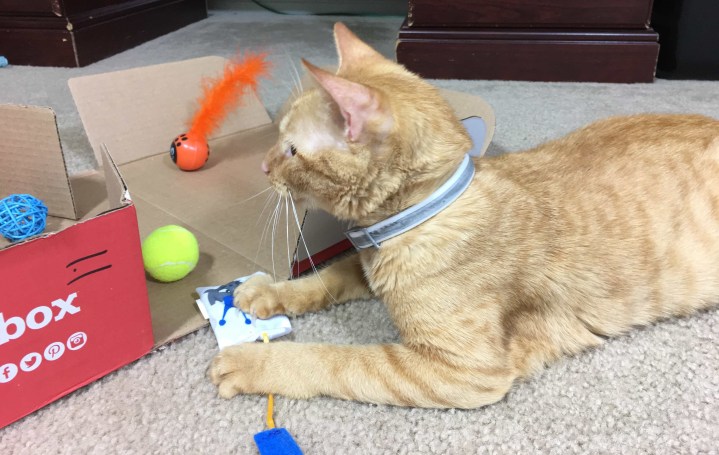 Anyone up for a spot of kit-tea?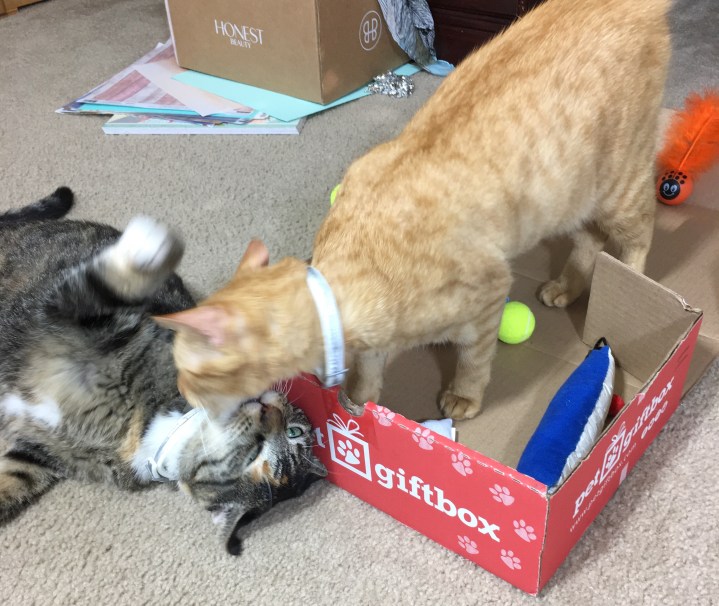 Sometimes the cats just like to play IN the box!
My cats enjoyed their very first PetGiftBox! I loved that the items fit the theme so well and it brought back fond memories of the country that I adore and still miss after all of these years! My box had a value of around $30, which is more than the price paid for the box, but keep in mind that shipping for each of these products online is extra and therefore the value is higher than that. The two products from Petstages were listed for almost $20 EACH on Amazon, plus additional shipping, so I linked instead to the manufacturer. I think this box is a good value for the price paid, so that makes me feel like a smart shopper. Now I'm going to go fix some tea, watch a bit of telly, and play with my moggies. Ta-ra then!