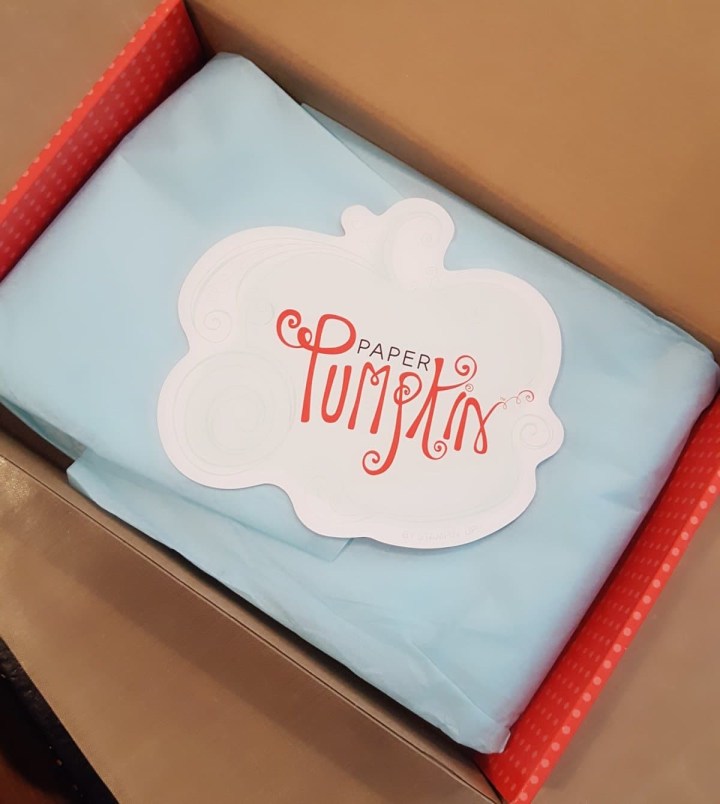 Paper Pumpkin is a craft box from Stampin' Up that sends a fun box each month with all the supplies to make a quick craft whether it be cards, boxes, bags, home decor or anything else in the paper crafting world. We were back to the normal orange box this month but it was still all packed up with great goodies.
Peeling back the tissue and first you will see the stamp set for the month and the ink spot. I love these ink spots and keep them in an old stamp case. They are great to take when I go to a friends house or a crop and I get all the different colors without having to take all of the big ink pads. I also keep the stamp sets in a case and pull them out frequently. They are always so timely and with such a variation I can grab my Paper Pumpkin stamp stash and have an assortment to go with. I'm loving the curved stamps in this one and can see using the "May your Day Be" with a banner that says Totally Awesome or something else fun. Then I think the "Sprinkled with Love" would be good with some flowers growing out of the curve. That is what first came to my mind when I saw the set.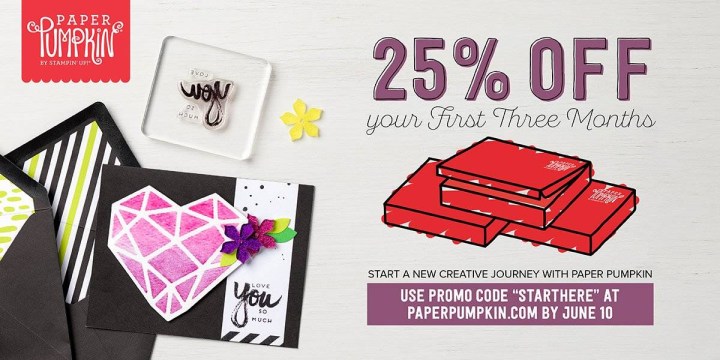 DEAL: Use Code STARTHERE to get 25% off your first three months on a new subscription. Future boxes will be charged at regular price.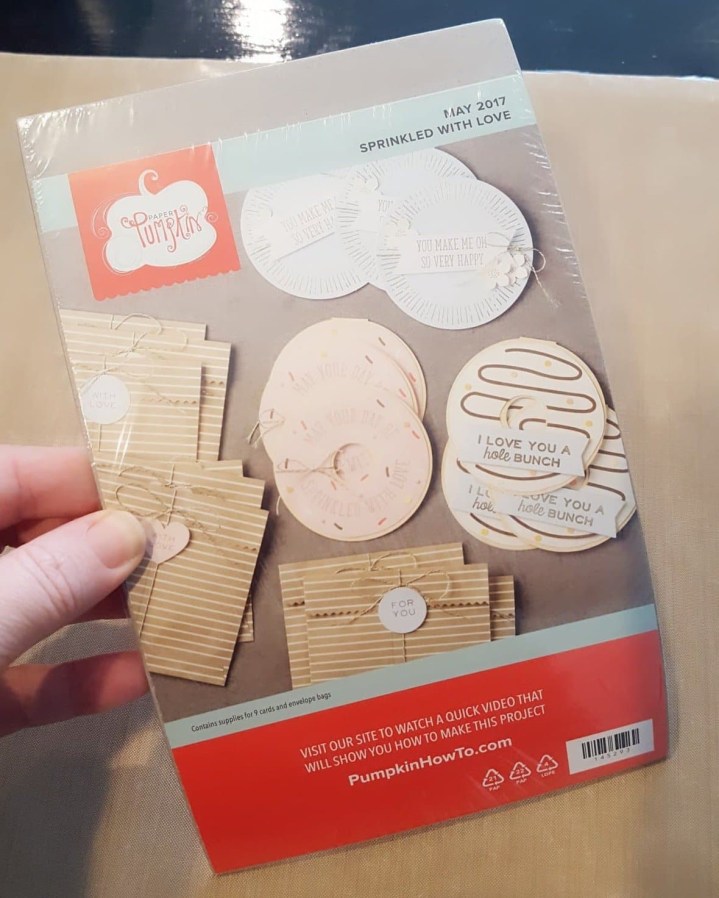 Underneath the stamps and ink spot is the packet of paper products and other supplies for the project. They are all sealed up in plastic with a piece of cardboard and the information booklet.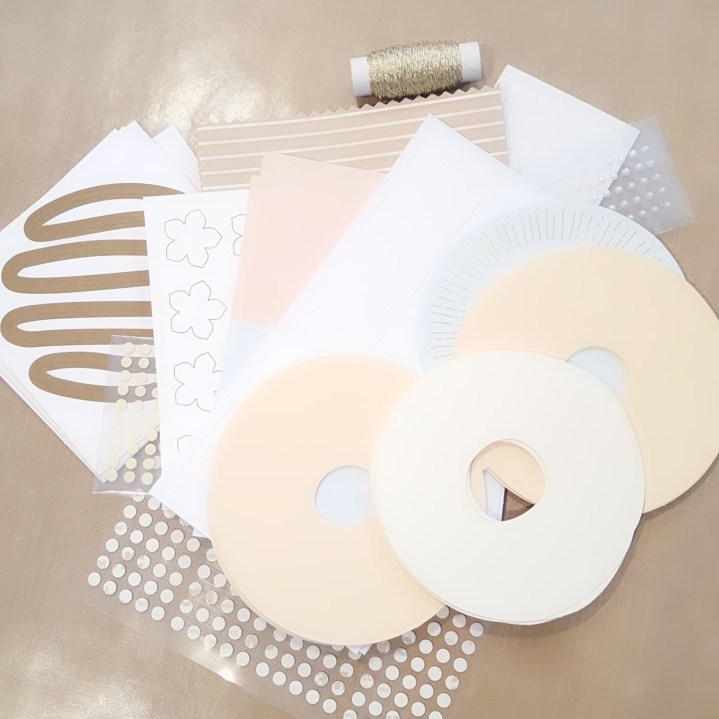 All of the supplies that were in the sealed package. We are making round and donut cards this month.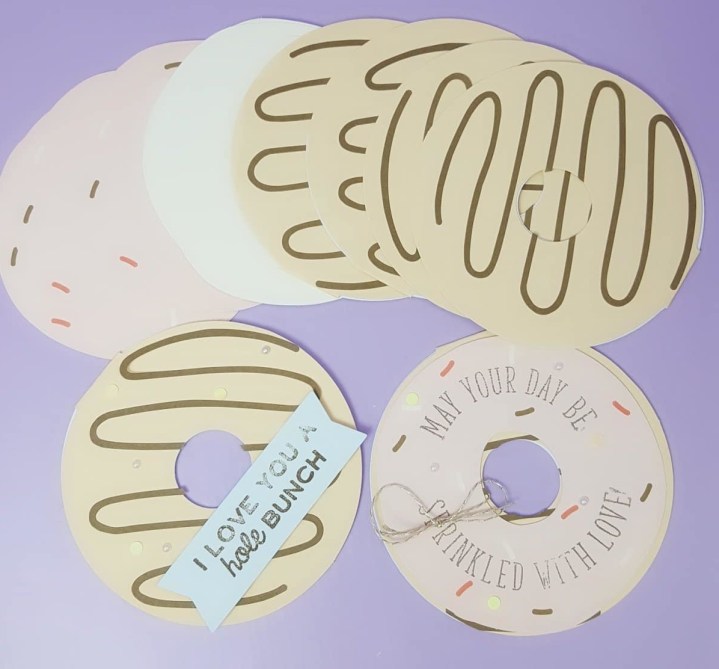 I started with the donut type cards and I'm just not sure what all I will use them for so I didn't put all the sentiments on there. I did add the frosting and some of the bling to them but I'll finish them up when I have an idea. After I did this my friend said she was going to take a bunch of donuts in for her schools break room and add some cards with it. I think that is a great idea or I'm even thinking that maybe add them with a donut shops gift card for some of my boys extra teachers here at the end of the year would be fun.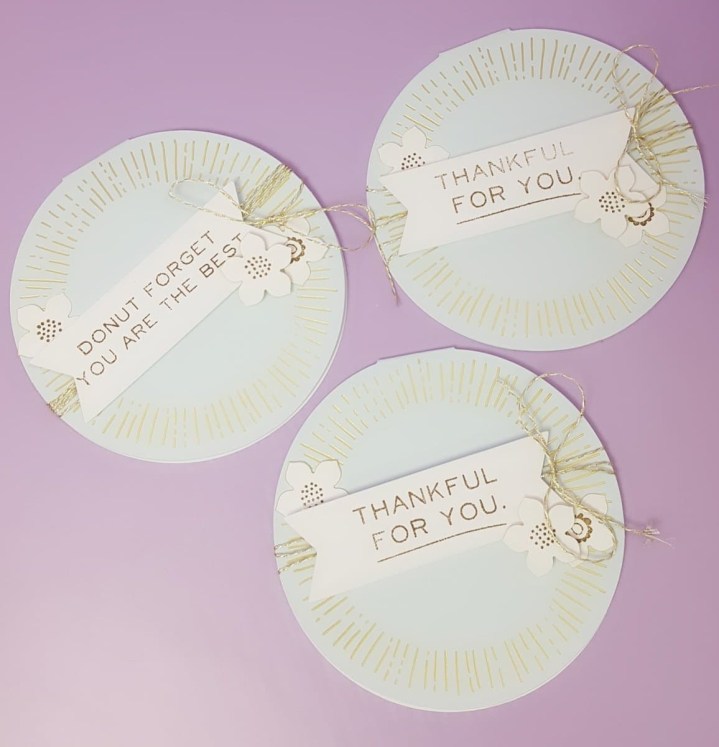 Next up I worked on the round cards. These I think are so cute. They have a gold foil look around the edges and the flowers and the gold twine just add even more sparkle.  We are always needing thank you cards so I made most of them to go for that.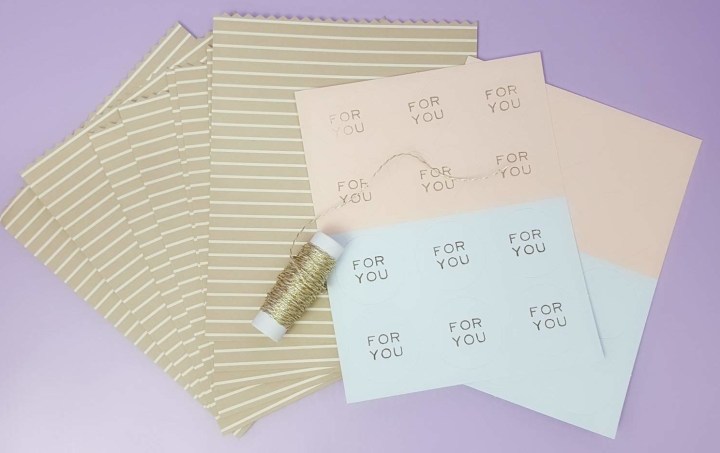 The final project are envelope bags.  \They included these so that you had a bag to put the round cards in. However, I'm thinking I'll use them as cute little goodie bags so I didn't put them all together. That is what is so great with these boxes – I can do them all at one time or do some and then finish up later when I need them.
A sampling of all the cards included in the May Paper Pumpkin box. In the whole box we had supplies to make 9 cards and bags to go with them.
Paper Pumpkin sent another fun box this month. I love getting supplies to craft each month and then being able to keep the inks and stamps for future use is an added bonus. Making the cards round this month was a neat twist on my normal card making and has me thinking outside the box for future projects.
What did you think of this month's Paper Pumpkin kit?