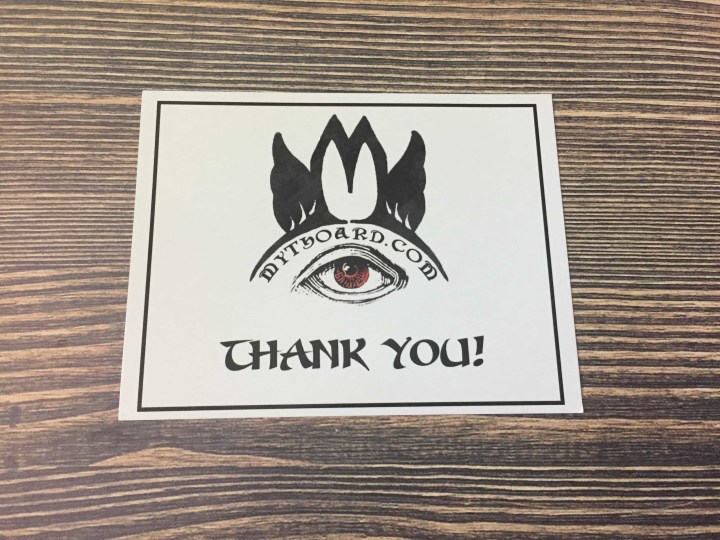 Mythoard is a subscription for fans of tabletop gaming and paper and pencil RPGs like Dungeons and Dragons and other variations. They send a nice mix of current games as well as vintage games, which is really unique.
We experienced issues with their customer service when problems arose regarding billing. Our box arrived comprising of 3 or 4 boxes shipped together with no clear explanation of what items belonged to which month's box, and again customer service did not respond to our inquires for help.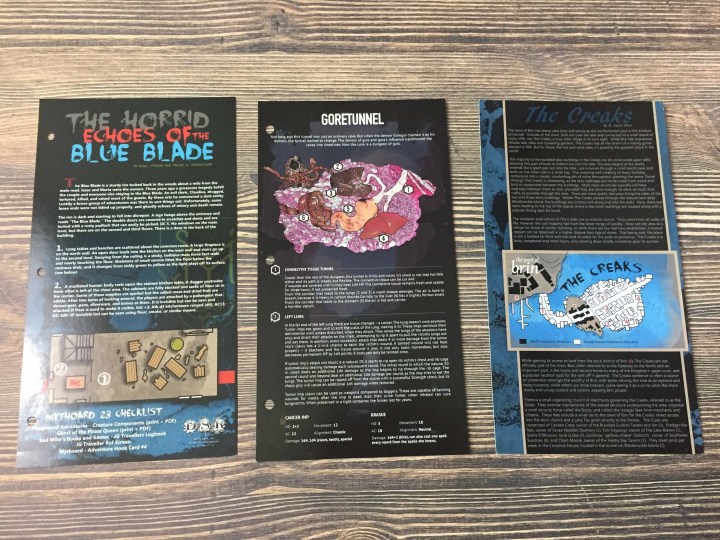 These three pages seem to be the information sheets/product lists, but only two include contents listed on them and it's unclear what items they are referring to. The pages themselves are really cool — they have maps and lore printed on them which can help you set the scene for your adventure.
Each box includes a Mythoard exclusive. I was sent cards for box #24 and #25. We were also sent adventure cards, which feature character profiles.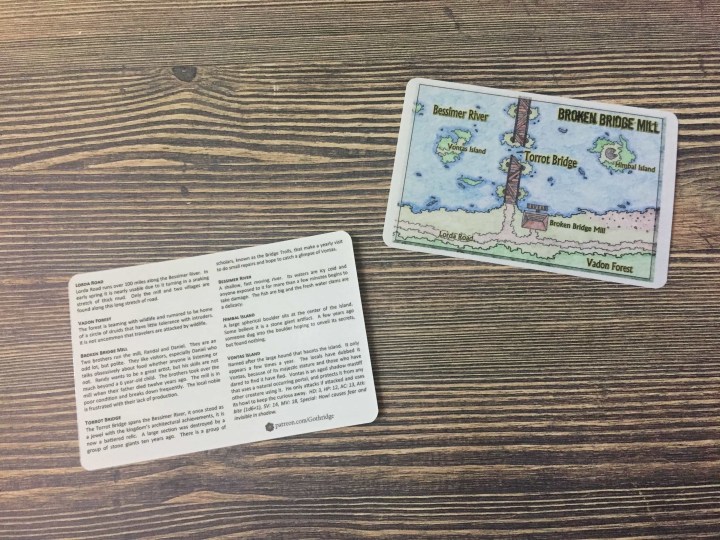 Two detailed map cards from the micro-adventure Gothridge! I really like the art — the colouring looks like it was done by hand.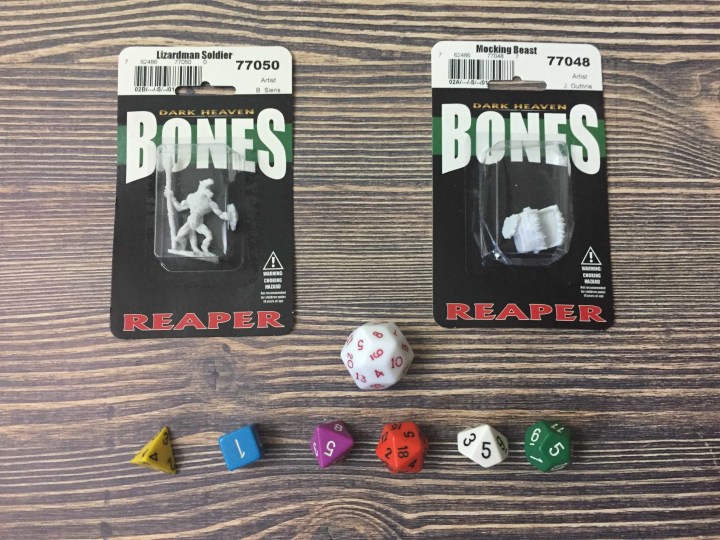 The box also included two blank miniatures — you can paint these to use in your tabletop games.
We were also sent a bunch of colourful dies — D4, D6, D8, D20, D%, and D12… And the big D30!
In addition to the little bits, the box included a stack of books. I have only skimmed briefly through them all but the oldest dates back to the 70s!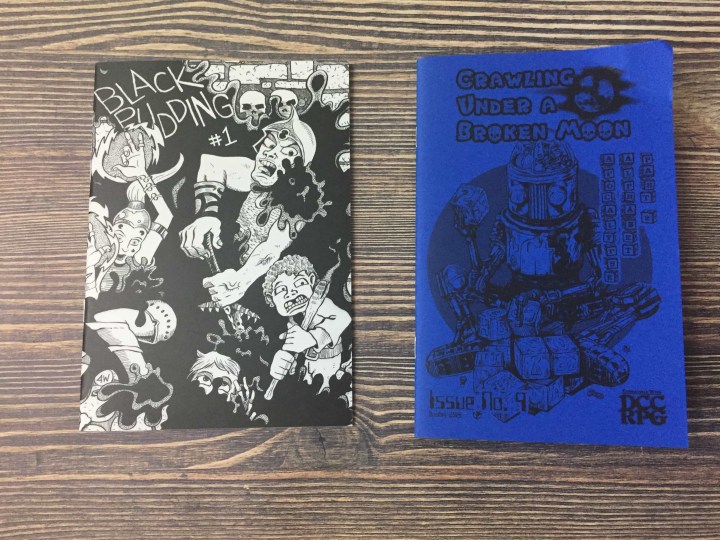 Black Pudding #1: This has a bunch of beautifully illustrated character sheets. In D&D, Black Pudding is actually an oozey monster!
Crawling Under a Broken Moon #9: This is Issue 9 of a fanzine that was fun to flip through!
Here's some pages from Black Pudding — I am loving the art for Chainmail Chick!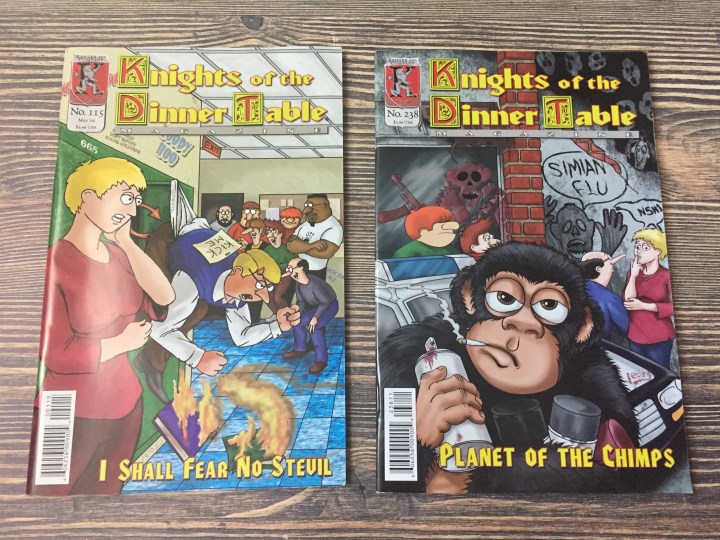 Knights of the Dinner Table is another fanzine about D&D and tabletop gaming. It has articles, interviews, and comics!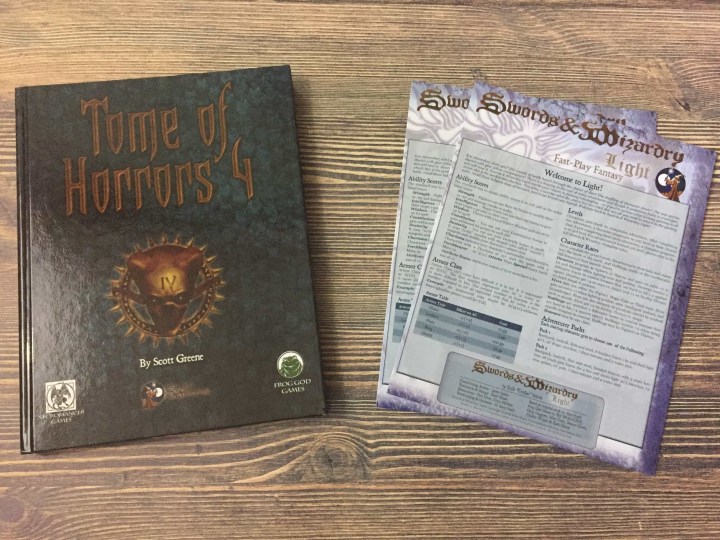 Tome of Horrors 4 ($49.99) is an amazingly illustration compendium of scary monsters featured in the Swords & Wizardy series. We were also sent two laminated game cards for Swords and Wizardry.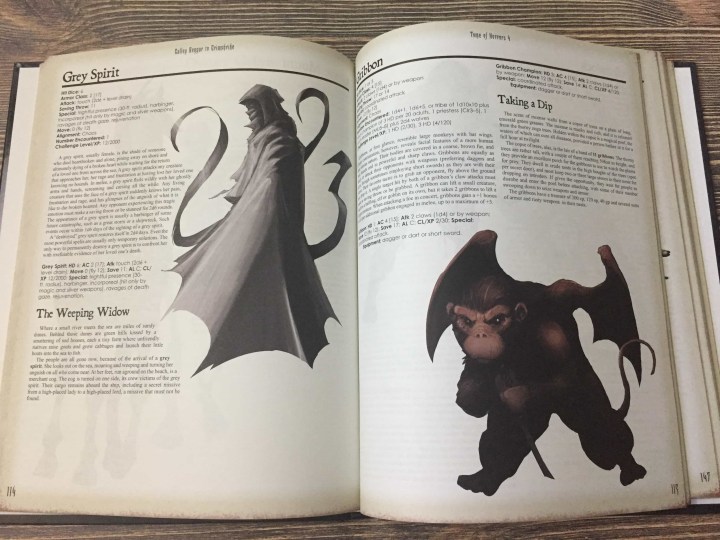 I love the art — it's just gorgeous.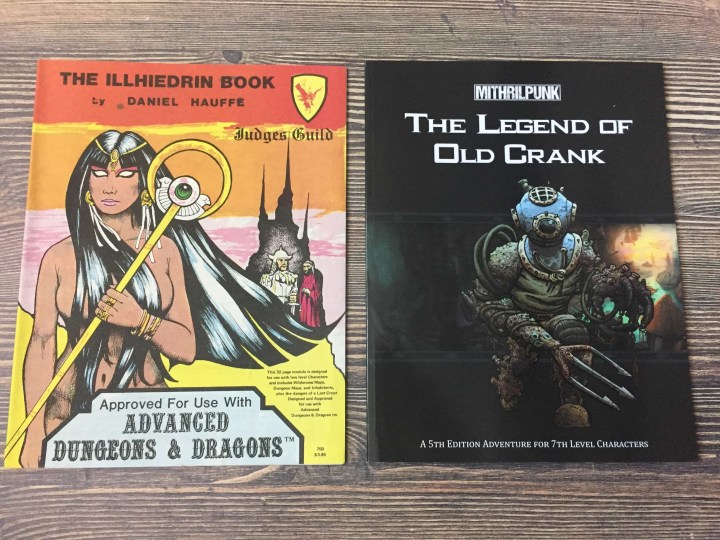 The Illhiedrin Book ($12.95) This was first published in 1981! It's an adventure for a small group who must recover the Illhiedrin Book.
The Legend of Old Crank ($11.99) Released in February 2017, this is a more recent title. When pirate ships go missing, your team shows up to make sure the owners can't collect on their insurance policy.
The Dungeoneer Fanzine and the Traveller Logbook are also part of the Judges Guild series, and were published in the late 70s.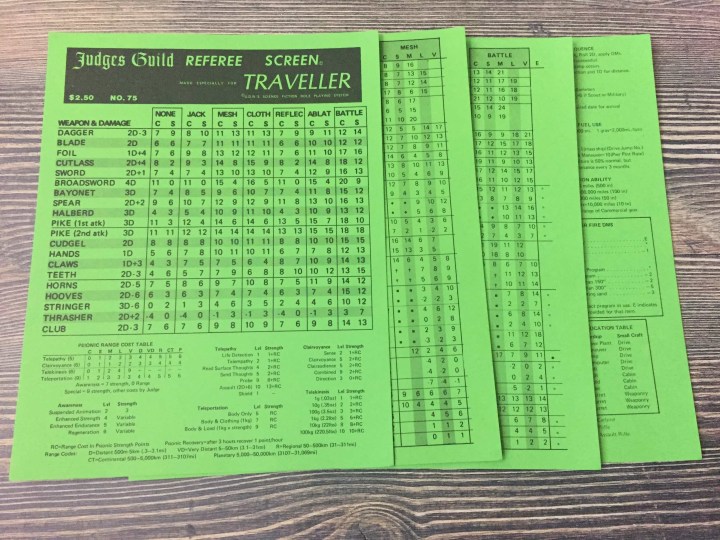 Referee cards for Traveller were also included, to keep score and record damage.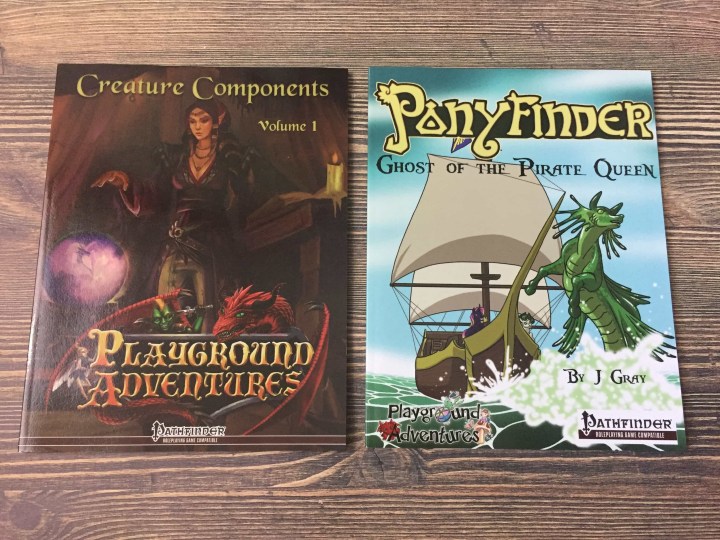 Two Pathfinger books were also included.
Creature Components Volume 1 ($24.99): A bestiary guide with illustrations, stats, and other useful information.
Ponyfinder: Ghost of the Pirate Queen ($11.99): It's… D&D. With ponies. Ponyfinder is a family-friendly offshoot of Pathfinder and is suited for lower-level characters.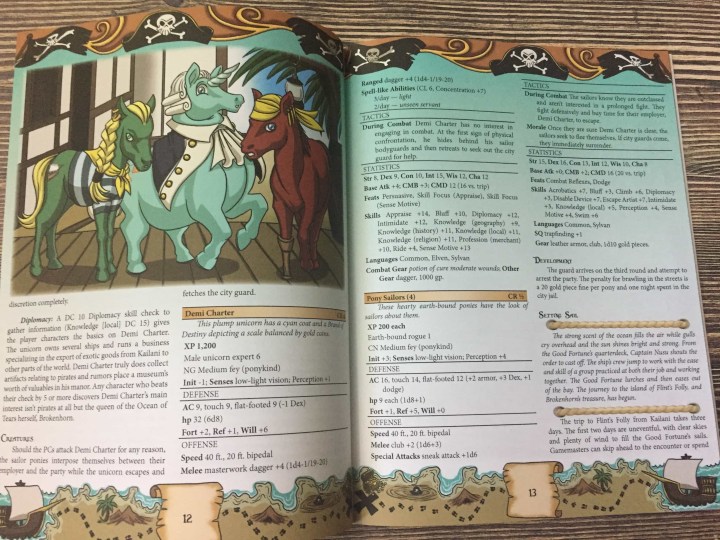 Seriously. Ponies!
My mega Mythoard was a confusing mess to unbox, but it was fun. It's a bit harder to value each box simply because I don't know what was actually in each box. The customer service issues are what would dissuade me from recommending this box to anyone — the lack of response to billing questions, cards being charged twice, and even just needing help sorting out what I was sent is frustrating. There are other gaming boxes out there for the aspiring dungeoneer!