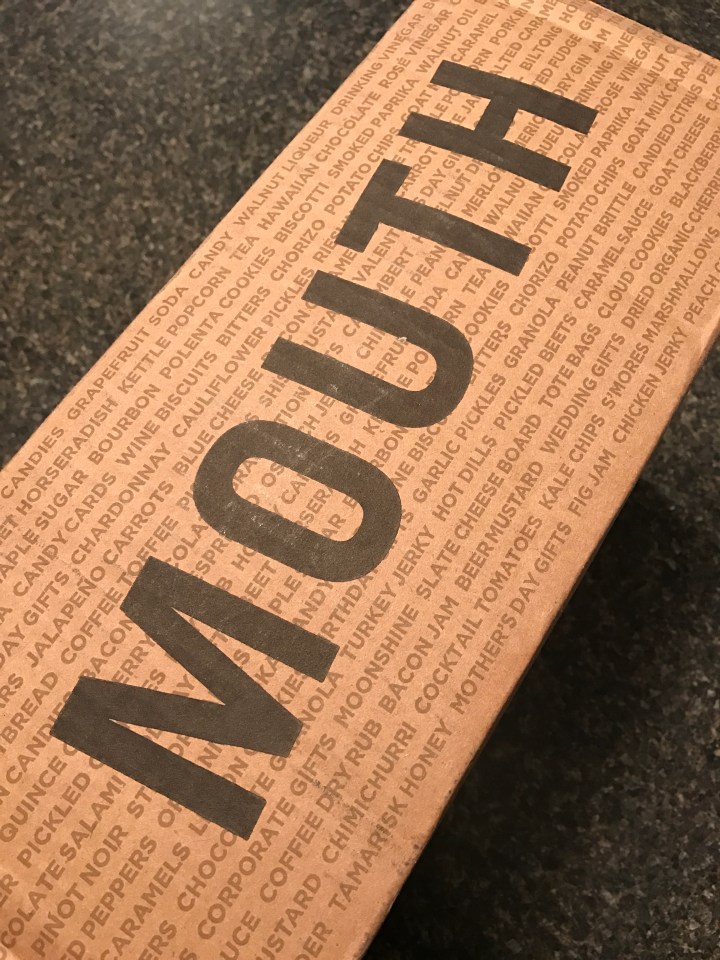 Mouth: Cocktail Hour Every Month is a monthly subscription from the Mouth family. Depending on the duration of your subscription, you will get almost everything you need for a delightful cocktail hour (just add cheese and a little alcohol) for $72-$82 per month. Each box contain six curated items ranging from sweet to savory, which, when combined together, equal a tasty gathering for you and a few friends.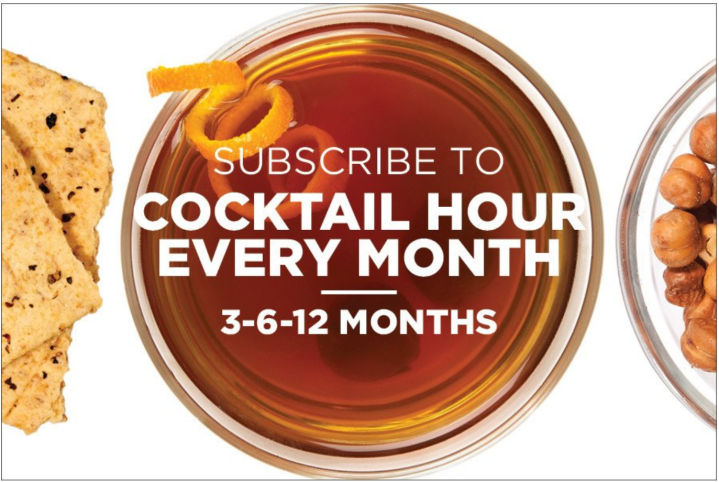 I love to keep a variety of meats and cured cheese around and then pull out a quick spread for friends. This box caught my interest as a way to broaden my horizons and spice things up (pun intended).
DEAL:  Save 20% on your subscription! Use coupon code SUBSCRIPTION20.
 
Enter, the Mouth: Cocktail Hour Every Month subscription. I generally love to shop local, but it is also nice to get some variety and see interesting items from other regions. I am quite happy to let someone else wade through the dozens, perhaps hundreds, of options that are out there. This month's haul is from Arizona, California, New York, Wisconsin, Michigan, and Massachusetts!
How it works: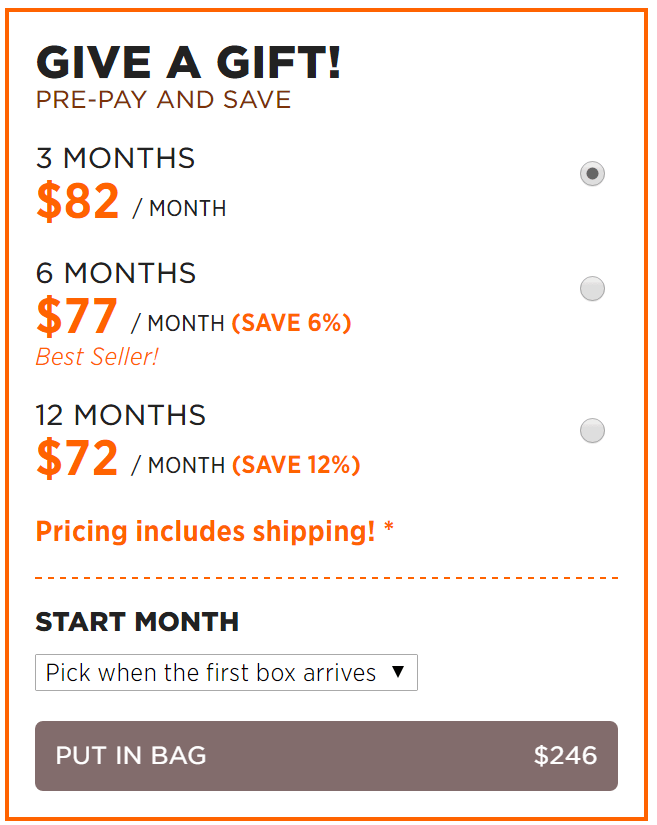 Choose the duration of your subscription. The longer you go, the better the deals. I'll talk about the value in this month's box later on.
After receiving a confirmation message and welcome certificate with the details of your subscription, sit on your hands and wait for your first shipment. If you order before the 3rd, you'll receive your first box that month. If you order on the 4th or later, your first box arrives the next month. Subscriptions boxes are shipped around the middle of each month. Boxes take 1 to 5 business days to arrive, so you can expect to receive yours between the 16th and the 25th. Shipping is included in the cost of the subscription.

My Experience 
I have all of my Mouth packages sent to work (some of my subscriptions contain alcohol, so someone who is over 21 needs to sign for them). The cocktail hour subscription doesn't contain alcohol, so it could just be sent home, but then how would I make my coworkers jealous? They all get curious when one of my Mouth boxes shows up.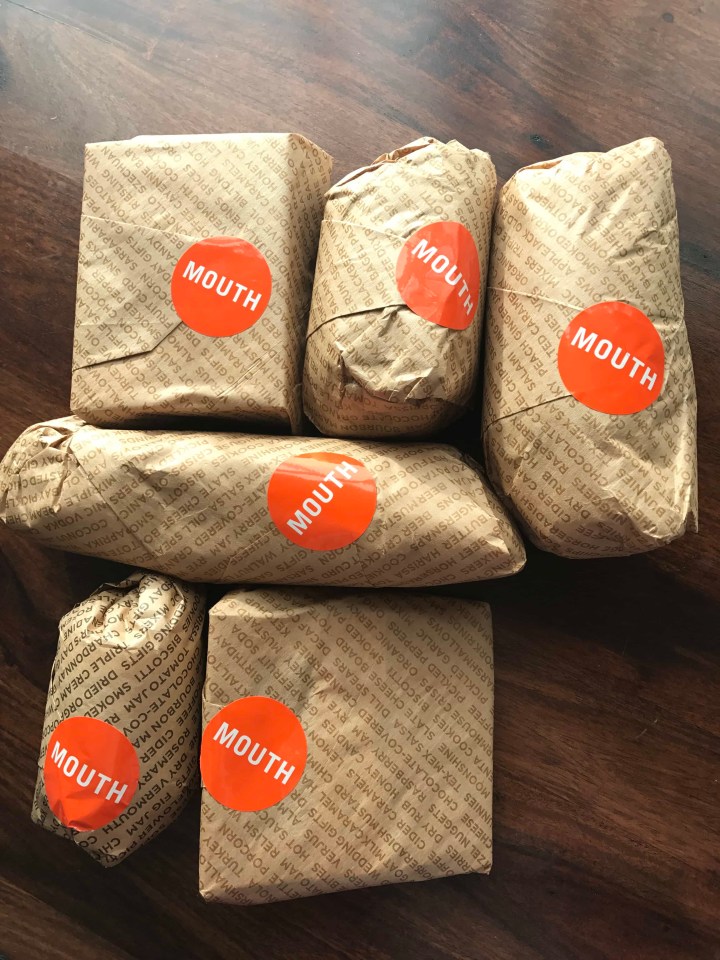 The Mouth packaging is really great. Heavy duty bubble wrap, with foam or more bubble wrap at either end of the box. Each item is individually wrapped in bubble wrap and brown paper. A list of the items and descriptions is also included. This month, everything was in a reusable burlap bag, instead of just a paper shopping bag. I've already used it at the farmer's market!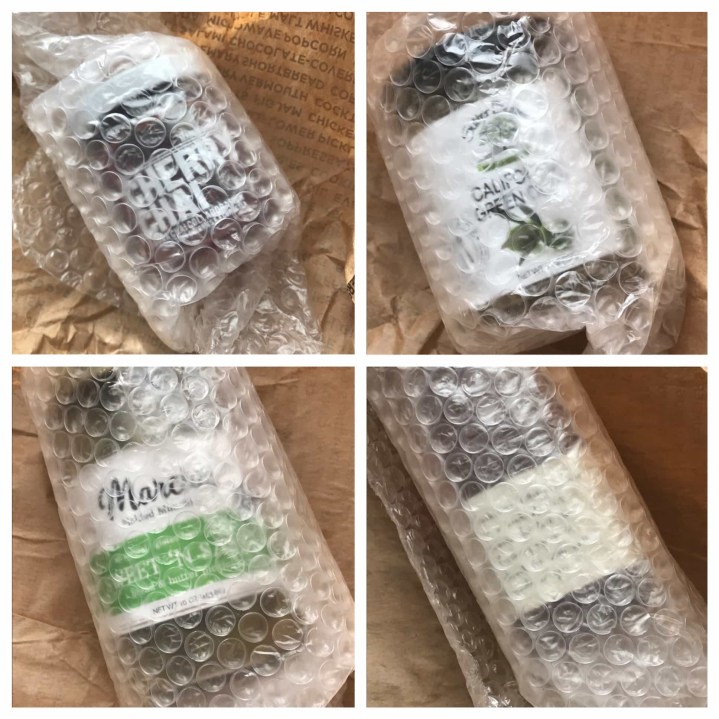 This delivery showed up in a month when I was traveling a lot, so I ended up not having a get together. BUT, it made a fantastic snacktastic meal for me and my boy one night, with leftovers to get me through the rest of the weekend. Party for two!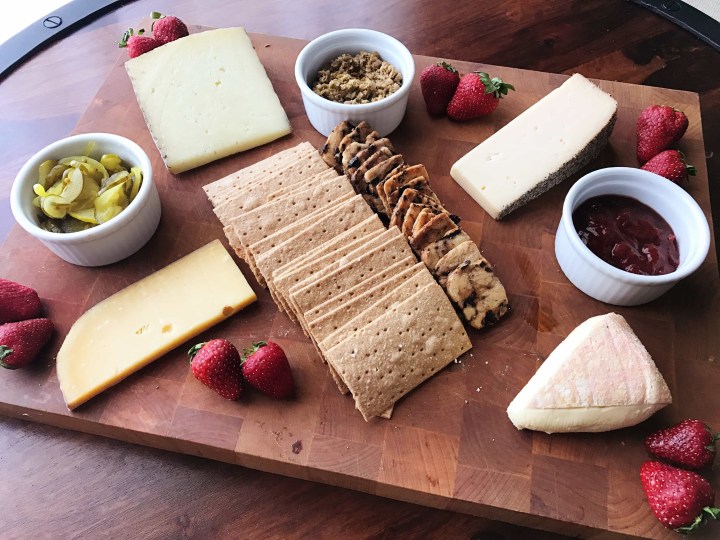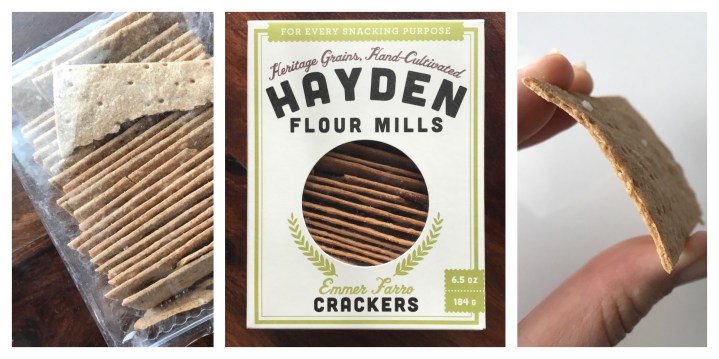 Heritage Grain Emmer Farro Crackers, by Hayden Flour Mills in Queen Creek, AZ($7.00-$8.50)
This is the second set of crackers I have received from Hayden Flour Mills, and these are just as good as the first set. They are very sturdy. They survived the shipping process about 80-90% intact. The curved shape presumably makes them more stable, but it also makes them excellent for scooping or for layering on the tasty toppings.
The name refers to the fact that Farro is sometimes called emmer wheat. These crackers have a  nice nutty flavor and a crisp texture. And they're high in protein – win!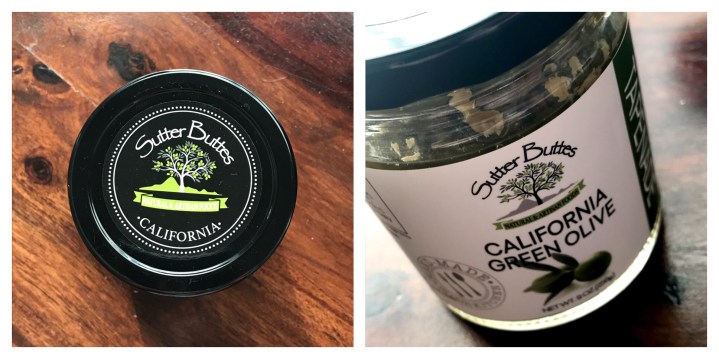 Green Olive Tapenade by Sutter Buttes in Sutter, CA ($12) I love a good salty olive tapenade. This one did not disappoint. It is made from California green olives and California extra-virgin olive oil. I wish I had had time to get more groceries to go with this. The suggested serving from Mouth is as follows: "Our new favorite snack: whole wheat toast spread with tapenade and layered with fresh mozzerella, sliced figs, and cracked black pepper. Or, make a super simple starter from oven-warmed baguette slices spread with creamy goat cheese and a small spoonful of tapenade. Yummm. "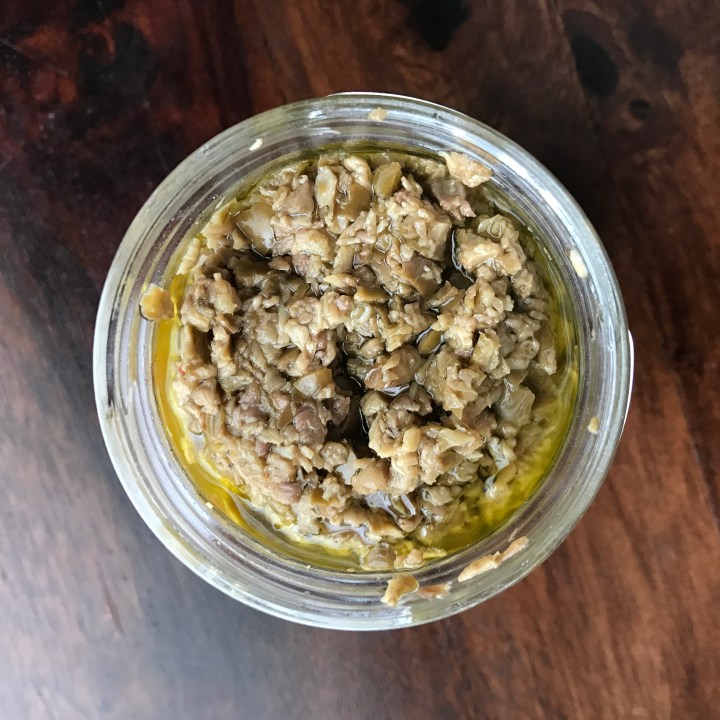 I have some leftover, so maybe I'll get my baguette-y, goat cheesy, tapenade-y snack, yet!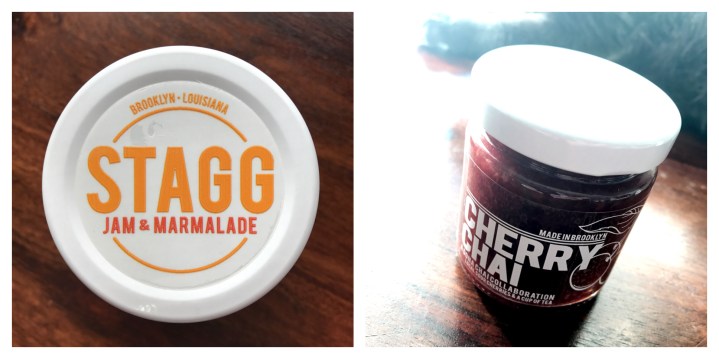 Cherry Chai Jam by Stagg Jam & Marmalade in Brooklyn, NY ($9) If the label didn't already give away the secret ingredient, i would have sat pondering it for ages. Cherry jam already sounds like a nice treat, but this had just a hint of something else going on. The chai really makes this a sophisticated flavor, and one of my favorite things I have received from Mouth. I rarely buy jams, since I make my own, but I would buy this again.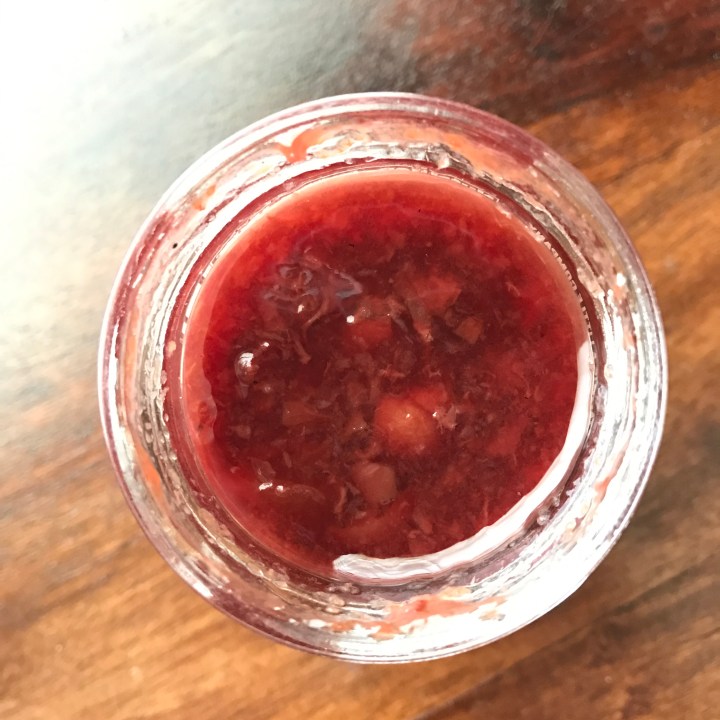 The jar is pretty small, so this didn't last long. It went exceptionally well with the cheese I put on our spread (Manchego, Black Pepper Sartori, Uniekaas Reserve, and a soft Von Trapp Farmstead/Jasper Hills Oma).
I made a bunch of different combinations of things – here are a few! The olive tapenade on olive shortbread may have been a bit much.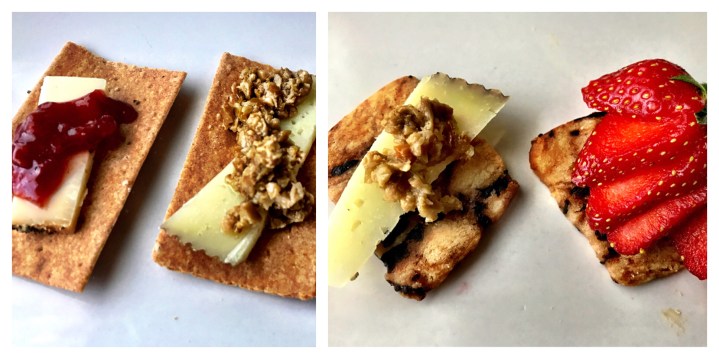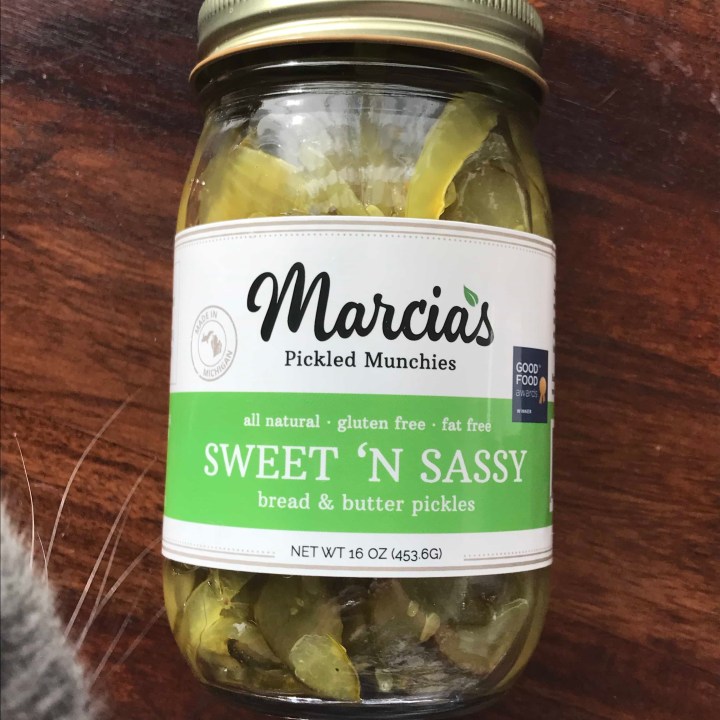 Thin Sliced Bread and Butter Pickles by Marcia's Munchies in Birmingham, MI ($9.50-$10)
I love bread and butter pickles, and these were a tasty bunch. I ended up just eating them on their own, but I still have some to use the next time I am in a sandwich mood.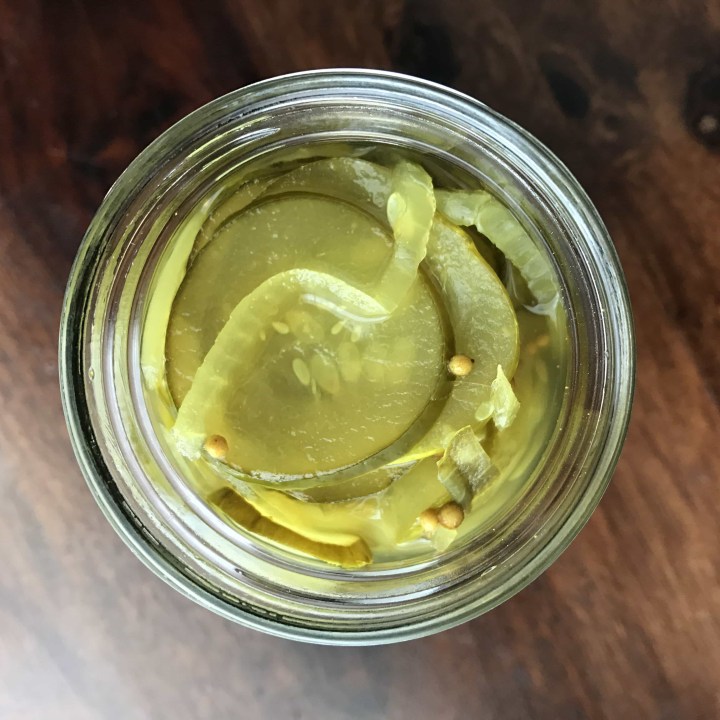 They are nice and crisp, sweet (cider vinegar!), and really, just a solid bread and butter pickle.
Olive Sea Salt Shortbread by Lark Fine Foods in Essex, MA (&6-$7.75) These just confused my brain, but in a good way. Are they a cookie? A cracker? Something else? Sweet? Savory? Salty? All of the above! I have had savory shortbreads before (I love rosemary shortbread), so I wasn't entirely flummoxed by these, but every time I put one in my mouth, I just wasn't sure if what I tasted was what I was expecting. They are oddly addictive, and I had to cut myself off because I am salt sensitive, and between these and the tapenade, I was overdoing it.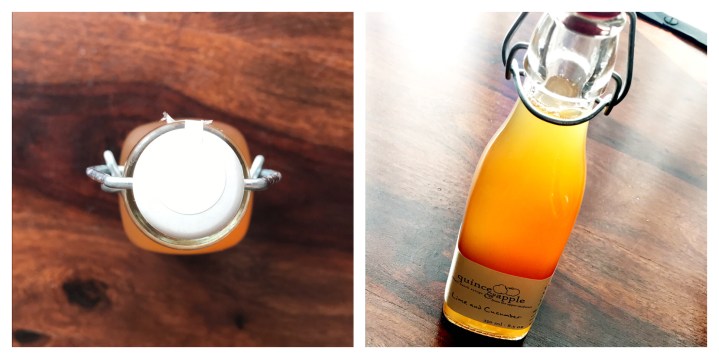 Lime Cucumber Cocktail Syrup by Quince & Apple in Madison, WI ($13-$13.50) I am on the fence on this one. It's a very nice product – the packaging is great, the flavor combination is a classic, but, in the end, my cocktail was very sweet, and I don't think I went particularly heavy on the syrup. I am sure I'll try again.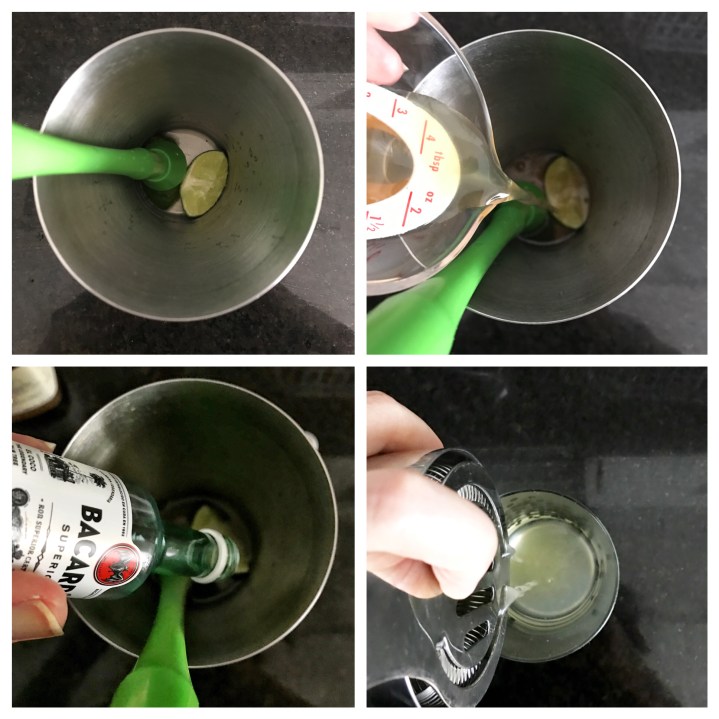 I went for a simple preparation – muddle some limes, add rum and syrup, strain, top off with club soda. Mint would have been an improvement, but I didn't have any around. And yes, that is a mini-bottle. A flight attendant friend sometimes abandons a few of them at my place, and they are handy for just such an occasion!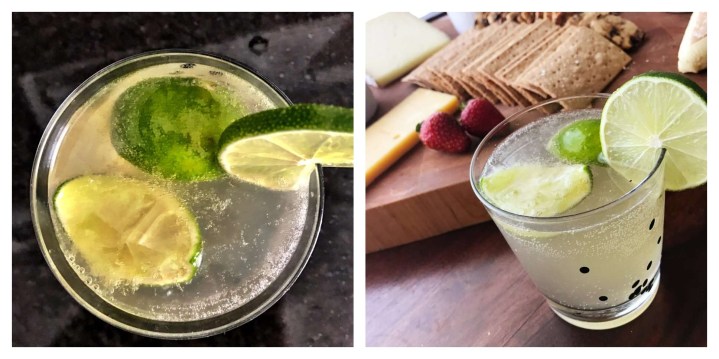 Why I like my Mouth: Cocktail Party Every Month Subscription
Well, for starters, I like food, and I like drinks, and I like sharing them with friends. I also like having things magically appear on my doorstep. When I think about how much I could spend hosting a get together, the cost of this box isn't far off.  To order each item individually from different sites and pay for shipping would definitely cost more than ordering a few items from Mouth, and a shopping excursion to find things can use up precious time.
Once you factor in shipping and your time to track down all of these treats, it's a pretty good deal to get the entire box, especially if you value having fun treats from around the country. I think this box would make a fun gift for the cocktail party throwing friend in your life, or for yourself!
Visit Mouth: Cocktail Hour Every Month to subscribe or find out more!