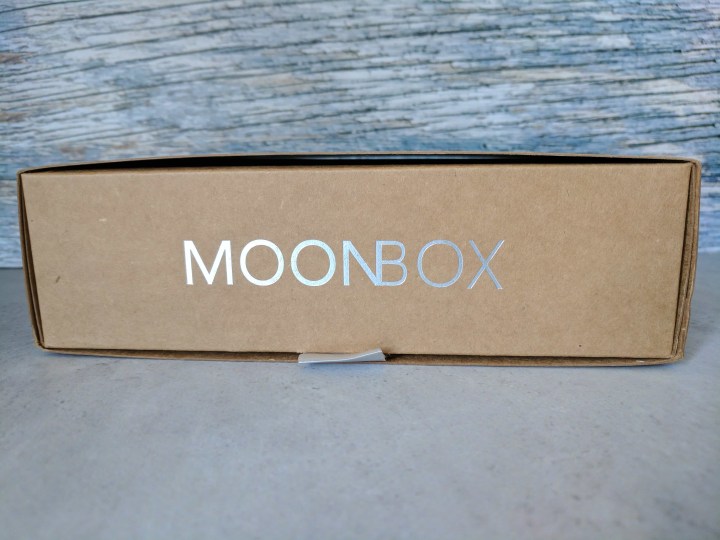 MoonBox by Gaia Collective is holistic crystal and full moon subscription box that will bring you tools and ritual to your doorstep before every Full Moon. Both the Mini box and the Moon box will include crystals, tea blend or dried herbs and essential oil blend. The Moon box will also includes a moon oracle card, featured artist item and ritual supplies. For $10, you can add a wearable gem to either box. The mini box is $12.50 a month and the original is $29.50. This review is for the MoonBox.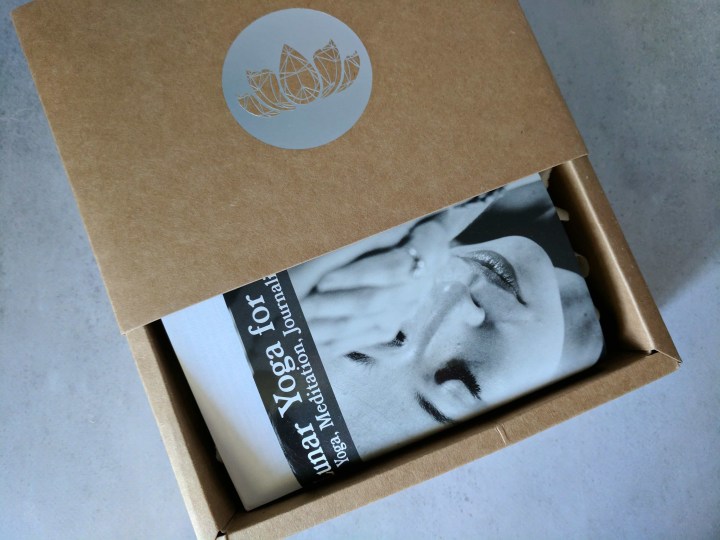 DEALS: Save 15% on the first month of your 3-month pre-paid subscription. Use coupon code GAIAFAMILY.
The box came wrapped in extra cardboard to protect the lovely package! The box itself opens up like a little drawer to reveal the goodies inside. The welcoming envelope tells us to find a quiet place to be before going any deeper in the box. The packaging is quite interesting. Instead of paper, they use wood chips! Perfect to use if a fire element is needed in our ritual!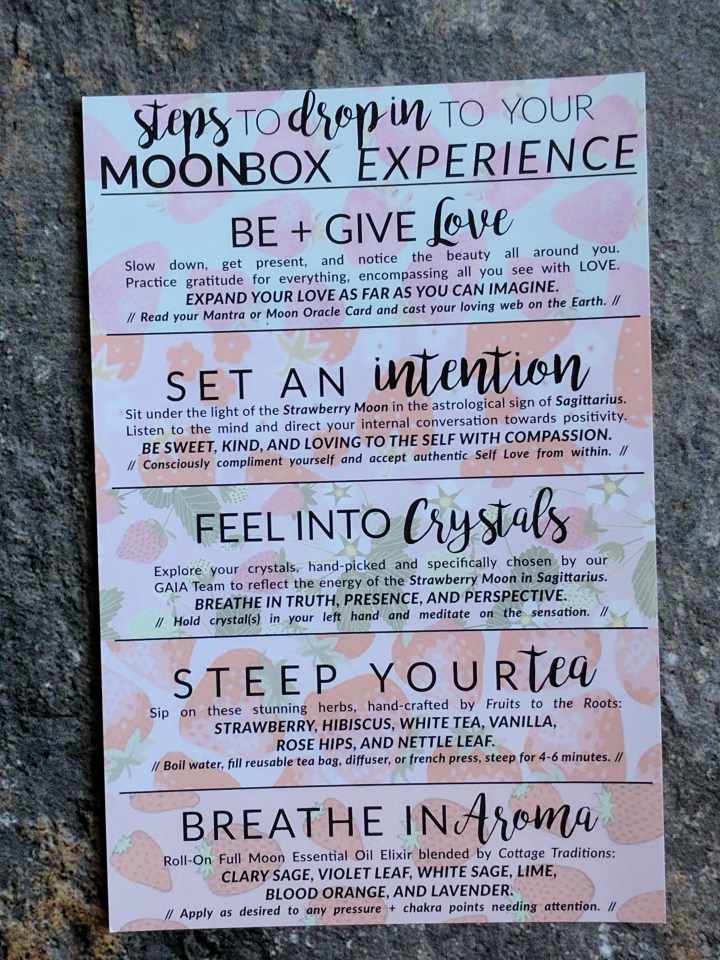 Inside the envelop, we get a nice steps by steps to everything in the box. Such a lovely way to explain what are the items as well as what they are for. It can also be used, especially for beginners to the whole ritual thingy, as a ritual baseline to which you add your own personal touches.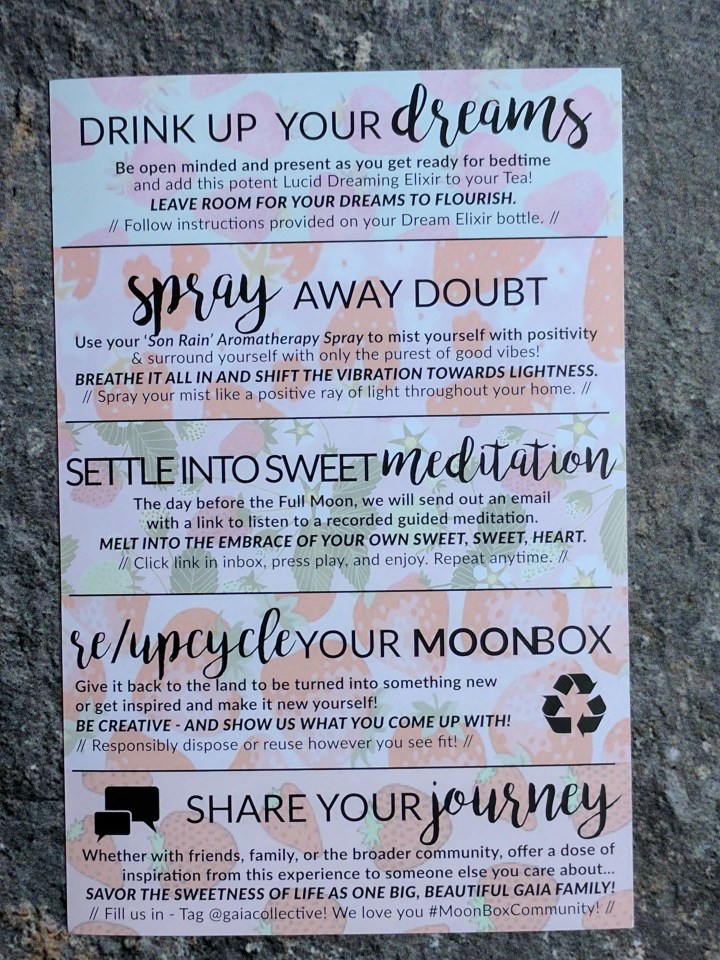 We also get some ideas of what to do with the box itself once we are done with it. I love the box, and I'll keep it for organization.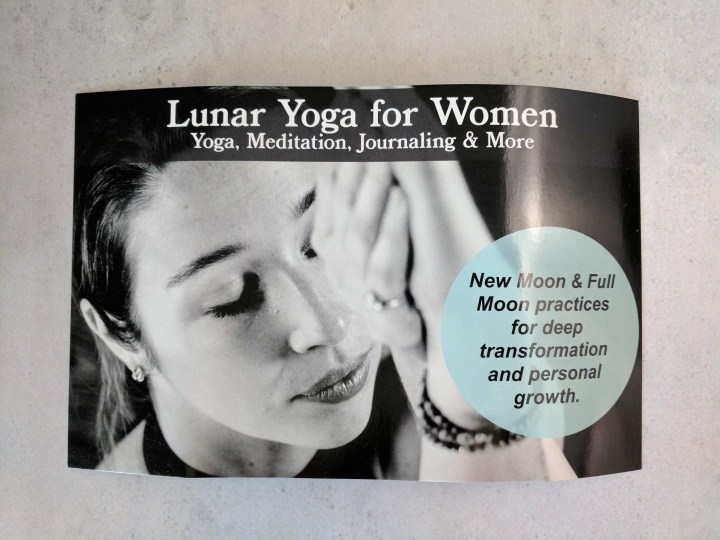 Included in the box is a Free 1-month trial to Lunar Yoga Women (a value of $25).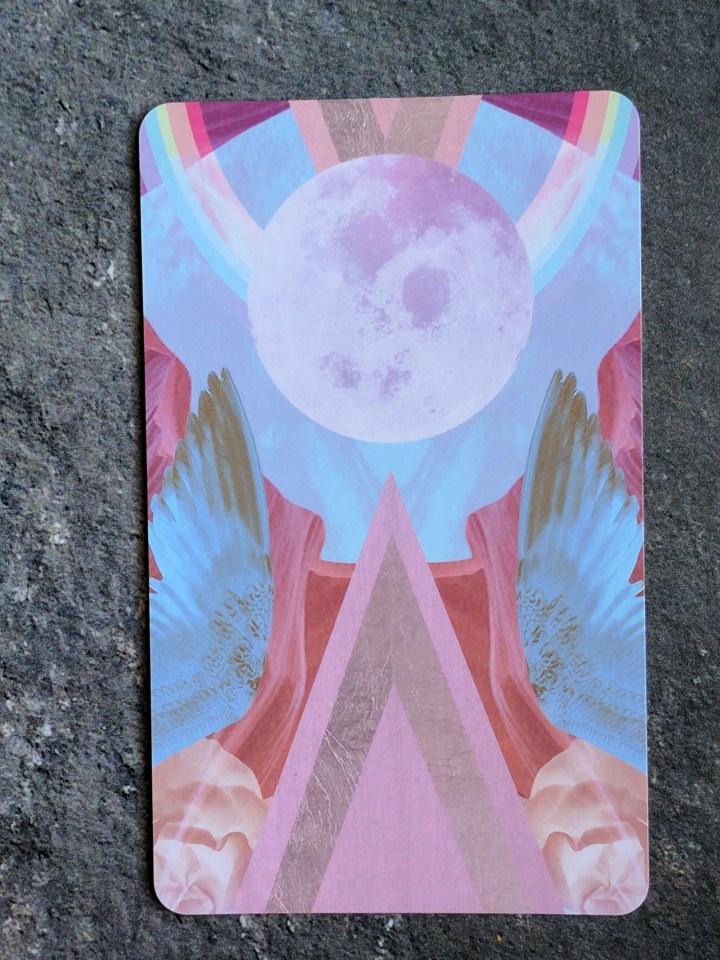 June's Full Moon Oracle Card is lovely.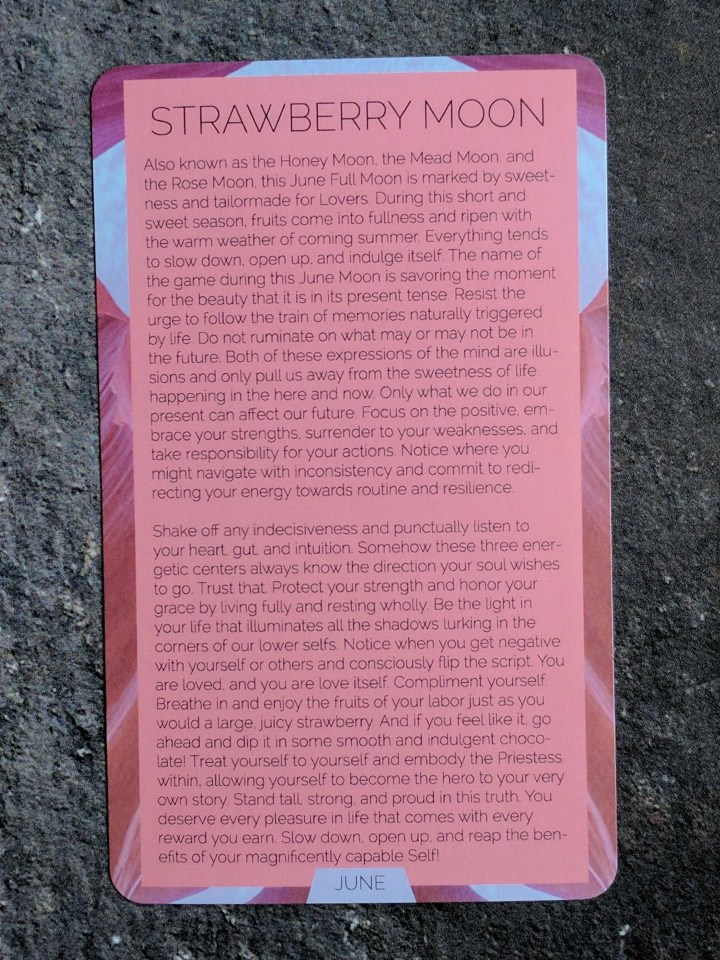 June's Full Moon is the Strawberry Moon in Sagittarius. Savor the moment, shake off any indecisiveness, and listen to your heart, gut and intuition. I really like this introduction to a way to make this Full Moon work for us.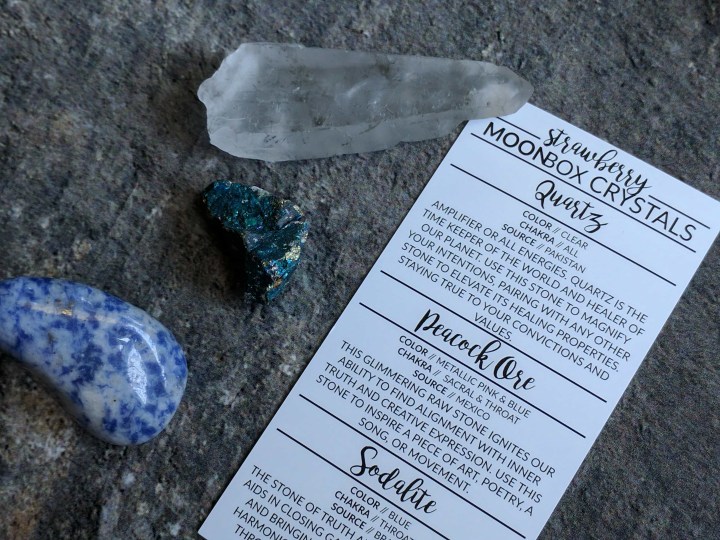 I love crystals, gemstones and stones. I can't get enough of them and the MoonBox gave us three of the, with a description of each. They are small enough that we can carry them with us throughout the month, and I really like the shape of my quartz crystals! Clear Quartz is a great stone for meditation, and will help any other stones to fully expend their capacities. The Peacock Ore (also know as Chalcopyrite) is all about creativity and how to appreciate the unexpected! As for the sodalite, I personally think it is THE communication stone. I keep one in my purse for when I need to speak in front of people.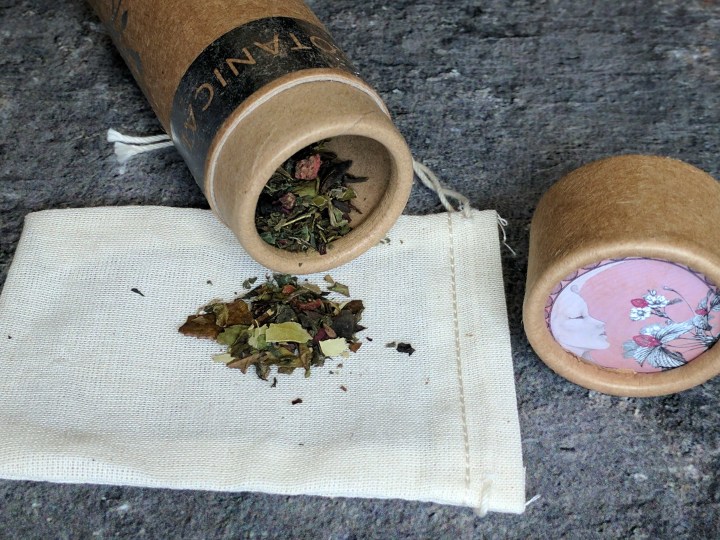 The tea blend for the Strawberry Moon was… a strawberry blend by Fruits of the Roots! Mixed with hibiscus, white tea, vanilla, rose hips and nettle leaf. A lovely blend that reinforces the meaning of this Full Moon as the Sweet Moon and Rose Moon. It came with a reusable tea bag.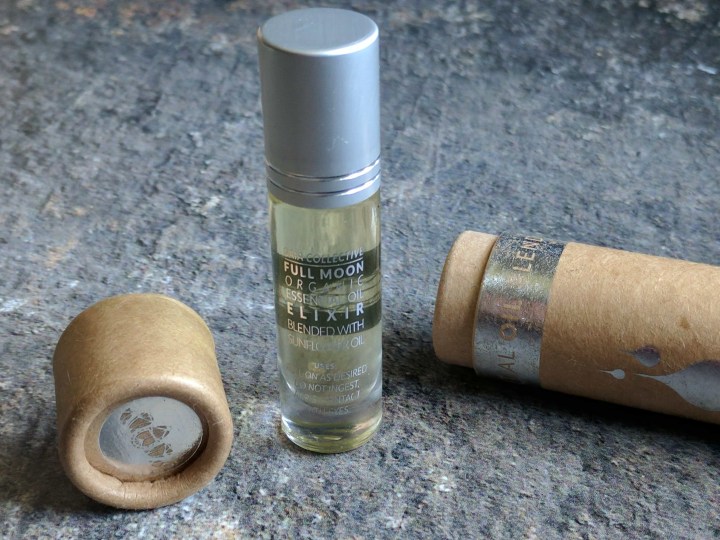 A subtle mix of sage, violet, lime, blood orange and lavender essential oil, this organic essential oil elixir by Cottage Traditions will clean up any negative energy around you. You can apply it to your chakra point, but I still prefer to use it only on my wrist. I love the packaging and it actually saved me a lot of trouble as my roll-on was leaking a tiny bit, but everything was contained inside the cardboard tube. The tube also keeps the oil away from the lights, and it's lovely. I can also write on the tube to remind me which blend it is and for which Full Moon.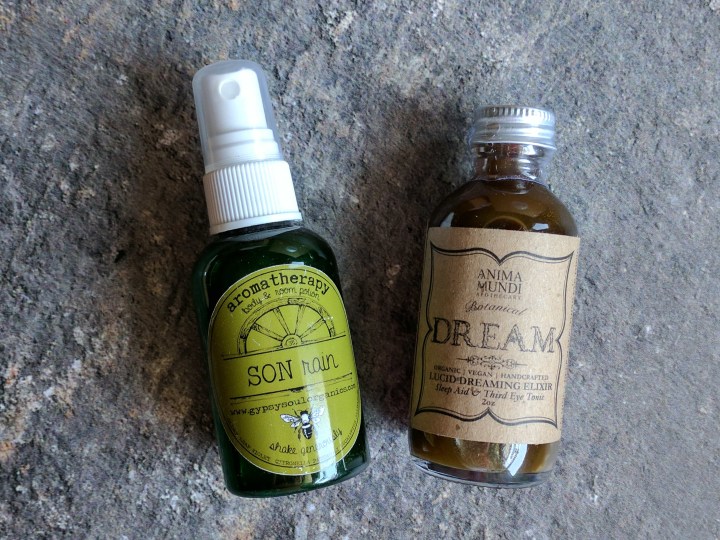 This Son Rain Aromatherapy Body & Moon Potion by Gypsy Soul Organics. A nice blend of cedar leaf, violet, citronella, patchouli, eucalyptus and galbanum, it brings the peaceful calming effect of the rain. The scent is both bright and woody, earthy and fresh. I keep on refreshing my office with this potion to keep it free from bag energy, and bring the joy of dancing in the rain!
Lucid Dream Elixir by Anima Mundi Herbals. This elixir has a sweet herbal taste, and it can be added in an evening tea for lucid dream work, as a sleep aid, a calming elixir and as a Third Eye tonic to help us see what's beyond our sight and to step in the realm of knowledge and wisdom. I didn't bother adding it to my tea as I really enjoy the taste. It is a blend of ashwagandha (Ayurvedic herb helping with energy level and strength), passionflower, kava kava (a plant with calming effect on the brain and a muscle relaxant), and other great herbs and plants. This is a great addition to a home remedy kit, and I really like it!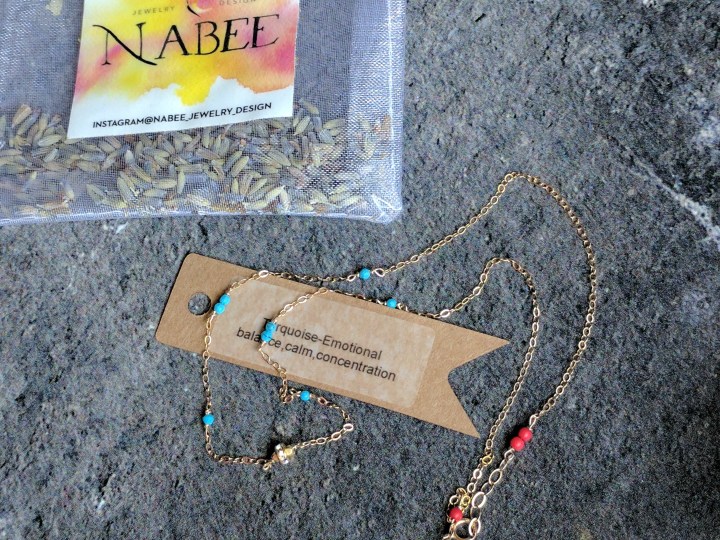 The wearable gem for June's Full Mon is this delicate Turquoise necklace by Nabee Jewelry Design. It's a lovely delicate necklace with tiny faceted turquoise beads, bringing a feeling of emotional balance, calmness and perfect for concentration. Wearing Turquoise around the neck helps with articulation of wisdom and is often associated with the Throat Chakra (Vishuddha).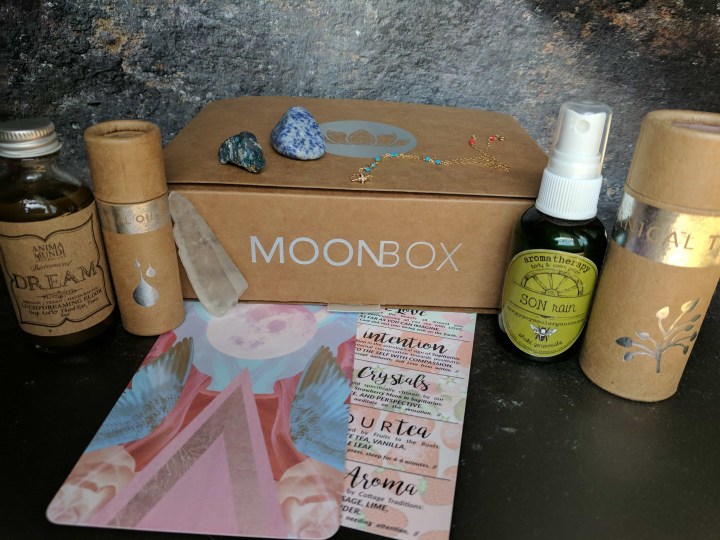 Although I'm sad I didn't get the guided meditation in my mailbox, I'm quite happy and I love everything in this box! Besides the stones, my favorite item was the Lucid Dreaming Elixir, for both the taste (it's addictive!!!) and it's qualities. The essential oil blends wasn't overwhelming, and the Son Rain has such an amazing aroma! I really enjoyed everything, and it was perfect for my personal Strawberry Full Moon ritual. I loved how the information card gives us an easy-to-do ritual baseline that we can build on, and it's perfect for a beginner who would feel overwhelmed and for a more advanced practitioner.
What did you think of the Strawberry MoonBox?