Mommy Mailbox is a women's lifestyle subscription box with 4-6 surprise items. The name of the box evokes images of pacifiers and diapers, but the box is simply curated to satisfy any hardworking woman, which is really all of us isn't it?
Each monthly Mommy Mailbox edition has been curated by a different guest blogger – this month it was curated by Lizzie Haro. You can find her blog at mycurlyduo.com.
"Our featured Blogger this month is Lizzie Haro, a Las Vegas mama to two adorable, curly-haired kids! You can find her darling family on her popular Instagram channel, on Youtube, as well as on her gorgeous blog, which is filled with all kinds of great mommy tips. May is the month that we Honor motherhood. Included in the box this month is this beautiful book about all types of motherhood experiences, chocolate, jewelry, makeup and party favors — all treats that we hope will make you mamas feel appreciated and special."
DEAL: Take $5 off the first box with a month-to-month subscription Use coupon code HELLO5.
The information card gives bite-sized details on each item in the box!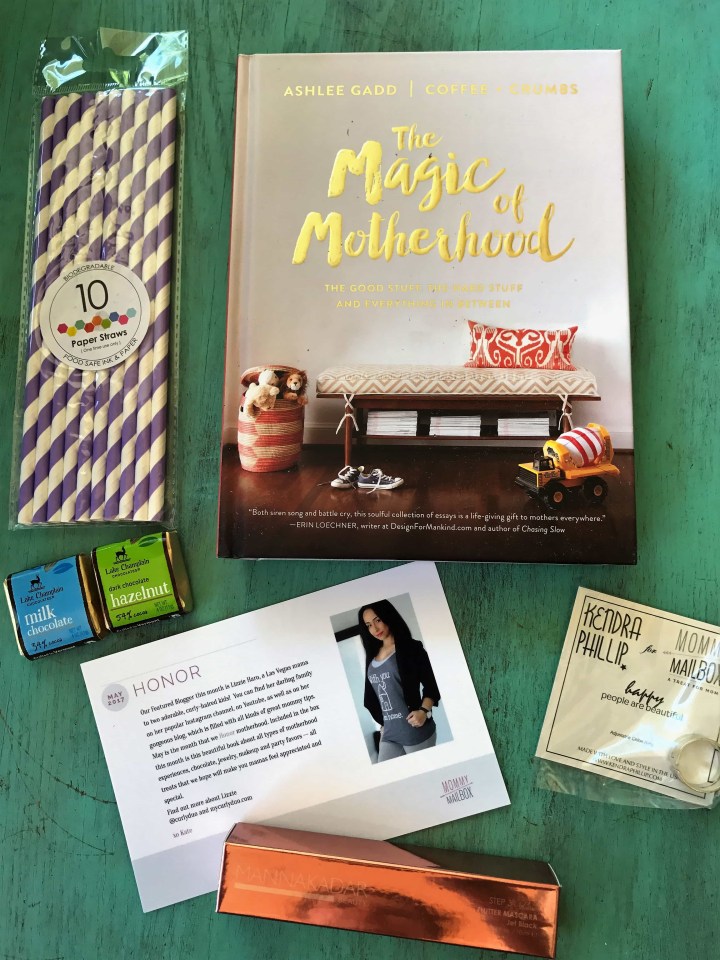 Our box had 5 full-size goodies in it. Each Mommy Mailbox subscription box promises 4-6 items for $33.95. But, the retail value will be 2 to 3 times the price of the box! Cha-ching. And, shipping is free within the U.S.
The Magic of Motherhood by Ashlee Gadd $18.99 – "This book celebrates your life as a mom – the good stuff, the hard stuff, and everything in between. From the writers behind the popular blog Coffee + Crumbs."
This is a nice hard cover book about momming. It's not really my kind of read, I'm more of a fact book, science fiction or the Bible kind of girl (with a classic or two thrown in). But, I can't do support and help books. That having been said, I think this book is written well (just from reading a few excerpts) and there are some beautiful pages with quotes and sayings thrown in every so often.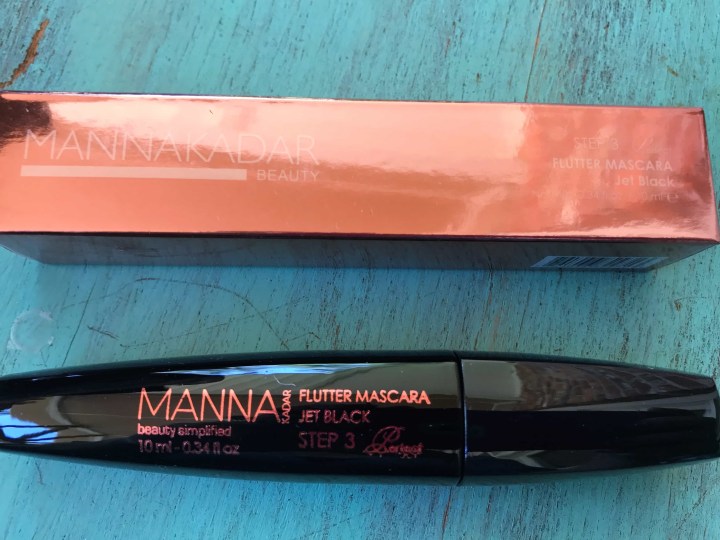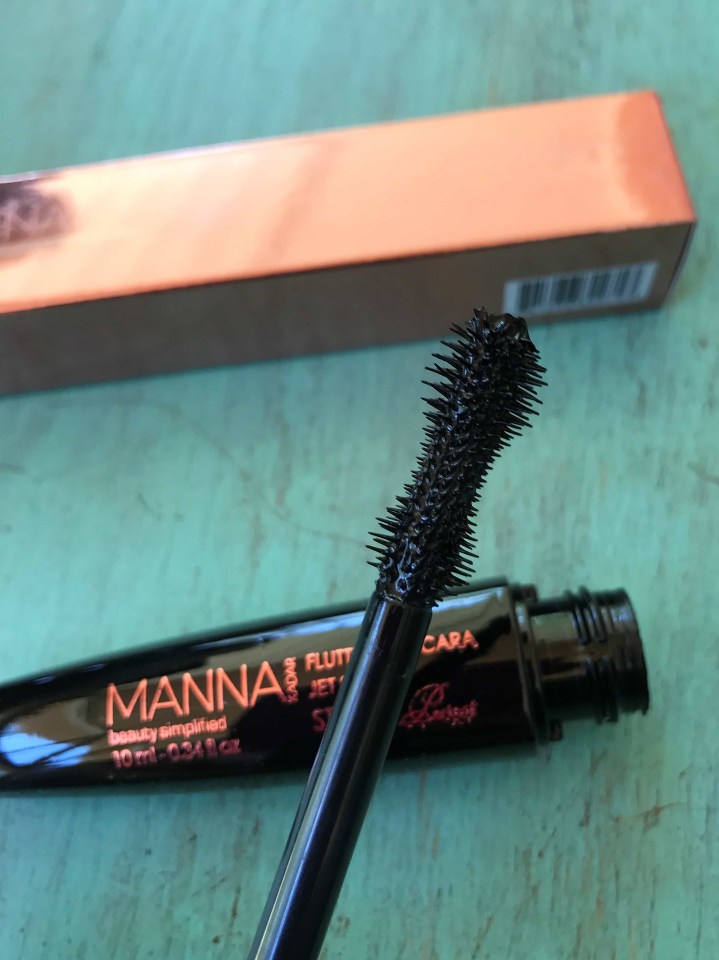 Mascara by Manna Kadar Cosmetics $29 – "This Flutter Mascara has an intense curling lash effect with a cutting edge technology brush tip to create the most luxurious lashes yet!"
This stuff was great. It made my lashes look much longer and fuller, but wasn't all clumpy and gross. I rarely wear make-up, but I might actually wear this product.
Paper Straws by Papermart $.89 – "Cute paper straws that are perfect for a party or a picnic – or just to make a meal a little more fun."
These made me smile. Chocolate chip cookies and milk with stripey purple paper straws. The kids made a huge mess, but they were happy.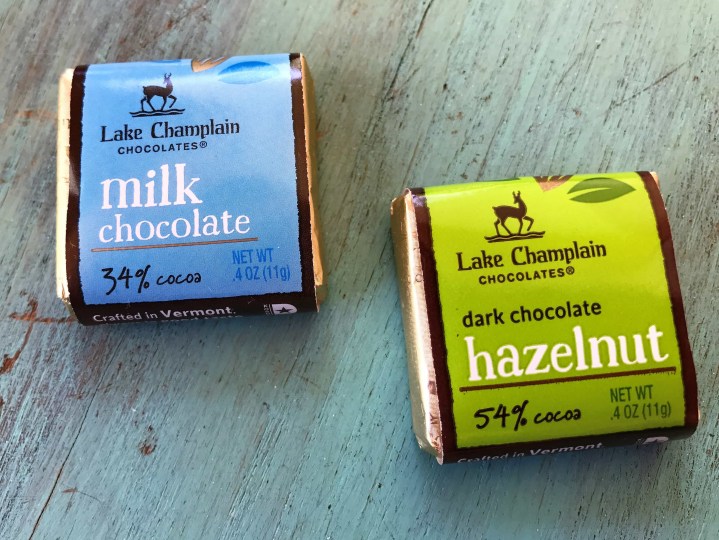 Chocolates by Lake Champlain Chocolates – "Fresh, all natural chocolates made in Vermont. Each box has both Milk Chocolate and Hazelnut Praline Dark Chocolate squares."
I don't care if it is a little melty because the South is an inferno in May, if you send me chocolate we are buds. Both of the squares were delicious and were not shared with children. The Milk Chocolate square was my favorite and was creamy and delicious with chocolaty honey notes.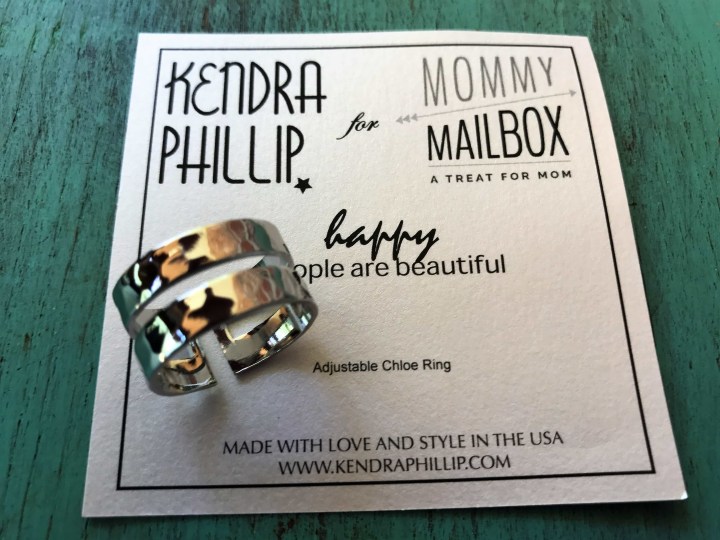 Ring by Kendra Phillips $22 – Minimalism + symmetry at its finest.  Comfortable, cool + sleek. The Chloe ring will quickly become your fav!"
This is a cute ring with the look of beaten silver. I already have a bracelet from another box that will match it.
May's Mommy Mailbox delivered a great value. I really liked the Manna Kadar Mascara. It made my sparse eyelashes look full and long. And, this month's box had chocolate in it, so me and the subscription box are buds now. I think my love language is chocolate.
What do you think of Mommy Mailbox for this month?!