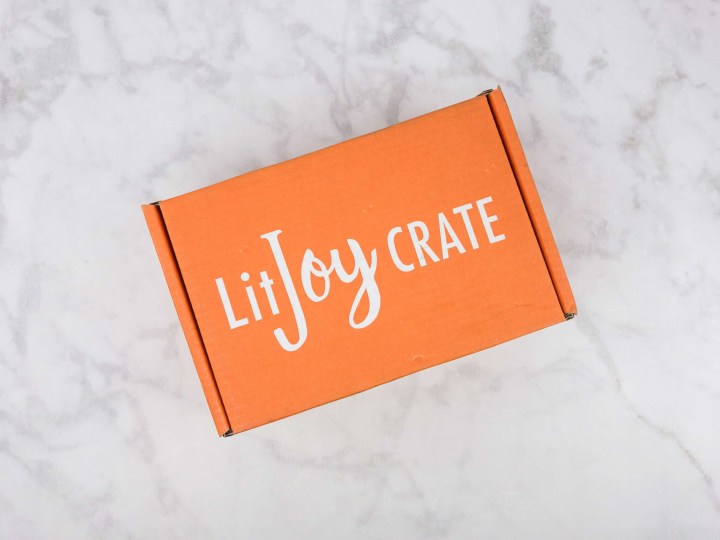 LitJoy Middle Grade Crate is a quarterly book subscription box for middle grade readers. For $34.99 you'll get two middle grade books plus 3-5 bookish items, all themed together.
Litjoy also offers children's picture books (ages 3-5) or young adult (ages 16+). Both children and young adult crates cost $29.99 each, and each box comes with a book and 2-4 book-themed items.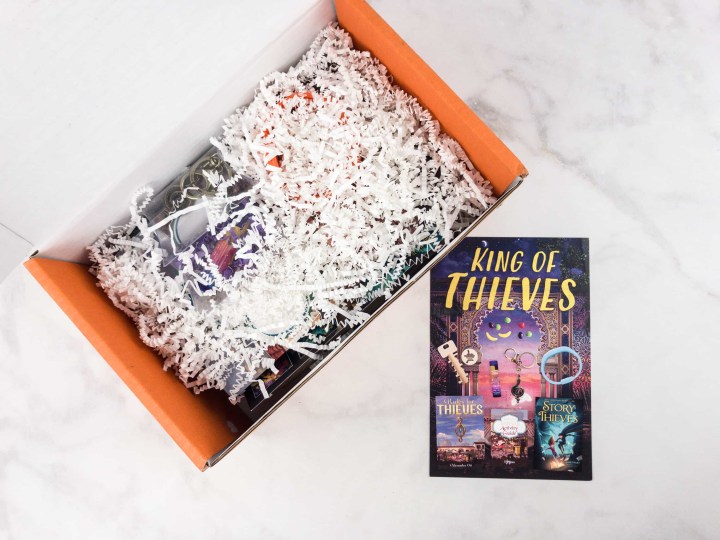 DEAL: Save $5 on your first box! Use coupon code MSA5.
The theme this quarter is "King of Thieves."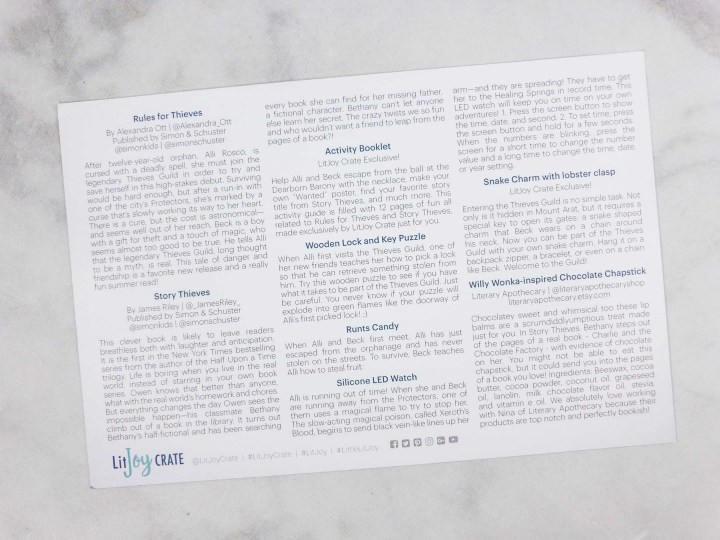 The information card comes with a list of all the items, and filled with loot info.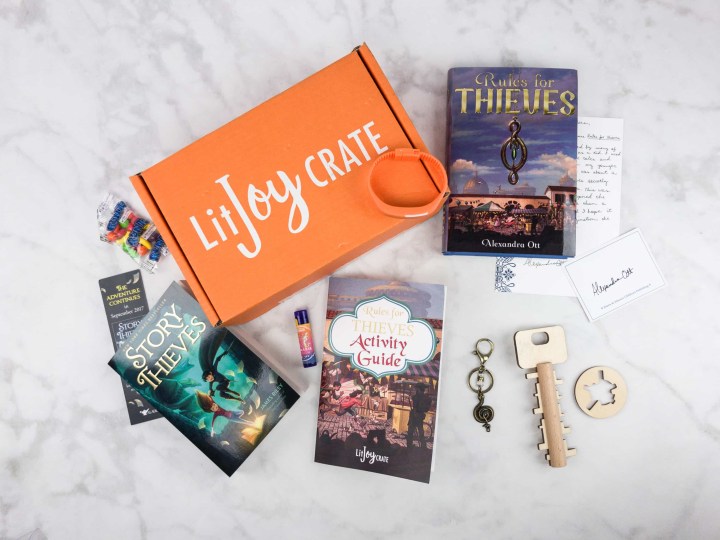 Everything in the Summer 2017 LitJoy Middle Grade Crate!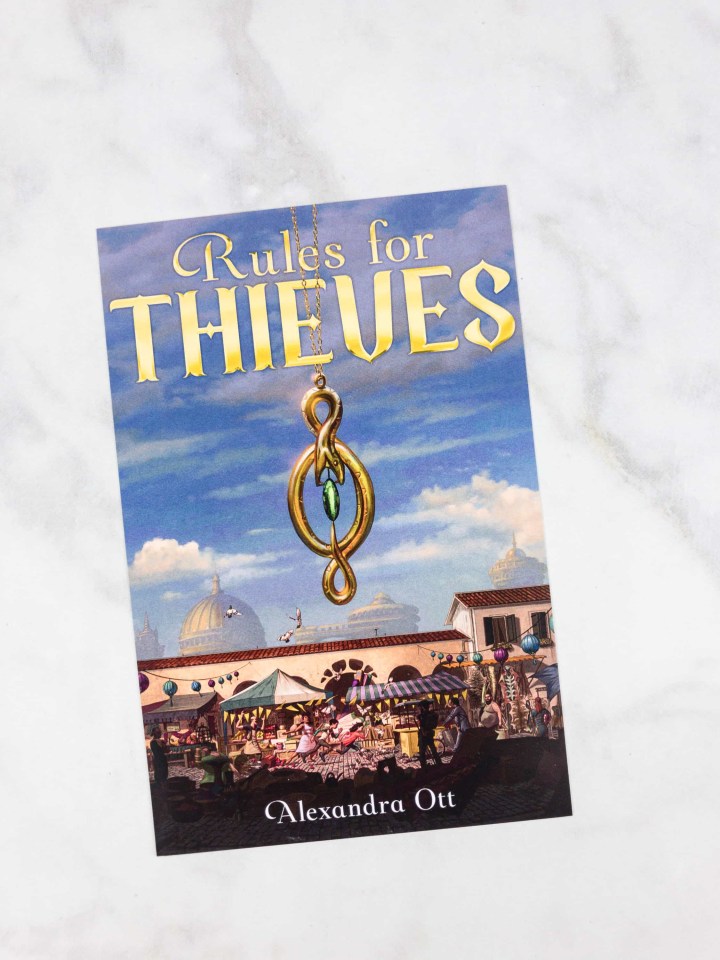 This is actually the back side of the letter from the author.
Rules For Thieves By Alexandra Ott ($10.62)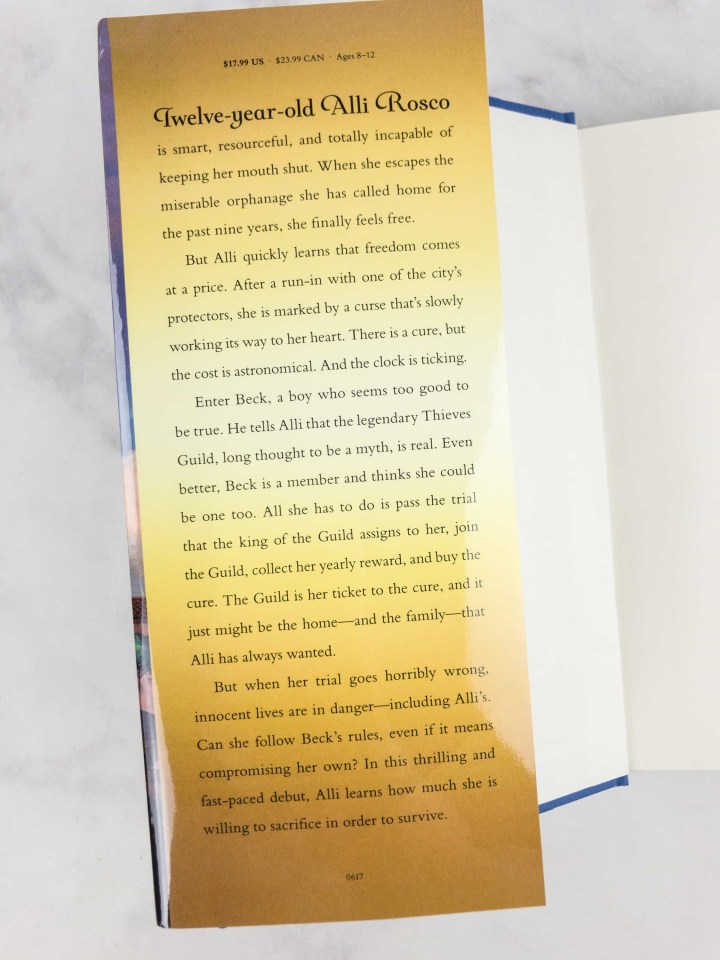 After twelve-year-old orphan, Alli Rosco, is cursed with a deadly spell, she must join the legendary Thieves Guild in order to try and save herself in this high-stakes debut.

Twelve-year-old Alli Rosco is smart, resourceful, and totally incapable of keeping her mouth shut. Some of these traits have served her well during her nine years in Azeland's orphanage, and others have proved more troublesome…but now that she's escaped to try her luck on the streets, she has bigger problems than extra chores to contend with. Surviving would be hard enough, but after a run-in with one of the city's Protectors, she's marked by a curse that's slowly working its way to her heart. There is a cure, but the cost is astronomical—and seems well out of her reach.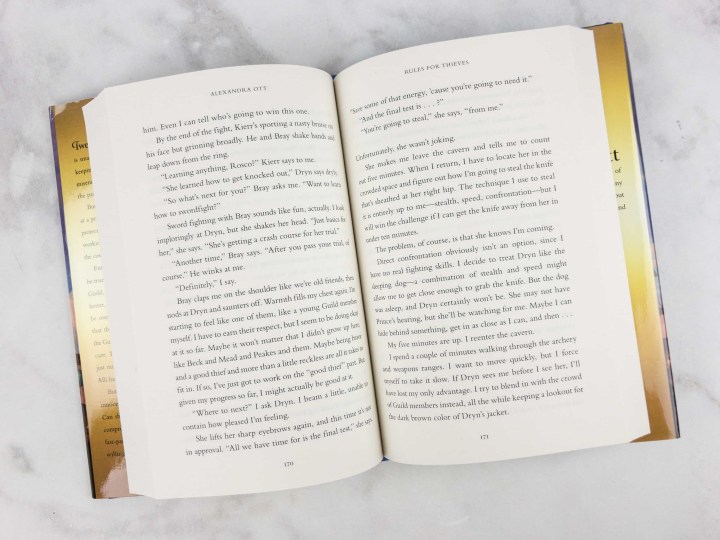 From my daughter:
Alli escapes from the orphanage and gets away from the Protectors. But she couldn't have done it without her friend Beck. Beck taught her how to pickpocket and steal, and also some important rules such as choose a mark who is distracted, so Alli could join the Thieves Guild, once thought to be a myth.
My daughter absolutely devoured this book and read it in days. I saw her sneaking out of my office with the second book (there's another one!) so I had her write a short synopsis. Next time I'll have her write why she liked it. She was seriously engrossed and it looked like a great summer read!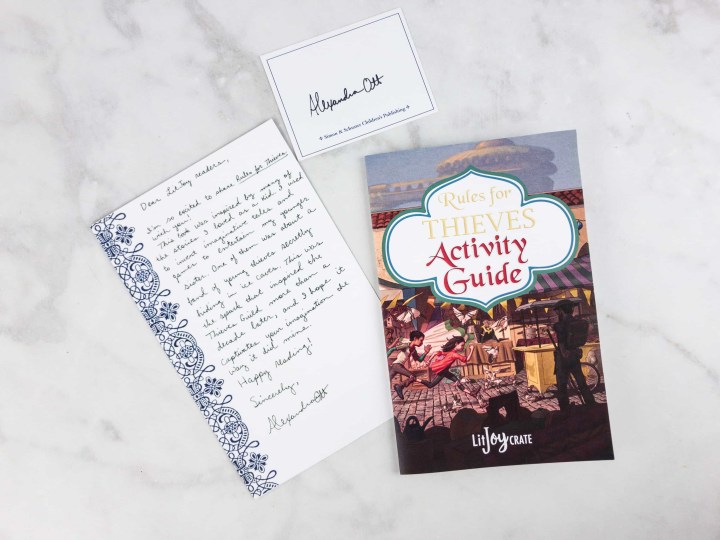 Activity Booklet + Author's Letter + Bookplate
I saw her doing these puzzles at breakfast. Mad Libs are always a fave, and the double puzzle provided a little more challenge.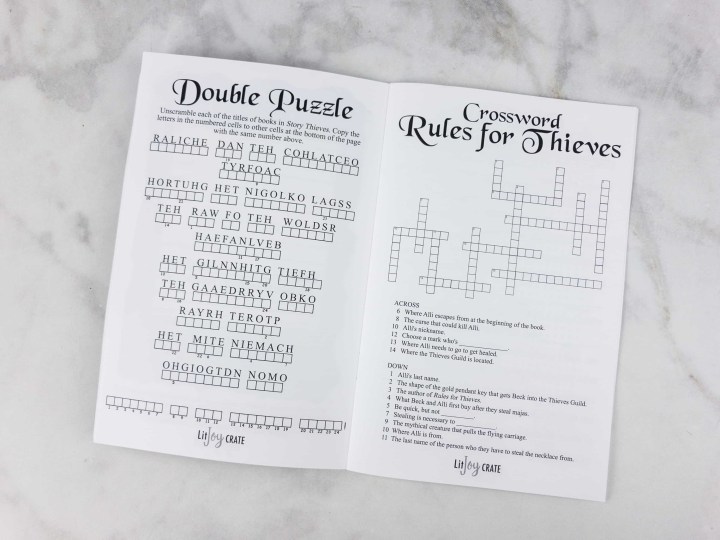 The activity book is a really great addition to the main read!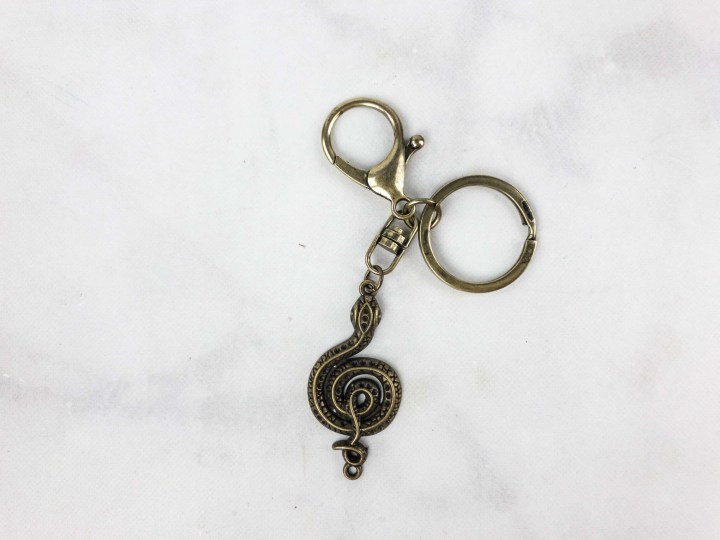 Snake Charm With Lobster Clasp: Welcome to the Guild! This snake charm is the key to open the gates to the Thieves Guild!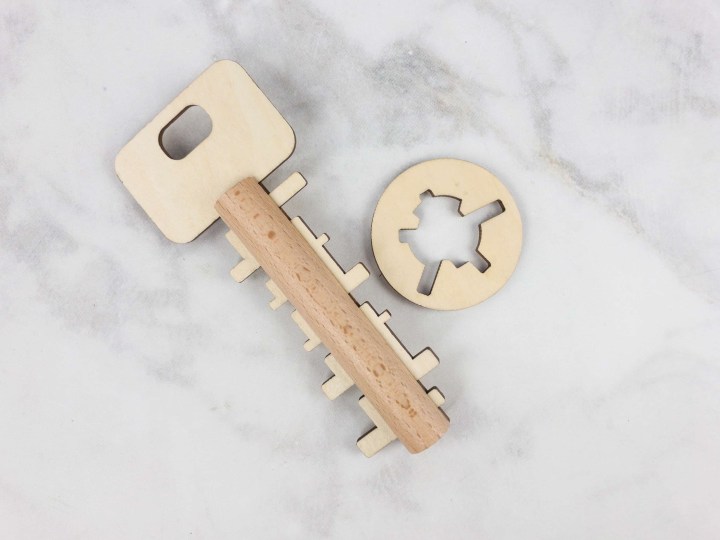 Wooden Lock and Key Puzzle: This puzzle will test to see if you have what it takes to enter the Guild! It kept my kids busy so long – and they were happy to do, undo, and redo the puzzle over and over again. Next week we'll time them for added challenge.
Runts Candy: The Runts "fruit" represents the fruit in the story and is a fun treat to munch on when reading.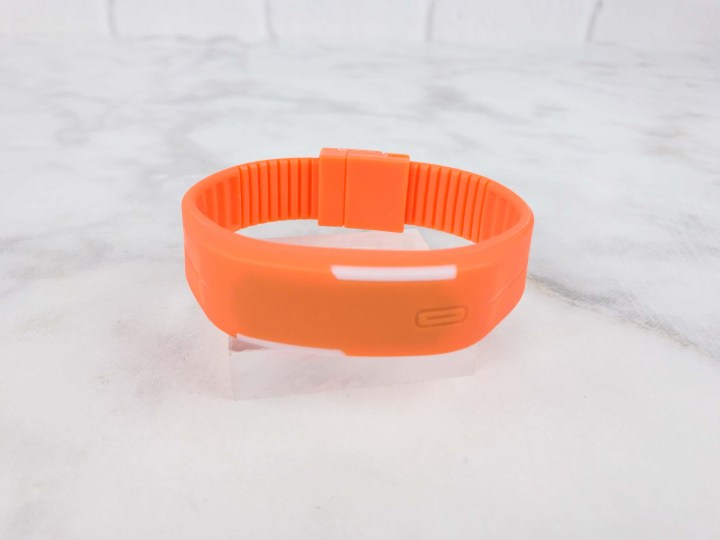 Silicone LED Watch
Time is always an important component to a good read – the watch represents the race against time in a moment of peril in the book.
Story Thieves By James Riley ($7.98)
This "clever opener likely to leave readers breathless both with laughter and anticipation" (Kirkus Reviews, starred review) is the first in the New York Times bestselling series from the author of the Half Upon a Time trilogy.

Life is boring when you live in the real world, instead of starring in your own book series. Owen knows that better than anyone, what with the real world's homework and chores. But everything changes the day Owen sees the impossible happen—his classmate Bethany climb out of a book in the library. It turns out Bethany's half-fictional and has been searching every book she can find for her missing father, a fictional character.

Bethany can't let anyone else learn her secret, so Owen makes her a deal: All she has to do is take him into a book in Owen's favorite Kiel Gnomenfoot series, and he'll never say a word. Besides, visiting the book might help Bethany find her father… …Or it might just destroy the Kiel Gnomenfoot series, reveal Bethany's secret to the entire world, and force Owen to live out Kiel Gnomenfoot's final (very final) adventure.
A great story for kids that live in a book – one of the characters is half fictional and can jump in and out of books! A perfect what-if if you've ever dreamt of changing the story to a favorite. My daughter is currently reading this one.
Plus there's another book coming (choose your own adventure!) and a final book in the spring.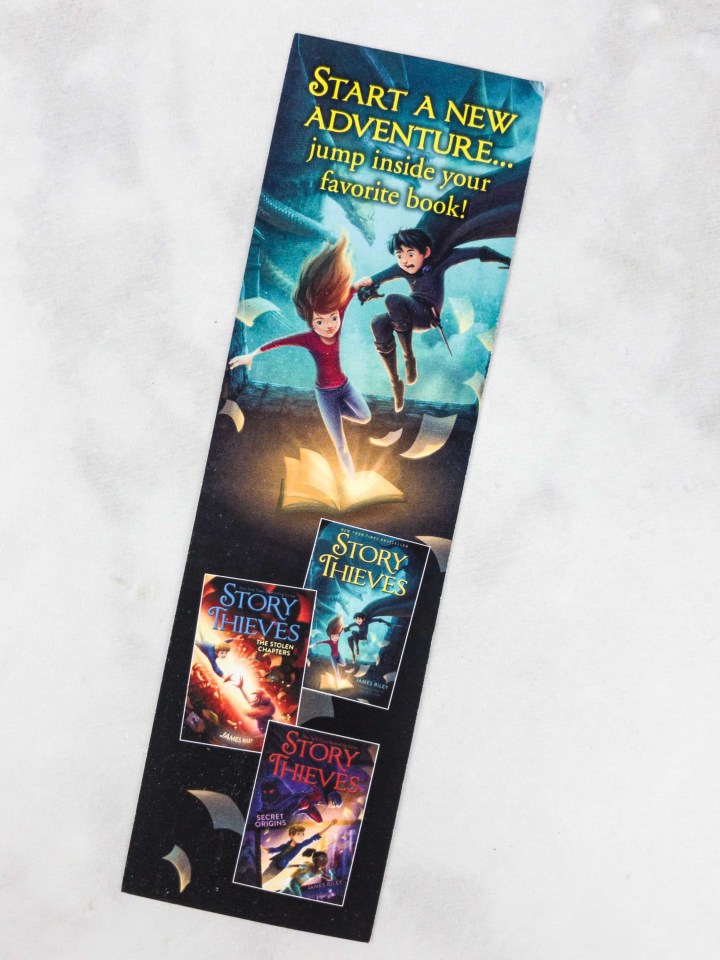 We'll have to check the rest out of the library.
Willy Wonka-Inspired Chocolate Chapstick from Literary Apothecary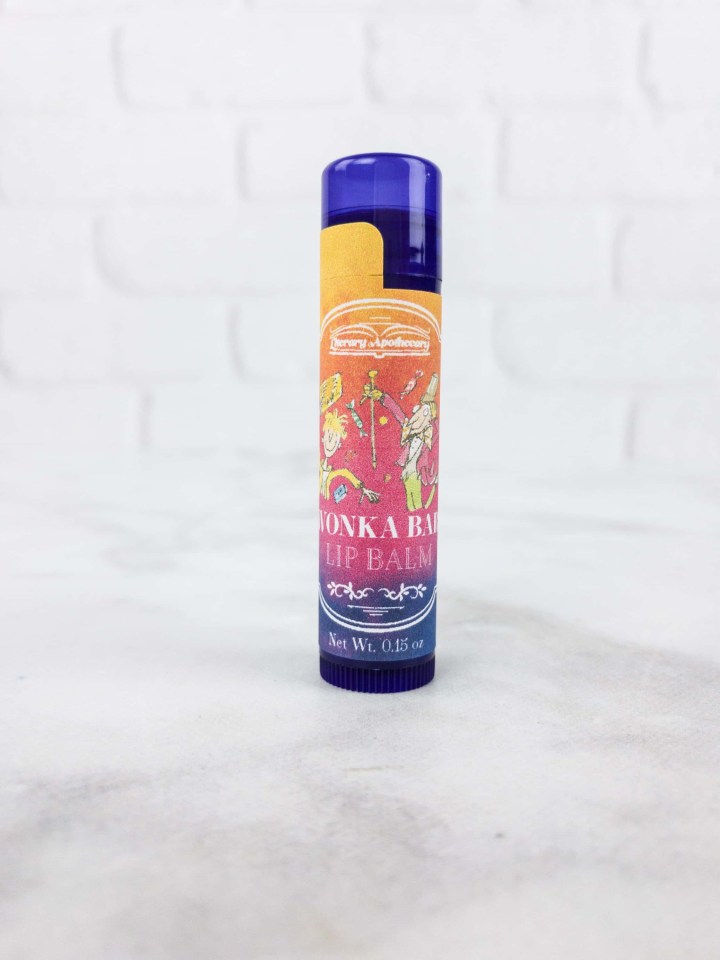 This delicious chapstick (seriously, it's yummy!) ties in with the second book – where one of the characters steps right out of the pages of Charlie & the Chocolate Factory!
All the ingredients are super good for you and it's naturally sweetened with stevia.
This is another great box from Litjoy, and we particularly like that the items included along with the book seem plucked right from the pages. My daughter loves the activity guides in this subscription and she's been completely into every book that Litjoy has selected. This is a fun magical experience for Middle Grade readers!