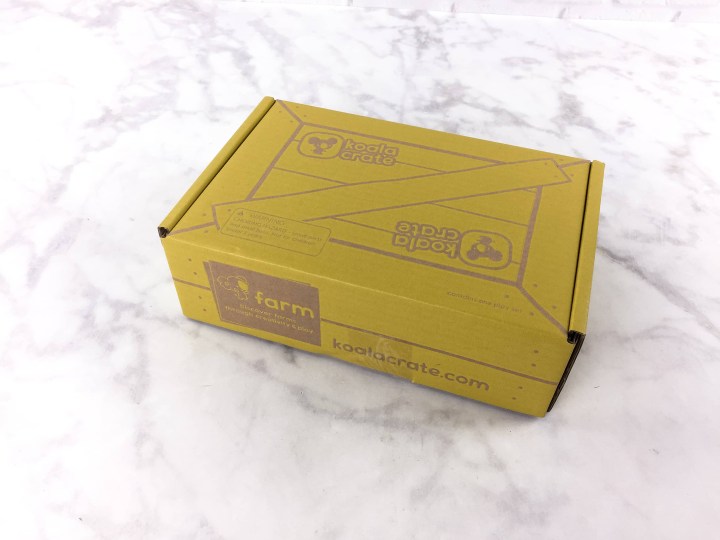 Koala Crate is a monthly subscription box from KiwiCo for preschoolers ages 3 to 5. It is educational and always hands-on. The activities are designed to be developmentally appropriate and enriching while also keeping it engaging, fun, and universally-appealing.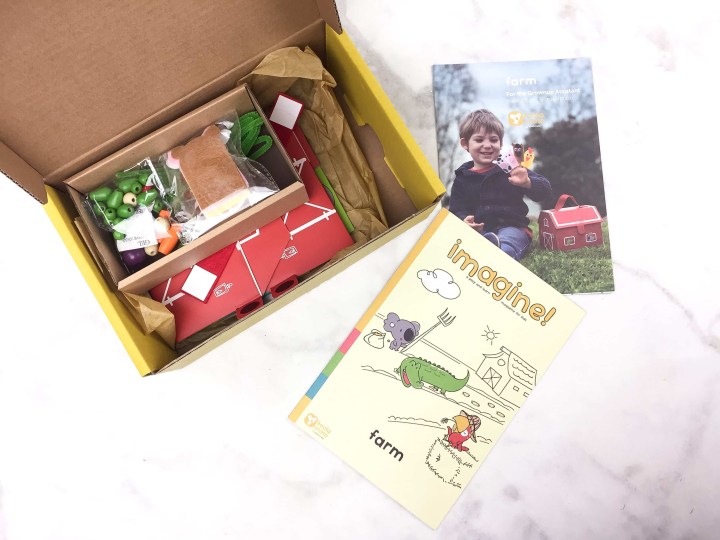 This month's Koala Crate theme was FARM! As always, the box comes with all the supplies needed to create a trio of fun, age-appropriate crafts – plus it has a magazine with extra games and activities.
There are two books that will come in your Koala Crate. Imagine! magazine is "a play and learn magazine" made for you and your preschooler to explore together. My son loves it! I like that the instruction booklet is separate from the magazine, so you can preview the activity while your child works on the activities in the booklet.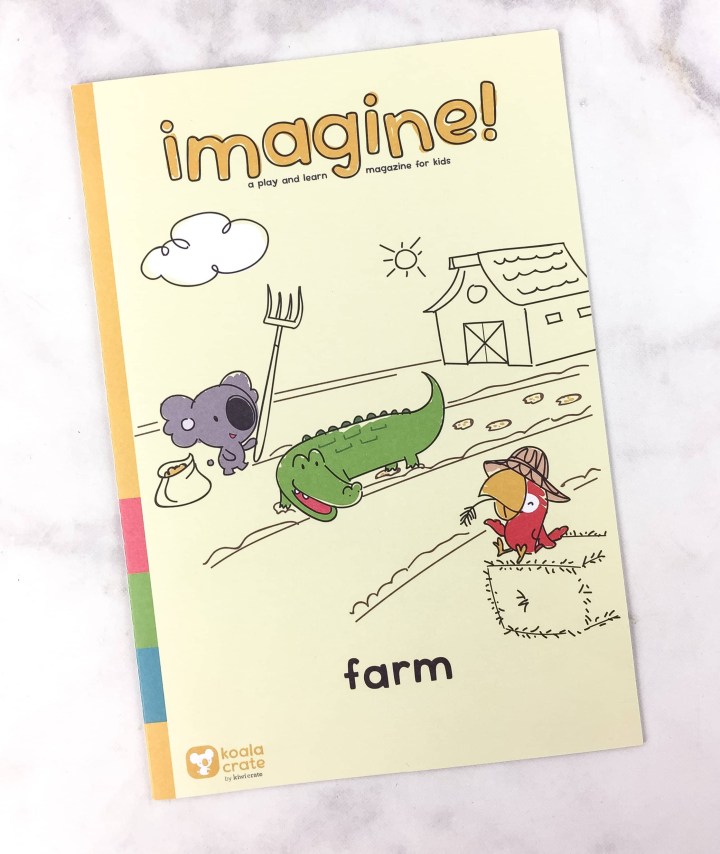 Imagine! magazine contains information relevant to the theme so your child learns a bit about the topic while having fun with the craft and play activities. The information is provided in an age-appropriate format.
DEAL: Use this link to save 30% on your first month of Koala Crate! (or any of the KiwiCo family subscriptions – use this page to find the best box for your little one!).
A fun story introduces your child to the theme of the box. The same group of friendly characters is featured each month, and the familiar faces encourage engagement.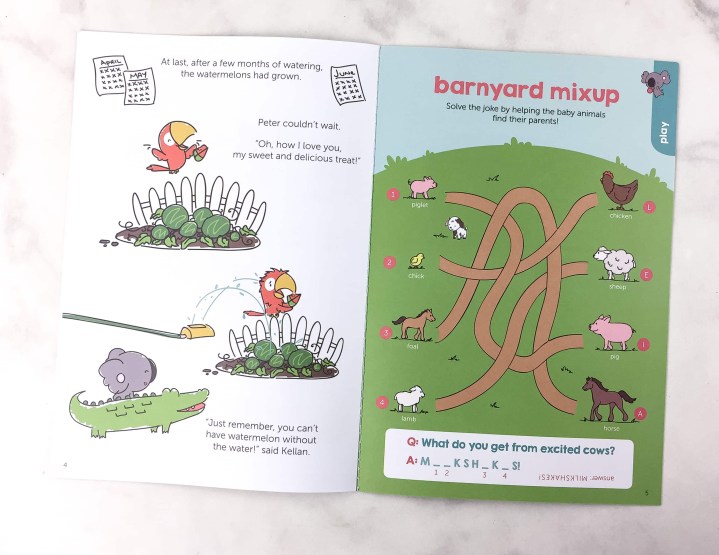 In addition to the main projects, there are several games and activities in imagine! magazine.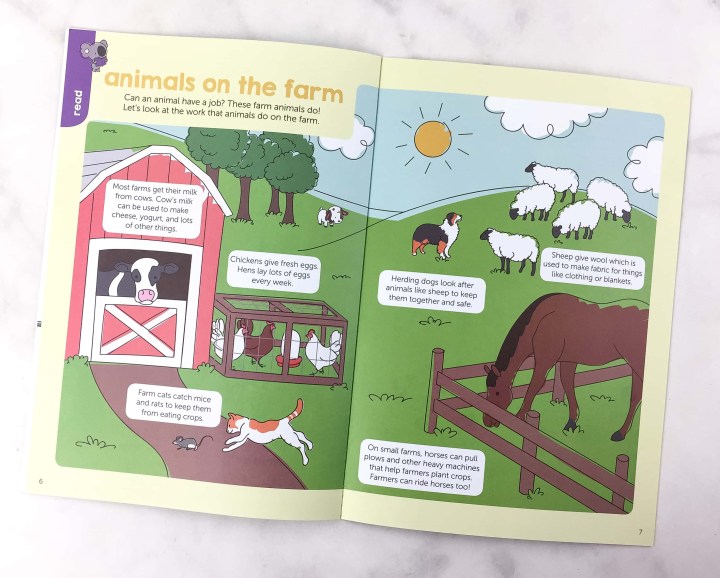 Activities usually include tracing, matching, picture finds, or word recognition games. The book also includes instructions for some extension activities you can do at home with commonplace household items.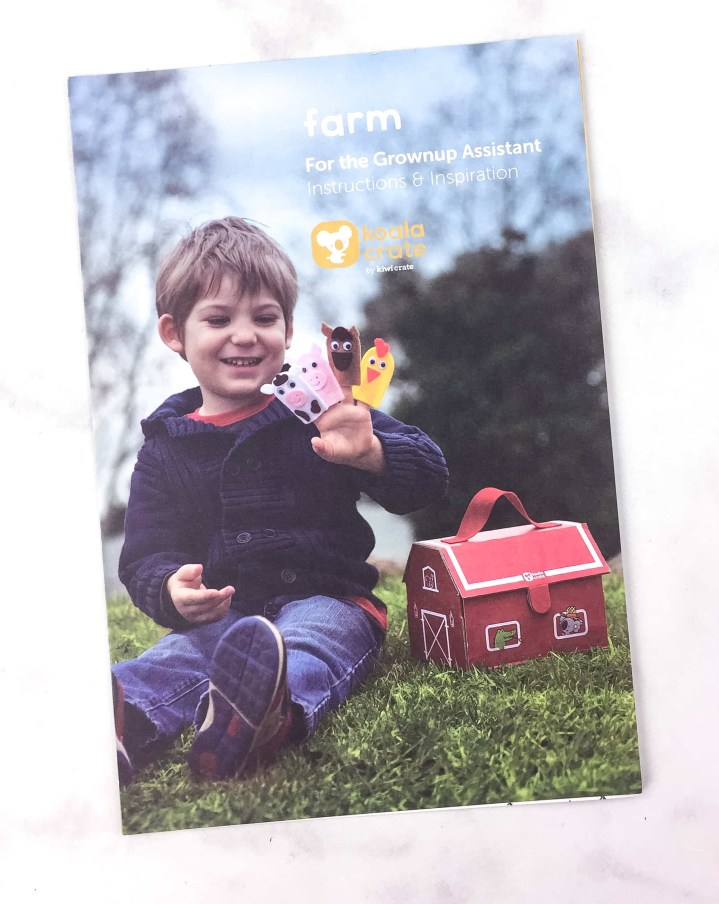 The instruction booklet is intended for the adult helper and gives detailed instructions for the activity. It lists all the supplies, the 3 primary activities, the messiness level, and any grownup assistance needed.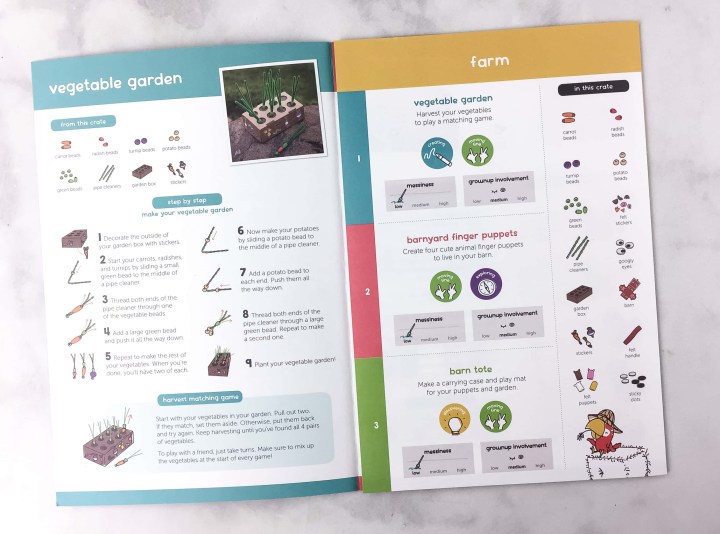 Every activity tells you the required materials, engagement questions to ask your child, step by step instructions, and play ideas.
Even though most crafts are self-explanatory, they have helpful illustrations and clear instructions, so it's hard to go wrong.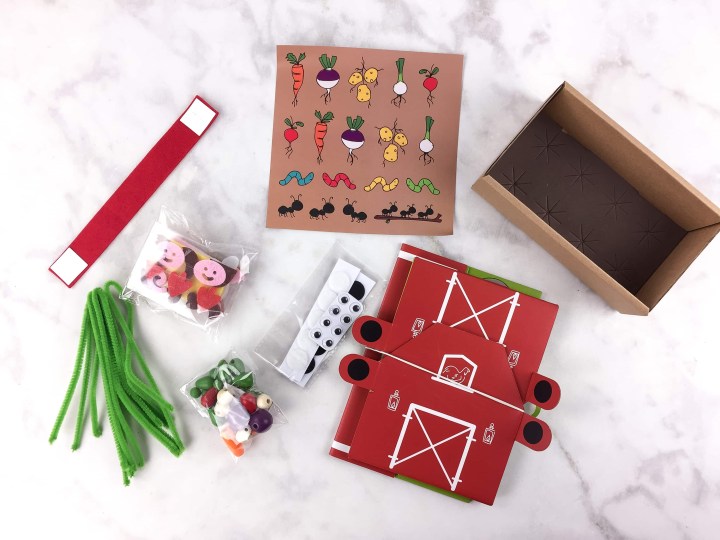 All the materials you'll need to make this month's activities! The activities in a box usually all relate to the same central theme, but they each tend to encourage different types of play and help develop different skills.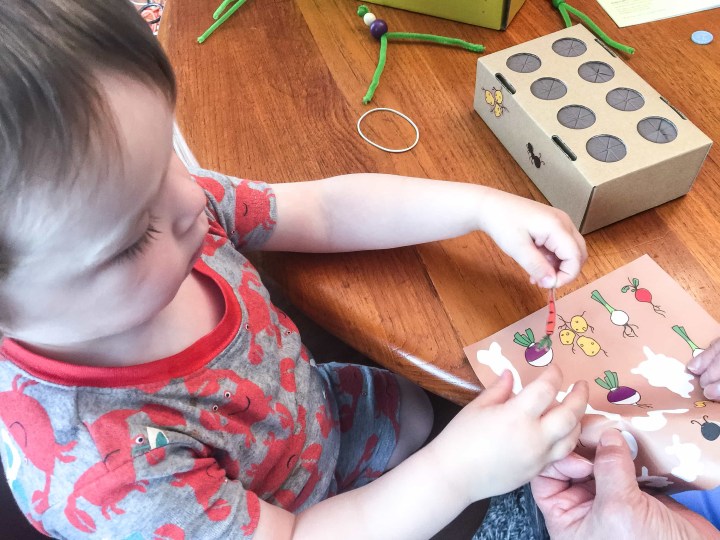 Our first craft was creating our own vegetable garden. We started by decorating the planter with stickers.
Then we made plantable veggies out of pipe cleaners and beads. Our garden had turnips, radishes, carrots, and potatoes!
Our next craft was making finger puppets out of felt. The bodies were already formed, and features were pre-cut and self-stick.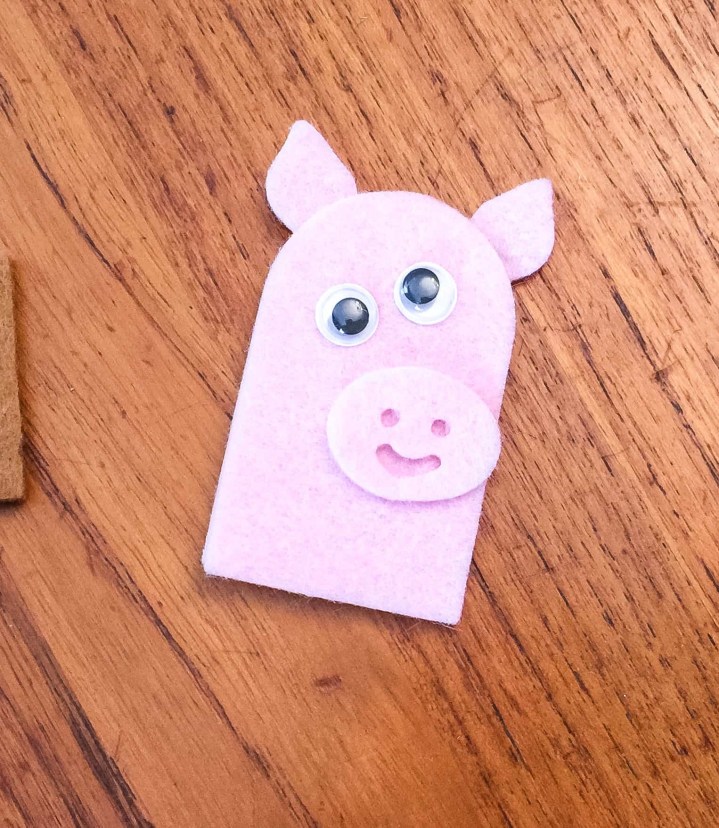 I love the way the faces turned out when he did them all by himself!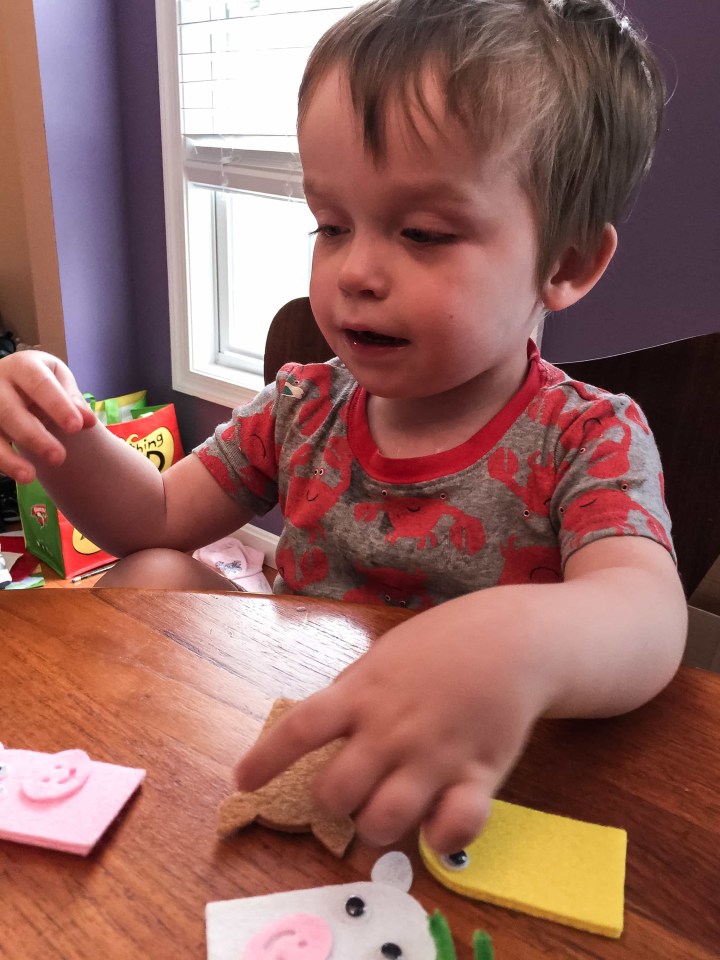 Unfortunately, he also liked to peel the features off, too, so we got to make each animal a couple times!
The animals work as finger puppets, or they can hang out on the farmscape.
The farm playmat folds up and forms a barn! Hook and loop pads hold it secure, and it even has a handle.
The barn was a big hit – it served as everything from toolchest to lunchbox!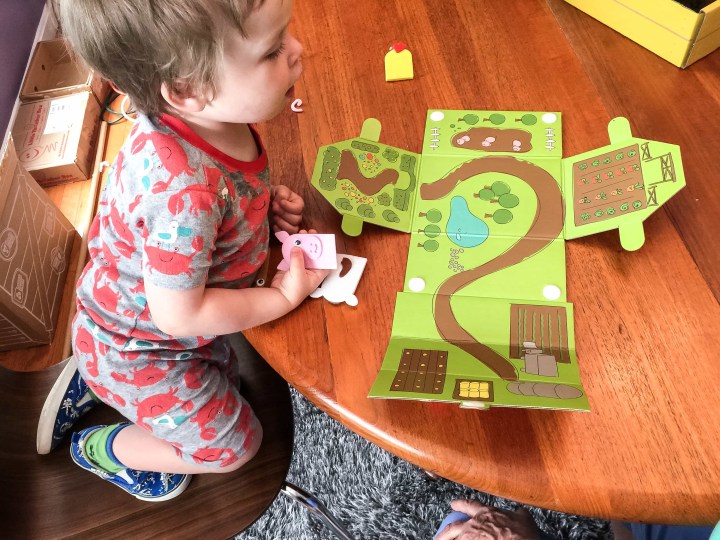 The sturdy barn was a great way to keep all the animals contained, and the mat is durable enough to hang onto for use with whatever toys you want.
This box was lots of fun. We figured that the FARM theme would be really interesting to our son, and it did not disappoint. It's a great combination of crafting and toys that can be enjoyed with our without a buddy.
Koala Crate is great for preschoolers, as it relies heavily on shape, color, and pattern recognition and other pre-reading skills. There is always some age-appropriate learning, and it really keeps the kids busy.  You can do the activities in a single marathon session, but they are also easy to spread out over several days. All of the boxes in the KiwiCo family are excellent parent, babysitter or grandparent activity boxes, perfect for adding some structure and fun to quality time with the kids, without any pre-planning hassle. Our two and half year old needs some help figuring out what to do, but he can actually do many of the activities without help. Our other son is 6 now and has transitioned to the older boxes, but he still really enjoys Koala, because he can do the activities himself. Even our 8 year old likes to do some of the Koala activities, negotiates with her younger brother over what he'll let her do – most of the crafts have multiples (like the stack of postcards), so sharing is easy.
Have you tried Koala Crate? What did you think of this month's theme?