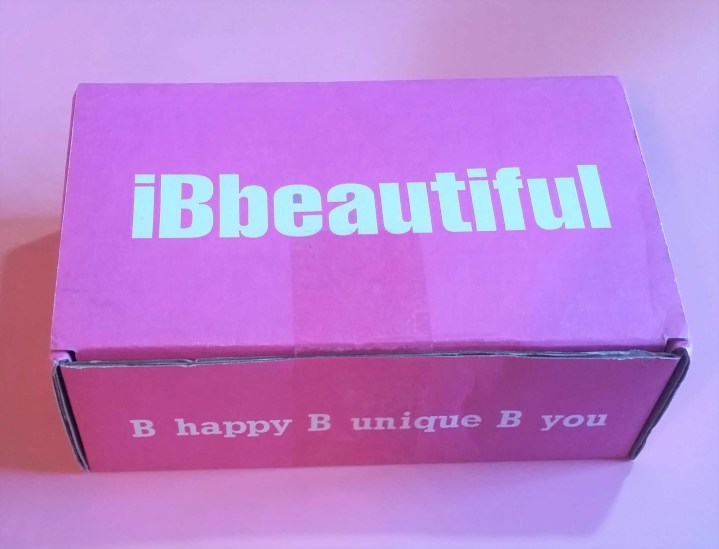 iBbeautiful is a subscription box for teen and tween girls with inspiring accessory and beauty products, plus a positive message! iBbeautiful wants to help girls be confident, smart, brave, unique, and kind. You can choose either tween (8-12 years old) or teen (13+). You also can choose between a basic box (no tee) for $20/month or a graphic tee box for $30/month.
This is a review of the Teen basic box for May. I have two daughters, aged 12 and 15. I reviewed this one with the help of my 12-year old, because my 15-year old was too busy with end-of-the-school year things… you know what I mean, right? Could this time of year be any busier for kids? Right? Anyway, both of my daughters have generally enjoyed the teen boxes, while the tween boxes better suited for just my 12-year old.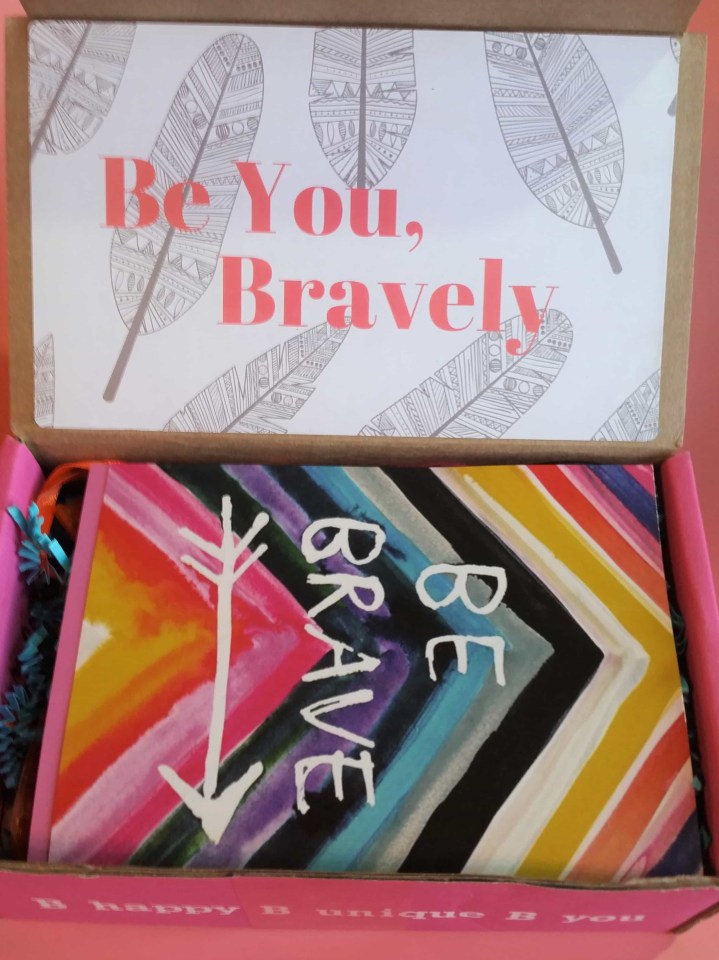 One of the best things about iBbeautiful boxes (from a mom perspective at least) is the messaging. There is always a great placard on the inside of the box lid that sets the theme — "Be You, Bravely" — and then a super pretty information postcard that continues the message — "Be Brave." These postcards are so beautiful that my daughters have kept them and displayed them in their rooms.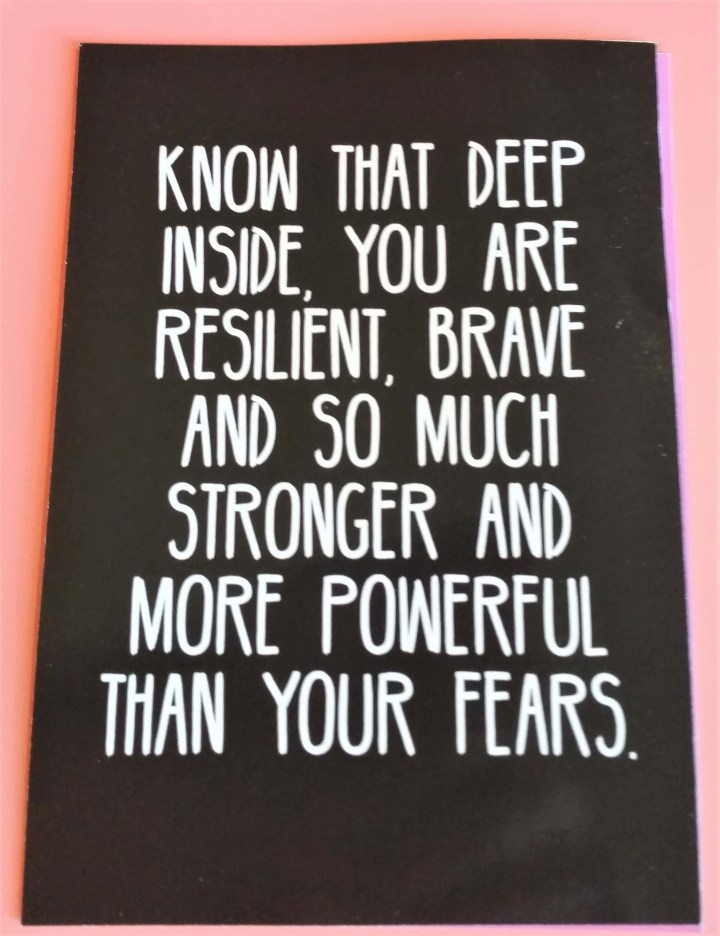 The back of the information postcard typically expands on the theme, providing thoughts and tips for girls to really live out the message. Here, some thoughts on bravery.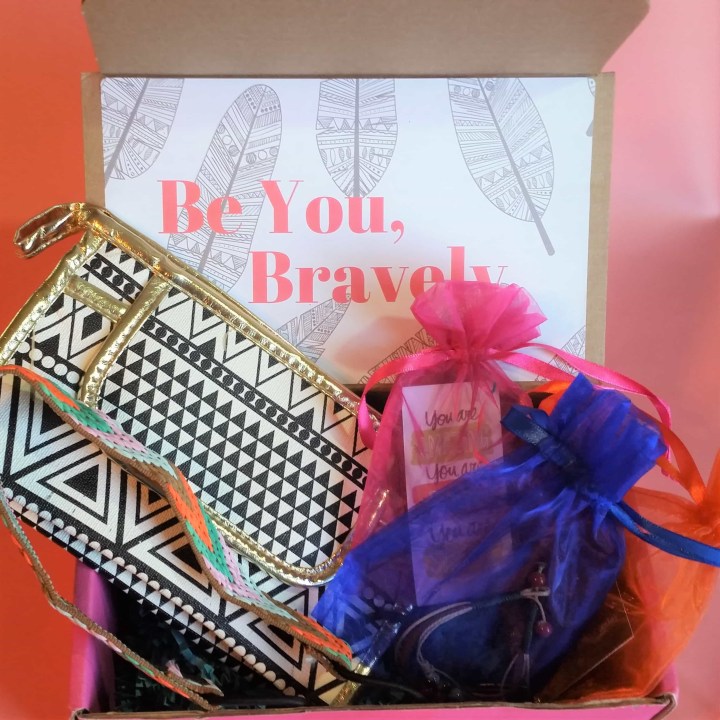 Here's a quick peek at everything in this month's box. So much color – plus some of the items come in little tulle bags.  This makes opening the box even more fun!
Wallet: This bold, geometric print wallet is so cute. It has just enough bling with the gold trim, and the black-and-white color scheme means this wallet will go with anything. My daughter also liked that it had a few separate pockets, so she can stow her "stuff."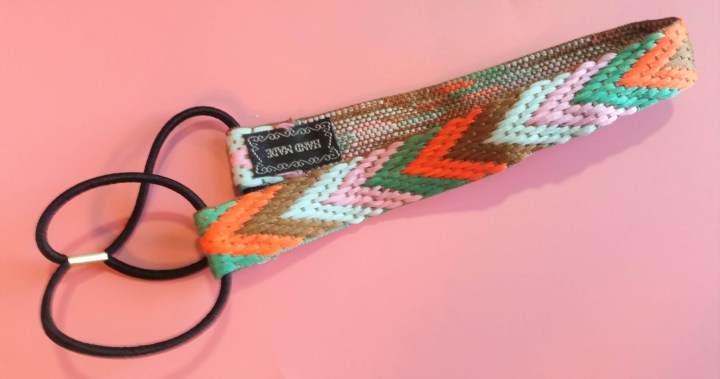 Patterned Headband: My daughter loved this handmade headband. The colors are awesome and it looks super cute on her.
Here she is modeling the headband.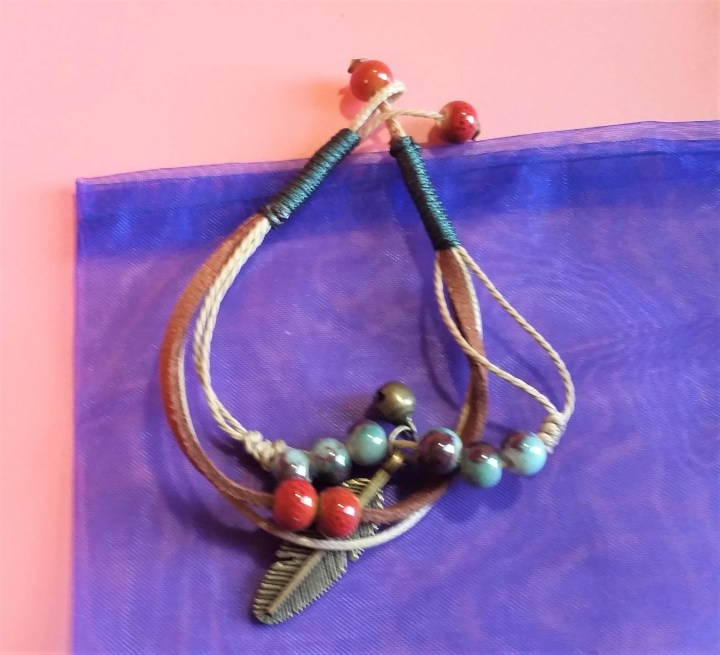 Bracelet: This bracelet is so sweet and absolutely in style right now. It has nice beads and a feather pendant all on leather cord and twine strands, plus a very pretty bead mechanism for fastening the bracelet.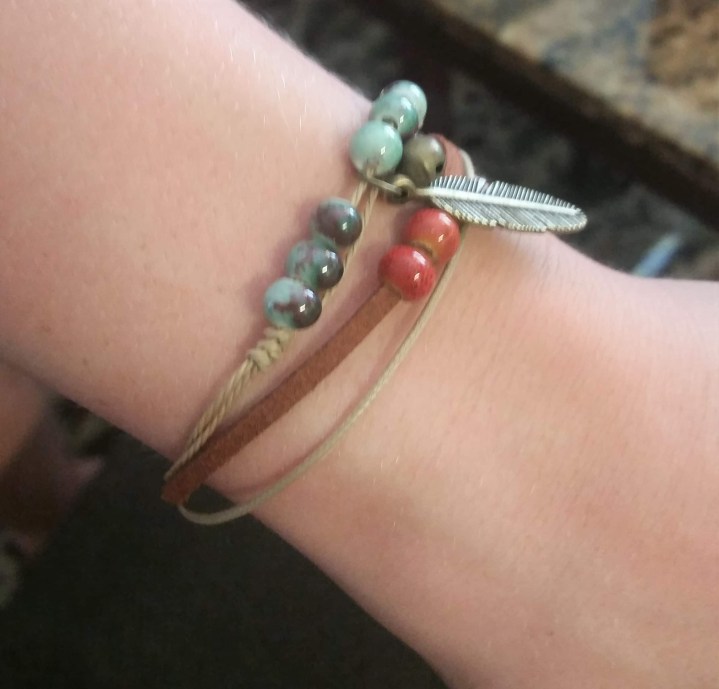 And here's how the bracelet looks on. Both of my daughters really loved this item!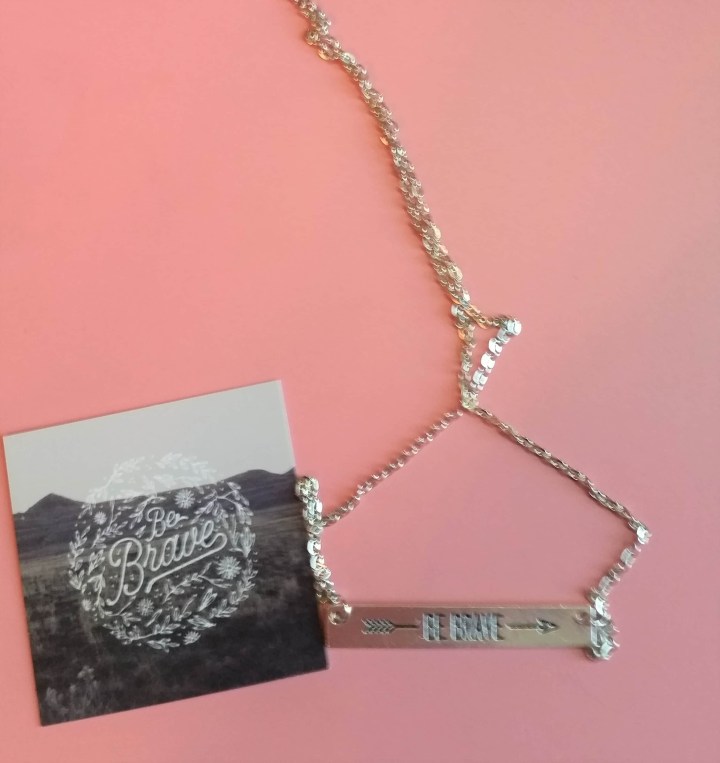 Be Brave Necklace: This is probably my favorite item in the box, and my daughters liked it too. (Unfortunately, the shine kind of got in the way of a great picture, but the photo below where my daughter is modeling it gives a better image of the pendant. This necklace is spot on for the theme and really cute.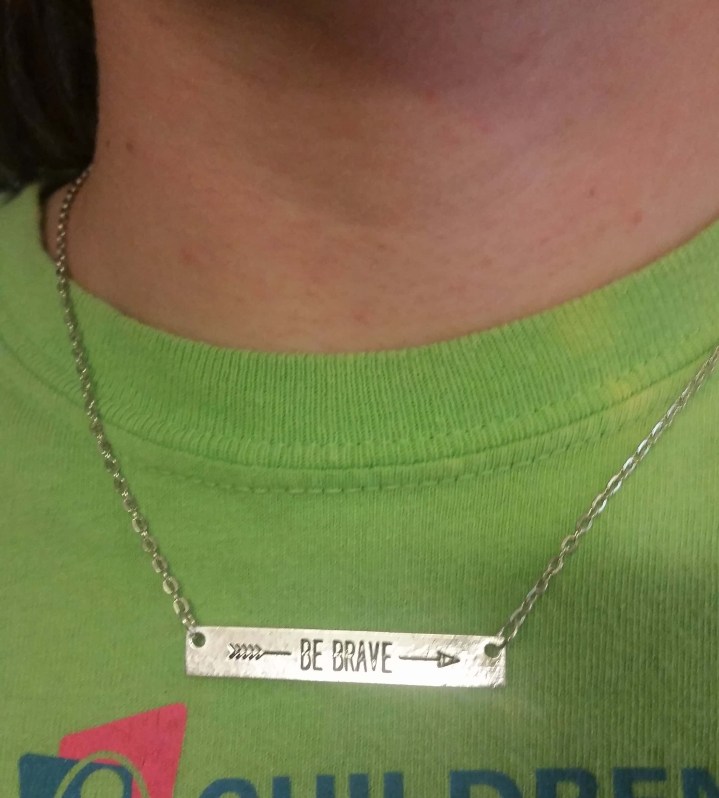 It's a nice way for my daughter to keep the message in mind, without being too over the top or aggressive. I really, really liked this necklace for girls.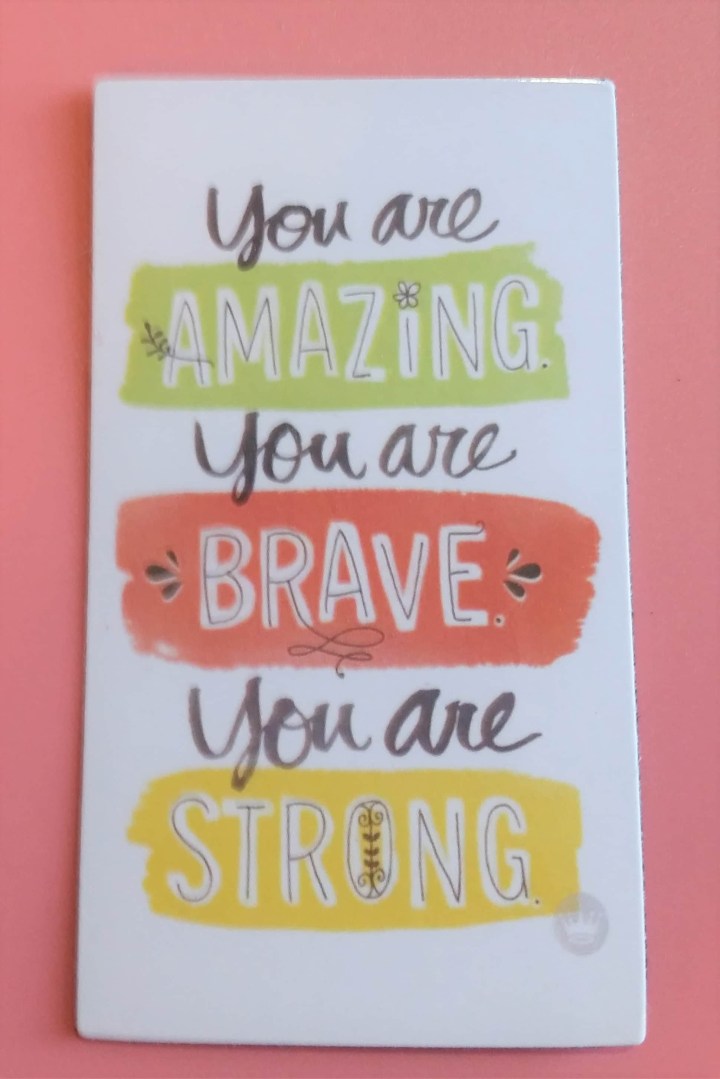 Magnet: This magnet and its message are perfect. It's about the size of a credit card but the point it makes is huge. Love this!

Breath Spray: One of the fun things about reviewing boxes with my daughters is learning what they don't know. So, my 12-year old had absolutely no idea what to do with breath spray… and once it was explained, wasn't sure it was something that she'd ever want. Hmmm. Yeah, this item may be better suited for teens than tweens, which is why it's in the teen box. But it was pretty funny explaining it to her.
This was another great box from iBbeautiful. One thing I will say is that my daughters have been pretty consistently enthusiastic about the iBbeautiful boxes. Most subscription boxes have a month where the them or the items just aren't to your liking, but iBbeautiful is on a roll, at least with my daughters… and with me. The messages are awesome – just what girls today need – and the way iBbeautiful incorporates the themes and messages throughout the box each month is great! If you have a tween or a teen girl, give iBbeautiful a try! We love it.