Horror Block is a monthly subscription box filled with some awesomely gruesome horror toys and collectibles. The Horror Block box ships at the very end of the month, so this is the May Box. My whole family loves getting this box since I love the fandoms and my boys who are too young for most of the fandoms represented just love the bloody gory stuff.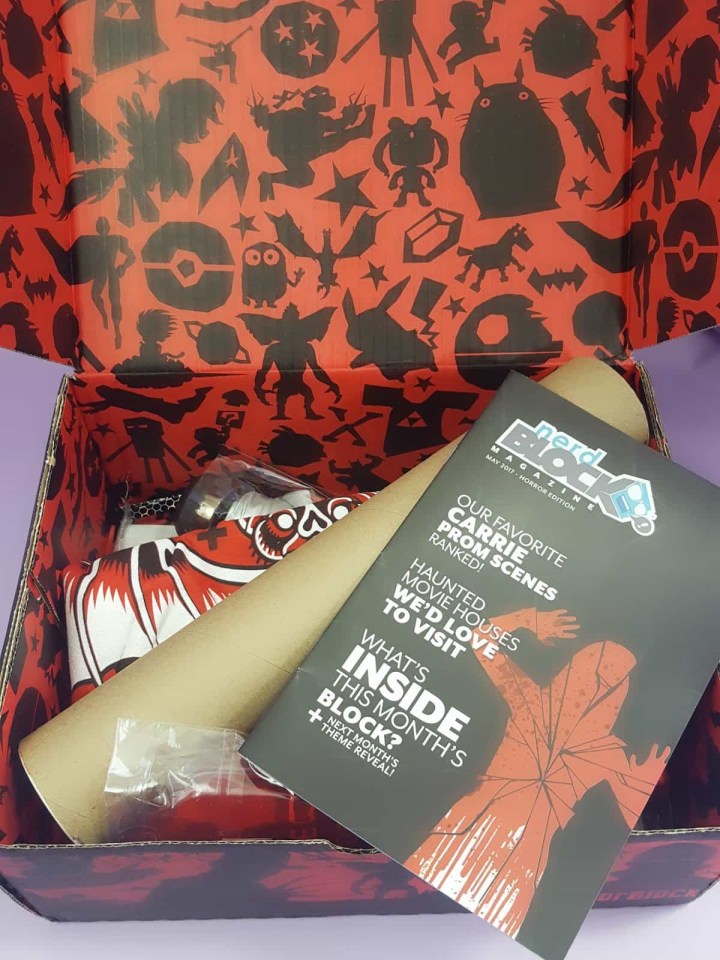 I love the designs of these boxes and how the pattern goes all the way through it. The bright red and black always screams blood and guts which goes great for a horror box. I was very intrigued with this first look and wanting to know what was in the tube.
DEAL: Grab 15% off your first Horror Block with coupon code HELLOSUB16, or save even more with a longer subscription. Enter this code right after pressing the big green review order button.
Everything that came in my May box. This month was awesome with 8 items with 4 of them being Horror Block exclusives. Plus just look at that shirt. Eehhh, I will be fangirl screaming here and pretty much for this whole review.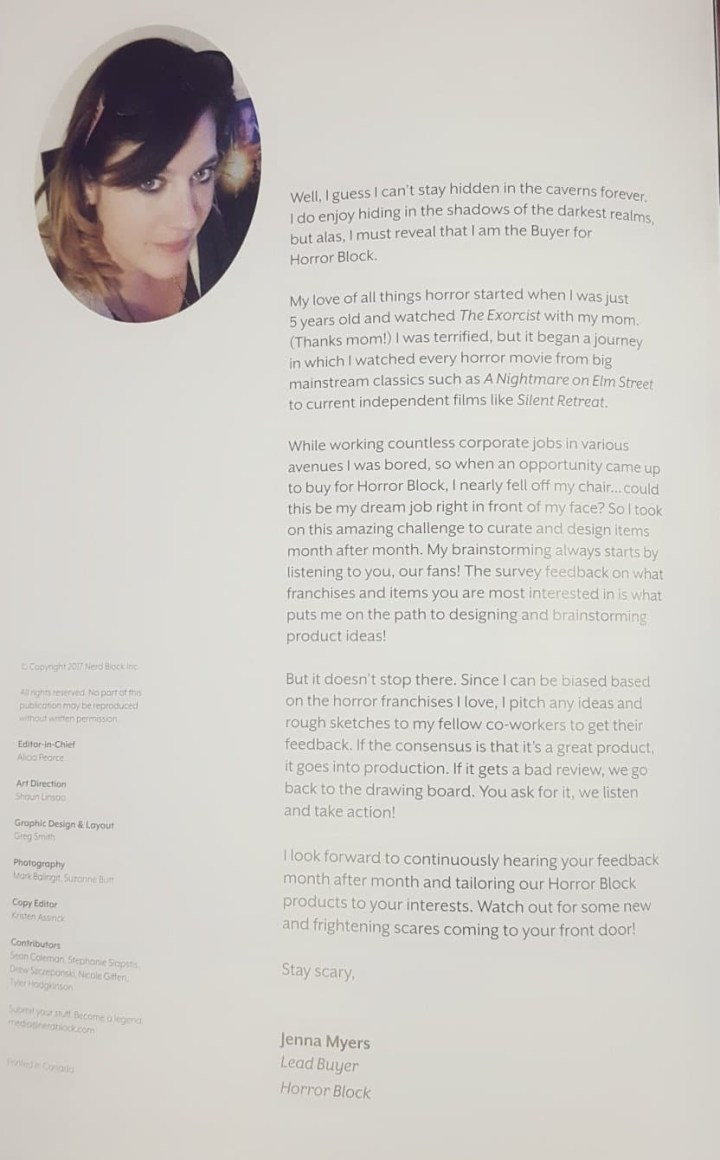 The note this month is from the Lead Buyer for Horror Crate. I will say that might be the coolest job ever and she is doing a great job.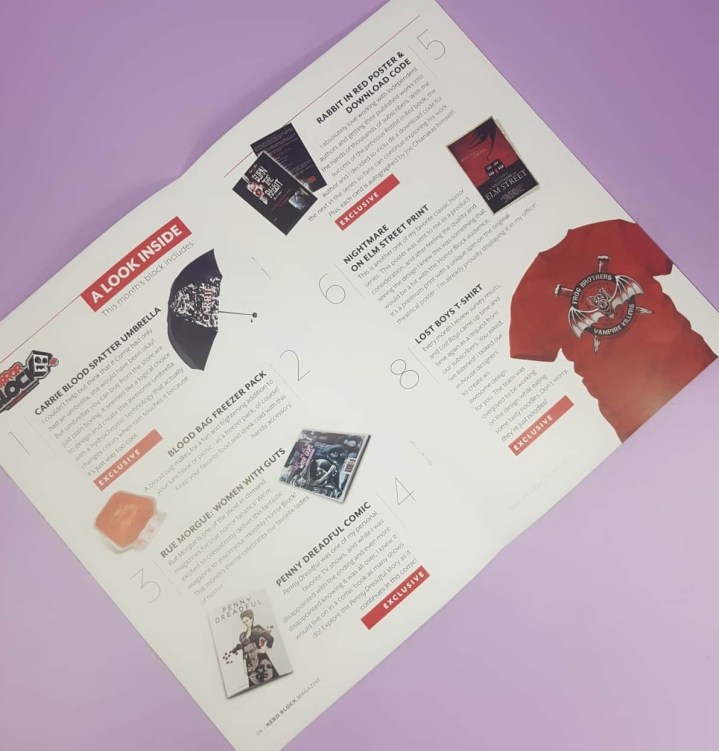 This month we have a total of 8 items in the box!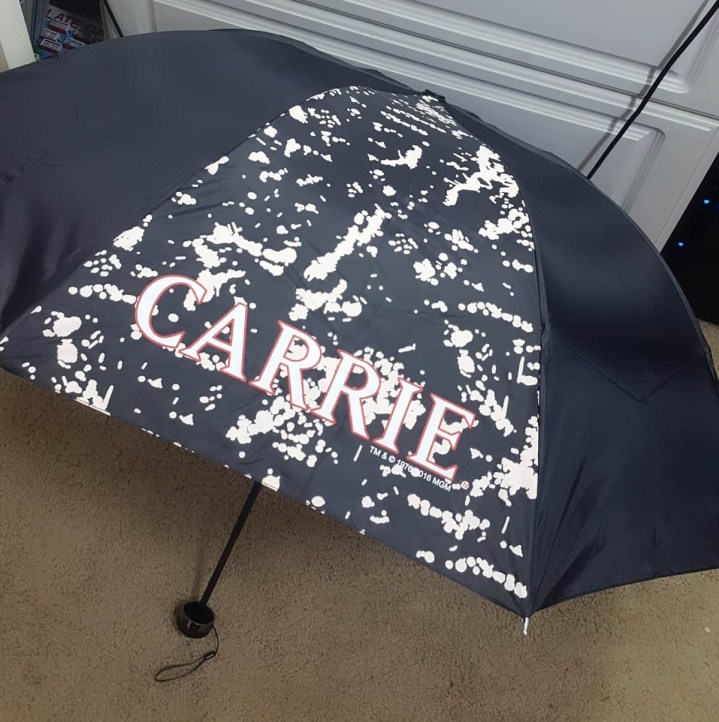 Carrie Blood Spatter Umbrella – Since I'm writing this as it is pouring outside this is the perfect item for me in the box. I have always been a fan of Carrie both the book and the movie from back in the day. You can see in the overall picture that this umbella folds up pretty compact and them pops open larger. I like that while it is Carrie it isn't overly crazy so I can rock this while out and about.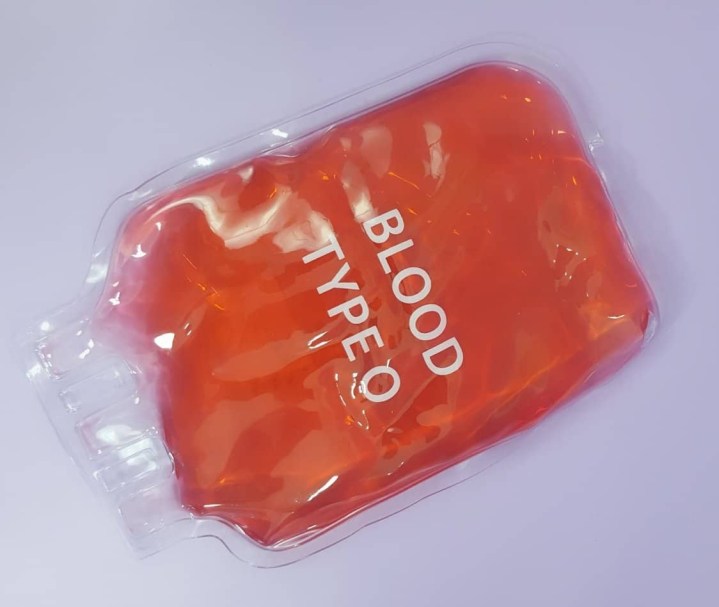 Blood Bag Freezer Pack – This goes to great with the shirt this month and I'll be packing it to go to the pool this season. I love it and since most of my vampire shows now are"vegetarian" and drink from blood bags this is just a hoot.
Rue Morgue Women With Guts  ($9.95) – Yes! Women in Horror Films aren't always protratyed in the best light but there are some that are just Awesome and this book tells about the women in front of and behind the scenes.
Rue Morgue Library #10: WOMEN WITH GUTS

Rue Morgue Library's WOMEN WITH GUTS brings you face to face and heart to heart with the women behind such breakout movies as Halloween, Alien, Interview With the Vampire, The Blair Witch Project, A Nightmare on Elm Street, Ginger Snaps,Slumber Party Massacre and more.

Features words with BARBARA STEELE, LINNEA QUIGLEY, ANGELA BETTIS, MARY LAMBERT, ANA LILY AMIRPOUR, JENNIFER KENT and more!

Plus! Personal essays and tribute pieces on genre pioneers such as ANNE RICE,ELVIRA, JAMIE-LEE CURTIS, SIGOURNEY WEAVER, HEATHER LANGENKAMP,KAREN BLACK and others, by leading female horror writers ALISON (Satanic Panic)LANG, ANDREA (Rue Morgue Magazine) SUBISSATI, LIISA (How to Kill a Vampire)LADOUCEUR, ASHLEE (Graveyard Shift Sisters) BLACKWELL, and ALEX (The Faculty of Horror) WEST.

Get into some female trouble with the RUE MORGUE LIBRARY's first look at the women making waves in horror cinema, both in front of the camera and behind the scenes!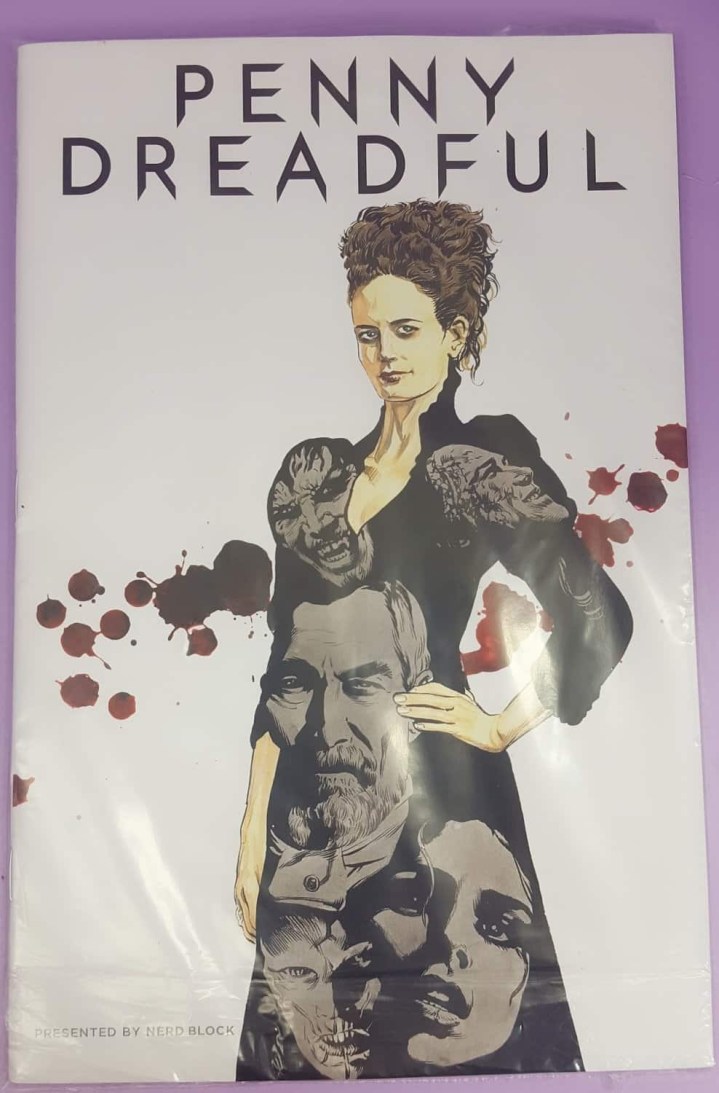 Penny Dreadful Comic – We have gotten a different comic back in the May 2016 Horror Block and it is still just not a show that I've gotten into. Now that it is over maybe I can start binging it and catching up. I know so many people that love it and only have great things to say about it.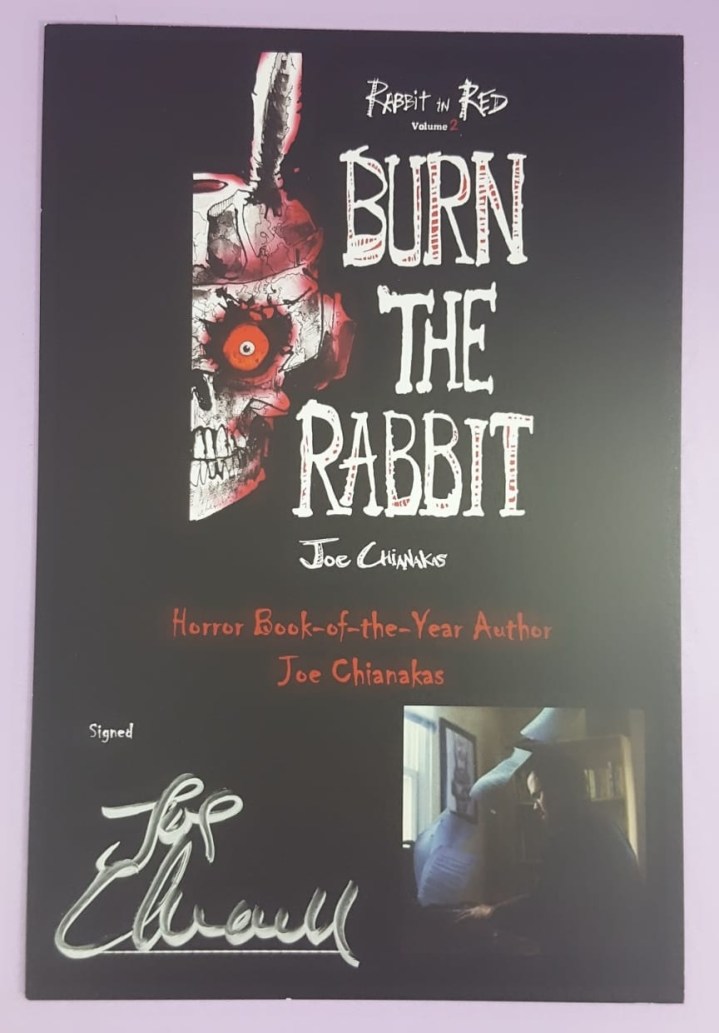 Rabbit in Red Poster & Download Code – We got the first Rabbit In Red book back in the November 2016 Horror Crate and I enjoyed it so I will use the download code on the back of this card to get the second one. Each card is also signed by the author. I love that Horror Crate is supporting independent authors.
Nightmare on Elm Street Print – This is what was rolled up in the protective cardboard in the box. It will take some flattening before I can put this somewhere as its a bit curled but Horror Crate did a good job in protecting it to get it to us. I am a huge Nightmare on Elm Street fan and was my favorite horror series from that time frame and as I was growing up.
Shirtpunch Lost Boys T-shirt (This is an exclusive but other Shirtpunch shirts go for $19.99) – Yes, yes, yes!!!! I can't be more happy with this item and WOW just WOW I'm so excited. I love everything Lost Boys and since the show is a bit older (yes I'm that old) it is still such a great movie. Random story but my husbands name is Michael and for some reason this movie always comes on late at night and he'll be asleep and jump up when they start going "Michael, Michael, Michael" I think it is hysterical but him not so much. This is the movie for me that started me on my Vampire Love and my foray into horror movies. I was in 6th grade when it came out and I saw it at the theater 12 times and I can watch it every time its on now over and over and over. The information note says that Lost Boys is a fandom that comes up time and time again when Horror Block sends out surveys and I can totally agree with it and they could include something every month and I'd be stoked.
Horror Block sent the perfect box for me this month.  It had a Lost Boys shirt in it!
Spoilers for next month include items to pay homage to Vincent Price, Gremlins, and some newer modern horror mystery items.
Visit Horror Block to subscribe or find out more!