Hopebox is an inspirational subscription box delivered monthly to your door. For $49 per month, you'll get an assortment of 10+ renewing, uplifting goodies made by creative artisans who have their own inspiring stories of hope and healing. Each box includes a heartfelt, comforting, and encouraging message. Hope is on the way.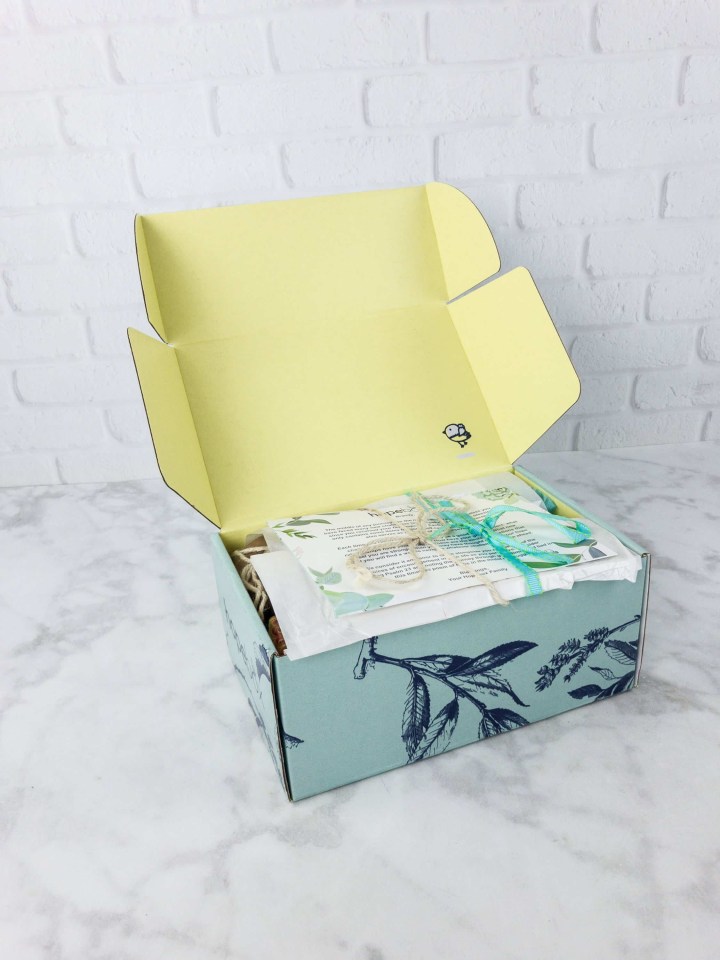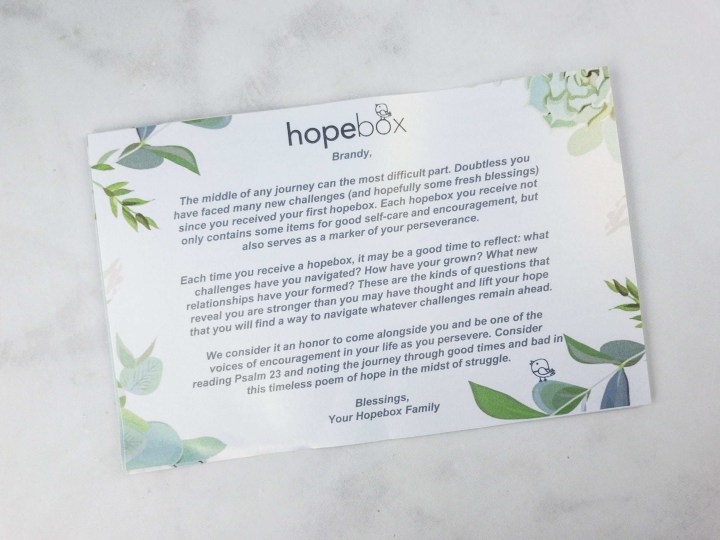 A welcome card from Hopebox. You can have them write a message for you, provide your own, or let the box do the talking.
The back of the card gives you a list of all the items included in this month's box!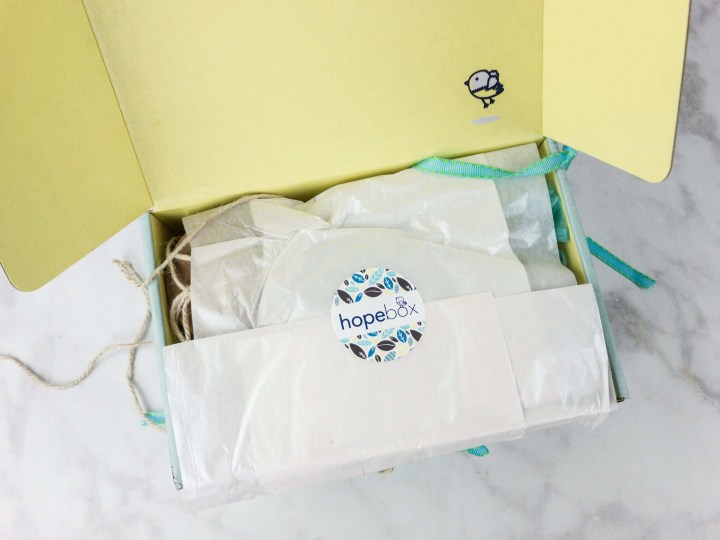 The items are wrapped in a white tissue paper and tied with a bow.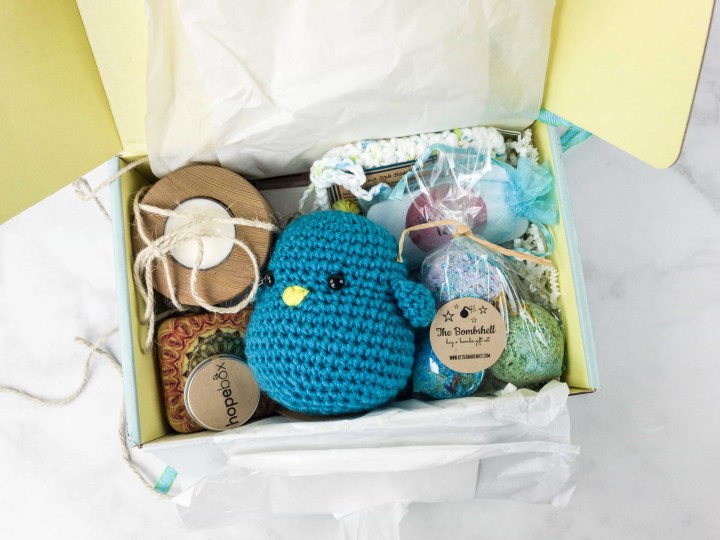 The box is overflowing with goodies after goodies.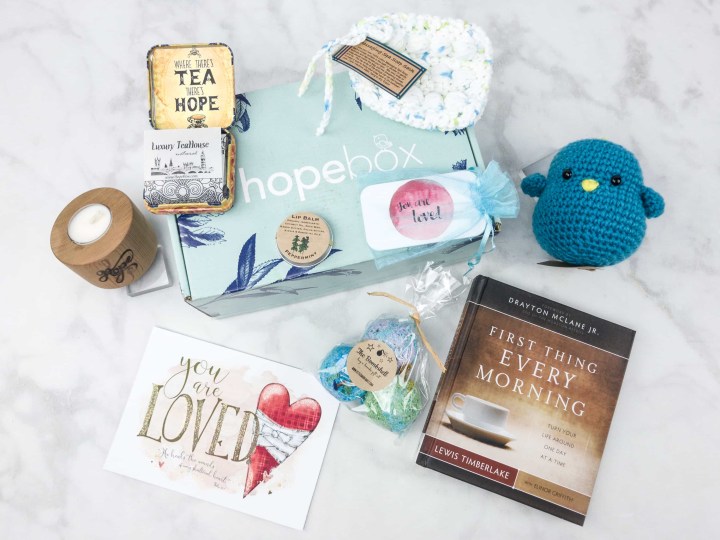 Everything in my June Hopebox!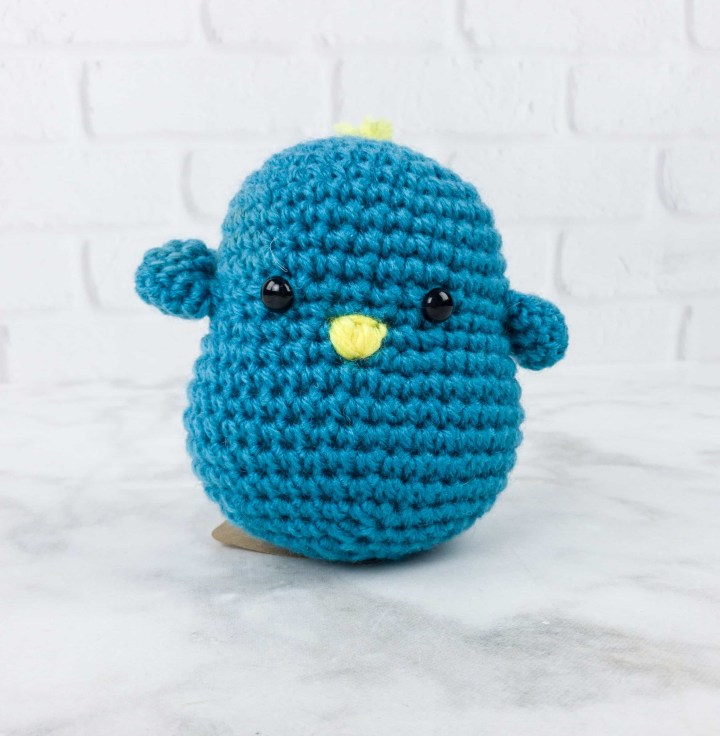 The Craft Penguin Crochet Hope Friend – Who wouldn't cheer up when this is the first thing you see in the box?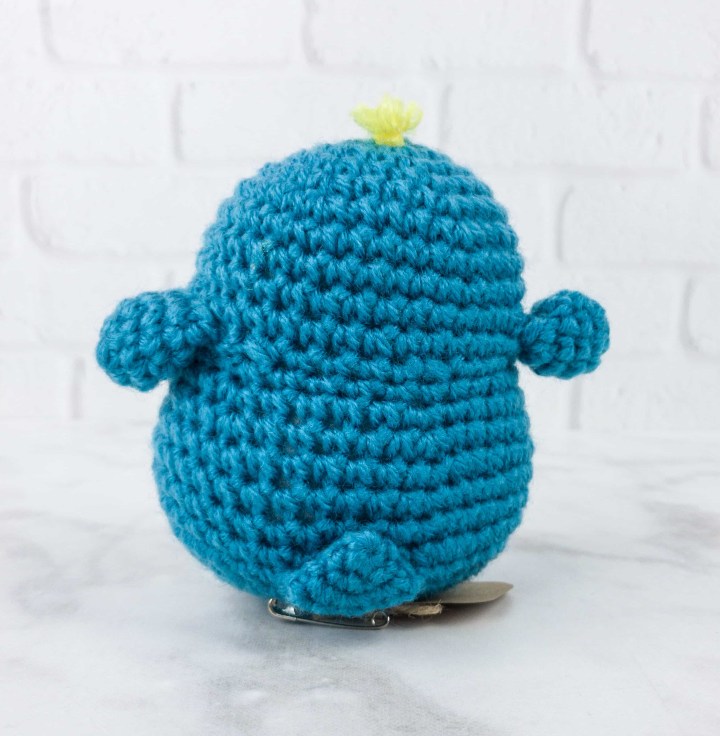 Our new penguin plushie is crocheted, made with acrylic yarn and has polyester fiberfill. Safe for ages 3 and up!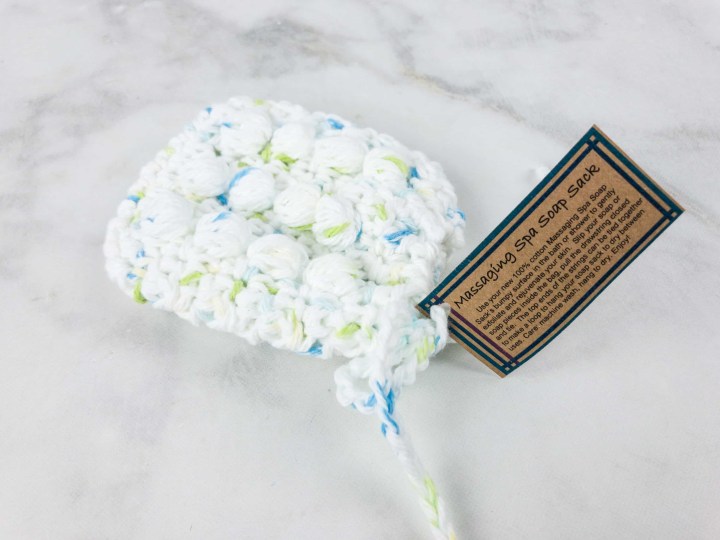 Gwen's Home Made Gifts Soap Sacks ($6) – For that relaxing bath we all deserve!
I like this soap sack because it's gentle on the skin! Perfect for exfoliating and also a great way to save soap.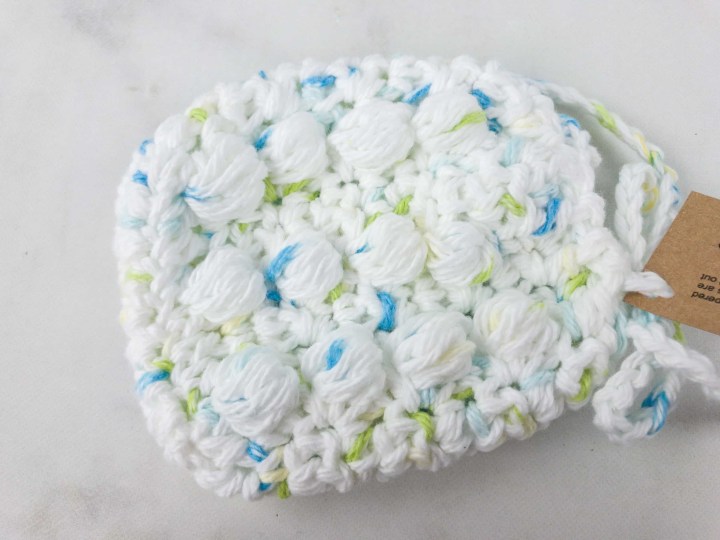 Any full-size soap, whether store bought or handmade can fit well inside the pouch.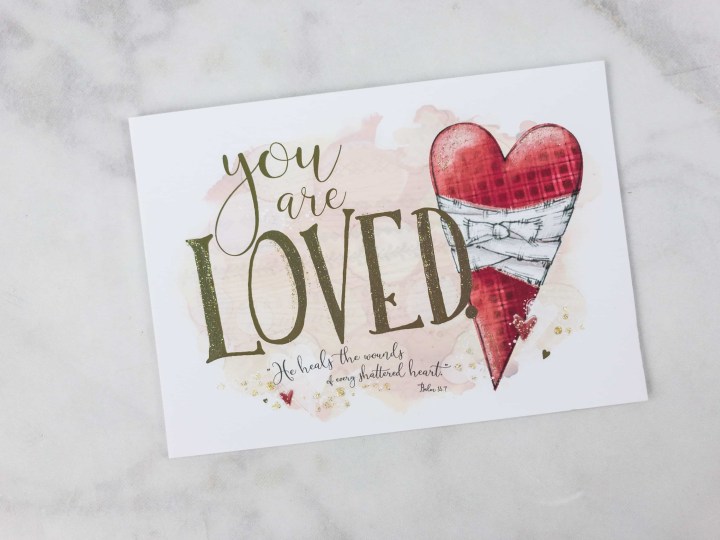 Lellow Lolly Inspiring Watercolor Print – Sometimes, all you really need to know is that you are loved. This print is full of positivity!
Kitsch + Fancy The Bombshell Botanical Bath Bombs ($15) These bath bombs add a pop of color and a relaxing fragrance on bathwater. Just add bath salts or sugar scrub for a nice bath cocktail!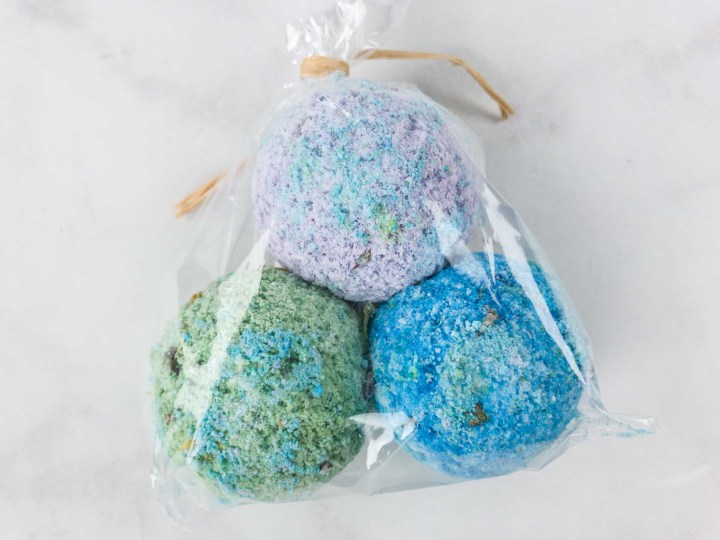 We got three bath bombs: green (cucumber mint), blue (fresh linen), and purple (lavender basil). Everything smells great!
Karl Simon Wood Works Hope Tea Light Holder – Speaking of a relaxing bath, tea light is also a must. Glad we've received a tea light holder from this box!
The perfect way to add soft lighting to any room and make it more conducive for relaxation!
I like how rustic and stylish it is!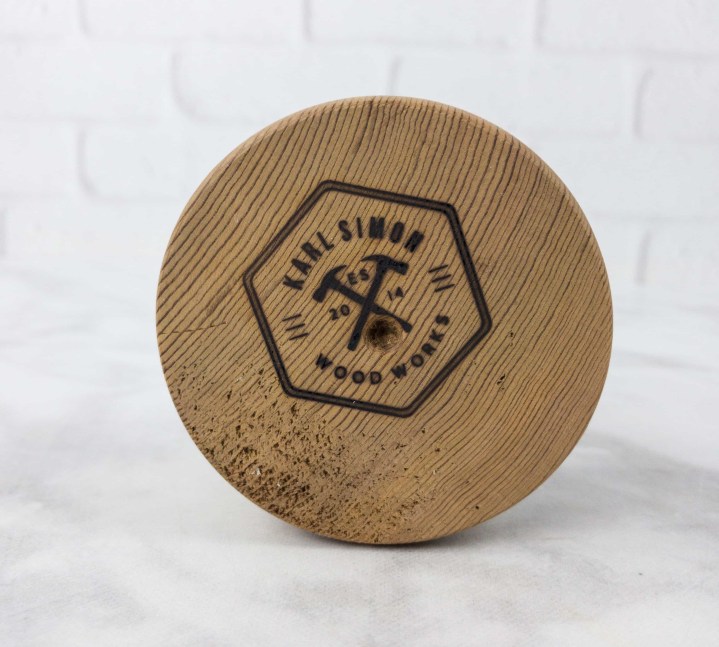 At the bottom of the tea light holder is Karl Simon Woodworks logo, ensuring the product's authenticity.
Mountainess Handmade Organic Lip Balm ($3) So smooth and silky! This contains organic coconut oil, organic cocobutter, organic bees wax, essential oils, maine maple, and maine maple syrup.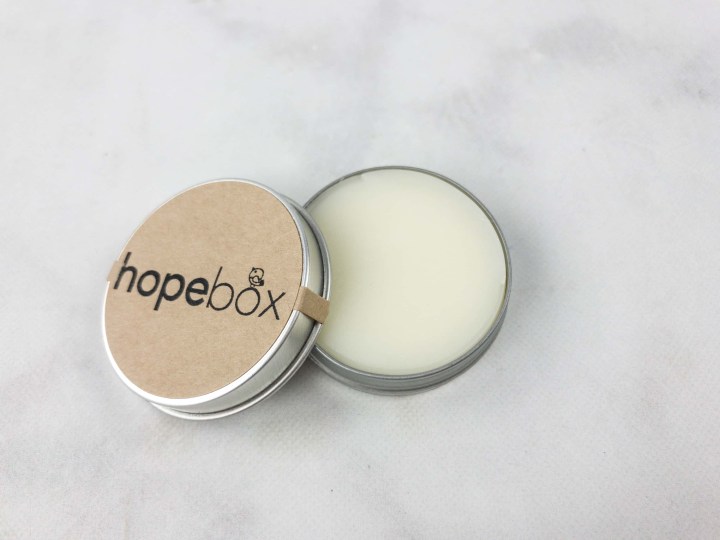 It's simple yet effective – hydrates the lips well and the scent is lovely too. (We also received an organic lip balm in last month's HopeBox!)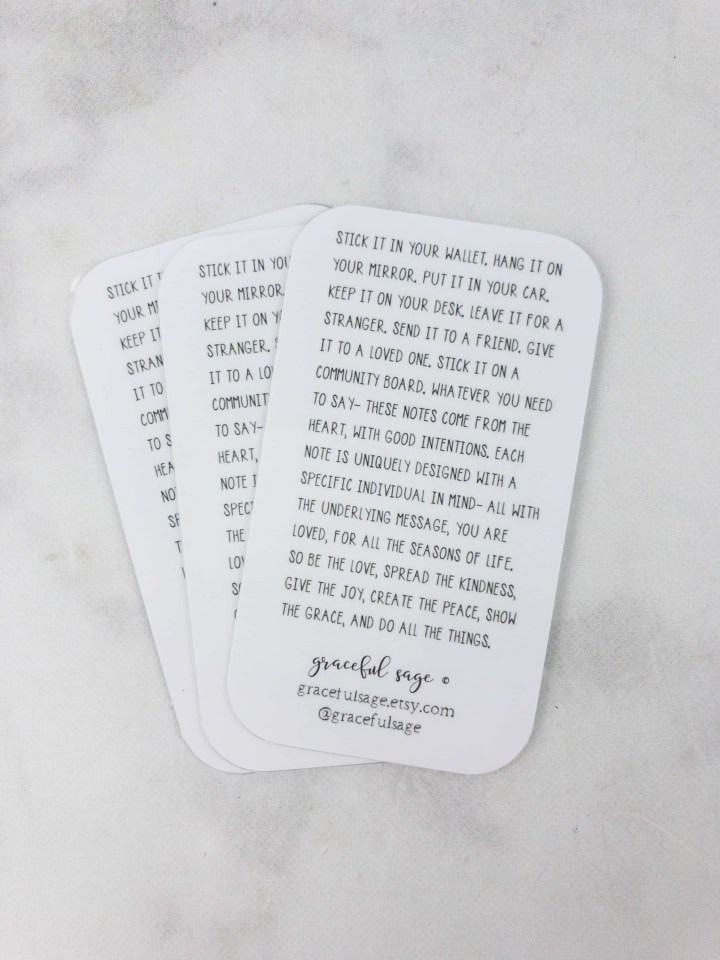 Graceful Sage Mini-Packs ($3) A little message of positivity can go a long way!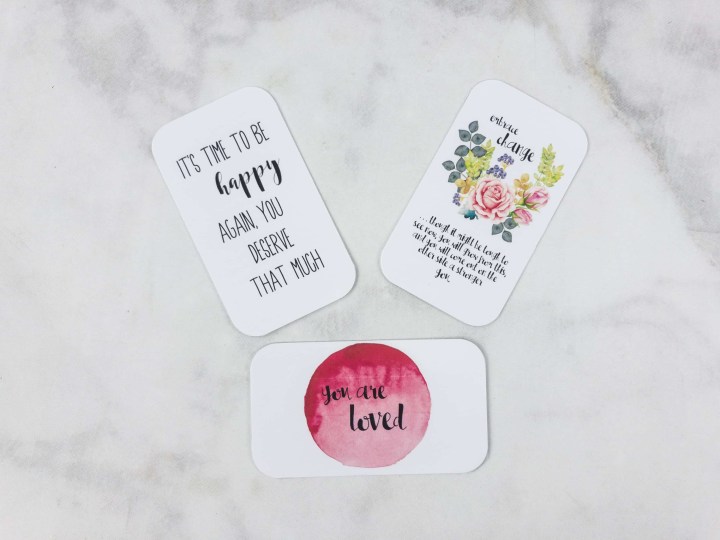 The size is just right to keep inside a wallet. You can also pass it on to a friend who needs some encouragement!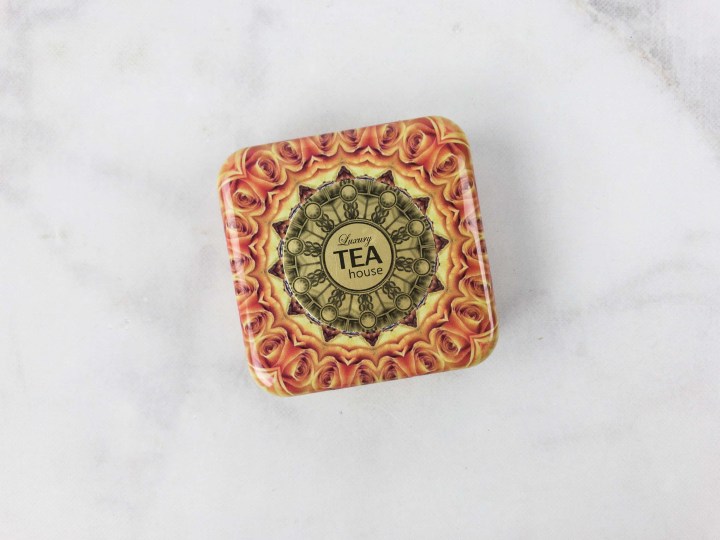 Luxury Mints Custom Tea and Mint Tin – One look at the tin and you can already tell how luxurious this is!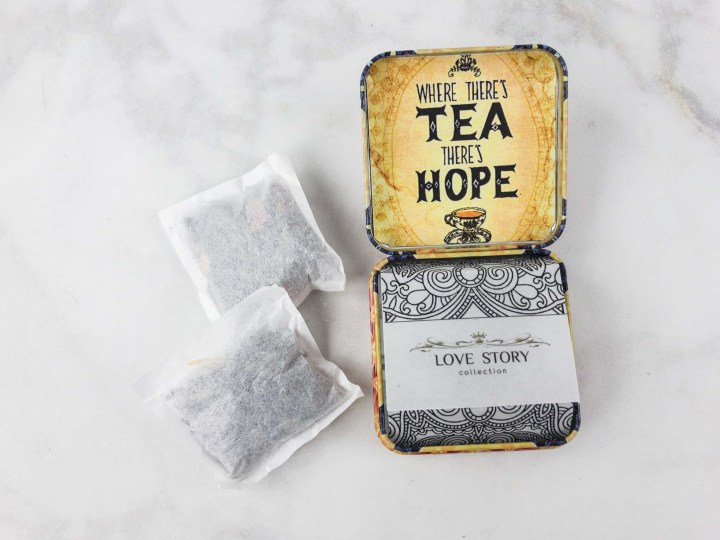 The tin contains Ceylon tea bags combined with fragrant flowers and fruit flavors.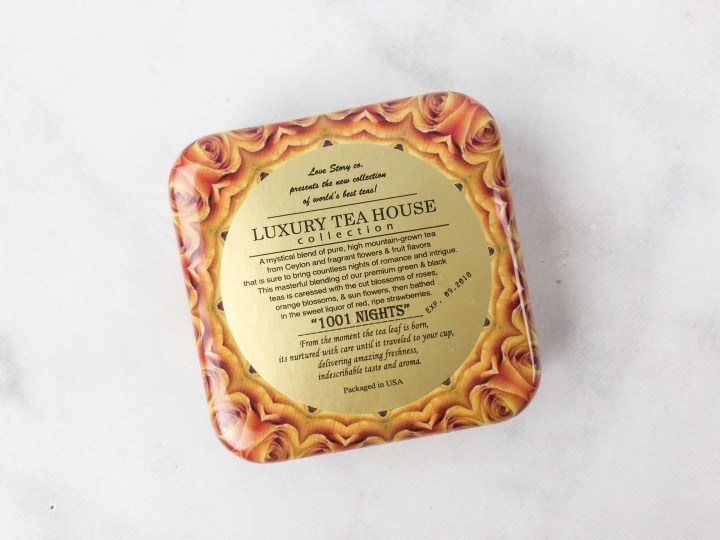 Not a fan of teas? With its nice packaging, you can easily gift it to a tea-loving friend!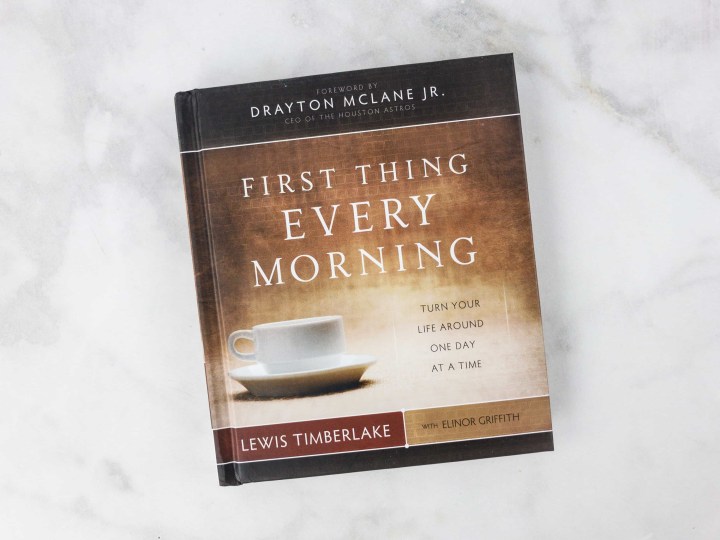 First Thing Every Morning by Lewis Timberlake ($1.95) I like how HopeBox includes something to read in every box!
If you had a bank that credited your account each morning with $86,400-with no balance carried from day to day-what would you do? Well, you do have such a bank… time. It credits you with 86,400 seconds. Every night the credits roll off. Whatever you have failed to use toward good purposes is lost forever. Your account carries over no balances and allows no overdrafts. You can't hoard it, save it, store it, loan it or invest it. You can only use it-time. First Thing Every Morning has everything you need to energize your life and make the best use of those 86,400 seconds each day through-reflections, stories and quotes that will lift your spirits and lighten your load. Lewis Timberlake's insights on more than 50 topics will help you to turn your life around…one day at a time. There are 217 reflections in this book. Read one each day to start your day right, or we won't tell if you skip ahead for more daily inspiration. Each chapter tells a brief inspirational story and is enhanced with several quotes for the day and some chapters include space for you to write down your own thoughts.
Inspirational stories and quotes either for bedtime reading or to jumpstart your morning!
HopeBox is such a nice box! I love its heartwarming concept, as well as the items that you can share with friends or family members for some positive vibes. Whether you're going through something or you just want to treat yourself to a nice box, this subscription would be a great choice. Excited for future boxes!