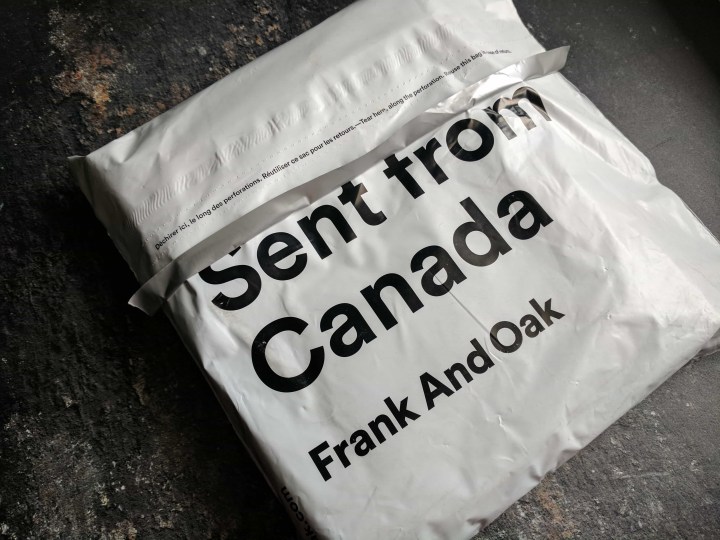 Frank And Oak Style Plan is a service that offers great style at a low cost for men or women. When you subscribe to Style Plan, you can get up to 4 recommendations delivered to your home for $79 USD ($89 CAD) every month or every two months. You choose your items and shipping is free! If you need to return an item, shipping is free and you can reuse the bag the clothes came in.
This review is for the Men Style Plan.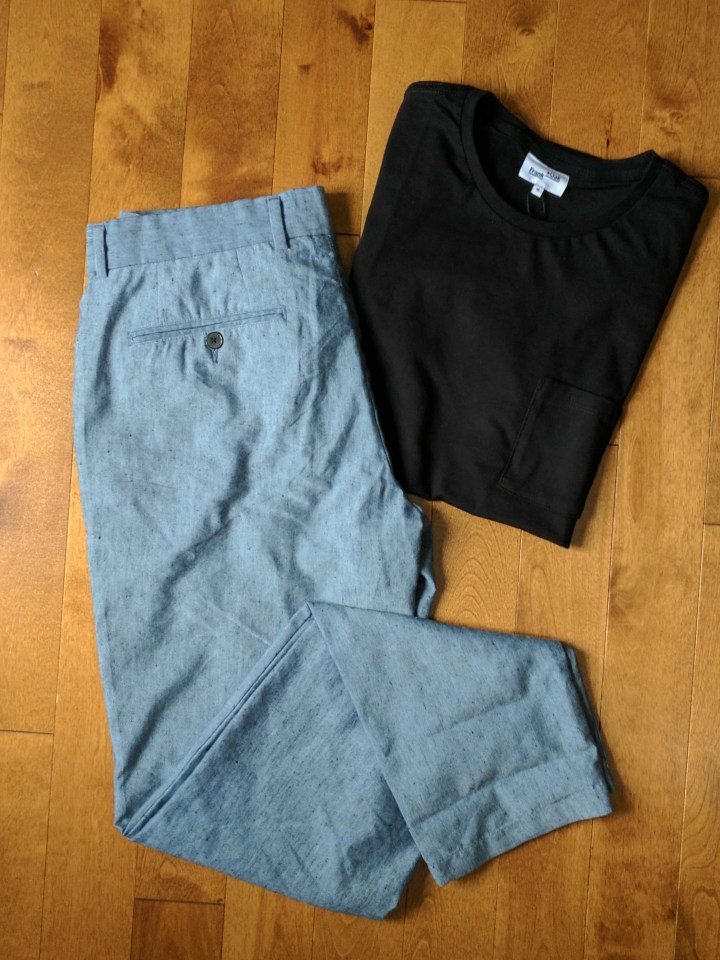 Frank And Oak Style Plan is very easy to set up and only takes a couple of minutes! You can choose between women or men style plan, and how often you want to receive items (every month or every other month).
Then, you'll receive 5 tokens that you can use toward different items chosen for this month's selection.
The monthly selection has about 30 items you can choose from. You have t-shirts (usually worth 1 token), pants (3-4 tokens), and shirts (2 tokens). There's also accessories such as shoes (4 tokens), or even backpacks! All you have to do is mix and match your favourites to get to 5 tokens. Select your size and add the item to your order and you're done.
What's even better is that if you need more tokens, you can buy more for the month! Tokens don't expire so you don't have to use them all in the month (but you need to use at least 2 for an order).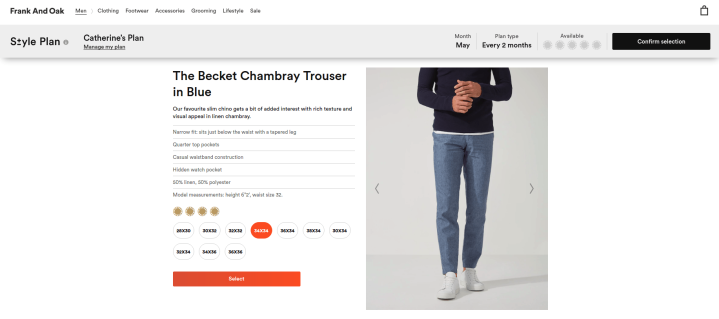 My husband was excited to try this service. He knows what he likes, he only shops in a couple of stores, but he doesn't like to take the time to go out and buy new clothes. Having a service that would do the legwork for him, and remind him that it's time to get new clothes every month or two months, was interesting to him. It only took him 5 minutes to browse the selection and make his choices.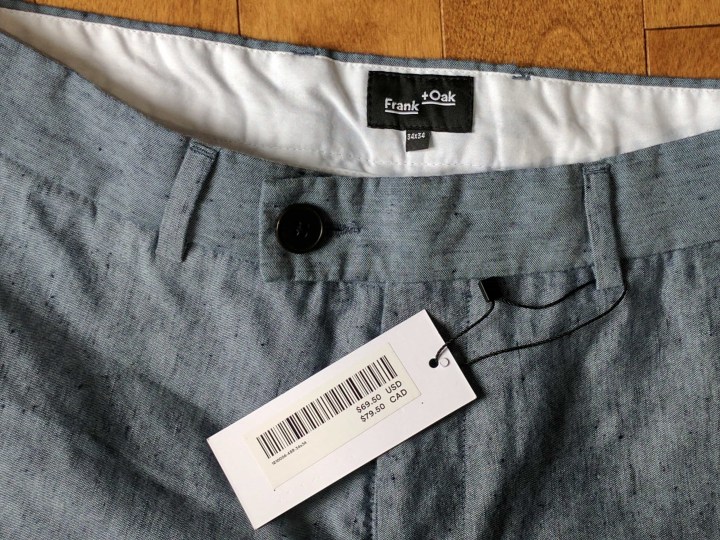 The first item he chose was this pair of blue-grey pants, 50% linen and 50% polyester. He loves linen pants, especially since he doesn't wear shorts in the summer, and these blue pants were a nice change from his usual jeans. The pants were a bit tight at first, but linen tends to loosen up a bit with wear so these were perfect on him. They were worth 4 tokens, for a value of $69.50 USD.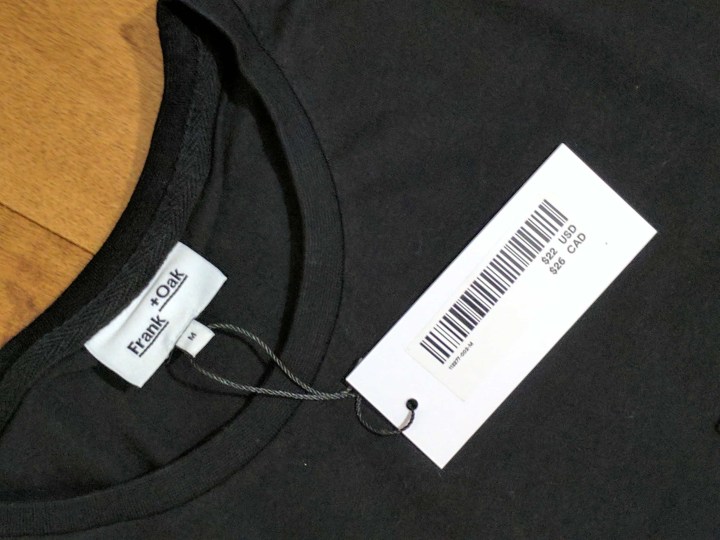 With his last token, he chose a basic crewneck t-shirt in black, perfect for layering. It is 100% cotton, and very soft.
He really likes how light and fun the pants are. They are perfect for the summer and easy to pair with t-shirts or shirts for a casual look. They were not available in his length size, but he likes them rolled up like that. The t-shirt was quite nice on him as well. Both will see a lot of use.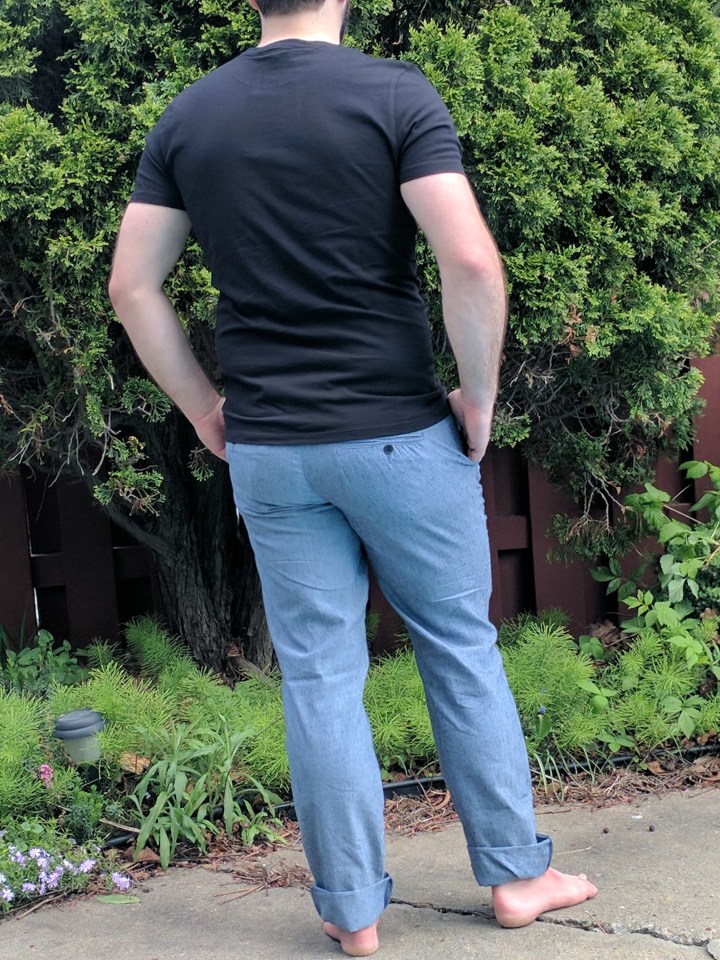 One fun thing about Frank And Oak clothes is that their label is only inside the clothes, not displayed for everyone to see. That was a big plus for him.
Overall, we really enjoyed this service from Frank And Oak. The account was quick to set up, and everything was easy to understand and straight to the point. Having a limited selection of items to choose from kept him on track and made it easy for him to choose something nice and appropriate for the season, without having to step away from his office!
Visit Frank And Oak Style Plan to subscribe or find out more!