Fit Snack is a monthly subscription box delivering healthy nutritious snacks directly to your door. Every month, expect 7-10 full-size items plus samples of delicious and healthy snack foods.
Fit Snack curates its boxes according to the following criteria:
Each product always containing two or more of the following: GMO-free, high in protein, low in sugar, gluten free, organic, raw, vegan and all natural.
Plus, we add in bonus items such as energy boosters, nutritional supplements, or refreshing beverages.
Finally, we find a little space for exclusive workouts, workout gear or other active lifestyle inspiration.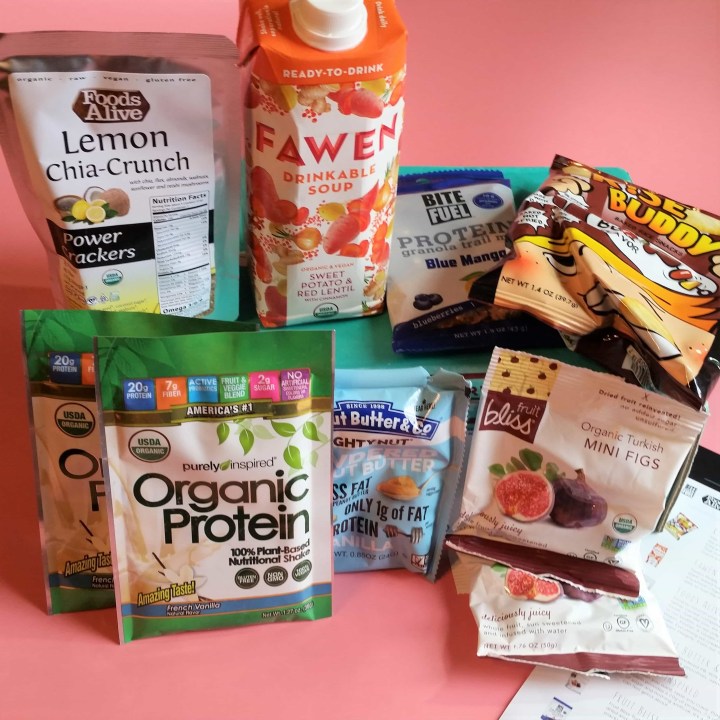 Look at all of this yummy goodness from the May box – some old favorites and a lot new-to-me! Yeah!
DEAL: Save $3 on your first box! Deal applies automatically, just visit and subscribe.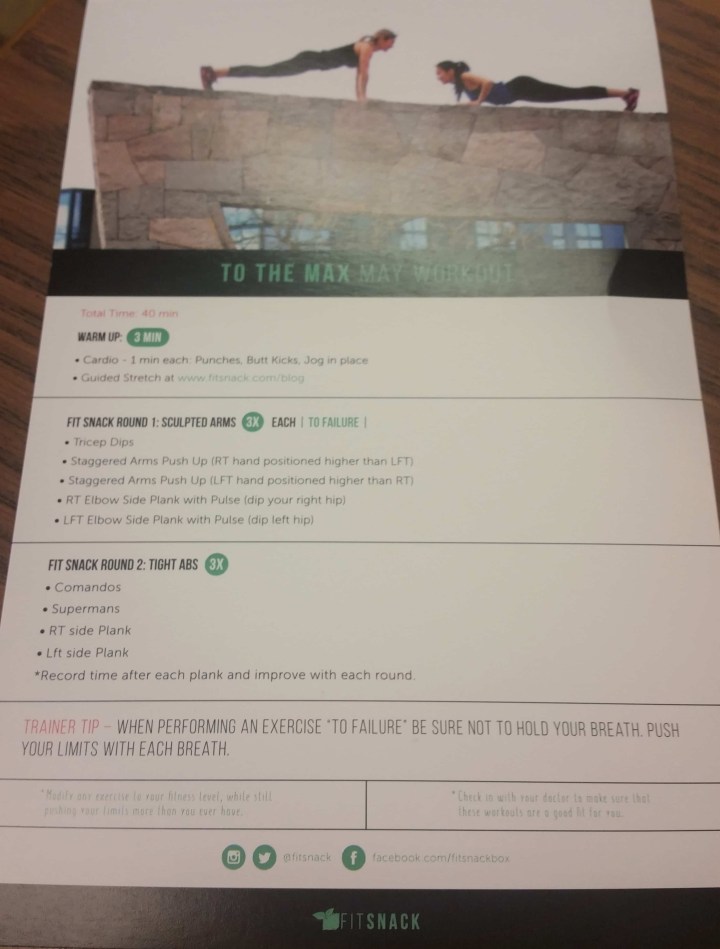 Each month, Fit Snack includes an information card. One one side of the card is a suggested workout – this month was "To the Max May Workout".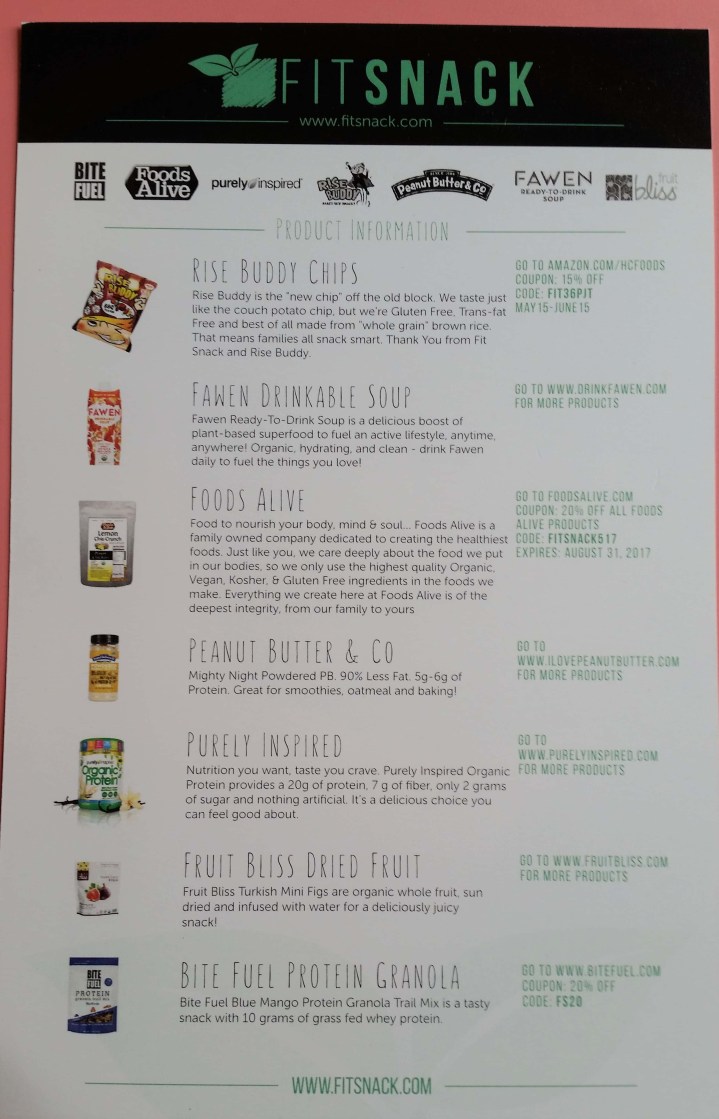 The other side of the information card provides details about the month's snacks and often some coupon codes.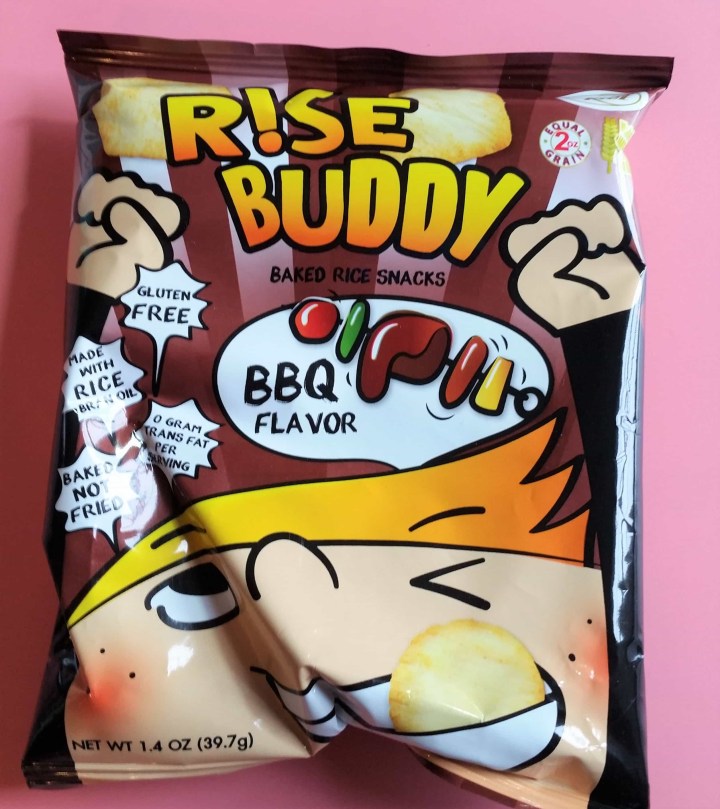 Rise Buddy Rice Crisps: Fit Snack has included Rise Buddy rice crisps in a couple of other boxes – which is fine with me, because I really like them. The BBQ flavor was new to me and I thought it was tasty. These crisps are a great alternative to chips – crispy, savory, and salty! YUM!
Fawen Drinkable Soup: I really like when Fit Snack includes items that could be either a hearty snack or a lunch – I use my Fit Snack box to replenish my snack stash in my desk at work. Sometimes I get busy and miss lunch, so having snacks like this in the drawer make a fantastic go-to. I liked this soup, but I'm a big sweet potato fan. The cinnamon added a nice touch too.
Foods Alive Lemon Chia-Crunch Crackers: So I didn't personally love these crackers – the flavor mixture was a little off for me. The walnuts and mushroom give an earthy taste, while the coconut and vanilla give a sweet taste, and the lemon tossed in savoriness. Personally, it was just too many flavor profiles, but otherwise, I could see this being a nice snack.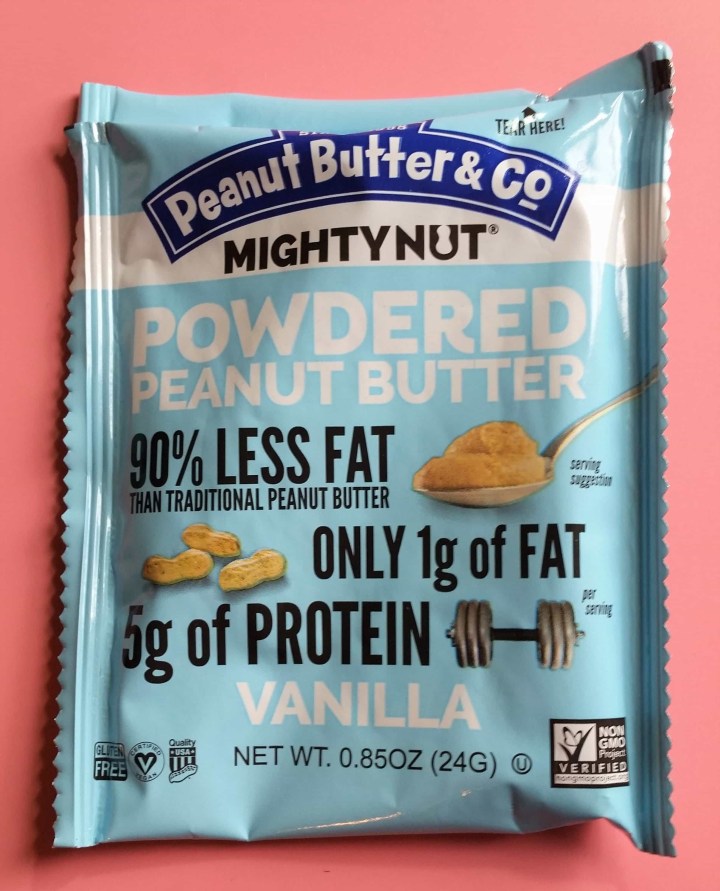 Peanut Butter & Co. Powdered PB:  A while back, I was introduced to powdered peanut butter and I love it. I use it in my smoothies all the time… so I was really happy to see this item in the May box. The best of all worlds – peanut butter plus vanilla (another one of my favorite flavors). I made a smoothie with this and it was delicious.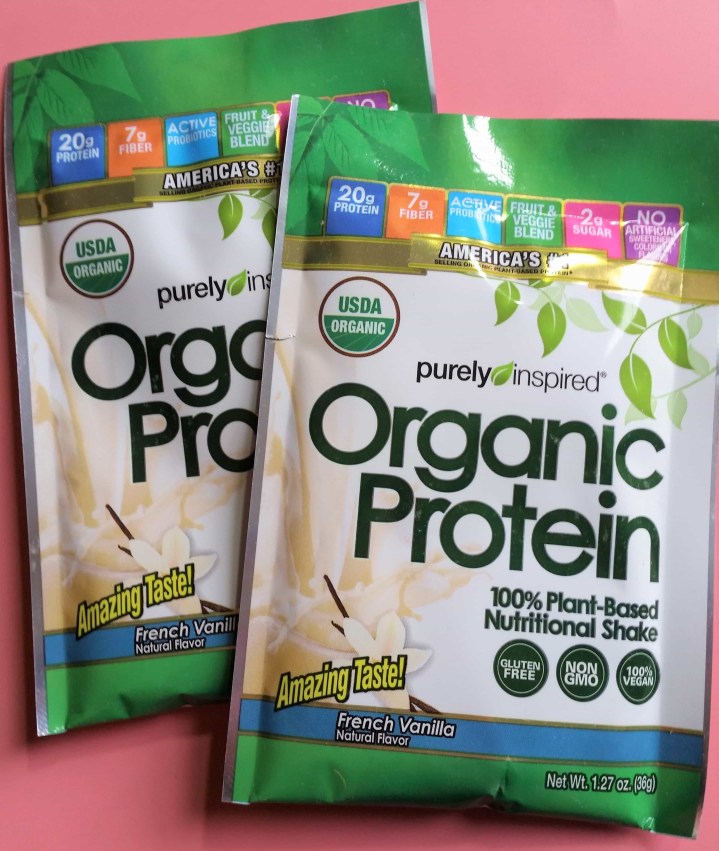 Purely Inspired Organic Protein: More smoothie happiness! Fit Snack regularly includes protein packets, which I am a big fan of. This brand, Purely Inspired, mixes pretty well in a shaker bottle and the vanilla taste is quite good.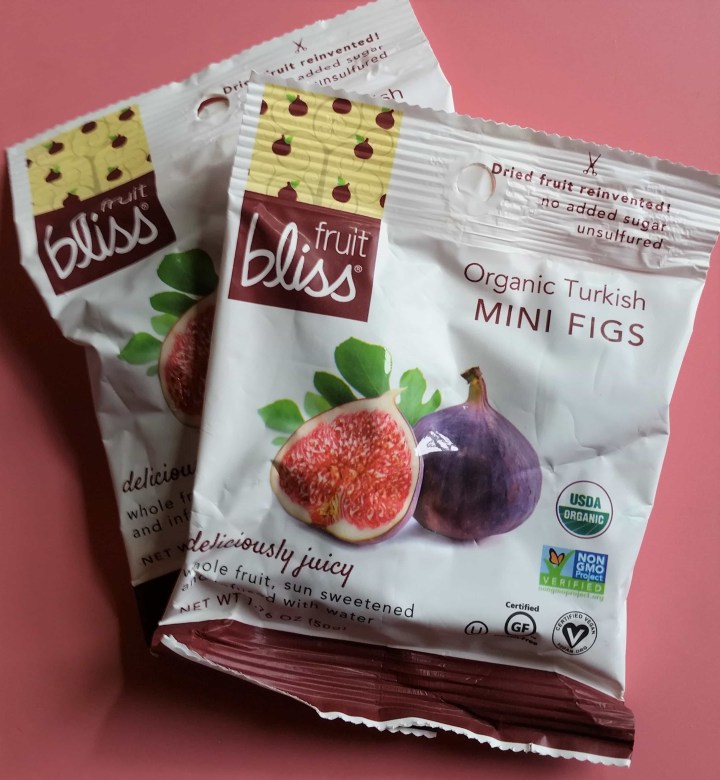 Fruit Bliss Dried Fruit: So, I will admit it. I have never (before now) eaten a fig that wasn't comfortably enclosed in a cookie. That said, I love Fig Newtons, so I was willing to give these snacks my full attention. Dried figs are pretty OK. They aren't a Fig Newton – I know, duh. But figs do make a pretty good dried fruit. I personally love dried apricots… definitely more than dried figs… but these also make a nice snack.
Bite Fuel Protein Granola Trail Mix: Yummy trail mix in a single, easily transported packet. Perfect snacking! I liked the blueberry mango combo also. Yum.
I'm definitely happy to see Fit Snack going back towards including snacks (and not too many vitamins, energy drinks, and supplements).  All of these things I can easily stow in my desk for a quick snack (or even lunch), bring along to the gym for a post-workout snack, or keep in my purse for snacks-on-the-go… which is exactly what I am hoping to get from Fit Snack!