The 2018 Erin Condren planners have arrived. For 2018 choose between the traditional coiled planner or the new hardbound planner (in 2 sizes).
You can check out the traditional coiled LifePlanner in Jenny's review. This is a review of the Hardbound LifePlanner.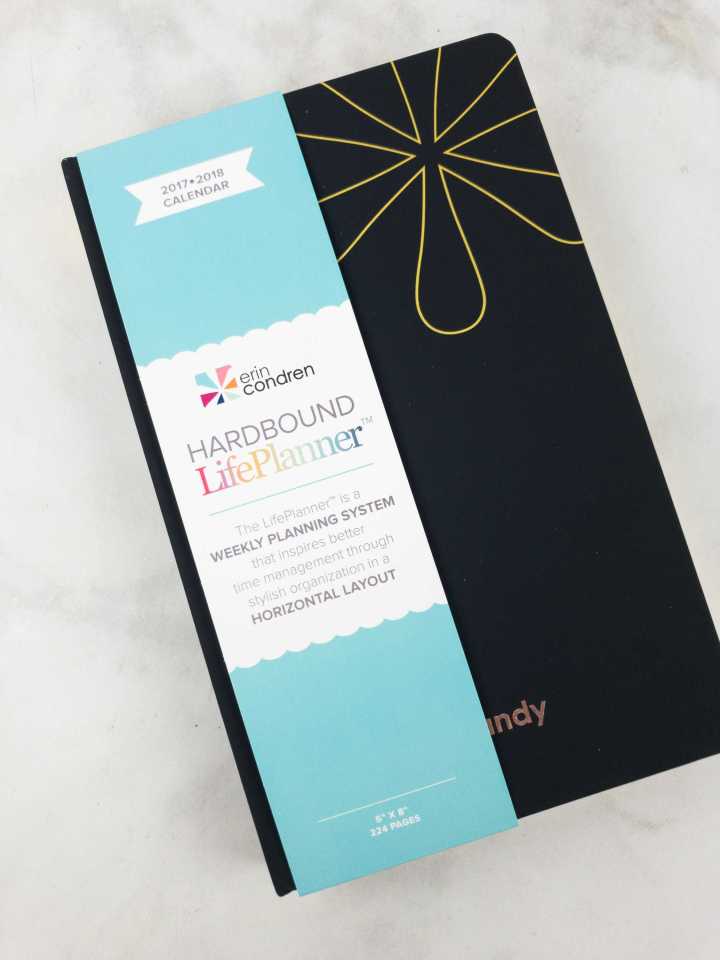 My 2018 Erin Condren Hardbound LifePlanner! There are 2 sizes and 4 colors – turquoise, black, linen and cherry blossom. All the Hardbound Planners are July 2017 – December 2018.
During the presale it seems only the 5×8 size is available in a horizontal layout – but you can get a free hardbound notebook!
This particular planner is $30, $35 if you add personalization.
I had the cover of my planner personalized with my first name. I was a little surprised to see it in rose gold. I guess that's what I picked – but I also guess I thought the asterisk would match. It doesn't! If I did it again I'd choose regular gold, I think it looks odd.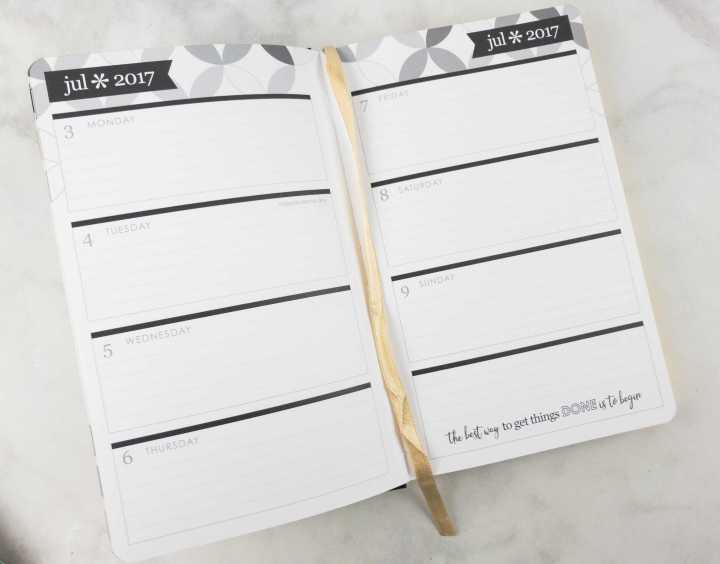 Ok, now to the layout. The reason I had to have this right away (besides the fact it's not a tearout) is that I fell in love with this style of planner for a log. It's absolutely perfect for capturing daily activities for later reporting. So whether it's food, kids, workouts, billing, or job-related activities reports, having a daily and weekly summary is perfect.
It's also a perfect journal if you like writing 1-2 sentences a day.
Along with the weekly spread there's also a calendar. I don't use this or any of the other nice features of this book, which include nice lined pages at the back. I will only use it to record my daily things.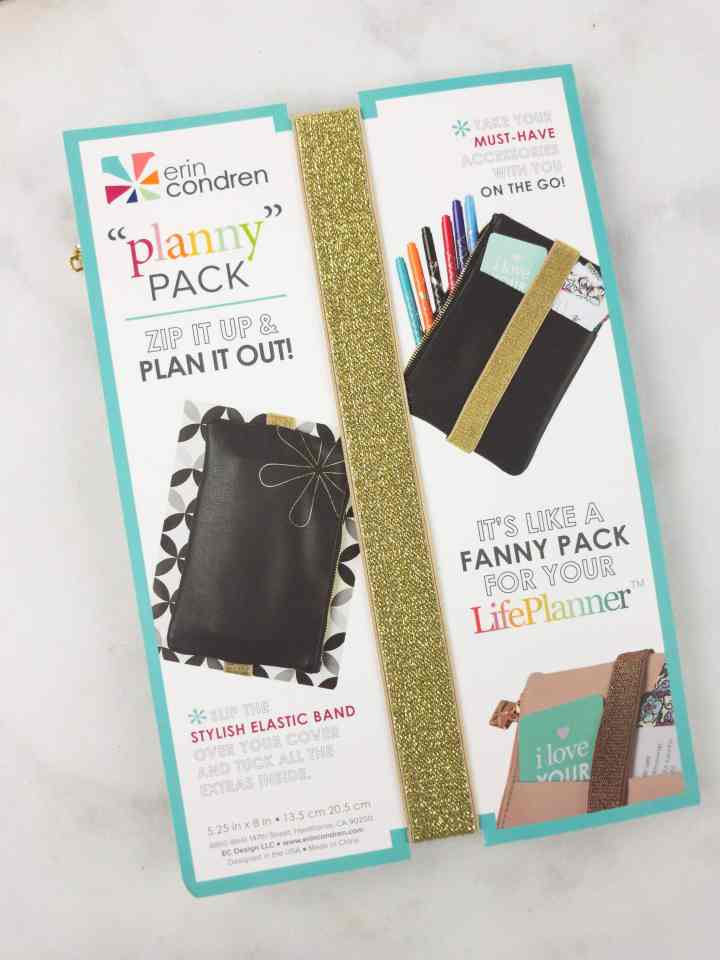 Erin Condren "Planny" Pack ($20) This is hilarious. Obviously I had to buy it.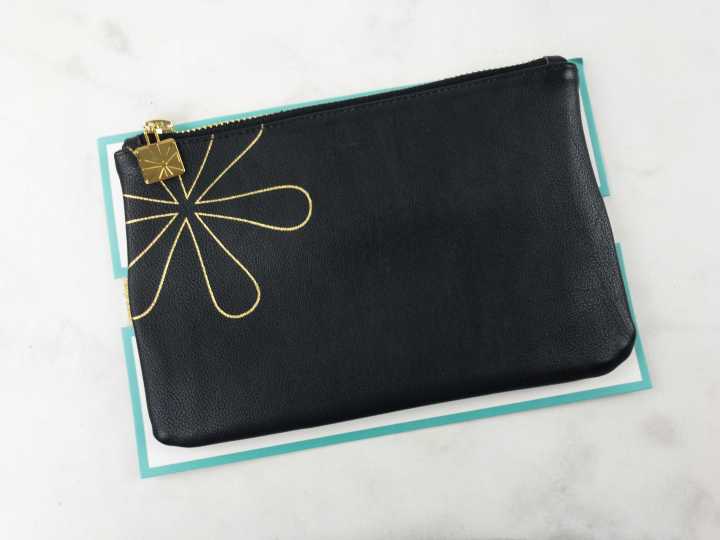 It's a nice zippered pouch and oh so pretty.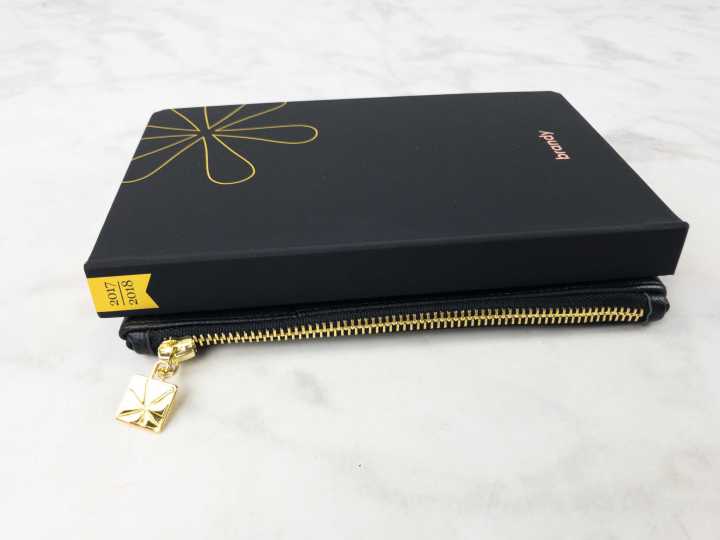 I attached mine to the back cover of my journal and stuck some stickers inside. Mid-year resolution: use more stickers.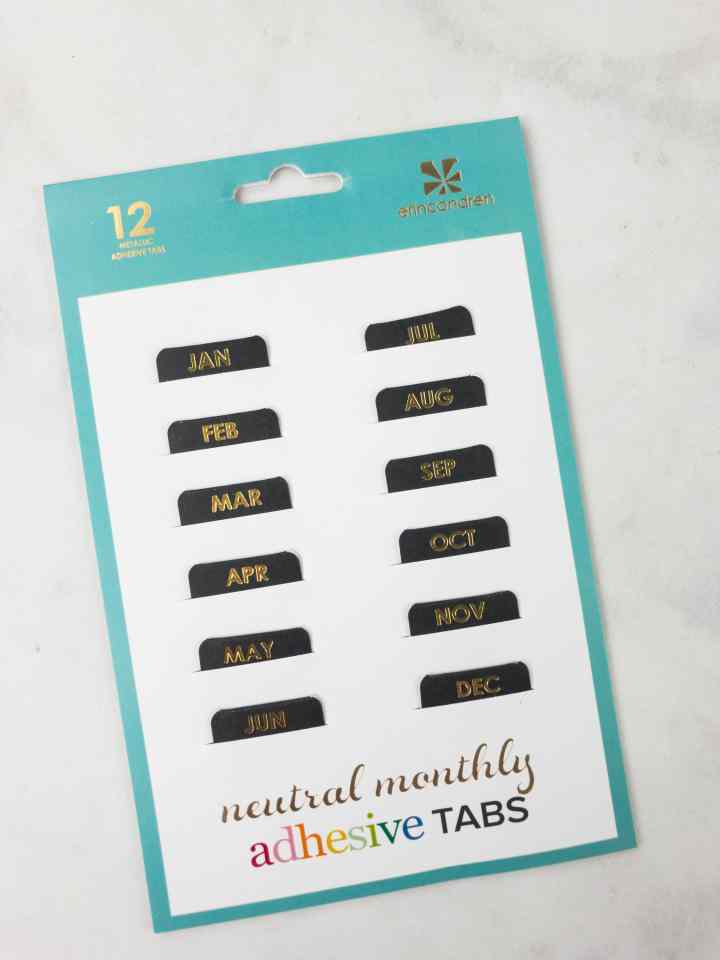 Erin Condren Neutral Monthly Adhesive Tabs ($8) I also bought some month tabs, then I realized there's only 12 months of them :/
Of course I also got the regular planner. This is the Floral Stitches cover in black, personalized with my name, and a black coil. I also get my LP in a horizontal layout, but I don't use it the same way.
The only bummer about my new hardbound? It doesn't start until July! Until then I'm reusing an old 2016 journal for my log. Next year I may switch to 2 hardbounds (2 different purposes) and a notebook instead of the coiled LifePlanner. I don't tend to use a planner for scheduling things (I'm all digital!) but I do use them for recording things (easier than digital) and I also enjoy adding stickers and fun things to it!
FYI – if you use this referral link to sign up, you'll get a $10 coupon code emailed to you. You cannot use the code if you buy anything first or if you make an account before signing up with the link. This is basically the only coupon that they have anymore.
TIP: If you're close to $100, go for it for free shipping!
Don't forget to check out the planner subscription boxes for monthly deliveries of awesome planner goodies for your new baby!