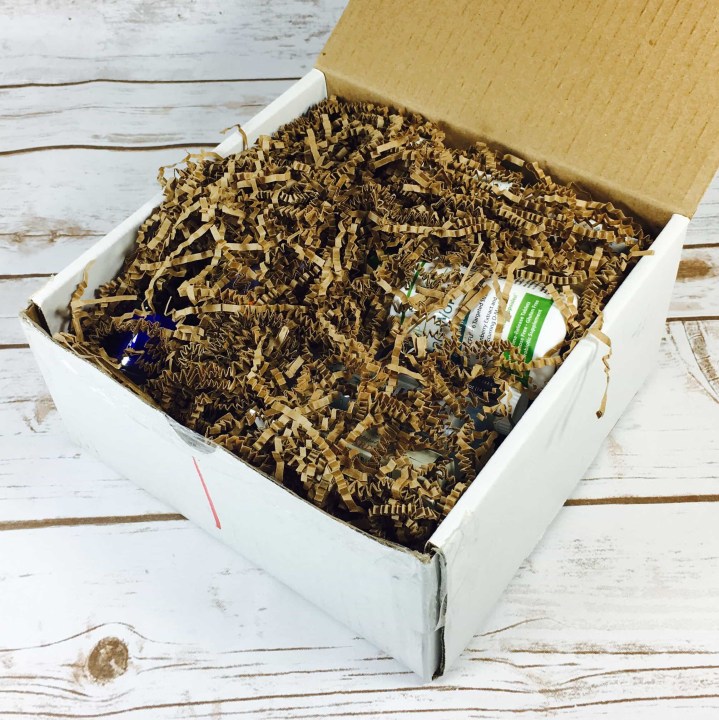 Every once in a while Ecocentric Mom offers a limited edition box of goodies featuring products that were subscriber favorites from previous boxes. This Mystery Bonus Box is a one-time purchase of $49.99 and not part of the regular monthly subscription, which you can read about here. The Summer 2017 box features products for women but won't include products for baby. If you get Ecocentric Mom on a regular basis you can expect repeat items but that's ok because they send great stuff! Keep in mind that items may vary and the box you receive may have similar items but probably won't be identical.
Expect to receive 15+ full and sample sized products including items for beauty, bath, home, wellness and lifestyle. Every item we include meets our standards for non-toxic, natural and effective products that you will love to discover. The conservative retail value of the included products is $150+.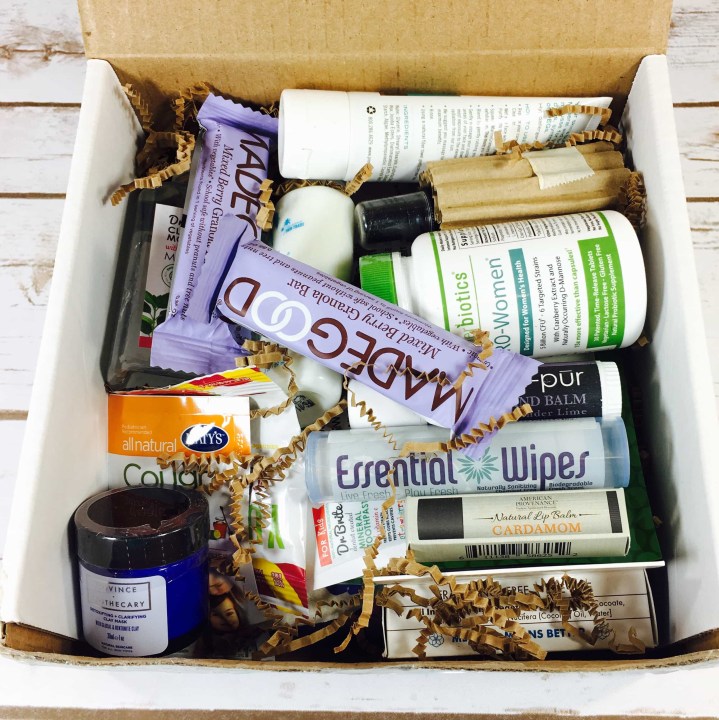 DEAL: MBHELLO8 for $8 off the mystery box!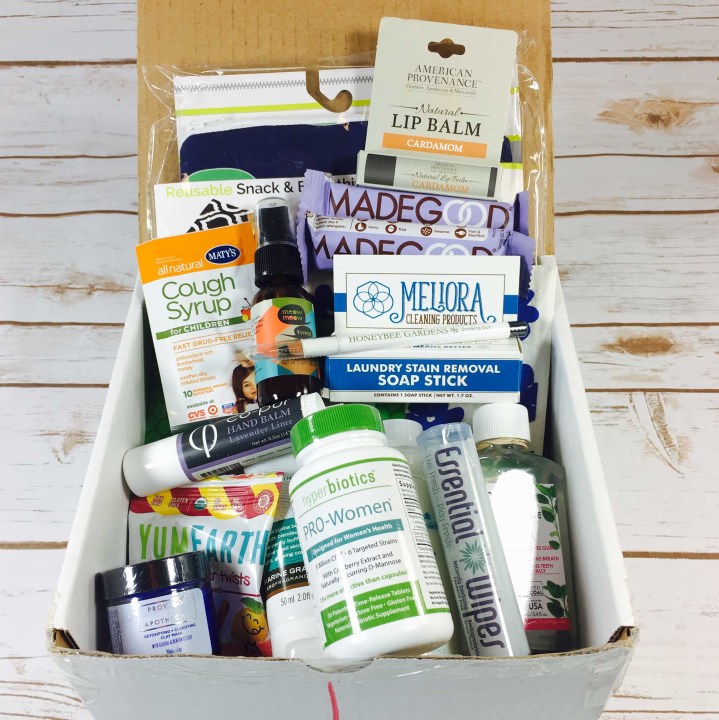 Everything in my box! All products in Ecocentric Mom boxes are eco-conscious, non-toxic, and natural.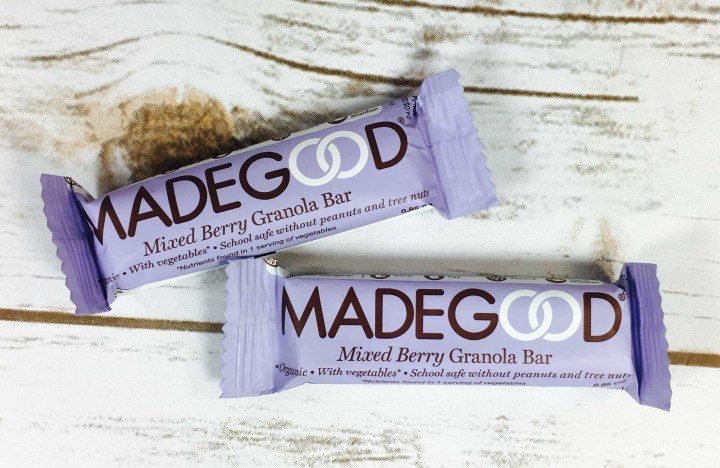 Made Good Mixed Berry Granola Bars ($1.25) are chewy and soft, not crunchy, plus they're peanut-free, organic, and just delicious.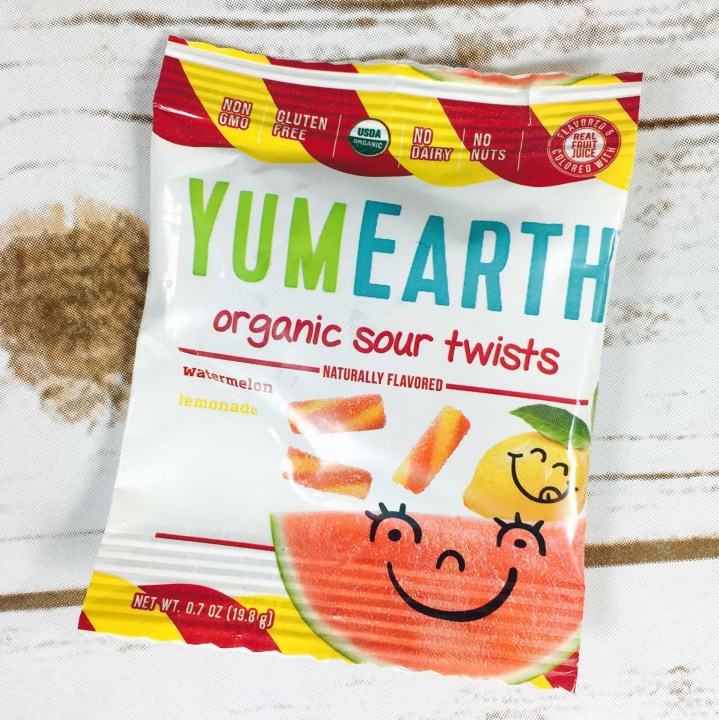 Yum Earth Organic Sour Twists in Watermelon Lemonade (65¢) are super chewy and also very sour. If your kid likes sour gummies or Sour Patch Kids you can give them this vegan treat that gets its color from plants.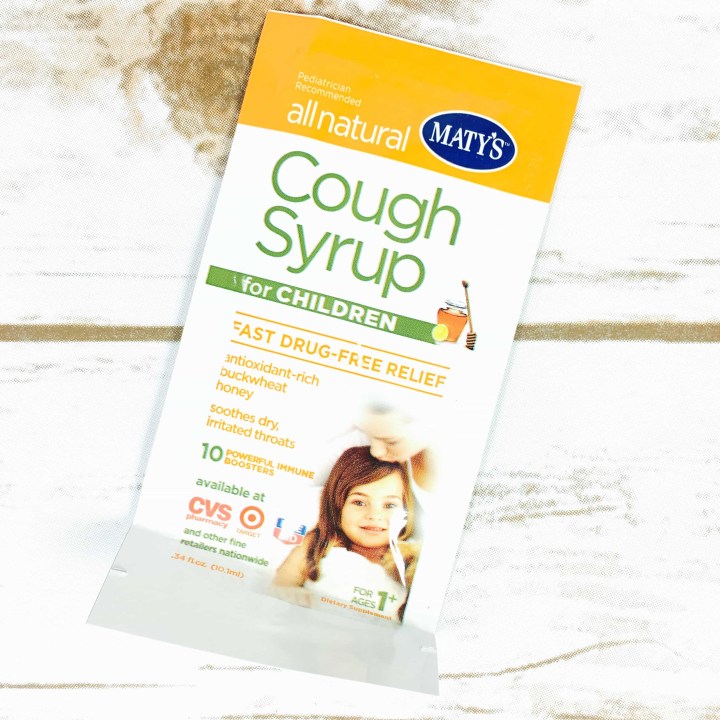 Maty's All Natural Cough Syrup for Children (70¢) First, a reminder that this product contains honey and should NOT be given to a child under the age of 1 year old. Buckwheat honey is full of antioxidants and that is the main ingredient here, along with 9 other immune-boosting food products, most of which can be found in the kitchen. Honey has been proven to help relieve coughs and dry throats. I like that the ingredient list reads like a homemade salad dressing recipe so you don't have to worry about an "overdose", plus Maty's recommends putting this in warm cider or even on top of pancakes if your child balks at taking cough medicine.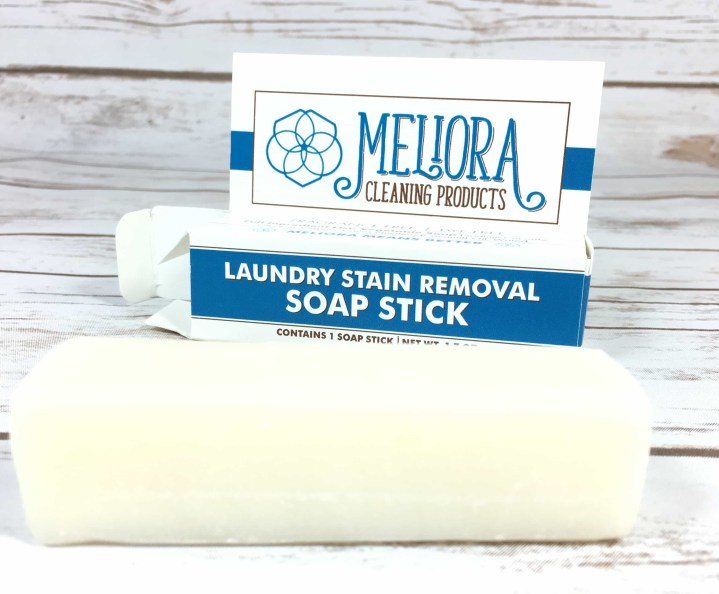 Meliora Laundry Stain Removal Soap Stick ($2.99) I love this little stick and it works very well to get stains out of clothes! You just wet the stick and rub it on the stain and then wash as usual. Plus, it lasts for a long time. I just store it in the box between uses but a soap dish would work well too.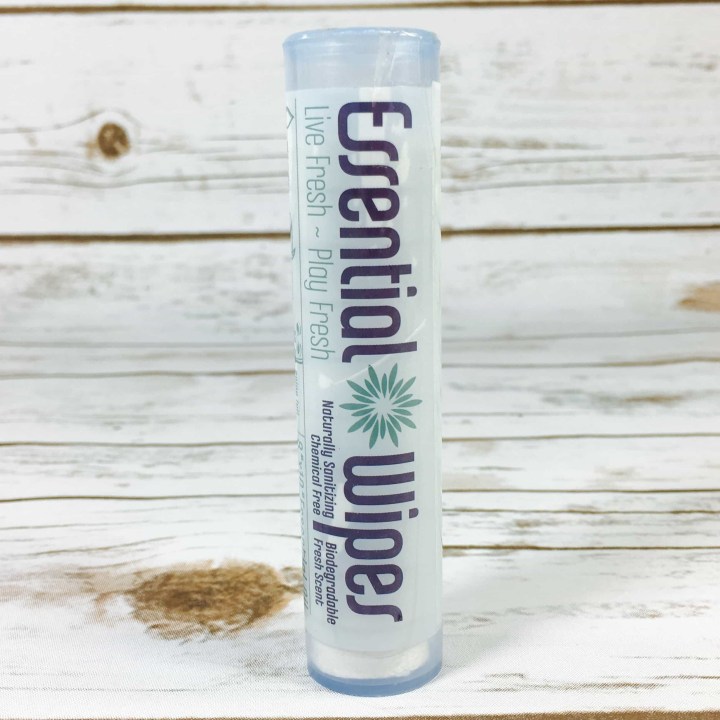 Essential Wipes Travel Tube ($5) There are 10 wipes in this travel container that holds a dry towel "lozenge" that you re-hydrate with water when you need it.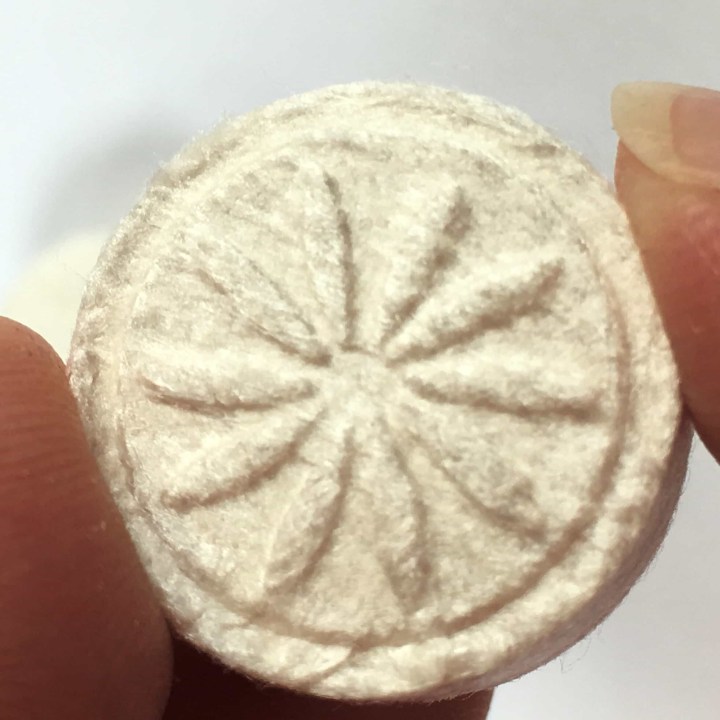 This is about the size of a Life Saver and smells great since it's infused with copaiba, niaouli, lavender, Palo Santo and ylang ylang essential oils.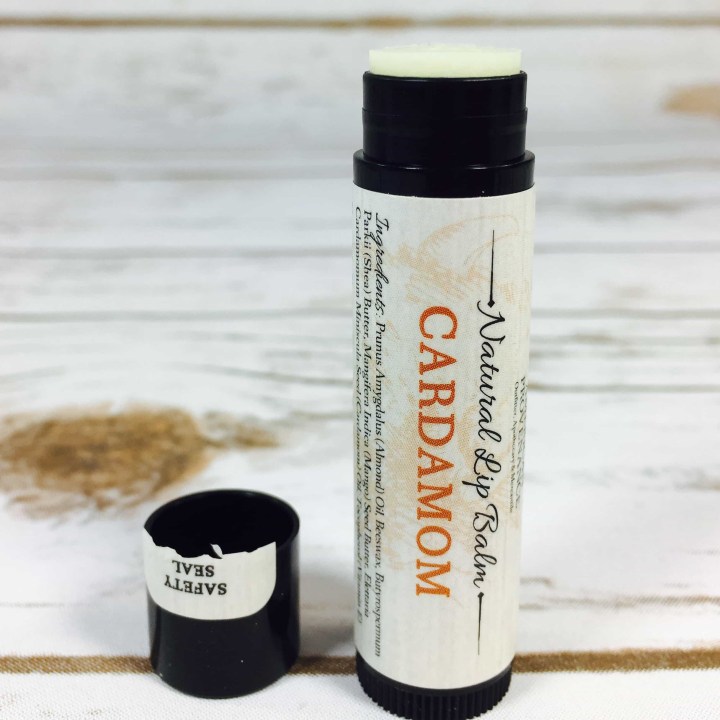 American Provenance Natural Lip Balm in Cardamom ($3) is packed with almond oil, shea butter, mango seed butter, beeswax, cardamom essential oil, and vitamin E. It has a lightly spicy flavor, like chai, but it doesn't burn or tingle.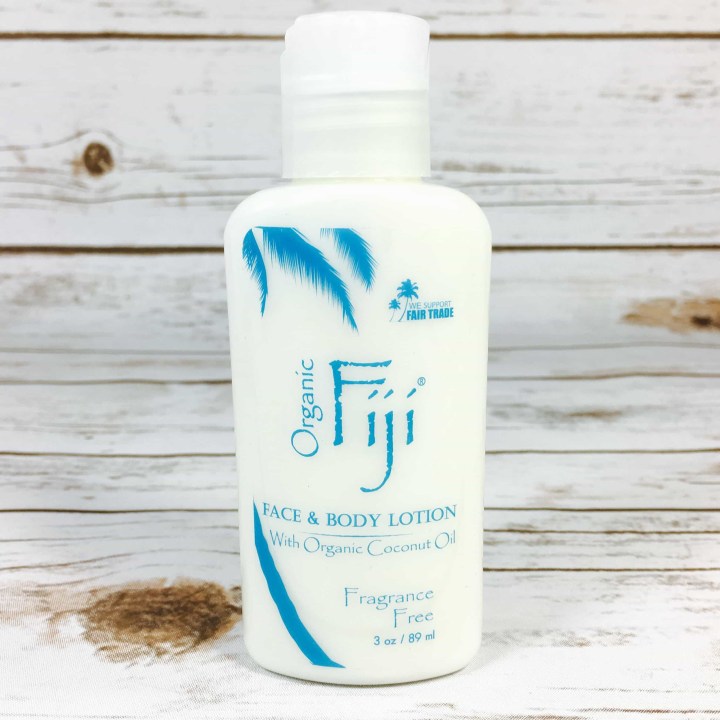 At first glance I thought I was in for a Hawaiian Tropic scented lotion but Organic Fiji Face & Body Lotion in Fragrance Free ($10) is just that – it has no discernible fragrance, not even like coconut. It took a little bit longer to rub in but it left my skin soft and is exactly what I was looking for since I plan on mixing a luminizer in it and the luminizer smells good on its own!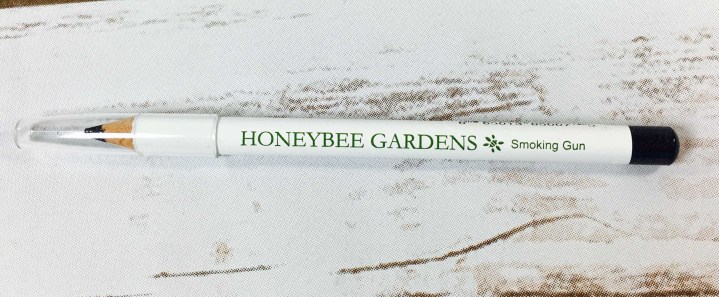 One of my favorite discoveries of this box is this eyeliner! I am generally kind of sad to get a dark eyeliner in a box but Honeybee Gardens Effortless Eye Liner in Smoking Gun ($8.99) was a great eyeliner in general, even better than much more expensive big name brands!
Smoking Gun is a charcoal shade with a hint of sparkle.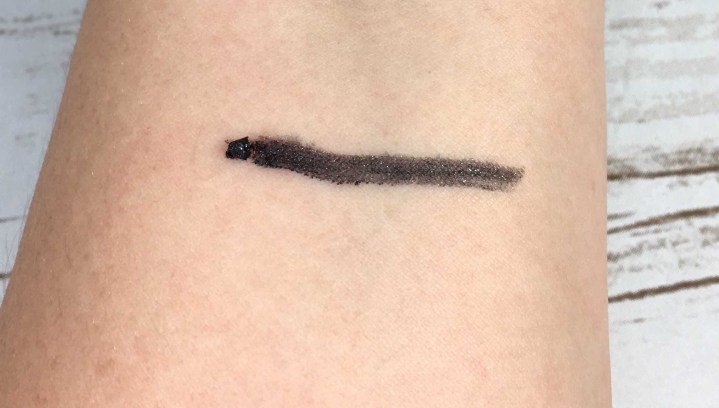 The tip broke off when I swatched it but after that it worked very well. It was soft yet didn't smear and it didn't pull or tug at my lids. I recently returned two eyeliners to the store because they hurt when I tried to use them so this one made me very happy!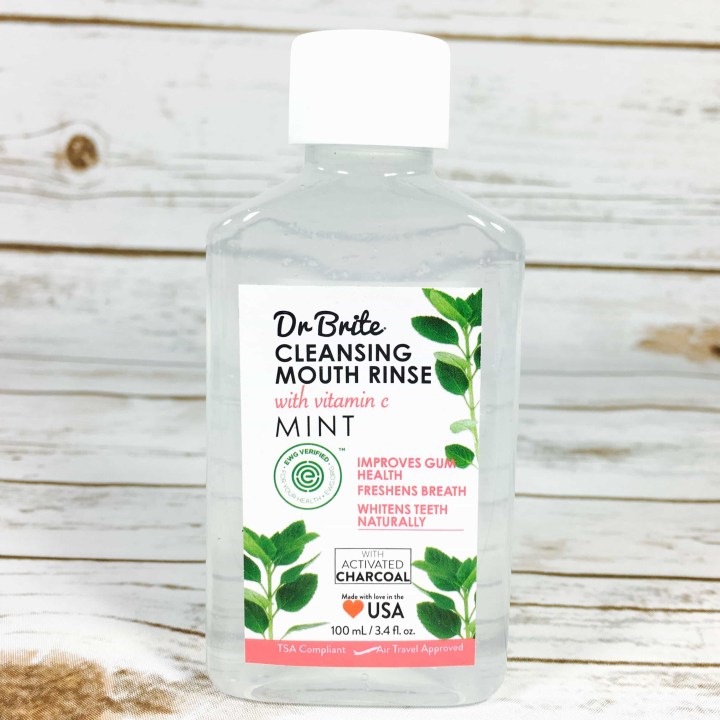 Dr Brite Cleansing Mouth Rinse in Mint ($6) Take a swig of this after brushing, swirl it around for 30-60 seconds, and spit in the sink. The ingredients include aloe juice, vitamin C, and activated charcoal and it's supposed to relieve dry mouth and reduce gum irritation. Don't forget to floss!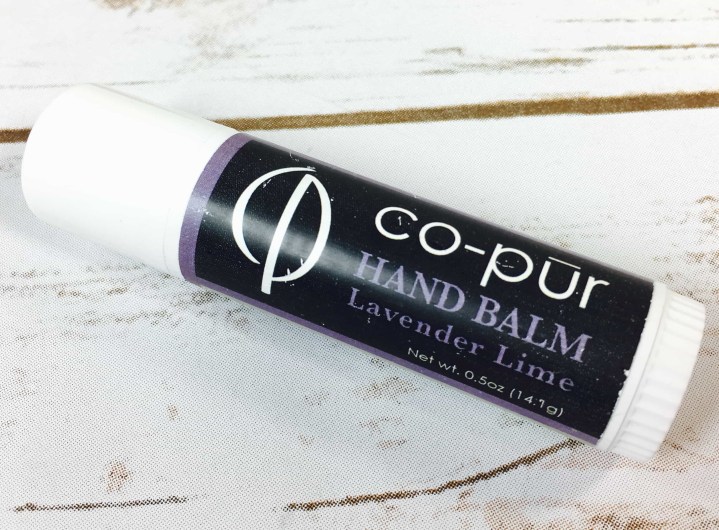 Co-pūr Hand Balm in Lavender Lime ($9) The simple ingredients here are coconut oil, beeswax, organic cocoa butter, organic shea butter, and lavender and lime essential oils.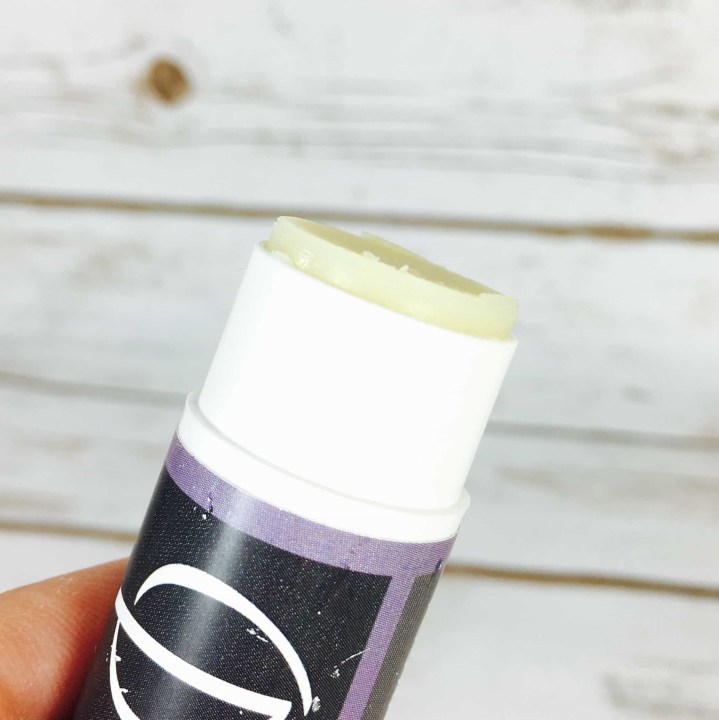 You can rub the stick over your hands or cuticles, but why stop there? Heels, elbows, and knees could probably use some TLC too, right?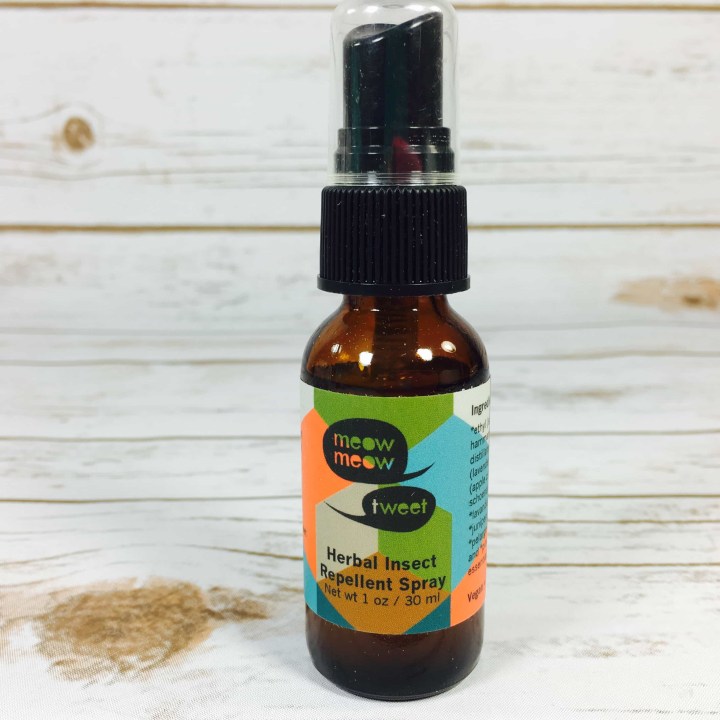 Meow Meow Tweet Herbal Insect Repellent Spray ($8) "Our all natural insect repellent is powerful enough to combat prehistoric mosquitoes without toxic chemicals." I prefer not to use DEET-based products unless absolutely necessary and have had some luck with natural repellents. I am going to add this one to the rotation. It smells a bit strong at first of vinegar, which is one of the ingredients, but then a lemongrass scent takes over and all is well again.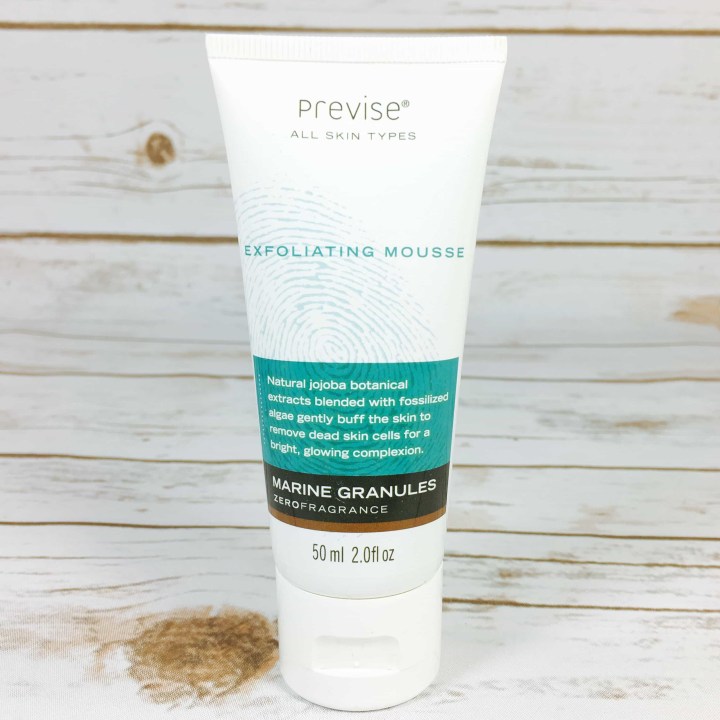 Previse Marine Granules Exfoliator ($45) has fossilized algae and jojoba extract and no essential oils so therefore no scent. Although the name says "mousse" it wasn't fluffy and I didn't read the directions – I was supposed to mix this with cleanser but I used it on its own. The exfoliating particles supposedly won't cause microtears in the skin the way ground up nut shells might.
Three Bluebirds Blue Poppies Swedish Dishcloth ($6.95) is a sponge-like dishcloth that you can wash up to 200 times, although skip the dryer. According to Three Bluebirds "one dishcloth absorbs 20X its weight and will replace 17 rolls of paper towels." That's a lot of waste reduced!
Here is all of the pertinent info from the back of the cloth. I placed it in a bowl and added 1/4 cup of water and it absorbed almost all of it.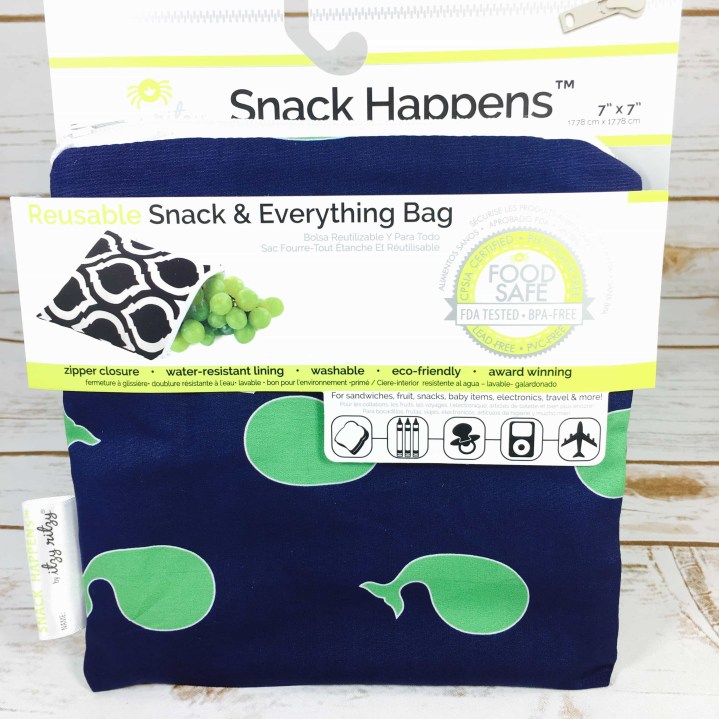 Itzy Ritzy Snack Happens Reusable Snack & Everything Bag ($9.99) is a reusable, machine washable zipper bag that can be used in the same capacity as one might use a Ziploc bag. Use it to hold snacks, toiletries, etc.
This print is called Whale Watching Blue and for some reason it reminds me of Lilly Pulitzer. It measures 7″ x 7″ and has a zipper closure.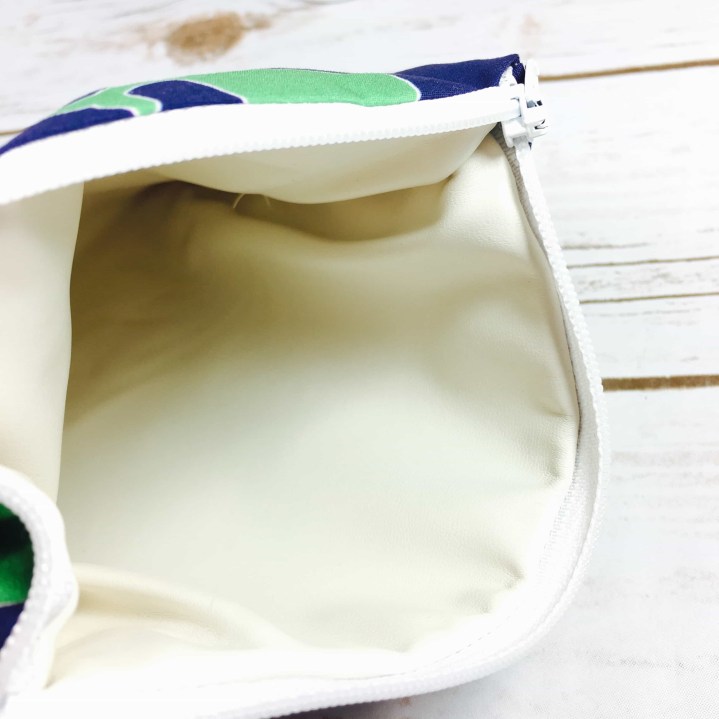 The inside is waterproof plus it's FDA approved and free from BPA, lead, and PVC.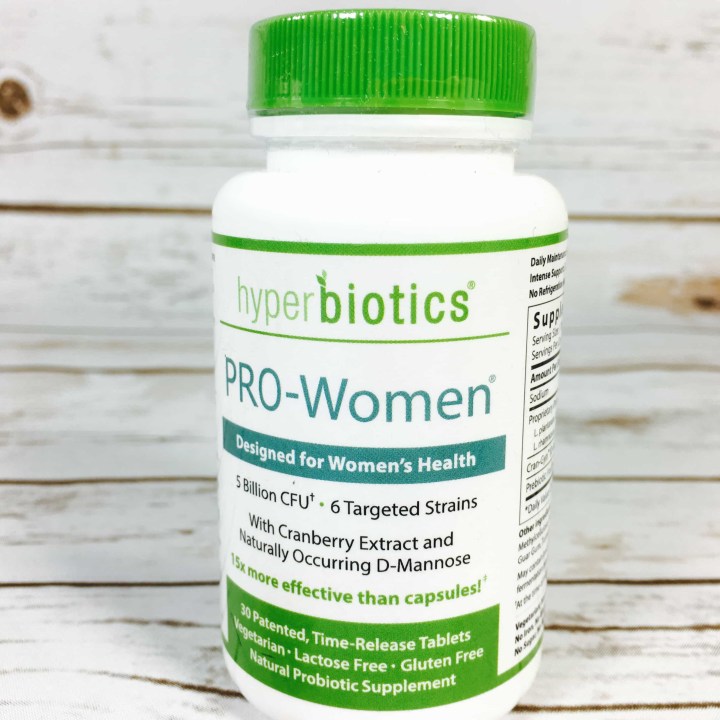 Hyper Biotics PRO-Women ($21.80) is a probiotic supplement with cranberry extract and is supposed to help regulate the gastrointestinal tract along with the urinary tract and may help boost the immune system. The reviews on Amazon are pretty positive but it may take a couple of weeks before you notice any effect.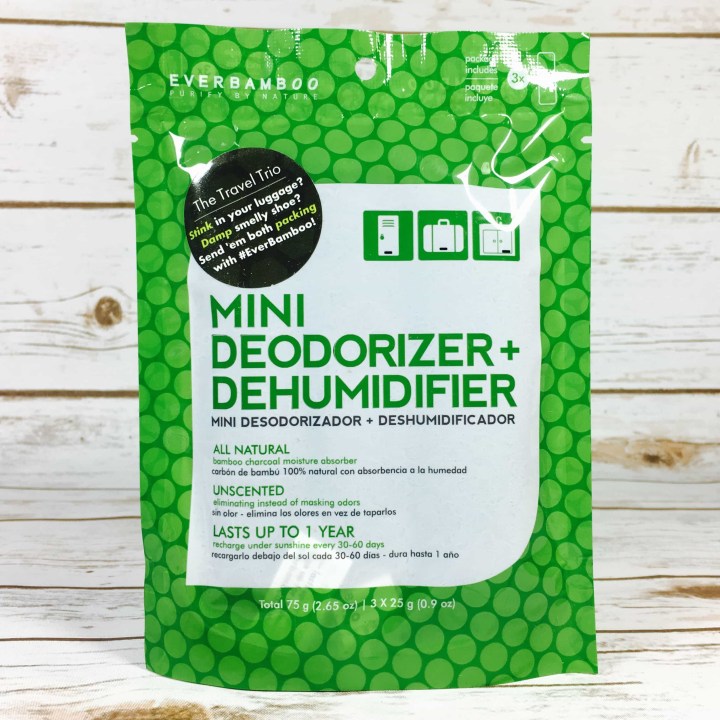 Ever Bamboo Mini Deodorizer & Dehumidifier ($9.99) urges you to #RethinkTheStink and let this natural bamboo charcoal bundle absorb odors rather than masking them with chemicals.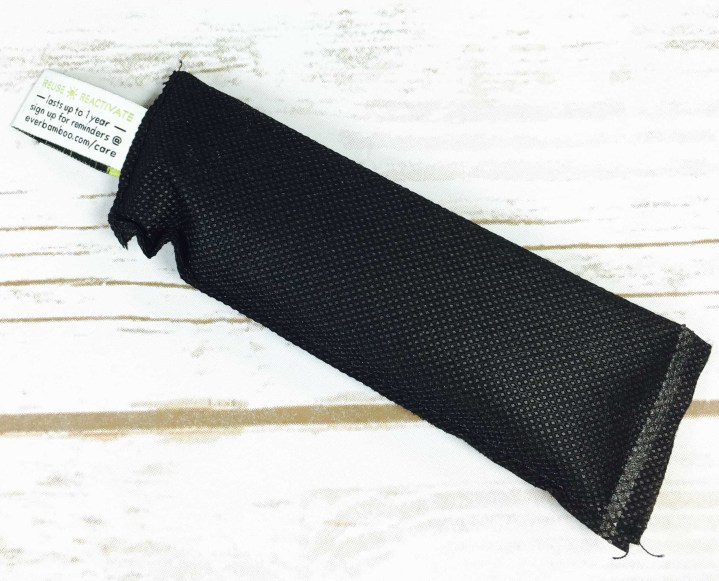 There were 3 of these little bundles in the pack and they can be placed in small spaces such as a gym locker or under a smelly sink to absorb wetness and scents.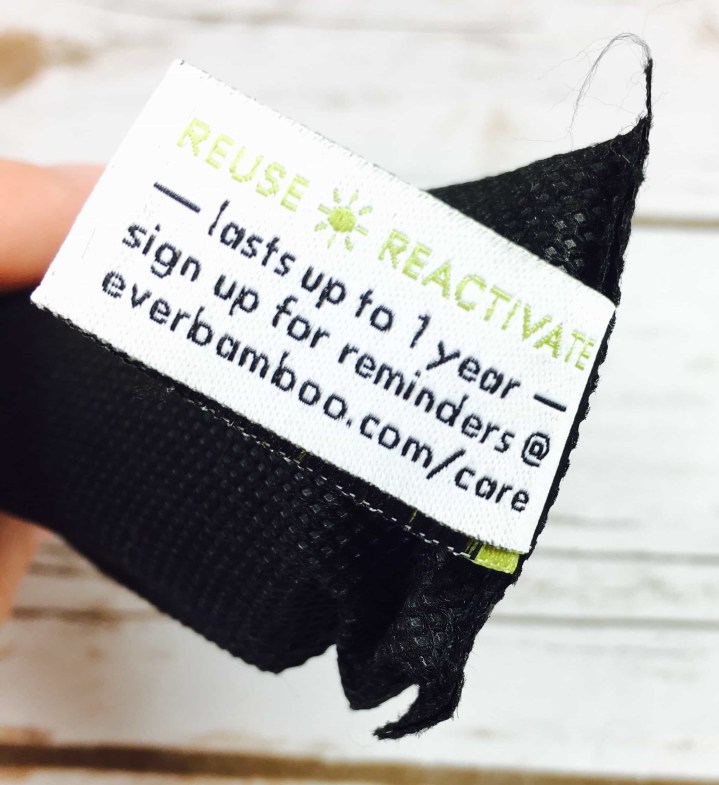 Just set them in the sun for a few hours every 30 days to recharge.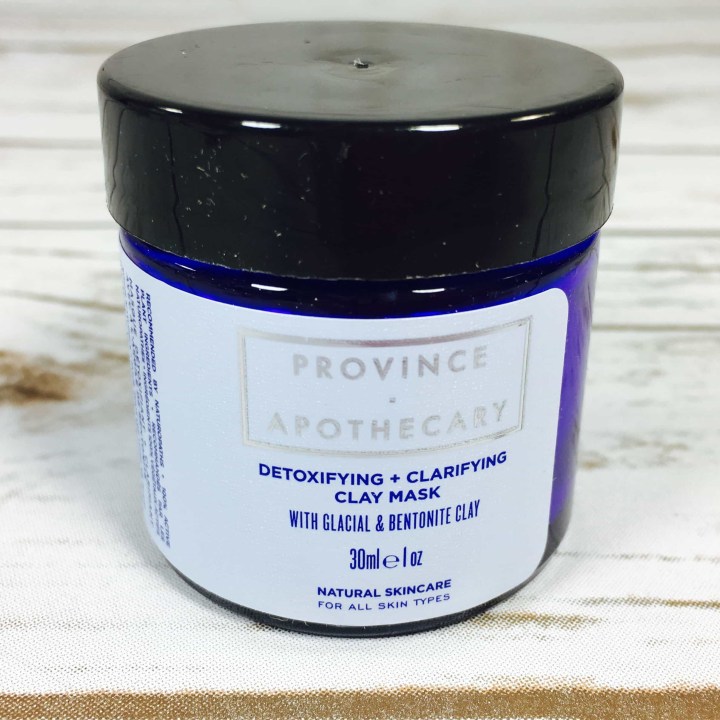 Province Apothecary Detoxifying & Clarifying Clay Mask ($18) is made with both glacial and bentonite clay and can be used once a week by all skin types.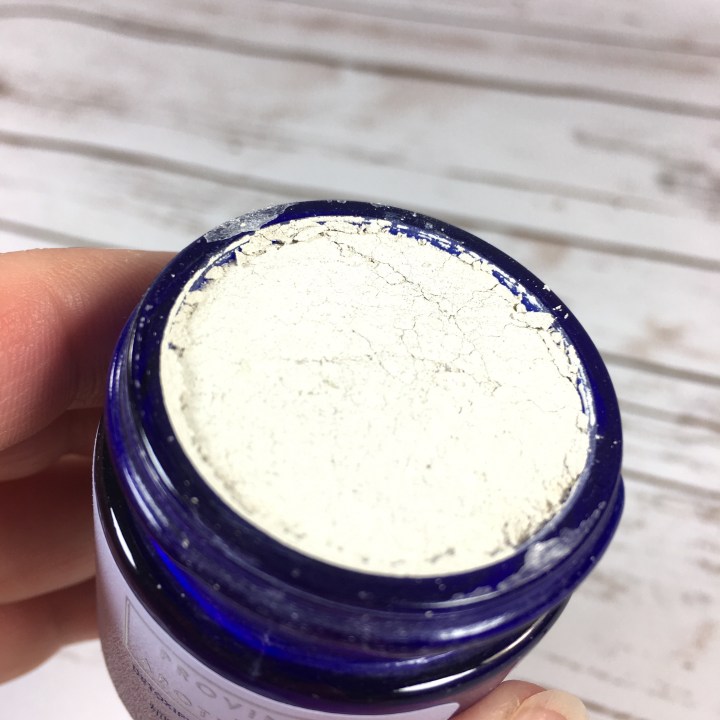 The mask is a powder which gives it a shelf life of 12 months once opened. Mix with water, honey, yogurt, or even pureed fruit!
Wow, that was a great variety of natural beauty, health, and household items and almost all of it was new to me! Ecocentric Mom promised a value of $150+ and my box had an approximate value of $167.31, which is awesome! I enjoy discovering new eco-conscious products and brands, plus new items from brands I already adore, so this box was a perfect way to get my hands on a lot of items at once.
This Summer Bonus Box  is still available! Use MBHELLO8 for $8 off the mystery box!
Have you tried Ecocentric Mom? What do you think about the mystery box?