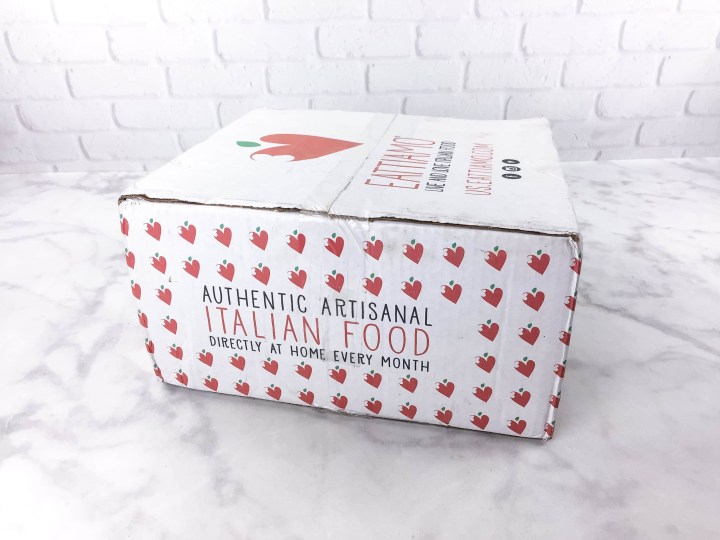 Eattiamo is an authentic Italian food subscription delivered to you monthly for only $69 per box. You'll get 7 full-size products, enough for a complete three-course romantic Italian dinner at home!
The items in this shipment were well protected in a sea of foam peanuts. Our box included replacements for a couple items damaged in a previous shipment.
DEAL: Get your first Italian gourmet box for 20% off + free shipping anywhere in the US! Use coupon code HELLO.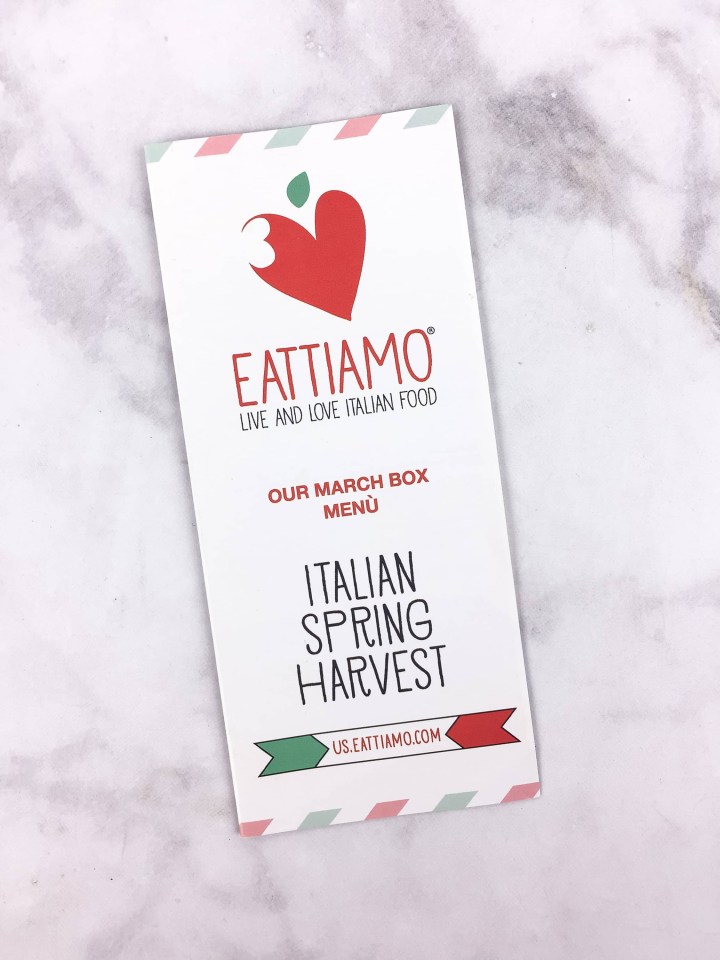 The theme for March is Italian Spring Harvest.
Their info card reminded me of a pizza shop menu – and its even called a "menù."
Each menù spotlights a product and the region in which it is produced. This month, the focus was on D'Onofrio coffee from Pisticc in the Basilicata region of Italy.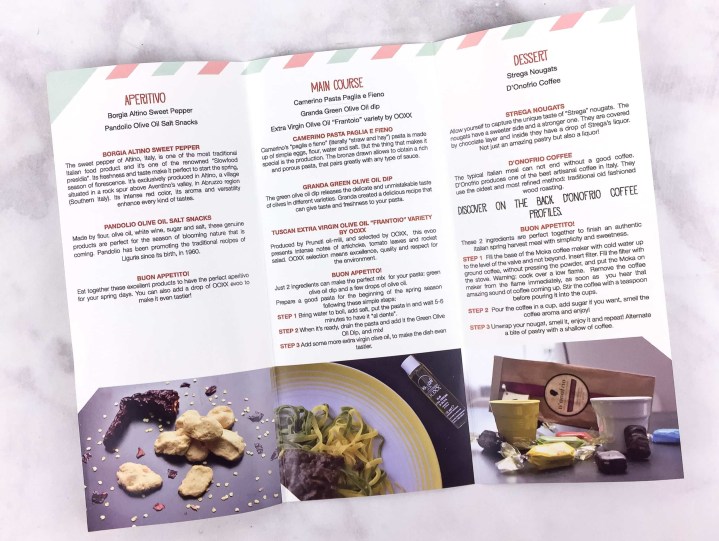 The tri-fold menù is set out in menu format, with the items separated into courses. Each has a suggested preparation for the ingredients provided for that portion of the meal.
In total, the booklet sets out recipes for an entire three-course meal, complete with instructions, tips, and lovely photos. Even more recipes available on their site!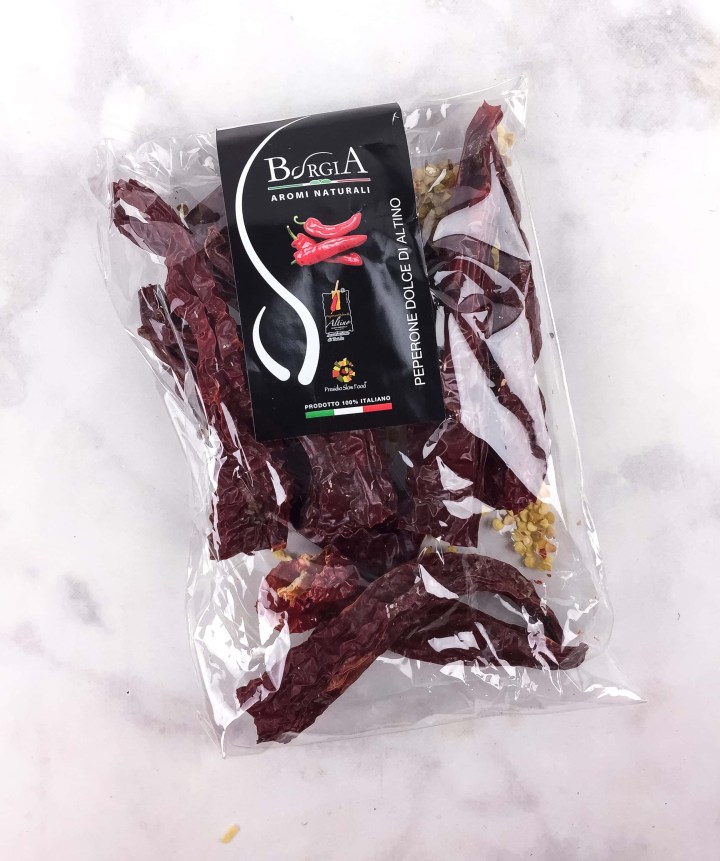 Borgia Altino Sweet Pepper: Altino is famous for this eponymous sweet pepper, even having a festival each Fall. It grows with the tip pointing upwards and is dried and flash heated following harvest. the peppers can be ground for use in recipes or simply crushed over pasta or other dishes.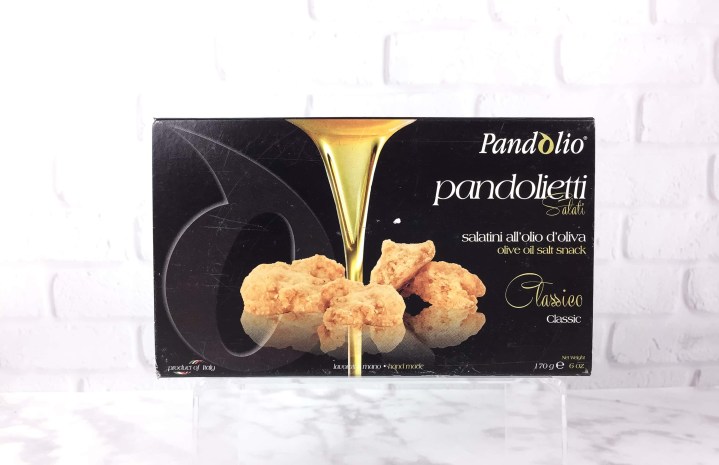 Pandolio Olive Oil Salt Snacks: These little cookies are slightly sweet and a little salty. They are made with olive oil and have a lovely lovely flavor and crunchy texture.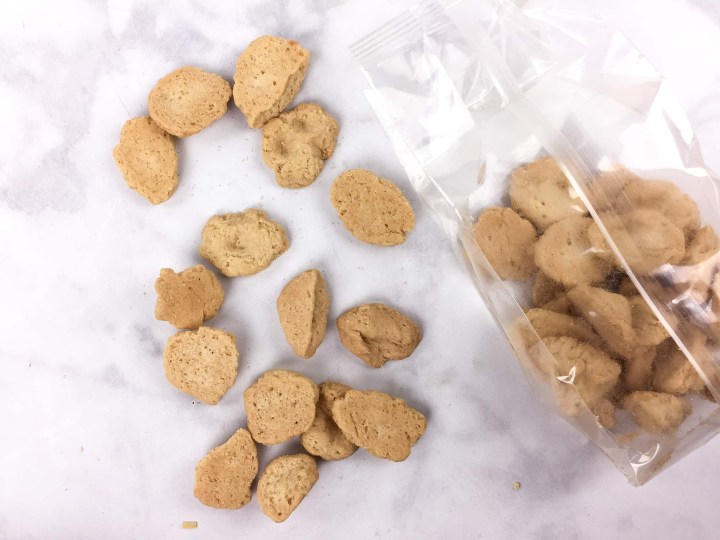 These were my favorite item in the box. The flavor was delightful and addictive. The olive oil imparts a slight green and briny flavor, similar to a Spanish torta, but it is very subtle. The main appeal of the snacks is their superb crunch and beautiful dry-yet-unctuous texture. The closest thing I can think of to describe the unique texture is a homemade snickerdoodle – not quite the same, but with a similar creamy dryness and oily texture.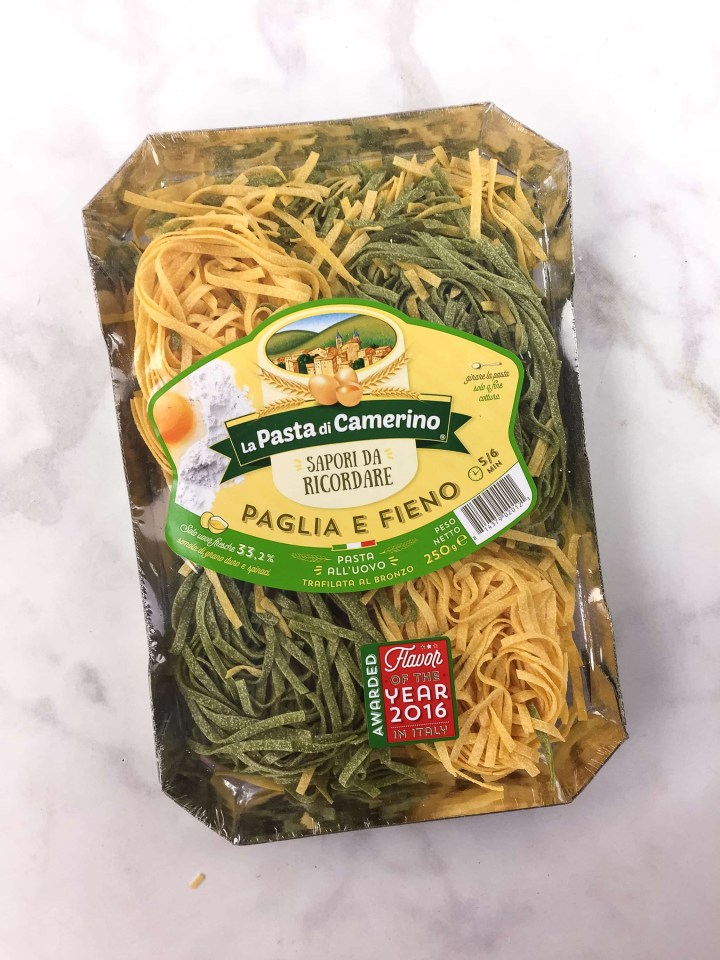 Camerino Pasta Paglia e Fieno: Lovely bird's nest pasta made with eggs. Half of the nests are colored with spinach for a beautiful green color.
OOXX Extra Virgin Olive Oil: Frantoio olive oil from the Tuscany region.
Granda Tradizioni Green Olive Cream: This spread is suitable as either appetizer topping or as a simple pasta sauce. The menù suggests applying a drizzle to our bird's nests.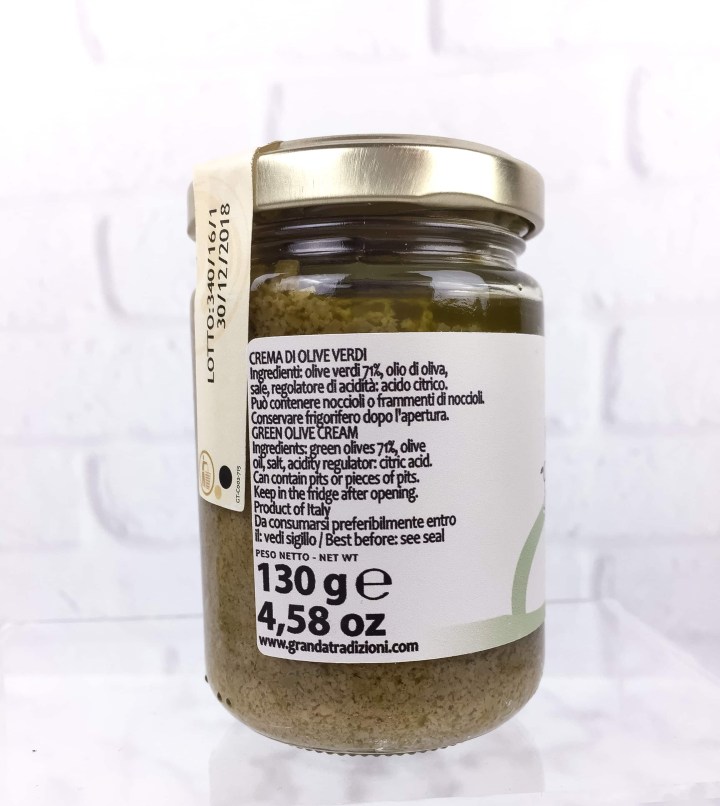 Made simply of green olives blended with olive oil (with salt and citric acid), the sauce highlights the natural flavor of green olives.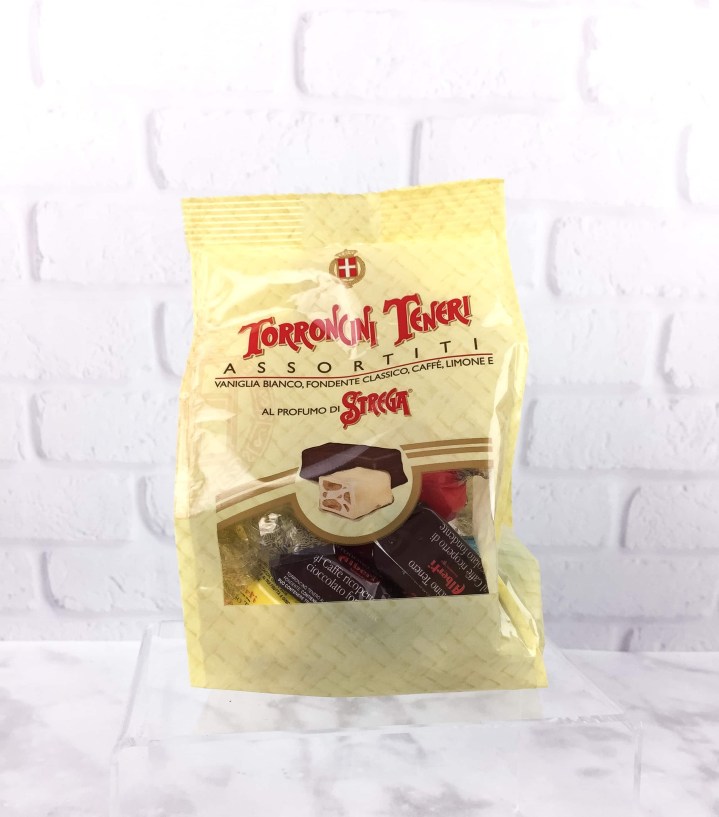 Torroncini Terri Strega Nougats: Individually-wrapped nougat coated with chocolate.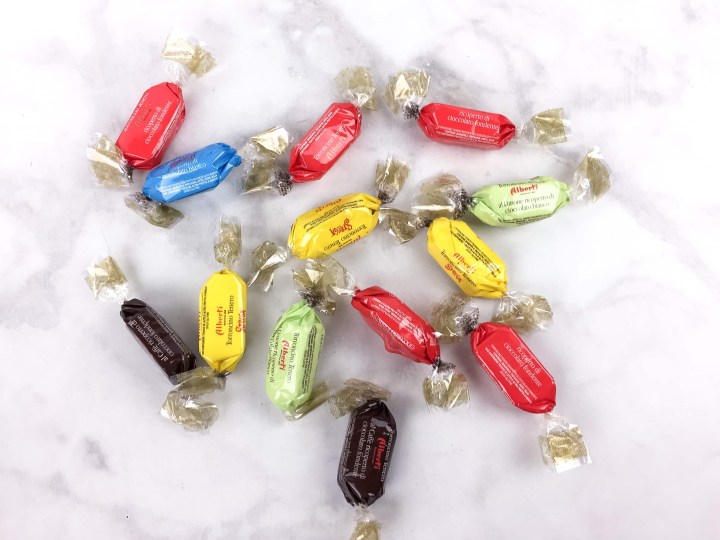 The nougat comes in five flavors: vanilla, classic fondant (marzipan), coffee, lemon, and strega (an herbal Italian liqueur).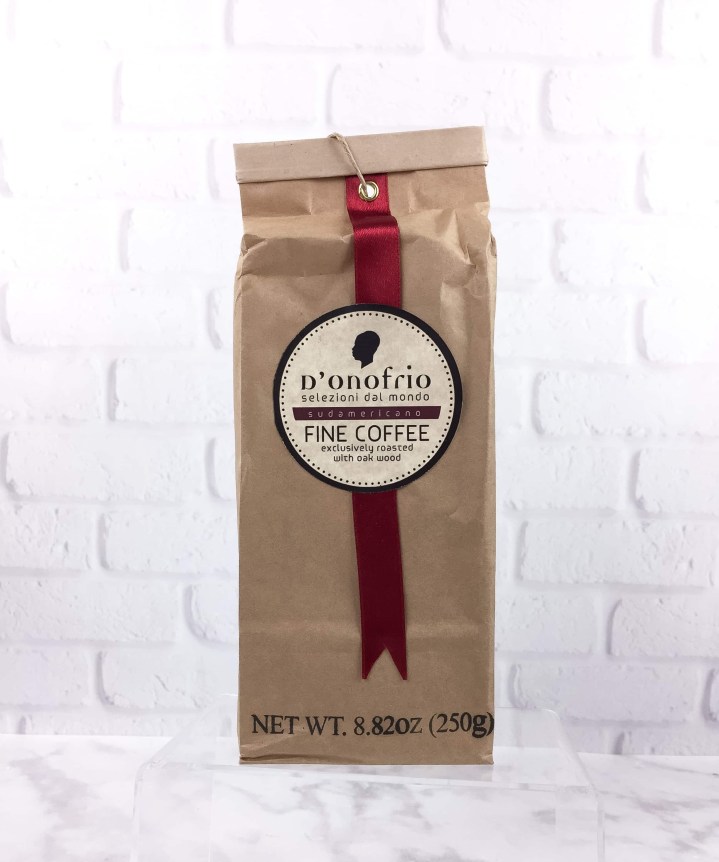 D'Onofrio Coffee: Produced in Basilicata, D'onofrio coffees roasts South American beans over oak wood, imparting a unique and sophisticated flavor.
We really enjoyed this selection of items. Everything was of very high quality and was uniquely Italian. I love that the items are not simply generically Italian, but they convey a sense of place and are associated with specific regions of the country and the culinary traditions there.